Today we're excited to share the latest (and most precious) in our AI Avatar collection: Avatar Pets allows you to create unique portraits of your most loyal friend. Send Fido to the moon with the astronaut style, or turn Rover into royalty with the royal style. With new styles introduced regularly, you can fill your camera roll with even more photos of your pet. 
Earlier this year we introduced AI Avatars, a tool for anyone to turn their selfies into completely new and stylized photos of themselves. Shortly after, we rolled out Avatar Couples, making us the first major photo editing platform to provide the ability to generate more than one person in an avatar.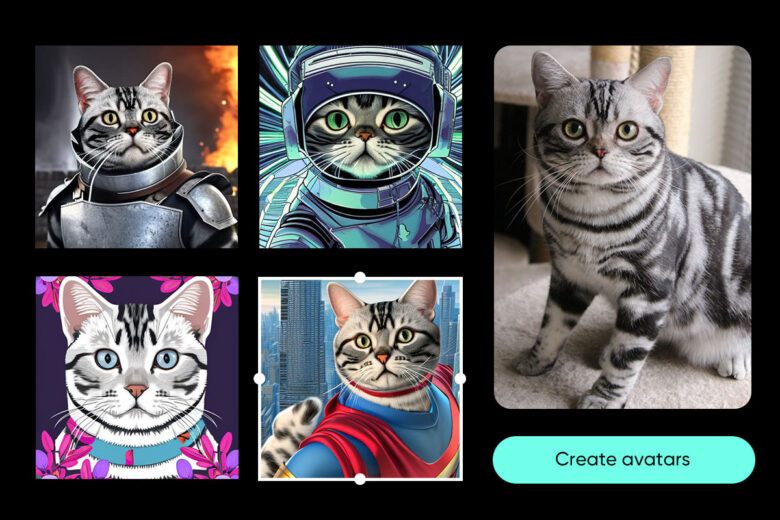 To use Avatar Pets, you'll need to upload 10-20 photos of your pet. Let's face it, that shouldn't be hard considering more than half your camera roll is filled with that. Try to provide a range of poses and angles for better results.
From there, you can customize your avatars as much as you want using all of Picsart's editing tools. Turn your pet into a sticker or emoji, add text, and so much more. 
   How to generate Avatar Pets
 Open the

Picsart app

for iOS or Android and tap the plus sign (+) at the bottom of your screen to start a new project. 

Scroll down to the AI Tools section and select "AI Avatar." Then tap either "Try it out" or "Get new avatars".

Select the "Pet" avatar type.

From there, follow the prompts and upload 10-20 close-up portraits of your cat or dog and select "Continue"

On the payment page, select how many avatars you want and click through to purchase 

Wait for your avatars to be finished (this will take several minutes)

Select your favorite avatars from your collection and either download to your device or continue editing it by selecting "Edit Image"
AI Avatar is available now on the Picsart app. Avatars can be purchased in packs of 50,100, and 200. To access AI Avatar, download the latest version of the Picsart app.