After partnering with Discord earlier this year to offer Discord Nitro to our community, we're excited to be partnering with them again. This time, through a Picsart integration directly on the leading social platform. We've joined Discord as one of the first partners, and first creative tool, to launch within their new App Directory. What is the Discord App Directory? It's a database that features a variety of apps, also known as "bots". This means that if you're using the Picsart Bot on Discord, you can access a selection of our creative editing tools directly on your server.
Ready to start using Picsart on Discord? Here's everything you need to know about Discord bots and how to find the Picsart Bot in the Discord App Directory. 
What are Discord Bots? 
Discord Bots are AI-powered tools that help automate certain tasks on a Discord server. They come in all shapes and sizes, and have come to fill a variety of needs. For example, bots can help moderate communities, automatically welcoming new members and banning troublemakers. They can also do things like add music and games to your server.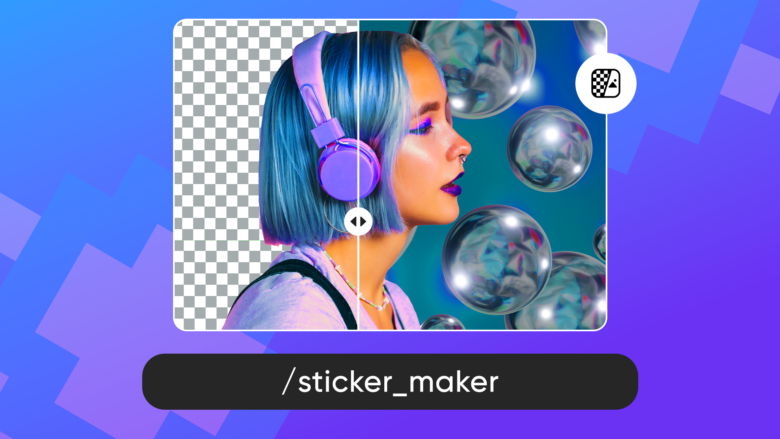 What is the Discord App Directory?
Up until now, there hasn't been an official place on Discord to obtain bots. But this week, Discord has launched its first App Directory, which serves as a central marketplace offering leading app (bot) integrations for specific functions. This includes a Picsart Bot for creating and sharing content on servers, which is the first creative tool to launch within the official App Directory. 
The App Directory can be accessed directly in your server via Discord's desktop client through the Server Settings menu. 
What does the Picsart Bot on Discord do?
Once integrated into your Discord server, the Picsart Bot gives you access to a selection of our most popular and advanced photo editing tools, automating certain creative edits and functions. This includes: text-to-image, Cartoon Effects, a Sticker Maker, and Style Transfer. We plan to add even more of our editing tools soon.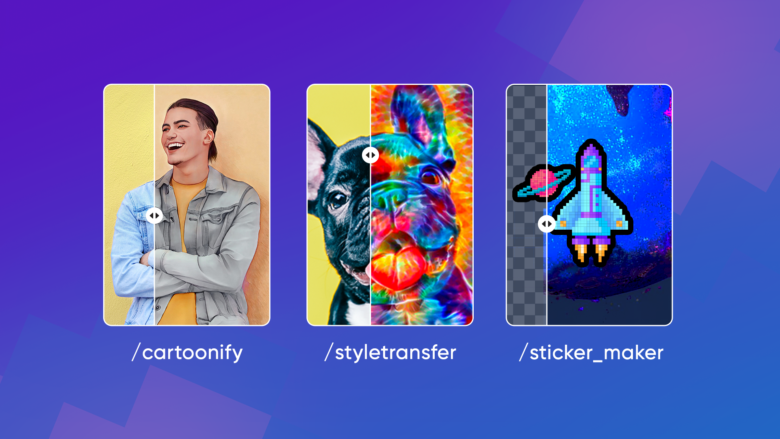 How to use the Picsart Bot on Discord?
Once you have the Picsart Bot on Discord, using it is pretty seamless. Simply type any of the following commands into the text box and you'll be prompted to upload an image. From there, the Picsart Bot does the rest for you. 
"/create" will allow you to turn any prompt into an AI image.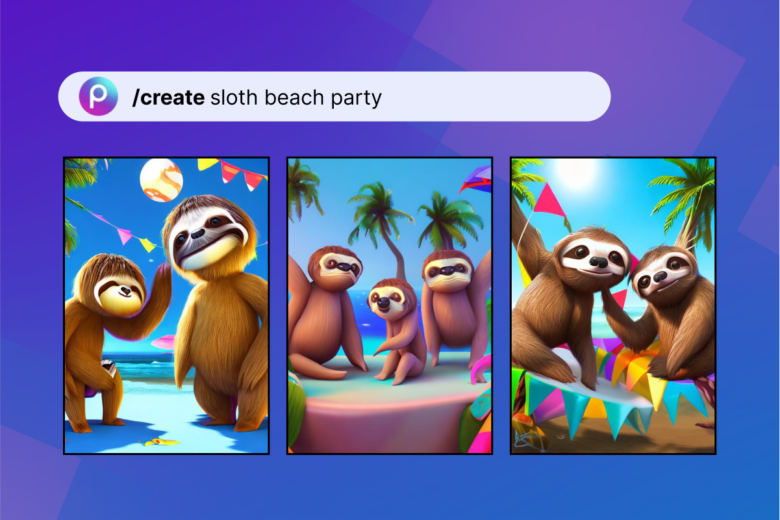 "/cartoonify" will transform your image into a cartoon art style.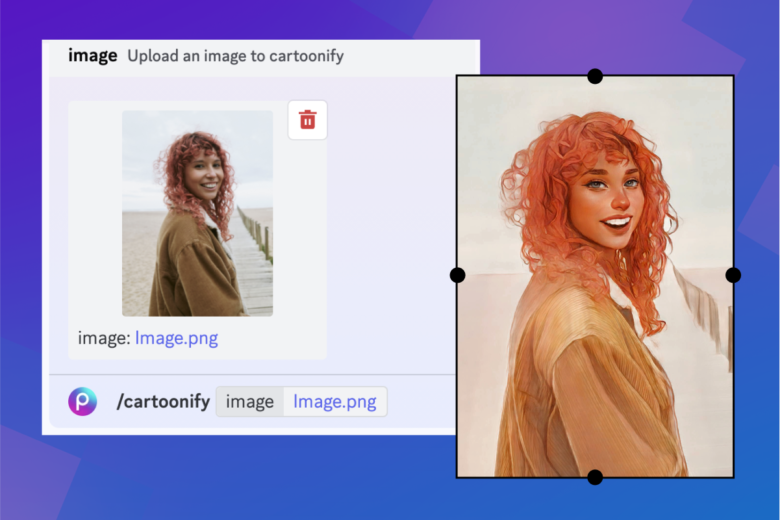 "/sticker_maker" will remove the background and create an illustrated sticker.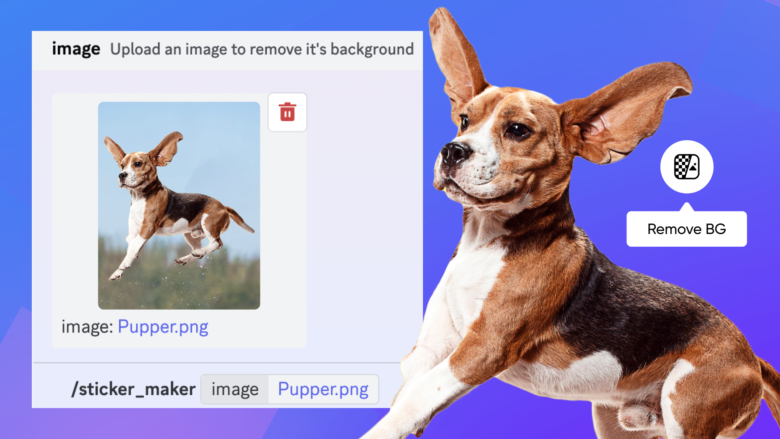 "/styletransfer" will apply a specific style or texture from a source image to a select image. For this one, you'll be uploading two images. For example, say you want your image in the style of a van Gogh painting — you'd upload a van Gogh painting example as the "reference_image" alongside your main image.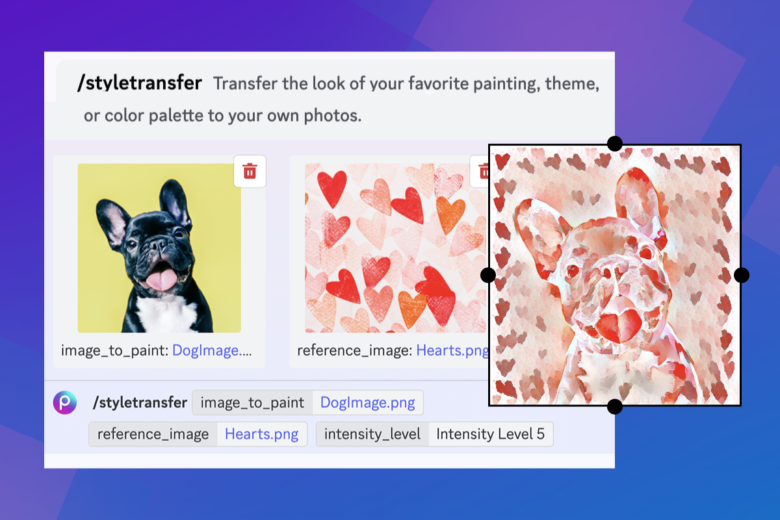 How to host creative editing challenges on Discord
What's more, in the same way that we host photography and art Challenges, you'll have the ability to host your own image creation and editing competitions on Discord servers. 
To start a challenge, you'll need to be an authorized admin of the server. Then you can use the command "/challenge_setup create" to trigger a prompt to continue setting up your competition. During the course of the challenge, the Picsart Bot will provide real-time updates and ranks, and help grant Experience Points to winners and participants. As a server admin, you can let users in the server vote on the winning edit, or select the winner on your own.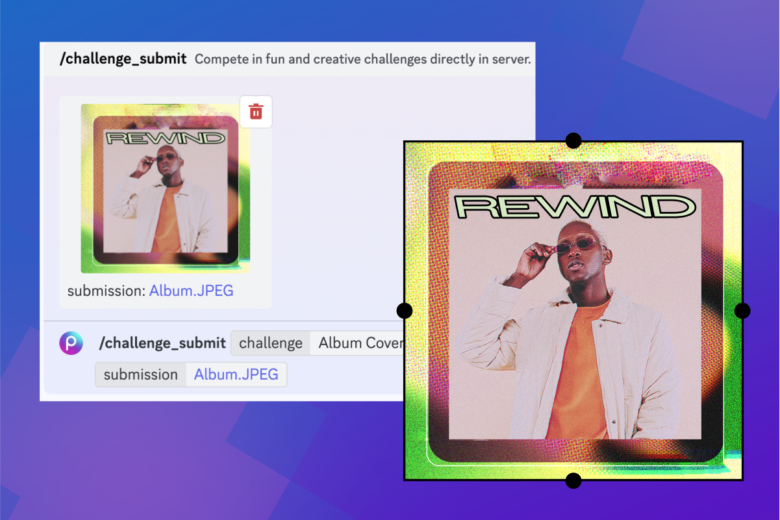 As for challenge participants, this can be anyone! Use the command "/challenge_submit" in the Discord server where the challenge you want to enter is running. You'll then be prompted to upload your image and type in the challenge name. Once you start typing the challenge name, the challenges running in that Discord server will pop up for you to click. 
As we add to our Picsart Bot, we plan to include the ability for you to pull in content for challenges from your existing Picsart profile. 
Picsart is the world's largest digital creation platform. Its AI-powered tools give creators of all levels the ability to design, edit, draw and share photo and video content anywhere. It's used by consumers, marketers and content creators for both personal and professional design, and is available to businesses via API partnerships and integrations. Picsart has collaborated with major artists and brands like Discord, PopSockets, Shopify, Taylor Swift and more. Download the app or visit picsart.com.