We've all been there, starting with a blank canvas, unsure where to even begin or what to create. If only there were a tool to easily bring your idea to life in seconds. Today, we're excited to unveil the Picsart AI Image Generator, a new feature in the Picsart mobile app that allows creators to make images from a word, phrase or sentence – in seconds. Because it's embedded into the Picsart Editor experience, after you've made your own AI image you can then continue editing, choosing from thousands of stickers, tools, filters, fonts, and more. 
Why is generative AI important?
You may have seen the term "generative AI" pop up in the news in recent weeks. It means using the help of AI to create, or generate, something completely new. Whether it be images, text, music, or video, the generative AI space is advancing quickly. We view this as an exciting opportunity for our creator community. There's a ton of potential for AI-powered tools to open creativity to many more audiences as well as increase productivity in the creative workflow. 
Imagine as a business owner you need the perfect image for an ad, but don't have funds or time to host a custom photoshoot. Maybe you just don't want to use stock photography for your designs. That's where generative AI – and practically, our AI Image Generator – comes in handy. We believe that this new feature will help increase your productivity and open more possibilities for creativity.  
How to use Picsart's AI Image Generator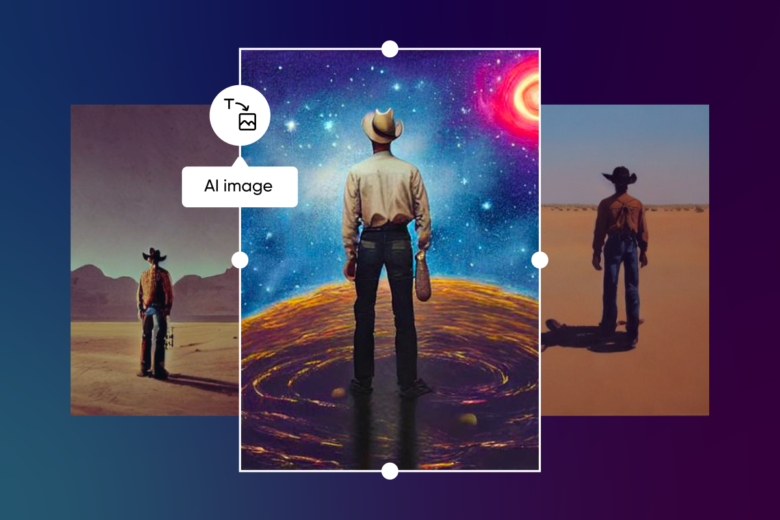 Anyone can create their own AI images with our in-app AI Image Generator for free. The generator will create up to four images from the prompt, and those are then added to our free-to-edit content library and made available to the entire community. This means that anyone in the Picsart community can also use those same images in their own creations. You can also use your AI generated image for commercial/business purposes, as long as the image doesn't contain any trademark or copyright. 
The AI Image Generator is currently available in English on mobile for iOS in the US, UK, Canada, and Portugal, and will be rolling out to more platforms and geos soon. To access it on mobile, download the latest version of Picsart from the App Store. It's also currently availably in English globally to all Picsart Web users – just log in!
To access the AI Image Generator on mobile:
1) Open the Picsart app for iOS and tap the plus sign (+) at the bottom of your screen to start a new project. 
2) Scroll down to find AI Image Generator and tap try it out.
3) Enter a word, phrase, or sentence about the image you want to generate, or get inspired by the suggested keywords and tap Generate image to see your AI-created images results roll in.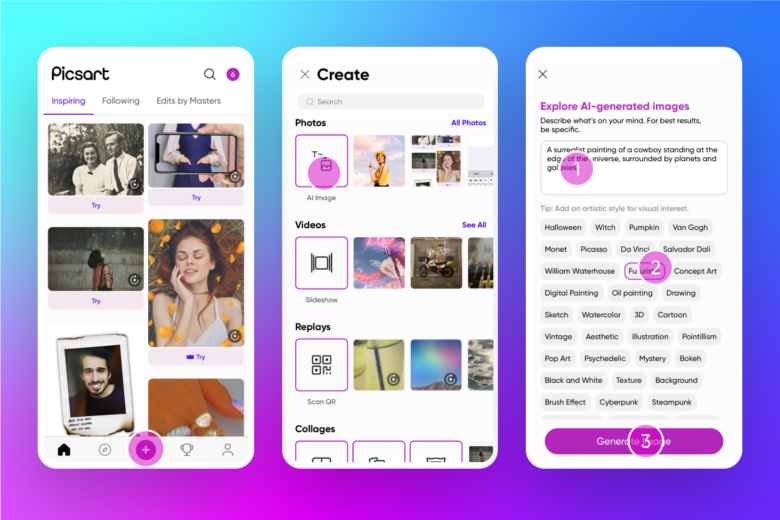 4) Select your favorite image and then select Edit image. Continue editing your image using Picsart's thousands of tools, filters, stickers, backgrounds and more.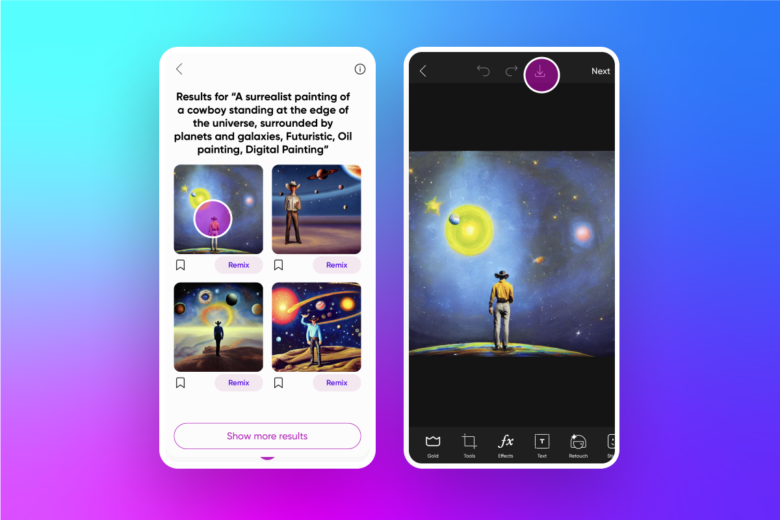 To access the AI Image Generator on web:
1) Open the Picsart Web Editor and start a new project.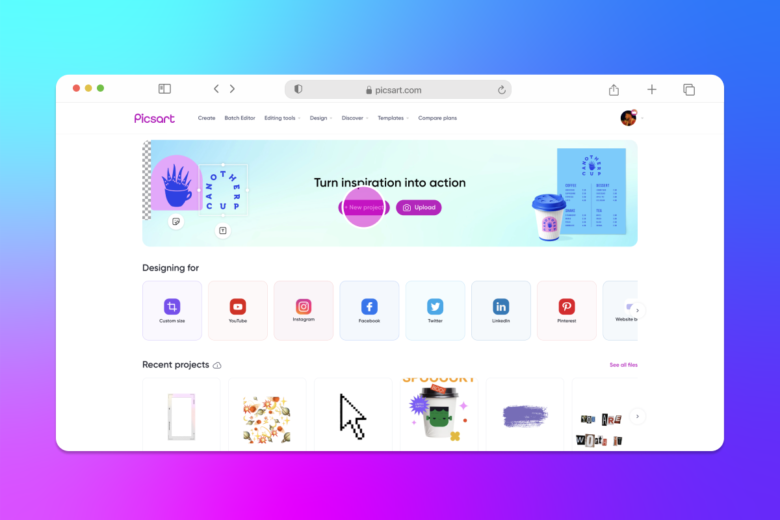 2) Select Photos in the left toolbar. Find AI Image Generator and click Try it out.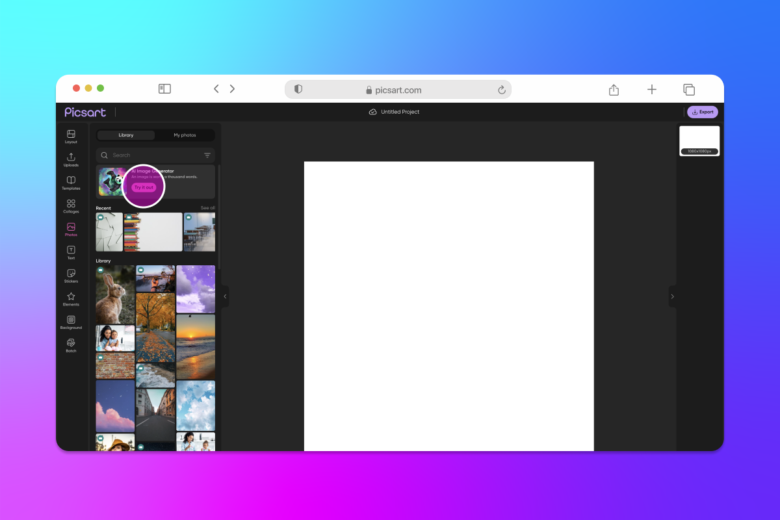 3) Enter a phrase or sentence about the image you want to generate, or get inspired by the suggested keywords and tap Generate image to see your AI-created images results roll in. The more descriptive you get, the better your image will be.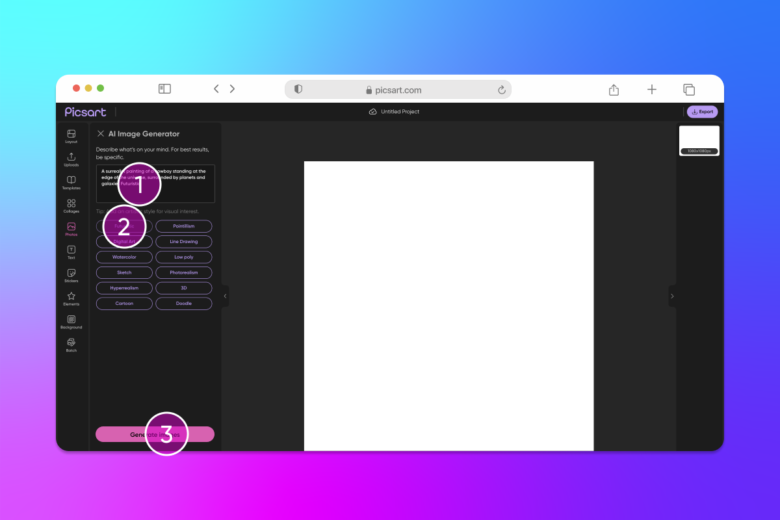 4) Click on your favorite image and it will appear in the Editor where you can continue editing using Picsart's thousands of other tools.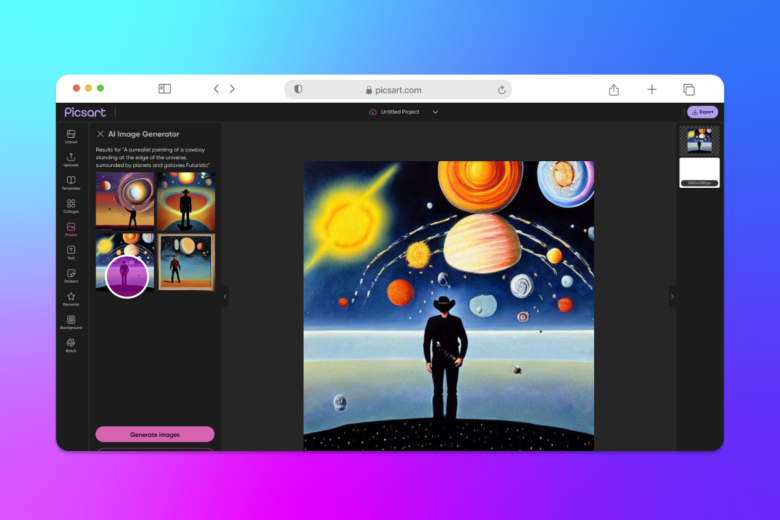 This is just the beginning of many generative AI tools that will roll out on the Picsart platform in the coming months. Stay tuned for more. 
Picsart is a photo and video editing platform and creative community. A top 20 most downloaded app worldwide with over 150 million monthly active users, its AI-powered tools enable creators of all levels to design, edit, draw, and share content anywhere. The platform has amassed one of the largest open-source content collections in the world, including photos, stickers, backgrounds, templates, and more. Used by consumers, marketers, content creators and businesses, Picsart tools fulfill both personal and professional design needs. Picsart has collaborated with major artists and brands like BLACKPINK, Taylor Swift, Lizzo, Ariana Grande, Warner Bros. Entertainment, iHeartMedia, Condé Nast, and more. Download the app or start editing on web today, and upgrade to Gold for premium perks!