PicsArt, reviewing phones? Well, let me explain….
Our cell phones and tablets have become an important medium with which to create – and some do it better than others. In the same way painters prefer different types of paintbrushes, so too should PicsAritsts prefer certain devices based not on bristles or handles, but on hardware and software. PicsArtists must ask themselves, "Is the screen big or detailed enough? Is the phone fast enough to handle intense editing? How does the device feel in my hands?"
Today, I'll be taking a look at the new Samsung Galaxy S6 and S6 Edge and their potential to be a powerful tool for creation. Spoiler alert: the best Android phone you can buy is also one of the best devices to create on.
Overview
The Samsung Galaxy S6 is the most surprising phone released within the past year. Why? Because making a phone this well-rounded is rare in the Android world – and especially for Samsung. Usually tied up in figuring out how to add every feature under the sun, Samsung's "selling points" were quickly becoming annoyances. The S5 was waterproof – but you had to pry off a protective cover every time you wanted to charge it. It had a Micro SD slot to hold even more of your photos – but, man, was it slow when loading your gallery. It had facial recognition, eye tracking, tilt scrolling, and some gestures I've long forgotten to ignore calls – but none of them made the phone easier to use. All of it made for great commercials, but none of it made for a good user experience.
This year, Samsung went back to the drawing board and created the best Android phone that has ever been made. Period.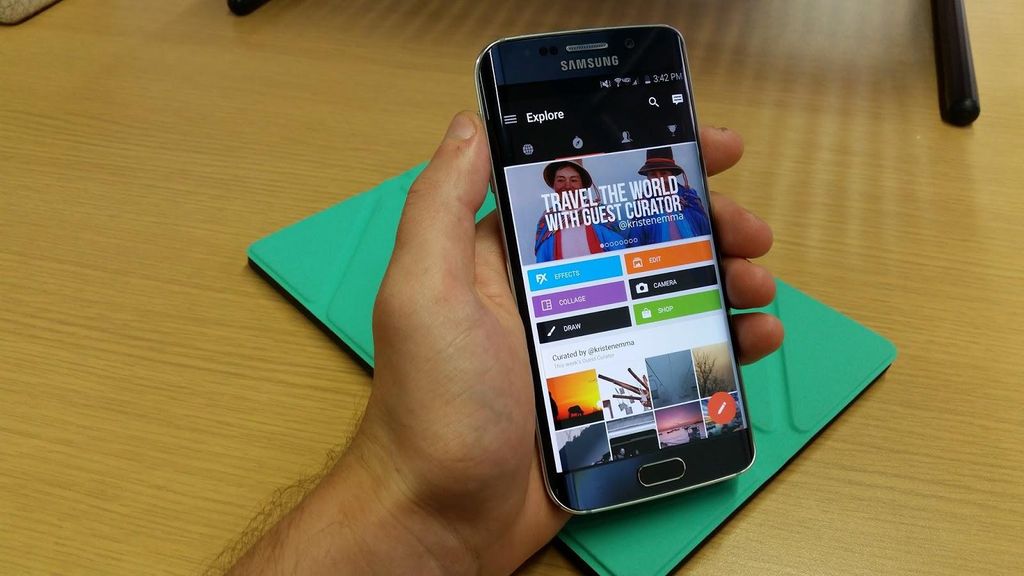 Hardware and Design
Like a painter's paintbrush, photographers, editors, and drawers need their technology to feel good in their hands. And boy. Does it. The S6's Gorilla Glass 4 back replaces the S5's removable, BandAid-textured plastic back and real aluminum replaces last year's cheap, chrome-painted plastic rim. The metal rim has the volume and power buttons at exactly the right place. Seriously. It's magical. They are perfect. Also on the back is a heart rate scanner I will never use next to the flash. Now, hearing about the glass back may sound like the phone is more fragile than previous iterations and conjure horror stories of the iPhone 4 and Nexus 4, but it shouldn't. Corning's Gorilla Glass has been massively improved and a few drops from yours truly can confirm that it holds up. More thorough drop tests on YouTube (disclaimer: do not try at home) confirm that the phone is exceptionally tough. What isn't so great is how easily the back glass collects your greasy fingerprints.
The front of the phone is made from the same glass. It's just as tough. On the front you'll find a physical home key with a fingerprint reader a la iPhone 6 and capacitive buttons for back and multitasking in lieu of on screen buttons. I actually prefer this approach to on screen buttons since it lets me hop back and forth between apps even when they're fullscreen. This is a phone you can hold while editing for hours and still love it. It's light enough to be held comfortably and the design is ergonomic enough that you won't strain your hand.
I've heard some criticize the S6 for having a flat back and feeling slippery to hold, but I couldn't disagree more. The back has a good grip on your hands and the flatness of it makes the phone feel especially premium. That doesn't mean the phone lays flat however. Man, there is quite the camera bump on this device (about 1/4th the thickness of the entire phone), but it's not a deal breaker – even if I have to be a little more thoughtful about making sure none of my phone overhangs off the table when I put it down. More on the camera (and edge of the S6 Edge) later.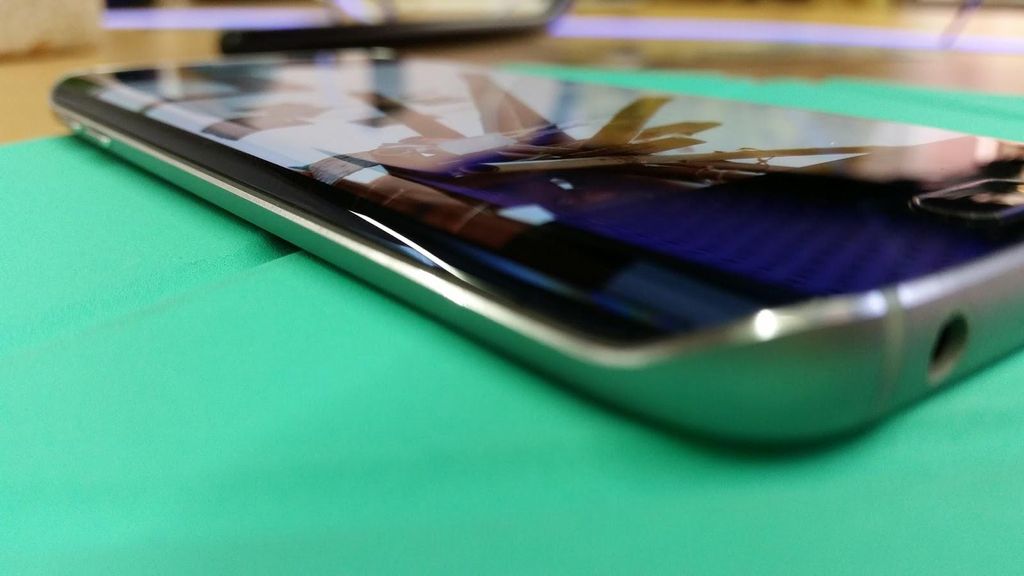 The Screen
Samsung has often been criticized for screens that are too contrasty with poor color accuracy. That's not great when you have a vision for your artwork only to see it come out differently on other screens. Well, rest easy. The S6 doesn't have those issues. This is the best smartphone display out there – and I'll tell you why: OLED. OLED displays have come so far in the last couple of years, with Samsung's investment in their AMOLED technology clearly paying off. If you didn't know, OLED displays are different than LCD displays (like the one found in the iPhone) because they can light up individual pixels to use less power. LCD screens light up all the way, even when black, using the same amount of battery power. On an OLED display, black or dark colors use less power than whites or bright colors.
Now, let's talk about that resolution: 2560×1440 with 577 pixels-per-inch on a 5.1in screen. You can't see a pixel on this phone, no matter how close you look. It's also exceptionally bright. While this would normally be a huge battery drain, Samsung's AMOLED technology makes sure the screen is uber-power efficient – and it is. The screen is crystal clear and makes my friends say, "Wow." Mission. Accomplished. If you're looking for an Android phone to view media on or edit on, the S6 is, hands down, the best it can be. Colors are exceptionally vibrant, blacks are the black, the screen is bright, and the resolution will more than suffice.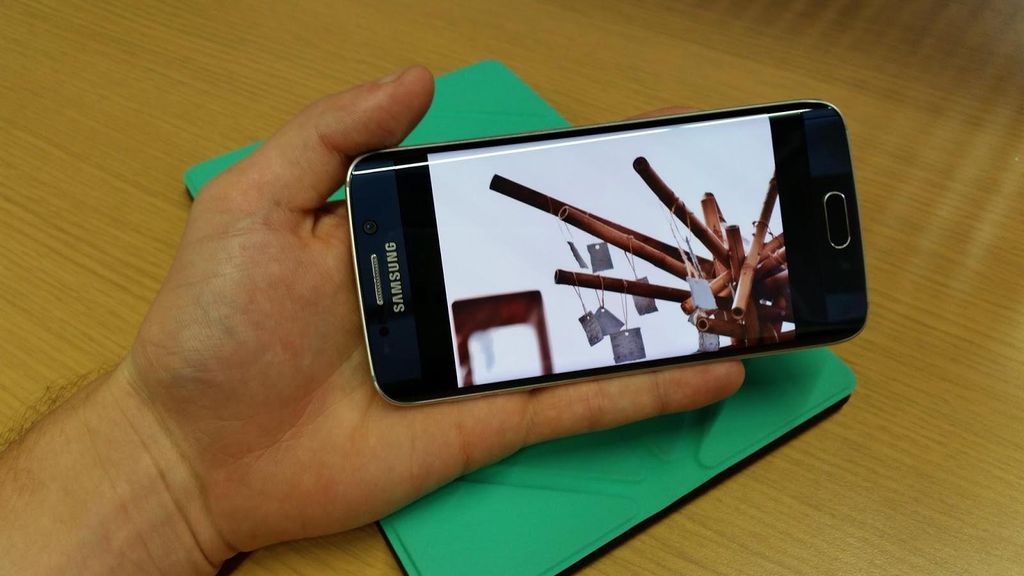 The only disappointments are that it doesn't come with a pen like the Note 4 for more granular edits and that, at 5.1in, the screen could be larger for editing and viewing images. Both of those gripes feel minor in the grand scheme of things (especially since you can just buy a pen separately), but you may be hurting for a little more screen space, especially if you're a drawer or intensive editor.
Performance and Operating System
But a screen and fancy-feeling design isn't enough. Your phone needs to powerful and speedy to keep up with all of your brush strokes, layers, and exporting when using the PicsArt app. Rest assured, you will have no issue at all with any task you give, even when multitasking. To get geeky, the S6 uses Samsung's own 14 nanometer Exynos Octo-core chip clocked at – well… it doesn't matter. What does matter is that Samsung packed a hugely powerful chip that they've been able to easily optimize. It shows.
The S6 runs on Samsung's variation of Android called TouchWiz. It has a bad reputation for slowing things down for the user, poor design, and general ugliness. This year, TouchWiz (running on Android Lollipop) dialed it back considerably while taking advantage of Samsung's own chip. Part of the reason the iPhone is so fast is because both the chip (A7) and the software (iOS) is made by Apple. Samsung appears to have taken the hint and by doing the same with TouchWiz, breathed new life into their previously poorly received Android customizations. TouchWiz has some nice tricks too, like multiwindow apps which allows you to watch a PicsArt tutorial on YouTube video while you edit your own work.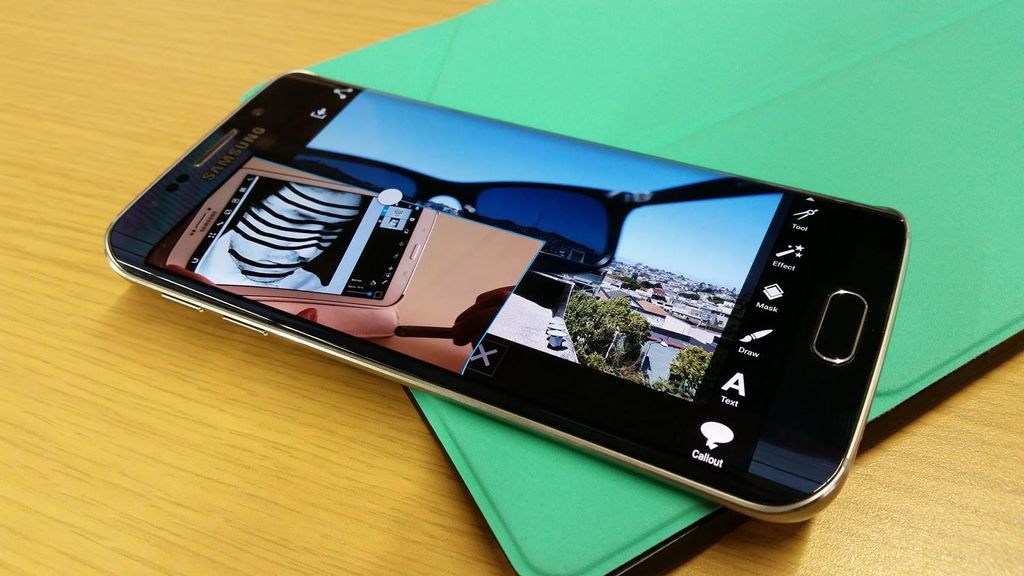 Overall, this is phone you don't need to worry about when it comes to power. It will get done what needs to get done without heating up or stuttering. It's a supercomputer in your pocket.
The Camera
Remember that camera bump on the back of the phone? It's because of optical image stabilization and it's worth it. This camera is the best camera on an Android phone. Ever. Photos are always crisp, saturated, in focus, and beautiful. The 16MP rear shooter is a camera you can feel confident about whipping out. It will stand toe-to-toe with the iPhone 6 and, in low-light situations, it will beat the iPhone 6 (albeit with some warmer tones). The interface is dialed back (just like TouchWiz) and the shutter is snappy. You will get great shots to edit and share on this phone easily. It's so easy that it almost feels like you're cheating and PicsArtists will most certainly ask if you took the photo you did on a dedicated DSLR. It's that good. Additionally, by double-tapping the home button, the camera opens in about one second and is ready to go. It's a neat trick that helps you capture moments as they happen.

For more comparisons, click here
The 5MP front camera was a surprise. It's…. really good. In fact, it's almost better than my HTC One M8's main camera. That's not saying much for the M8, but the point here is that this front camera is stellar. Subjects look far enough away that selfies are beginning to look like someone else took the photo for you. At 5MP, you'll be editing full size #ArtisticSelfie-s without any concern about resolution.
There isn't much else to say about the camera. Sure, it can shoot 4K video, has auto-focus tracking, and can take slow-motion videos, but the coolest thing about this camera is that you don't really have to think much about it. If you've owned an Android (or considered switching from iPhone), I'm sure you've asked yourself whether it was worth the sacrifice in the camera departure, both in regards to features and quality. Worry no longer. The S6 delivers.
Battery Life
I use my phone. A lot. Here's my day: unplug phone, go to work, use phone, charge phone before leaving work at work, use phone, go to bed, and charge phone. That's been my routine for the past four years. It continues to be my routine with the S6. What I means is that the S6 doesn't have out of this world battery life. In fact, some days I've wondered how it got so low so fast. But I've wondered that with my iPhone 6 too. Bottom line is that fast charging really is your best friend and that this won't disappoint, but also won't wow, in the battery life department. Thankfully, the S6's fast charging means that you only need to plug in for a few minutes for a good charge – though it does make it harder to stay out for extended periods of time.
If you're in a jam, power saving and ultra power saving modes are available. Use in dire situations. While we're talking about battery life….
Micro SD, Removable Battery, and Waterproofing – All Gone
If you're a fan of Samsung, these features may be what you know them for – but they're not in the new S6. This has created quite the controversy in the Android community. Some photographers may complain that the removal of a Micro SD slot means that their phones can't hold as many photos, that the removal of the removable battery means that they can't take as many shots before the phone dies, and that the phone not being waterproof limits where photos can be taken. For me, none of these are deal breakers. Cloud storage is clearly the future, images are uploaded at full resolution, and it's cheap. You have fast charging for your battery. And cases exist that can waterproof your phone if you really need it.
The Edge
And now for the part you've been waiting for: the edge of the Edge. The Edge's edge is stellar for looking at photos, but can be a real bother when editing them since those curves are slippery. Make sure you're editing in the center of the screen or else you'll find yourself pretty frustrated. Your images feel like they pour off the screen and reduces the severity and size of the phone's bezels, but it's to you to determine if that's worth the more difficult editing. Beyond that, The Edge does not have a killer "feature" or functionality to revolutionize the way we interact with our phones. You may hear a lot of criticism about the phone for those reasons. But here's the deal…. that's not the point of the Edge's edge. The Edge is awesome because it's unique. That's why it exists and that's a good enough reason. Is it worth the extra $100? That's up to you.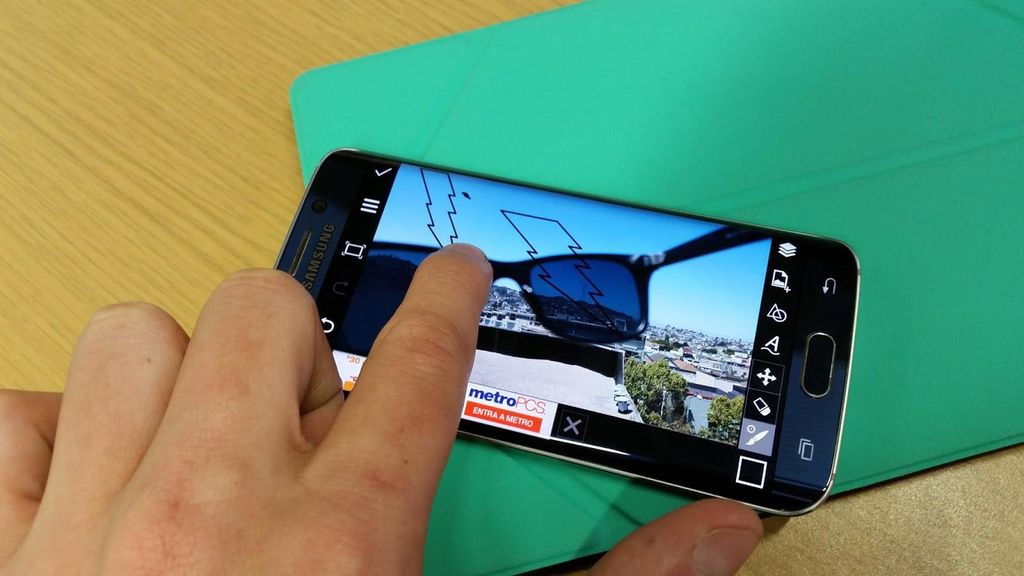 Notice how the edge distorts your view of edits near the bezels of the device.
Overall
There are some features I didn't go into (like wireless charging or the still-annoying Verizon bloatware or the Edge's my favorite 5 people feature I use more often than I thought I would), but the bottom line is that all of the main criteria that should decide whether or not you should buy a phone are met – and not just for Android, but for every phone out there. Snappy performance. Worry free camera that produces striking shots. A screen that wows (and can be easily seen in broad daylight). The Samsung Galaxy S6 literally has it all. Phones aren't perfect yet, but man. This phone comes close. It may not be as large as the Note 4 for your editing needs, but the improved camera, speedier processor, improved TouchWiz, and stellar quality make this phone stand out for the casual creative. The most hardcore of hardore editors and drawers may want to hold off until the Note 5, but the rest of us can rest easy with the Samsung Galaxy S6.
9.4/10