What Is a Standard Poster Size?
There are no official standard poster sizes, but there are certain design dimensions that the printing industry abides by. What it comes down to is that there will always be slight variations in sizes, especially from country to country, but there are ballpark dimensions that each size falls into internationally.
Here's a handy list of standard poster dimensions for you to familiarize yourself with.
Large Poster Size: 24" x 36" (61 x 91 cm)

This is the most standard poster size. When you walk past a poster in the mall, at a festival, or a tradeshow, then this is typically the size that is used for those. This size can also be referred to as Architectural D Size.
Large posters aren't only used by professional companies. The large poster dimensions are also what most people use for decorating their rooms or posting up at local businesses for promoting their cause, or club, for instance. If you want to create your own cool poster, then this is the size you should look at using. It's guaranteed to make an impact.
Medium Poster Size: 18" x 24" (46 x 61 cm)

If you're looking to create a smaller advertisement, or if your design leans more towards the minimalist side, then consider using a medium poster size. These poster dimensions are also referred to as Architectural C Size. Since they are smaller, you do want to be careful about how much text you are putting on it. The busier it is, the harder it will be to read, thus diminishing its impact.
Small Poster Size: 11" x 17" (28 x 43 cm)

Small posters are great for getting your message across without taking up too much room. Think of bulletin boards, community boards, and the like. There are a lot of posters up there competing with each other, and most are going to be printed in the smaller poster size dimensions. The more there are, the more you'll need your small poster design to make a lasting impression.
A4 Paper Poster Size: 8.5" x 11" (21 x 29.7 cm)

This size of poster is the smallest you'll find before something can no longer be considered a poster. In fact, not a lot of people would consider this a poster over a flyer, but it can be. It is essentially the size of your typical printer paper. Designing in these dimensions is a great call if you're making a short run of posters to print out at home. Like smaller posters though, you'll want to keep the text minimal and large to get your point across clearly.
What Is the Best Poster Size?
Determining the best poster size depends on what it is you're trying to achieve with your poster. The more information that's included, the larger you'll want to go. If your message is short and sweet, then consider using medium or small poster dimensions and include big, bold graphics and text in your design.
When in doubt, reference the poster sizes covered above to determine what makes the most sense for your project. Keep in mind that these will make the printing process easiest, but don't be afraid to try out new sizes and dimensions.
Before sending your poster to the printer, check with them on what print size, file size, and file format they need for the best resolution. Luckily, it's easy to convert a JPG to a PDF for printing or a PNG to a PDF.
What Is a Standard Movie Poster Size?

Lights, camera, action! Movie posters are different from the standard sizing that you might be familiar with when it comes to hanging a poster in your room, or posting one up on a community board. Still, there are standard dimensions that are typically seen with movie poster sizes.
There is the One Sheet movie poster size and the Bus Stop movie poster size. One Sheets are typically 27″ x 40″ (686 x 1016 mm) and Bus Stops are typically 40″ x 60″ (1016 mm x 1524 mm). Both are used for advertising purposes rather than retail. If you were going to buy a movie poster to put up as decoration, then what you purchase (unless you got your hands on an original) would be closer to the medium or large standard poster size mentioned above.
One Sheets are universally used as the official size for advertising movies. The Bus Stop (or Subway Stop in some places) are used for promotional purposes. There might be slight variations in the sizing of both types of movie poster sizes, but generally you can expect those sizes to be used.
How Do You Measure Poster Size?
When measuring a poster size, always use the formatting of Height x Width. This is standard across the board. Reversing the order of the measurements would result in a landscape formatted poster rather than the common portrait format.
How Can I Design a Poster Online?
You can easily design your own poster with Picsart. There's a range of poster templates available. Or you can create from scratch. Let's walk you through how below.
1) Open the Picsart Web Editor and start a new project.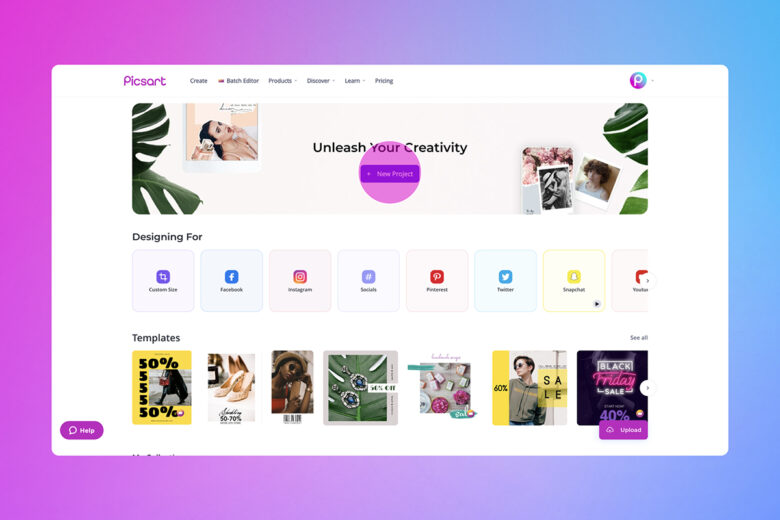 2) In the Fit tool panel, select your poster size from the list of presets or input your custom dimensions. When you're done click on Texture to preview a gallery of backgrounds or you can of course upload your own.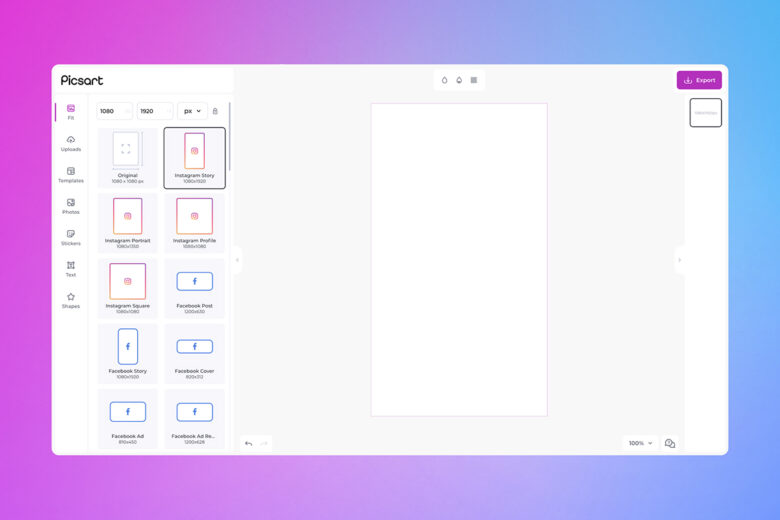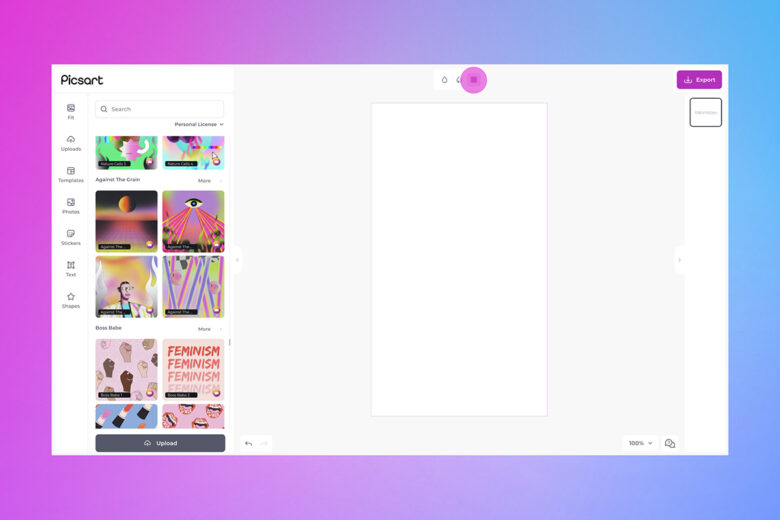 3) Now it's time to add some Stickers. Search by theme or subject and select your sticker.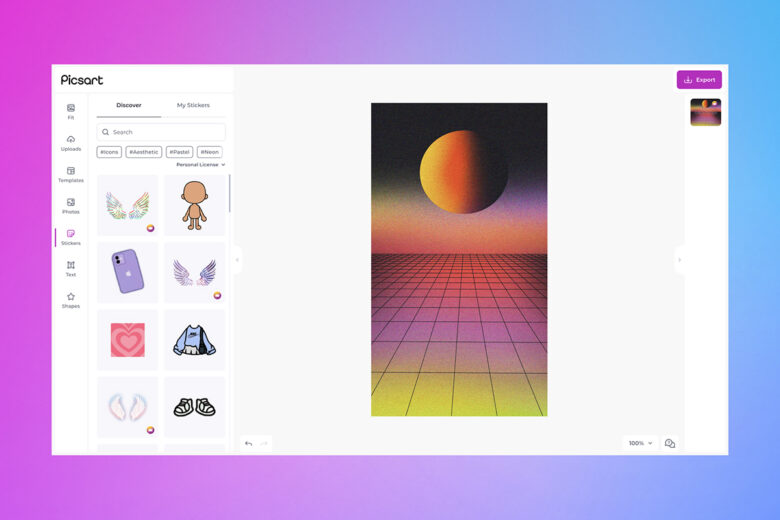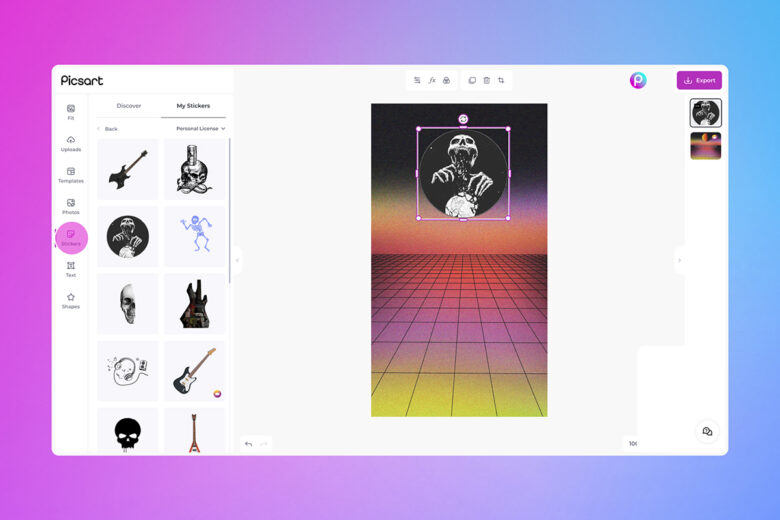 4) Let's add some copy. Click on the Text tool and input your info. Be sure to style the text font, size, color and other details.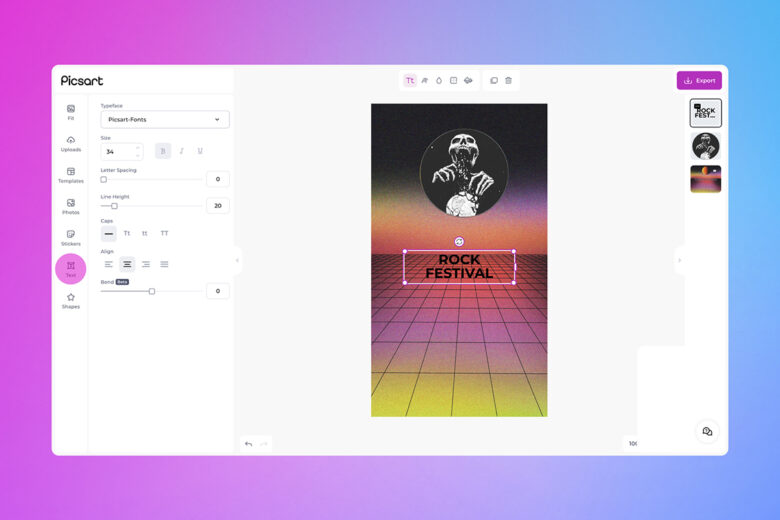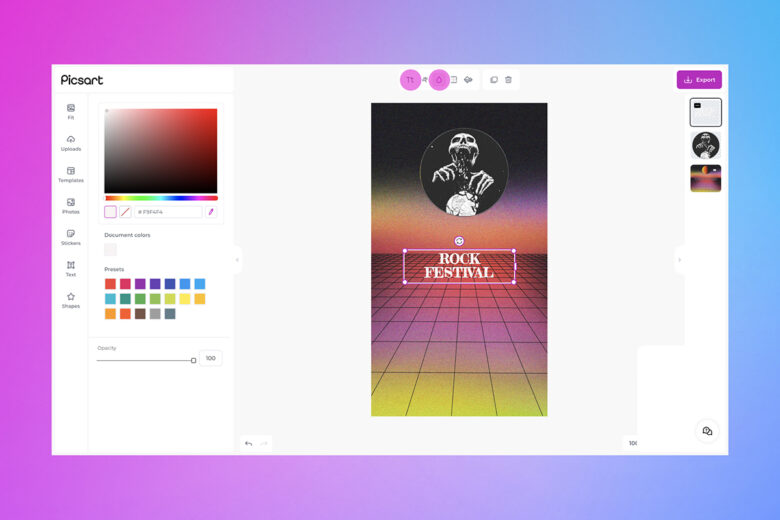 5) You can really go to town on customization touches, depending on your style, aesthetic and project goals. Add headings, subheadings, other images, backgrounds, textures and tweak the design look and feel in all manner of different ways.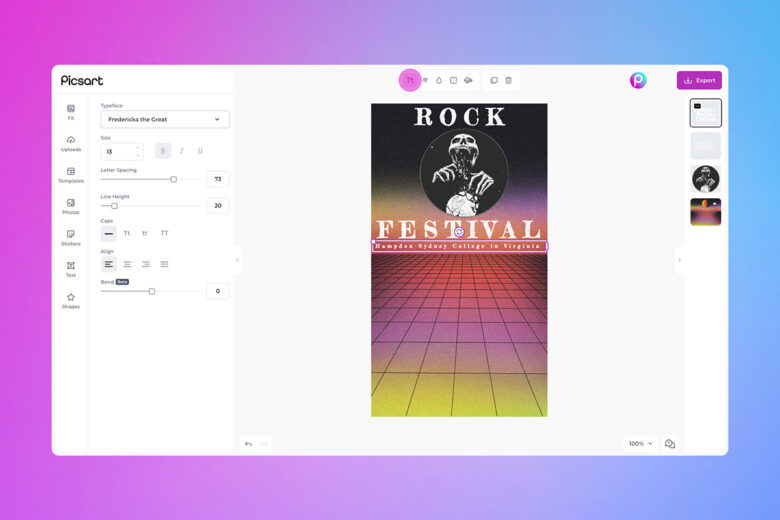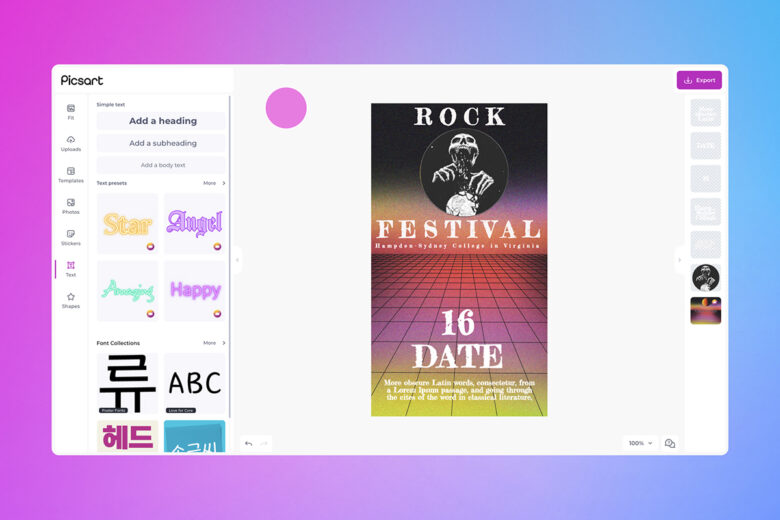 6) When you've finished experimenting with the web editing toolkit, click on Export to save your final poster design.
How Can I Design a Poster on Mobile?
If you're happier editing on mobile, you can also make a great poster Picsart in-app. Let's take you through that process now.
1) Open the app and tap on the purple + symbol to start your design. Scroll down to Color Backgrounds and tap on the Fit tool.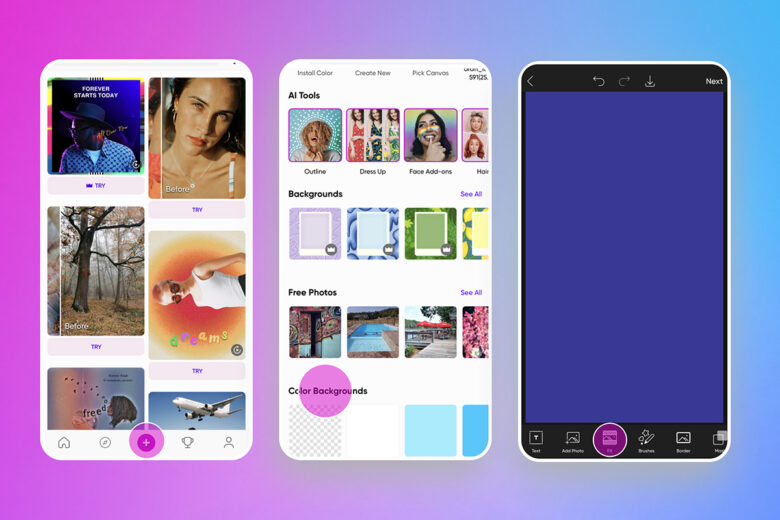 2) Tap on Ratio and choose your poster size. You can experiment with the background and how it appears here too.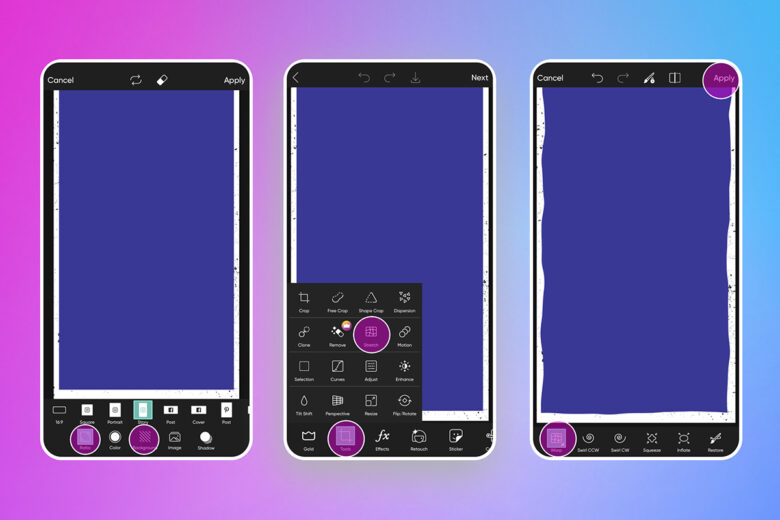 3) Consider adding a Sticker and Text depending on what your poster needs are.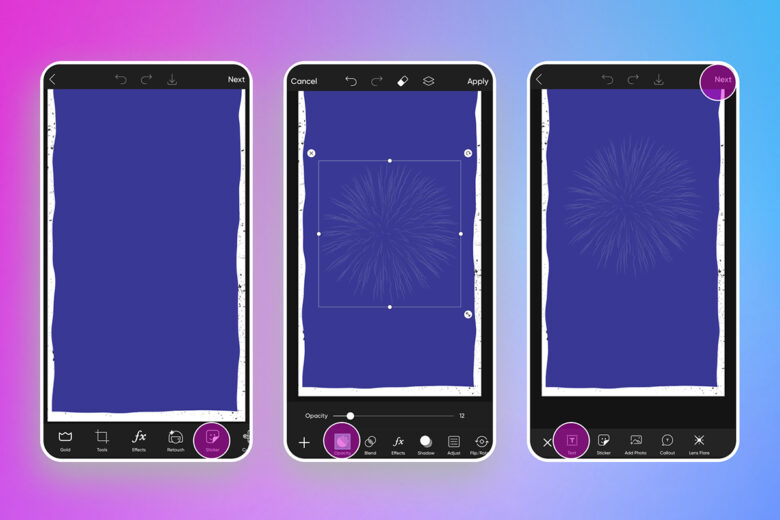 4) Remember to stylize your words with the font that works for your poster aesthetic. You can adjust any details you need to customize the appearance of your text.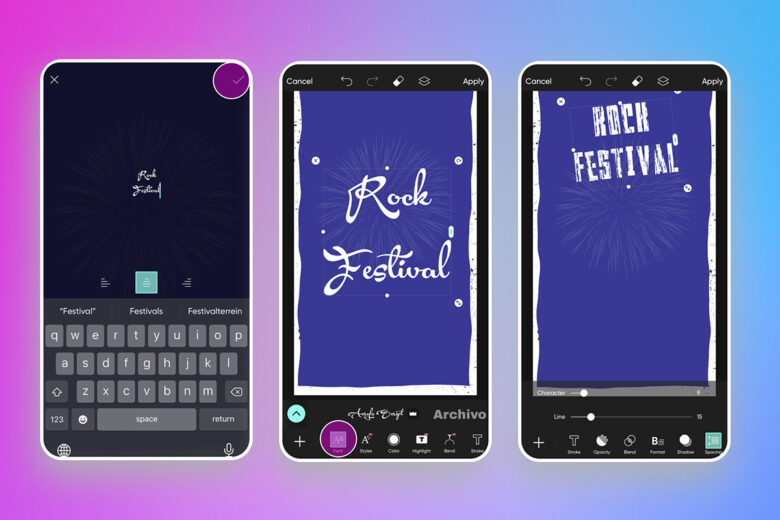 5) Add any further Stickers, images or text you need and ensure that everything is in place, sized correctly and complements your design.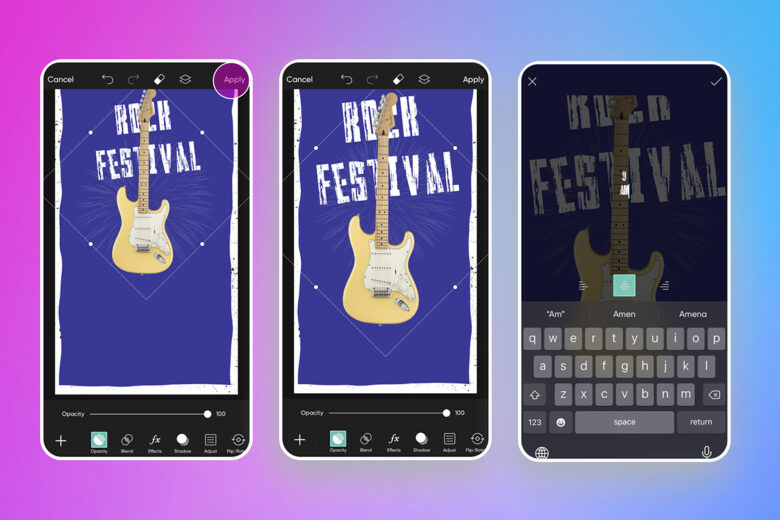 6) Add any finishing touches your poster design needs. When you're done, tap on Next to save your poster.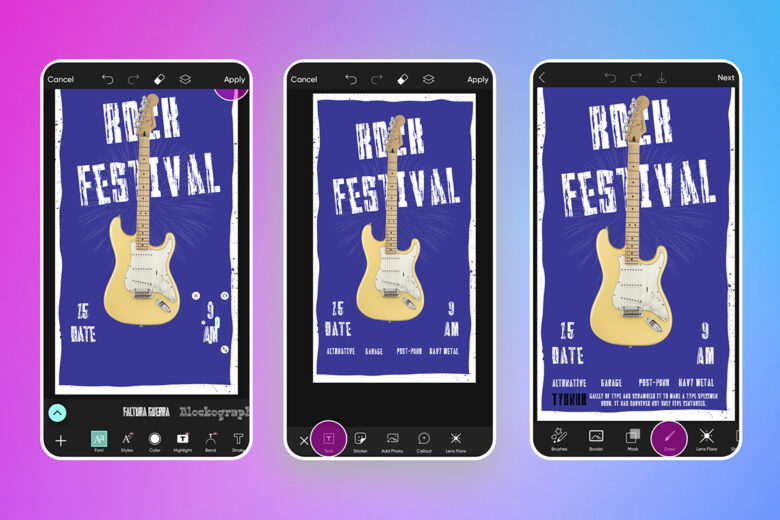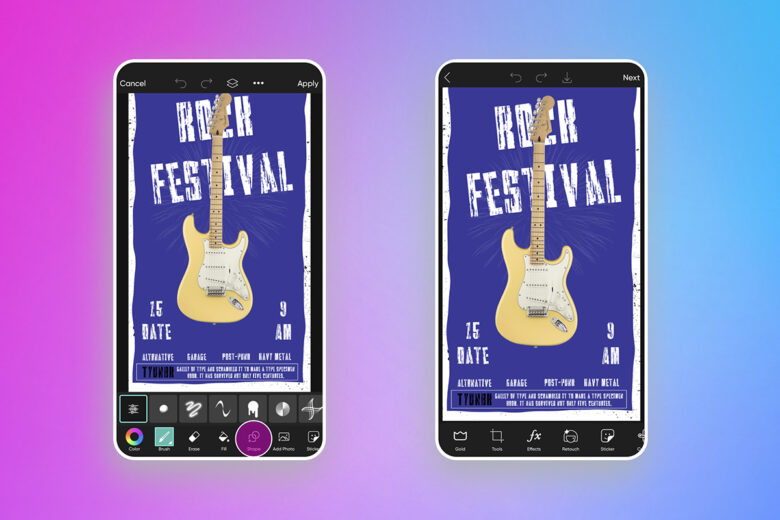 Picsart is a full ecosystem of free-to-use content, powerful tools, and creator inspiration. With a billion downloads and more than 150 million monthly active creators, Picsart is the world's largest creative platform. Picsart has collaborated with major artists and brands like BLACKPINK, the Jonas Brothers, Lizzo, Sanrio: Hello Kitty, I am a Voter, Bebe Rexha, Maroon 5, One Direction, Warner Bros. Entertainment, iHeartMedia, Condé Nast, and more. Download the app or start editing on web today to enhance your photos and videos with thousands of quick and easy editing tools, trendy filters, fun stickers, and brilliant backgrounds. Unleash your creativity and upgrade to Gold for premium perks!