Look. Keeping up with what business tools are best to use can be stressful AF. With so many incredible options available, choosing the right one for you can be more tricky than you think. Why waste your time searching when your good friend Picsart can help you out? So join us, as we explore the best tools every solopreneur needs in 2024. Let's go!
Thanks to the magic of AI, we are able to offer a range of helpful quicktools that can solve all of your work-related woes! As we move into the future, embracing AI is your business partner is a great way to work as efficiently as possible. With tools this helpful, how could you possibly not use them!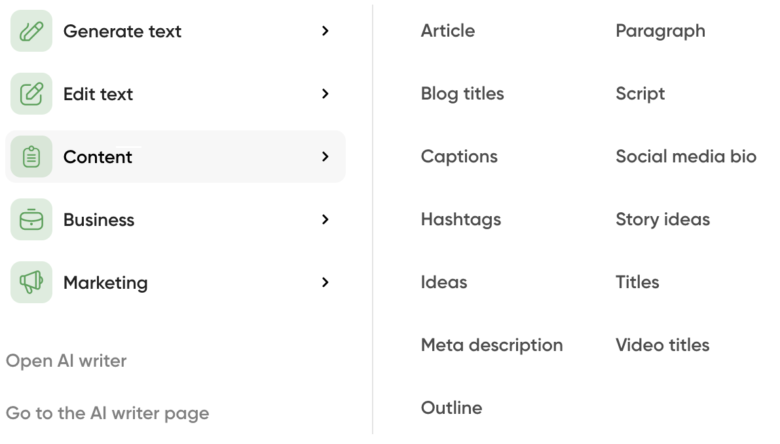 Idea Generator 
Now we all know that when it comes to thinking of ideas, getting the ball rolling can sometimes be tricky. Writer's block is real and no one's immune to it! If you are struggling to think of any business-related ideas then this tool may be the one for you. Whether it's thinking of your next blog topic, or what kind of business you want in general, the Idea Generator is the perfect sidekick for any solopreneur❤️.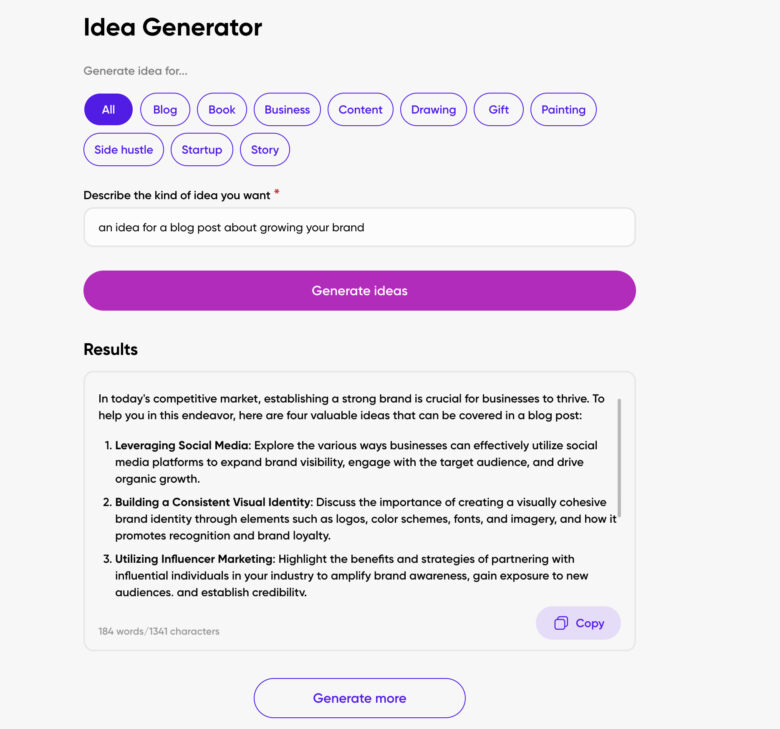 Title Generator
Picture this. You've just written the best blog post of your entire career. It's groundbreaking. It's life-changing. It's quite literally the best piece of writing to ever exist. But there's only one problem: You can't think of a title 😔.  This situation can be super frustrating…but guess what? We've got a fab tool to solve it! Our Title Generator is the perfect way to quickly think of a great title for your book, blog posts, and more. Long gone are the days of endlessly racking your brain for a great title to an even greater piece of work. We've got you covered!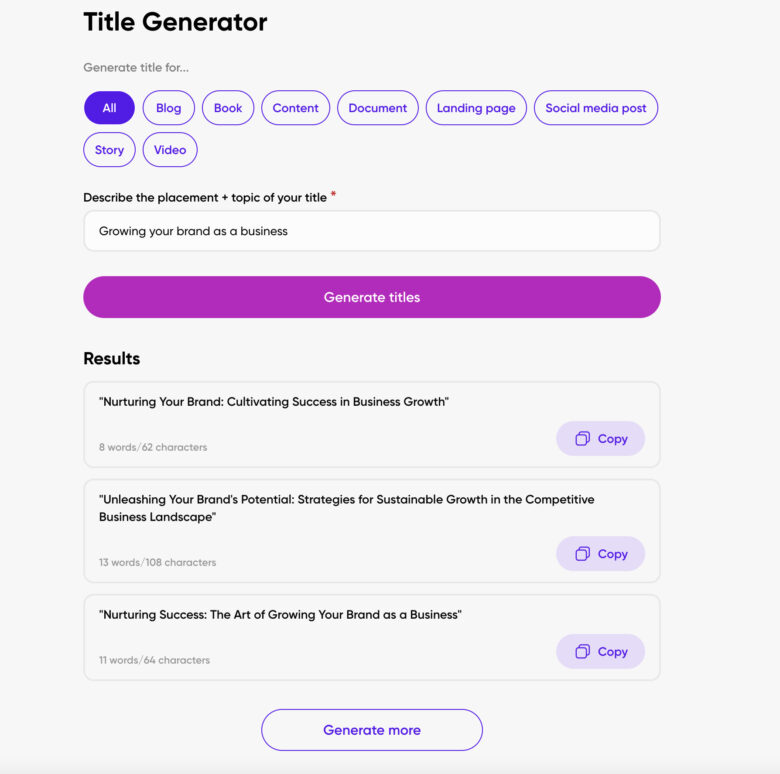 Caption Creator 
Having a strong social media presence is a great way for any solopreneur to grow their outreach. Whether it's through promoting your business or simply sharing your journey online, regularly posting on social media can be a great way to build more success. However, thinking of the right captions for these social media posts can be super tricky. Our Caption Creator is the perfect tool for thinking of any type of social media caption. A funny one? You got it! A serious one? No problem! Whatever the vibe you want, this tool can be the perfect help for your social media struggles 💔.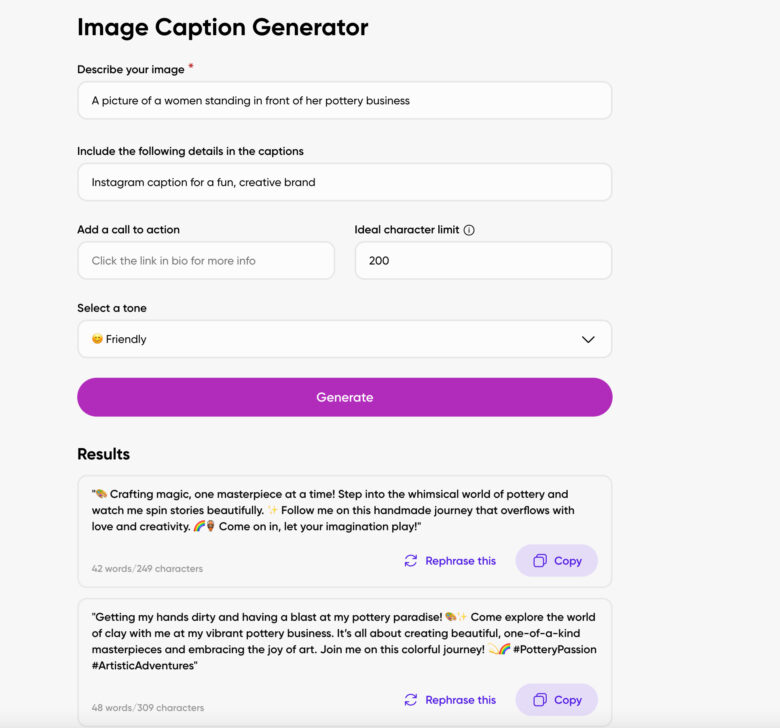 Business Name Generator
Finding the perfect name for your business can definitely be a big challenge. It's a lot of pressure to find one that's the right fit for your brand; sometimes it can feel impossible to make a final decision. If you find yourself in this dilemma then we have just the solution for you! Our Business Name Generator is a quick and simple way of choosing the best tile for your business. Just describe the basics of what your brand is and with the help of our tone options, you can pick whatever vibe you want! So cool!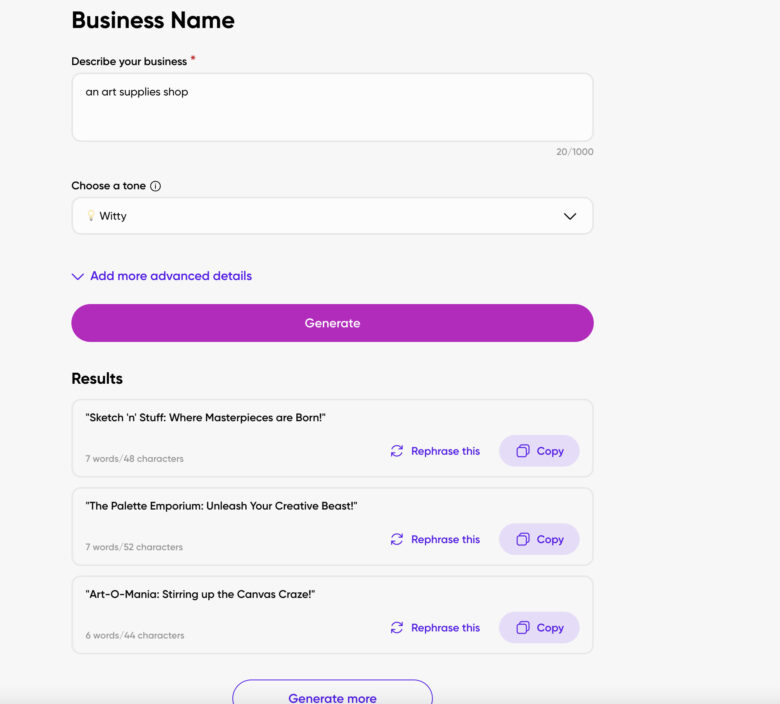 Google Analytics
Now once your brand is up and running, it will be important to monitor certain info. The perfect tool for this is Google Analytics. Want to check traffic on your website? Well, this platform's super simple interface allows you to keep track of info like this with ease. It's super user-friendly and can really make a difference when it comes to monitoring your engagement rate. It's the perfect addition to any business… so why not give it a try?
Buffer
Social media posting can be a nightmare. Making a conscious effort to regularly post can very quickly become a draining task. That's why Buffer is a great tool to help with your social media planning! This simple-to-use platform allows you to manage your social media posts via scheduled posts and engagement monitoring. With it being available on both web and mobile you can access it practically whenever you want! It's giving social media slayer and we love that! 
WordPress
If you're planning on starting a blog for your business then WordPress is an absolute must. It's an incredible "must-have" tool in the blogging world and is super user-friendly. You can easily add imagery and videos, keep track of your posts, and easily update already published content. It's a great platform to use for your business or personal blog. So what are you waiting for? Download it today and get blogging 😍!
Asana
Managing work tasks can be overwhelming, to say the least. The last thing you need is for anything to overcomplicate the situation; we all know how easy it is for things to slip your mind when you have lots to do. Asana is the perfect solution for your work management struggles. You can set yourself tasks, join Projects with teammates, and collaborate with people to get your work done! Whether you're working with others or embracing the solopreneur vibes, Asana is most definitely an incredible business tool.
Now that you know about these iconic tools you are ready to slay the business world! It's important to remember that not all tools are perfect for everyone. Just pick and choose what things help you on your journey to business success the best. In the words of the great Dolly Parton "Working 9-5, what a way to make a living" ❤️.
---
Picsart is the world's largest digital creation platform. Its AI-powered tools give creators of all levels the ability to design, edit, draw and share photo and video content anywhere. It's used by consumers, marketers and content creators for both personal and professional design, and is available to businesses via API partnerships and integrations. Picsart has collaborated with major artists and brands like Discord, PopSockets, Shopify, Taylor Swift and more. Download the app or visit picsart.com.