Love has so many shapes and forms, and we all have our own unique way of celebrating it. That's the beauty of Pride – there is no wrong way to do it. Love flourishes when we have a safe space to express ourselves, and let our authentic selves shine. And a little bit of glitter doesn't hurt, either.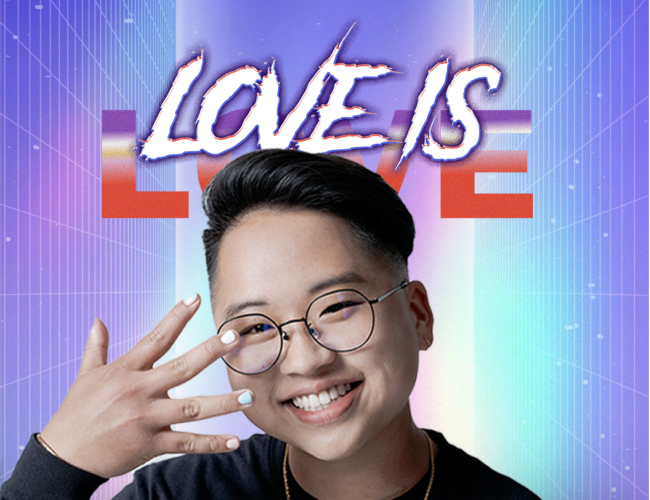 So this year, we are celebrating love in all its forms and paying tribute to Pride month by showcasing our gorgeous, diverse community. PicsArt was created to help everyone express themselves, and our community today is a perfect reflection of that. This is a space where everyone should feel like they can be themselves unapologetically.
"Pride, to me, means visibility," Derrick, one of our models, explains. "Before the pandemic I lived in San Francisco and it was so important for me to outwardly express my identity, show up as an underrepresented person, and have camaraderie with other queer and BIPOC folks. I had the privilege of moving home with family, but being back in my hometown I felt my light dim, thinking about how I was in the closet, or felt afraid to be myself. So this year I'm cranking up the volume – I'm loud and I'm proud."
Pride Through the PicsArt Lens: The Thought Behind the Aesthetic
Every year, we think about what content we can make for our creator community to empower and best support them in their own photo and video editing journeys. When we started to think about the visuals and content we wanted to create for Pride this year, we were inspired by other artists in pop-culture that embody the idea of being 'unapologetic'. The bold chrome letters, neon colors, and audacious imagery harken back to the wild '80s and '90s, and are now being reclaimed by today's artists in music, design and film. Also, let's be real, it looks badass.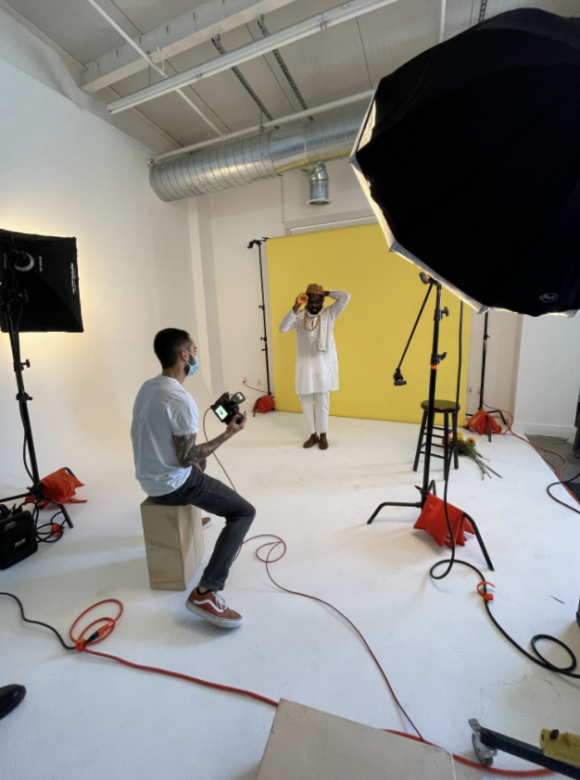 Beyond the magical, yet kind of typical rainbow colored filters, brushes, and stickers, we've created an entire content pack for our creators to use, including pronouns and words of affirmation. We can't wait to see what you, our community, create with it. To bring it all to life, we partnered with photographer Michael Baca for one of our first ever US-based photoshoots, to capture photos of a few people who have inspired us during our design process.
When we asked Meg, a model we had the honor to photograph, what being unapologetic means to them, they answered, "There's not one other person who will ever live my exact life or experiences; therefore, I will always unapologetically live my life for me and no one else. For all of my childhood, I tried forcing myself into a cookie-cutter shape because I believed that being like everyone else would be the only way I'd be successful and happy in this world. My life truly began when I started living life as my most authentic self, without apologizing for it."
Meet Our Pride Models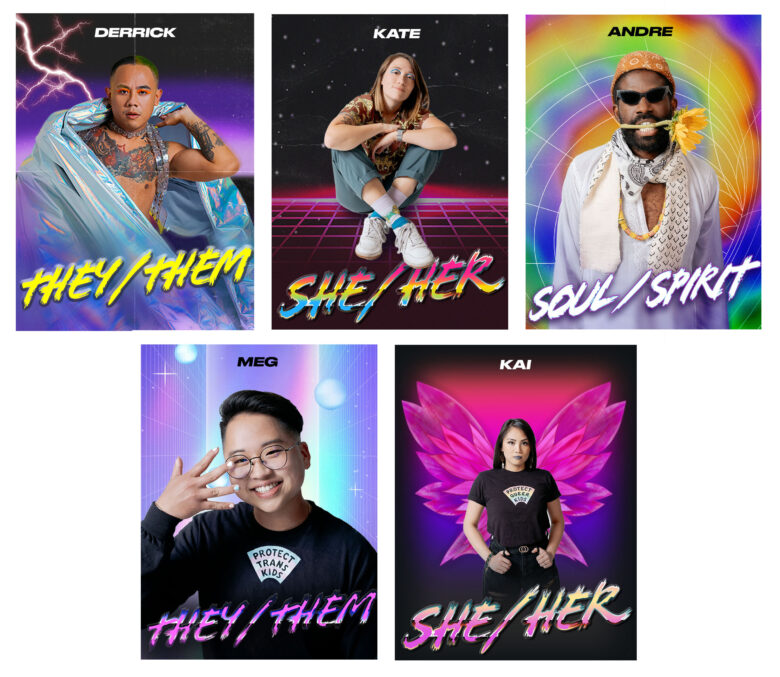 Creating Your Own Pride Photography
You don't need a fancy studio or expensive equipment to create content for Pride. In fact, sometimes having constraints can help boost your creativity. But what do you do when it's time to step in front of the camera? For some, that notion can be intimidating. But fear not, we've asked our models to share a few handy tips for creators.
Kate, a photographer herself, shares, "As someone who is usually on the other side of the camera, being photographed doesn't come naturally to me. To loosen up in front of the camera, I like to put on some of my favorite music, laugh with the people around me, and feel comfortable in the clothes I am wearing. I am most myself when I am dressed in a short-sleeve button up, colorful pants, fun socks, and a matching soft-top cap."
Andre had a few beautiful thoughts to share with our community as well, "I need assurance and affirmation, as we all do. So, my key tip for feeling your best in front of the camera is spending time behind it. Imagining how people want to be seen, heard, experienced and felt. And be honest with the person with the camera about how you feel. That's what I did with this shoot. And it felt received."
Celebrating Pride Year Round
Pride is so much more than just one month. It should be celebrated and recognized every day of the year. And as a company that puts authentic self expression at the forefront of everything we do, we need to ensure that our commitment to supporting a safe community goes well beyond just one month a year.
That's why we continue to monitor our various channels and content to swiftly remove any hate speech, and to create a safe and loving space for anyone. And we will continue championing, supporting, and creating content that is more inclusive and diverse, reflective of all of our users worldwide.
Digital bullying could deter a whole generation of artists. If you see someone being bullied online for expressing their true self, then please report it. If you'd like to spread the love and become an anti-bullying champion, check out these 7 Ways to Choose Kindness Over Bullying, written in collaboration with Project B3, a non-profit organization dedicated to empowering student voices to Be Safe, Be Smart and Be Kind online.

Creativity and self expression are at the core of everything we do, and we will continue to support our creators around the world during Pride and every month. The first Pride was a riot, and we are dedicated to making sure that our creators have the ability to express themselves. Check back soon as we release more content on an ongoing basis to help BIPOC creators and allies express themselves, unapologetically.
Happy Pride!
PicsArt all-in-one Photo and Video Editor, Collage, and Sticker Maker is the world's largest creative platform with over 150 million monthly active creators and influencers. PicsArt has collaborated with major artists and brands like The Jonas Brothers, Gwen Stefani, Maroon 5, Lizzo, Meghan Trainor, One Direction, MONSTA X, Warner Bros. Entertainment, iHeartMedia, Condé Nast, and more. Download the app today to level-up your photos and videos with thousands of quick and easy editing tools, trendy filters, fun stickers, and brilliant backgrounds. Unleash your creativity with PicsArt and upgrade to Gold for awesome premium perks.