There are many intricate details that go into planning your big day, and a wedding program is a great way of communicating some of those important details to your guests. A wedding program is an outline detailing all of the wedding day events, providing guests with a helpful overview of the days proceedings. While not a necessary component, a wedding program can add a level of elegance and sophistication to your wedding that guests will appreciate. The wedding program not only serves as a keepsake for the bride and groom, but it also provides  guests with important details about the order of events, and the participants involved in the ceremony. It also helps build excitement for the day ahead.
If you're thinking about creating a wedding program for your special day, you'll want to keep reading to learn about different types of wedding programs and what to include in them. We'll also take a look at some wedding program examples and how you can design your own.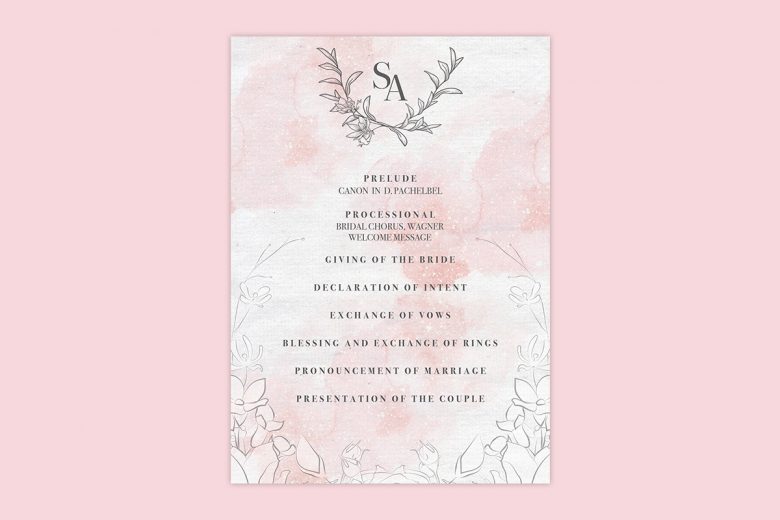 Different Types of Wedding Programs
A wedding program is totally customizable, based on what details you want to include in your design. Some couple may opt for a comprehensive wedding program that includes the full day's festivities in detail, while others may only want a simple rundown, for a specific part of the day. Let's take a look at the different types of wedding programs you can make:
Full-Day Wedding Program
This type of program consists of a full day of events, from beginning to end. This includes any pre-ceremony activities, ceremony specifics, reception details, and any other concluding events.
Wedding Ceremony Program
This type of program focuses on the ceremony details of the wedding only. A wedding ceremony program can include the exact order of events, who is involved at each step, and information on the ceremony itself, as well as details about the reception.
Wedding Reception Program
While some couples may want to provide details on the ceremony, others prefer to have a reception-only program. This would include location, time, musical selections, and any other important details related to the party.
What to Include in a Wedding Program
Let's go over the different elements you should include in a wedding program, ranging from must-haves to optional extras:
Essentials:
Bride and groom names
Wedding date
Location(s)
Outline of the ceremony and/or reception proceedings
Good to Have:
A brief overview of the order of events
Wedding party names, including bridesmaids, groomsmen, maid of honor, best man, flower girls, and ring boy
Names of others participating in ceremony and reception, including family members, officiant, musicians, etc
Wedding logo or monogram
Wedding hashtag
Photos of the bride and groom
An explanation of any cultural or religious traditions taking place during the ceremony or reception
Explanation of other significant wedding details worth highlighting
Helpful logistical information such as directions to the reception
A message of thanks to guests for their attendance
A request for audience participation during specific parts of the ceremony or reception, such as singing or taking communion
Bonus:
A message honoring loved ones who could not attend
Meaningful poems or passages
A 'how we met' story between the bride and groom
Musical selections and lyrics
Wedding Program Wording
There are hundreds of different wedding themes and styles, from black-tie to bohemian beach, and everything in between. Wedding programs can also vary greatly in terms of wording and overall design. There are generally four different parts to include in a wedding program: Introduction, the order of ceremony events, the wedding party, and the back cover. In terms of style, wedding program wording can range from basic or minimalist, and religious or traditional, to contemporary. If you're not sure how to write your wedding program, check out this typical wedding program outline.
Introduction
'Welcome to the wedding of: Bride and Groom name'
Wedding time and date
Locations of church and venue (if different)
Order of Ceremony
Prelude
Processional
Welcome and introduction
Giving of the Bride
Readings
Exchange of Vows
Ring Ceremony
Pronouncement of Marriage
Presentation of Couple
Recessional
Introducing the Wedding Party and Other Participants
Officiant
The Parents of the Bride
The Parents of the Groom
Maid/Matron of Honor
Best Man
Bridesmaids
Groomsmen
Flower Girl
Ring Bearer
Back Cover
A back cover is completely optional. If you choose to go with a minimalist design, you may opt not to include a back cover. However, some couples do like to use the back cover to write a thank you message to their guests. You can thank your parents, friends, and families for attending, and making your day feel extra special. You can also include messages that honor deceased family members. Lastly, if your reception is at a different location, you can use the back cover to include instructions guiding guests towards the reception.
Wedding Program Examples 
When it comes to wedding programs, there is no right or wrong design approach. Each couple can create a wedding program that fits their personalities and wedding theme. With that said, let's take a look at some examples of wedding programs to give you some inspiration when creating your own:
1. Classic Wedding Program
This is a traditional yet versatile one-page wedding program. You can use thicker paper for a more elegant feel, and add any pattern or background that aligns with your wedding theme. For example, for an outdoor rustic wedding, you can add leaves or other floral elements along the edges of the program. You can place individual programs on each ceremony chair, ask the ushers to pass them out to the guests, or display them in a basket or box on the welcome table for guests to grab on their way in. Cursive Calligraphy fonts are always the most sophisticated choice for traditional and classic wedding styles.
2. Chalkboard Sign Program
Chalkboard signs are trending and they're popular for a good reason. You can create a gorgeous wedding program on a chalkboard sign with just a few important elements. You can include special illustrations, your wedding hashtag, and your wedding monogram to elevate the design. Display your chalkboard sign on an easel or table near the entrance so your guests can read it on their way to their seats. Decorate the sign with flowers and leaves, or other designs that fit the theme.
3. Ceremony Program Fans
Ceremony program fans are popular for outdoor weddings during the warmer seasons. They serve the dual purpose of providing your guests the important wedding details while keeping them cool during your outdoor ceremony. This type of program is perfect for summer weddings or beach weddings, where there will be a chance of direct sunlight and heat. You can distribute a fan on each seat, place them all together on a table, or in a basket near the ceremony entrance.
4. Wedding Program Booklets
Booklets are a great option for longer wedding programs that have a lot of detail. For example, you can include the full day's events, from the ceremony to the cocktail hour to the reception. If you need to include longer explanations or descriptions of cultural or religious rituals, translations of blessings in another language, or directions to a different venue for the reception, a booklet is the perfect option. Consider displaying the booklets by the entrance, so that guests can pick them up as they walk in.
5. Newspaper Wedding Program
A newspaper wedding program is one of the more comprehensive designs that allows couples to provide a lot more information to their guests. This is especially fitting if you're a journalist, newspaper junkie, or just want a vintage wedding vibe. You can include photos from your engagement shoot, share the story of how you met or the proposal, and add pertinent details about the venue. This playful wedding program provides an extra level of entertainment for guests and makes for a great keepsake. Be sure to include a large headline highlighting the couple's names on the big day. Add a custom crossword puzzle focused on your love story for a fun activity that your guests can do together. Fold each newspaper program in half, showing off the headline, and place them on each seat. If you're including a crossword puzzle, don't forget to supply pencils.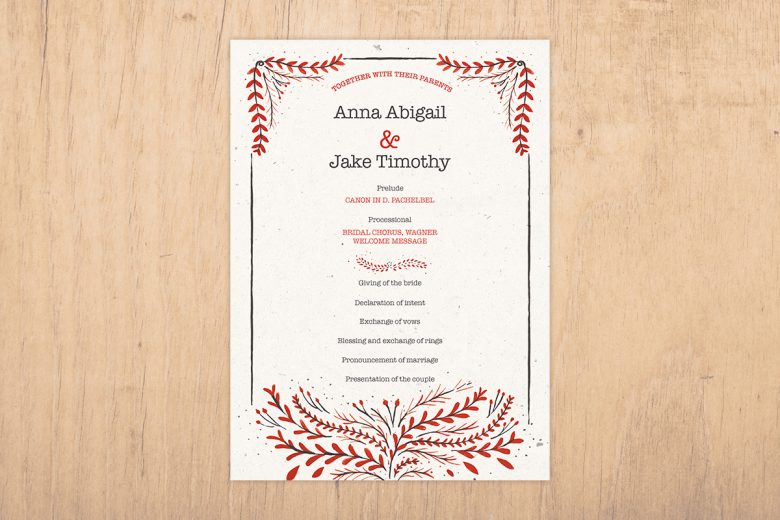 How to Design a Wedding Program
Ready to create your own wedding program? Follow these easy instructions and create your own design using the PicsArt Desktop Editor. Designing from your mobile device? Check out the PicsArt mobile app instead.
Open the PicsArt Template Editor.
Select from Templates, any Free to Edit image, or upload your own using the Upload button on the top left.
Next, select Shapes to create a unique outline for your wedding program. You can adjust the opacity or overlay it using the control panels.
Click Text, then type in your text and move the text box to the desired area on your image. Click on Font above the image and you'll see a dropdown of typefaces you can choose from. Be daring and combine two complementary fonts for a more refined design. We suggest calligraphy fonts for headings and titles, and Serif or Sans Serif fonts for supporting text.
You can also adjust for size, letter spacing, line height, alignment, caps, and the options to make your text bold, italic, or underlined. If you choose a script or cursive font, be sure it is clearly legible and readable once you're done with your font edits.
Next to the Font option, you'll find Color, Outline, and Shadow. Click into each of these editing tools and adjust your font accordingly. Pro tip: Black font on a white background is the easiest to read. You can add colorful elements elsewhere on your wedding program.
To add graphics to your design, click on Stickers and search for your desired sticker. For example, search for 'flowers' or 'wedding' for some wedding-related stickers you can add to your wedding program. You can customize this based on your wedding theme.
Done with your wedding program? Hit the Download button or Share to your social media or Picsart profile.
PicsArt all-in-one Photo and Video Editor, Collage, and Sticker Maker is the world's largest creative platform with over 150 million monthly active creators and influencers. Picsart has collaborated with major artists and brands like Taylor Swift, The Jonas Brothers, Gwen Stefani, Maroon 5, Lizzo, Meghan Trainor, One Direction, MONSTA X, Warner Bros. Entertainment, iHeartMedia, Condé Nast, and more. Download the app today to level-up your photos and videos with thousands of quick & easy editing tools, trendy filters, fun stickers, and brilliant backgrounds. Unleash your creativity with Picsart and upgrade to Gold for awesome premium perks.