It's spooky season! 👻 We don't need to spell it out for you, but since we've made this round-up of frighteningly good Halloween fonts, we will!
There are some fonts that naturally scream Halloween. Think of a classic horror movie poster where the font is thick, bold, and dripping with fright. Or maybe it's a scratchy, scrawling font that looks like a monster penned your message. Whatever the look be festive or frightful, there is for sure going to be a font out there to help get your Halloween message across! We've pulled together some of our favorite Halloween fonts below to inspire all of your spooky edits and projects.

 Double Feature is double spooky! With its bubbled shape and drippy features, this classic Hallween font lives up to its name, as it is reminiscent of classic horror films. Movies like It's Alive or House of Horrors both use fonts like this on their movie posters. If the titles didn't give away that they're scary movies, then this horror font sure will!

Gothic font styles are the base for many intricately designed Halloween fonts. One of our favorites, and a true classic, is The Darkest Night Gothic. You could picture this font being used on the cover of a witch's spell book, or on a digital Halloween greeting card. It's spooky and bold, yet sophisticated enough to don the cover of your next party invite.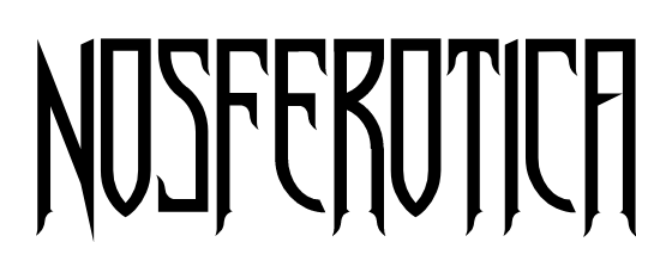 Nosferotica just screams Halloween! This font is inspired by the original vampire haunting our dreams from the 1922 silent horror movie, Nosferatu. It's a classic that you should add to your Halloween font list. The letters in this font reference to the dripping fangs from the vampire in the film. It's a creepy classic that will take your designs to the next fear-inducing level!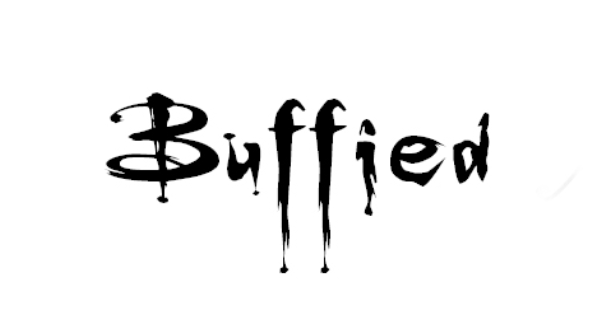 Speaking of vampires, another one of our favorite vampire-inspired Halloween fonts is Buffied. You're going to want to channel your inner-Sarah Michelle Geller when creating designs with this throwback Halloween font reminiscent of the late 1990s TV show. This font has punctuated drips and scratchy aspects that give it a textured feeling of movement, while retaining hints of nostalgic script to it make it feel a little more elevated than your typical spooky font.

Going on a monster hunt? Invite your friends with a cool design that uses Pitchfork. This is one of the cleaner looking of the typical Halloween fonts, but it still packs a crisp punch when used in design. This is a font that you would see on movie posters for horror films like The Blair Witch Project. Simple yet impactful, this is one of our favorite free scary fonts!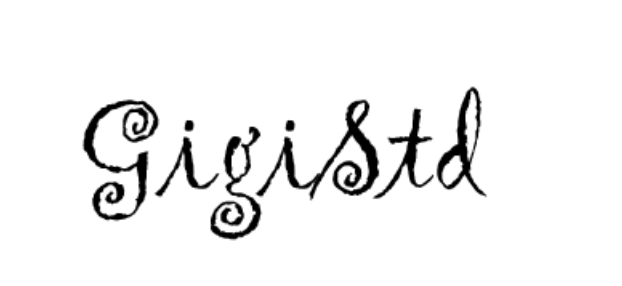 Gigi Std is a little more on the feminine side when it comes to Halloween fonts, but that doesn't make it any less creepy! We love the mystery this font provides with it's full letters and hypnotizing swirls.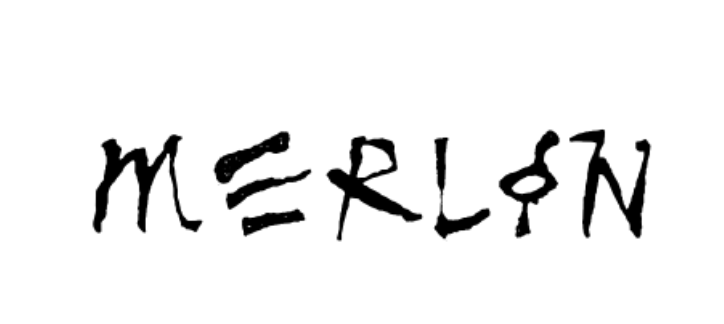 Did a monster reappear from under the bed? This creepy ancient font would make you think so! Merlon has hieroglyphic characteristics that make it look like it could have been scrawled on a rock by someone in a rush from thousands of years ago. It's alien, yet ancient, and will for sure create a creepy, unsettling feeling for your text! Consider pairing this Halloween font with a blood-red color to take it to the next level.


When spooky is literally in the name, then you know this Halloween font is going to be a solid option for everything from Halloween goodie bags to door hangings! Spooky Std is a ghostly classic. It's inconsistent, purposely messy strokes give it an intrinsically unsettling feeling that is practically guaranteed to make the hair on the back of your reader's necks stand up throughout the month of October. Use this font over dark window images to make it seem like a ghost wrote it on the other side.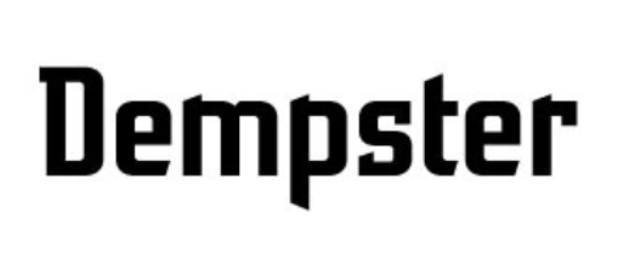 Dempster is another Halloween font that evokes some serious horror movie posters vibes. This one is slightly more modern than some of the vintage classics, but still packs a punch with its thick letters and strongly angled edges.

Are you a teenage werewolf? When you are trying to get your canine Halloween point across, Wolfsblood is the free scary font for you! The letters themselves look like they're sporting a mangy fur coat. Anything you write using this one will be sure to send your readers running for the hills! 🐺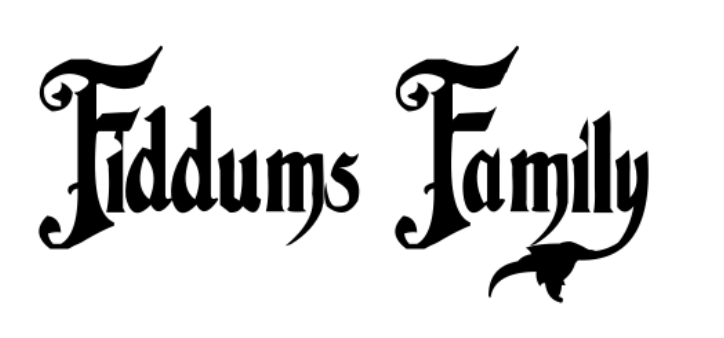 They're creepy and they're kooky, mysterious and spooky… the Fiddums Family! Okay, so this font isn't called The Addams Family, but it still evokes memories of that same, happy go-lucky Halloween family. It's inspired by the classic monster family, and while it has some ornate flares and bold touches to the letters, it's still easy to read. These characteristics make it a great fit for use on Halloween merchandise! 
Halloween Fonts for Every Design Project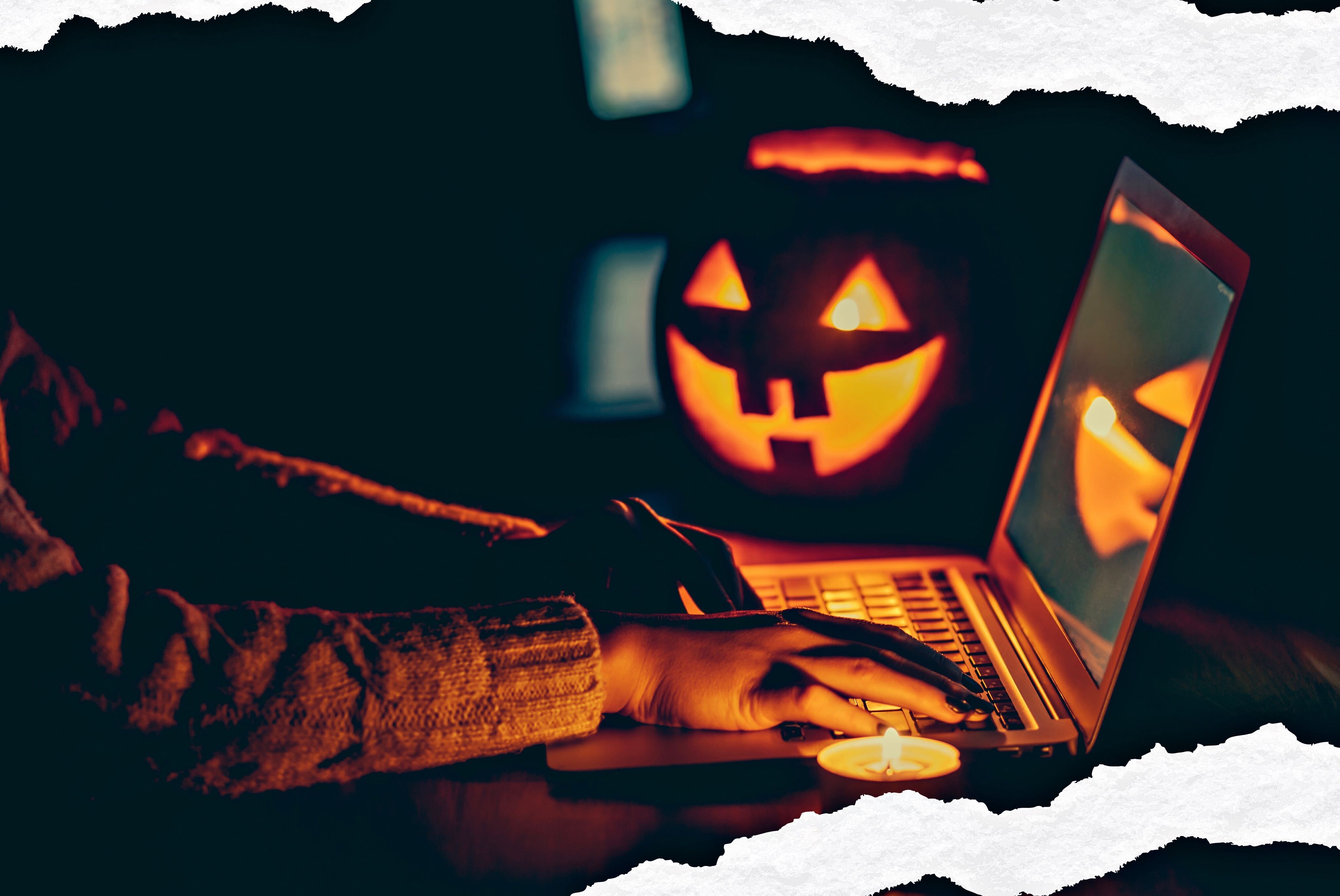 Looking specifically for fonts for your Halloween design work? Using Halloween fonts is a sure way to give your projects a spooky, more seasonal feel. When it comes to Halloween design projects, you can rely on the below free Halloween fonts to give your designs a haunting effect without being too over the top!
Halloween Logos
When it comes to designing a logo for spooky season, we like using a soft font that has some good bone structure! Zombieland has Halloween illustrations built right into it with these bone finishes. It's like a zombie has danced across your logo! Whether it's vampire fangs, bloody drips, or bare bones, there are plenty of Halloween fonts that will help get your point across with your logo.  
Halloween Posters 

One of our favorite sources of inspiration for Halloween poster designs comes from horror movie posters. Check out your favorite horror flick's promotional materials to get inspiration for designing your own scary Halloween poster! 
The Macabre font is perfect for creating a Halloween poster due to its stretched letters with sharp dagger point edges. They contribute to a font that is approachable and easy to read while conveying Halloween intonations. This font is ideal for headlines and titles but for any further important written information, we'd try combining it with something more simple to read but still in the same font family. 
Halloween Video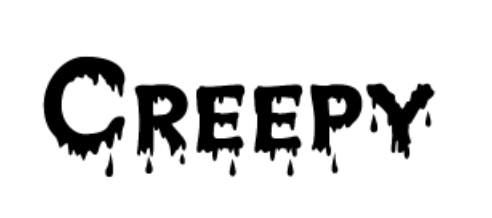 If you are going to use a scary Halloween font on a video, you want to first make sure that the font that you choose can be used on commercial projects. The good news is that most free fonts can be used for commercial projects! Depending on the content of the video, you might want to choose a font that speaks to the main character or theme. If you were editing a spooky horror video, then Creepy is the perfect font because it evokes a sense of ghastliness with its dripping characters. It's ornate but also bold enough to stick out against most backgrounds. These characteristics also make it a great choice for holiday merchandise like goodie bags and printables!
Halloween Branding

When it comes to picking a brand font, you want to make sure that it speaks to your brand identity and is easy to read since it will be used frequently and in a variety of font sizes. A classic font like Caslon Antique checks all of the boxes when it comes to finding a free Halloween font for your brand. We like this one because it is clear and concise, but has subtle details that evoke an unsettling feeling. It's just what you're looking for when establishing a Halloween-focused brand!
Halloween Fonts for Home Events
You don't have to be a professional graphic designer to be able to weave some fun and scary Halloween fonts into your designs. In fact, these free fonts are perfect for at-home events, too!
Trick or Treat Flyer

Does your house pass out the best candy in town? Let the neighbors know what to expect this year with a creepy cool trick or treat flyer! Halloween Spider is a classic, favorite Halloween font. It's perfect for creating flyers or posters because it has an ornate but kid-friendly spider illustration incorporated into each character. It's a spooky season go-to! 🕸🕷
Halloween Activities

From bobbing for apples to pumpkin carving to exploring a haunted house, Halloween activities are what make Halloween parties an annual treat! When it comes to picking the perfect font for activity cards and flyers, look for something with a little air of mystery to it. A font like Airstream is bold and bubbly, but still has a hectic look to it that makes you think it was scrawled out in a haunting hurry. It'll leave your guests wondering, "Is this a trick or a treat?" 🤨
Halloween Party Invitations

First impressions are everything, and when it comes to throwing a party that will be one for the ages, you want to blow your guests' minds with a fun invitation! Choose a Halloween font for your Halloween party invitations that's on theme with the focus of your party. Throwing a futuristic alien Halloween party? Use Sci-Fi Atomic Space Trek WQ to let your guests know that your party is going to be out of this world! 👽
Halloween Pumpkin Carving Printables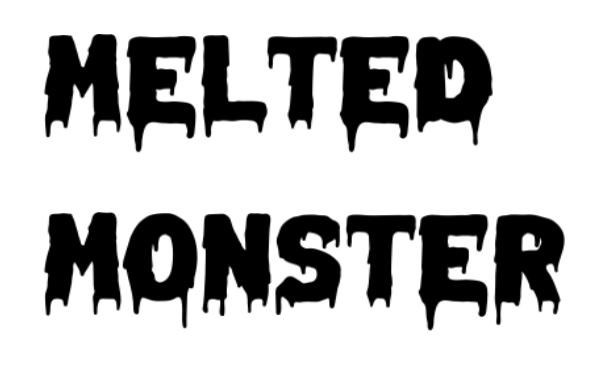 If you're looking to level up your Halloween pumpkin carvings, then Melted Monster is the perfect free scary font! Simply type and print out your message, then tape it to your pumpkin to guide you in carving out the perfect monster inspired jack-o'-lantern. Put it on your front porch to let trick or treaters and party guests know that this party is about to be alive! 
How to Edit a Photo to Include Halloween Fonts
Once you've chosen the perfect Halloween font for your project, it's time to start editing it on your photo! With PicsArt, you can easily find a full library of free Halloween fonts. Even easier are the steps it takes to add text to your images using your new playful or scary font. Learn how with the step-by-step below:
Step 1) Open the PicsArt Editor and click Upload on the left panel to upload your photo or choose from the thousands of free to edit images.
Step 2) Select the type of text you want to use (Heading, Subheading, or Body Text). You can also select a preset font package. 
Step 3) After selecting the font you'd like to use, type out your message. Click on Font in the top menu to adjust the spacing and size of your text. You can also adjust the Color and add Shadows or Outlines.
Step 4) Once you've finished editing your text, click on Share or Download in the top right corner to save and share your project with everyone! 
You can also easily edit Halloween fonts on the go in the PicsArt app! We've broken down the steps for you:
Step 1) Open the PicsArt app and tap the + icon at the bottom of the screen. Select the image you want to edit from your photo gallery or from PicsArt's Free to Edit gallery.
Step 2) Tap on Text on the bottom bar and start typing. You can choose to left, center, or right-align your copy. Tap on the check box in the upper right corner when finished. 
Step 3) Now comes the fun part! Tap the pink up arrow on the bottom of your screen to pull up the search bar and select from a wide variety of fonts to pick the one that's right for you. For Halloween, we recommend the Haunting Halloween or Halloween Font packages. Both have great spooky options! You can also adjust the color, blend, stroke, opacity, shadow, and spacing in this step. 
Step 4) Once you've finished editing your text, click on Next in the upper right corner and Save or Post to save and share your project with PicsArtists worldwide! 
Halloween Font Inspiration
As you can see, adding Halloween fonts to your photo is scary easy! 👻 Feel like you need a bit more creepy content to inspire your very own spooky text overlays? Check out what some PicsArtists have made! We found these in the Explore Tab on the PicsArt app.
This photo serves up some serious It vibes! 🤡 The dripping look of the Creepy font found in PicsArt along with the deep red color makes us think of a blood-curdling scream. Just as the name suggests, this is the perfect font for creating a creepy edit. Even better – you can easily get this look in only a couple of taps since it's a Replay!
This image also uses Creepy, but it takes the font to the next level with the addition of outlines and drop shadows. The text itself might say "happy" but this is without a doubt quite chilling!
PicsArt all-in-one Photo and Video Editor, Collage, and Sticker Maker is the world's largest creative platform with over 150 million monthly active creators and influencers. PicsArt has collaborated with major artists and brands like Taylor Swift, The Jonas Brothers, Gwen Stefani, Maroon 5, Lizzo, Meghan Trainor, One Direction, MONSTA X, Warner Bros. Entertainment, iHeartMedia, Condé Nast, and more. Download the app today to level-up your photos and videos with thousands of quick & easy editing tools, trendy filters, fun stickers, and brilliant backgrounds. Unleash your creativity with PicsArt and upgrade to Gold for awesome premium perks!