Summertime is officially here and in full swing! We don't know about you, but every year during the months of June, July and August we find ourselves going a little (A LOT) picture crazy. There's just too many good photo ops to walk away from… I mean, have you ever seen anything more photogenic than a fresh, ice-cold acai bowl? Case. Closed. 
We put together a list of our top 5 PicsArt Summer photo editing tips for our fellow Summer digital photography feens out there, especially the ones looking to make a splash on Instagram, Facebook and Twitter!
All you need is your phone, PicsArt and a few minutes to take your Summer pictures from 0 to ? — then you can get right back to chilling poolside and soaking up the sun! NOTE: Prior photo editing experience is NOT required ?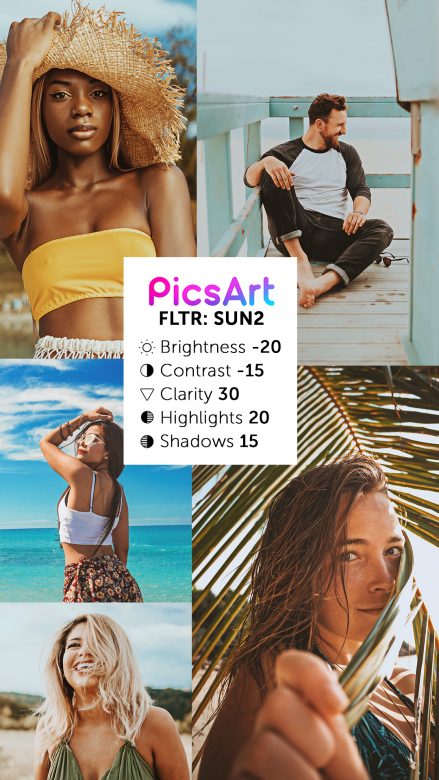 The SUN1, SUN2 and SUN3 FLTRS won't let you down ? Why? Because the SUN Filters have a hidden, magical ability to turn literally any photo into something straight out of a tropical travel magazine article in a single tap. This makes them ideal for when you're on the go/in the midst of an epic Summer adventure and need to throw up a quick FOMO-inducing post on social media. 
The SUN Series also creates the perfect base for more advanced Summer photo editing techniques and can be used in combination with pretty much, well, anything! Pro tip: Don't be afraid to get in there and adjust the brightness, contrast, clarity, highlights and shadows!
Tired of having 'basic' Summer photos? Try applying one of our PicsArt Light Masks to instantly set your pictures apart and give them a fighting chance in your social media feed ❤️ With over 30 PicsArt Light Masks, you're bound to find one that you love! From bold and firey, to subtle and sweet — we have it all. The best part? It'll only take seconds of your time and a single tap! Pro tip: Double tap the Light Mask of your choice to adjust the opacity/the amount of light and hue.
Having trouble getting the sun to cooperate in your photo? Ugh! We feel your pain! The good news is we have an army of PicsArt photo effects, filters, features and tools to help you tackle the problem head on like a pro. 
The SUN FLTR Series and Light Masks are great starting points, but if you really want to replicate the authentic shimmer of the sun in your photos our Lens Flares are where it's at. Our 50-plus Lens Flares include a wide range of sizes, colors and styles to ensure you can find the right match! We recommend placing the Lens Flares in the corners of your pictures and/or near the edge of objects if you want to achieve an 'au naturale' look. Pro Tip: Pop a tiny Lens Flare on sunnies for an immediate 'cool' vibe ? 
Want to take your Summer photos to 'influencer level' but don't know where to begin? Our Summer Templates (iOS only) are the solution you didn't know you were looking for (not to jump to conclusions or anything)! With PicsArt Summer Templates in your corner you can quickly churn out polished, professional social media posts that will leave your followers S H O O K.  Pro Tip: Once you've chosen your Template and are in the PicsArt Photo Editor, double tap the Template and select 'Ratio' to automatically resize for Instagram, Instagram Story, Facebook, Twitter, YouTube and Pinterest. 
There's a time and a place for collages, and that time and place is Summer. If you have an overload of gorgeous Summer shots don't feel pressured to pick just one, pick them all! Our Collage Maker and endless customizable grid options make it easy to keep your collage organized and mega-aesthetic. In other words: you don't have to worry about disrupting the flow of your feed ?
Like Templates, you can double tap on your collage and select 'Ratio' to automatically resize for the different social media platforms. Pro Tip: Don't skip adjusting the border width and color, it really can make all the difference!  
PicsArt photo and video editor, collage and sticker maker is the world's largest creative platform with more than 100 million monthly active users and influencers. PicsArt has collaborated with several brands and artists, including Disney, MTV, Dior, DJ Snake, Gwen Stefani, Maroon 5, 30 Seconds to Mars and more. Step-up your photo editing with thousands of tools, edits, backgrounds, stickers and filters. Awesome starts here! Download the app today, and upgrade to PicsArt Gold to unleash your creativity!