What is it about glitches – errors and malfunctions, usually in communication systems – that makes them so eye-catching? How can it be that what was once an accidental distortion of an image is now a much sought after glitch filter? Adding glitch effects on pictures is now a popular photo editing style. But what is a glitch effect, what are similar effects, and how to do apply them to your photos? In this article we'll cover this and so much more.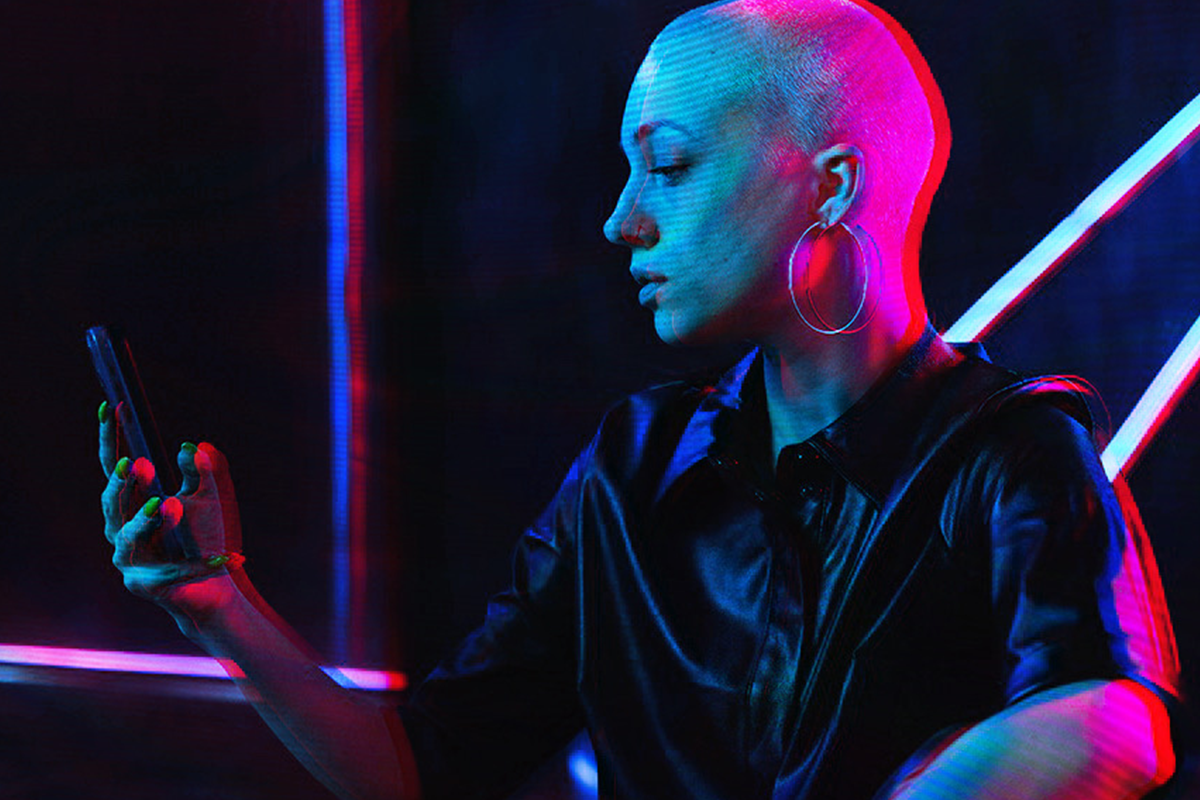 What Does Glitch Mean?
A glitch is typically an error or a malfunction. It's often used to describe bugs in coding. But really, anything can be glitchy: sounds, images, video displays, or digital systems. A glitch often implies that something has gone wrong. But nowadays, glitch photo effects are some of the coolest effects you can apply in editing.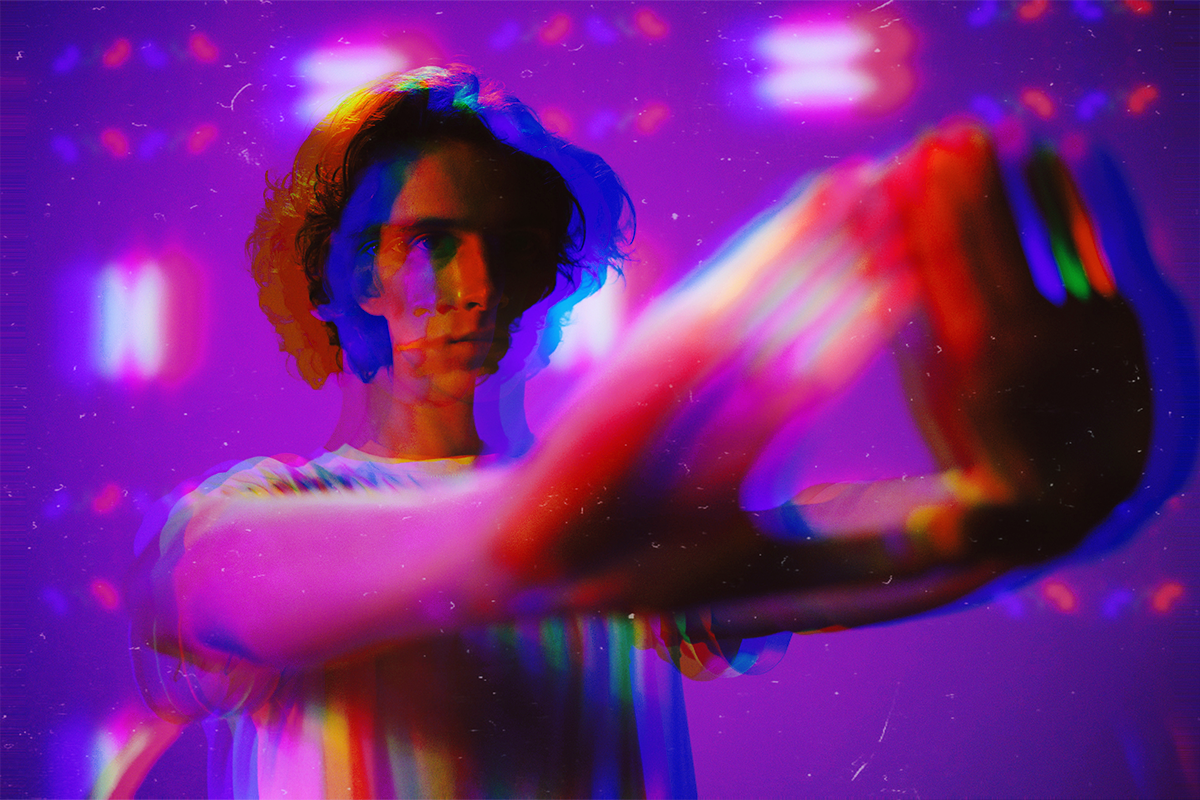 Why Are Glitch Photo Effects So Popular?
TV glitches, an annoying result of a corrupted tv signal, used to be quite common. But with advances in technology and streaming services, they're now noticeably less prevalent. However, modern nostalgia is now one of the most popular modern design trends. Why? People are reminiscing about times long past, and a visual marker of them has now become one of the most stylish aesthetics – glitch effects on pictures. That's right – rather than trying to figure out how to make an old picture look new again, many people are learning how to get retro and glitch effects on photos.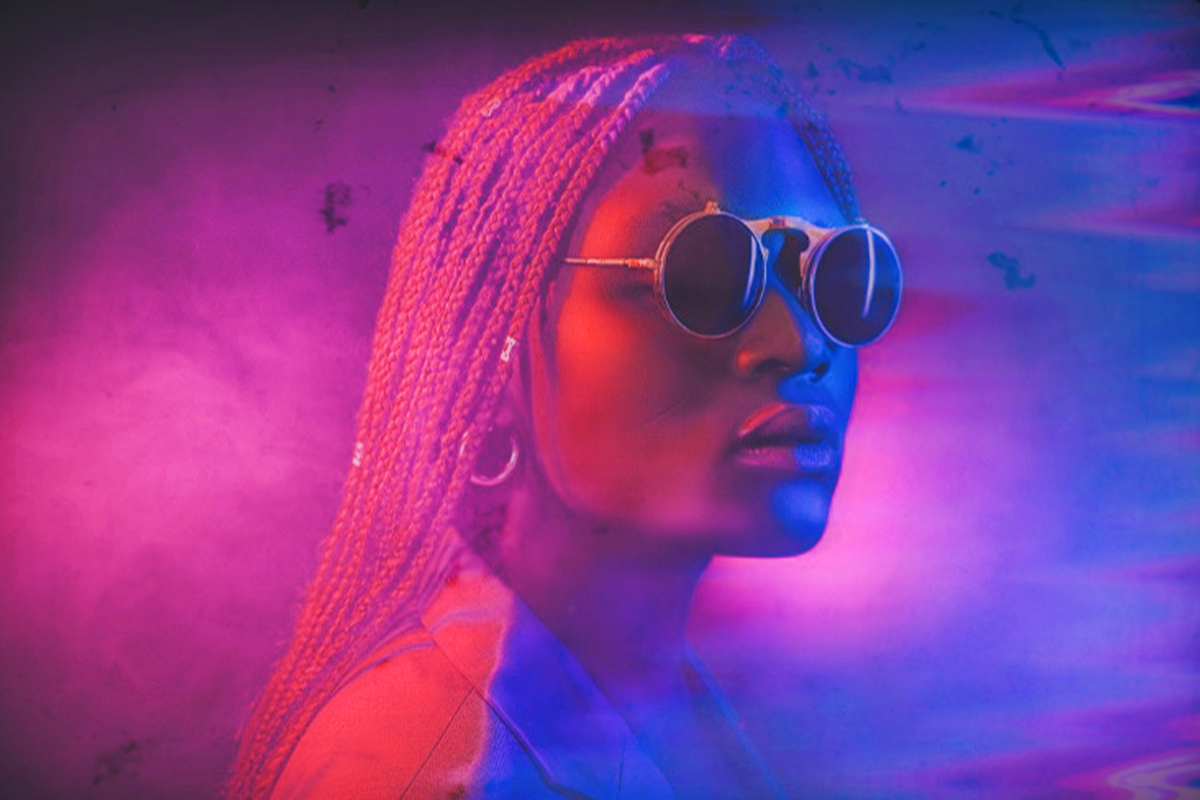 What is a Glitch Effect?
While glitches used to be errors, the glitch effect in modern design is an intentional filter added to a photo or video that gives it a retro or futuristic feel. To get glitch art, you simply need to take a crisp image and intentionally distort it by adding a filter or effect with a photo editing tool.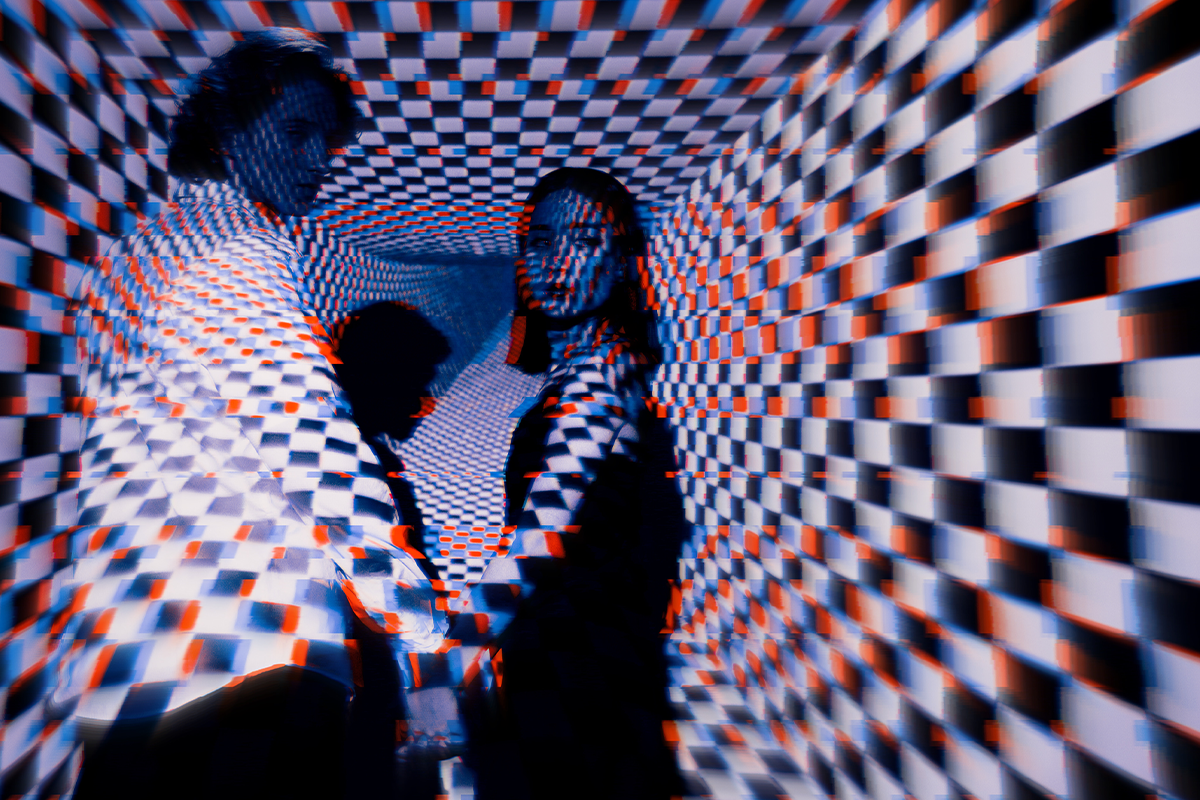 Similar Photo Effects to the Glitch Effect 
In addition to glitch filters, there are also numerous effects that look like they're in the same effect family. Try these three other similar photo effects to the glitch effect to see which you like best. 
Shear
You can easily find the Shear Effect in Picsart by looking under the Effects tool and scrolling through the Artistic options. It's basically a glitch, but on a smaller scale. The results look like a distortion that has started but hasn't progressed very far. When experimenting with this type of glitch filter, customize the distortion level by tapping on the filter again and changing the size, angle, and shape of the distortions.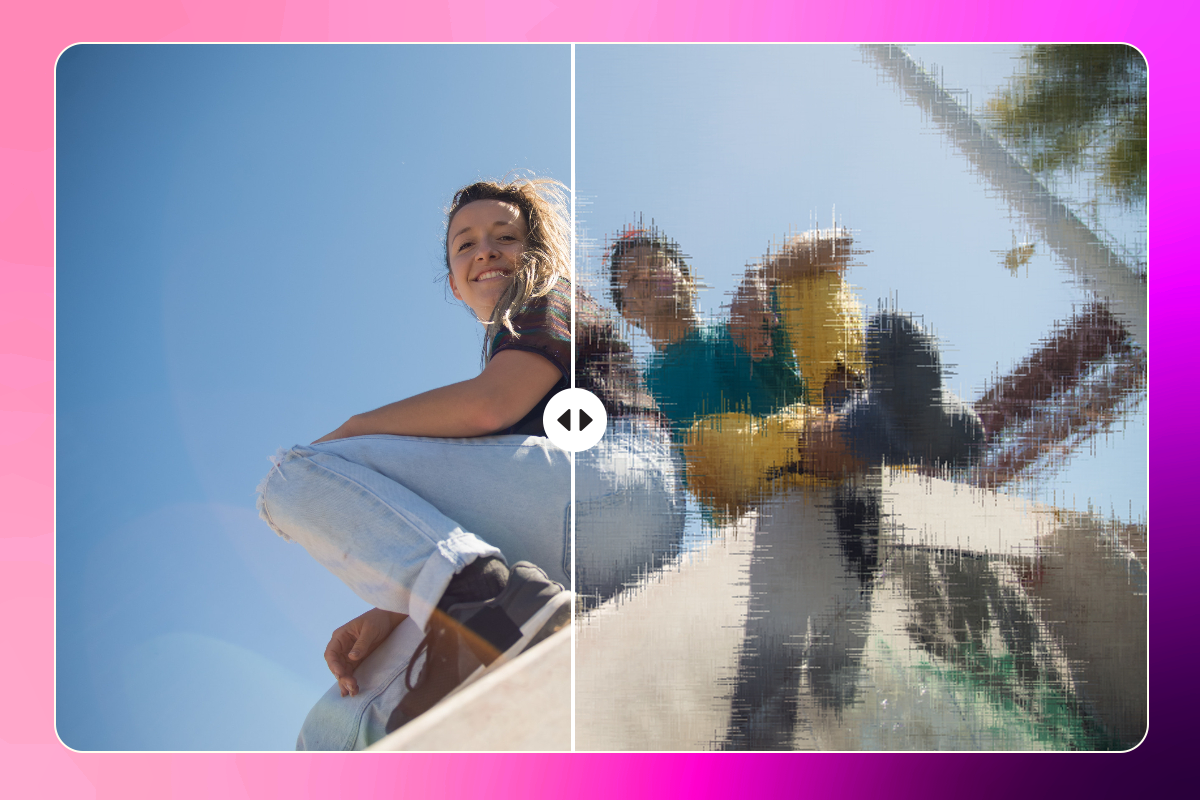 Holga 1 and 2
To find Holga 1 and Holga 2, look under Effects -> Pop Art. These photo distortion effects offer unique colored or black and white glitchy effects. We love using Holga 2 because of its light red and blue undertones.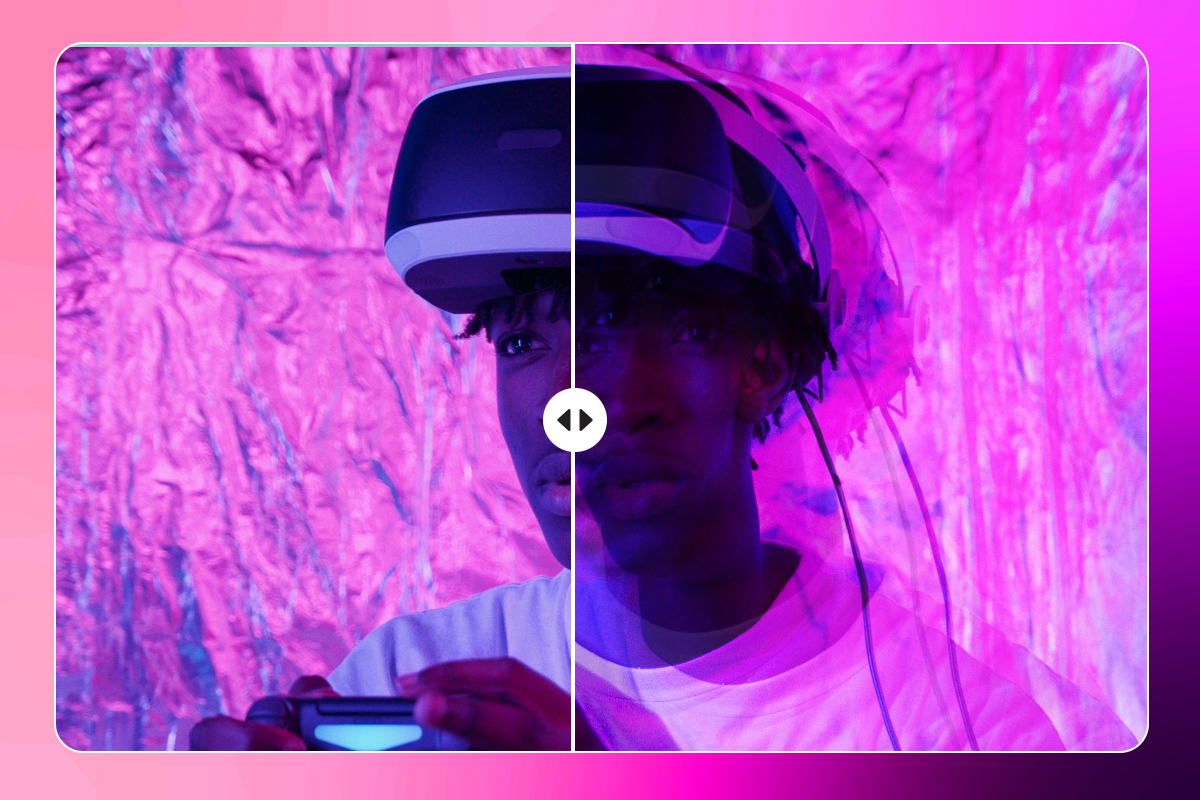 BRN
Also under the Pop Art section of the Effects Tool, this one distorts an image using bright colors. Definitely a great idea if you want something super bright and in contrasting green and red. You can layer filters and effects in Picsart, so try combining it with a glitch photo effect for a fun surprise.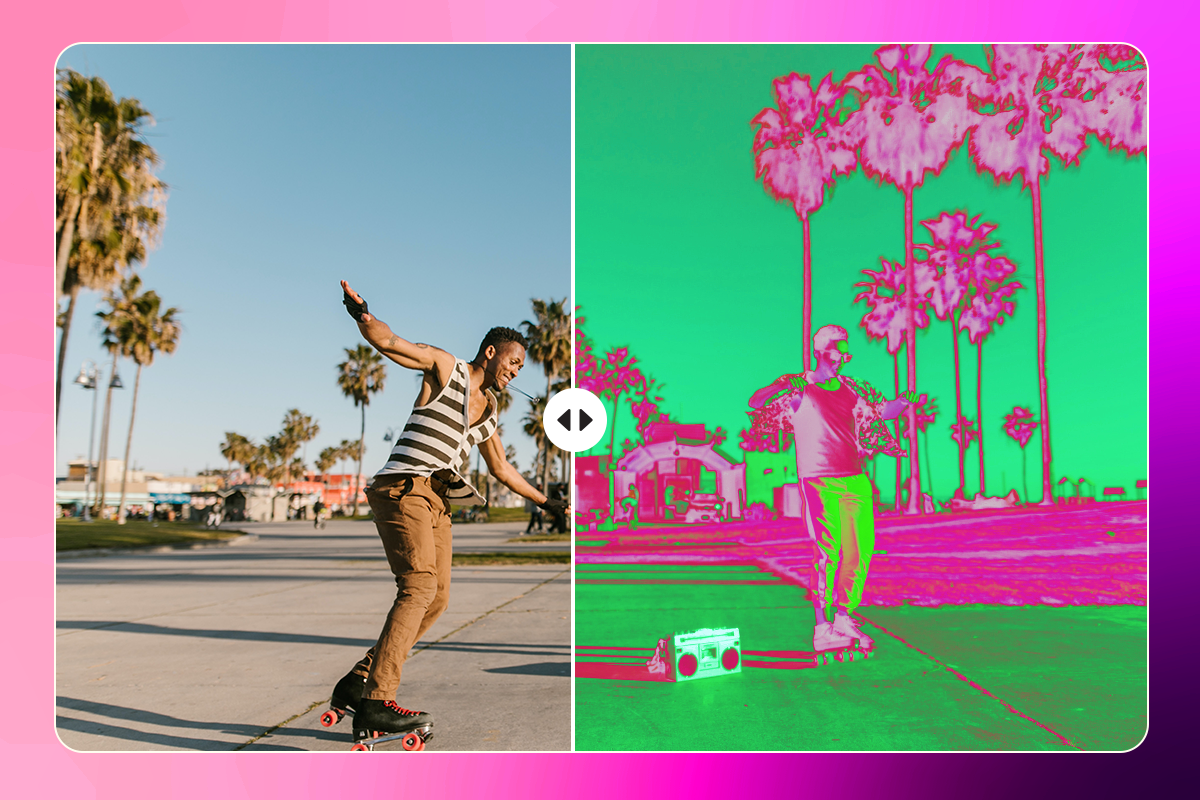 When To Add a Glitch Effect to Photos 
While you can add a glitch effect to any photo, in some cases applying a glitch effect on pictures is especially fitting. Consider any of these times to add a glitch effect to an image:
When a photo is somewhat creepy or unnerving in and of itself. One thing a glitch effect is great at is adding to the creepiness level of a pic. So, if a photo involves various alien-like faces, skeletons, or cloaked individuals, glitching the photo is often the right choice. 

When it's a photo of something really old.

It's all about playing on contrasts here. If you have something famous and instantly recognizable, such as Michelangelo's David or the Mona Lisa, applying a glitch effect on it surprises the viewer and lets them view the artwork through the prism of a modern lens.

When it's a photo of a cool or rebellious group of people. 

When it's an image related to video games, especially those from the '90s.

This type of images is glitchy by itself: If you're familiar with old video games, you know they glitched all the time. That's why adding a

glitch filter

here is something akin to a toast to the old days and imperfect gameplay. 

When you're trying to add a futuristic glare to your photos. While often used for nostalgia, glitch effects can make some photos look straight out of the future – especially when combined with other filters and effects.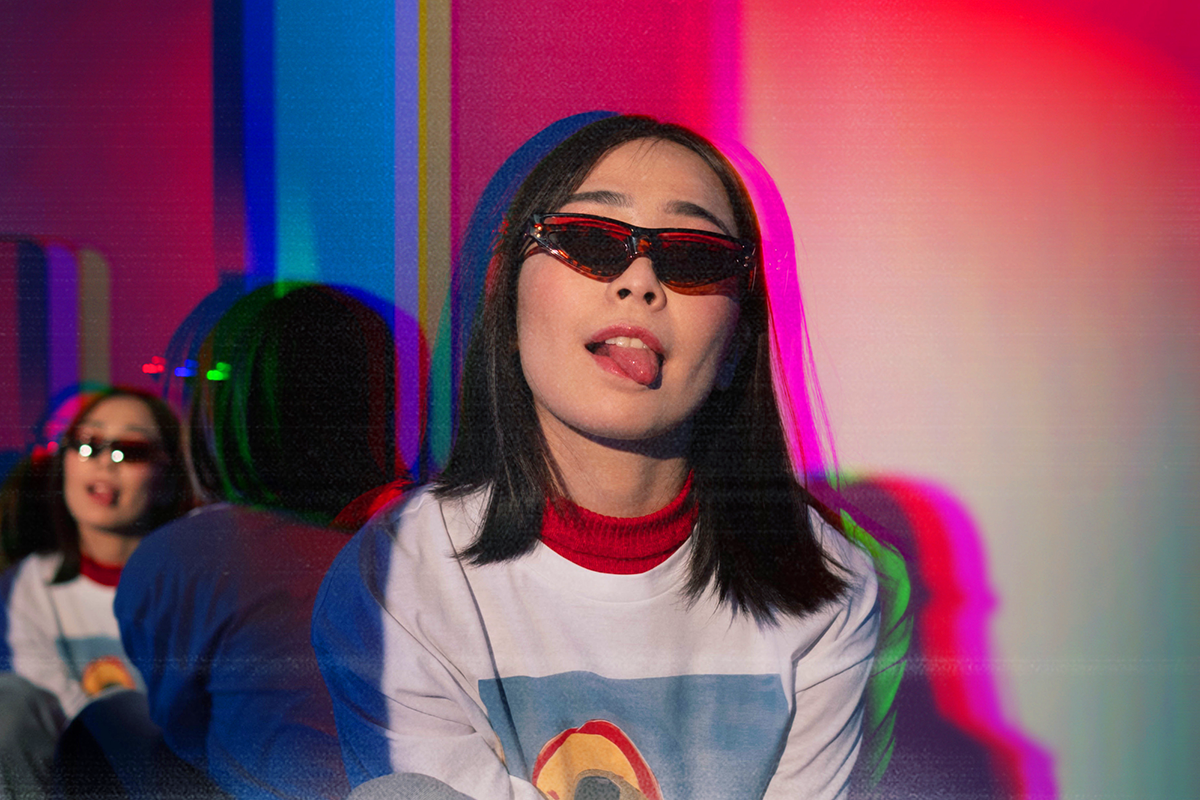 How Do You Add a Glitch Effect on Images?
Now that you know everything about glitch effects, it's time to start adding them to your photos. Below, we'll share both how to do this on the Picsart web and mobile editors. 
If editing on web:
1) Open the Picsart web editor and start a new project.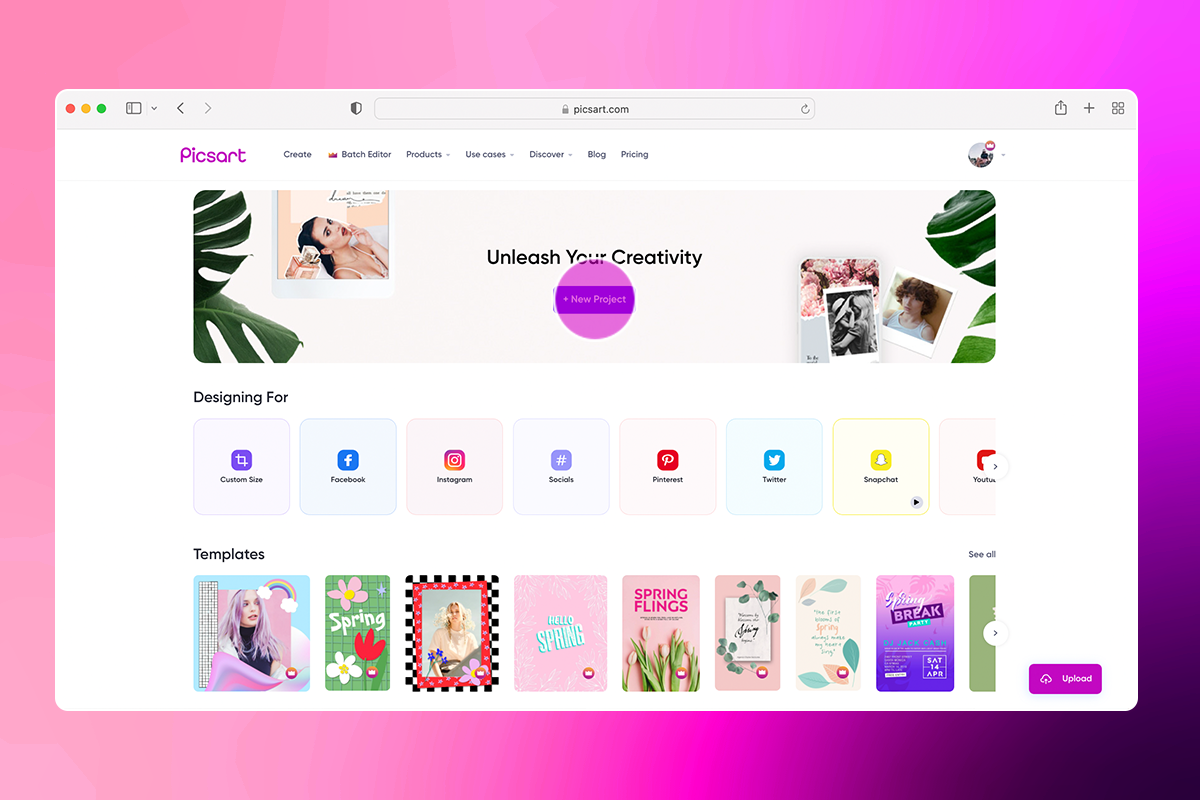 2) Click on the Uploads button in the left toolbar and upload an image from your computer. If you don't have a specific photo to add a glitch effect to, you can select from our library of Free to Edit photos or stock photography.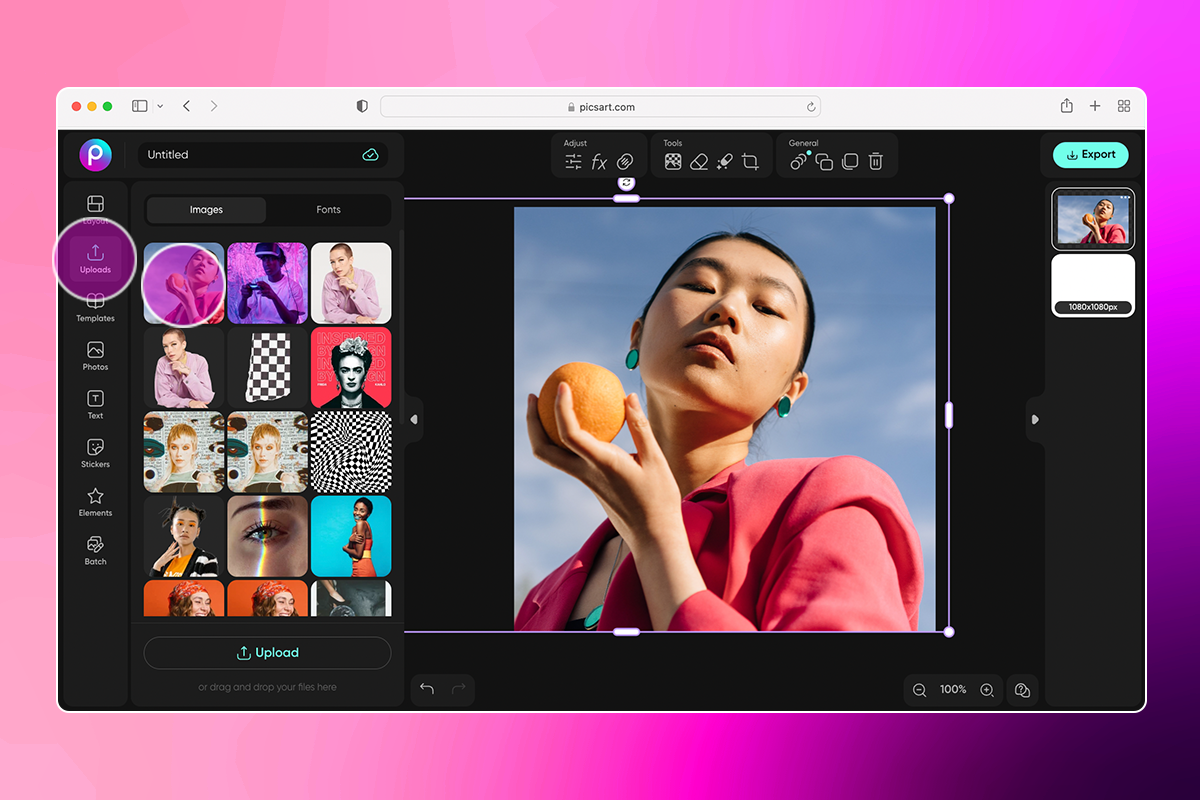 3) Now, open the Effects Tool by clicking on fx in the upper toolbar. Scroll down until you find the Glitch filters and apply your favorite.
Pro tip: You can adjust the level of the effect by clicking on the Adjust Tool in the top toolbar. Then use the sliders to change the amount of glitching.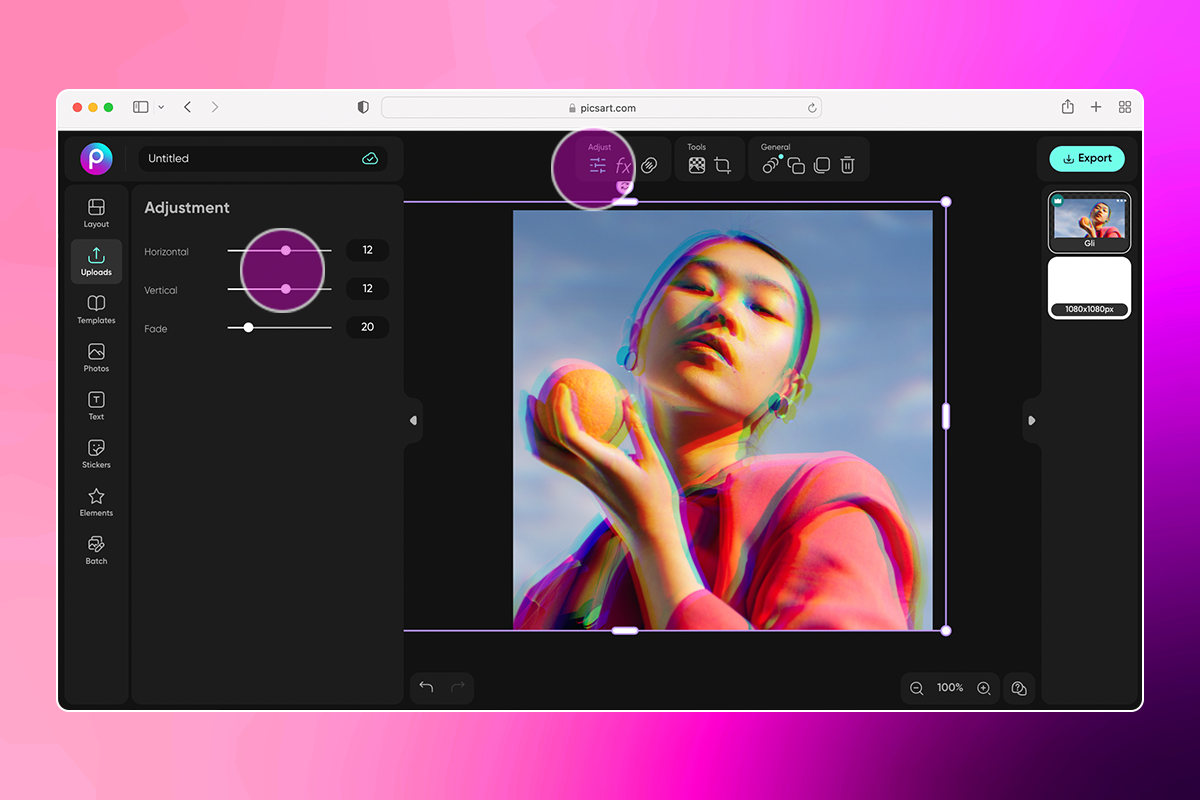 4) When you've achieved the right amount of glitch, click on Export and Download. Here you can also change the file type, name your file, and upscale it.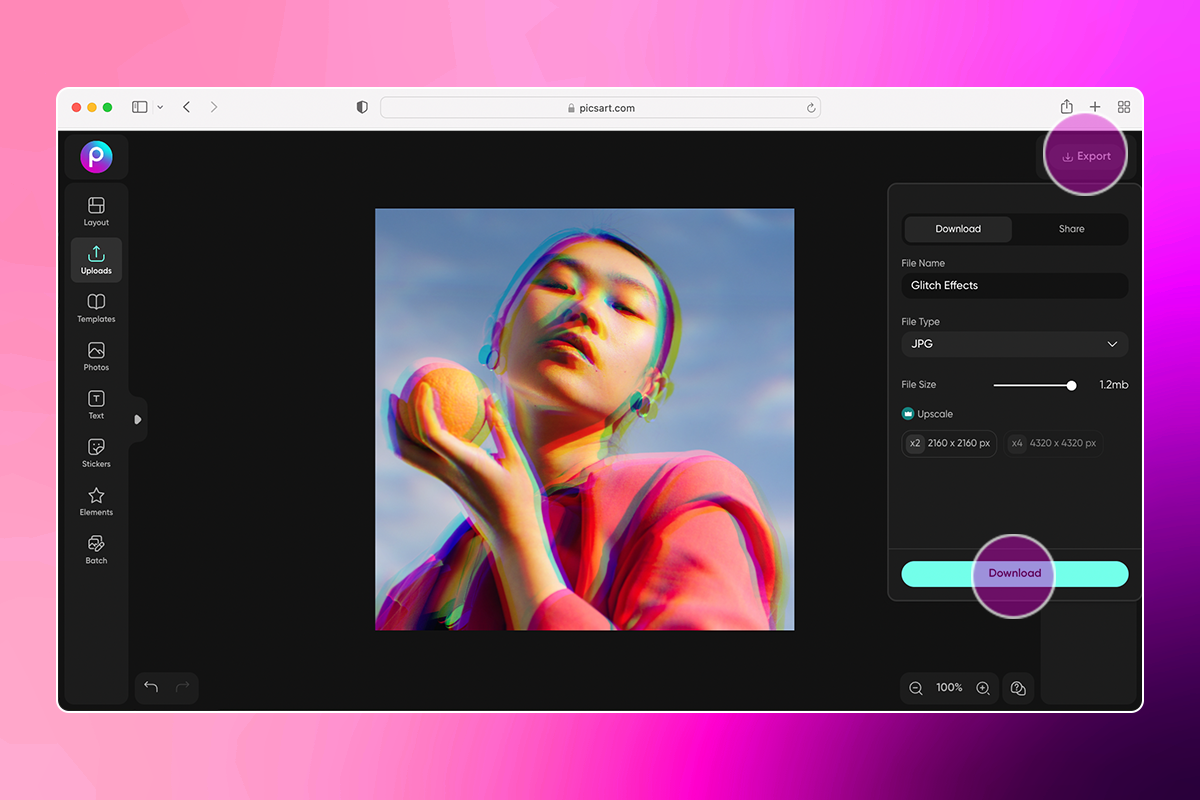 If editing on mobile:
1) Open the Picsart app and press the plus button (+) to start a new edit. Select a photo from your camera roll or from our library of Free to Edit photos.
2) Scroll across the bottom Editor toolbar and select Effects (fX), then scroll to find a variety of Glitch Effects. You can adjust the level of glitch as well as some of the colors by long pressing on the effect in the toolbar.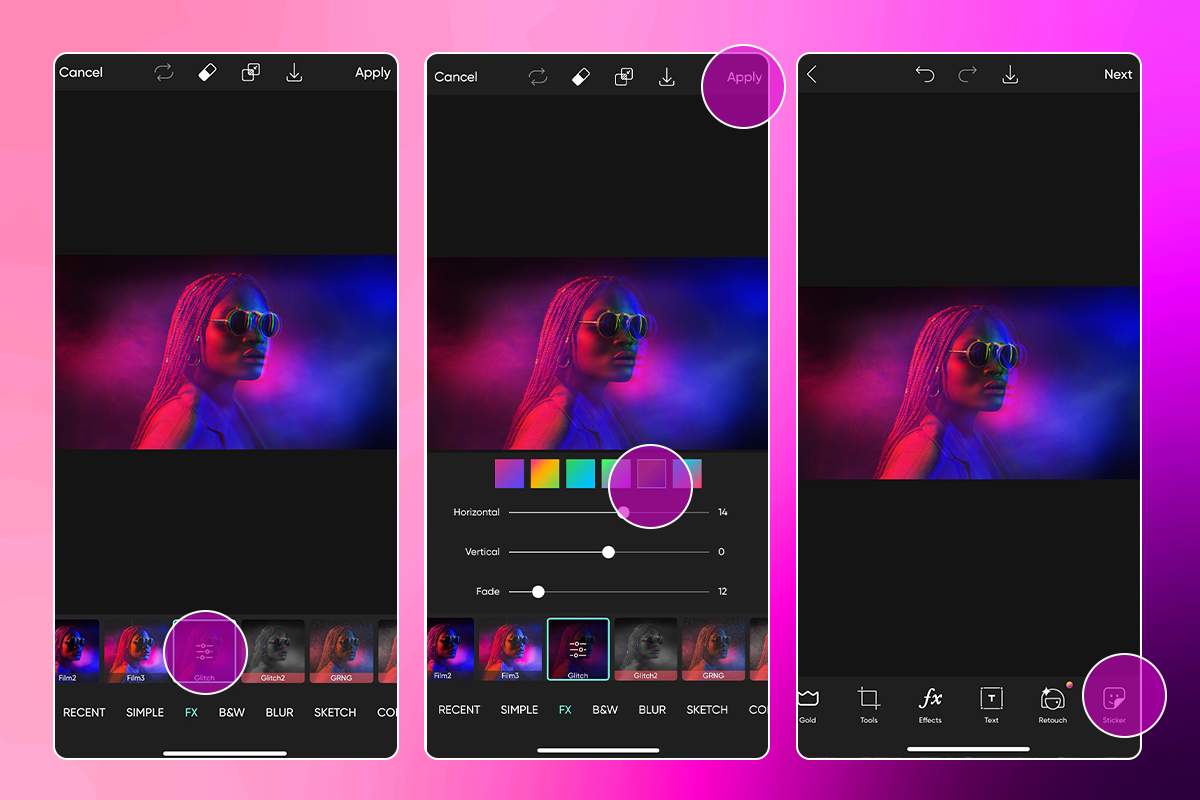 3) Make any other edits to your photo as needed. You can add Stickers, Text, Masks, Filters and more. Use the Blend Tool and Apply to make them look seamlessly layered together.
4) When you're done with your edit, tap on Next to download and save your image.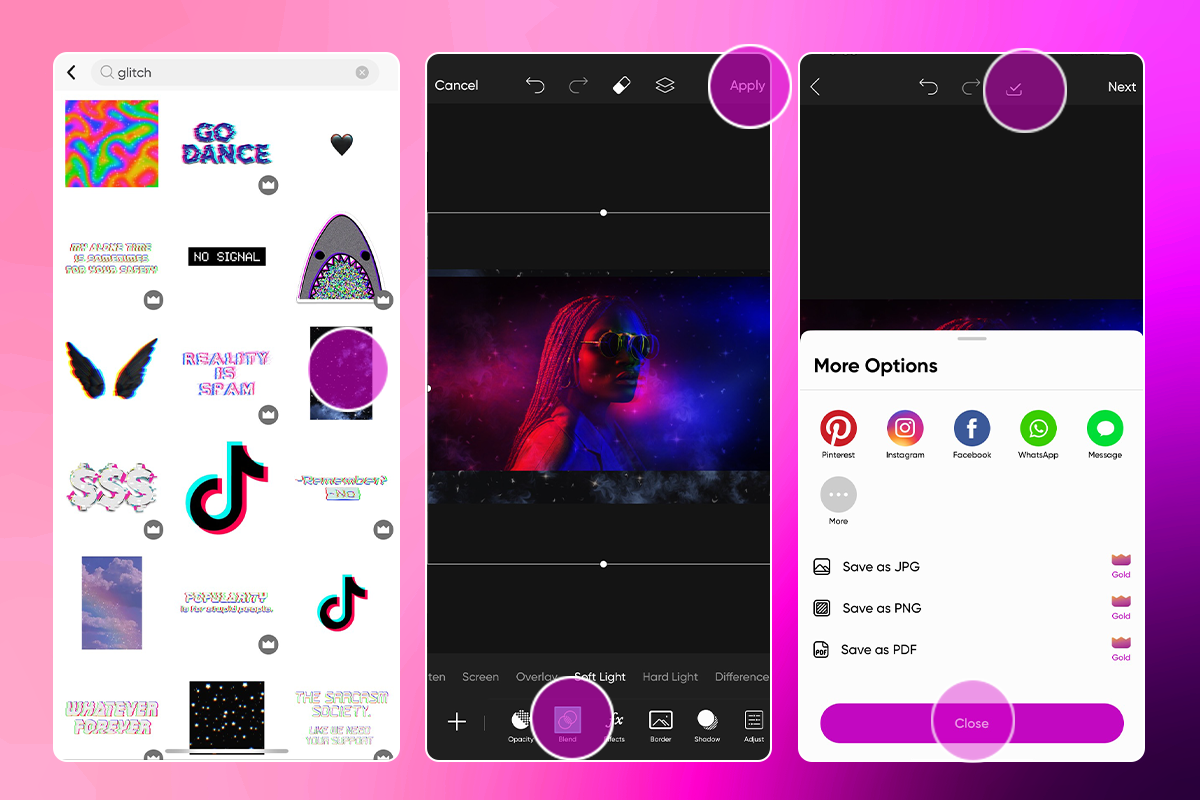 Picsart is a full ecosystem of free-to-use content, powerful tools, and creator inspiration. With a billion downloads and more than 150 million monthly active creators, Picsart is the world's largest creative platform. Picsart has collaborated with major artists and brands like BLACKPINK, Taylor Swift, the Jonas Brothers, Lizzo, Ariana Grande, Jennifer Lopez, One Direction, Sanrio: Hello Kitty, Warner Bros. Entertainment, iHeartMedia, Condé Nast, and more. Download the app or start editing on web today to enhance your photos and videos with thousands of quick and easy editing tools, trendy filters, fun stickers, and brilliant backgrounds. Unleash your creativity and upgrade to Gold for premium perks!