Advertising photography might sound relatively simple, but it can be a challenging niche to dive into. From a photographer's perspective, advertising photography requires a wide range of visual styles and use of creative techniques. At the same time, photographers need to understand their clients' unique tastes and preferences to bring their creative vision to life while noting that this will likely vary greatly across brands. 
The best advertising campaigns rely on eye-catching photography to cut through the digital clutter. You can send 500 emails a day, but one amazing product picture on Instagram can blow your brand out of the water.
So, how can you bring your ad photography to life? Whether you're growing your business or exploring a career in professional photography, here's how ad photography can make or break your next advertising campaign.
What is advertising photography?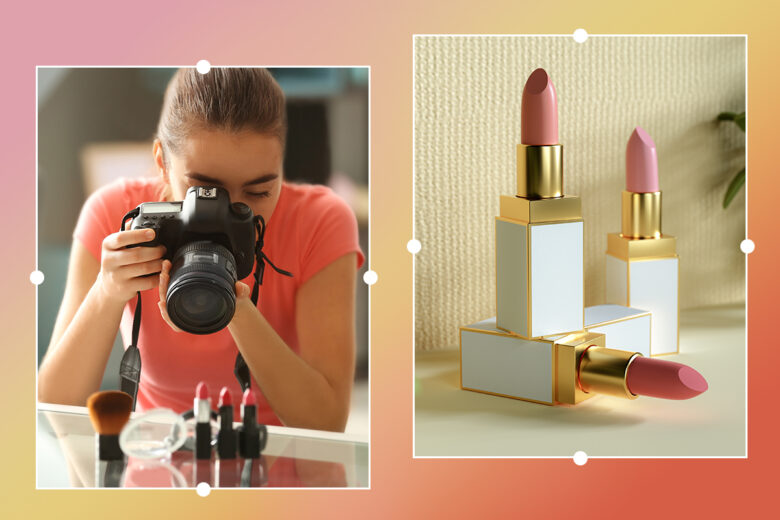 Advertising photography is the art of shooting images to use in advertising campaigns. It's a subtype of commercial photography, which aims to market brands. Meanwhile, advertising photography usually has one main objective: to sell products and services.
When you use professional grade, attention-grabbing pictures, you're better able to deliver your brand message and engage potential customers. The best photography sends a memorable message to a brand's target audience and strikes an emotional chord with viewers.
Today, advertising photographers tap into different creative techniques, from color psychology to branding strategy, to make sure their content stands out in a sea of other marketing promotions.
5 reasons why advertising photography is important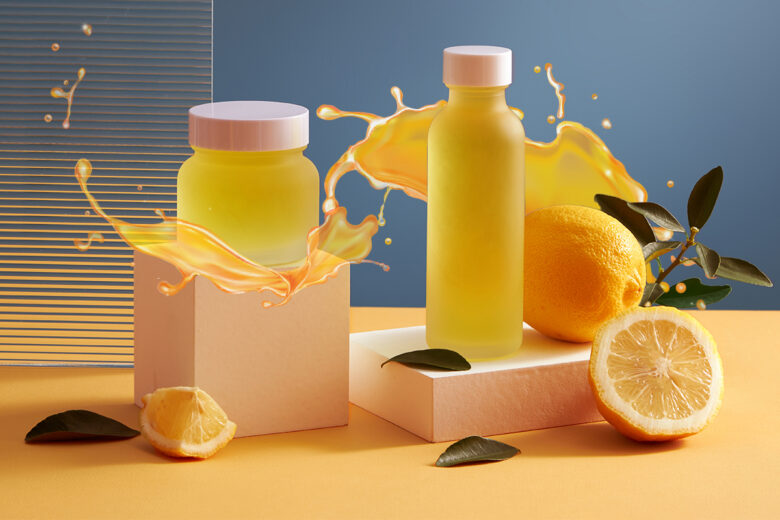 When you look at an advertisement, what's the first thing you notice? It's usually the image (or if there's no image, then some eye-catching typography). So, good advertising photography often determines whether you'll pay attention to the ad. 
Whether you're promoting your freelance business, prepping for an upcoming product launch, or shooting eye-catching shots for your latest brand collaboration, here's why ad photography is important:
1) It sends your message in just a few seconds.
Contrary to popular belief, product pictures don't have to be complex or time-consuming. You don't need to overwhelm your audience with text, stickers, or other design elements to send a powerful message. 
When done right, minimalist photography just might be the best tool to send your message. And the research backs this up: humans love visual content – and it only takes our brains 13 milliseconds to process an image.
2) It's a powerful tool for branding.
Just like your brand logo and profile picture, custom ad photography is a powerful tool for growing your brand. Your photography should convey the tone and voice of your brand through creative use of your brand's color palette, font choice, and design elements. 
Basically, you need photography that is instantly recognizable as being from your brand and shows customers what you're all about. Consistency breeds familiarity, and this is especially true when it comes to branding and marketing. So, try launching multiple ad campaigns with consistent colors and similar messages to brand familiarity and awareness.
Pro tip: If your brand doesn't have an established color palette yet, try out our free color palette generator. 
3) It has the potential to be seen by millions of people.
With the rise of digital advertising, the potential for your single image ad to be seen by millions of people (at a relatively low cost!) is better than ever before. Social media is a goldmine for ad photos – it's the perfect place to get noticed, connect with your target audience, and build a community of loyal followers.
That said, your ads probably aren't going to go viral. To win attention in a saturated social media ad landscape, your ads need to be interruptive. They need to create a buzz about your business with punchy ad copy, attention-grabbing visuals, and irresistible calls to action. 
Pro tip: Make sure that your creative is sized correctly for the platform on both mobile and desktop. You don't want your images cropping in a confusing or misleading way. 
4) Pictures can speak a thousand words.
Catchy, descriptive ad copy is not always enough to persuade potential customers to buy your products. The best way to advertise? Use creative ad photos to show potential customers exactly why they should choose your products over the competition.
When people can actually see what the product looks like (or the people using it, or the lifestyle you're trying to sell), it might be the final push they need to click the Buy Now button.
5) It's an affordable advertising strategy.
Newsflash: you don't need an expensive studio or professional camera equipment to get amazing product photos. If you're just starting out with advertising, all you may need is your phone's camera and some good lighting to do a DIY photoshoot.  Once you have your photos, an easy to use photo editing software like Picsart can help you bring your pictures to life with trendy effects, fully customizable design templates, text application, background remove tools, and professional filters.
Types of advertising photography
Advertising photography has one main goal: to inspire customers to make a purchase. Because we're constantly bombarded with flashy ads everywhere we turn, brands need to stand out from the crowd with amazing visuals to leave a lasting impression.
So, where do you start? Here are the most popular types of photography for advertising to guide your next campaign.
In-house marketing materials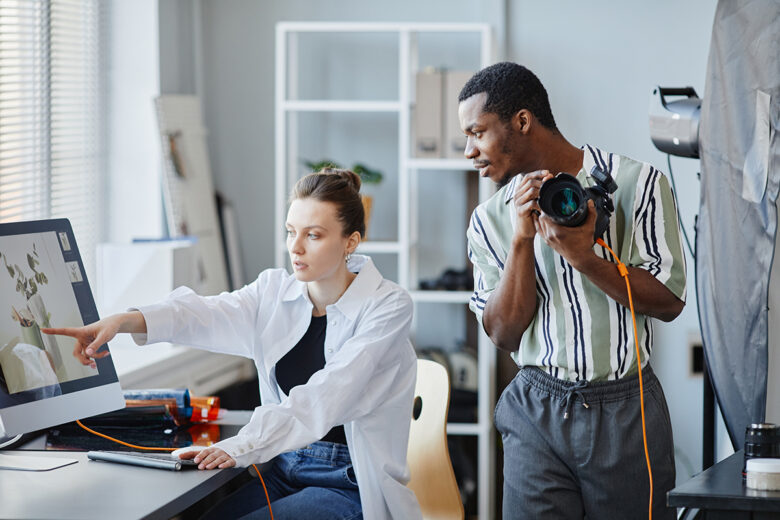 Simply put, in-house marketing encompasses any marketing efforts that are done within an organization or business. In-house marketing materials are created and implemented by employees, not external people (like freelancers or marketing agencies).To embark on successful in-house marketing projects, you'll require professionals from diverse fields, including photographers, designers, and marketers. If you and your team are venturing into such projects for the first time, you may use extra tools such as project management software or employee monitoring apps. These solutions can offer insights into your team's handling of new tasks and improve collaboration.
There's no one-size-fits-all approach to in-house marketing, and most brands require some trial-and-error to find the best marketing approach. At the end of the day, your ad strategy (whether created in-house or by a third-party agency) will depend on your target audience, products, and value proposition.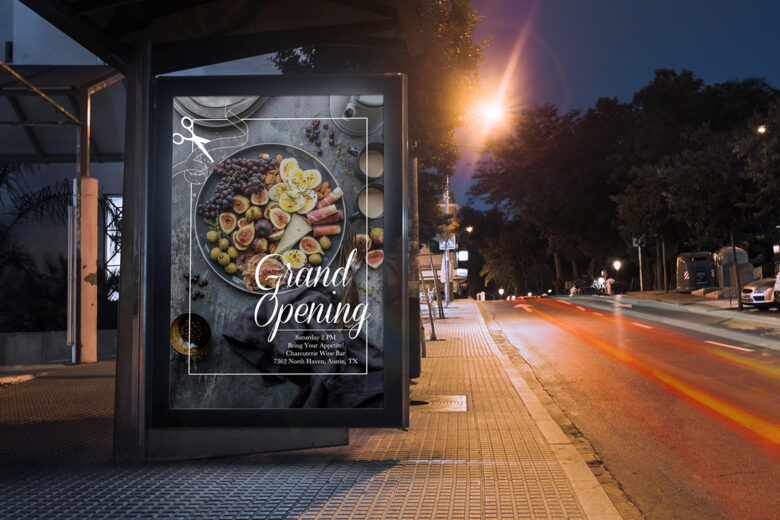 Although more companies are trading billboard advertisements for digital alternatives, they're still an effective ad strategy, especially if you're promoting a local business. Billboard ads are a great tool for building brand awareness and marketing your business to as many people as possible.
Even if you're marketing in a busy area, you'll still need standout visuals to create buzz about your brand. Above all else, you need catchy, impactful, and memorable billboard ads to cut through the noise. Remember to keep the copy short and visuals strong on billboards. 
Stills used in TV commercials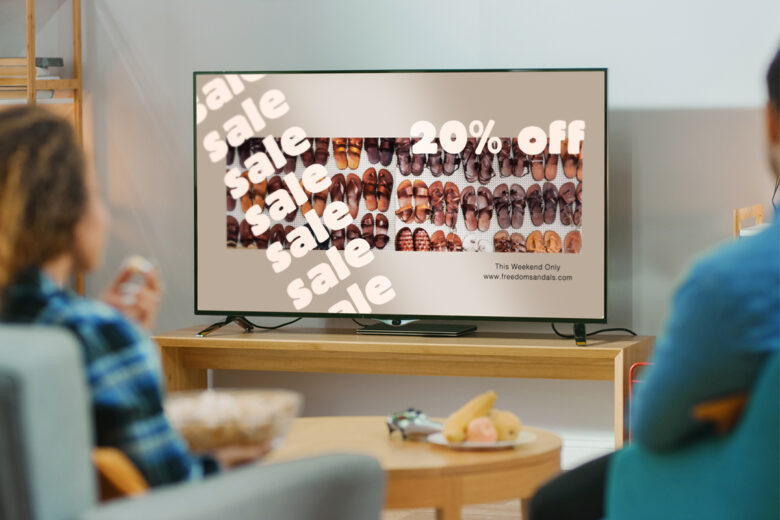 Commercials can be an incredibly effective advertising tool for businesses. They show potential customers what your brand is all about, what sets your products apart from the competition, and why you're the best choice.
If you don't have the budget to film a full-length commercial, try breaking your creative vision down to its most basic form. Combined with the right messaging, high-quality product pictures can make all the difference in a TV commercial.
Product shots for your website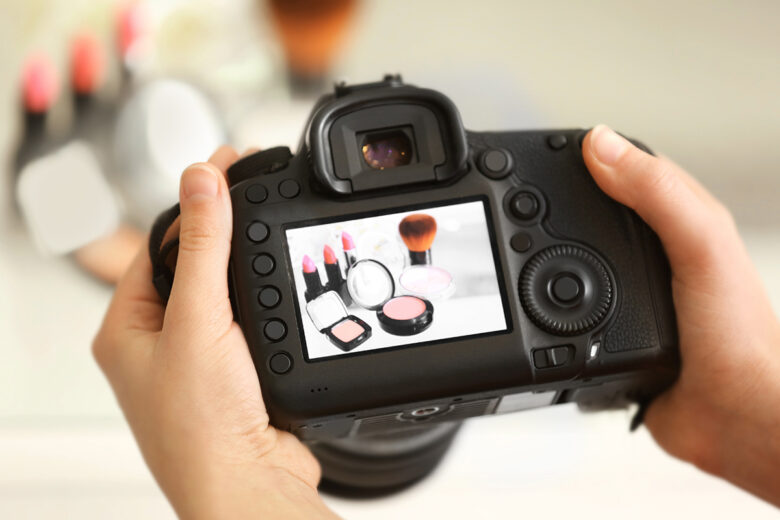 Product shots can make or break your brand. How? It's simple: customers judge the perceived value of your products and the reputation of your brand based on your visual presentation. In other words, you need beautiful product shots to drive business.
Not every business owner can invest in professional photography, but DIY product photography can be a great alternative. For the best results, stick with natural lighting and a white background. It'll make it much easier to do any photo editing afterwards.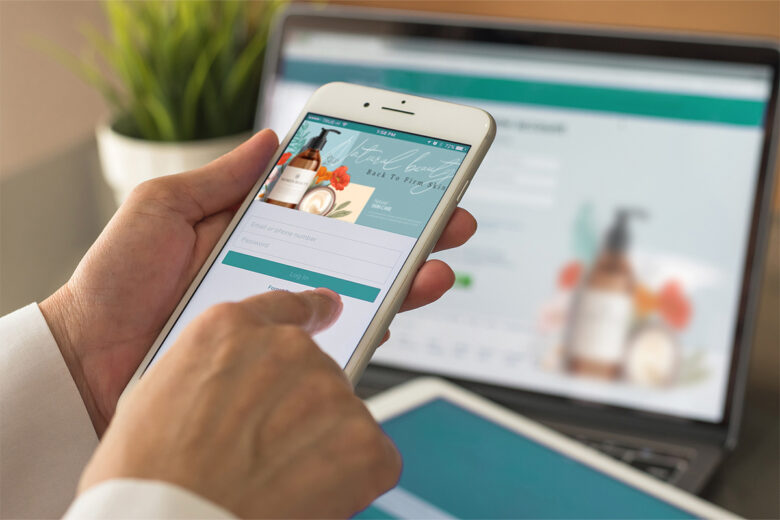 You've probably seen ad photography in display banners when you're browsing your favorite websites. Display ads combine text, images, and an URL to your website where prospects can learn more about your products and services. They're basically digital billboards. 
Just be sure to optimize your pictures with photo editing tools so you don't lose out on image quality. Use tools like AI Enhance and Image Upscale to get the best image quality possible.
How to edit ad photography
Want to tell the world about your brand with the best ad photography? There's good news: you don't have to become a professional photographer to take amazing pictures of your products. 
With Picsart, it's easy to take beautiful advertising photography – and all you need is natural lighting, a great backdrop, and photo editing tools to bring your advert to life. Here's how to unleash your creativity with beautiful product pictures.
On the web:
1) Open the Picsart Web Editor and start a new project. If you already have your product shot ready, click on Upload and select an image from your computer.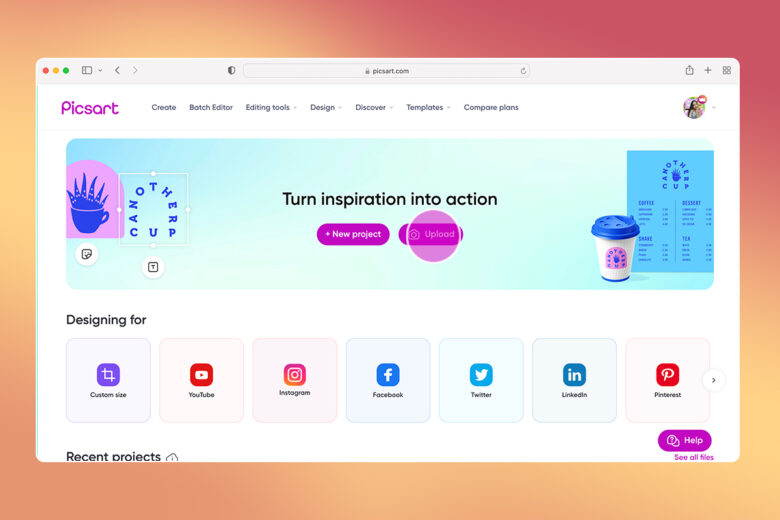 2) You'll now see your image in the Editor. Click on the Adjust tool in the upper toolbar to adjust the image as needed. You'll see the following tools: Brightness, Contrast, Clarity, Saturation, Hue, Shadows, Highlights, and Temperature. Play around with different settings as needed to refine your image.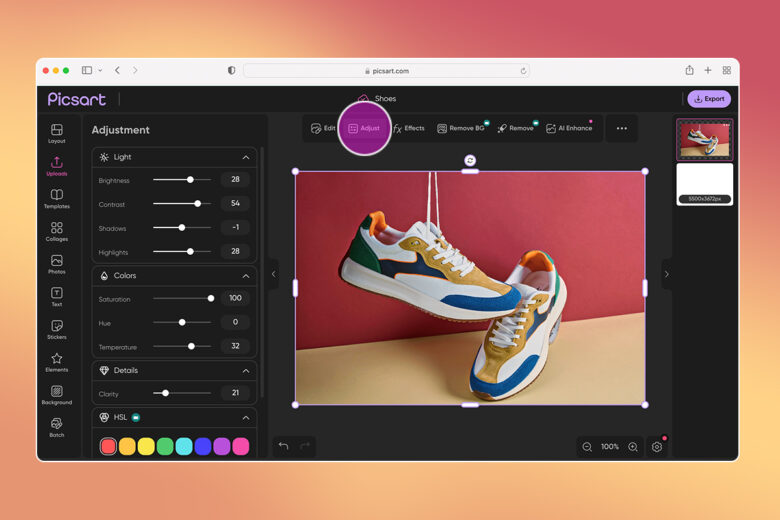 3) Click Effects to choose from our collection of filters and effects. Try layering multiple effects to make your product photography pop.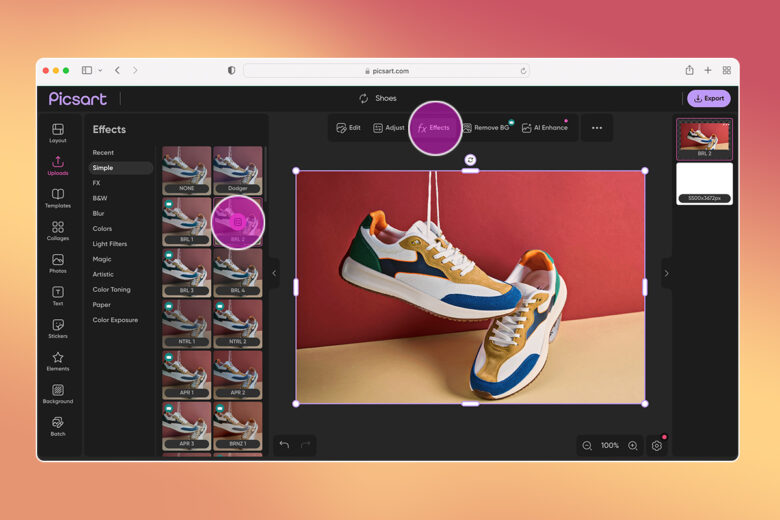 Feel free to use other tools once your product image is edited. You can crop it to a specific platform size, add text overlay to turn it into an Instagram Story, add Sale stickers, and more.
4) When you're finished, click Export to download and save your image. Here you can also name your file, upscale an image, and select the file type.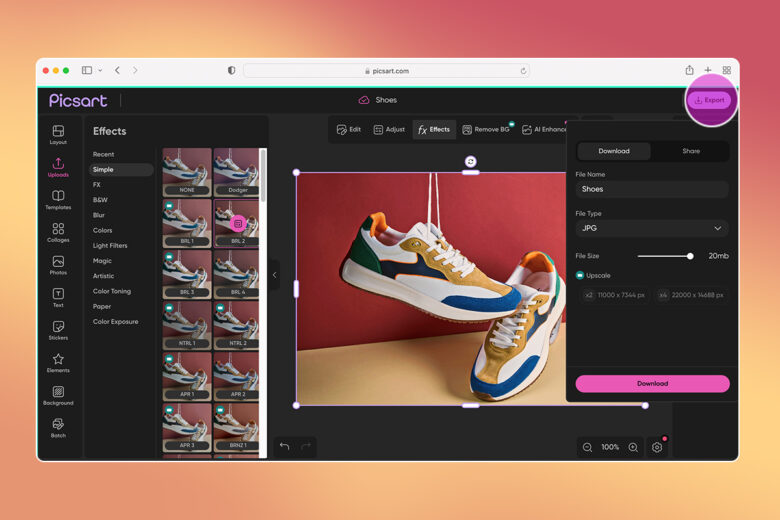 On mobile:
1) Open the Picsart app and tap on the plus sign (+) to start a new project. 
2) Under Photos, tap All Photos to upload the image you'd like to edit.
3) In the Editor toolbar, tap Tools. Then, choose Adjust. Tweak the Brightness, Contrast, Clarity, Saturation, Hue, Shadows, Highlights, and Temperature to achieve your desired look. Then, tap on Apply to save the adjustments.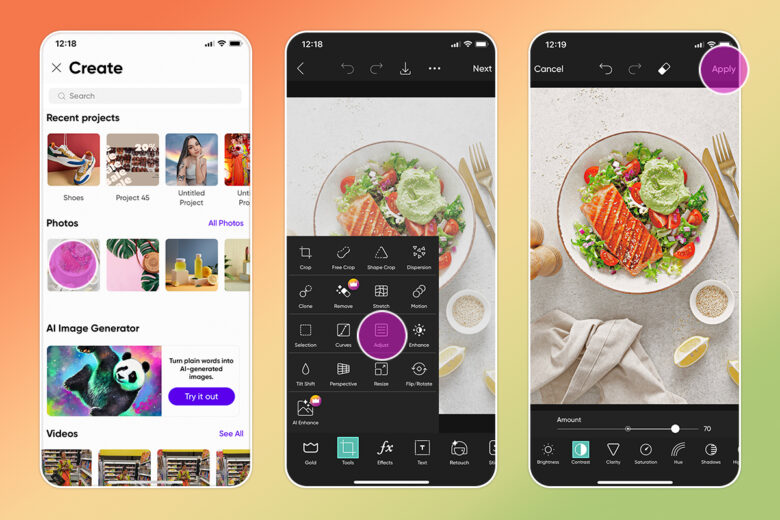 4) Now, scroll across the Editor toolbar and tap on Effects to upgrade your image with professional photo filters and effects. Try layering multiple effects to create a unique look for your brand.
5) When you're finished, tap Next. Then, choose Save and Share. Or simply tap the download arrow on the top of your screen. Here you can also select the file type or share directly to a social platform if you're ready to post your edited product image.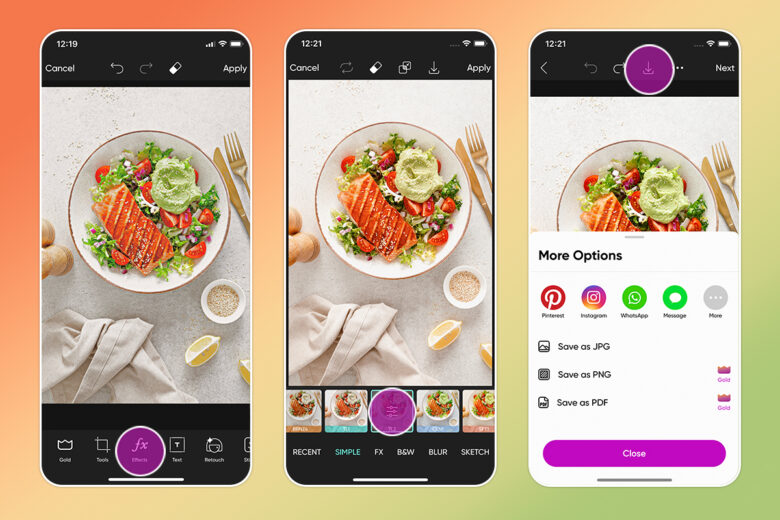 Picsart is a photo and video editing platform and creative community. A top 20 most downloaded app worldwide with over 150 million monthly active users, its AI-powered tools enable creators of all levels to design, edit, draw, and share content anywhere. The platform has amassed one of the largest open-source content collections in the world, including photos, stickers, backgrounds, templates, and more. Used by consumers, marketers, content creators and businesses, Picsart tools fulfill both personal and professional design needs. Picsart has collaborated with major artists and brands like BLACKPINK, Taylor Swift, Lizzo, Ariana Grande, Warner Bros. Entertainment, iHeartMedia, Condé Nast, and more. Download the app or start editing on web today, and upgrade to Gold for premium perks!