If you're a business owner, you don't need us to tell you why being consistent is important. Consistency is key to the success of any product or service. Your customers want to receive the same experience from your brand every time they interact with it. That means working hard to ensure consistency in your offering. But, what about in your branding? More specifically, are you maintaining a specific brand identity color palette?
If you're not sure, you're in the right place. We'll walk you through how to choose a color scheme for your brand (or tweak the one you already have) so that your branding will always be instantly recognizable. Yes, a few correctly chosen hues can do that.
What are Brand Colors?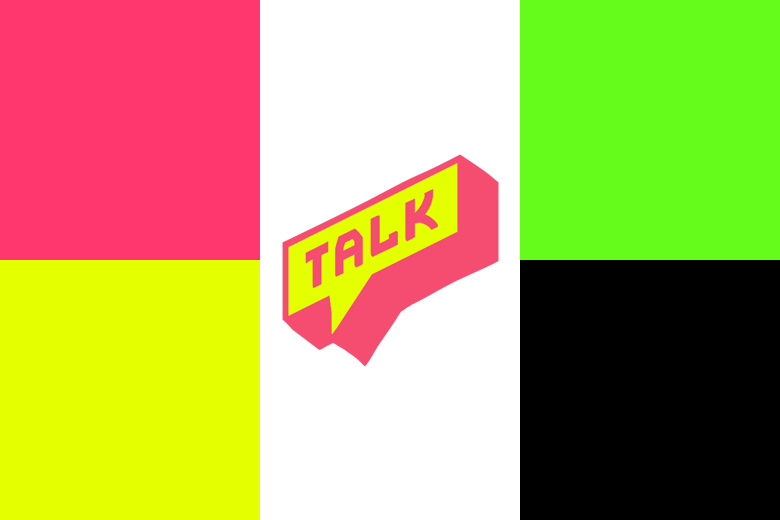 Brand colors are the tones that define a company's marketing image. This is a finite number of exact hues that you can use any time you present your products or services to the world.
When it comes to branding, less is more. Usually companies stick to three to eight colors, and have a main palette and a secondary one with color combinations that complement the primary ones. For more help with your brand palette, check out the Picsart Quick Tool.
Why are Colors Important for a Brand?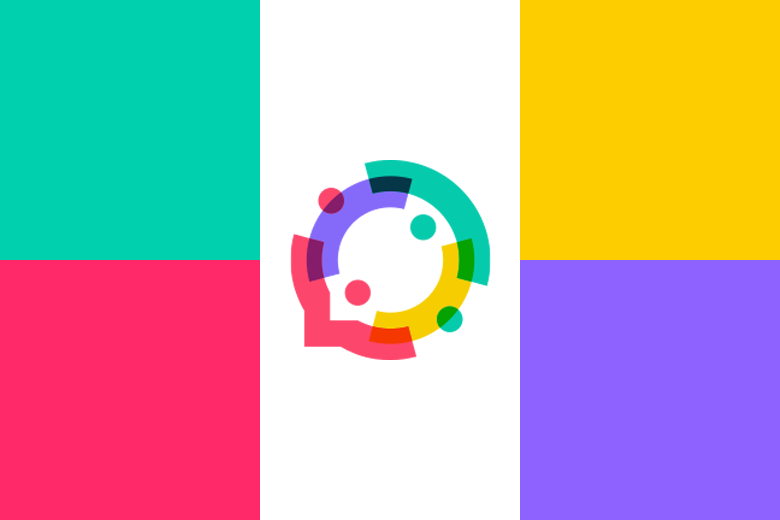 Even if you're not an expert on color psychology, you know that colors set a mood, tell a story, and convey feelings. Think about how many spas use relaxing tones like lavender and sage to advertise, while tech companies tend to use serious, trust-building blues. Creative companies often opt for energizing purples and oranges. You don't need a degree in color theory to learn this. A quick peruse of the internet will do.
Avoid the temptation to just start with your favorite color. Instead, think about your brand personality and target audience. Then, read up on color associations and feelings. It's important that you get this mood right. What your brand colors 'say' is one of the first things consumers will hear.
Why is it Important to Have Brand Design Guidelines?
You can read more about the importance of branding here, but here's the one-liner: design guidelines are key for consistency in branding.
You want your company to have a far reach. At some point, you'll have to let designers and marketers world know how to present your brand correctly. When you have strict brand guidelines for your color palette, you ensure that your logo and company hues always look right, no matter the medium, no matter the outlet.
What are the Main Color Categories?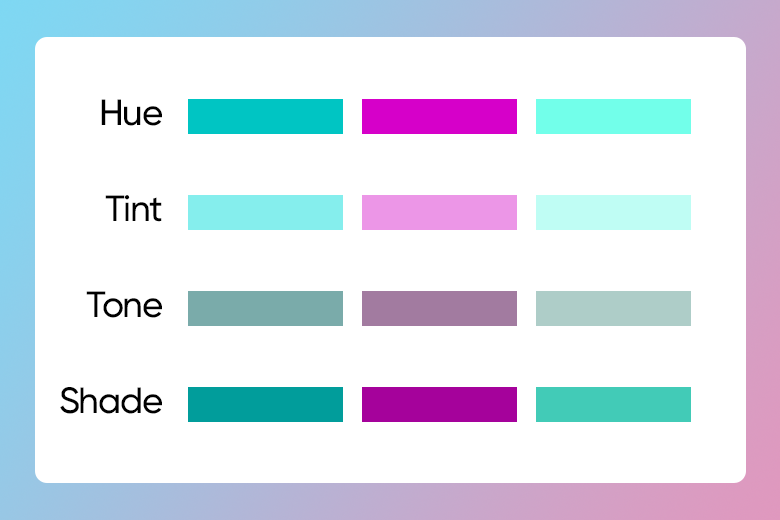 When we talk about colors, we often treat the following terms as synonyms. That's fine in conversational English, but in design, we need to tread a bit more carefully.
Color: general term
Hue: color families, like primary and secondary colors
Tint: a pure color, toned down by mixing white into it (think: pastels or more transparent-looking colors)
Tone: a pure color, toned darker by mixing gray into it (kind of like casting a light shadow over a color)
Shade: a pure color, toned darker by mixing black into it
How to Create a Brand Color Palette
Selecting the right hues for your company can be a formidable task. You could try using a brand color palette generator online or researching what top companies in your industry are doing and track trends. For example, if you work with high-end products, you may want to try searching for other luxury brand color palettes as a starting point.
Or, you can generate a brand color palette template with Picsart, starting with an image that you feel represents your company well. Grab your logo, a photo of your showroom, or even a stock image that encapsulates the vibe of your brand, and get ready to create.
Creating on Mobile
1. Open the Picsart mobile app, and tap the purple plus sign at the bottom of the screen to start a new project. Then, select the photo with which you'd like to work.
2. On the editing screen, scroll along the toolbar at the bottom of the screen and select the Draw tool.
3. Now, tap on the Shape tool icon in the toolbar now at the bottom of the screen. Select the square or circle option from the pop-up menu. Whatever shape you choose will be the base for your color swatches.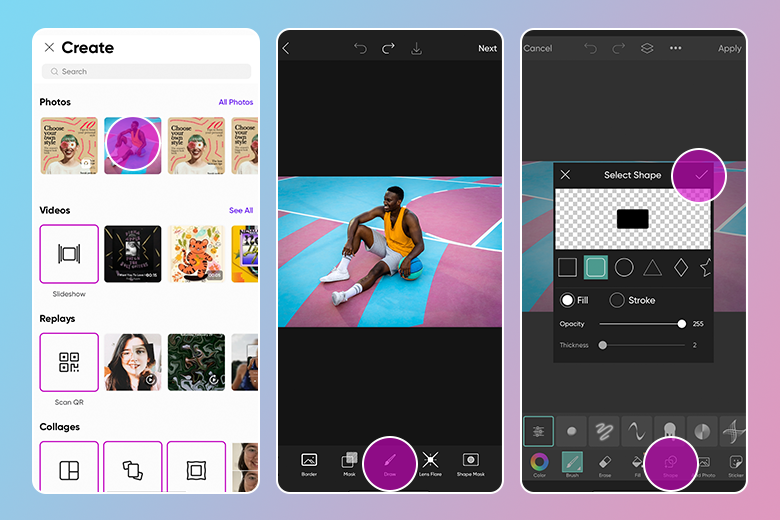 4. Then, select the Fill option, and click on the checkmark in the upper right-hand corner to continue and close down the pop-up menu. (Don't worry if you don't see your square yet. This is normal).
5. Then, tap on the color wheel in the bottom left corner of the toolbar. Click on the eyedropper icon from the pop-up menu, and drag the cursor over the image until you land on the first color you want to convert into a swatch.
6. Now, use your finger to draw out your shape. It will appear in the color you've selected. This is your first swatch. To make more, repeat the previous step and this one as many times as you'd like. You'll end up with a custom color palette that reflects the hues you liked in the photo you uploaded.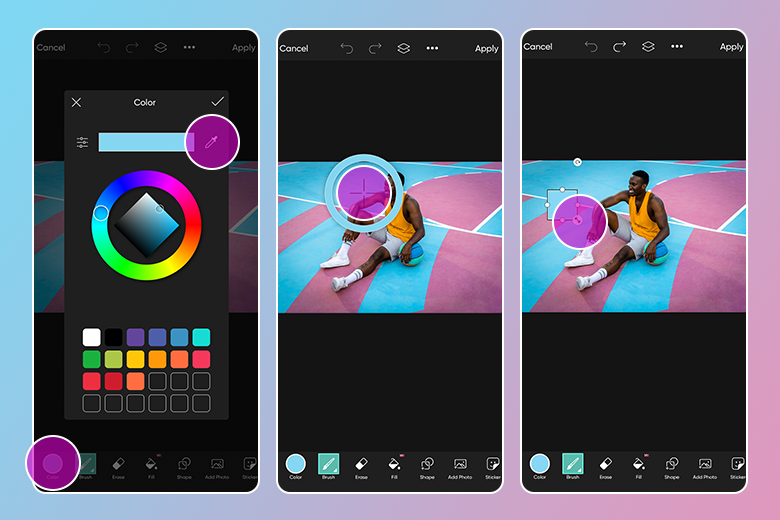 7. It's a good idea to write down the color codes for future reference. Click on the color wheel to bring up the pop-up menu with the eye-dropper tool, and then, move the cursor over any of swatches you've made. Then click the color wheel again. You'll see that the color of said swatch has been selected. Now, click on the slider icon in the upper left-hand corner of the pop-up menu. Click on RGB under the color wheel to display the color data and make a note of the numbers.
8. When you've finished creating, tap Next in the upper right-hand corner of the screen.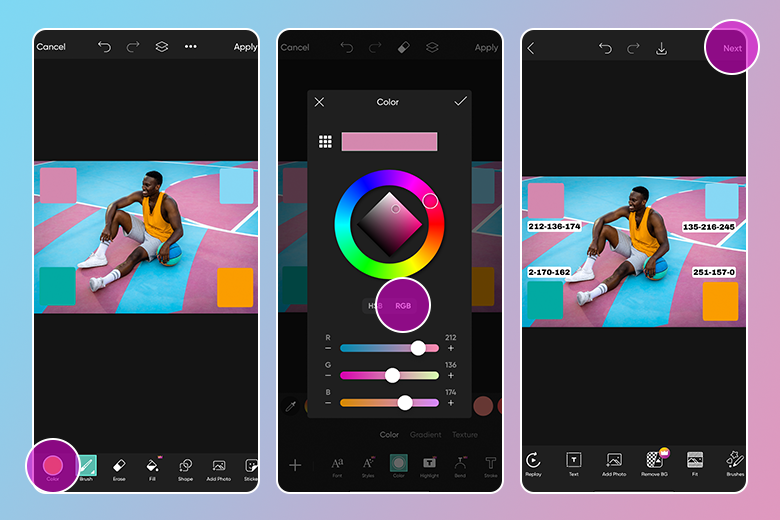 Creating Online
1. Start with a blank canvas and Upload the image you want to work with.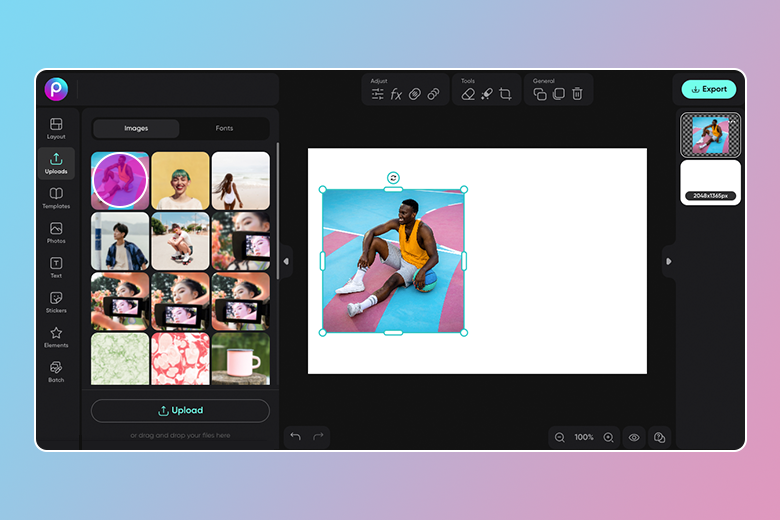 2. Now click on the Elements button and select the shape you want to use.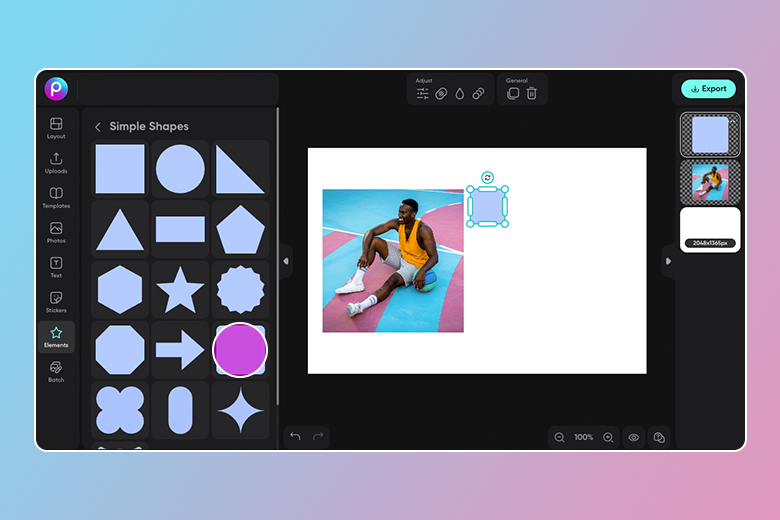 3. Let's find those colors. In the editing panel above the image, click on the Color button. From the panel on the left, click on the Fill option and then the eyedropper tool, dragging it across the image and selecting the area where the color you want to use can be found. Repeat this step for every color you want to add to your palette.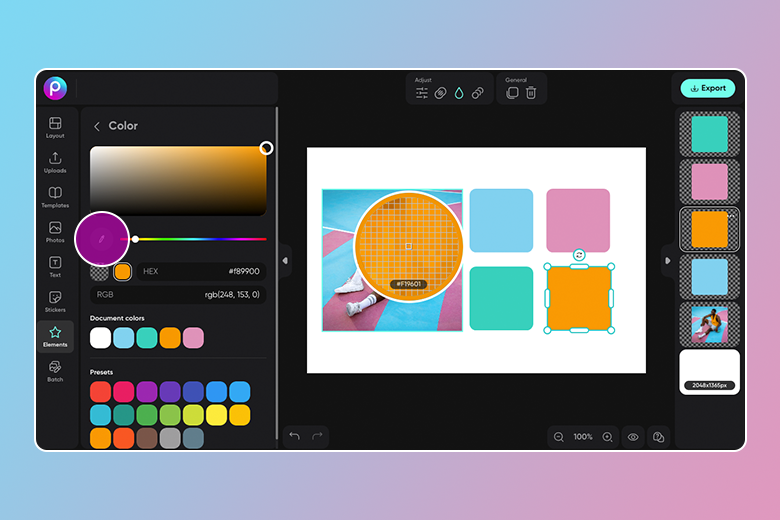 4. Keep track of the codes for future use by creating a Text box and adding the RGB value above the corresponding color.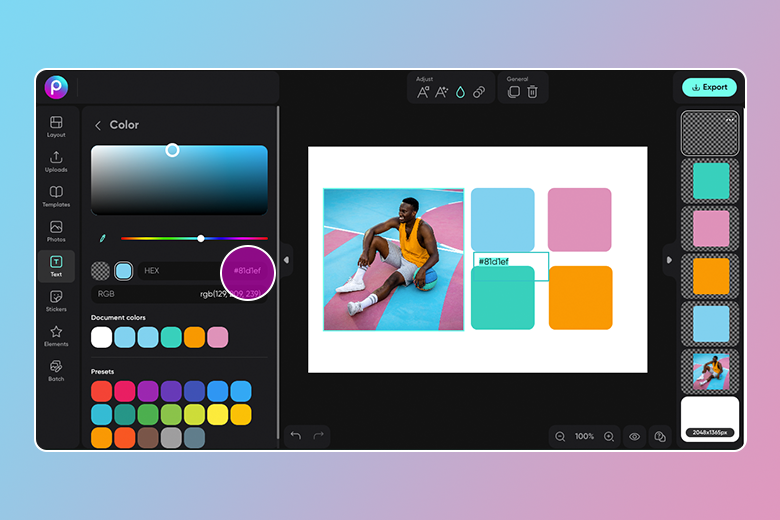 5. You've created a color palette! Now all that's left to do is click on the Export button to save your work.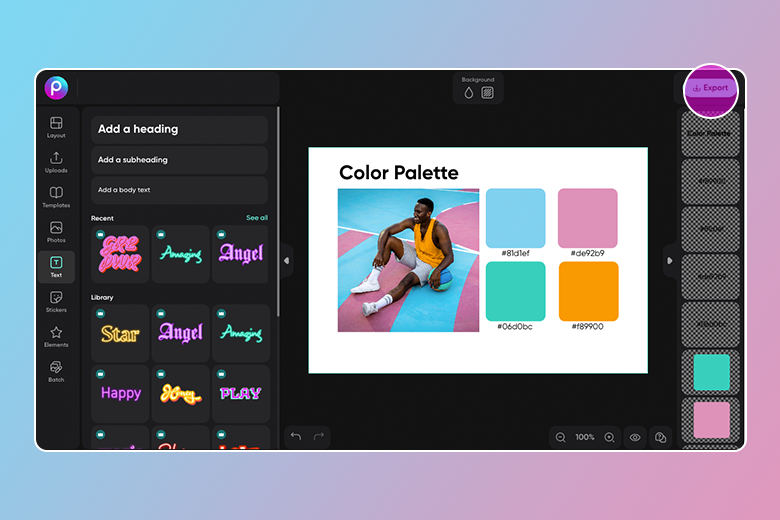 Picsart is a full ecosystem of free-to-use content, powerful tools, and creator inspiration. With a billion downloads and more than 150 million monthly active creators, Picsart is the world's largest creative platform. Picsart has collaborated with major artists and brands like BLACKPINK, Taylor Swift, the Jonas Brothers, Lizzo, Ariana Grande, Jennifer Lopez, One Direction, Sanrio: Hello Kitty, Warner Bros. Entertainment, iHeartMedia, Condé Nast, and more. Download the app or start editing on web today to enhance your photos and videos with thousands of quick and easy editing tools, trendy filters, fun stickers, and brilliant backgrounds. Unleash your creativity and upgrade to Gold for premium perks!