Wondering how to capture the Christmas spirit in your festive pics? Whether you prefer a classical portrait or something a bit more creative, we've got you covered. Scroll down for a list of family Christmas photo ideas to inspire your festive photo session.
How to Take Christmas Photos?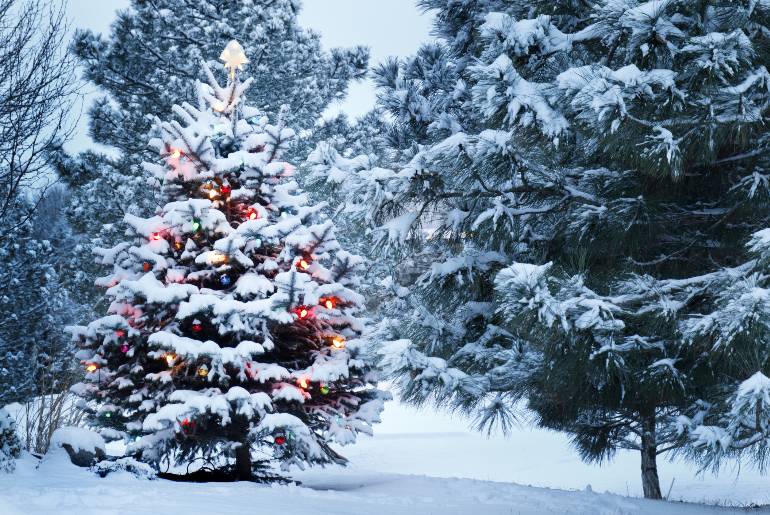 Whether you like taking photos or are more of a behind the scenes editor, you'll need to have a high-resolution photo to work with. No worries if you're not very good at photography, as there are a myriad of photography techniques that can make anyone look like a professional photographer.
First, you'll need to figure out what type of camera you're planning to use. While your phone camera can take great Christmas photos, a professional camera has a lot of advantages when it comes to capturing the Christmas spirit through lights and lenses. In order to achieve the festive aesthetic with a professional camera, you'll need to follow these important techniques:
Keep Your Aperture Number Low
Changing the aperture number alters the overall amount of light that your camera captures. Lowering the aperture ensures that less light enters the lens of your camera which is great for the usual low-light environment of Christmas photography. A lower aperture will blur out the background, making your photos look more dynamic.
Lower Your ISO
After adjusting your aperture, you'll also need to lower your ISO. Modifying the ISO helps brighten or darken your image. As you'll likely be taking your Christmas photos in a low-light scenario, lowering your ISO will help keep your photo from looking grainy. Unless you're going for a grainy look, in which case check out this film grain guide to get a vintage effect on your Christmas photos.
Slow Your Shutter Speed
The last setting you'll need to adjust on your camera is the shutter speed. The slower your shutter speed, the longer your camera sensor is exposed to light. Slower shutter speeds help capture a sense of movement and is perfect for capturing the twinkling Christmas lights and achieving that sought-after bokeh effect in your photos. If you want to focus on shooting and layer on a bokeh effect in post-production, you can always add it in with Picsart using this bokeh effect tutorial.
Before the Shoot: Things You Should Consider
Let's start with a few tips to prepare for a wonderful family Christmas photoshoot.
1) Start with brainstorming Christmas photoshoot ideas with your family members. What exactly do you want to capture? Discuss all the options. Is it a romantic, cozy, and warm classical family portrait, or a funny Christmas photo? Do you want a studio session or a fun family session outside in the snow? A considerable part of the preparation should be setting your goals for the shoot.
2) Once you decide on the theme of your family holiday photos, it'll be much easier to elaborate on details such as the location, the background, the date, and the time of the day.
3) Select the color palette and prepare matching or contrasting festive outfits. Get your hair ready, and gather all the props you may need (decorations, Christmas lights, Christmas tree, etc) to realize the most daring family Christmas photo ideas. Consider the rule of thirds, and check if you have enough white space in your photo.
4) Be prepared for a change of scenario, particularly with your little ones and pets. So, take as many holiday pictures as possible – of loved ones, both informal and formal, silly and giggling – to have several options.
How to Create Your Christmas Photo Backdrop?
As we've started to hint at, if you don't have a professional camera, then you can always give your photos a more professional feel in post-production editing using photo software like Picsart. If you're shooting on your phone and can't meticulously adjust the settings of your camera, then you should focus on creating the perfect background setting for your photo.
If you have the opportunity, you should definitely create your own Christmas photography backdrops. You can either gather props and scout out festive wintery locations for real-life Christmas photography backdrops or simply edit them in using Stickers and/or by changing the background of your photos in Picsart. There's nothing more fun than decorating your own house (or at minimum, your phone background) to look like a Holiday special straight out of a movie set. The perfect backdrop consists of a few things:
A fireplace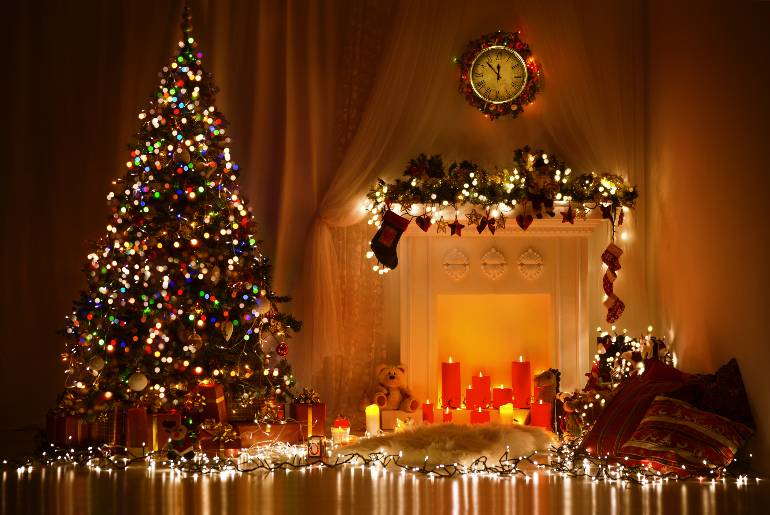 A fireplace decorated in a winter garland or with stockings hung with care is a warm staple of the perfect Christmas fantasy. Many houses nowadays don't have fireplaces though, so don't worry if you don't have one. You can still create a beautiful backdrop for your photos without it. You can use Picsart to add in a fireplace background, ask a friend or family member to take photos are their place, or rent a cozy cabin for a big photoshoot full of tangible wintery props.
Christmas decorations
You can choose to go modern or traditional with your Christmas decorations and your backdrop will turn out fantastic either way. Figure out the vibe you want to go with (modern and minimalist or rustic and traditional) and decorate the setting accordingly. Keep in mind that you should focus all your decorations in one spot, so no reason to balance out the decorations all throughout your house. Simply set your camera in one place and move your Christmas ornaments to the area of focus.
A Christmas tree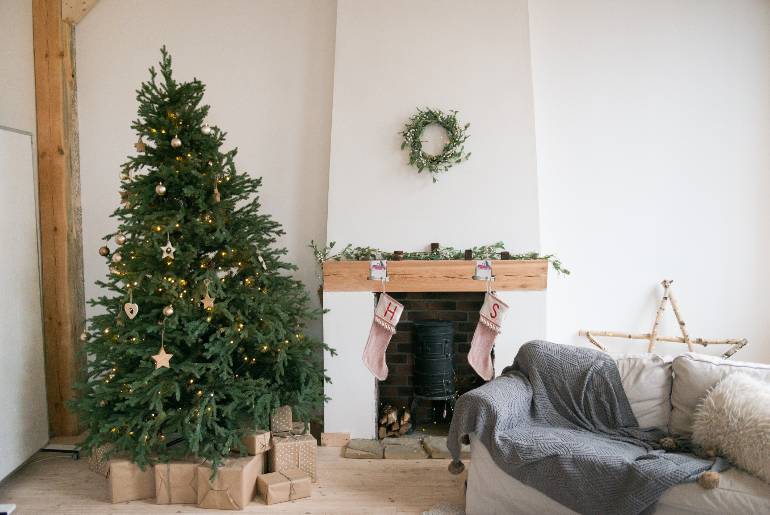 If you close your eyes and think about Christmas, the Christmas tree is one of the first things that comes to mind. It's what helps put all the elements of your backdrop together and create a cozy, yet festive atmosphere. No Christmas family photo is complete without a Christmas tree in the backdrop.
What Props Should You  Use for Christmas Photos?
If you don't want to spend a lot of time working on your backdrop or prefer a more minimalist background for your photos, then you can add the festive spirit through Christmas photography props. Whether you're going modern or traditional, keep these Christmas photography props in mind to make your images memorable.
Fake Chimney Top
If Santa can squeeze through one of those then why not pretend you can too? If you're feeling a little artsy,  then you can make a festive chimney entrance with a cardboard box and some paint as a prop for your photo shoot and then keep for the full month as a fun household Christmas decoration. You can create very fun photos especially if you involve friends and family members.
Decorative sleighs
Not everyone lives in regions where it actually snows during Christmas, so a lot of people don't get to experience the joyful feeling of sleigh riding. However, we've all vicariously experienced this joy while watching Christmas movies and cartoons. Big red wooden sleighs are almost universally associated with Christmas and can make a fun prop for your photos, especially if you're looking to take a family photo outside.
Fake snow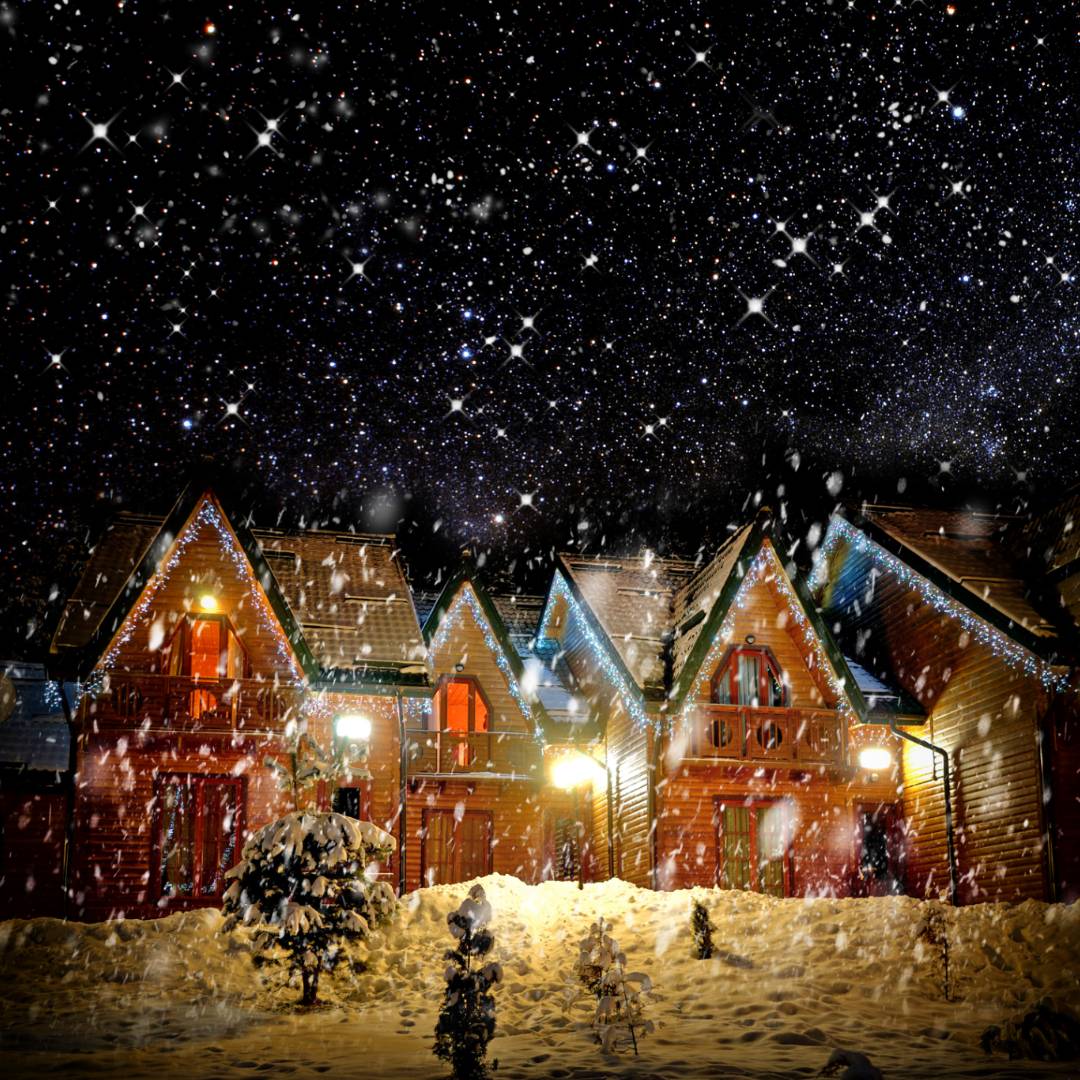 While snow looks absolutely stunning in photos, spending hours outside for the perfect shot is a one-way ticket to catching the flu during the Christmas season, which will definitely put you on the naughty list with your family.
So to avoid literally freezing outside, you can easily bring this cool winter wonderland vibe into your house by purchasing some fake snow. The fun thing is that you can add it on top of other decorations to give them extra sparkle and when you look through the lens of your camera, you won't be able to tell it apart from the real deal.
You can also add snow effects in your post-production when you add on the Snowy Days Mask in Picsart. Simply open your wintery family photo in the Picsart Editor and scroll across the bottom toolbar to tap on Masks and then Snowy Days. Play with a variety of snow effects, then tap Apply and Next to share with your friends and family.
What to Wear in Your Christmas Photos?
The last thing to keep in mind when taking your Christmas photo is deciding what to wear. The best clothing tip when it comes to Christmas photography is that you need to be in strong contrast with the background of your photo. Take a look at your decorations and pick the colors of your outfit accordingly. You can figure this out quickly by squinting at your photo set, this way you can get an overall idea on which color is dominant in the background. If the color is red, then consider selecting a white outfit and vice versa.
The three main colors for both your outfit and your decorations are likely going to be the typical Christmas colors of white, red, and green; however, there's no reason not to experiment with other colors. You can play around with bluish tones for an icy vibe or gold and silver to add a little magical sparkle. No reason to limit yourself. You could even make your own ugly Christmas sweater greeting card with this tutorial:
How to Take Christmas Lights Photography?
Christmas light photography is in its own league when it comes to festive photos. The thing with capturing the Christmas lights in all their beauty is that your camera flash can often ruin even the most beautiful shots. That's why we have prepared the below step-by-step instructions to help you get the perfect shot, every time.
Pick Your Setting Beforehand
It's good to be familiar with the place you'll be photographing beforehand. This will allow you to understand your angles and overall the best time of day to capture your photos. It's hard to figure out the camera settings and the timing quickly when you're shooting in a completely unfamiliar location. The more comfortable you are while taking the photos, the better they'll come out.
Pick Between a Professional Camera and Your Phone Camera
While your phone camera can capture great pictures during the daytime, when it comes to taking photos of Christmas lights in the dark, it can often produce very grainy photos. In order to avoid this, we recommend using a professional camera, but if you don't have access to one, you can always make up for it when editing your photos in Picsart.
Adjust Your Camera Settings
This step only applies if you're using a professional camera. You'll need to lower your ISO and aperture numbers in order to make your photos look more dynamic and less grainy. Additionally, you should also slow down your shutter speed in order to capture all the twinkling lights in motion, especially if the lights are set on a timer as part of a larger light show. As we mentioned earlier, the bokeh effect you get from this is incredibly worth it.
Wait for Twilight
The timing of your Christmas photoshoot is very important, especially if you don't have a professional camera. Twilight is the perfect time to take your Christmas lights photos, as the golden hour light will create a beautiful ambient effect for your photos. If you have prepared your camera settings and planned your scene beforehand, you'll be able to act quickly and take the perfect photos during these fleeting moments of daylight.
Add Finishing Touches While Editing
If your photos still don't look the way you intended them to, then it's time to let you in on a little secret. In reality, all the beautiful Christmas light photos you see online are completely retouched using editing software. Editing allows us to make up for all the details our cameras miss out on but our eyes witness in the moment. You can add more glow to your Christmas lights or highlight some of the details that were lost in the dark with the use of filters.
With so many different editing apps and online software available, it can be a bit confusing finding the right one for you. We recommend using Picsart for your Christmas photo edits as both the app and online software are beginner-friendly and carry all the tools to satisfy even a professional photo editor.
The Ultimate Guide to Family Holiday Photos
When you're ready for the big day, try some of these family Christmas picture ideas, to make the most out of your shoot.
1) Keeping up with Christmas traditions
Why not take pics during a festive activity? There are plenty of opportunities, such as decorating the Christmas tree or the house, hanging stockings on the mantel, visiting Santa, baking Christmas cookies, making Christmas ornaments or Christmas tree toys. Reading a Christmas book for the kids is also one of the most popular Christmas picture ideas.
2) Outdoor activities
Building a snowman or simply playing in the snow, visiting the Christmas tree farm, as well as pics of kiddos on a Christmas sled make for funny, lively photos.
3) Lighthearted, fun pics
If you're into funny pics, pose all tied up with Christmas lights; holding the Christmas tree in place of your heads; buried under Christmas gifts, donning silly hats and cracker gifts, or whatever takes your fancy. There is practically no shortage of fun, creative ideas here.
4) Christmas trips
If you're lucky enough to be visiting someplace special during the festive season, pics of your family members against local landmarks, or celebrating spectacular festive displays will make for great Christmas moments.
5) Christmas is for Kids

Christmas is a magical time for everyone, but for kids especially it is a time of great joy. After all the build up and anticipation for weeks in advance, seeing a happy smile on a child's face at Christmas makes it all worthwhile. Capture those moments for posterity with photos of your little ones that they'll appreciate for life.
6) Keep It Classic
If you want to give your classical family portrait a holiday touch, simply take great shots against the family Christmas tree or at the fireplace, frame it in harvest garland adorned with plaid ribbons; personalize it in a Christmas bauble, or place it against a frosty window.
7) Christmas gifts
Take pics of children with Christmas gifts under the tree, beautifully wrapped to complement the color scheme of the room and then capture their look of surprise while joyfully unwrapping them.
8) Christmas table
One of the all-time favorite family Christmas photo ideas is capturing the family gathering at the holiday table. How about an elegant and sophisticated table, covered with a blue and silver embroidered Christmas napkin and decorated with tall candlesticks and poinsettias?
9) Themed Christmas Party
Get inspired by your favorite Christmas movies to throw a themed holiday party with candy canes, marshmallows, and stir sticks. Dress up in the Elf, Reindeer, or Santa costumes; wear matching Christmas pajamas, Christmas sweaters, or choose any of your favorite characters.
10) Snowy pics
Capture all the best family moments against the fascinating backdrop of a snowy scene; with snowflakes falling and kids in Christmas outfits playing with pets.
Final Tips on Creating Christmas Magic for a Picture
Now it's time for a few pro tips on adding a touch of magic and whimsy to your family Christmas pictures.
1) Positioning
Place your family members a few feet from the Christmas tree to let the Christmas lights blur and create a whimsical bokeh effect. Shoot in low light with people positioned in a straight line. This allows for a wider aperture, letting in more light.
2) Light
Choose a time of the day when it's completely dark outside. You can shoot in a room lit only by the lights of the Christmas tree or turn on a dim light, candle, or fire in the fireplace. To make the people more visible, direct a small light on them.  To get the glow of the lights on your faces, simply turn to the tree.
3) Sunbeam
To capture sunbeams, you'll need a clear day with bright direct sunlight falling into a room and smoke, dust, or fog to make the slanted sunbeams visible.
4) Post-processing
Remember that you can easily edit your pics afterwards. You can try different color contrasts; mix and experiment with saturation, lumination, shadow, highlight; add glitter or bokeh; add or erase parts; try double exposure, and so much more.
For Facebook Christmas cover ideas, we've got you.
How to Edit Holiday Photos Using Picsart
Got a bunch of holiday snaps in need of some post-processing love? Picsart can help with that. Let's walk you through it.
On Mobile
1) Open the Picsart app and tap on the purple plus sign (+) at the bottom of the screen to start your edit.
2) Upload your photo from the camera roll and tap on FX to select from a range of filters.
3) Tap Apply when you've found the perfect one.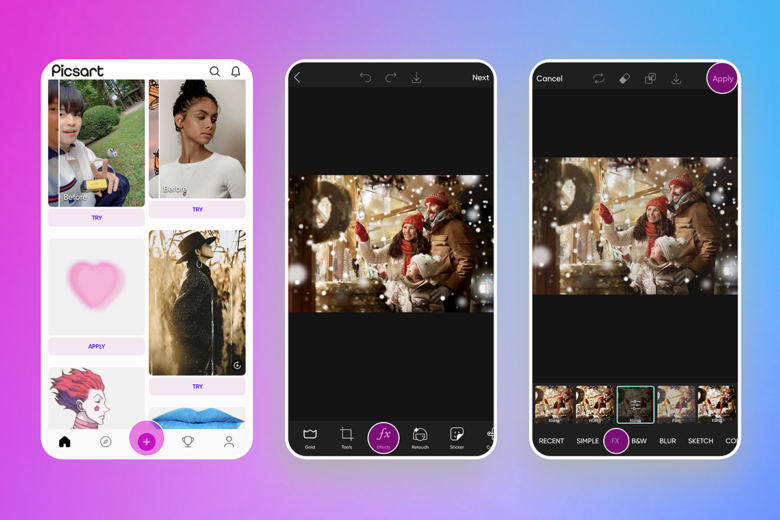 4) Want to make your photo look like it was taken in a winter wonderland? Tap on the Mask icon, then select the mask you like best. Adjust the Opacity levels to make the effect stronger or more feint.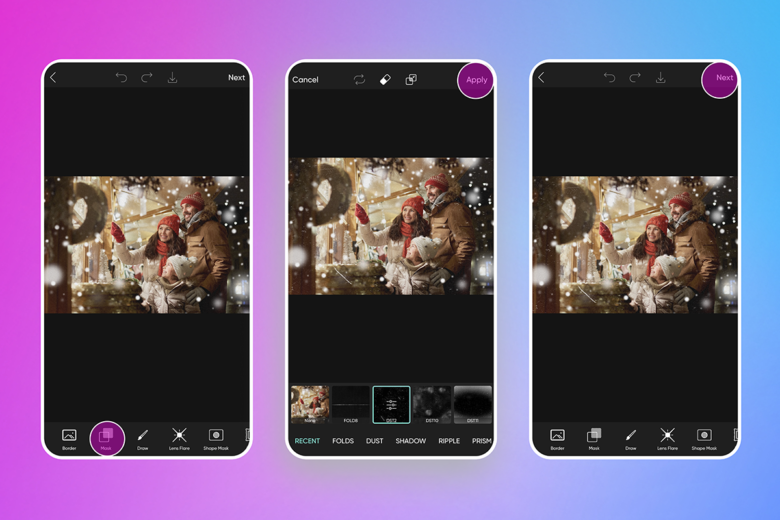 5) Once you're happy with your final edit, download and share it with the Picsart community and/or your social media.
On Desktop
1) Open the Picsart Editor, and click on New Project.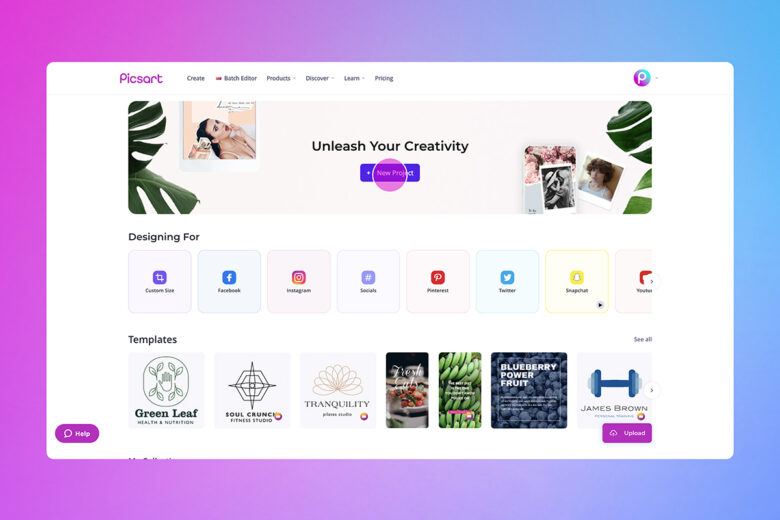 2) Click on Uploads to select an image from your personal collection, or choose one from the free-to-edit or stock libraries.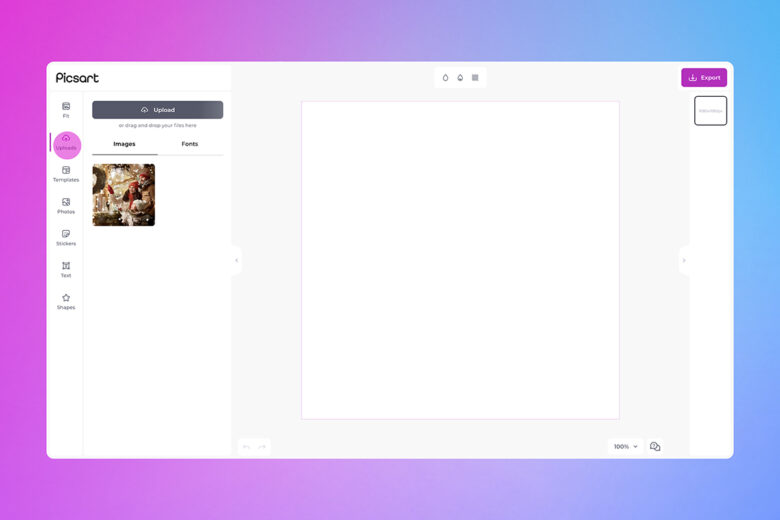 3) To add filters, click on the FX tab on the editing panel above and select your preferred effect.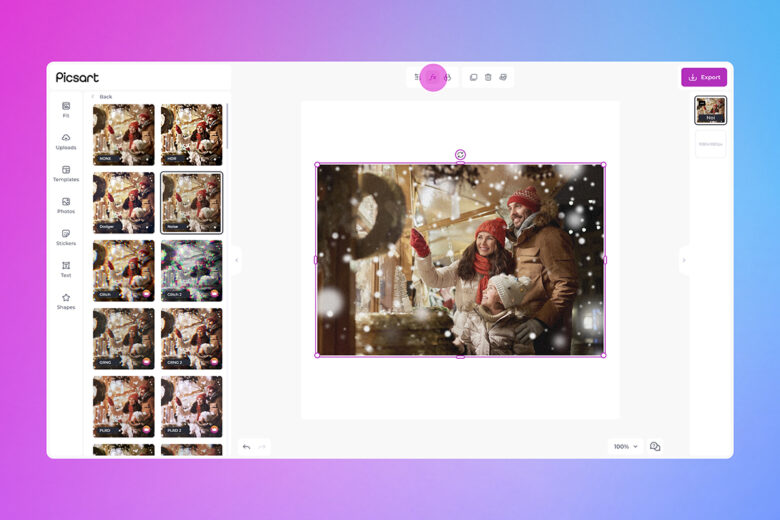 4) When you're done with your design, click on Export to Save or Share your edit.
Need some more inspiration? The Picsart community is filled with family Christmas photo ideas, which you can use to make your festive celebrations even more special.
Happy holidays!
Picsart is a full ecosystem of free-to-use content, powerful tools, and creator inspiration. With a billion downloads and more than 150 million monthly active creators, Picsart is the world's largest creative platform. Picsart has collaborated with major artists and brands like BLACKPINK, Taylor Swift, the Jonas Brothers, Lizzo, Ariana Grande, Jennifer Lopez, One Direction, Sanrio: Hello Kitty, Warner Bros. Entertainment, iHeartMedia, Condé Nast, and more. Download the app or start editing on web today to enhance your photos and videos with thousands of quick and easy editing tools, trendy filters, fun stickers, and brilliant backgrounds. Unleash your creativity and upgrade to Gold for premium perks!