It's the most wonderful photo time of the year! Christmas is often recognized for the festive gifts in colorful wrapping paper, warm cookies, fireside hot cocoa, and wholesome family time. But, it's also an important time of the year for photographers! Christmas is the time of the year when photographers, designers, and photo editors all come together to show off their holiday spirit, whether it be in brand marketing creative, family Christmas cards mailed to relatives worldwide, or for fun social media edits. 
Christmas photography has its own tricks and secrets, and in order to capture the perfect amount of festive spirit, we've decided to share all these Christmas photograph hacks with you. By the time you're done with this article, you'll become a Christmas photography guru. So without further ado, we present to you our top Christmas photography tips and tricks!
How to Take Christmas Photos?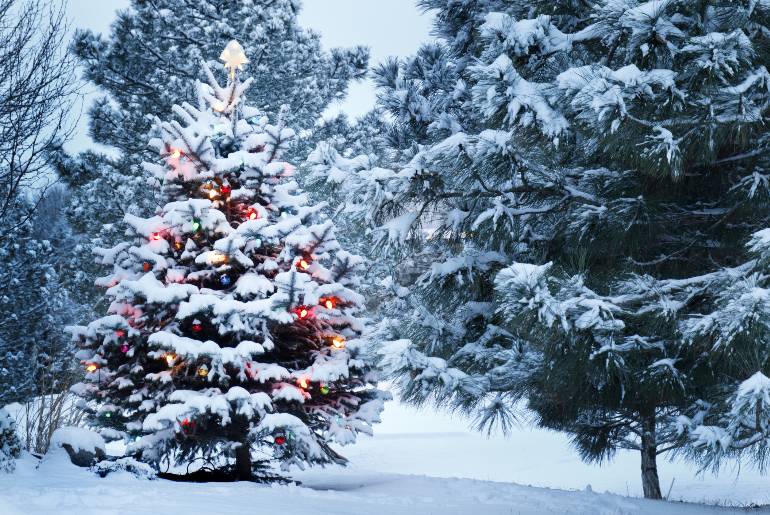 Whether you like taking photos or are more of a behind the scenes editor, you'll need to have a high-resolution photo to work with. No worries if you're not very good at photography, as there are a myriad of photography techniques that can make anyone look like a professional photographer. 
First, you'll need to figure out what type of camera you're planning to use. While your phone camera can take great Christmas photos, a professional camera has a lot of advantages when it comes to capturing the Christmas spirit through lights and lenses. In order to achieve the festive aesthetic with a professional camera, you'll need to follow these important techniques:
Keep Your Aperture Number Low
Changing the aperture number alters the overall amount of light that your camera captures. Lowering the aperture ensures that less light enters the lens of your camera which is great for the usual low-light environment of Christmas photography. A lower aperture will blur out the background, making your photos look more dynamic.
After adjusting your aperture, you'll also need to lower your ISO. Modifying the ISO helps brighten or darken your image. As you'll likely be taking your Christmas photos in a low-light scenario, lowering your ISO will help keep your photo from looking grainy. Unless you're going for a grainy look, in which case check out this film grain guide to get a vintage effect on your Christmas photos.!
The last setting you'll need to adjust on your camera is the shutter speed. The slower your shutter speed, the longer your camera sensor is exposed to light. Slower shutter speeds help capture a sense of movement and is perfect for capturing the twinkling Christmas lights and achieving that sought-after bokeh effect in your photos. If you want to focus on shooting and layer on a bokeh effect in post-production, you can always add it in with PicsArt using this bokeh effect tutorial.
How to Create Your Christmas Photo Backdrop?
As we've started to hint at, if you don't have a professional camera, then you can always give your photos a more professional feel in post-production editing using photo software like PicsArt. If you're shooting on your phone and can't meticulously adjust the settings of your camera, then you should focus on creating the perfect background setting for your photo.
If you have the opportunity, you should definitely create your own Christmas photography backdrops. You can either gather props and scout out festive wintery locations for real-life Christmas photography backdrops or simply edit them in using Stickers and/or by changing the background of your photos in PicsArt. There's nothing more fun than decorating your own house (or at minimum, your phone background) to look like a Holiday special straight out of a movie set. The perfect backdrop consists of a few things: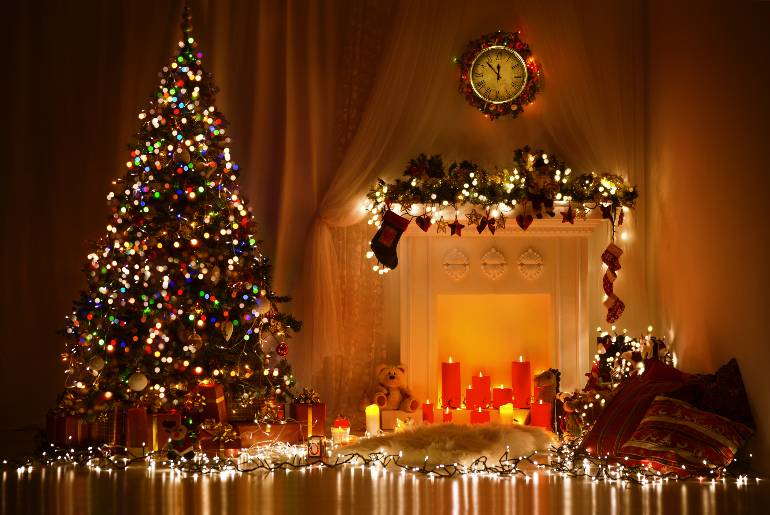 A fireplace decorated in a winter garland or with stockings hung with care is a warm staple of the perfect Christmas fantasy. Many houses nowadays don't have fireplaces though, so don't worry if you don't have one. You can still create a beautiful backdrop for your photos without it! You can use PicsArt to add in a fireplace background, ask a friend or family member to take photos are their place, or rent a cozy cabin for a big photoshoot full of tangible wintery props. 
You can choose to go modern or traditional with your Christmas decorations and your backdrop will turn out fantastic either way. Figure out the vibe you want to go with (modern and minimalist or rustic and traditional) and decorate the setting accordingly. Keep in mind that you should focus all your decorations in one spot, so no reason to balance out the decorations all throughout your house. Simply set your camera in one place and move your Christmas ornaments to the area of focus.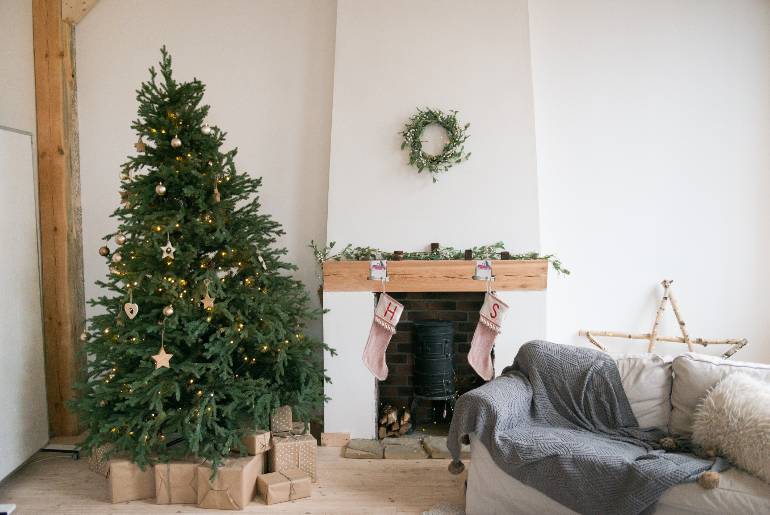 If you close your eyes and think about Christmas, the Christmas tree is one of the first things that comes to mind. It's what helps put all the elements of your backdrop together and create a cozy, yet festive atmosphere. No Christmas family photo is complete without a Christmas tree in the backdrop!

What Props Should You  Use for Christmas Photos?
If you don't want to spend a lot of time working on your backdrop or prefer a more minimalist background for your photos, then you can add the festive spirit through Christmas photography props. Whether you're going modern or traditional, keep these Christmas photography props in mind to make your images memorable!
If Santa can squeeze through one of those then why not pretend you can too? If you're feeling a little artsy,  then you can make a festive chimney entrance with a cardboard box and some paint as a prop for your photo shoot and then keep for the full month as a fun household Christmas decoration. You can create very fun photos especially if you involve friends and family members. 
Not everyone lives in regions where it actually snows during Christmas, so a lot of people don't get to experience the joyful feeling of sleigh riding. However, we've all vicariously experienced this joy while watching Christmas movies and cartoons. Big red wooden sleighs are almost universally associated with Christmas and can make a fun prop for your photos, especially if you're looking to take a family photo outside.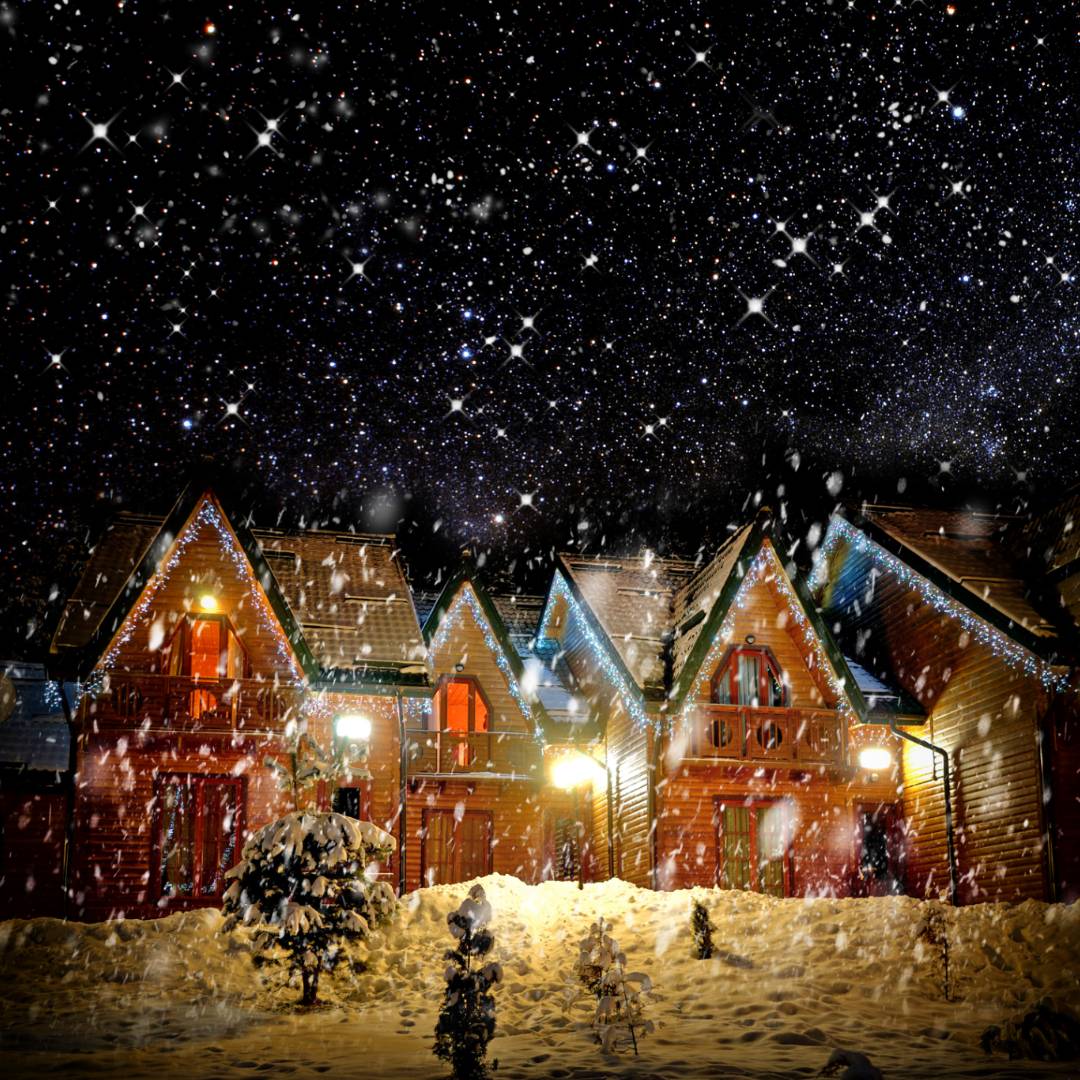 While snow looks absolutely stunning in photos, spending hours outside for the perfect shot is a one-way ticket to catching the flu during the Christmas season, which will definitely put you on the naughty list with your family. 
So to avoid literally freezing outside, you can easily bring this cool winter wonderland vibe into your house by purchasing some fake snow. The fun thing is that you can add it on top of other decorations to give them extra sparkle and when you look through the lens of your camera, you won't be able to tell it apart from the real deal. 
You can also add snow effects in your post-production when you add on the Snowy Days Mask in PicsArt. Simply open your wintery family photo in the PicsArt Editor and scroll across the bottom toolbar to tap on Masks and then Snowy Days. Play with a variety of snow effects, then tap Apply and Next to share with your friends and family!
What to Wear in Your Christmas Photos?
The last thing to keep in mind when taking your Christmas photo is deciding what to wear. The best clothing tip when it comes to Christmas photography is that you need to be in strong contrast with the background of your photo. Take a look at your decorations and pick the colors of your outfit accordingly. You can figure this out quickly by squinting at your photo set, this way you can get an overall idea on which color is dominant in the background. If the color is red, then consider selecting a white outfit and vice versa.
The three main colors for both your outfit and your decorations are likely going to be the typical Christmas colors of white, red, and green; however, there's no reason not to experiment with other colors! You can play around with bluish tones for an icy vibe or gold and silver to add a little magical sparkle. No reason to limit yourself. You could even make your own ugly Christmas sweater greeting card with this tutorial: 
How to Take Christmas Lights Photography? 
Christmas light photography is in its own league when it comes to festive photos. The thing with capturing the Christmas lights in all their beauty is that your camera flash can often ruin even the most beautiful shots. That's why we have prepared the below step-by-step instructions to help you get the perfect shot, every time!
Pick Your Setting Beforehand
It's good to be familiar with the place you'll be photographing beforehand. This will allow you to understand your angles and overall the best time of day to capture your photos. It's hard to figure out the camera settings and the timing quickly when you're shooting in a completely unfamiliar location. The more comfortable you are while taking the photos, the better they'll come out.
Pick Between a Professional Camera and Your Phone Camera
While your phone camera can capture great pictures during the daytime, when it comes to taking photos of Christmas lights in the dark, it can often produce very grainy photos. In order to avoid this, we recommend using a professional camera, but if you don't have access to one, you can always make up for it when editing your photos in PicsArt. 
Adjust Your Camera Settings
This step only applies if you're using a professional camera. You'll need to lower your ISO and aperture numbers in order to make your photos look more dynamic and less grainy. Additionally, you should also slow down your shutter speed in order to capture all the twinkling lights in motion, especially if the lights are set on a timer as part of a larger light show. As we mentioned earlier, the bokeh effect you get from this is incredibly worth it.
The timing of your Christmas photoshoot is very important, especially if you don't have a professional camera. Twilight is the perfect time to take your Christmas lights photos, as the golden hour light will create a beautiful ambient effect for your photos. If you have prepared your camera settings and planned your scene beforehand, you'll be able to act quickly and take the perfect photos during these fleeting moments of daylight.
Add Finishing Touches While Editing
If your photos still don't look the way you intended them to, then it's time to let you in on a little secret. In reality, all the beautiful Christmas light photos you see online are completely retouched using editing software. Editing allows us to make up for all the details our cameras miss out on but our eyes witness in the moment. You can add more glow to your Christmas lights or highlight some of the details that were lost in the dark with the use of filters.
With so many different editing apps and online software available, it can be a bit confusing finding the right one for you. We recommend using PicsArt for your Christmas photo edits as both the app and online software are beginner-friendly and carry all the tools to satisfy even a professional photo editor.
How to Edit Christmas Photos With PicsArt?
One of the many amazing things about PicsArt is that the app and online tools are just filled to the brim with editing tools for any occasion –and Christmas is no different! You have so many options at your fingertips that it's almost impossible to write a simple step-by-step tutorial that covers everything Christmassy available to you. We're talking professional templates for everything from holiday sales to Instagram stories, stickers, brushes, masks, a video editor, and everything from icy winter to warm and cozy filters!
So how about instead we check out some of our favorite Christmas tools and editing assets. Using any or a combination of these will surely result in some of your best looking Christmas photos ever! Here's how to edit on the desktop experience:
Step 1) Open the PicsArt Editor online and upload the photo you want to edit or select from our gallery of #FreeToEdit photos. 
Step 2) Let's play with festive Christmas Stickers in this example! Click on Stickers on the left panel and use the search bar to search for anything you'd like to add (Christmas tree, wreath, garland, ornaments, Santa hat, snowman, reindeer or antlers, etc). Add as many Stickers as you'd like! You can also click on Templates to search for winter wonderland Christmas templates. 
Step 3) When you're done with your edit, click on Share and Download in the upper right corner to share your final edited Christmas photo with your friends, family, and/or coworkers!  
If you're editing on the go, here's how to edit your Christmas photos in the PicsArt mobile app:
Step 1) Open the PicsArt app and tap the + icon at the bottom of the screen to upload a photo from your camera roll. You can also search for festive photos in our #FreeToEdit photo library in the search bar at the top. 
Step 2) You can go to Effects, and apply either the COZY1 or COZY2 filter. Both these filters apply a very subtle ambient light giving off that wooden cabin with a sweet fireplace vibe. Then add a little zest with a couple of stickers, by tapping on   Sticker in the bottom toolbar. Type in Christmas and you'll get literally thousands of options to choose from. Now add your final Christmas stroke using one of our handcrafted Christmas brushes and a snow day effect with our Snowy Days masks. 
Step 3) When you're done editing, tap Next and then Save and/or Post in the upper right corner to save and share your finished edit!
The most important thing is for you to check back in once the Christmas season is fully underway! uring the Christmas holidays, the PicsArt community is truly a sight to behold and a great source of Christmas photography inspiration. The app gets tons of new Christmas themed assets for you to edit with, as well as some truly amazing content that's only available during the holiday season. So make sure to pop around during Christmas to make use of the best Christmas templates, backgrounds, brushes, and stickers PicsArt has to offer!
Christmas Photography Editing With PicsArt 
Now that you know all about Christmas photography, you can start editing your amazing Holiday images! If you're still not sure where to start, check out these amazing Christmas photos edited by our talented users using PicsArt!
PicsArt all-in-one Photo and Video Editor, Collage, and Sticker Maker is the world's largest creative platform with over 150 million monthly active creators and influencers. PicsArt has collaborated with major artists and brands like Taylor Swift, The Jonas Brothers, Gwen Stefani, Maroon 5, Lizzo, Meghan Trainor, One Direction, MONSTA X, Warner Bros. Entertainment, iHeartMedia, Condé Nast, and more. Download the app today to level-up your photos and videos with thousands of quick & easy editing tools, trendy filters, fun stickers, and brilliant backgrounds. Unleash your creativity with PicsArt and upgrade to Gold for awesome premium perks!