If you're in the eCommerce business, having a firm grasp of the dos and don't of product photography is essential. Even if you just sell items to make a little extra income aon the side, product photography can be the difference between a sale or not. The good news is that DIY product photography won't cost you an arm and a leg.
What Is Product Photography?
Product photography uses specific techniques to showcase your goods in the best way possible, with the end goal of maximising sales. Product photography is not only important for selling, but building your brand's reputation. There's an undoubted correlation between high-quality product photography and strong brand trust. Think of your own favorite brands and how they present their products to consumers. Would Louis Vuitton be a popular high-end luxury brand if their product photography had bad lighting and low pixels? Highly unlikely. Most people process information through a visual medium. In a world where more often than not, you're ordering products online, good product photography is a key element to the success of any eCommerce business.
Types of Product Photography
There are several types of product photography. Let's take a look at the six most common.
1. Individual Shots 
This should showcase your featured product from a variety of different angles against a white background. This provides a clean-cut look and places sole emphasis on your product. You'll often see individual shots on eCommerce websites such as Amazon and eBay.
2. Lifestyle Shots
This type of product photography, also known as in-context shots, showcases your product in use. It can show your product in the environment it was designed for or accompanied by other products to illustrate it. For example, lifestyle shots of an espresso machine in a kitchen may have an espresso cup and some coffee beans as complementing products.
3. Scale Shots
Scale shots are a great way to provide perspective. This allows the consumer to have an idea of how big or small your product is. For example, a photo of a woman holding a purse against her body will provide a size perspective and help the shopper visualize how the purse could look on themself.
4. Detailed Shots
A detailed shot is a close up view that showcases intricate details. This is an important technique for products that have a lot of features. A great use case for this technique is for watches which tend to have a lot of intricate elements that need to be highlighted.
5. Group Shots
Group shots showcase multiple products in one. This is a great way to provide variations of your product to the consumer, such as different colored pens. You can also group together a set of complementary products, such as a skincare line with multiple products.
6. Packaging Shots
This is a unique technique that showcases the packaging instead of the actual products themselves. You can opt for this technique if your product has appealing packaging, and showing the actual product is not critical. Packaging shots can be used for items such as a box of crackers or a bar of soap.
Why Is Product Photography Important?
Your images represent your products in the digital and print marketplace. From a consumer standpoint, the quality and value of your products can be deduced from the images on display. If your image is poor quality, your customer might assume you're selling low-quality products. If the bottom line is to increase sales, then providing the highest quality product photography is of the utmost importance.
Successful companies prioritize branding in all aspects of business decisions, including when it comes to social media posts, websites, and other public-facing marketing. Since images are at the forefront of your brand, they must be professional, high-quality, and in line with your target audience. Providing consistent product photography helps build and amplify your brand's tone as well as establish yourself as a trusted name to returning customers.
Benefits of DIY Product Photography
As an eCommerce entrepreneur, whether you invest in professional services or attempt to do it yourself, product photography is a vital component to the success of your business. There are some benefits, however, to taking on the task of product photography yourself.
If your company is in startup mode or you're a small business owner, you know that maintaining a budget is critical, and to help with that, DIY product photography can be a major benefit. You can easily create your own DIY product photography set up with just a few items, all at a reasonable cost.
Another major benefit to DIY product photography is that all images will belong to you. A hired professional photographer may own the copyright to all of your product images. To avoid that scenario, you can take your own photos.
Allowing your images to stand out is yet another benefit to DIY product photography. An eCommerce customer may see the same stock images over and over on websites and ads. At a certain point, it can be hard to distinguish brands from one another. By creating a custom product photo yourself, you can differentiate your product and brand from others and thus better position yourself on the market.
What Do You Need for Product Photography?
Product photography can seem daunting if you're new to photography. Don't worry, though. With a proper setup and a little practice, you'll become more comfortable with the process in no time. Luckily, there's no need to spend tons of money on high-tech equipment. You'll only need a few affordable items to get your set up going.
1. Camera or Smartphone
Obviously, the most important piece of equipment is a camera. If you don't have a fancy camera, your smartphone's camera will work just fine. Some amazing marketing images have been shot with iPhones.
2. Tripod
A tripod is important to maintain consistency in your photos as well as reach a level of depth and sharpness you otherwise wouldn't be able to by hand. You can easily find a used tripod for an affordable price or cheap ones online. If you are using a smartphone, make sure to get a phone mount that attaches to the tripod.
3. White Background or Sweep
A white background provides a clean canvas to showcase products and highlight its details. You can look for cheap white sweeps on Amazon or opt for an even cheaper technique of using a white poster board. The idea of a sweep is to have a clean background directly behind and underneath the product. You can simply place your white poster board against the wall and have it curve down onto a table. When your product is placed on top, you will have the same white background no matter which angle you shoot from. Use tape or clamps to secure the sweep.
4. Table
Depending on your product and setup size, you can ideally use any table leaned up against a wall.
5. Lighting
Natural light is your friend when it comes to product photography. Make sure you use a room with windows that let in a lot of natural light. The bigger the window, the more sunlight coming in, the better the lighting for your shot. Sometimes you do need artificial light for specific products, for which you can use light bulbs, candles, or even fire. Pro tip: pick one or the other. Mixing artificial and natural lighting in one shoot tends to look unappealing.
6. White or Black Bounce Cards
Where there is light, there is also shadow. In order to reduce shadows in your image, you can either add a fill light and position your product in between both or add a bounce card positioned directly opposite of your main light source. You can use cheap foam or even a white piece of paper or poster board. A black foam can be used to deepen shadows and is mostly used when shooting a white product against a white background.
7. Photo Editing Tools
Using a photo editing software like Picsart is a must as you finalize and process your product photography. Editing allows you to make final adjustments to color and lighting to give your photo that polished go-to-market look.
If you're just getting started with product photography editing or only want to make quick adjustments, like resizing an image, changing the background, or cropping a video, then check out our Quick Tools.
How To Take Product Photos
Gather all of your DIY product photography equipment and let's get started.
Set up your photoshoot area. Make sure you are shooting at a time when there is plenty of sunlight. Turn off all the lights in your photoshoot room and place the table against the wall. The table should be positioned as close to the window as possible without catching any shadows. The sunlight should not directly be hitting your set. You can rotate the set until you find the appropriate lighting.
Set up your white sweep, about half on the table and half going up the wall vertically.  Secure by taping the sweep to the wall and the table. Position your product in the middle of your sweep and ensure everything is centered. Your sweep should be big enough to place your white bounce card on it as well.
Set up your tripod and camera and turn off the flash setting. Set your image settings to RAW (highest quality) or the largest JPG setting. If you're using a smartphone, set it up on the mount and turn off the flash. Do not use the zoom feature as that lowers the quality of the image. You can always zoom in during the editing process.
Set up your white reflector card next to the product and test it out by taking a few photos. You may have to make some adjustments based on how your images look.
Snap a few pictures and analyze. See if you need to make adjustments to any of the steps above. Once you upload the images to your computer or phone, you will have a better sense of how they really look.
Edit. You've nailed down the image you want, and now you can perfect it with photo editing software. Make sure your final edits show the product in the best lighting and highlight all the important details you want the consumer to see in an image.
Editing Tips for Product Photos
Professional photo editing is another outsourced component of product photography. But, why outsource photo editing when you can easily do it yourself for free? Follow these tips and tricks to make the final step of your product photography a total breeze.
1) Open the Picsart app and tap on the purple plus sign at the bottom of your screen.
2) Upload the image you'd like to edit.
3) Tap on the Tools icon.
4) In the sub-menu, tap on Adjust. You'll see the following tools: Brightness, Contrast, Clarity, Saturation, Hue, Shadows, Highlights, and Temp. Tweak as required for each setting. When you're done hit Apply.

5) Tap on FX to select from a collection of filters and effects to add to the image. You can add multiple effects, if you wish.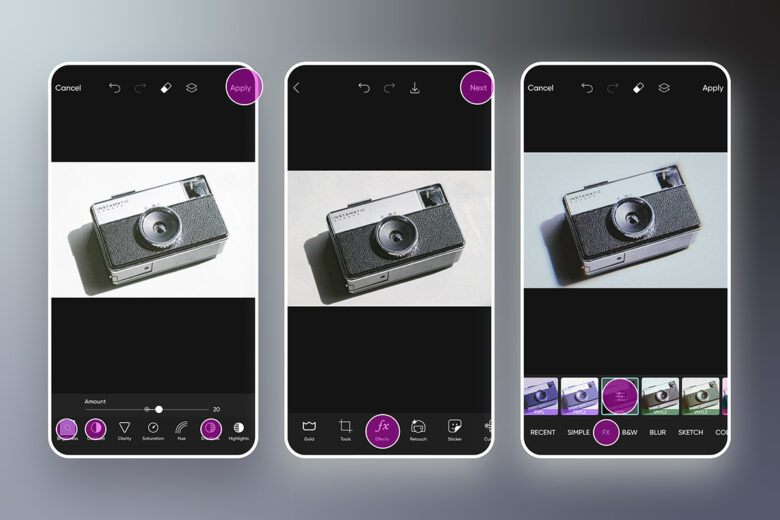 6) If you want to add a Mask, tap on the icon and select the one that works best for your desired finish. Tap on Apply to save the final edit to your camera roll.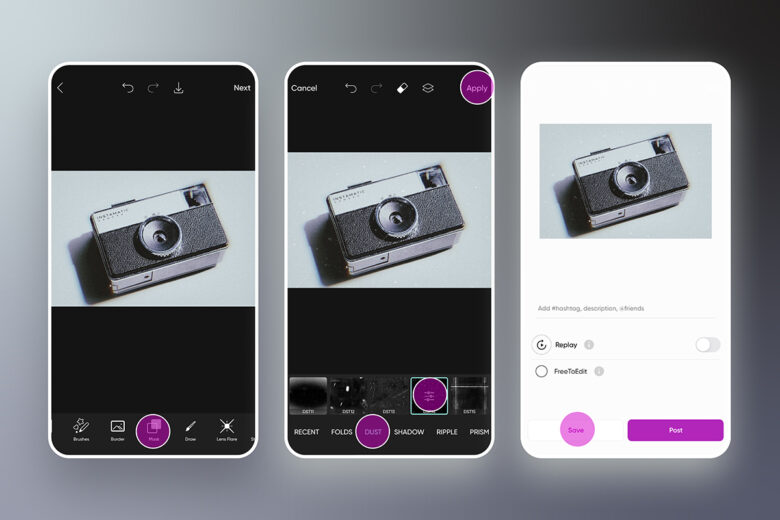 You can also edit product images via your web browser. It's simple too. Let's show you how:
1) Open the Picsart web editor and click on the Upload button.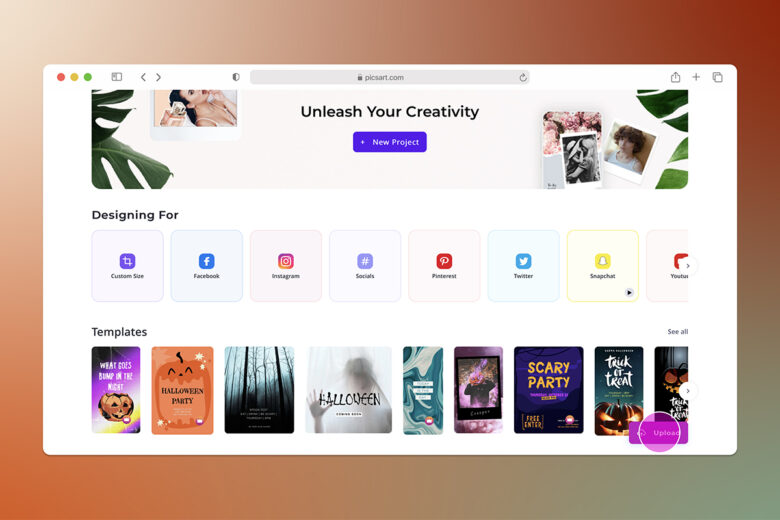 2) Select the image from your library and click on the editing panel above to adjust its settings.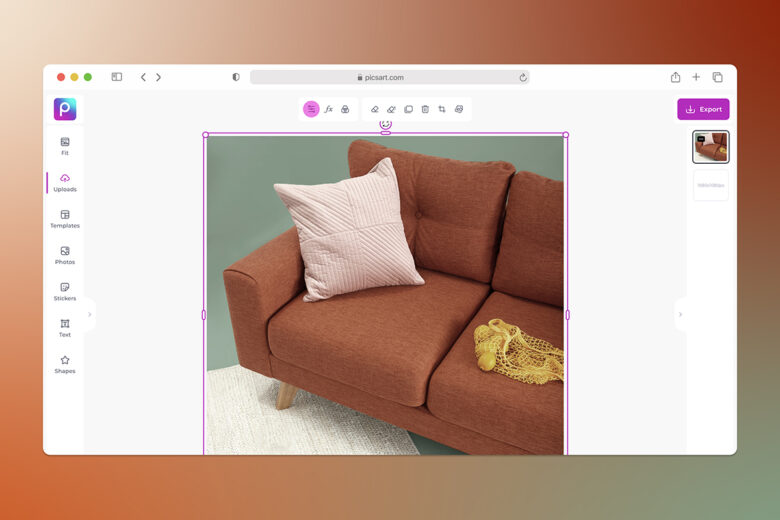 3) Change the settings for Brightness, Contrast, Shadows, Highlights, Opacity, and Saturation, as needed.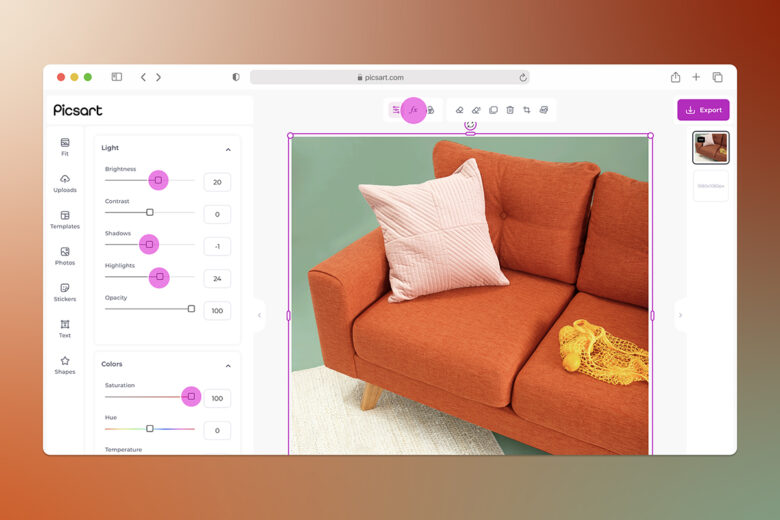 4) Select any filters and effects you need by clicking on the FX tab.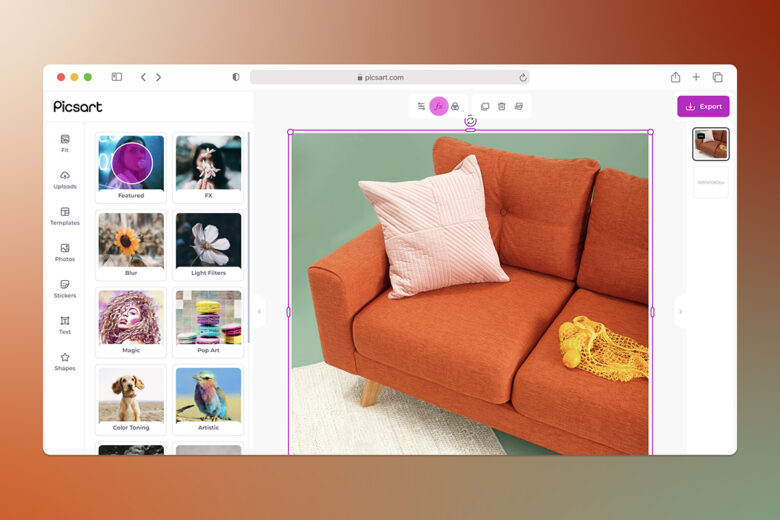 5) When you're happy with your edit, click on Export to Download it to your desktop.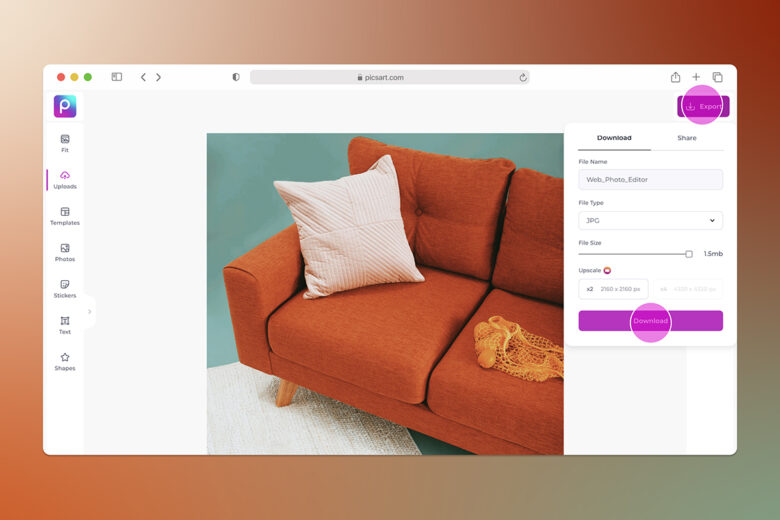 That, in a nutshell, is all you need to get started in product photography. Stick to this DIY guide to create some eye-catching photos that showcase your products in the most aesthetic way possible.
Picsart is a full ecosystem of free-to-use content, powerful tools, and creator inspiration. With a billion downloads and more than 150 million monthly active creators, Picsart is the world's largest creative platform. Picsart has collaborated with major artists and brands like BLACKPINK, the Jonas Brothers, Lizzo, Sanrio: Hello Kitty, I am a Voter, Bebe Rexha, Maroon 5, One Direction, Warner Bros. Entertainment, iHeartMedia, Condé Nast, and more. Download the app or start editing on web today to enhance your photos and videos with thousands of quick and easy editing tools, trendy filters, fun stickers, and brilliant backgrounds. Unleash your creativity and upgrade to Gold for premium perks!