Creativity has no bounds, especially in the world of photography. New trends spark up on a daily basis, often making it hard to keep up with them. As a photographer, you need to always scout social media in order to stay on top of the game. Some trends stay relevant for longer than others.
While certain trends are forgotten, a trend like double exposure photography has been popular since the 1860s. You've probably already seen this type of photography on your feed and wondered how you can get the same effect. Well, you've come to the right place! In this article, we will tackle down the mystery behind double exposure photos and lend tips on how you can get the desired effect more easily than ever.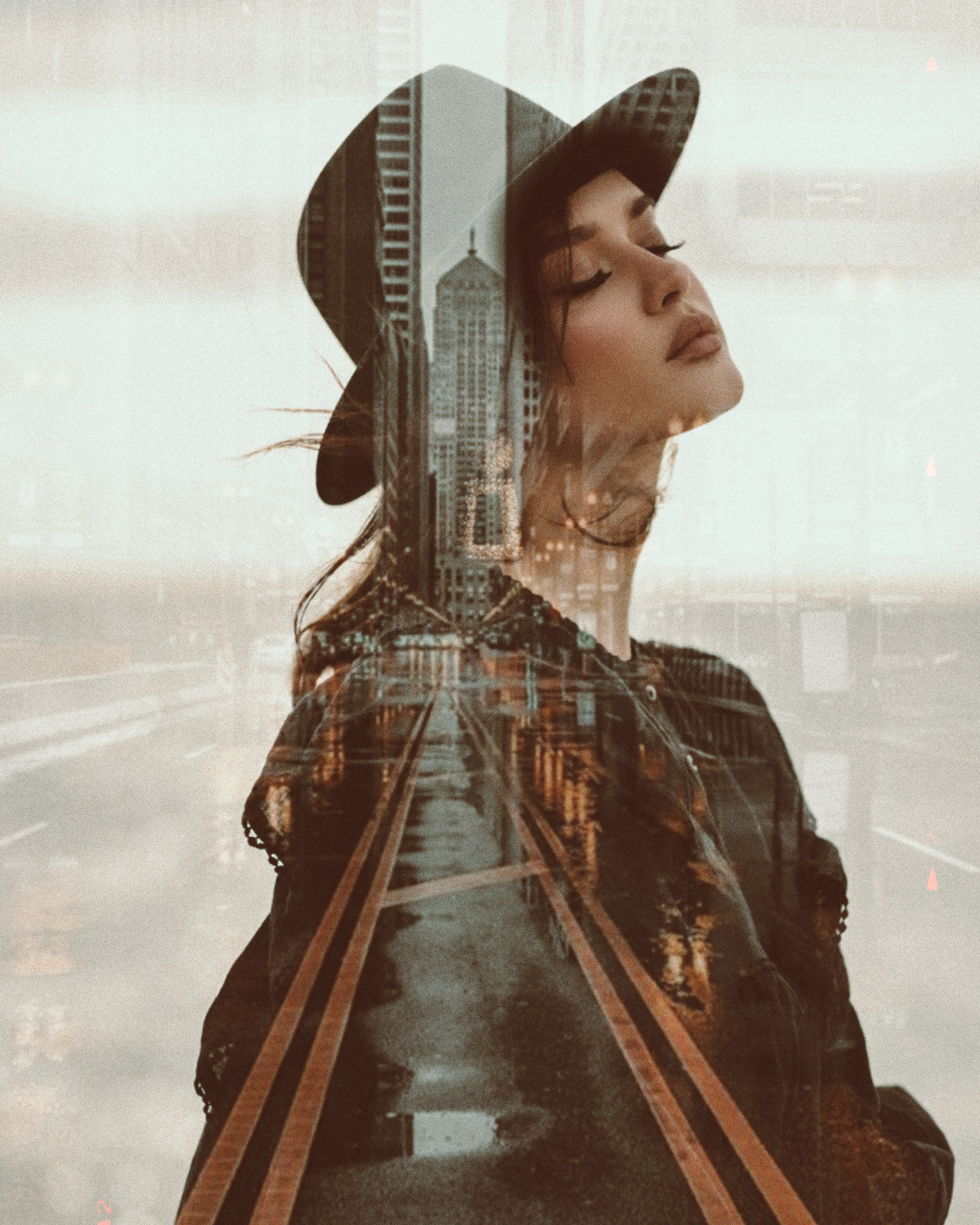 via PicsArt
What Is a Double Exposure Photo?
Double exposure photography is a type of photography that overlays two or more images on top of each other creating an otherworldly effect. It's hard to say who took the first double exposure photo or when exactly it happened, but one thing we know for sure is that it was popular since the 1860s.
The name of this type of photography trails back to how cameras used to work back in the day. When capturing a photo, the shutter of the camera traditionally opened once in order to make the final images look clear and crisp. However, with time, photographers discovered that if they open the shutter more than once then the film inside the camera would get exposed to two or more different compositions.
When the film is developed, the final image is a combination of these compositions overlaid on top of one another. The most popular technique with double exposure photos is to capture a portrait with the first exposure and a landscape with a second one. This allows for the creation of ethereal-looking images.
With the advance in technology and cameras, not many photographers work with film anymore. However, there are ways to take double exposure photos with digital cameras as well. The digital approach has allowed photographers to have more control over their final results. There's no more need for photographers to wait for their film to be developed in order to see the photo they took, yet some photographers still prefer the old-school method. 
How To Take Double Exposure Photos
There are two classic ways to take double exposure photos. One involves working with an analog camera and the other with a digital one. It may seem complicated, but in reality, the process is quite simple, and we will go over it in detail.
Analog Camera
Taking double exposure photos with an analog camera is how this type of photography was originally done. You can pick one of the two popular methods when shooting with an analog camera. 
The first method requires shooting an entire film roll as normal and reusing it for the second round of photos. This method is very experimental and doesn't give you a lot of control over the final photos.

The second method doesn't require as much commitment. You can simply double expose a single frame at a time. Using this method you can choose which frames in your role you want to be exposed to more than once and which ones you rather keep as simple photographs. However, you need to ensure that your camera has the ability to stop advancing frames.
Digital Camera
Shooting double exposure pictures is much easier and more controlled using a digital camera. All you'll need to do is to go to your camera settings and select the Multiple Exposure setting. Here you'll be able to choose just how many photos you want to combine.
The great thing about digital cameras is that you'll get the results almost instantly, while with an analog camera you will need to wait for your film to develop. In case if your photos didn't come out the way you wanted them to, you can always reshoot them right where you are without missing out on the moment.
View this post on Instagram
6 Tips for Taking the Best Double Exposure Portraits
While taking double exposure images can be quite an unpredictable process, there are steps you can take to ensure your photos turn out great. Here are our top tips for taking double exposure portraits!
You don't have to completely envision the final image before starting shooting, but it's good to have a certain idea of what you want. Think about how you want your subject to pose and what type of image do you want to be overlaid on top of it. As the photographer, you'll be the one who directs the subject of your portrait with directions on how to pose and move. If you have a basic idea in mind before you draw out your camera, it'll be easier for you to create brilliant double exposure portraits. 
This is something people don't always take into account when shooting double exposure photos for the first time. You'll have to adjust your exposure settings beforehand to ensure that your final photos are not overexposed. If you're shooting two frames on top of each other aim to cut the exposure in half to get the best results. 
Considering that you have to underexpose the film for both of your shots, it's always a good call to use the flash of your camera. The flash will help fill in light and create photographs that are properly exposed. It seems like a small change, but it can make a huge difference for the final photos. Just make sure to practice with your subject beforehand in order to ensure their reaction to the flash won't ruin your photo.
Pick the Right Background
Picking a background depends on what type of photos you want. If you want something with more slick and clear silhouettes then a plain background is the right choice. You can use a simple black or white cloth as your background or shoot your model against a plain wall. When you double expose the film, this slick background will allow the two images to combine beautifully. On the other hand, if you're looking for something more experimental, you can go for a textured background. If you're just starting to explore double exposure photos, it's better not to try this method as it is a bit more advanced compared to using plain backgrounds. 
If you want a double exposure photo with crisp shapes and outlines, it's best to use a tripod as your hands can be shaky when holding a camera. A tripod can help you eliminate that. It will also help you if you're planning to shoot for a long time. Instead of getting your arms tired, you will get clear photos without breaking a sweat.
This last tip is more of a fun one! If you want to be more experimental with your double exposure portraits we would recommend collaborating with another photographer or simply a friend. In order to do this one of you will need to take the portraits, while the other person needs to take the image you want to combine with it. To pull this off, you will need an analog camera. Expose the entire film once to take the portraits then pass it to the person you're collaborating with and have them take the second image for all of the frames.
View this post on Instagram
How To Add the Double Exposure Effect To Photos 
Not everyone has a professional camera or can afford it. Fortunately, double exposure photos can be achieved through editing as well. This way you will have more control over your final result and will be able to modify it along the way.
For a long time, only advanced photo editors were able to create double exposure photos without the use of professional cameras, but now almost anyone can do it with the right tutorial. Simply follow these steps and you'll have a beautiful double exposure photo in no time!
Pick two or more images that you will like to combine. You can either take these photos yourself or use stock images of your liking.

Upload the first image to any photo editing software or app and adjust it to your liking.

Upload the second image on top of the first one and lower its opacity in order to figure out the best placement.

Once you like the placement of both images, change the blend mode of the second image to

Overlay

. You can try other blending modes, but

Overlay

usually works the best.

Erase the areas of the second image that don't fit right and save the image.
Now you know how to create beautiful double exposure photos without the use of a professional camera.
Can You Do a Double Exposure on Your Phone?
While you can't take double exposure photos with your phone, you can edit them using a photo editing app, like PicsArt. Unfortunately, despite how advanced phone cameras are, they still lack the Multiple Exposure setting. The good news is that you can take simple photos using your phone camera and later edit them on top of each other to create a double exposure effect.
You'll first need to download PicsArt to combine the two or more photos easily. Then you'll be able to create double exposure photographs using new and old images from your phone gallery. You can even download and use photos made by other photographers for more interesting results.
View this post on Instagram
Make Amazing Designs With Double Exposure Photography
If you don't own a professional camera, but still want to make amazing double exposure photos using simply your phone, then you get the PicsArt app. With this amazing photo and video editor, you'll create intricate double exposure photos in just seconds. Just follow these steps: 
Open the

PicsArt app

on your phone and tap the purple + button to start editing.

Select the photo of a person you'd like to use for your double exposure photo. You can upload a photo from your own library or select from thousands of PicsArt's stock images.

Tap the

Add Photo

button and select the second photo, you'd like to combine with the original one. 

Adjust the opacity of the second photo by moving the opacity slider then move the image around until you like its placement.

Tap the

Blend

icon in order to access different blend modes. From here on you can play around with the different blend modes until you get the desired effect.

Overlay

is our recommended option.

Select the eraser tool and erase the parts of the second image that you don't want in your final image.

Tap apply then save the image to your device or share it with the PicsArt community.
Yes, it's that simple! Pro tip: You can always save your image as a Replay on PicsArt and later use it as a template for your other double exposure edits. Replay repeats the exact same steps you completed without you having to remember them for next time.
PicsArt all-in-one Photo and Video Editor, Collage, and Sticker Maker is the world's largest creative platform with over 150 million monthly active creators and influencers. PicsArt has collaborated with major artists and brands like Taylor Swift, The Jonas Brothers, Gwen Stefani, Maroon 5, Lizzo, Meghan Trainor, One Direction, MONSTA X, Warner Bros. Entertainment, iHeartMedia, Condé Nast, and more. Download the app today to level-up your photos and videos with thousands of quick & easy editing tools, trendy filters, fun stickers, and brilliant backgrounds. Unleash your creativity with PicsArt and upgrade to Gold for awesome premium perks!