No matter what level of photography experience you have, sometimes you need to make post-production edits to remove something from a picture. But how do you do something like remove text from images? Whether it's removing a person in the background, unnecessary clutter, distracting text from images, or objects that take the focus off your subject – fret not. With this simple guide you'll master the art of cleaning up your photography in no time at all.
Different ways to improve your pictures
Here are some of the most common use cases photographers will encounter when they need to remove something from a picture.
Removing unwanted people from photos of nature to achieve the perfect landscape shot
Deleting unwanted objects or people that distract from the main subject or focal point
Removing text from images that may distract from the subject
Removing objects from the sky like airplanes, birds, or power lines
Minimizing shadows that can dilute the impact of an image
Cleaning up graffiti, a trashcan, or background clutter to make a picture look neater
Removing a watermark from an image
Removing anything that doesn't serve the purpose of the photo
Best practices when removing text, objects, or people from photos
Before we dive into how to remove something from a picture, let's review some best practices for object removal in photo editing.
Choose the right photo
It's easier to remove people from photos if there's some empty space around the subject in the original image. It's also helpful if the subject or object is small, or doesn't occupy a lot of space in the picture.
Meticulously trace the object or person you want to remove
Try to zoom in and don't forget to use the eraser tool if you select excess area. If you're using editing apps like Picsart, then you can use the Remove Bg tool to instantly erase the background entirely or the Clone tool to replace part of the image.
Make sure the photo still works without the removed object(s)

Don't remove something if it draws attention to its removal. This may cause viewers to focus too much on the edited area and that can ruin the whole purpose of removing something from a picture.
Consider ethical implications of removing things or people from photos
Ask yourself if blemishes are actually ruining your portrait. Will removing or retouching someone in an image cause offense? Does removing text from an image change the context and interpretation of the image? Keep these kinds of moral considerations in mind when working on an edited image.
Ask for a second opinion
Have a set of fresh eyes take a look at the image after you've applied special effects. Ideally, they won't even notice that something has been removed from the photo.
How to remove text from images
Picsart offers the easiest way to remove text from images. Just follow the below instructions, and you'll be able to remove text from images in just a few clicks.
1) Open the Picsart Editor and click on New Project.
2) Upload your image (or practice by choosing one from our stock photo libraries).
3) From the toolbar above, select the Remove tool and use brush to highlight the text you want to remove. If it's too thin or thick for the text size, slide the Size tool to adjust the size of the brush and click Remove. Finally, if you accidentally removed too much text from your image, use the Restore tool to bring back part of your original photo.
Pro tip: you can also use the Eraser tool to remove text from an image, as it allows you to adjust the opacity of what's removed.
If there's a lot of text in the background, such as graffiti, it might be easiest to remove the background entirely. Luckily, there's a free background remove tool for images in Quick Tools.
How to remove people from photos
Knowing how to edit people out of pictures is a handy photo editing tool to have in your arsenal. Perhaps you need to remove an ex – the modern version of physically cutting someone out of a photo. Or maybe you want to delete flocks of tourists from a pic. How's how you can do it on Picsart mobile. It's similar to how we removed text from an image in the tutorial above.
1) Open the Picsart app and tap on the plus sign (+) to start a new project and upload an image from your photo gallery or choose one of our Free to Edit images.
2) Tap on the Tools in the Editor toolbar and select Remove.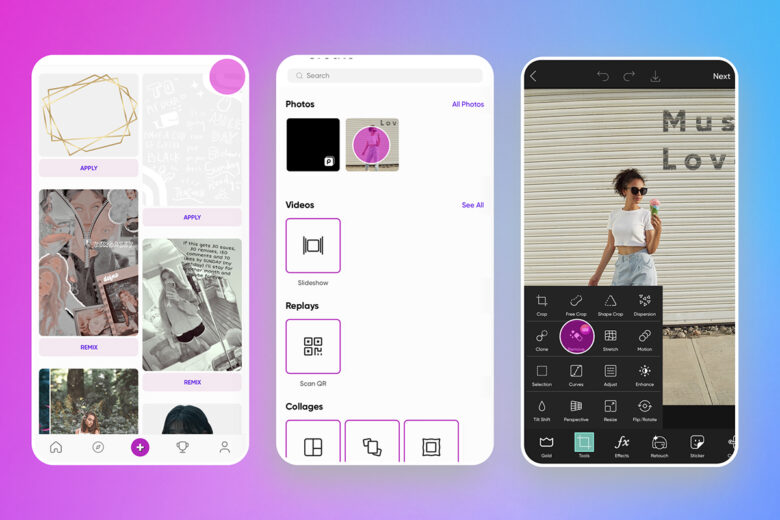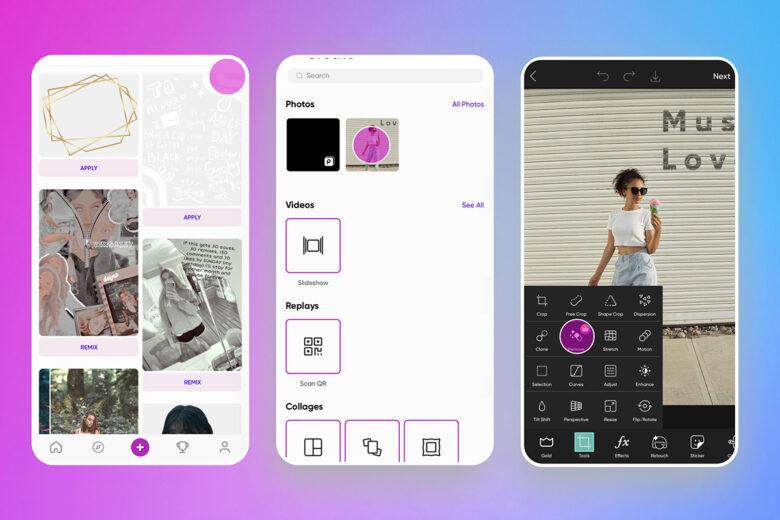 3) Now, use the slider to select a brush size and highlight over what you want to remove. If you over-highlight, use the Eraser tool to restore part of the area. When you've covered just the object that you want to remove, tap Remove and Apply to save your work.
4) Make any other edits if needed, then tap on Next to Save or Post your edit to the Picsart community.
You can see it all in action in this video tutorial on how to edit people out of pictures:
Pro Tip: If person you're trying to remove from the photo has some empty space around them, then the removal process will be much easier. 
Get rid of unwanted clutter in seconds
How many times has this happened? You get home from a day of shooting and sit down to edit your near-perfect photo, only to realize there's something in the background. With the Picsart Remove tool, you can get rid of anything standing in the way of you and that flawless shot in seconds. It's essentially the same as removing text or people from pictures. You just need to upload the image (either on the web or in-app) and highlight the object, refining the areas around with the eraser for a smooth finish.

Remove any photo background in one click
Is there too much going on in the background of your product shot? Maybe you just don't like the look of it and want to remove the background from your image. That's where the Background Remover tool comes in handy. All you have to do is upload an image to the photo editor and let the AI technology automatically remove the background. You can choose to leave it as is (with no background) or add any sticker or new background (more on that below). Now you have a whole new photo, primed and ready for digital publication.  
Swap a plain photo background for a pretty one
If you decide that there's too much clutter in a photo and you want to completely change the background of an image, the Background Changer tool is perfect for that. Simply upload your image to the Background Changer tool, then click Edit to peruse new backgrounds. You can either upload your own image to make it the new background or you can choose an image from one of our stock libraries. There's no limit to how many images you can try, so play around with the backgrounds until you find the perfect one for you.
Picsart is a full ecosystem of free-to-use content, powerful tools, and creator inspiration. With a billion downloads and more than 150 million monthly active creators, Picsart is the world's largest creative platform. Picsart has collaborated with major artists and brands like BLACKPINK, Taylor Swift, the Jonas Brothers, Lizzo, Ariana Grande, Jennifer Lopez, One Direction, Sanrio: Hello Kitty, Warner Bros. Entertainment, iHeartMedia, Condé Nast, and more. Download the app or start editing on web today to enhance your photos and videos with thousands of quick and easy editing tools, trendy filters, fun stickers, and brilliant backgrounds. Unleash your creativity and upgrade to Gold for premium perks!