Geometric shapes are made points, curves, and lines that come together to create squares, circles, triangles, and rectangles. Each geometric shape has a specific number of points and lines that join up to give it its unique shape. There are a variety of different geometric shapes, including two-dimensional, three-dimensional, and even four-dimensional variations. Polygons are flat, two-dimensional shapes with straight lines that are fully connected and have no curves. A parallelogram, rhombus, trapezoid, octagon, and decagon are all examples of more complex polygons, where the shape consists of straight, connecting lines. 
Geometric shapes are often used in designs either as standalone shapes or combined into geometric patterns. A geometric pattern is a collection of shapes that are typically repeated or altered, most commonly seen in wallpaper or tile design. From ancient civilization cave drawings to the Memphis Design style of the 1980s and modern art, geometric patterns continue to be building blocks of design today. 
If you're looking to create a geometric pattern design, but not sure where to start, you're in good hands. Settle in for the 101 on the best geometric shapes and patterns, and how to combine them in design.
Beautiful shapes commonly used in geometric pattern design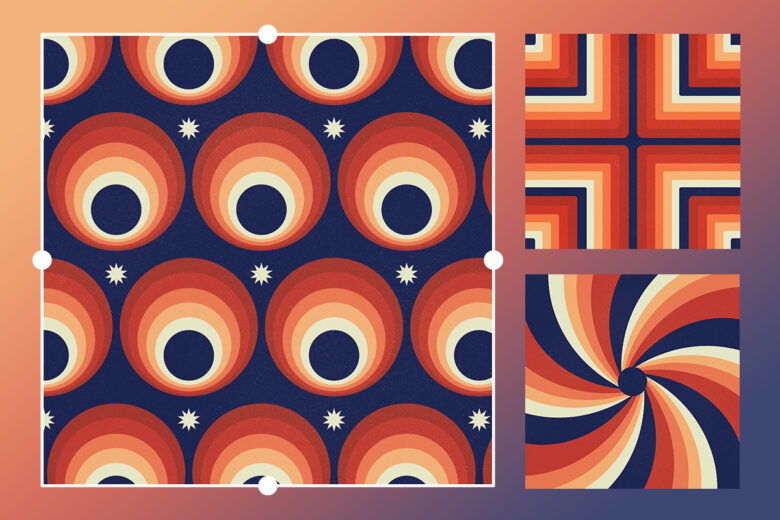 There are countless geometric patterns. Below we'll take a look at some classic examples. A simple technique of overlapping two shapes can create just the right complexity and contrast to any image. Try different overlapping shapes and see what pattern works best for your design. Create a bold geometric background by using different shapes, sizes, and colors or go for something more subtle by using one shape and/or color. For example, you could use triangles of different sizes and colors to create a beautifully balanced geometric background. Or go bold and futuristic with neon shapes. 
15 top geometric pattern design examples
So far, we've only covered the tip of the geometric iceberg. There are hundreds of ways to implement geometric patterns into designs. It can be an overwhelming process to narrow down a design, but it might be helpful to select a geometric pattern first. Let's zero in on actual geometric shapes and patterns you could consider.
1. Borders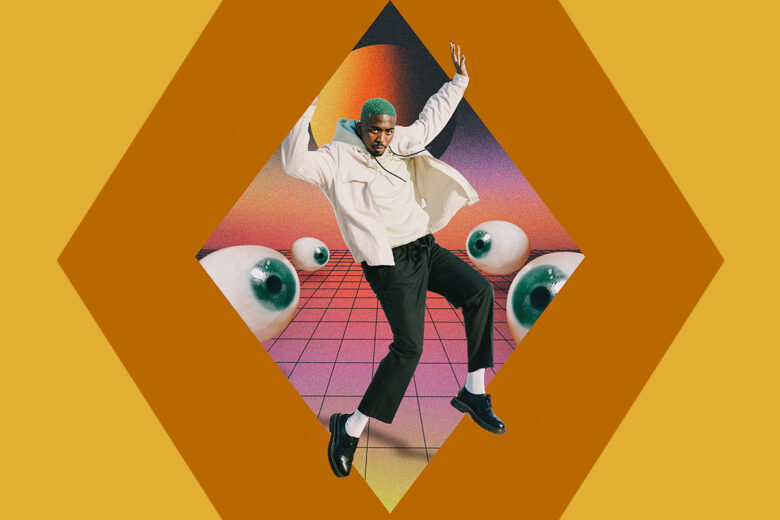 Adding a border to your design is likely the most simple yet effective geometric pattern to implement. Borders can segment elements of design while adding structure. Be daring and add a double border of differing colors.
2. Stripes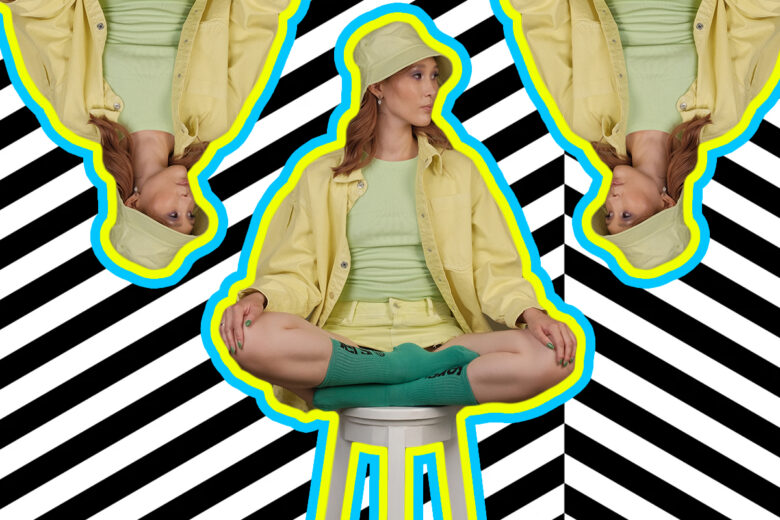 Another simple and highly popular geometric pattern, stripes can be super versatile. Use them horizontally, vertically, diagonally. Intersect them or use them haphazardly for a more abstract look.

3. Chevron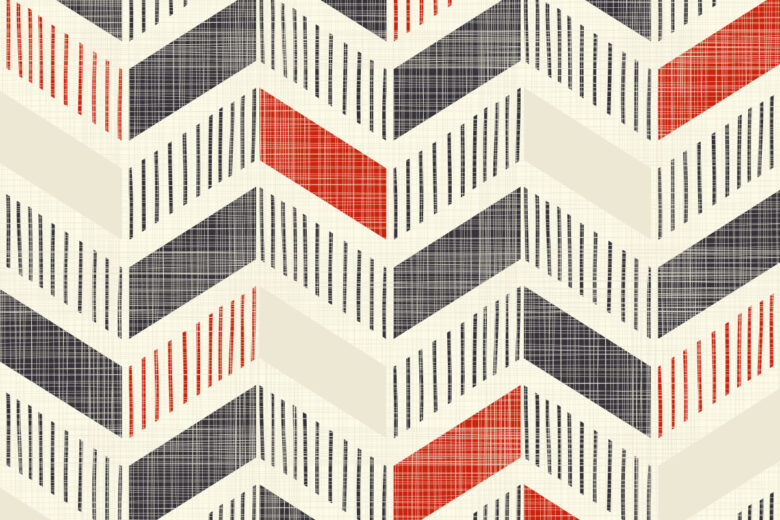 A chevron pattern is an inverted V pattern that repeats, resulting in a continuous zig-zag. This popular design is often seen in clothing and interior decorating.
4. Houndstooth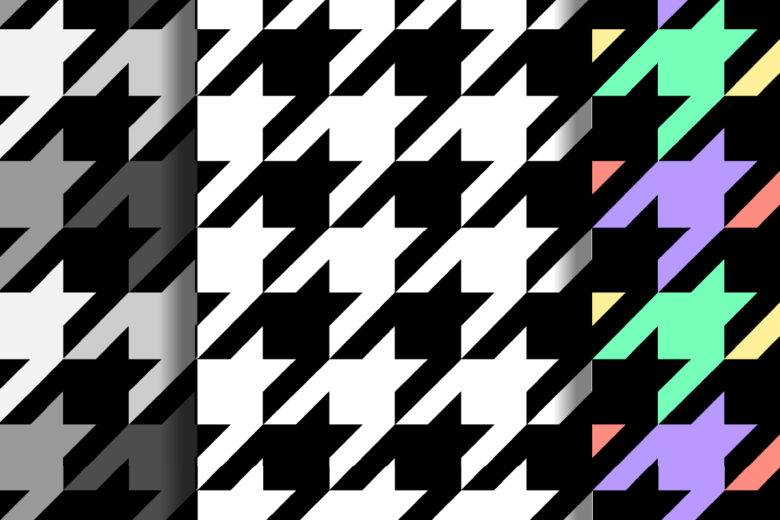 This classic pattern consists of a repeating four-point shape that resembles a dog's tooth, hence the name. Houndstooth is most commonly seen in black and white, although other colors can be used. 
5. Spirals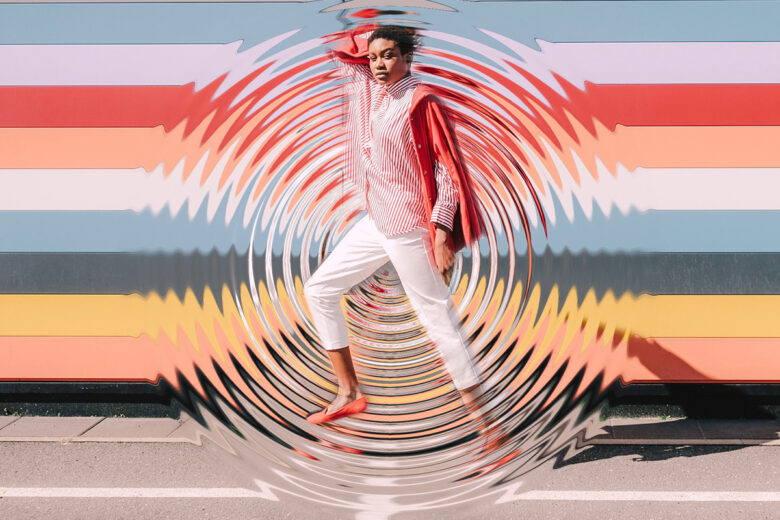 Spirals can be quite hypnotizing and bold in design. Traditional spirals consist of swirly lines, but you can also go abstract with spiral dots. Start with bigger dots on the outside of the spiral and gradually decrease the dot size until you get to the center.
6. Waves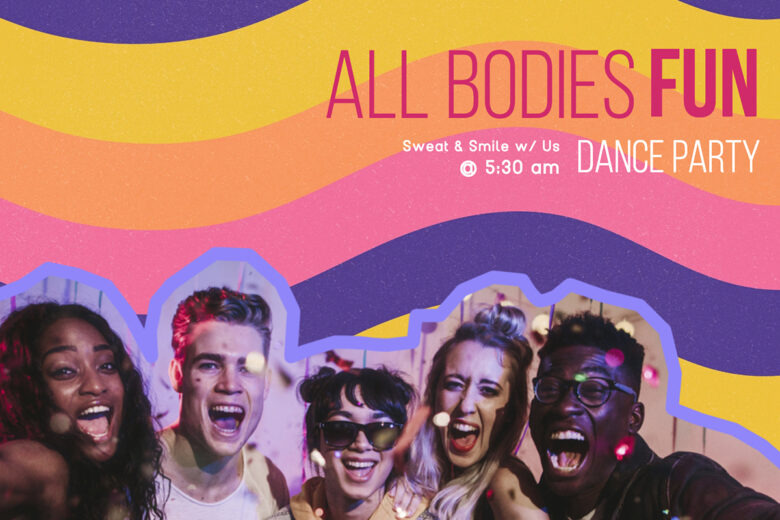 A wave pattern invokes calm and serenity. Mimicking ocean waves or sand dunes, this pattern can be expressed in virtually any color and line width, depending on your design.
7. Dots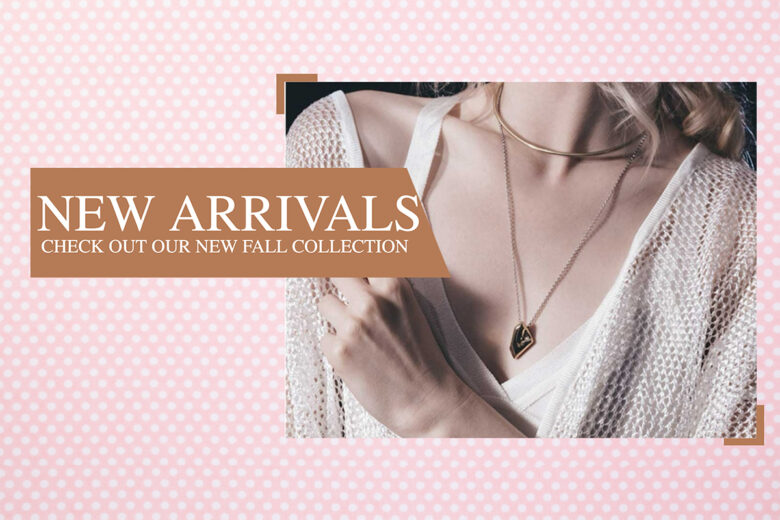 Polka dots are an iconic geometric pattern. This playful pattern can be used anywhere including clothing and accessories, interior designs, stationeries, and digital art. For a bold, eye-catching design, try pairing two vibrant colors, such as a yellow background with red dots.
8. Plaid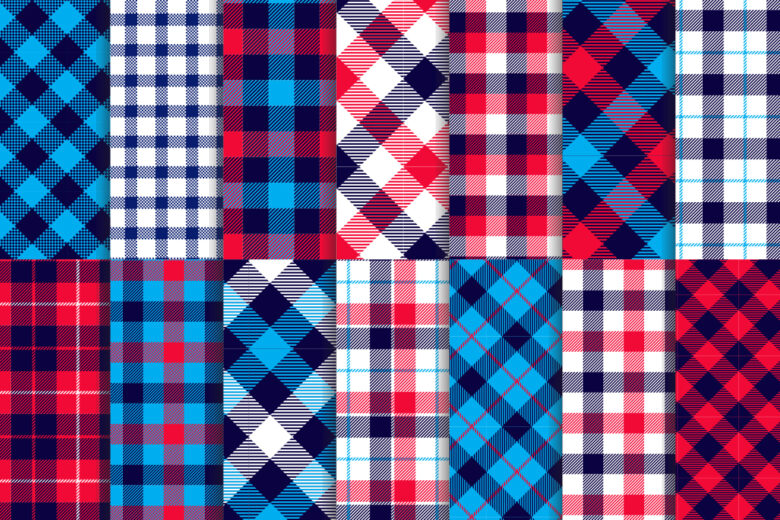 Plaid was a highly trending pattern in the 1970s that's made a comeback in recent years. Although it has a rich history as a heritage pattern seen on Scottish kilts, it's still highly used in modern fashion (think Burberry's famous plaid pattern). Plaid usually consists of criss-cross lines of different widths in two or more colors.
9. Gingham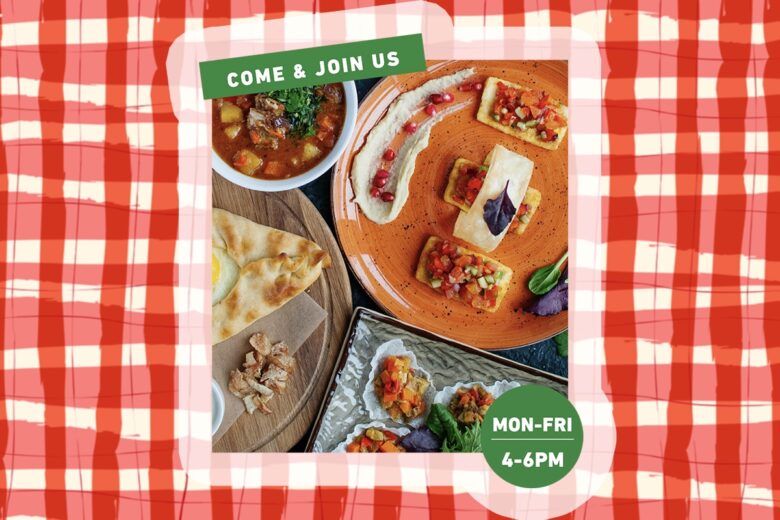 Gingham pattern, often used in clothing and tablecloths, consists of a two-color checkered pattern. A red and white gingham design stirs nostalgic picnic vibes. 
10. Honeycomb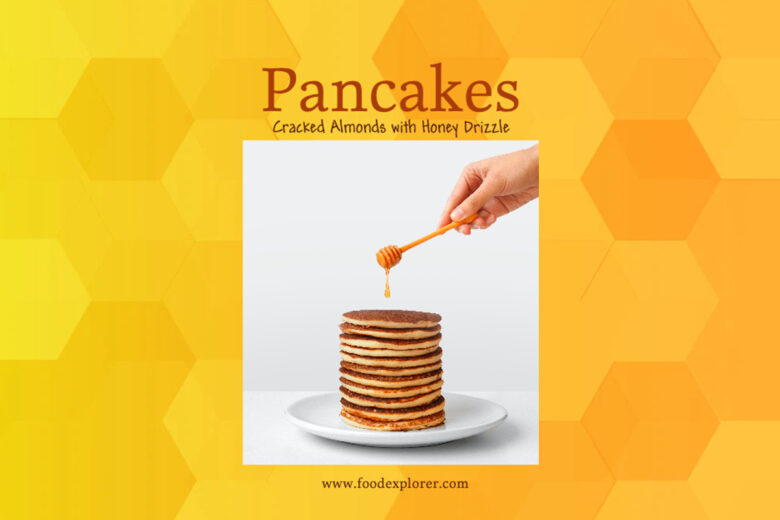 A honeycomb design consists of repeating hexagonal shapes either stuck together or with spacing in between. Mimicking a literal honeycomb, this geometric pattern is highly trending for interior and website design projects. Keep it simple with a black and white honeycomb pattern, or go bold with a yellow gradient for an authentic honeycomb feel. 
11. Triangles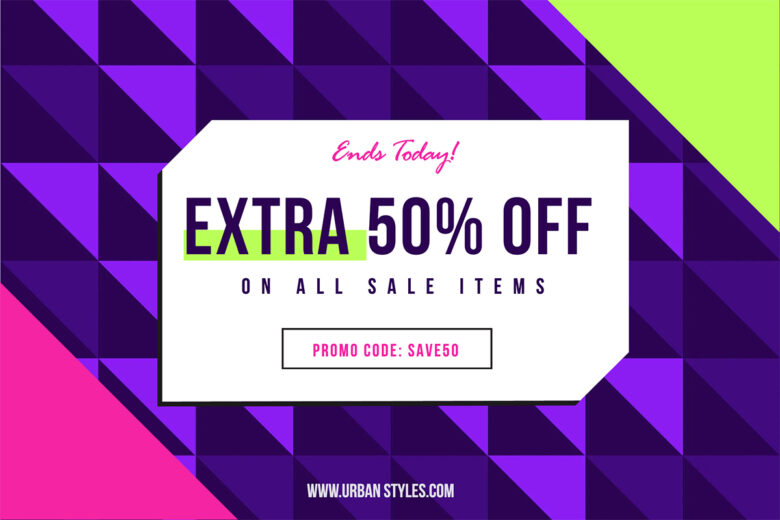 Patterns of triangles are dynamic and strong in design. Triangles remain diverse and versatile. Whether an isosceles, obtuse, or equilateral triangle, triangles are a classic, must-use geometric shape for any medium or project. Combine several types of triangles for a beautifully abstract geometric pattern.
12. Nature Pattern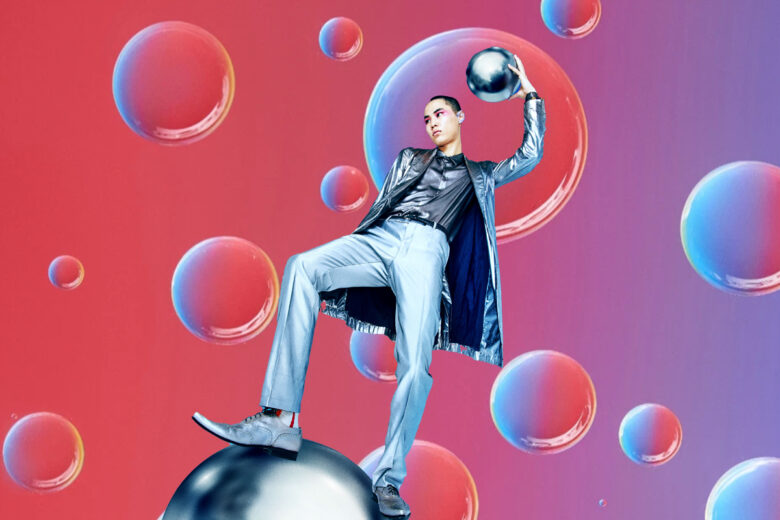 Whether a raindrop, cloud, bubbles, sun, or moon, pick any element in nature and turn it into a cool geometric pattern with a consistent repetition throughout your design. This type of geometric pattern can add just the right touch of reality to your theme. 
13. Floral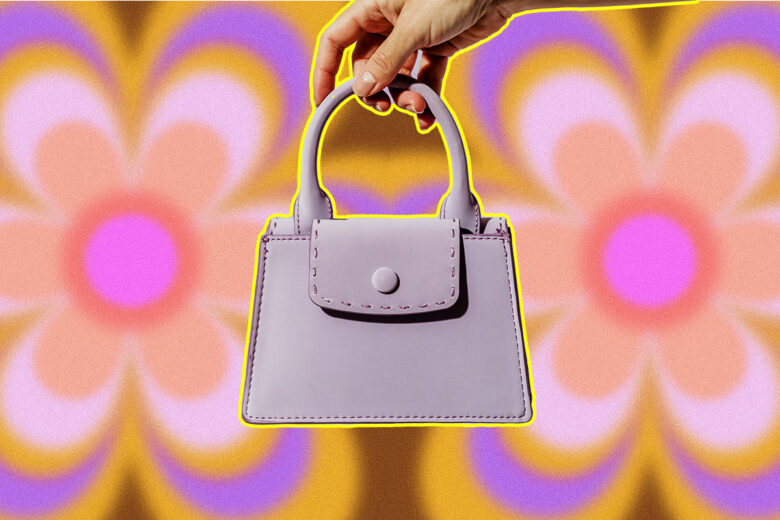 Although an element of nature, floral patterns deserve a category of their own. With so many different types of flowers, the geometric pattern options are almost endless.

14. Fruits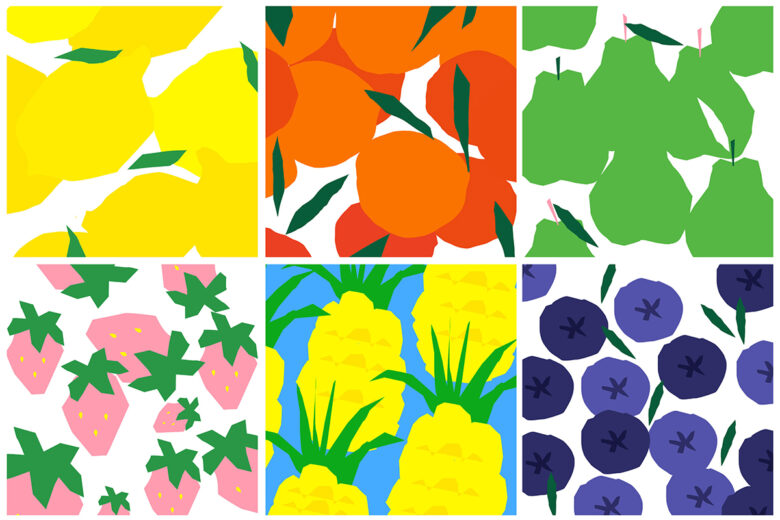 Want to create a mouth-watering visual? Imagine an endless row of pineapples that you can almost taste. Try cherries, strawberries, or sliced watermelon patterns for a delicious tropical vibe. Go for lemons and oranges for a refreshing, bright feel. 
15. Monogram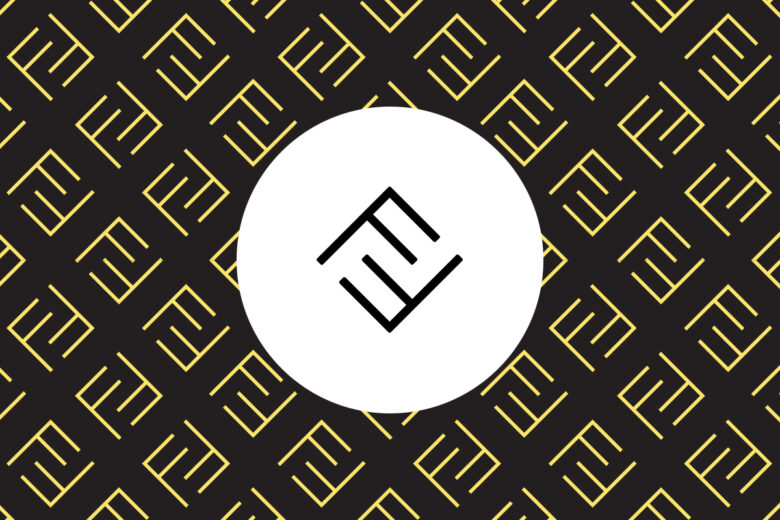 A monogram pattern is a direct and powerful design. There's no mystery behind what you're trying to imply when the initials are laid out. Louis Vuitton's unmistakable monogram is globally recognized and widely used on their luxury products. You can play around with typography and make your monogram pattern extremely unique.
Include a cool pattern in your design using Picsart
We've covered a ton about geometric shapes and patterns. You've seen that geometric patterns can be as simple as circles and lines, or as complex as mosaics and optical illusions. Now that you have the geometric basics down, let's put it to use in a real-life design. 
On the web
1. Open the Picsart Web Editor and click on New Project to get started.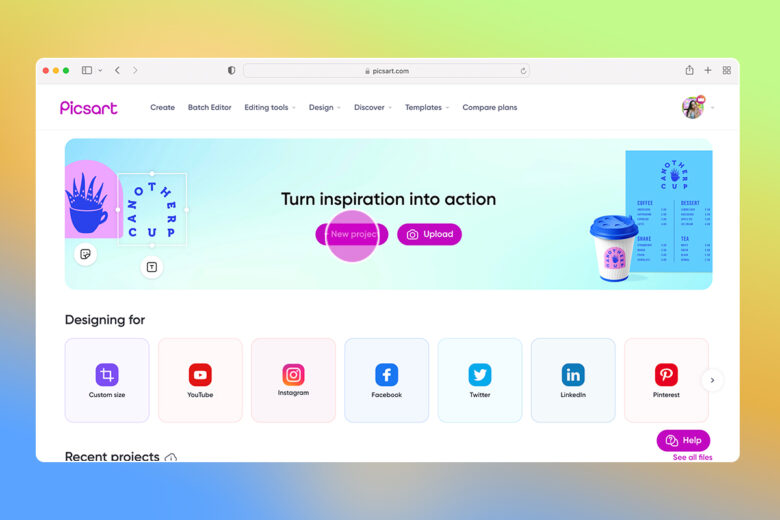 2. Select your canvas size and shape, clicking on the presets available or entering the height and width values.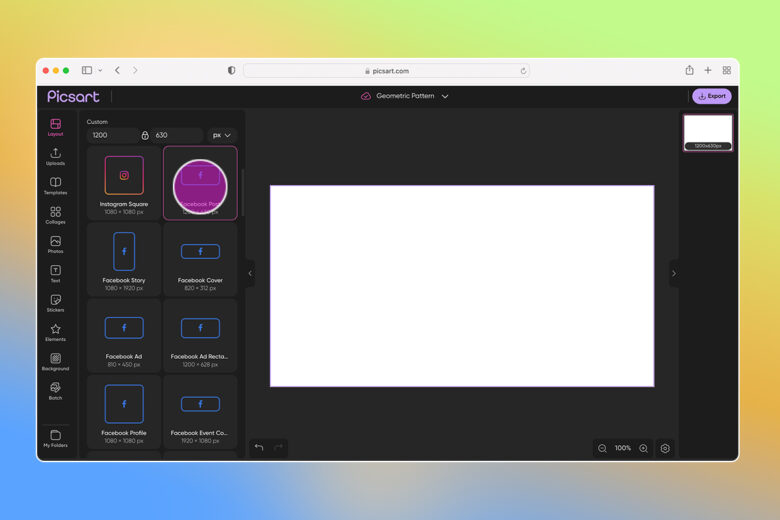 3. Scroll down to the Backgrounds tool and browse the options until you find one you like best.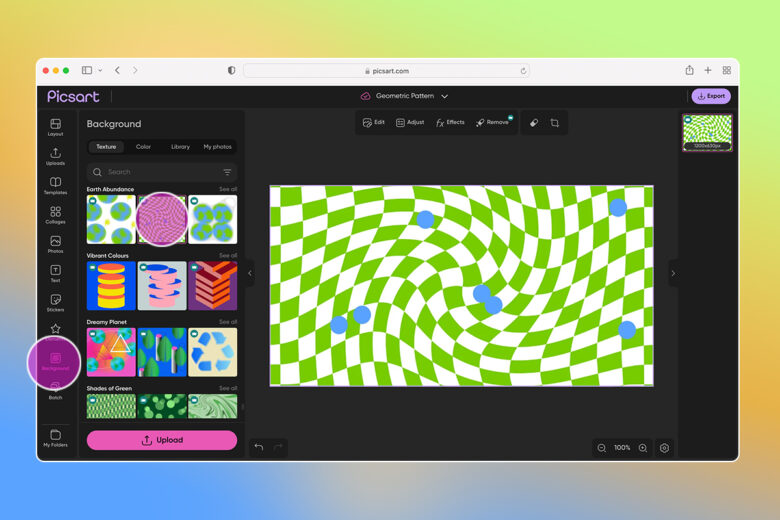 4. Time to add some shapes. Scroll down to the Elements tools and select a shape to add to your design. Resize it if required.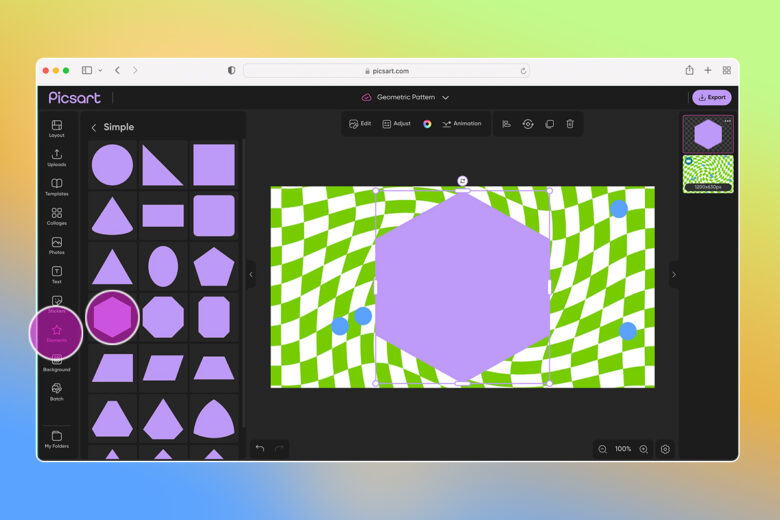 5. Click on the Color Picker and select a suitable hue for your design.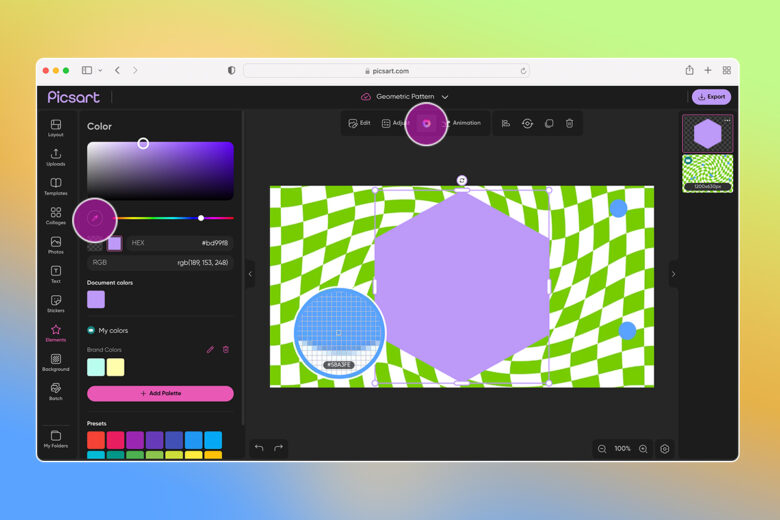 6. Add a Photo and click on Remove BG to isolate the focal point.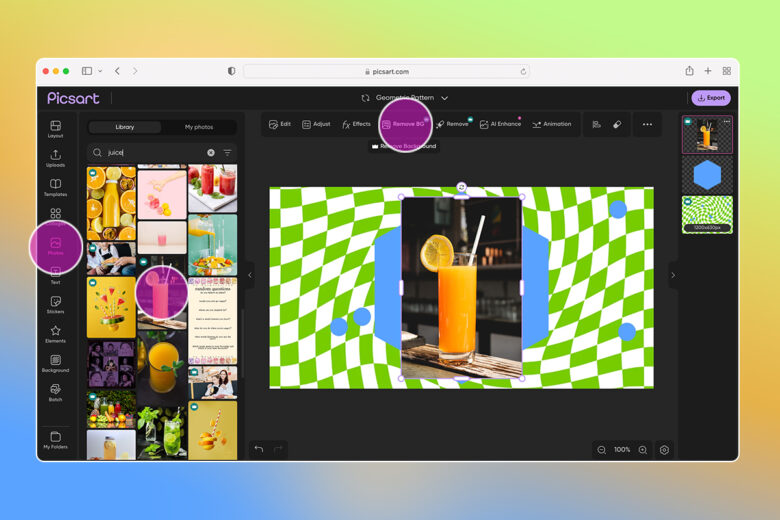 7. Click on the Text tool and add a heading to type in your copy, adjusting the font, color, and any other finishing touches required.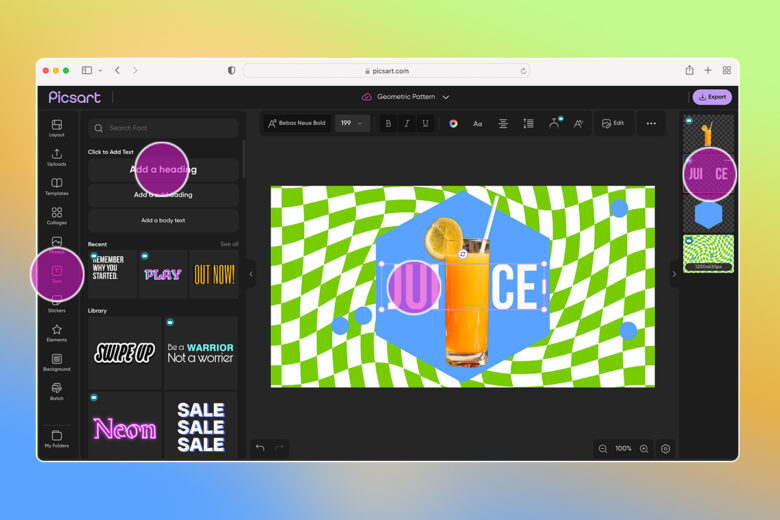 8. All done? Click on the Export button to Download your finished design.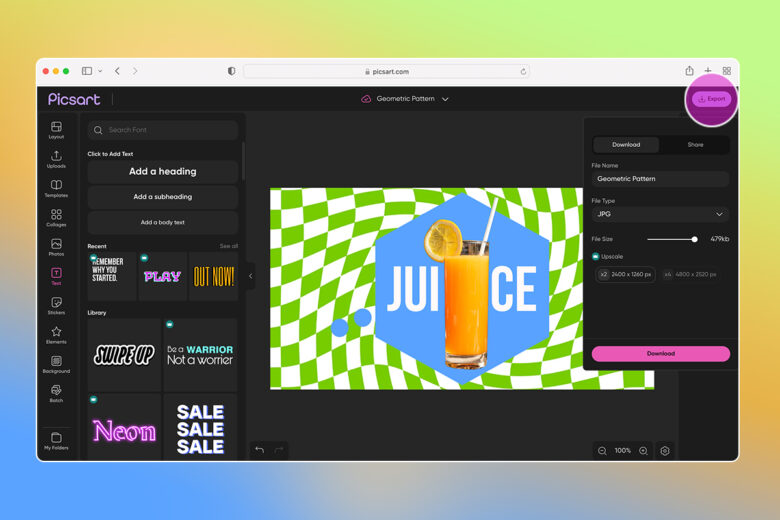 On the app
1. Open the Picsart app and tap on the plus sign at the bottom of your screen.
2. Select the foundation of your geometric pattern project. You can select from Backgrounds or upload a photo you'd like to use.
3. Scroll through the categories and find a pattern you like or search for a geometric patterned background.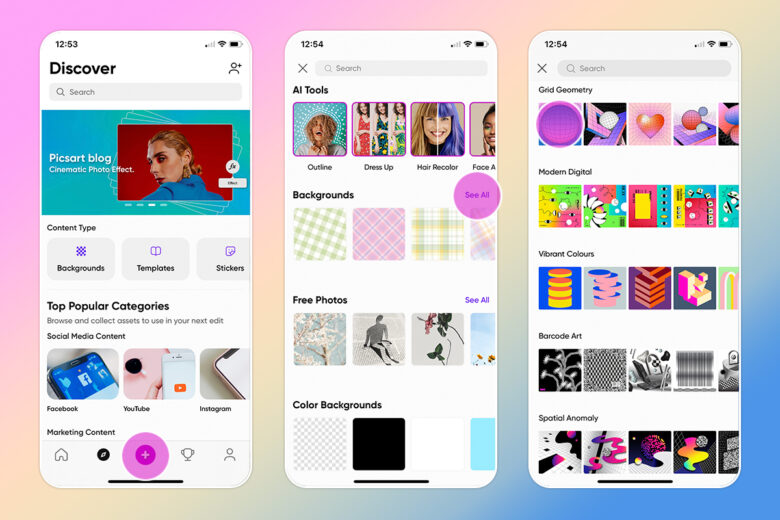 4. Tap on the Effects tool.
5. Scroll through the various options until you find something you like. Create a Mirror effect, from the Artistic category, for instance.
6. Long press on the effect to adjust how it appears on your design.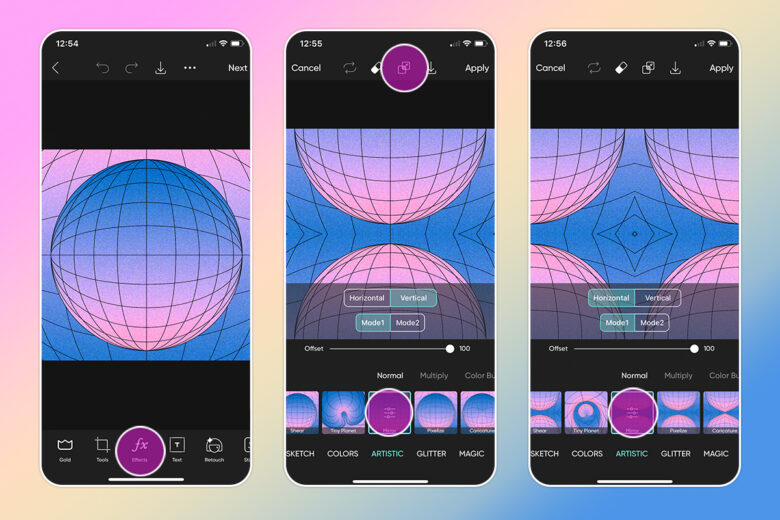 7. Tap on the Shape Mask tool.
8. Select the Bg pattern option.
9. Browse for a geometric shape and tap on one that you like.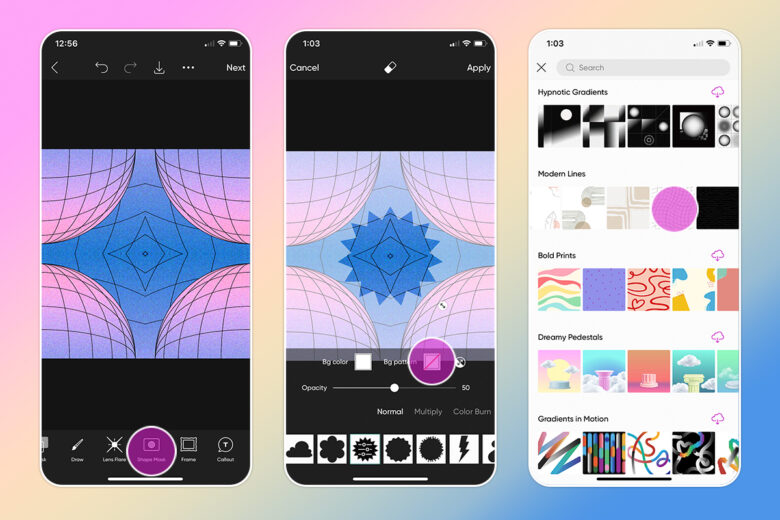 9. Play around with the effect and confirm your adjustments by tapping the Apply button.
10. Now let's add an image. Scroll through the tools at the bottom of your screen and tap on Add Photo.
11. Tap on the image you want to add.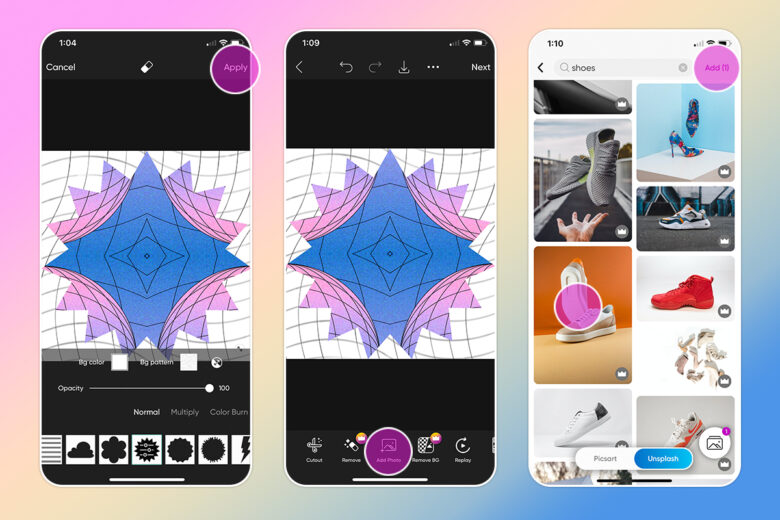 12. Let's isolate the focal point again. Tap on the Remove Background tool.
13. Confirm the edit by tapping on Apply.
14. Tap on the Download symbol to save your work.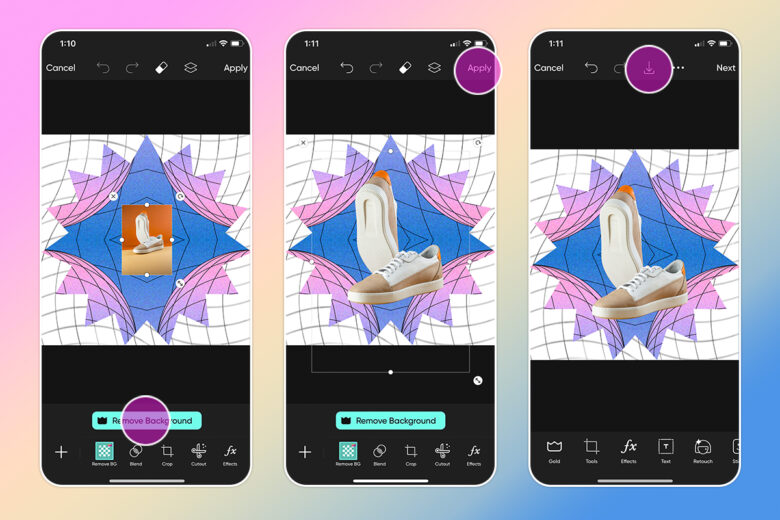 Picsart is a photo and video editing platform and creative community. A top 20 most downloaded app worldwide with over 150 million monthly active users, its AI-powered tools enable creators of all levels to design, edit, draw, and share content anywhere. The platform has amassed one of the largest open-source content collections in the world, including photos, stickers, backgrounds, templates, and more. Used by consumers, marketers, content creators and businesses, Picsart tools fulfill both personal and professional design needs. Picsart has collaborated with major artists and brands like BLACKPINK, Taylor Swift, Lizzo, Ariana Grande, Warner Bros. Entertainment, iHeartMedia, Condé Nast, and more. Download the app or start editing on web today, and upgrade to Gold for premium perks!