Move over, Easter and Christmas, Halloween is officially the most photo-worthy holiday out there. Between spooky costumes, falling leaves, and gorgeous fall colors, it's the perfect day to let your imagination run wild. It can be fun for adults and kids, and you can even bring your pets in on the action. So whether you're going spooky or silly this year, why not treat yourself to appropriately Halloween-themed holiday pics? Let's explore some Halloween photoshoot ideas to inspire your next photoshoot.
Why should you plan a Halloween photoshoot?
When it comes to holiday photography, nothing beats Halloween. It's the perfect time to flex your artistic muscles and share your clever costume ideas with the world. After all, it's not often that we get to dress up and embrace our not-so-serious sides. You've carved pumpkins, picked out the perfect costumes, and set up your favorite fall decorations. The only thing left to do? Kick back and celebrate the holiday with some spooky Halloween pictures.
5 creative Halloween photoshoot ideas
Between finding the perfect costume and hitting the candy store, don't forget to add your Halloween photoshoot to your to-do list. Halloween is all about having fun with friends and family, and there's no Halloween without spooky pictures.
Need some inspiration? Don't worry, we've got tons of tricks and treats in store with these Halloween photoshoot ideas.
Twin with your best friends

Looking for Halloween photoshoot ideas for adults? Grab your favorite partners in crime and take pictures in matching costumes. If you need some costume ideas, try watching your favorite scary movies to get the creative juices flowing. Hocus Pocus, Beetlejuice, and The Shining are all fair game here.
And remember: You can use store-bought costumes or make your own. Your costumes might be as simple as white sheets with holes over your heads, or they can be as complicated as you want to make them.
Take a spooky self-portrait

Want to take your photography skills to the next level? Try pushing the boundaries with a spooky self-portrait. For example, you might experiment with dramatic makeup for an undead look or take moody black-and-white pictures in your favorite Halloween costume.
For bonus points, step outside and take advantage of the crisp fall atmosphere. Try including fall colors (think: warm oranges and dark browns) for amazing autumn pictures. You can even experiment with some fun fall props, like jack-o-lanterns and candles, to upgrade your selfie.
Plan matching costumes for friends and family

There's nothing more fun than a Halloween family photoshoot. Whether you're going for Brady Bunch or Addams Family vibes, take some time to find the best costume for your family and set up a spooky backdrop. Then, when it's time to take pictures, ask everyone to get into character.
Dress up your pets

Sure, baby costumes can be pretty cute, but nothing beats adorable pet photography. This year, consider dressing your furry friends up for a pet-themed Halloween photoshoot. Dress them up in something cute (or creepy) and play around with different photoshoot ideas.
If your pets aren't used to wearing costumes, try letting them wear their Halloween costume for a few hours before taking pictures. Give them time to get comfortable in it, and they'll feel more at ease when the camera comes out. To capture the perfect pose, be sure to bring out some toys and treats.
Get creative with silhouettes

There's nothing spookier than the unknown, and what better way to create mystery than eerie silhouette pictures? You don't need any special equipment to take phantom-like Halloween pics, either. To master your setup, just shoot through a see-through piece of material with light shining behind you.
Alternatively, you can take some self-timer pictures while making shadows on the wall. You can even create some spooky paper cut-outs, like ghosts and pumpkins. Grab some scissors and get creative!
3 tips for shooting Halloween pictures
Before you dive into our Halloween photoshoot ideas, make sure you have the right setup. After all, there's no point in having next-level costumes if the views don't match. Here's how to make your Halloween photos pop.
Consider the lighting and weather

If you're a photography pro, you already know that lighting makes a huge difference. So, when you're trying to capture moody portraits, you don't want to flood your photos with natural light.
If you're shooting inside, find a dimly lit room with specks of light peeking through the windows. Alternatively, shining light from below (using a flashlight or lamp) can help you create harsh, ghostly shadows. Meanwhile, if you're shooting outside, try scheduling your photoshoot for blue hour.
Lower the shutter speed

From scary self-portraits to eerie still-life pictures, motion blur can help you add a ghostly effect to your images. To experiment with motion blur, try using a slower shutter speed while your subject moves into the frame. Ideally, you should keep your camera on a tripod so your subject can move through the picture like a phantom.
If you don't have a tripod, don't sweat it. You can always blur photos during the editing process to create out-of-this-world Halloween photos.
Amplify your pictures with fun photo filters

Even if you've already taken some scary-movie-worthy pics, photo effects are the best way to upgrade your favorite shots. Try experimenting with dramatic effects to set your pictures apart in Instagram feeds full of Halloween costumes, spooky selfies, and childhood throwbacks.
In Picsart, just choose Effects in the editor toolbar. Then, choose from a library of pro-grade photo filters to instantly elevate your favorite pics with trendy photo effects. There are tons of unique filters for every look and vibe, so you can go as scary (or silly) as you want.
How to edit Halloween pictures with Picsart
From silly Halloween stickers to professional design templates, Picsart has everything you need to ignite your fall photos. And if you're looking for easy-to-use editing tools, use Picsart Quicktools to convert, resize, or compress images in seconds.
After you've made the right adjustments, it's time to start adding Halloween vibes to your pictures. Here's how to get started.
On the web:
1. Open the Picsart Web Editor and start a new project. Next, click Uploads to upload your favorite Halloween photos.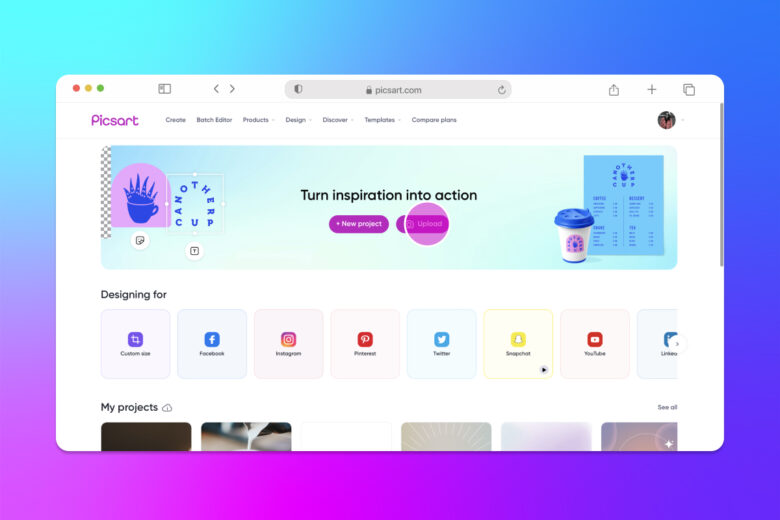 2. Click on the Remove BG tool to prime your image for spookification. That's not a real world, but hey, it's Halloween. Let's have fun.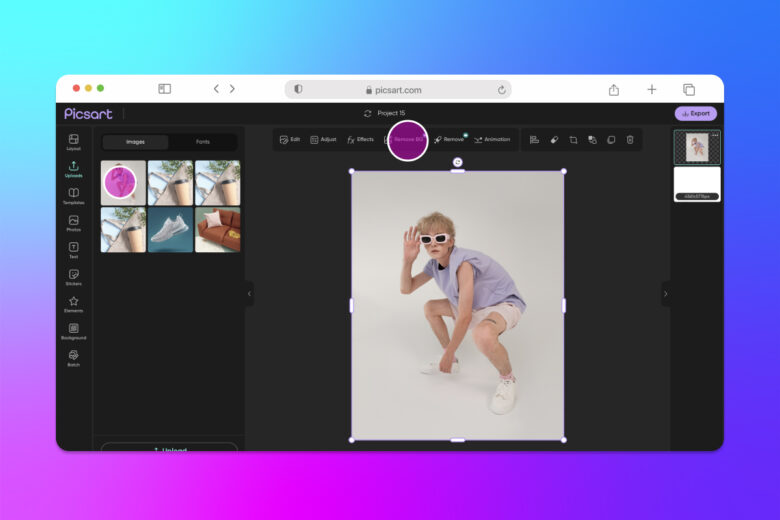 3. With that background now gone, it's time to replace it with something appropriately Halloween-themed. Click on the Background tab on the left to begin.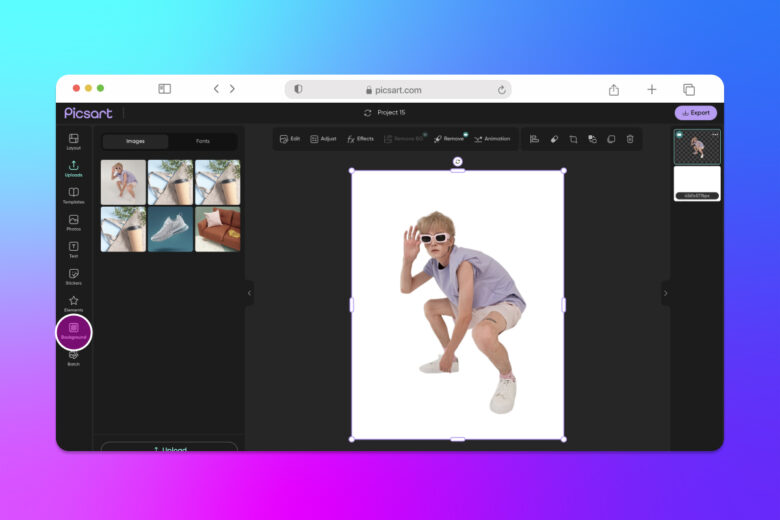 4. Search by theme or key word and browse the options until you find something that fits the bill.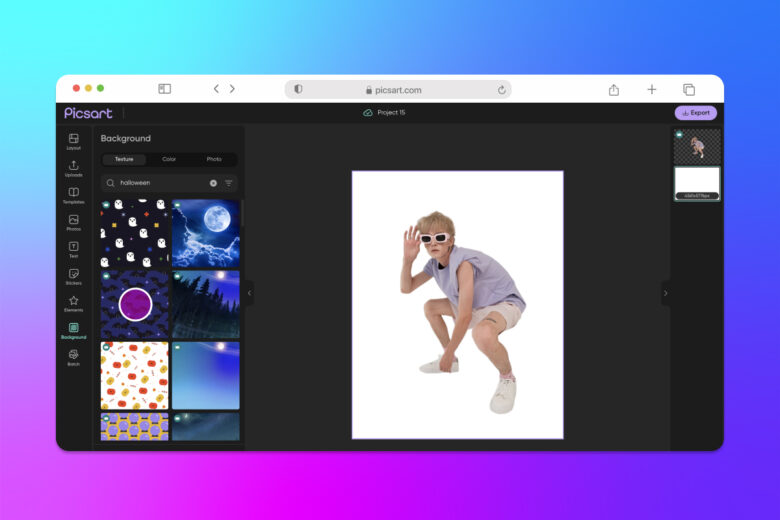 5. Drag and resize how the new background appears using the cursors in the corners and at the sides.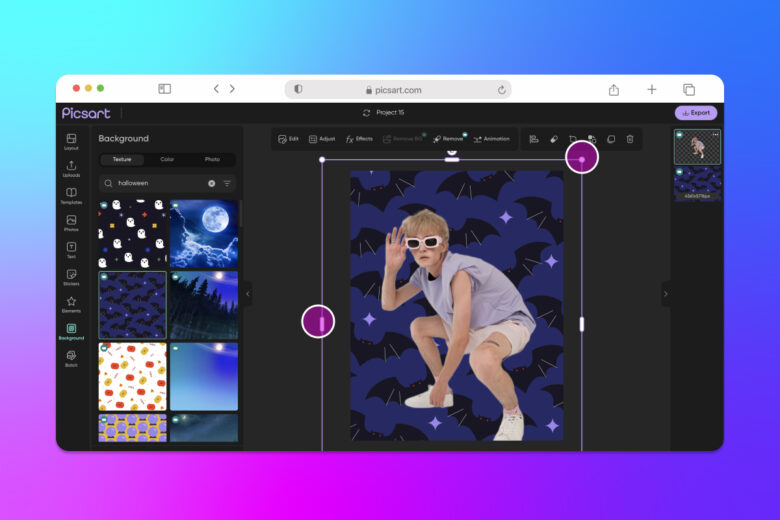 6. And believe it or not, you're done. Ready to finish up? Click on the Export button and then Download your edit. If you want to add some finishing touches before wrappig up, try lowering the brightness and color temperature for blue hour-worthy pictures, or try adding bats, pumpkins, or cobwebs stickers for added Halloween vibes.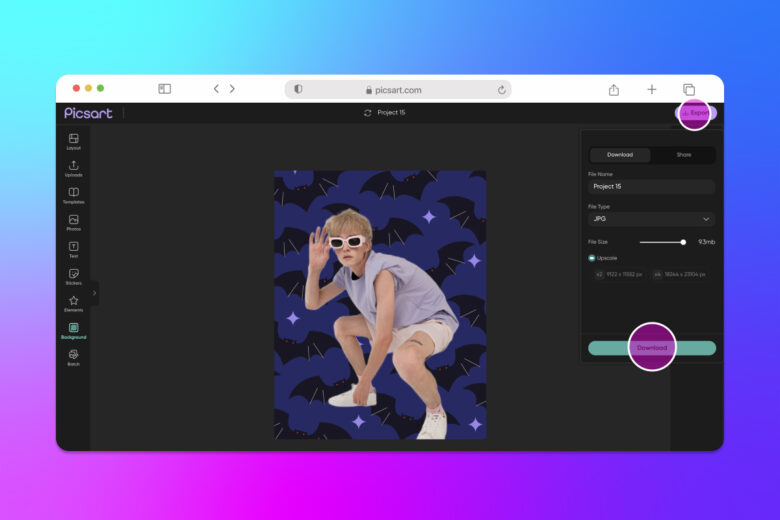 On mobile:
1. Open the Picsart app and tap on the plus sign (+) to start a new project.
2. Then, tap All Photos to upload your Halloween photo.
3. Want to add some extra flair? Tap the Stickers tool.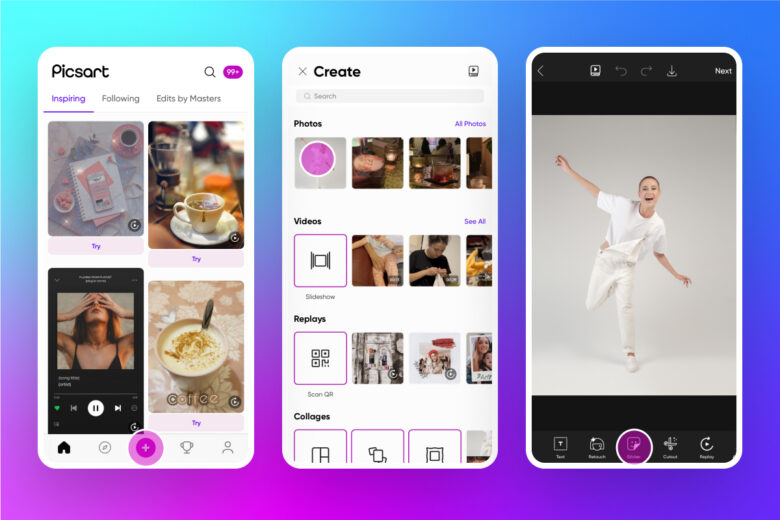 4. Type "Halloween" into the search bar. Then, add creepy cobwebs, jack-o-lanterns, and other spooky stickers to bring your photos to life.
5. Play around with the opacity levels depending on how you want your chosen stickers to appear.
6. Lowering the opacity on a ghost sticker can give your image a sense of depth, but also amp up the spook factor.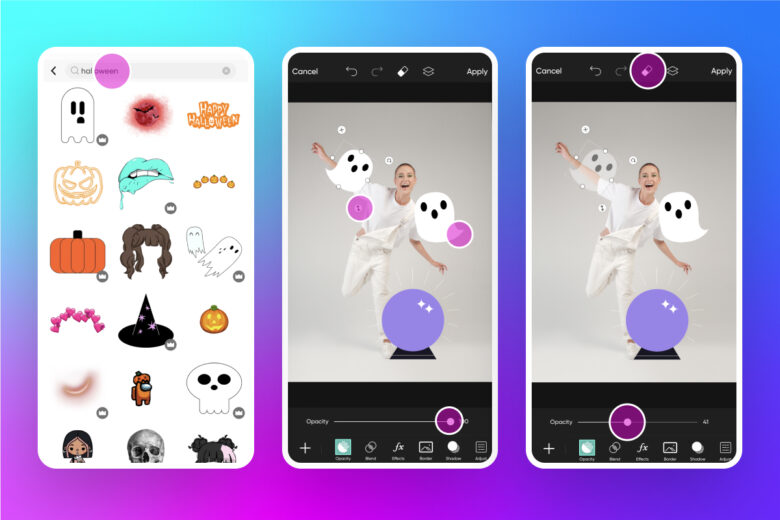 7. Why stop there? Add as many Halloween-themed stickers as you want to really make the impact needed. Simply repeat the above steps until you're satisfied you've hit the spooky sticker quotient required. Be sure to tap on the Apply button when you've added them.
8. Tap on Next to confirm button to complete your edits.
9. When you're satisfied with everything, Save or Post your Halloween photo.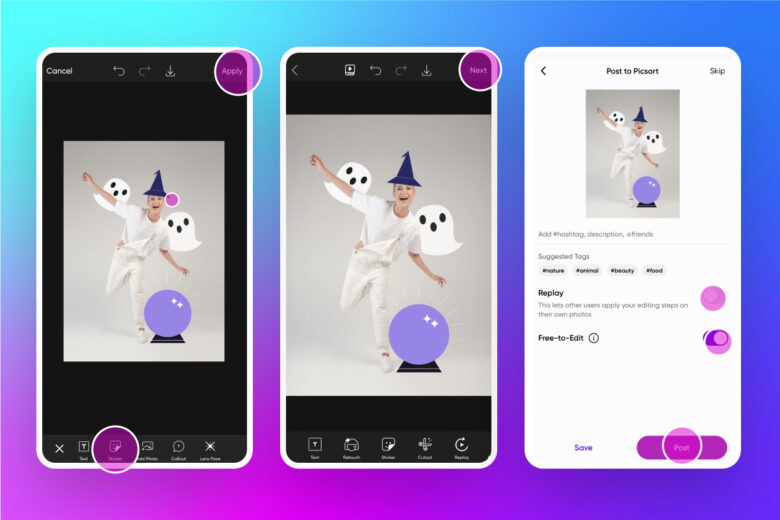 Recommended articles
Picsart is a photo and video editing platform and creative community. A top 20 most downloaded app worldwide with over 150 million monthly active users, its AI-powered tools enable creators of all levels to design, edit, draw, and share content anywhere. The platform has amassed one of the largest open-source content collections in the world, including photos, stickers, backgrounds, templates, and more. Used by consumers, marketers, content creators and businesses, Picsart tools fulfill both personal and professional design needs. Picsart has collaborated with major artists and brands like BLACKPINK, Taylor Swift, Lizzo, Ariana Grande, Warner Bros. Entertainment, iHeartMedia, Condé Nast, and more. Download the app or start editing on web today, and upgrade to Gold for premium perks!