Have you ever noticed that most holidays are associated with certain colors? When you think of Christmas decorations, for example, images of reds and greens probably pop into your head. Halloween is recognized by its spooky orange and black color scheme and Easter is usually depicted in a plethora of pastel colors that evoke the whimsy of springtime. If you're the type to don reds and pinks for Valentine's Day or ring in the Fourth of July in a patriotic red, white, and blue getup, you are probably well aware of how fun it can be to pay homage to the hues that are widely recognized as representing the holidays you love to celebrate! Beyond the red-and-green scheme, we see a lot during the holiday season, Jewish-Americans are keen on blue and white, the colors that decorate Hanukkah (or Chanukah) tablescapes, and Hanukkah decorations during what's known as the festival of lights. 
The Jewish holiday celebrates the victory of the Maccabees (a group of Jewish rebel warriors who took control of Judea, at the time a part of the Seleucid Empire) over the much larger Syrian army in the 2nd century BCE. Hanukkah also celebrates the miracle when one day's supply of oil was enough to keep the menorah in the rededicated Temple in Jerusalem lit for eight days. Each year, during the eight-day Jewish celebration, families come together to light the menorah, an elaborate candle holder featuring nine branches that are lit one by one on each of the eight nights to celebrate the historical miracle of oil lasting eight days. The ninth candle, called the shamash (which means "helper" in Hebrew), holds the flame that is used to light the other candles. This year, Hanukkah will be celebrated from Dec. 10-18. 
Blue and White: What Do the Colors of Hanukkah Mean?
You may have never stopped to consider why blue and white are the official colors of Hanukkah. It may seem obvious, considering the Israeli flag features two horizontal blue stripes with a Star of David in the center. While that is definitely one of the biggest inspirations behind the Jewish holiday's color scheme, the blue-and-white colors of Hanukkah resonate deeply with people of the Jewish faith. 
The Book of Numbers, the fourth book of the Old Testament, describes the Jewish prayer shawl, or tallit, as having one thread dyed with a certain kind of blue (tekhelet) and three threads of white in the fringe at the corners of the shawl. According to the Hebrew Bible, or tanakh, tekhelet blue is the color of heaven and of divine revelation while white is traditionally associated with purity and cleanliness. The tallit ultimately became the inspiration behind the design of the Israeli flag. It also inspired modern Judaica, especially the Hanukkah decorations that we see today!
Ideas on How to Use Hanukkah Colors
The holiday season is right around the corner, and you might already be planning your Hanukkah correspondence or wondering how to incorporate the Hanukkah colors of blue and white into your social media and brand assets. Read on to discover how to inject a bit of Judaica into your holiday designs!
Hanukkah Cards
With the COVID-19 pandemic still in the mix this holiday season, getting together with loved ones will probably look a little different this year. Warm up your families' homes with decorative Hanukkah cards that celebrate the symbolic season. Incorporate the blue and white color scheme in the paper goods you share with your closest friends and colleagues. You might even want to add glowing candles, spinning dreidels, and even warm and crispy latkes in your art to evoke feelings of familial love and festivity!
Social Media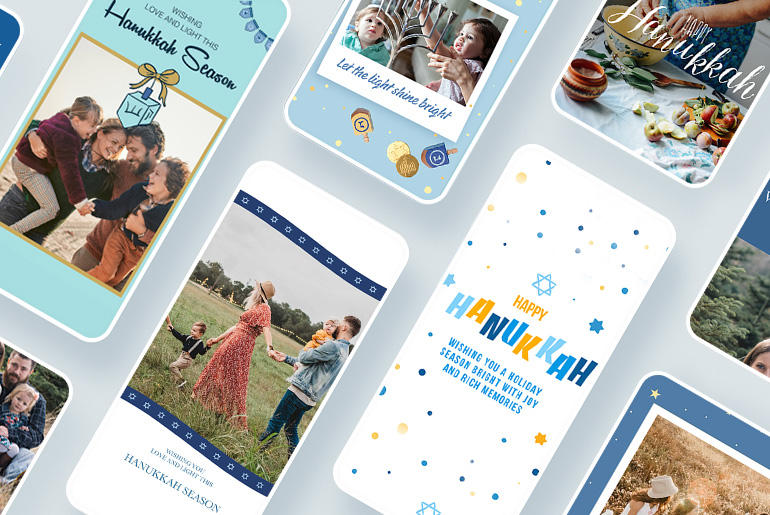 Get your social media friends and followers in the mood for menorah lighting with festive Hanukkah stories that celebrate the symbolic season. Creating infographics or other digital assets? Check out how the PicsArt community is honoring the holiday by exploring the #Hanukkah hashtag. Find tons of stickers, backgrounds, and other creative designs to get your creative juices flowing!
Brands
Incorporating diverse viewpoints and themes in your branding has never been more important, as representation has shown to not only resonate in individuals on a personal level but also bring about a much-needed change in society as a whole. Hanukkah is a sacred celebration for the Jewish population, and bringing the holiday alive in your branding is essential to sharing your brand story with important audiences. Even companies like Sesame Street and Disney incorporate dreidel-themed artwork and storylines in their books and toys. 
Hanukkah Designs Examples From PicsArt
Make your Hanukkah edits sparkle with PicsArt's Hanukkah- and menorah-themed #FreetoEdit templates!
Add a serene glow to your

Hanukkah

template with a G

olden Bokeh effect

. It is the

festival of lights

, after all!
2. Give your Hanukkah holiday card a personal touch with family photos. They will add a bit of extra warmth to every mantle they decorate!
3. If a collage is more your vibe, unleash your most major Hanukkah stickers and images on a fun and funky mixed-media design.
4. Make your Hanukkah edit moody with a Vintage Grunge effect! Your friends and family will dig the edgy look and seasonal spirit.
5. A classic Israeli scene will inject culture and history in your traditional Hanukkah edit.
6. Pops of color will definitely put your friends and family in the holiday spirit! This cool card features non-traditional colors but does include dreidels and the yummy jelly donuts called Sufganiyot served during the festival of lights.
7. Want to get your pups in on the action? Feature your furry friends in this year's holiday designs!
8. There's no reason to keep your Hanukkah designs super serious. Make it playful — especially for the kids — by incorporating classic characters like Snoopy.
9. A little extra creativity goes a long way! Elevate your holiday card designs with a touch of abstract art for a cool and contemporary look.
10. Highlight the memorable scenes from your Hanukkah celebrations with a collage containing dreidels, latkes, and Hanukkah homescapes. 
PicsArt all-in-one Photo and Video Editor, Collage, and Sticker Maker is the world's largest creative platform with over 150 million monthly active creators and influencers. PicsArt has collaborated with major artists and brands like Taylor Swift, The Jonas Brothers, Gwen Stefani, Maroon 5, Lizzo, Meghan Trainor, One Direction, MONSTA X, Warner Bros. Entertainment, iHeartMedia, Condé Nast, and more. Download the app today to level-up your photos and videos with thousands of quick & easy editing tools, trendy filters, fun stickers, and brilliant backgrounds. Unleash your creativity with PicsArt and upgrade to Gold for awesome premium perks!