Maybe you need to email an infographic for work, but you don't want to worry about sacrificing on image quality when the file is viewed across different devices. Or you're sending your latest illustration to friends, but you don't want your work of art to become distorted. The good news? Converting an image file, like a PNG, into a PDF document can ensure your images retain their quality no matter who you're sharing them with. Below, we're sharing everything you need to know on how to convert PNG to PDF with Quicktools by Picsart. Let's dive in.
What's the difference between PNG and PDF?
It's not always easy to choose the best file format for your project, so let's start with some definitions. Portable Network Graphics (PNG) files are optimized for graphs, logos, illustrations, and other graphics. Compared to other file types like JPG images, PNG offers lossless compression and a more extensive color palette. As a result, it's usually the top choice for high-resolution graphics.
PNG files also support transparency, so you can add transparent backgrounds to your graphics. And since PNG isn't patented, you can edit images with PNG file extensions in most editing tools without any problems.
Portable Document Format (PDF) files aren't always the top choice when it comes to image files, but you might need to turn PNG into PDF for some projects. PDF is the industry standard for document sharing because it's reliable, high-quality, and universally compatible across all devices and software.
PDF images aren't the best choice for brand designs or website images, but they're useful for emailing and storing screenshots, especially if you're combining images with text documents or photographs. They're also ideal for creating interactive documents that require forms or button clicks.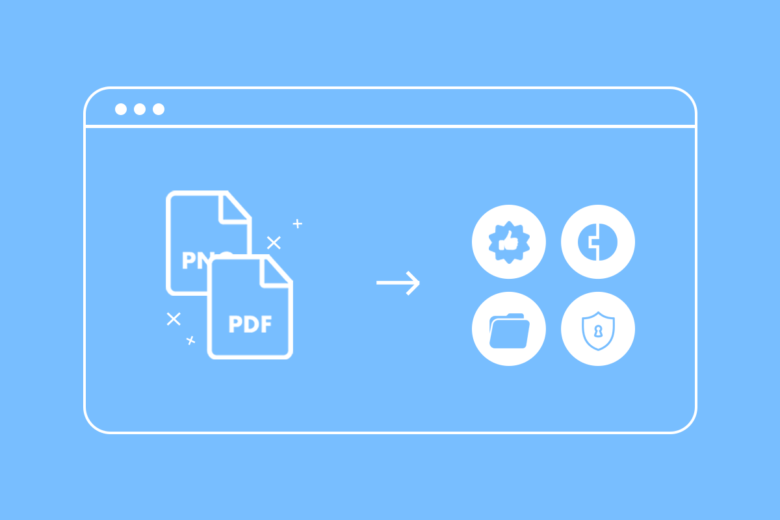 Why should you turn PNG into PDF?
PNG might be the best choice for displaying quality images on the web, but if you're planning to send or share your file, PDF is usually the best choice for the job. Here are a few reasons why you might turn PNG into PDF.
Universal compatibility
Since PDF files became an open standard back in 2008, they've become a top choice for sending and sharing files thanks to their universal compatibility. When you send a PDF via email, your recipients will be able to open and read its contents on any device without any problems, even if they don't have Adobe Acrobat. This isn't always possible when opening PNG files.
Not only that, but PDF files are typically smaller, so they're easier to send and share. Whether you're using a computer, tablet, or smartphone, you won't have any problems opening a PDF document, and you won't have to sacrifice formatting or quality when sending PDFs. In other words, your file will look the same across every device.
Better security
When you're sending sensitive information or confidential files, security is essential. PDF is a safer file type because it's easier to add secure encryption (think: passwords or archiving). If you work with sensitive documents, you can lock your PDF with a password before sending it.
In addition, PDF files don't come with the same editing capabilities as PNG images, so you can preserve your image when sending and sharing files. Since PDF files are flat, they don't contain the ability to edit. This way, you can share creative designs for feedback, use documents for printing purposes, or send graphs without losing important data.
Higher quality
PNG images are typically high-quality and can be edited and saved repeatedly without any loss. Meanwhile, PDF files are ideal for retaining color and image details, especially if you're planning to print images or create interactive documents. The improved quality of PDF files is best for designs and documents that will be printed as opposed to living online, like posters and brochures.
When you're converting PNG to PDF, you can retain high-quality images without worrying about distortion or other issues. When you use a reliable online tool to convert PNG to PDF, you'll get the best-quality images every time. Plus, you won't have to deal with large file sizes when you're emailing, sharing, or uploading files.
File storage
Whether you're compiling invoices or designs, PDFs are the best choice for storing images online. PDFs consulate important images into a single file so viewers can easily print, save, and share designs without dealing with the hassle of large files or time-consuming downloads.
If you have multiple PNG images, you can easily merge your images into a single PDF document to store your files. This way, you'll have all of your information in one place, and you won't have to waste time searching for each image.
What's the easiest way to turn PNG into PDF?
If you're looking for a simple way to turn PNG into PDF, Quicktools by Picsart is the answer. When you use our free PDF tools, you can easily convert PNG files into a PDF to save on time, image quality, and peace of mind.
Quicktools offers a free set of editing tools to solve your file formatting needs. With Quicktools, you can instantly convert files, edit images, turn your words into art with AI-generated copy, and more. And if you need to put the finishing touches on your PNG image before converting it, you can use the free online photo editor to unleash your creative potential.
If you're rushing to finish a last-minute project, you can convert PNG images in seconds without downloading expensive software. Our online PNG to PDF tool doesn't require any registration or payment, either. The best part? It only takes a few clicks to convert files, even if you're combining multiple PNG images to create a single PDF document.
Even if you're converting sensitive files, you won't have to worry about your file's safety. Quicktools stores your file before removing it after conversion, so you won't have to take any extra steps to protect sensitive information.
After you learn how to convert PNG into PDF, you can rest assured that recipients will be able to view your PDF exactly as they should. So, what are you waiting for?
How to turn PNG into PDF online
Whether you're creating an infographic for your next report or sharing pictures with friends, it's easy to convert PDF into PNG for free online. When you learn how to turn PNG into PDF, you'll be able to send files in just a few clicks without waiting for long uploads or losing image quality.
With Quicktools by Picsart, you can turn PNG into PDF online with zero hassle. Here's how to get started:
On the web:
1. Open the Quicktools Convert PNG to PDF tool.
2. Drag and drop your PNG image into the dotted box. Or, click Select PNG File to upload a PNG from your library.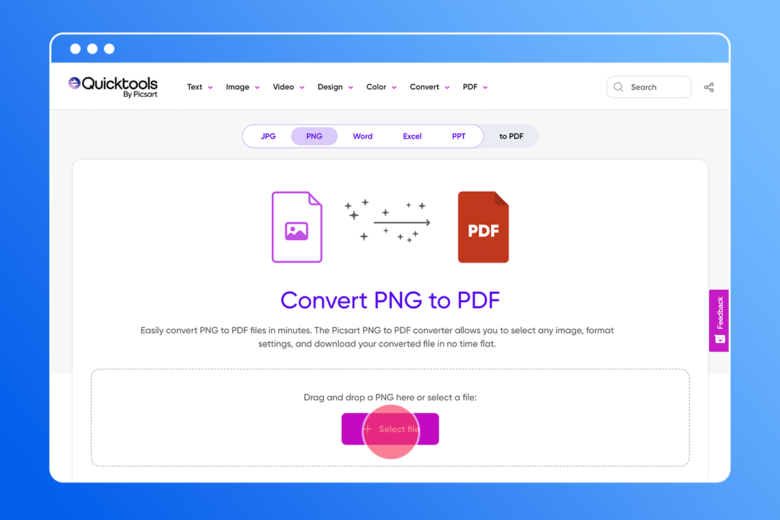 3. Once you've uploaded your first PNG, you'll be able to select the orientation, page size, and page margins to create your PDF file. If you're planning to print files on standard paper, choose A4 as your page size.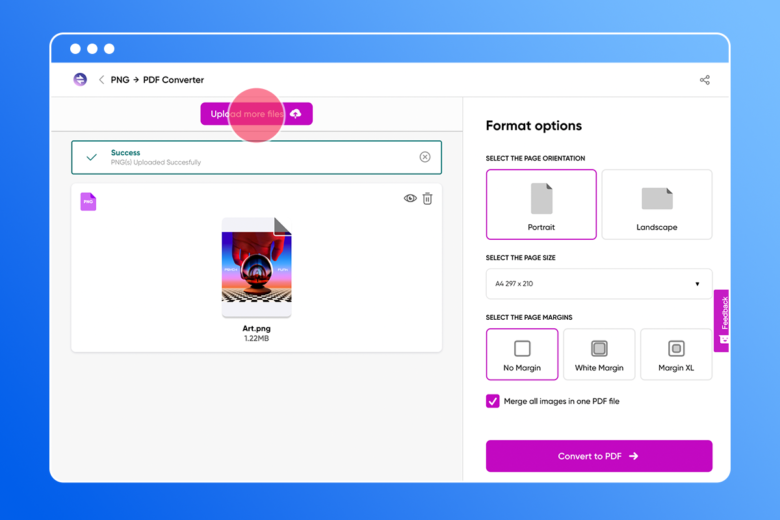 4. Want to convert multiple PNG images into a single PDF file? Click Upload more files to upload more images. Next, check Merge all images into one PDF file.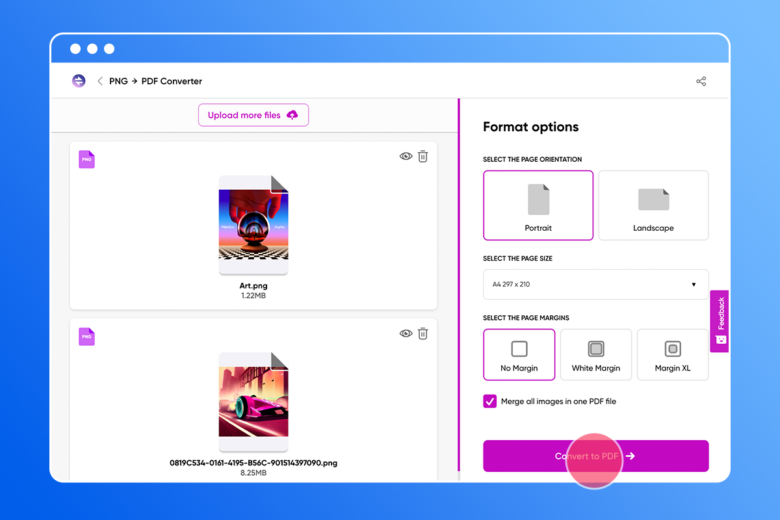 5. Click Convert to PDF to turn your PNG images into a PDF file. Then, click Download to download the PDF.
Picsart is a photo and video editing platform and creative community. A top 20 most downloaded app worldwide with over 150 million monthly active users, its AI-powered tools enable creators of all levels to design, edit, draw, and share content anywhere. The platform has amassed one of the largest open-source content collections in the world, including photos, stickers, backgrounds, templates, and more. Used by consumers, marketers, content creators and businesses, Picsart tools fulfill both personal and professional design needs. Picsart has collaborated with major artists and brands like BLACKPINK, Taylor Swift, Lizzo, Ariana Grande, Warner Bros. Entertainment, iHeartMedia, Condé Nast, and more. Download the app or start editing on web today, and upgrade to Gold for premium perks!