Day of the Dead, or El Día de los Muertos, is a two-day Mexican holiday that celebrates death and life. While it originated in Mexico, El Día de los Muertos is today celebrated throughout Latin America. Despite popular belief, this is not the "Mexican Version" of Halloween. In fact, the two holidays are very different!
The Day of the Dead is a two-day holiday spanning November 1st through November 2nd in which families create ofrendas (offerings) for their departed loved ones. These are altars that are decorated with bright yellow marigold flowers, photos of the departed, and the favorite foods and drinks of the deceased being honored. One of the key elements of this altar is the sugar skull.
Sugar skulls, while made from edible materials, are not actually meant to be eaten. Instead, they are solely meant for decorative purposes, acting as a sweet way to represent the souls of the departed loved ones on the family's Day of the Dead altar. Sugar skull art and sugar skull designs reflect the folk art style of big happy smiles, colorful icing, sparkly tin, and glittery adornments. Their distinct, colorful, and eye-catching aesthetic has caused them to become an unofficial icon of the Day of the Dead worldwide. They may have started as just sugar, but now they can be seen in other mediums like sculptures, digital drawings, paintings, and more!
Over time, there have been a lot of different sugar skull design adaptations. From the hyper-realistic to the delightfully simple, there is a sugar skull design for every person and purpose. Here are a few of the most popular:
Realistic Sugar Skulls
Just as the name suggests, realistic sugar skull designs take into account the actual geometry and anatomy of the human skull. Realistic skulls can be drawn from a front-facing or a side angle. Use a photo of a skull for reference so that you can get the proportions right. From there, you can use shading techniques to further create a realistic look. 
Mastering a realistic skull drawing is a great jumping point for creating a unique sugar skull design. With the basics down, you can expand your design to be cartoonish, scary, or bright, and colorful. 
Simple Sugar Skulls for Kids
Simple sugar skull designs make for fun, creative children's Day of the Dead art projects. Usually presented as front-facing skulls, simple sugar skull designs are inspired by realistic skull drawings, pulling out the main features and basic shapes. The end result is a basic outline of the main features with plenty of blank space for ornate designs. It's fun for both kids and adults to create their own custom design and then color them in. A simple Day of the Dead skull is a great way to have fun celebrating and preparing for the holiday. They are also great for Halloween arts and crafts, too! Think wall decals, invitations, and door hangings! 
Sugar Skulls From Different Angles
Get to know your skull! The best way to familiarize yourself with skull design is to give it a try from all sorts of different angles. From front-facing to looking side-to-side, drawing from different perspectives and angles will help you become a better illustrator in general. Understanding the different dimensions and having various photos to use as a reference will take your sugar skull designs to the next level! 
How to Create a Sugar Skull?
Sure you can look for a Halloween template or a basic outline drawing online, but it is SO much fun to create your own sugar skull! You can do it by hand, or digitally using an editing software like PicsArt. Learning how to draw a skull will unlock all of the design potentials for intricate, colorful, and unique sugar skull designs perfect for Halloween and Day of the Dead! Here's how to do it step by step:
Open

PicsArt

app

and tap the + icon at the bottom of the screen. Select a photo of a skull from your photo library or search from PicsArt's free-to-edit photo library in the search bar at the top.

Scroll across the bottom toolbar and tap on

Sticker

to find designs that are typically seen on sugar skulls. Place your desired stickers wherever you want and tap

Apply

. Repeat this process for as many stickers as you wish. Decorate the

eye sockets

with flower-like designs and add in other flower shapes and details around the skull to create your own unique design!

Once you are happy with your design, tap

Apply

then

Next

to save and share your new

candy skull

design!
The best part about this tutorial is that you can take your simple Day of the Dead skull and jazz up your design as much or as little as you would like. You can add stickers and filters or create different color palettes on your skull by copying it into multiple projects. Plus, if you don't have time to learn how to draw a skull, you can always search for already designed stickers in PicsArt. The possibilities are endless!
How to Edit a Face Photo Into a Sugar Skull?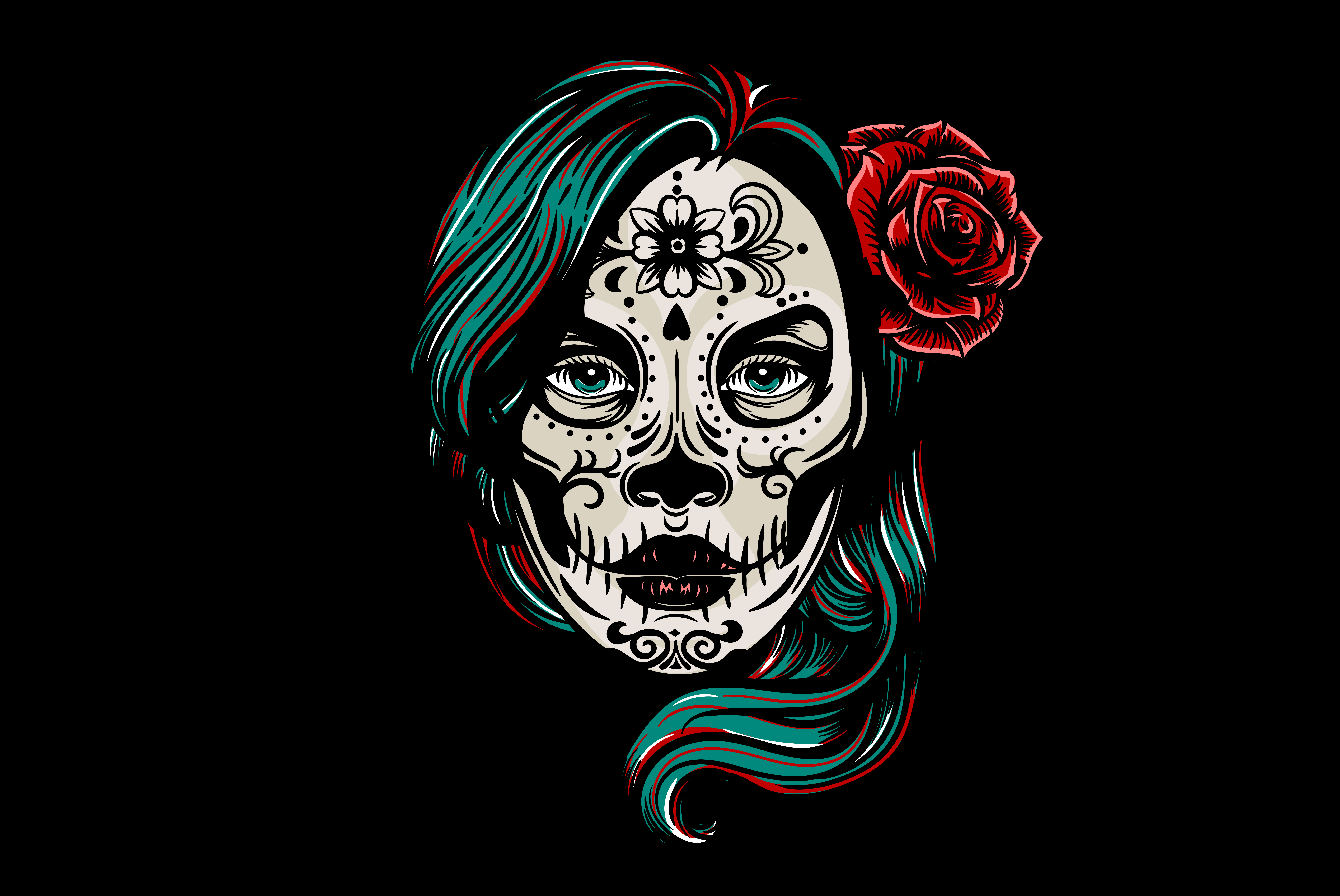 We love a good drawing tutorial, but this next sugar skull tutorial is going to blow your mind! You can create a photo of your own face with a sugar skull superimposed on it in just a few easy steps. All you have to do is add new layers to your photo and then blend in photos of a skull that you would like to use. 
Open the image you would like to use for your sugar skull edit in the PicsArt Editor. Add a photo of a skull to the original image as a separate layer. You can lower the opacity if you want more of the face in the original photo to show through. From there, use an eraser tool or cut out tool to further remove extra parts of the layer or to reveal your original face image. From there, you can use a Draw tool to further add designs and elements to your new sugar skull portrait. 
An even easier way to edit a photo of your face into a sugar skull is by using stickers on PicsArt. 💀 This is the ultimate photo edit for creating a jaw-dropping look for The Day of the Dead or Halloween. 
Open

PicsArt

Photo Editor on your phone and select your photo. Next, tap on the

Stickers

icon and search for "

sugar skull

."

Select the

sticker

you would like to use and lower the opacity to place it so that the

sugar skull

outlines are aligned with your facial features. Once you have it positioned where you would like, use the

eraser

tool to remove any parts of the

sticker

that are extra.

When you are happy with where your

sticker

is, raise the opacity back to 100% and tap on the Blend option. Select the blend option that best overlays your

sticker

onto your photo for the desired look.

Once you are happy with the look of your

sugar skull

portrait, tap the checkmark in the top right and share your spooky image with all of your friends!
This is the easiest way to create a face photo into a sugar skull, but you could also kick things up a notch and use the Drawing tools in PicsArt to create multiple, digitally drawn layers on your photo. This would take more time, but it would be sure to be unique!
Much like blending a sticker onto your photo, you could do the same with another photo. Grab a spooky skull photo from PicsArt's Free-to-Edit library and blend it onto the photo of your face. You can use the opacity tool to make it easier to see where you are positioning the image. Then use the Eraser tool to clean up any extra parts of the image. It takes a little more erasing and positioning, but is just as easy as adding a sticker!
PicsArt also has an incredible Day of the Dead Masks Package that will make your sugar skull selfie game that much easier. With it, you can easily add beautiful, predesigned sugar skull elements to your image. Simply position it over your face and use the eraser tool to clean up any extra parts. You'll have a scary beautiful image in no time! 
Beautiful Sugar Skull Designs
Whether you are looking for inspiration for drawing your own Day of the Dead sugar skull, or you want to try adding a layer to a picture of yourself, PicsArt has all of the tools and inspiration you need. You can search #DayoftheDead and #SugarSkulls to find hundreds of cool designs and images. We've also pulled some of our favorites below to get you started!
This is a beautiful example of how you can take your simple digital sugar skull design to the next level with stickers, shapes, and bold colors. The bonus is that this user saved their design as a sticker, making it easy to use on other designs and projects!
We love that this user stuck to a distinct color palette on their skull, then they added some beautiful hand-drawn flowers to add another interesting dimension to the image. Much like sugar skulls, flowers are a big part of El Día de Los Muertos and they can be seen throughout celebrations and on altars.
We love it when typography is added to users' designs! Especially on this awesome candy skull design. The skull itself is beautiful and it really pops up against the bold text in the background. An easy way to recreate something similar would be to add your sugar skull design as a sticker and then apply it to a text background. All of that can be done on PicsArt!
This beautiful sugar skull design has a more traditional look to it and it is gorgeous! All of the different flowers complement each other and the design uses a variety of bold colors. When it comes to creating your own sugar skull design, feel free to have fun, and get experimental with your design elements!
How hauntingly beautiful is this sugar skull design? This look is perfect for The Day of the Dead or Halloween. We love that this design keeps the color palette simple yet relies on the beautiful intricacies of the design to leave a lasting impact.
Not going to lie, we're pretty obsessed with this sugar skull flower crown combo! With PicsArt stickers, you can easily add these gorgeous Day of the Dead elements to your selfie or portrait.
Here's another example of a way to take your Day of the Dead photo to the next level using PicsArt stickers, drawing tools, and brushes. The contrast of the colorful flowers with the bold, dark designs on the face makes for a hauntingly beautiful sugar skull selfie. This would be the perfect profile picture for the holiday! 
PicsArt Photo and Video Editor, collage, and Sticker Maker is the world's largest creative platform with more than 150 million monthly active users and influencers. PicsArt has collaborated with several brands and artists, including Disney, MTV, Taylor Swift, The Jonas Brothers, Gwen Stefani, Maroon 5, 30 Seconds to Mars, and more. Step-up your photo editing with thousands of tools, edits, backgrounds, stickers, and filters. Awesome starts here! Download the app today, and upgrade to PicsArt Gold to unleash your creativity!