Let's be real, you probably spend more time with your phone than you do with most people. So why shouldn't it match your style and personality? Did you know that you can customize your iOS 14 home screen to match your aesthetic with ease? It takes iPhone personalization to a whole new level. Whether it's your lock screen or your wallpaper design, when someone picks up your phone, they should know that it's yours instantly.
Luckily, in iOS 14, there's a whole new way to work with widgets, allowing you to customize them to suit your needs. Widgets are used for quick access to your home screen to get information about reminders, weather, appointments, etc. There is no limit on how many times you can customize your widgets, so you can switch them up as often as you like. But before we dive into how to customize your iOS 14 home screen with some fun design ideas, let's review what's new in the latest iOS. 
What's New in iOS 14 Home Screen Configuration?
There's lots to love about iOS 14. One of the main things is widgets. Historically, you could only access widgets in the Today view, but Apple now allows widgets to be added to the main home screen to coexist with your other iPhone apps. You will discover redesigned widgets that are more eye-catching, widgets in different sizes (small, medium, and large), widgets for many Apple apps (we'll get into these further down), widget gallery (the main place for all your widgets from Apple and third parties), a Siri suggestions widget, and widget stacks (create stacks of up to 10 widgets). It also includes a feature called Smart Stack, which is a set of widgets you can swipe through that uses Artificial Intelligence to show you the right widget at the right moment, based on things like time, location, and activity. Another exciting iOS 14 feature is the App Library, a new space at the end of the home screen pages that organizes all of your apps into one simple view.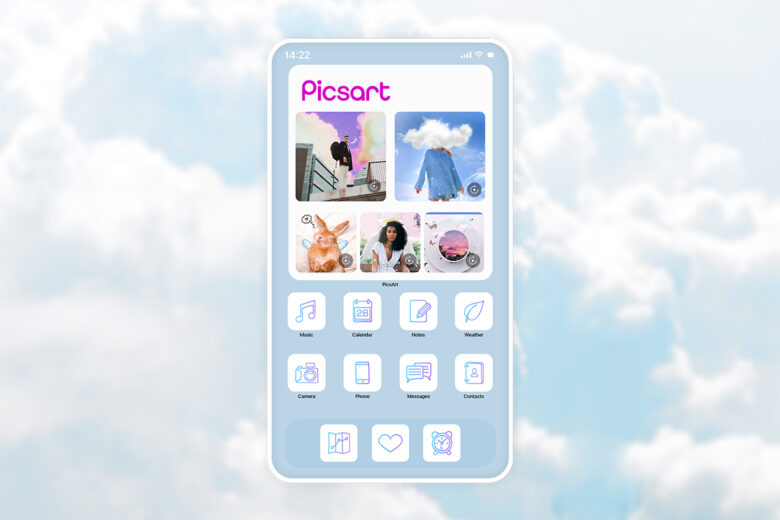 Who Can Have iOS 14?
Those with the specific iPhones listed below can partake in iOS 14 home screen fun. If you have an Android, you're still able to customize your home screen though. Check out how to make a custom phone wallpaper. 
iPhones that have access to iOS 14: 
iPhone 11

iPhone 11 Pro

iPhone 11 Pro Max

iPhone XS

iPhone XS Max

iPhone XR

iPhone X

iPhone 8

iPhone 8 Plus

iPhone 7

iPhone 7 Plus

iPhone 6s

iPhone 6s Plus

iPhone SE (1st generation)

iPhone SE (2nd generation)

iPod touch (7th generation)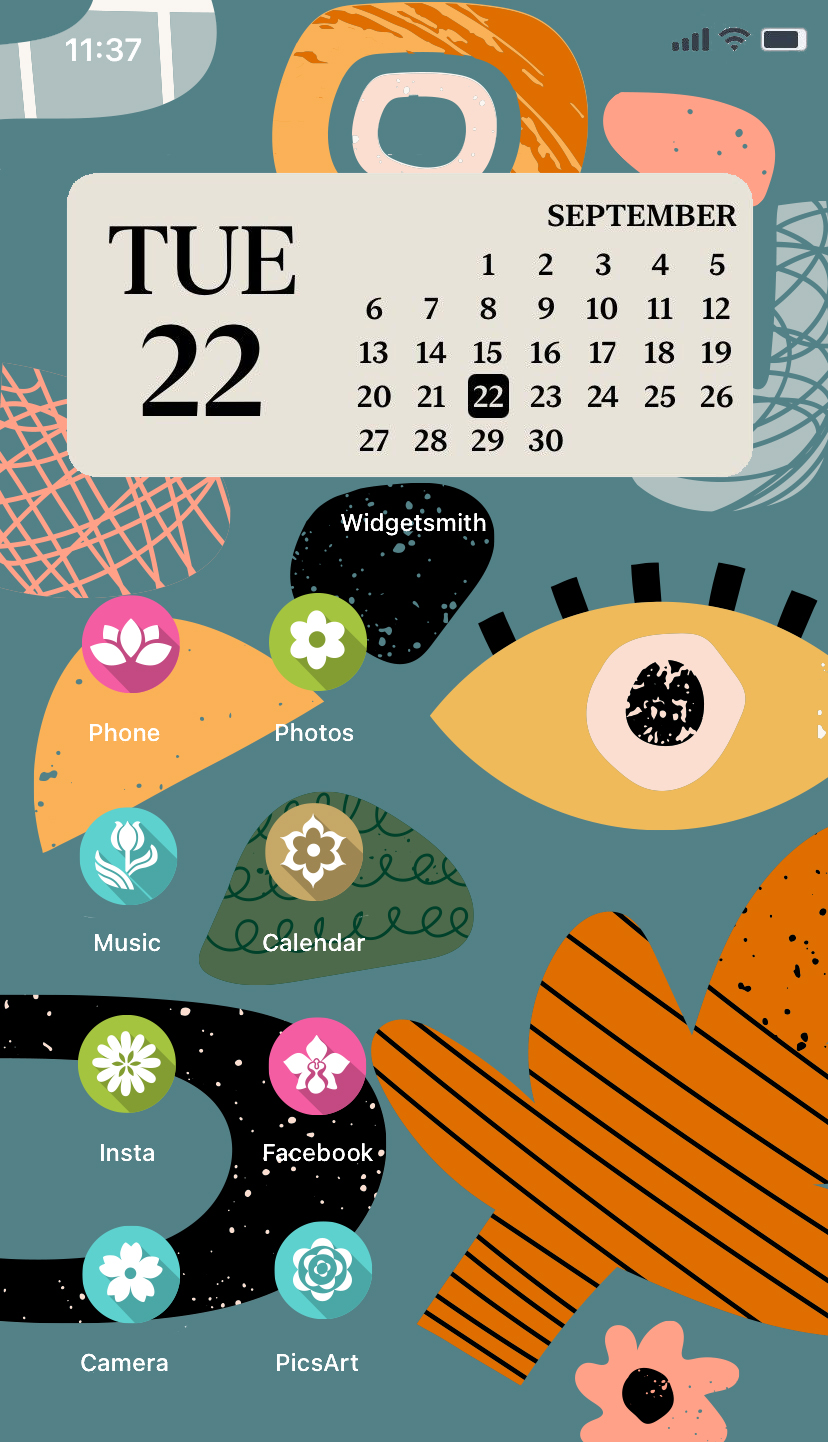 Which Apps Have Widgets in iOS 14? 
With the iOS14 update, the following apps have Apple widgets: 
Weather, Clock, Calendar, News, Maps, Fitness, Photos, Reminders, Stocks, Music, TV, Tips, Notes, Shortcuts, Battery, Screen Time, Files, Podcasts, and Siri Suggestions. 
Why Use iOS 14 Home Screen Widgets?
Why would you want to use iOS14 home screen widgets? The simple answer is because it allows you to access your favorite and most-used Apple apps quicker. In other words, it keeps your phone (and maybe even your life) more organized. And now with widgets coming in a variety of sizes, your home screen can be an even more user-friendly, personalized experience. Don't want to reach for your glasses every time you grab your phone? Go with the large size. Like inspirational quotes? Use the Motivation widget to see a new one populate on your phone everyday.
It's completely up to you how you want to configure and place your favorite widgets. It's kind of like hanging up art on your walls at home, without the hammer and nails. It all depends on your interests, activities, and priorities. We're convinced that just like fingerprints, no two home screens are alike. Are you someone who prefers to place your widgets within galleries or do you like to see them all at once? There is no wrong answer here. The best part is that you can customize your home screen widgets to your heart's desire and can change things up any time.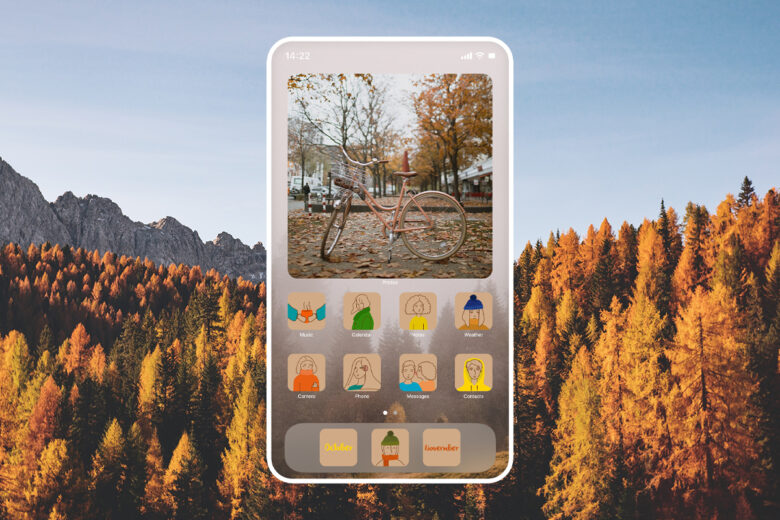 How to Customize iOS 14 Home Screen
Now onto the fun part of customizing your home screen. To add your favorite widgets to yours, follow the steps below: 
Tap and hold on the home screen until the icons begin to wiggle.

Tap + in the top left corner. 

Find a widget you'd like to add to your home screen. 

Scroll left or right to choose the size of the widget (small, medium, or large).
Tap Add Widget. 

Drag the widget and place it where you want on your home screen. 
What Is the Best App for Icon Customization? 
When it comes to customizing your iOS 14 home screen (with a cozy fall phone theme for instance), the Picsart app is a great resource that provides endless creative possibilities. You can make as many custom app icons as you'd like using easy to apply stickers (you can even create them from scratch), free-to-edit photos, trendy effects, and filters, one-of-a-kind masks, and more. 
Ever wish you could talk with your pets? You can add a fun dog sticker to your text message icon. Have a favorite drink? Sip up this '90s style boba icon Replay. Craving a green aesthetic? This neon grunge aesthetic will make you the king or queen of Gotham. Is pink glitter all over your Instagram feed? Take it to the next level with this glam pink aesthetic icon. Looking for some calm in your life? Layer this neutral look over all of your app icons for a calm home screen aesthetic.
Once you've created your icons, you can pick a matching wallpaper or vice versa. Just think of the endless possibilities.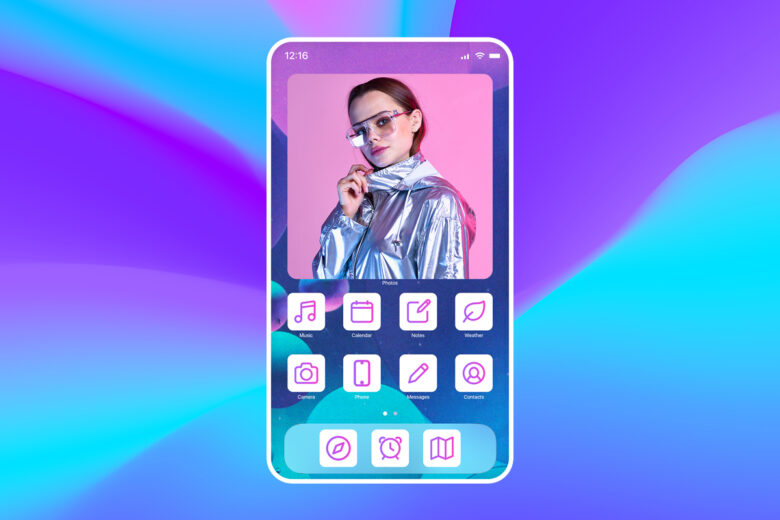 How to Customize App Icons
Now that you've seen how quick and easy it is to create your own icons, it's time to take it to the next level. Customize your own iOS 14 home screen icons using Picsart in these easy steps: 
Open the Picsart app

and tap on the pink plus sign at the bottom of your screen to open the editor and upload a photo. You can also work with Picsart

free-to-edit photos

, Backgrounds, or Color Backgrounds. 

To add a sticker or two (or more), tap on Stickers from the editor bar at the bottom of your screen. 

Scroll through popular stickers or do a search for the sticker of your choice.

Once you're happy with your icon design, tap Next and save it to your device.
Now that you've made your custom icon image, it's time to replace it with an existing one on your home screen. 
Open Apple's

Shortcuts app. 

Open it and click + at the top right of the screen. 

Tap Add Action > Scripting > Open App > Choose, and select the app icon you want to customize.
Click Next in the top right corner, name the app, and click Done.

Click the three dots at the top right corner. 

Click Add to Home Screen. 
Tap the icon under Home Screen Name and Icon section and click Choose Photo. 
Pick the photo from your camera roll you'd like to use as your new icon and click Choose and Add.
You did it. Now you can sit back and bask in the glory of your new home screen icon.
See the above steps in action in this custom fall aesthetic home screen tutorial:
Other Ideas on How to Customize Your iOS 14 Home Screen
Now that you've learned the steps, the world – or really, your home screen – is your oyster. If you're looking for some other design inspiration, simply follow the steps in this tutorial to get a black and purple neon aesthetic. 
Feeling artistic? Imagine your phone as a canvas just waiting for you to paint a masterpiece on it. Learn how to give your phone a museum-worthy home screen in this tutorial:
Picsart is a full ecosystem of free-to-use content, powerful tools, and creator inspiration. With a billion downloads and more than 150 million monthly active creators, Picsart isn't just the world's largest creative platform; we're also the fastest growing. Picsart has collaborated with major artists and brands like BLACKPINK, the Jonas Brothers, Lizzo, Sanrio: Hello Kitty, I am a Voter, Bebe Rexha, Maroon 5, One Direction, Warner Bros. Entertainment, iHeartMedia, Condé Nast, and more. Download the app or start editing on web today to enhance your photos and videos with thousands of quick and easy editing tools, trendy filters, fun stickers, and brilliant backgrounds. Unleash your creativity and upgrade to Gold for premium perks!