The look of old-fashioned Polaroids never goes out of style. Even after high-resolution digital and phone photography technology surpassed these retro cameras, people continued to harbor a certain nostalgia for those pocket-sized instant photos with a white border. In fact, Polaroid cameras still exist, just in newer, more advanced forms. 
There is something endlessly hip about these slightly out-of-focus prints. For one, people tend to look great in these creamy, high-contrast photos. Secondly, it's novel to get a printed photo right in the moment and have a little keepsake to take home after a gathering. 
The downside, of course, is that it's pretty difficult to post a Polaroid photo on social media. That is, of course, unless you want to take a picture of a picture. Also, taking Polaroid shots means carrying a camera around with you. Technically, you already have another type of camera on you all the time: your phone. So, in an ideal situation, you'd be able to transform the photos you take with your phone into ones that have the Polaroid look. 
Good news: this ideal situation actually exists. Now, you can frame up any digital photo with that classic white border using simple editing tools. You can even add colorful backgrounds and a text caption. No, your phone won't be able to print the photo when you've finished, but there's another win here: You can easily post the image to any social media platform or quickly send it to your friends. That way, everyone gets a copy. 
In essence, you're able to make a DIY Polaroid that has that fun, analog look but comes with all the technological trappings of the digital age. 
How to Achieve the Vintage Polaroid Frame Effect
In this tutorial, you'll learn how to turn a regular picture into a Polaroid and layer it into a 21st-century digital collage. 
Open the

Picsart mobile application

and click on the purple plus sign at the bottom of the screen to start a new project.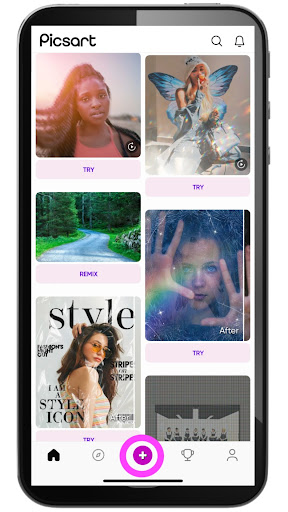 2. Scroll down until you see the "Background" category, and tap to open this library of ready-made backdrops. Now, move through the various options here until you find the perfect backing for your digital collage.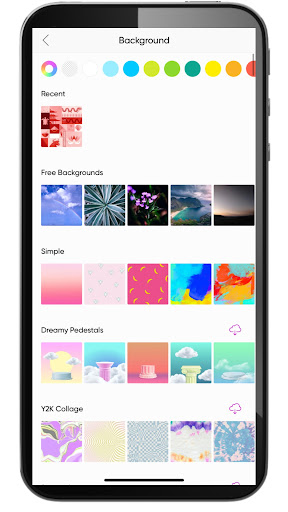 3. Once you've chosen your background, the app will take you to the editing screen, and you can start layering. On the menu at the bottom of the screen, scroll over to "Add Photo," which will take you to your photo library to choose the image you want to transform using the Polaroid filter.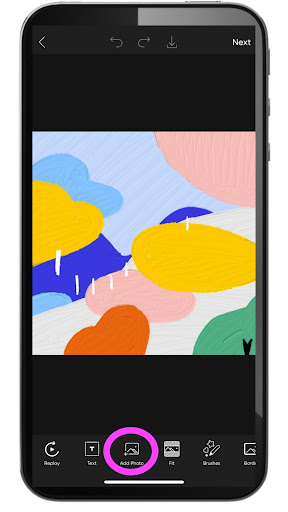 4. With your photo now on the screen, you can resize it by dragging the corners. Even if you are unsure of the exact Polaroid size, do your best to estimate. Hint: you will be able to resize the Polaroid frame in the next step. However, you won't be able to easily jump back and resize your photo again, not without undoing your last step. So, our recommendation is to center your image on the background and make sure it takes up space but not so much that you won't be able to fit the Polaroid border into the composition.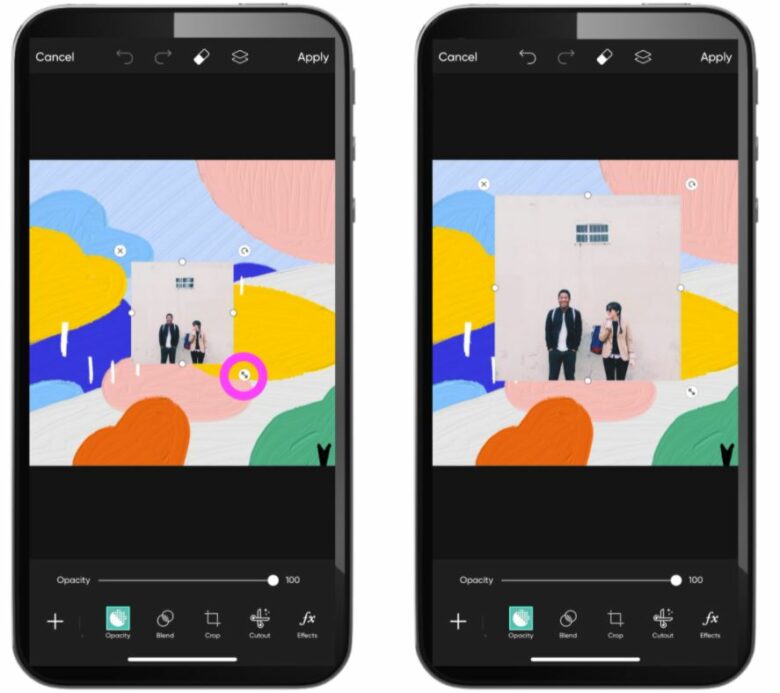 5. Now, from the menu at the bottom of the screen, choose "Sticker." The Polaroid filter for online use is actually a digital decal, which you will now place on top of your photo. Don't worry: the center of the sticker is transparent, so it will not cover up your photo even when placed in the foreground of the composition.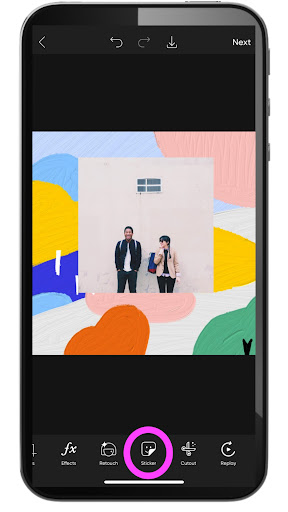 6. Use the search bar in the sticker library to locate the Polaroid border. There are many options, and in this tutorial, we'll be using the classic white frame. Try keywords like "Polaroid Frame" to find this sticker, and then scroll through until you find the one that's perfect for your composition. Then, simply tap on that option to add it to your design.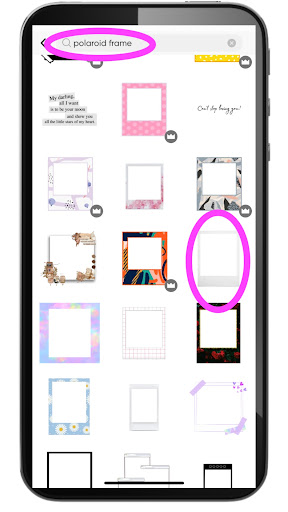 7. Now, back on the editing screen, adjust the size of the sticker until it fits your photo perfectly. You can stretch and compress the sticker without getting noticeable distortion, so the shape of your photo shouldn't matter. That is, you can easily frame the dimensions of your picture, no matter the size. When you've finished, click "Apply" in the upper right-hand corner of the screen.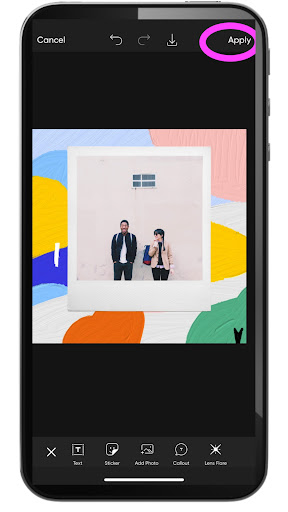 8. Time to get out your digital marker and write something on this Poloraid just like you might have done with the print-out kind. Choose "Text" from the menu at the bottom of the screen, and write your caption. Don't worry about the font yet. You'll be able to change it in the next step.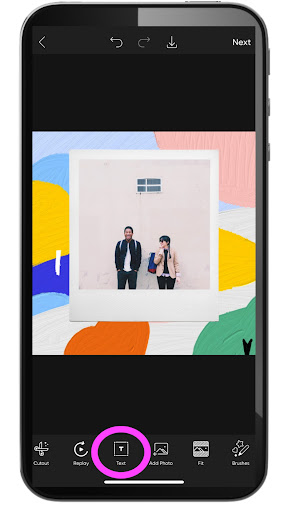 9. If it's not highlighted already, click on the "Font" tool, and scroll through the various lettering options that appear under your canvas. We recommend "Permanent Marker" or other fonts that look like handwriting if your goal is to create an analog look.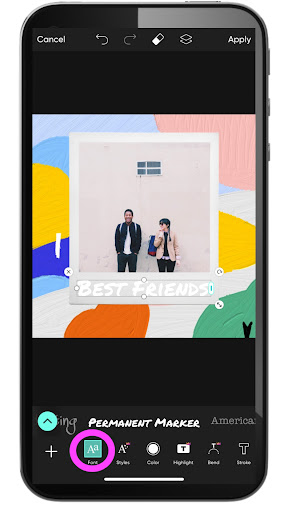 10. Now, change the color of the font as needed by highlighting the "Color" option. Pro tip: Click on the dropper tool, and then move the color picker around your photo to select a custom color "mixed up" from a hue already in your composition, just like we did with the cobalt blue tone from the background here. You'll notice that our font is the very same blue.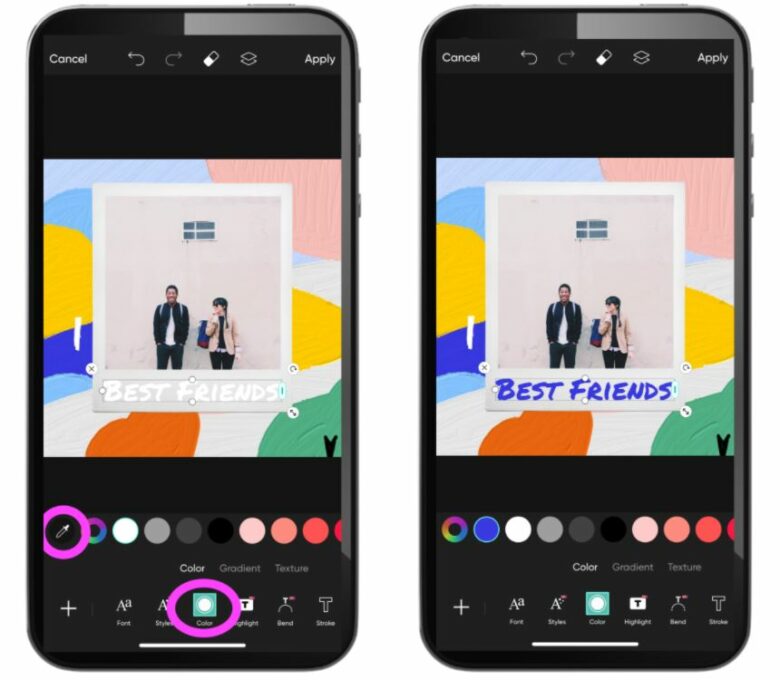 11. If you're happy with your composition, you can jump down to the next step to learn how to export your image, but now is a great time to add some more stickers to your photo. This time, the stickers will be for decorative purposes, and they will also give depth to your collage. Open the sticker library just like you did in Step 5, and search for the perfect decals to round out your composition. We searched for "Retro," keeping in the vintage vibe of this design.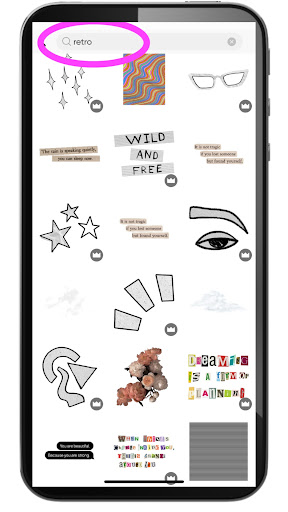 12. When you've finished your digital Polaroid collage, simply tap on the downward arrow above your canvas to download the photo to your phone or quickly share it on social media. You're now an expert, so spread the love and teach your other friends how to upgrade their IG stories and more with this retro edit.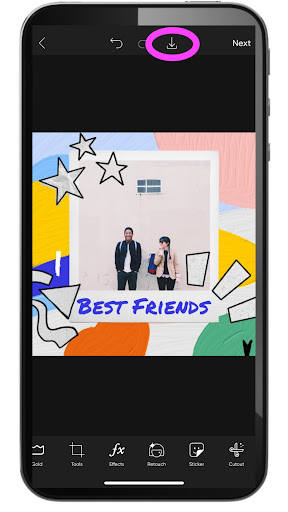 Picsart is a full ecosystem of free-to-use content, powerful tools, and creator inspiration. With a billion downloads and more than 150 million monthly active creators, Picsart is the world's largest creative platform. Picsart has collaborated with major artists and brands like BLACKPINK, the Jonas Brothers, Lizzo, Sanrio: Hello Kitty, I am a Voter, Bebe Rexha, Maroon 5, One Direction, Warner Bros. Entertainment, iHeartMedia, Condé Nast, and more. Download the app or start editing on web today to enhance your photos and videos with thousands of quick and easy editing tools, trendy filters, fun stickers, and brilliant backgrounds. Unleash your creativity and upgrade to Gold for premium perks!