If you aren't already posting on Instagram, it's time to learn how! Instagram has over 500 million daily users and is one of the most popular social media platforms out there. To make sure your content stands out among the other millions of posts, you need to learn how to post on Instagram and how to share an Instagram post.
It's easy once you get the hang of it. If you're feeling intimidated, don't worry. We'll break down all the steps you need to know to post your first picture on Instagram. 
If you're just getting started promoting your business on Instagram, check out our free eBook on Social Media for Small Business.
How to Post On Instagram From Your Phone?
One of the greatest things about Instagram is that you can post while you're on the go. Whether this is your first picture on Instagram, or you're an old pro, it never hurts to get a refresher on how to share an Instagram post from your phone. Here's how to post on Instagram from your phone:
1. Log into your Instagram account on the Instagram mobile app.
2. Tap on the + sign. It will either be in the bottom icon menu or in the top right corner of your home screen depending on which version of the Instagram interface you are viewing. 
3. From there, make sure "Post" is selected and choose an image, video, or GIF from your phone's image library. You can also shoot a photo or video directly in the app by selecting the camera icon. This is also where you can add a Boomerang or an Instagram Layout. Those will open separate apps, but they are compatible with Instagram. Another option would be to post a carousel. This option allows you to post up to 10 photos in one post. You can also resize your image or video by clicking the resize arrows in the bottom left corner of the photo in the preview window.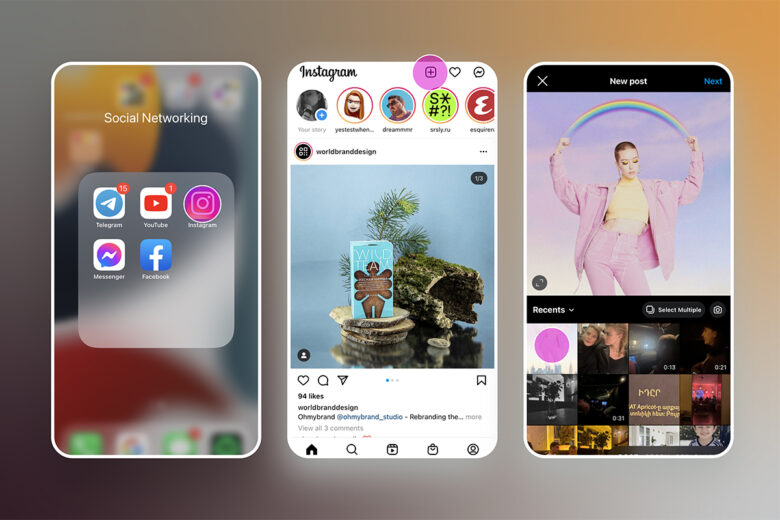 4. Once you have chosen the image or video you want to post, tap "Next" in the top right corner. This will open the filters and editing features that are included in the Instagram app. You can play around with filters or features like Brightness, Highlights, Contrast, and more directly in the app if you haven't edited your image already. 
5. When you are happy with the way your image or video looks, tap "Next" in the top right corner to open up the screen where you can add caption text (including emojis 🙌), hashtags for post-optimization, account tags, and location. Once everything is to your liking, hit "Post" and watch the likes start to roll in. 
Pro tip: if you want to push the same post to your other social media pages, toggle on Facebook and Twitter before hitting "Post" and your Instagram post will be shared to those pages at the same time.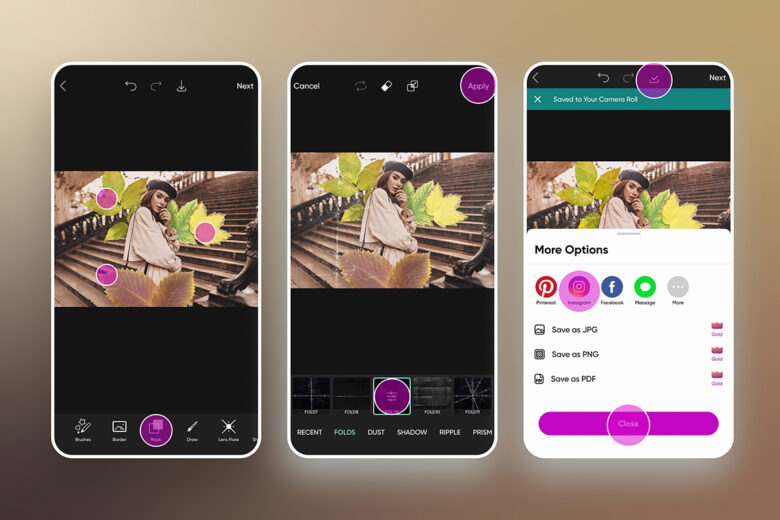 How to Post On Instagram From Your Computer?
Back in the day, you could only post photos and videos to Instagram through the mobile app. It's great for when you are on the move, but sometimes you're going to want to be able to post from your computer, too. This is handy for when your edited image (like one you've created on Picsart's web editor) is downloaded to your computer rather than your phone. 
The steps for how to post on Instagram from your computer differ slightly from browser to browser. For the purpose of this tutorial, we're going to break down the steps for how to post on Instagram from your computer using Safari and Google Chrome. Also, note that posting to Instagram from your computer will have some constraints that aren't there if you were to post from your phone. 
How to Post On Instagram From Your Computer Using Safari
1. On your computer, open up Instagram's web version in a new window on the Safari browser. In the top menu bar, select "Safari" to bring up a dropdown menu, then select "Preferences."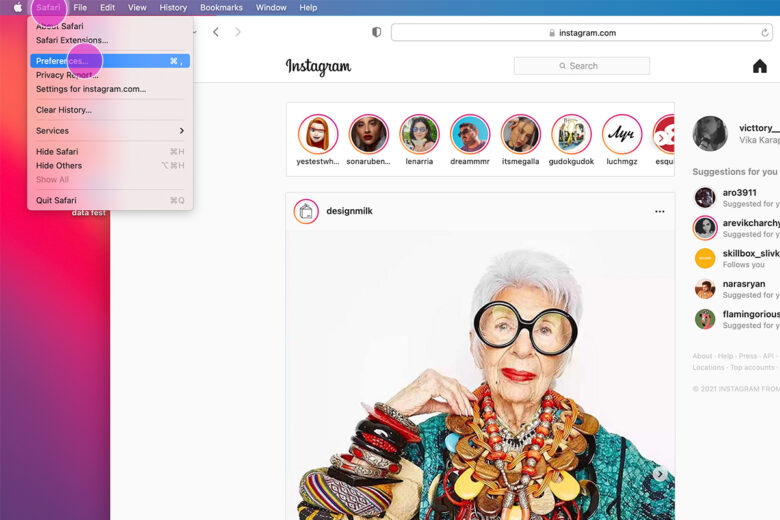 2. When you select "Preferences," a pop-up window will appear. Select "Advanced" and find the option "Show Develop menu in menu bar" at the bottom of the menu. Make sure the little box next to that is checked.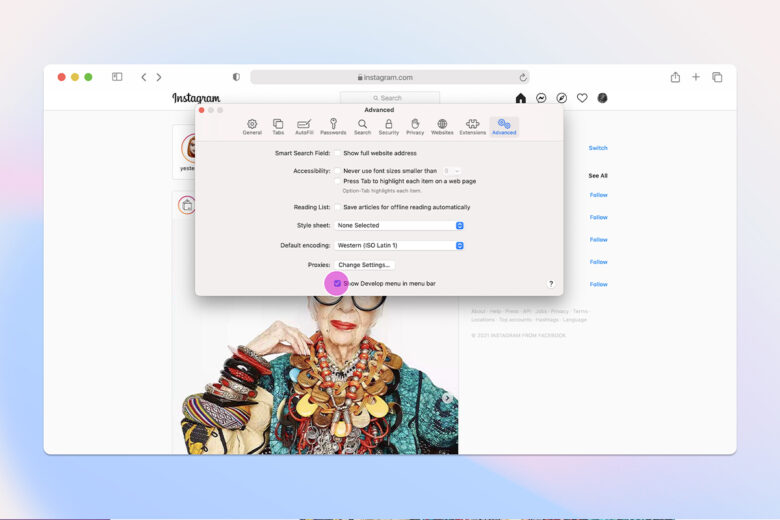 3. Next, open up a new window in Safari, and in the top bar menu, select "Develop." On the dropdown menu, click "User Agent," then select "Safari – iOS – iPhone." This will make it so that you are viewing the mobile versions of sites right from your computer.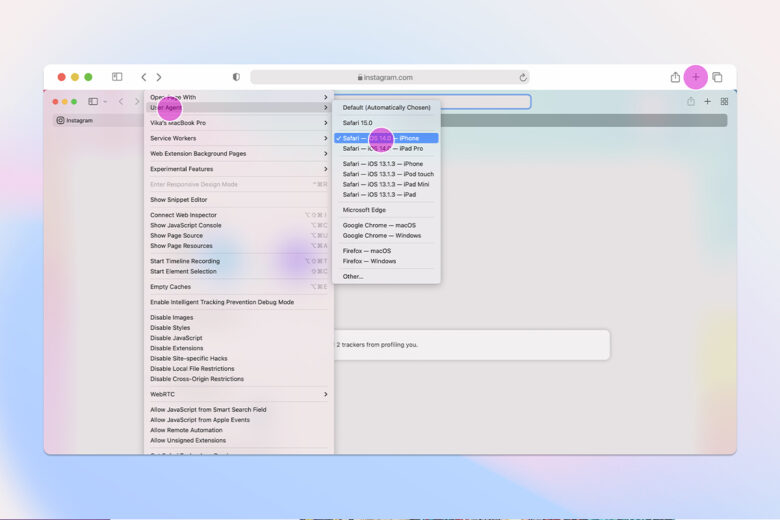 4. Open a new window and go to Instagram's website. Click the plus sign at the bottom of the page to create a new post. From your Safari browser, you can select a photo to upload, but you won't be able to post videos or multiple images.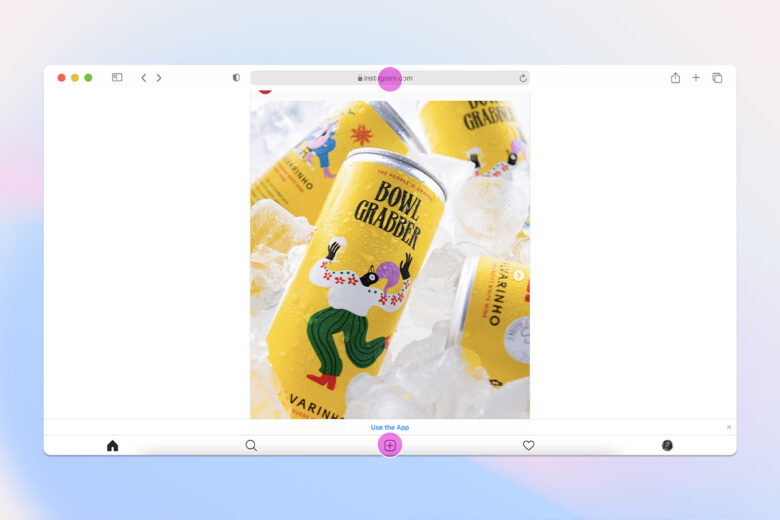 How to Post On IG From Your Computer Using Google Chrome
1. Open a new window in the Google Chrome browser and go to the Instagram website. Right-click anywhere on the page to bring up the right-click menu. Select "Inspect" from the menu.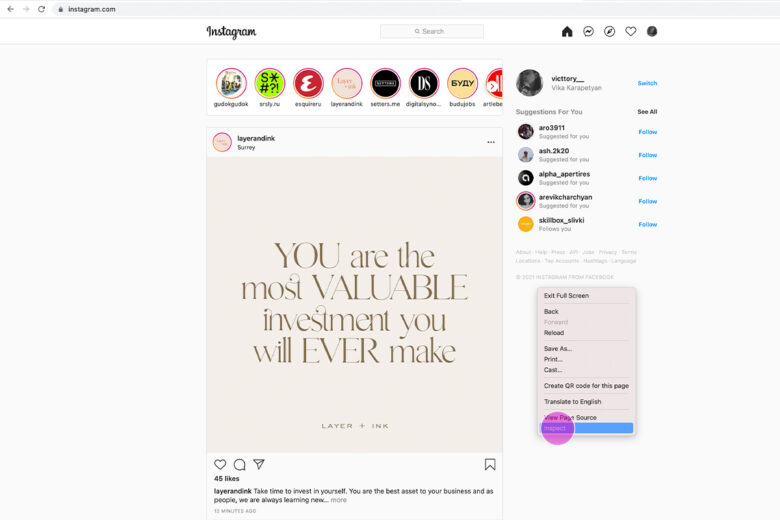 2. On either the right side of the screen or the bottom, a window with code will pop up. At the top of this menu, click "Toggle Device Toolbar" icon (it's the one that looks like a phone in front of a tablet) and make sure the toolbar at the top of the page says "Responsive."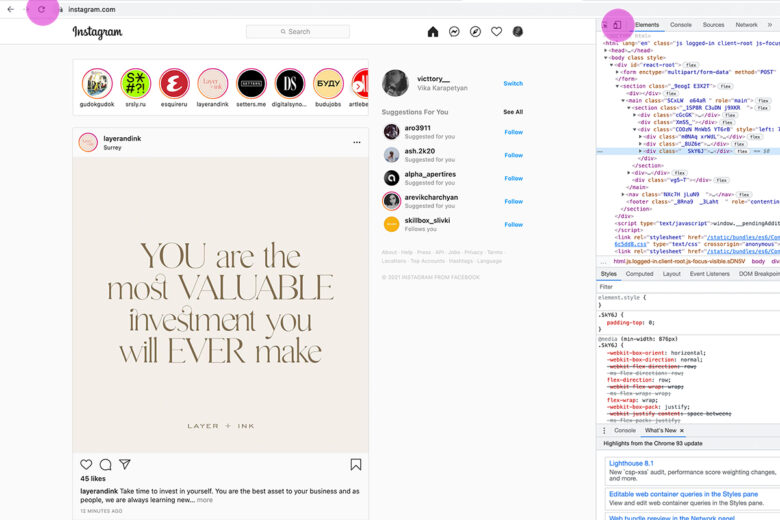 3. Once you've completed step two, refresh your window and close the inspection screen. You should now be viewing the Instagram website on your Google Chrome browser in the mobile version. 
4. To post an image, click the plus sign at the bottom of the screen. Just like the Safari posting process, on Google Chrome, you can't post videos or multiple images.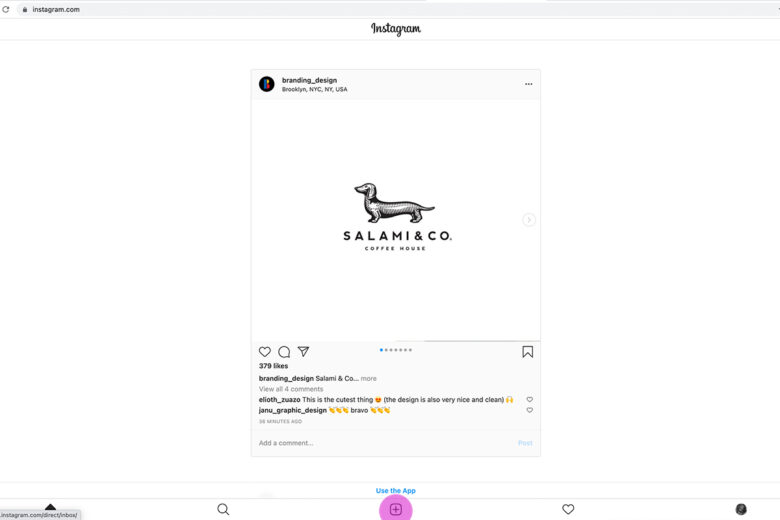 Voila! That's the secret to posting to Instagram from your computer. 
Best Practices For Instagram Posts
Having an awesome photo or video to post to Instagram is a great start, but it's not everything if you're looking to truly up your Instagram game. There are additional best practices for Instagram posts you should be aware of before tapping "Post." Check out our list of best practices for Instagram posts:
Use relevant hashtags: Using relevant hashtags on your feed posts is one of the easiest free ways to make your post more discoverable across Instagram. Hashtags are searchable and help with discovery, so it's very important to include them in all of your posts. Don't overload your posts with a ton of hashtags though, Instagram only lets you use 30 per post. Instead, carefully take a peek at what your followers and target audience are genuinely engaging with online and select those ones.
Share high-quality content: Okay, this probably seems like a no-brainer, but it really is one of the most important things to remember! If your posts aren't well lit, high resolution, thoughtfully laid out, and easy to view, people are going to scroll right past them. When your high-quality photos and videos appear in an IG user's Explore tab, they'll be more likely to click through and double-tap for a like if the image or video looks great. Make sure your image is sized correctly, or resize it if needed, before uploading. 
Write compelling captions:

Once you've got the perfect visuals, it's time to work on a winning caption. You want to write something compelling that will drive IG users to like and comment on your post. Extra points if they're sharing and saving your post, too! To write a compelling caption, put your most important information and keywords within the first 125 characters of your caption to keep it above the fold. After that, Instagram will cut off the caption to say "See More." Use your caption to tell a story, ask questions, or drive your followers to something actionable. And of course, use emojis! When done right, emojis can draw in users and get them to stop the scroll and read your post.
Post content that other Instagram users will want to reshare:

Likes and comments are great, but having your post shared across multiple accounts is what will make it go viral! If your content is engaging and relatable, your followers will be more likely to share it to their profile, story, other social platforms, or get included in blogs. That's a whole new set of eyes on your posts and profile! When creating content, ask yourself if you'd share this as well. If so, post away.
Use location tags:

Tagging your location will help your content be discoverable by people looking at that location. It also helps tell the larger story of what your post is all about. This is a great tool for whether you are posting casually on your personal account, or professionally for your business or brand.
Tag relevant accounts on your post, and encourage others to tag you, too:

Tagging another Instagram user in your post or story will encourage them to share your post and engage with your content. This opens you up to exposure within their following. Just make sure if you are going to tag someone that it is relevant to them. A tagged account can always untag itself from your post. You'll want to ask other users to tag you in their content (both stories and feed posts) when it makes sense. Their followers will be able to see your account tagged, and they'll be more likely to tap through and head to your Instagram profile to see what you're all about as well! 
Design Awesome Instagram Posts with Picsart 
Now that you know how to post on Instagram, it's time to kick your Instagram post-game up a notch! If you want to create and design the coolest Instagram posts that are guaranteed to get all of the likes, then you need to use Picsart. The Picsart mobile app and web editor have everything you need to level up your photos and videos for Instagram. Whether it's your first picture on Instagram or your thousandth, you need to take a look at all of these options for creating awesome Instagram posts.
1. Open the Picsart app and tap on the + sign at the bottom of the screen.
2. Select the image you want to edit.
3. Tap Effects and Stickers at the bottom of the screen to customize your image.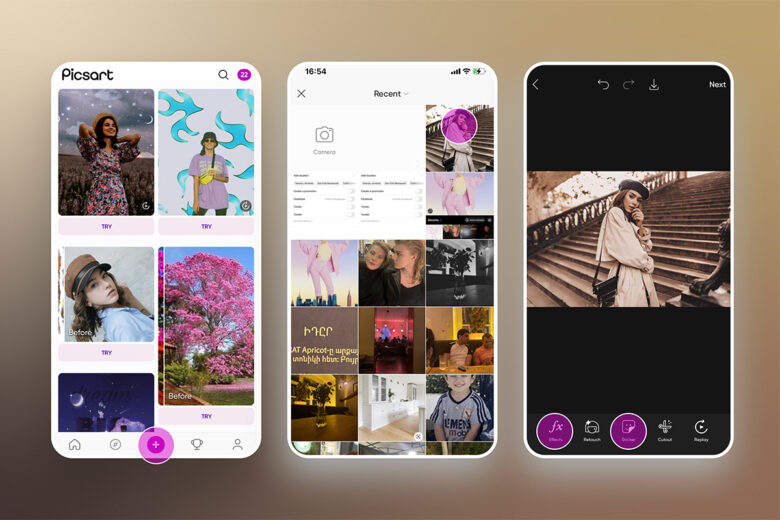 4. To further customize things, tap Masks from the bottom tool bar.
5. Tap Apply at the top right of the screen once you're all done.
6. Tap the downward arrow at the top of the screen to save your final image.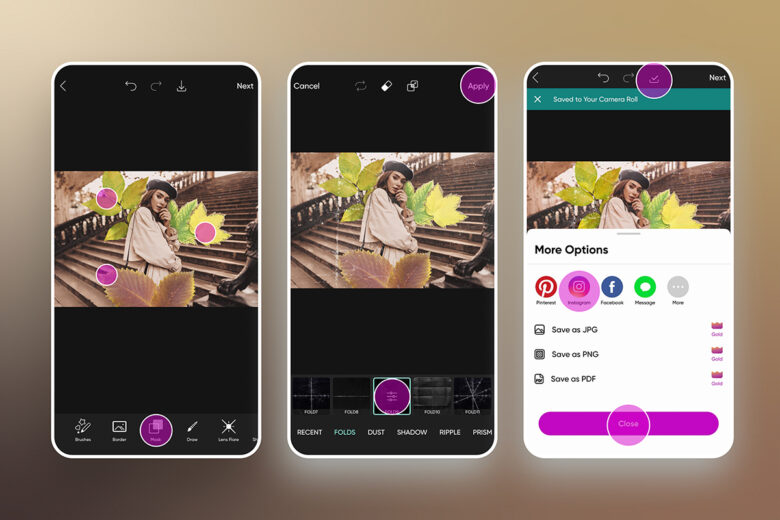 Here are some helpful tips on working with the Picsart software.
There you have it! All of the tips and tricks you need for posting to Instagram can be found on Picsart. It truly is your one-stop shop for creating the best designs and photo edits. Share them to Instagram using the posting guide above, but make sure you share your creations to Picsart, too, to inspire other Picsartists. 
Picsart is a full ecosystem of free-to-use content, powerful tools, and creator inspiration. With a billion downloads and more than 150 million monthly active creators, Picsart is the world's largest creative platform. Picsart has collaborated with major artists and brands like BLACKPINK, the Jonas Brothers, Lizzo, Sanrio: Hello Kitty, I am a Voter, Bebe Rexha, Maroon 5, One Direction, Warner Bros. Entertainment, iHeartMedia, Condé Nast, and more. Download the app or start editing on web today to enhance your photos and videos with thousands of quick and easy editing tools, trendy filters, fun stickers, and brilliant backgrounds. Unleash your creativity and upgrade to Gold for premium perks!