Have you ever incorporated a photo into a design only to be disappointed that it looks too small, grainy or just plain unusable? Once you learn how to increase resolution of an image, it will become much easier to create cohesive design work.
'Resolution' usually refers to the detail of the photo, and is determined by focus precision, lens quality, and camera sensor pixel count. If you're intending to print your photo, you should also consider factors such as the size, display medium, and quality of the print. The term 'resolution' is often also used to refer to the lens resolving power, pixels per inch in a print, and total pixel count of a digital image.
Image Resolution Explained
Image resolution as the total pixel count of the digital image (the number of pixels per inch) is what you, as a designer, should concern yourself with. Usually, you'll need to increase the resolution of an image, i.e. turn something like a 200 × 200 pixel photo into a 1000 × 1000 pixel photo. This is important because if there aren't enough pixels or a high enough resolution your image will appear low quality or grainy. While it's not easy to improve on a low resolution original, it isn't impossible. We'll start by introducing the terms you'll encounter while attempting to increase image resolution. Broadly speaking, the two key terms are pixel dimensions and image resolution.
Image Resolution Terminology
Pixel Dimensions relate to the number of pixels, along the width and height of your image.
Image Resolution relates to the fineness of pixels in the allotted space. This number is measured in pixels per inch, or ppi. The higher the ppi, the higher your image resolution is. In general, a larger ppi will equate to a sharper, higher quality printed image.
The other two common terms referring to resolution are: DPI (Dots Per Inch) and PPI (Pixels Per inch).
DPI (dots per inch) is a printing term where the dots are physical dots of ink printed in one square inch of a printed photo.
PPI (pixels per inch) is a digital term that refers to the number of digital pixels that appear in one square inch of a digital image (digital resolution on a screen).
Digital image resolution refers to the quantity of visible detail described in pixel dimensions, whereas the horizontal dimension precedes the vertical.
DPI vs PPI
Often, there is confusion between dpi and ppi because cameras create images based on pixels, while printers depict pixels using ink dots. Screen resolution refers to the number of pixels shown on the entire screen of a computer monitor, which depends on a combination of monitor size and display resolution setting. Monitor size usually refers to the diagonal measurement of the screen, although its actual usable area is typically less. An image displayed at full size on a high-resolution screen will look smaller than the same image displayed at full size on a lower-resolution screen.
Rather than the number of pixels per inch, camera resolution is usually the maximum resolution that a digital sensor can achieve. Megapixels are the standard unit used by manufacturers when referring to camera resolution. More megapixels translate to more individual light sensors on the image sensor, higher image definition, and sharper pictures.
Standard Resolution of Images
It's a common belief that almost every image on the web is 72 ppi, and all sorts of myths explain as to why the number 72 was chosen to be the standard ppi for screen. The truth however is, that it doesn't actually matter what pixel density you use online. The ppi value is only relevant when creating images for print. The only value that matters on screen is the actual width by height resolution of the image. For example a 200 x 200 pixels image at 72ppi, 150ppi, and 300ppi will all display exactly the same on the web. And a 3000 x 2000 72ppi image will be much more printable than a 300 x 200 72ppi image.
Also, almost all computer screens are now in excess of 100 ppi, not 72ppi. If you have a 17″ monitor, it is likely you have it set at 800 x 600 pixels, and if you have a 19″ screen, 1024 x 768. You can change the settings but these are optimum for those screen sizes.
Some professional, high-end printers may require images to be up to 600 ppi. Non-professional printers such as inkjet, laser, and other common printers can print images that are at least 200 to 300 ppi and higher. Photographic prints are recommended to be at least 300 ppi. Images for large format poster printing can be around 150-300ppi depending on how close the image will be viewed.
Highest Resolution Possible for Images
The difference between low and high resolution determines whether your design looks fuzzy vs. crystal clear. You need the highest possible resolution or denser image quality for printing and enlarging images. The lo-res images may look great at its normal size (100%), but when we zoom in, they look blurry or pixelated, because you can distinguish each pixel.
Hi-res images are at least 300 pixels per inch (ppi). This resolution makes for good print quality and is pretty much a requirement for anything that you want as a hard copy.
Resolution also helps you figure out how much you can enlarge a photo. This comes in handy when trying to figure out what size you can print something (4×6? 8×10?) and ensure it still looks good. Rule of thumb: divide the pixel size (dimension) of the image by the resolution (at least 300 ppi) to get the maximum print size in inches. So, if your image is 2,000 pixels in length at 300 ppi, then you can print it up to six inches or so (2,000 divided by 300).
Recommended Image resolution for Designer Projects
Whether you're designing invitations for a house party, creating a poster for a gig, or showcasing the menu of a new French patisserie, the following information should help you design files in the right format and prepare for print in the right sizes. The sizes below are the printing standards for posters, business cards, flyers, brochures, and invitations.
Posters
Small posters work best for bulletin boards and are used for concerts, school events, general announcements, etc. The small size does not take up much space. Tip: Try using less pictures and use big, bold letters to help you get your message across. Recommended sizes for small posters are: 11 × 17 inches and 3300 × 5100 pixels.
Medium poster size is great for outdoor advertising. They can be used as advertising material or important announcements for outdoor events. Its bigger size allows you to include more information and also add more graphics or images. Recommended sizes for medium posters are: 18″ × 24″ and 2400 × 7200 px.
Large poster sizes are the most used in the US, for movie posters, trade shows, and decorating. They are great for showing large images and lots of information. Tip: Combine different font sizes and color palettes to capture the audience's attention. Recommended sizes for large posters are: 24″ × 36″ and 7200 × 10800 px.
Flyers
Small flyers include only relevant information and are commonly used to inform about offers and discounts at stores. Recommended sizes for small flyers are: 4.25″ × 5.5″ and 1275 × 1650 px.
Half sheet flyers are equivalent to half a letter-sized sheet and are great for promoting your event, concert, or offer with little information. Make sure to give precedence to essential information by combining different fonts and carefully chosen graphics or images. Recommended sizes for half sheet flyers are: 5.5″ × 8.5″ and 1650 × 2550 px.
Letter flyers enable you to include a lot of information without things looking crowded. You can use them as small event posters, writing out merchandise information, or even as restaurant menus. Recommended sizes for letter flyers are:  8.5″ × 11″ and 2550 × 3300 px.
Brochures
Letter brochure is the most common paper size used in printing and the one most home printers use. It gives you enough space to include a lot of information, as well as images related to your topic. Recommended sizes for letter brochures are:  8.5″ × 11″ and 2550 × 3300 px.
Legal brochure can be packed with lots of pictures, graphics and text about your event or product. You can print out a trifold brochure by folding it horizontally, but keep your audience in mind when writing the content. Recommended sizes for legal brochures are: 8.5″ x 14″ and 2550 × 4200 px.
Tabloid brochures are perfect for printing a restaurant menu or maybe even the program for a concert or play. Tip: add full size pictures and images and avoid writing big chunks of text. Recommended sizes for tabloid brochures are: 11″ × 17″ and 3300 × 5100 px.
Tips for Increasing Image Size
The quality of an image doesn't depend solely on having a higher resolution. It depends on the relationship between pixel density and image size – a change in image size will change picture resolution. You have a fixed number of pixels in an image, so changing the physical size of the image will change the number of pixels per inch. Increasing the image size will result in a lower DPI, meaning there are fewer pixels to make up each square inch and the pixels will become larger to fill the space. As a result, your image could end up looking blurry and pixelated.
To avoid pixilation issues, you might want to consider the method of interpolation when extra pixels can be artificially created. In this process the computer analyzes the original pixels and creates new ones based on what it thinks should be there. Interpolation effectively allows you to increase the size of the image, while retaining the same DPI, thus avoiding any pixilation issues. As perfect as it sounds in theory, a computer usually fails to produce a perfectly accurate estimation of the missing pixels. So, consider using interpolation sparingly.
Interpolation is also used in Photoshop to change pixel dimensions by adding or deleting pixels in a process called resampling. With Resampling turned on, you can set a new resolution without the image size changing (or vice-versa) and Photoshop will fill in the missing pixels. Constrain Proportions will mean that the width and height remain at a fixed ratio, removing the risk of squishing or distorting your image. Resampling should, as a rule, be avoided where possible, since it affects the clarity and sharpness of the image.
How to Increase the Resolution of an Image
With Picsart Image Upscale, you can increase image resolution in an instant, without compromising on quality. Trust your photos to Picsart Image Upscale and let AI identify areas within the image that need enhancement and improvement.
Here's how to increase resolution of an image using the Picsart app:
1) Open the Picsart app and tap on the purple plus sign.
2) Upload the image you want to resize (or choose one from the free stock image libraries) and tap on Tools.
3) Tap on the Resize tool.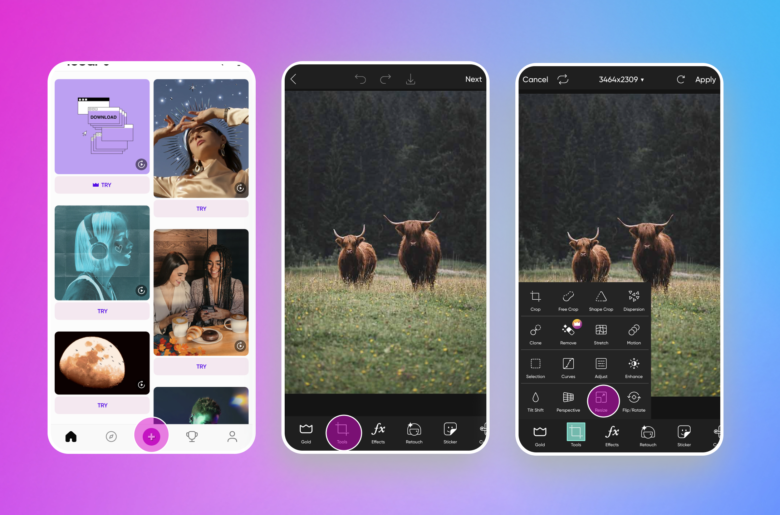 4) Input your desired width and height values and tap on Next to save or share your newly resized image.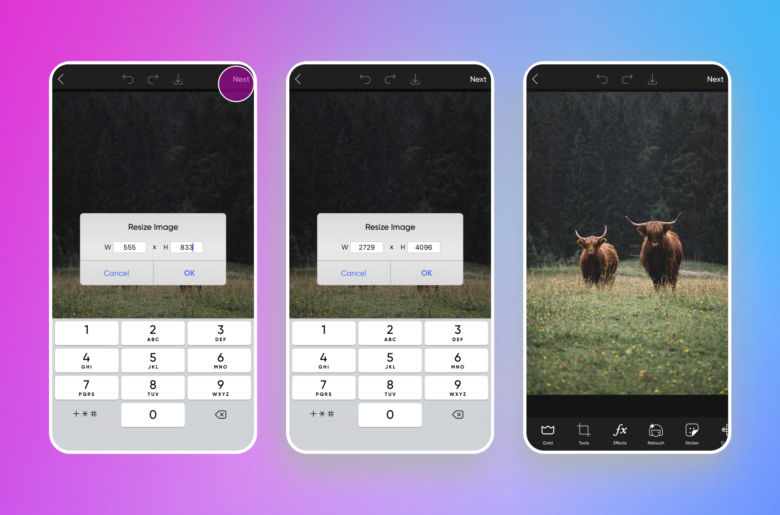 Here's how to increase resolution of an image using Picsart Web:
1) Open the Picsart Resize Image tool.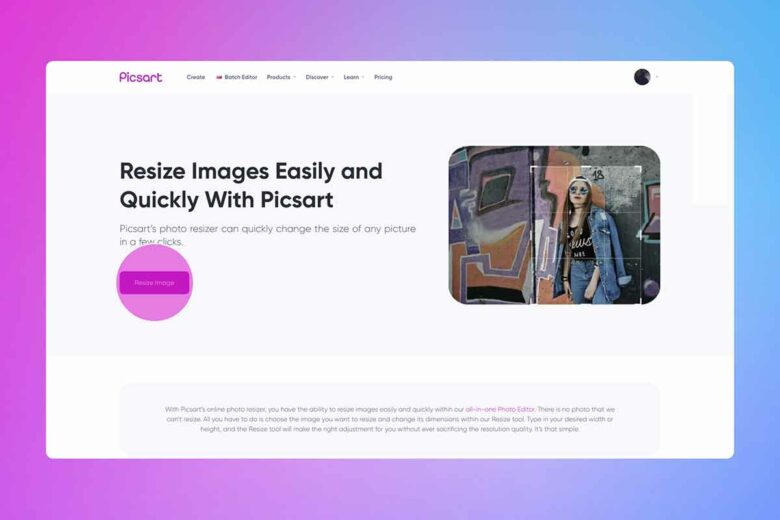 2) Upload the image you want to resize or choose from the stock libraries.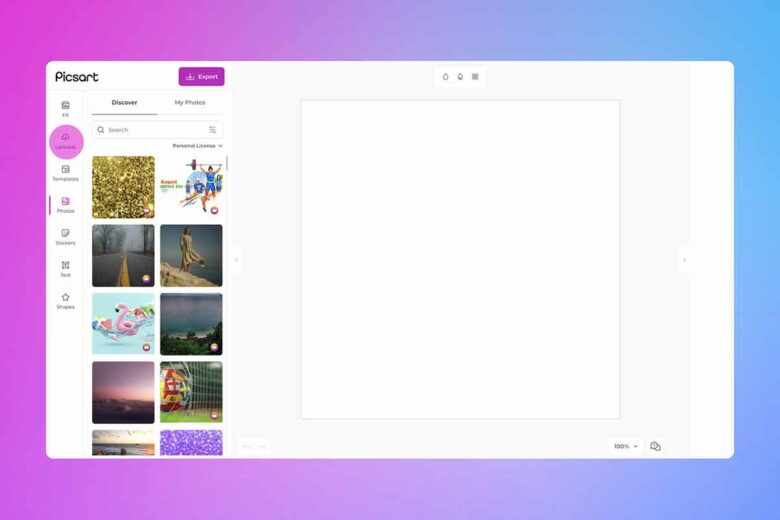 3) Using the Fit tool, input your desired new image size width and height values.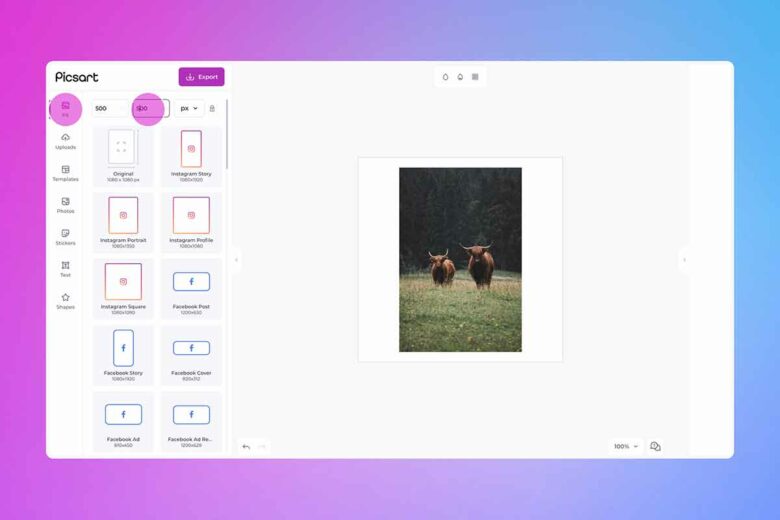 4) When you're done, click on Export to save or share your work.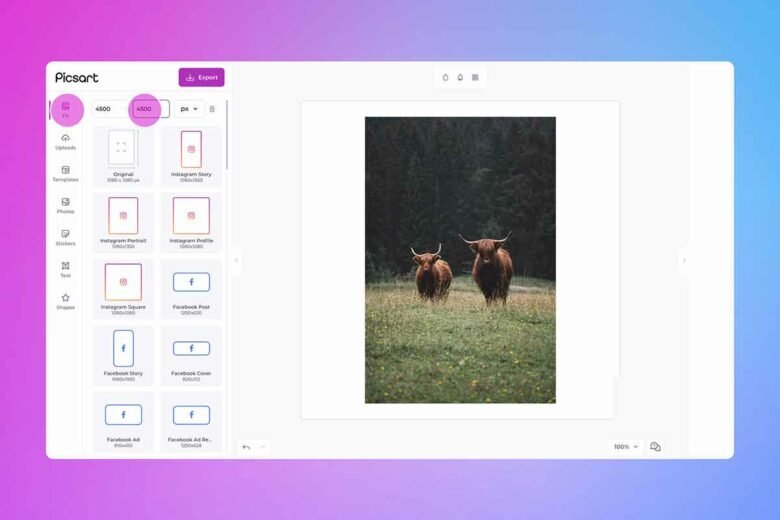 Picsart is a photo and video editing platform and creative community. A top 20 most downloaded app worldwide with over 150 million monthly active users, its AI-powered tools enable creators of all levels to design, edit, draw, and share content anywhere. The platform has amassed one of the largest open-source content collections in the world, including photos, stickers, backgrounds, templates, and more. Used by consumers, marketers, content creators and businesses, Picsart tools fulfill both personal and professional design needs. Picsart has collaborated with major artists and brands like BLACKPINK, Taylor Swift, Lizzo, Ariana Grande, Warner Bros. Entertainment, iHeartMedia, Condé Nast, and more. Download the app or start editing on web today, and upgrade to Gold for premium perks!