International Women's Day (IWD) is celebrated every year on March 8th. This year, millions of people worldwide will be called to consider the 2022 campaign theme of "Gender equality today for a sustainable tomorrow." This year's theme celebrates the contributions of women leading the fight against climate change. It also reminds us that we all play a part in building a more sustainable world for future generations. 
As you prepare to celebrate the contributions of women to history and progress, take some time to understand the history of International Women's Day, discover why it's important, explore the achievements of women throughout history, and learn how to create inspiring designs to celebrate the official holiday like this Replay below.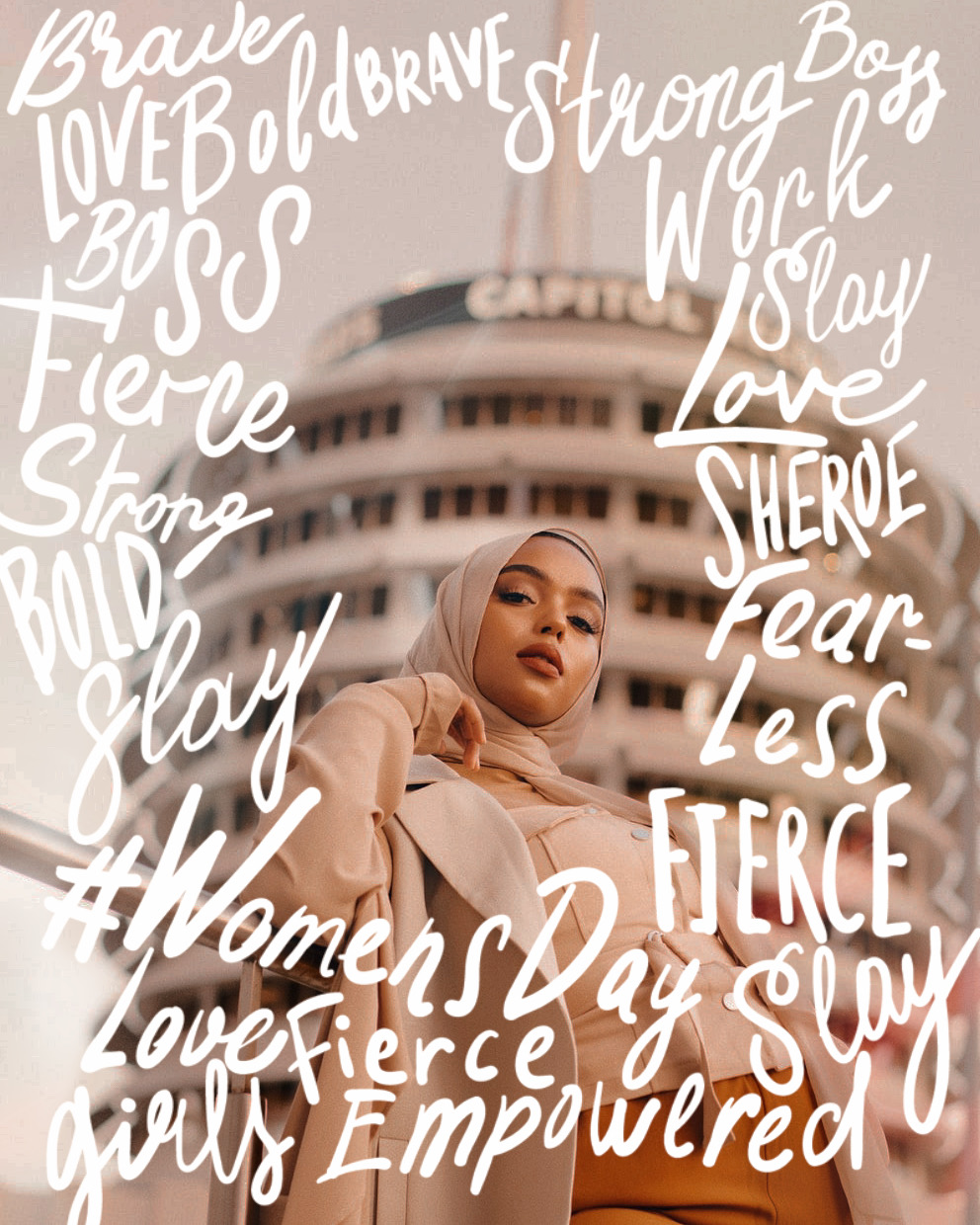 via Picsart
The History of International Women's Day
Before International Women's Day took place, the Socialist Party of America organized the first National Women's Day in 1909. This is now seen as the earliest observance of the cause. 
In 1910, at the second International Conference of Working Women in Copenhagen, Clara Zetkin, the leader of the women's office for the Social Democratic Party in Germany, proposed establishing an International Women's Day. The goal was to establish an annual global day celebrating and pressing for women's rights. More than 100 women from 17 countries unanimously approved this proposal, establishing International Women's Day.
The first International Women's Day was held in 1911. It was a time when women were beginning to become more vocal about advocating for change and equality, especially in the workforce. International Women's Day was recognized for the first time in Austria, Denmark, Germany, and Switzerland on March 19, 1911, when over one million men and women attended IWD rallies promoting women's suffrage, rights to work, improved working conditions, and ending widespread discrimination of women. 
Over the next few decades, the cause expanded into a massive effort that brought about much-needed changes in women's rights. In 1975, International Women's Day was celebrated for the first time by the United Nations. 
And in 2011, the world celebrated the centennial anniversary of International Women's Day. In the US, President Barack Obama proclaimed March 2011 to be Women's History Month and called on citizens to mark IWD by reflecting on "the extraordinary accomplishments of women" in shaping the country's history. In recent years, there has been an increased interest celebrating a day about recognizing women's achievements and inspiring women around the world.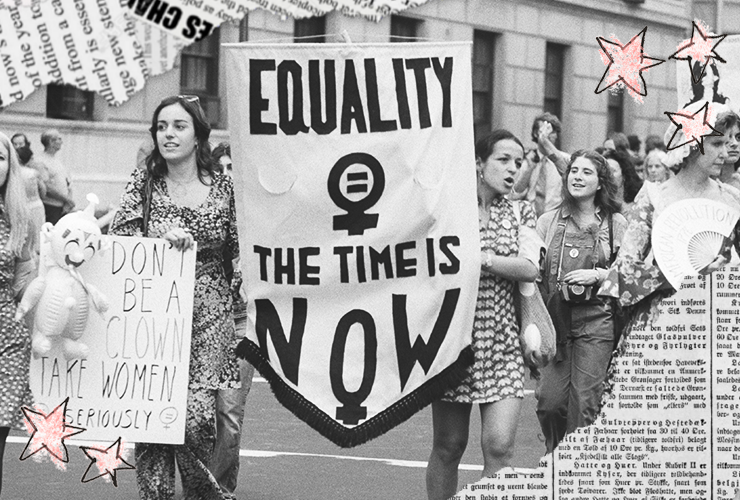 Why Is International Women's Day Celebrated?
Each year International Women's Day is dedicated to celebrating the achievements of women, raising awareness about women's equality, lobbying for accelerated gender parity, and encouraging fundraising for female-focused charities.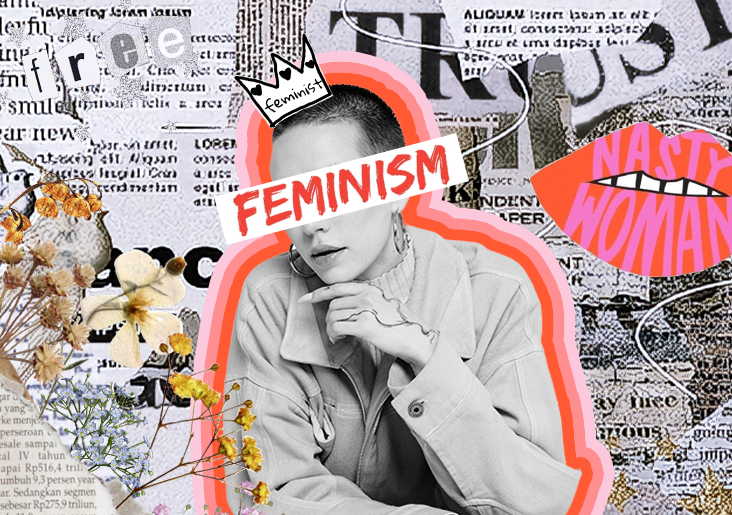 Why Is International Women's Day Important?
Remember the contributions of women to the advancements and privileges we take for granted today

Highlight the discrimination and inequity women continue to face in many areas of society, especially in the workplace

Encourage continued progress towards

gender parity

Bring awareness to global issues women face every day 

Enhance respect for women in all environments

Encourage collaboration on societal issues
Inspiring and Influential Women Artists in History
Frida Kahlo
Frida Kahlo not only brought awareness to Mexican culture but also explored deeply personal existential themes in her sometimes surreal self-portraits. Her political and social leanings also became apparent in her art and her presence in the social scene of the time. Kahlo had a fearless dedication to expressing topics that were not typically shared by women artists at the time.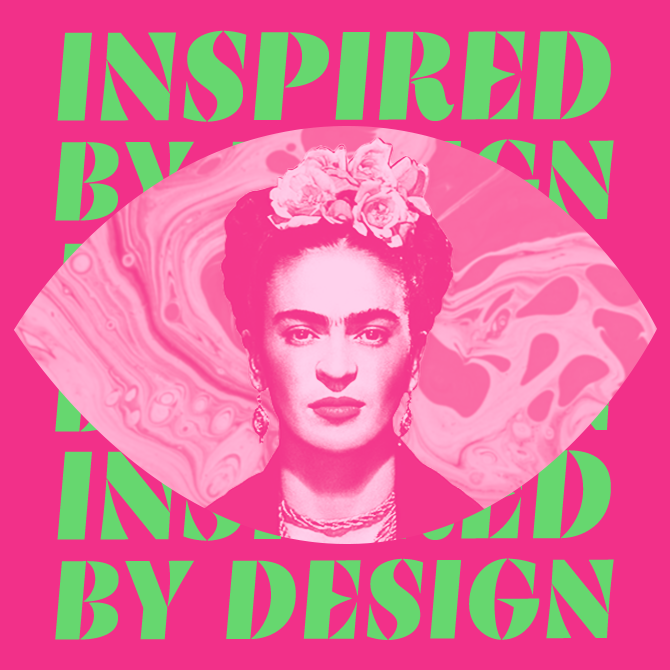 Georgia O'Keeffe
While Georgia O'Keeffe is one of the most significant artists of the 20th century, credited as one of the leaders of the modern art movement, she is often referred to in the context of her — at the time radical — flower paintings that celebrate femininity.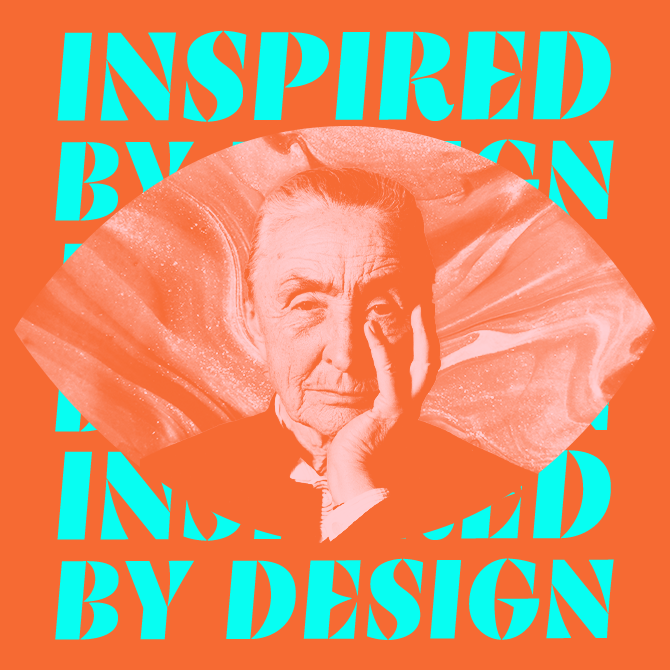 Mary Cassatt
A close friend of Edgar Degas and the Impressionists, Cassatt's art was focused on women and the intimacy of their relationships. The artist was also heavily invested in major women's movements and expressed many progressive feminist viewpoints in her paintings of the modern woman.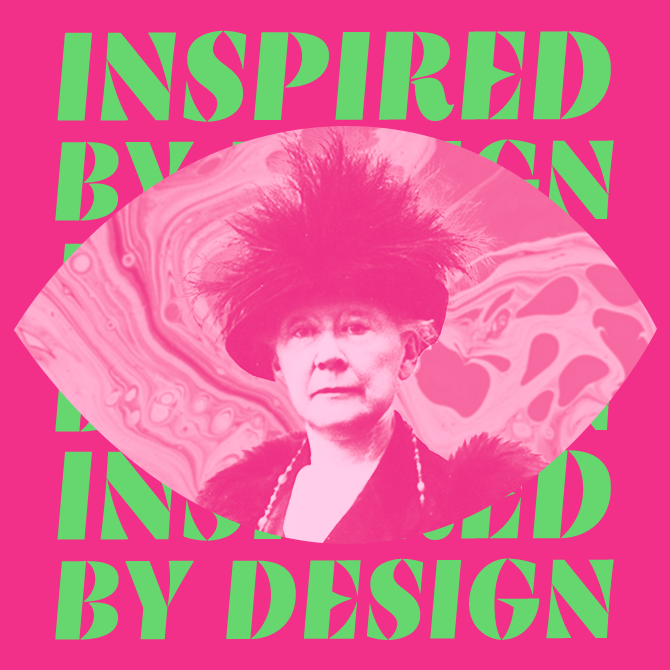 Yayoi Kusama
Kusama's works often explore complex themes of sexuality and mental health. Her larger-than-life and avant-garde works, including her famous polka dot pumpkin sculptures, have popped up in various locations worldwide, often unexpectedly.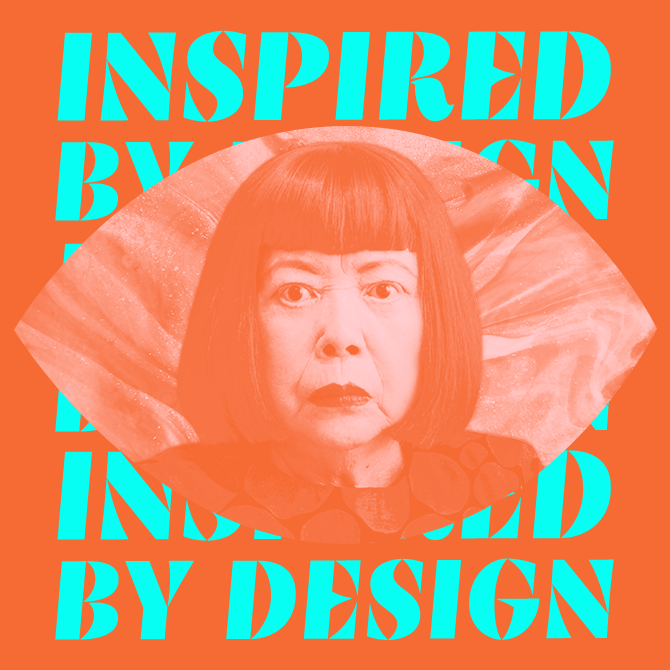 Hilma af Klint
Hilma af Klint's paintings from the early 1900s featured bold, graphic, abstract designs, often exploring deeply complex spiritual themes. Her paintings were so innovative that af Klint refused to show them at exhibitions and demanded that they not be shown until 20 years after her death. The af Klint collection, which inspired later abstract artists such as Wassily Kandinsky, includes more than 1,200 pieces.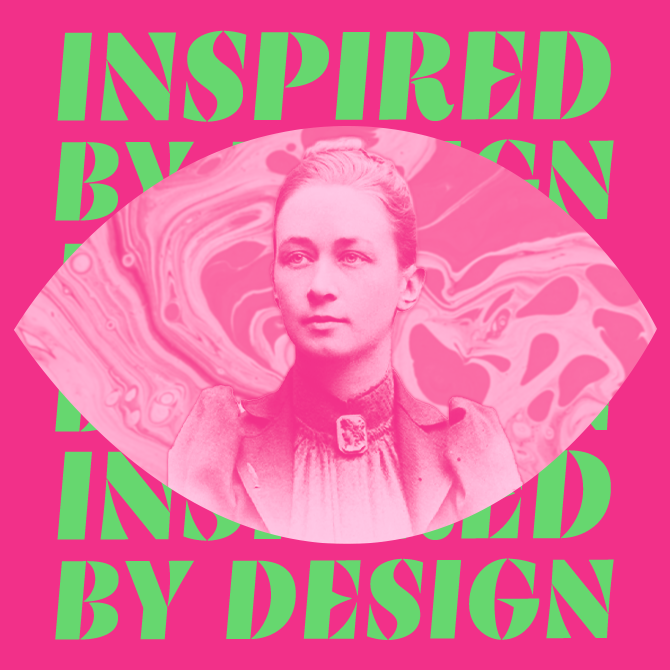 Colors for International Women's Day
Colors carry meaning. But what colors are commonly used in International Women's Day commemorations?
Purple: Often associated with royalty, the color purple is commonly used in International Women's Day designs to represent justice and dignity.
Green: This color represents hope and nature.
White: Signifying purity, white provides a balance to the other two shades.
For other examples of how these colors are used together, check out some of the top used stickers for International Women's Day designs.
Celebrate International Women's Day With Inspiring Designs 
Whether with a powerful quote or a carefully curated collage, you can celebrate International Women's Day by creating a one-of-a-kind design in Picsart. For more inspiration, explore the #WomensDay hashtag to check out what other creators have made in celebration of women's rights and gender equality! To get started in-app, follow these steps:
1) Open the Picsart app and tap on the + icon at the bottom of the screen to start a new edit. You create a custom International Women's Day image or you can explore the many theme templates. In this tutorial, we'll use a template. 
2) Scroll down to Templates, then tap on All Templates and search for Women's Day. Select your favorite.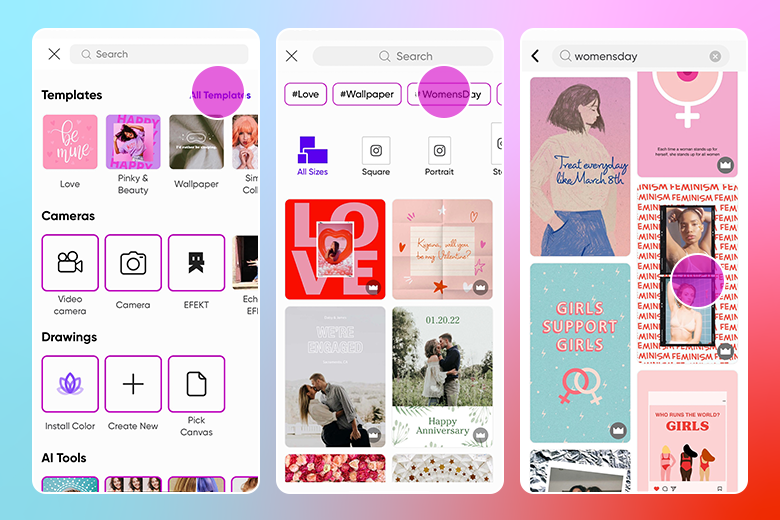 3) Customize your template by tapping on Add Photo in the bottom Editor toolbar. You can upload your own from your camera roll or select one of our Free To Edit photos. You can edit each photo within the template at this step too. Here, we added a glitter overlay by selecting a sparkle image and using the Blend tool to make it look more natural.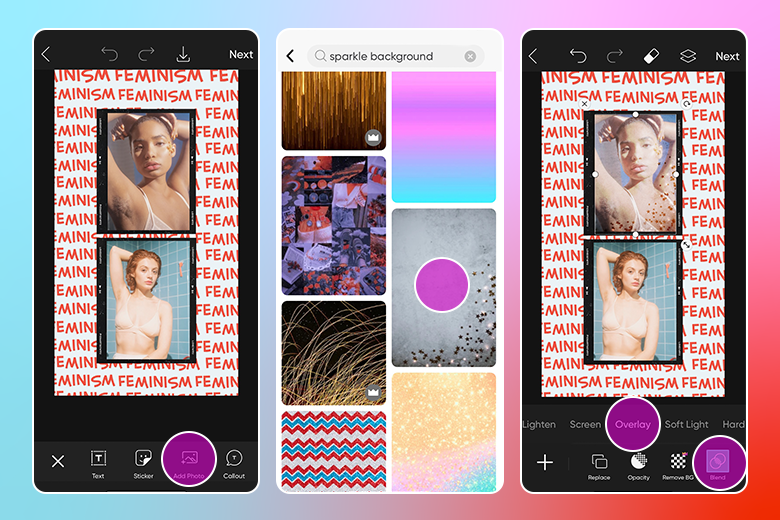 4) Further customize your edit with Stickers, Text, and Brushes to create a cool collage effect. Don't forget to use our new IWD content packs.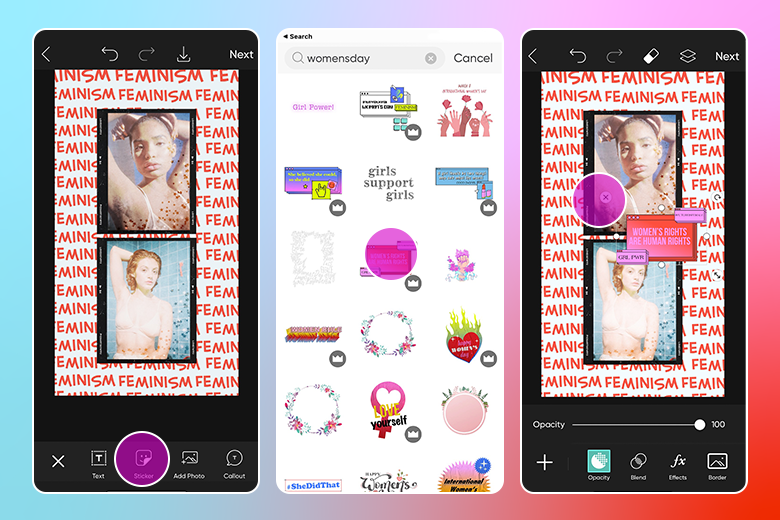 5) When you're done editing, either tap the download arrow icon at the top of your screen or tap on Next for more options to save or share your image. Don't forget to add the #womensday or #IWD hashtags to make your creation searchable when you share it with the Picsart community.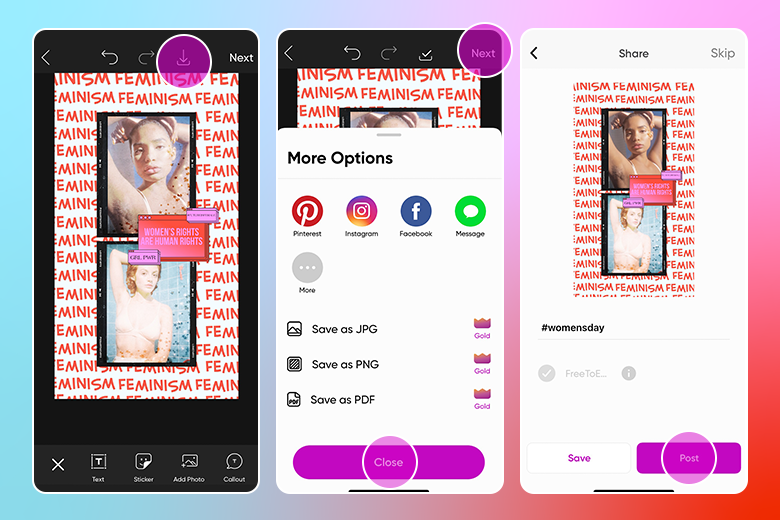 To create with the Picsart web editor, follow these instructions:
1) Open the Picsart web editor and start a new project. Select Templates in the left panel Editor toolbar.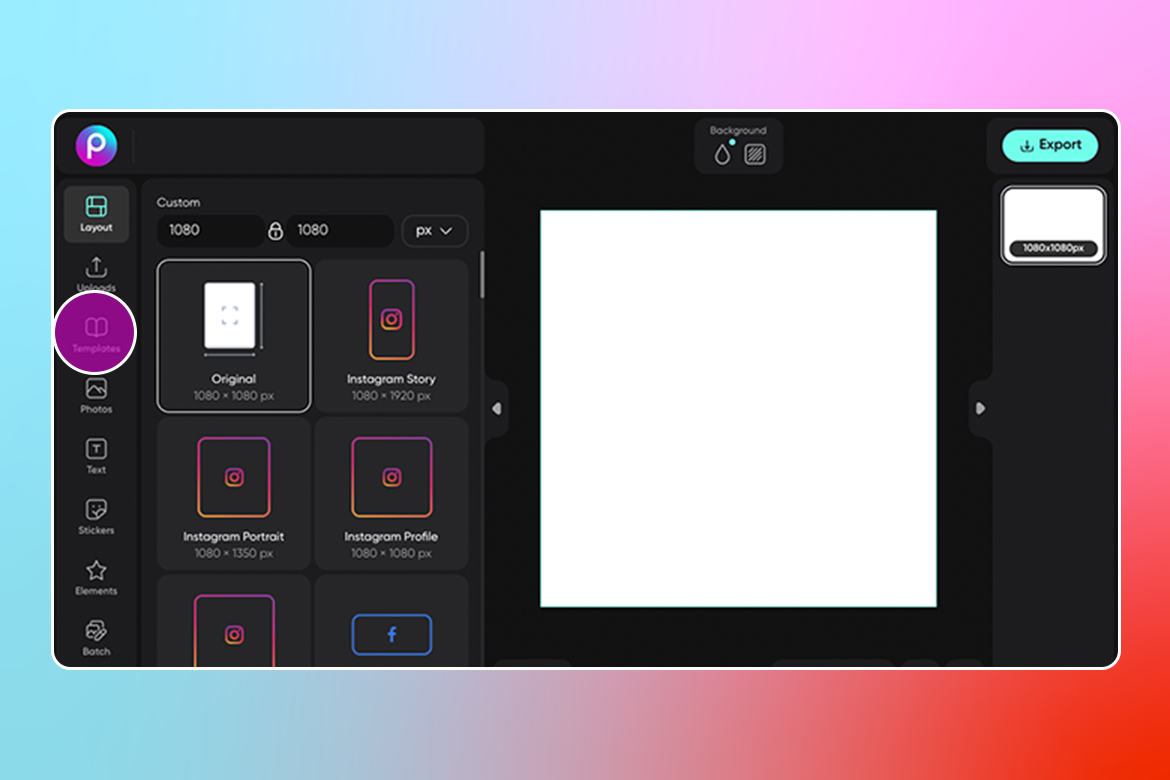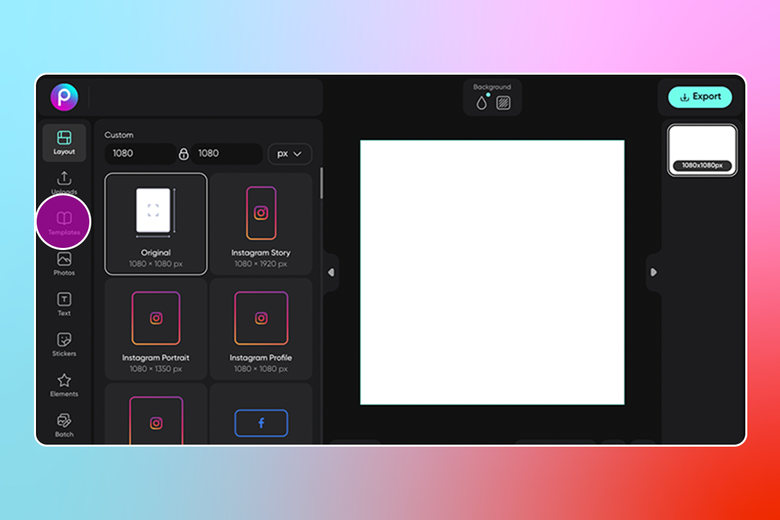 2) In the search bar, type Women's Day or International Women's Day to access our latest celebratory templates. You can also search by image size here.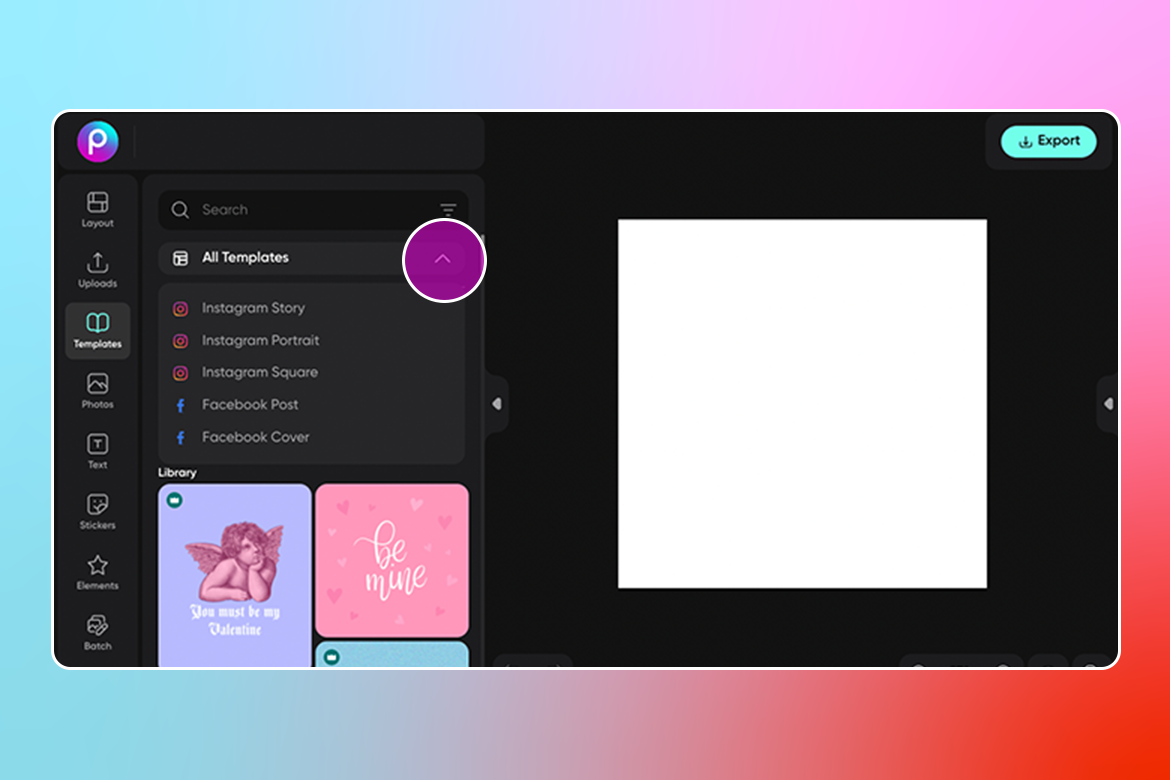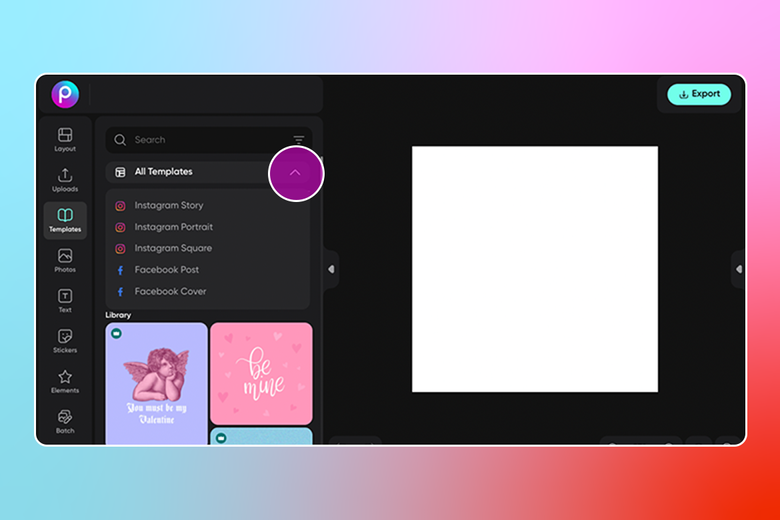 3) Select your desired template that will fit the space you're creating for, whether it's an Instagram story, Facebook cover photo, or blog banner.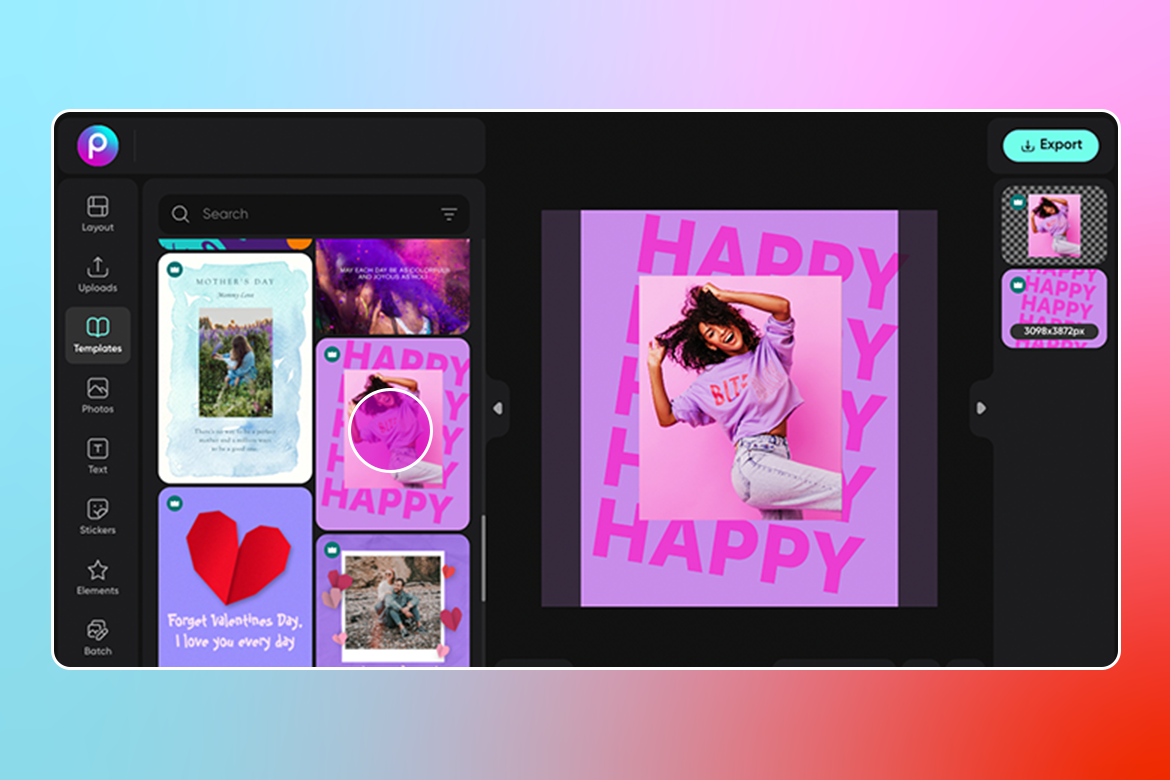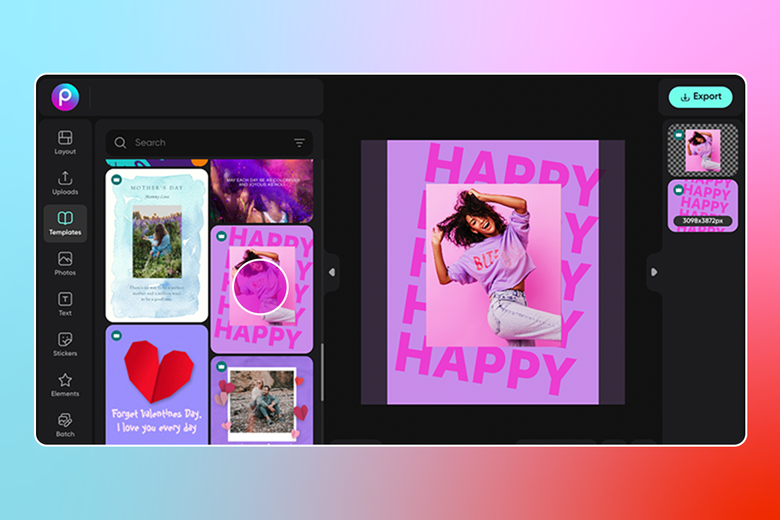 4) Customize your template by changing the picture, text, adding filters, and additional Stickers. Here, we added a polaroid effect to the template. Click on Stickers in the Editor, search for polariod, and reposition it over the image in the template.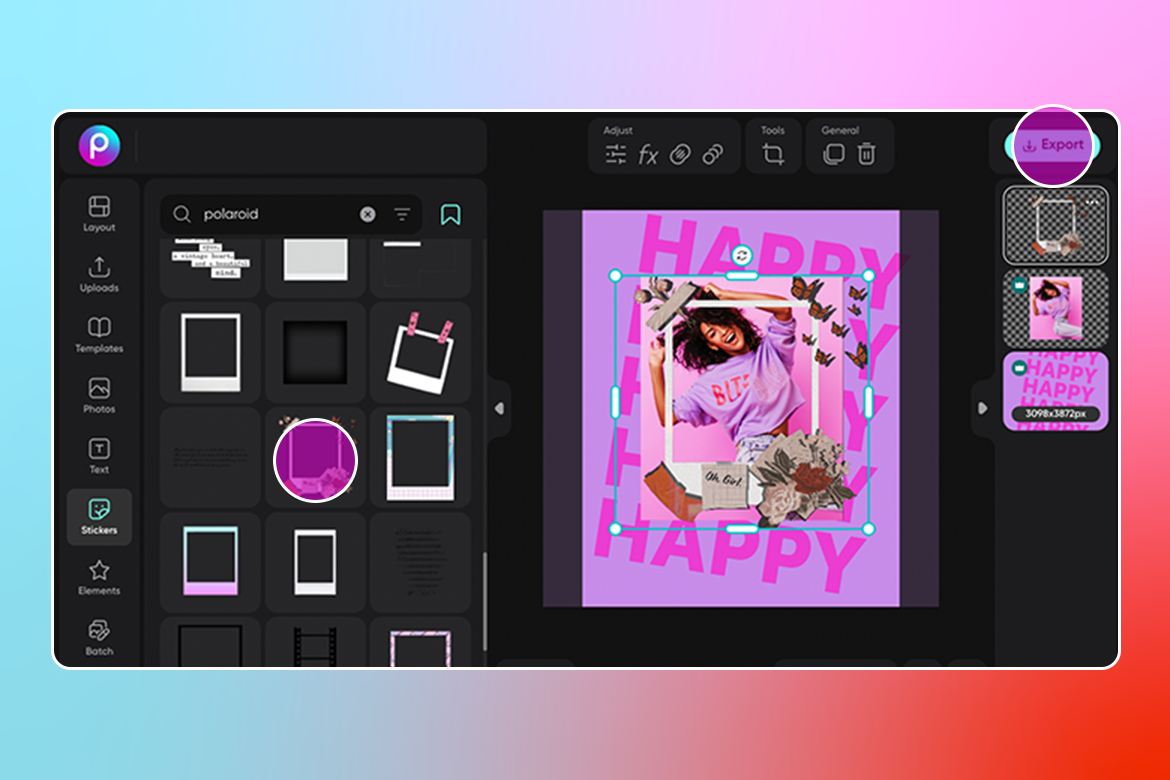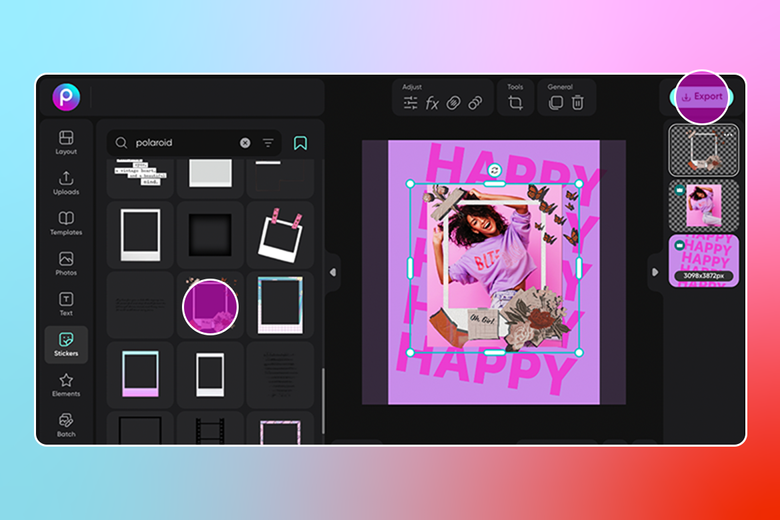 5) When you're ready, either click on the Download icon at the top right of your screen to save your image to your laptop or Share your image with the Picsart community.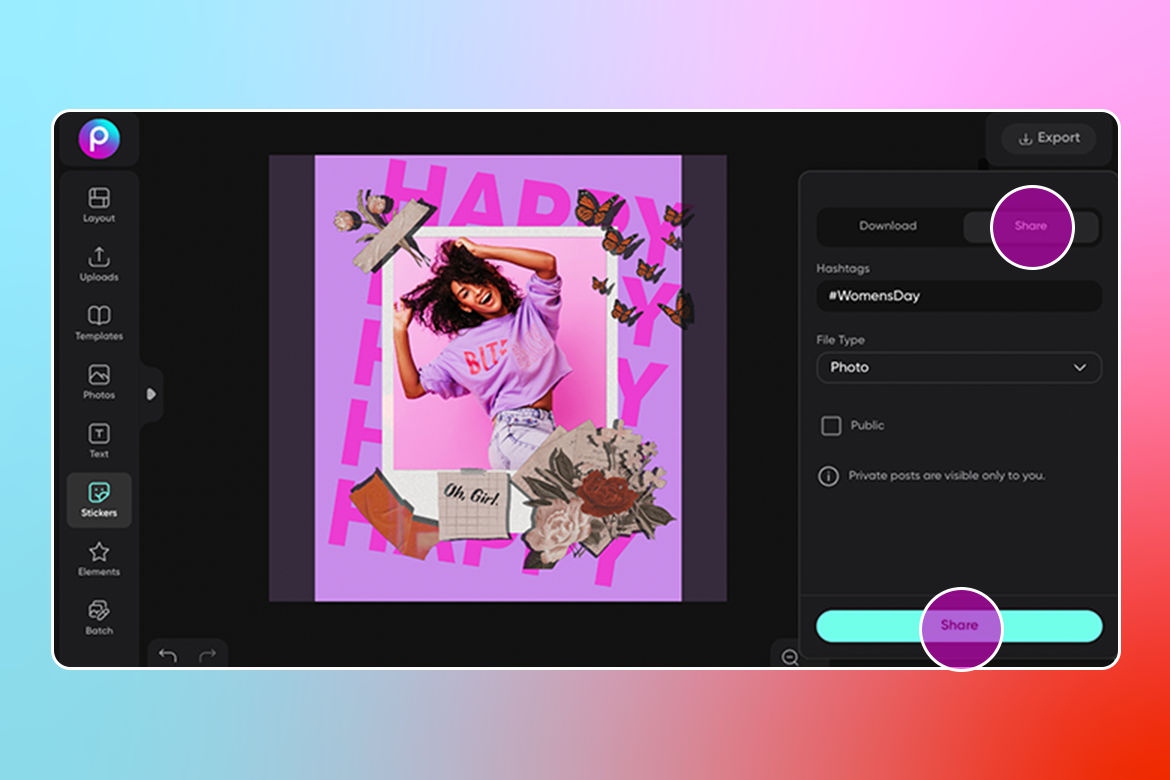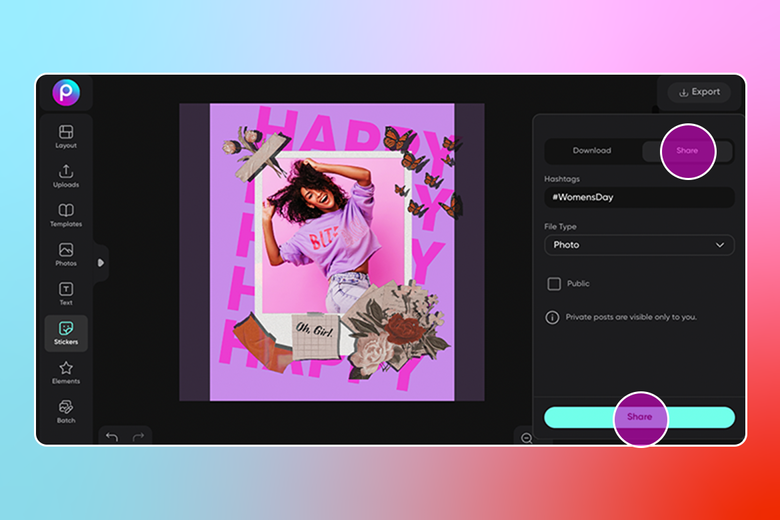 Picsart is a full ecosystem of free-to-use content, powerful tools, and creator inspiration. With a billion downloads and more than 150 million monthly active creators, Picsart is the world's largest creative platform. Picsart has collaborated with major artists and brands like BLACKPINK, Taylor Swift, the Jonas Brothers, Lizzo, Ariana Grande, Jennifer Lopez, One Direction, Sanrio: Hello Kitty, Warner Bros. Entertainment, iHeartMedia, Condé Nast, and more. Download the app or start editing on web today to enhance your photos and videos with thousands of quick and easy editing tools, trendy filters, fun stickers, and brilliant backgrounds. Unleash your creativity and upgrade to Gold for premium perks!