While we live in an ever more digital world, but you can't deny the power of the nostalgia that comes from holding a print magazine in your hands. Digital materials may be more scalable, budget-friendly, and can reach a far bigger audience, but there will always be something special about print. In fact, adding print materials to your digital marketing strategy creates the perfect combination to elevate a campaign, product, or brand to another level. After seeing Facebook statuses and tweets all day, a magazine can be a creative and colorful alternative, and a breath of fresh air to your audience. Let's explore some magazine design elements, specifically magazine cover ideas.
What Should a Magazine Cover Include?
When it comes to a magazine design, some may argue that the cover is the most vital component. 'Don't judge a book by its cover' does not apply in this instance. In fact, most readers will solely judge a magazine by its cover, and may or may not purchase it depending on what the cover looks like. This means that magazine cover design has to be on point. Here are the different elements a good layout should include.
1) Establish a Masthead
A masthead is essentially the magazine's brand or logo, usually displayed at the top of the page. The typeface, font size, and placement of the masthead are usually constant, but the colors may change based on the theme.
2) Use One Main Pop of Color
Using an array of bold colors might work for some designs, but in the case of magazine covers, it's more effective to use one main color. You can use accent colors for other elements to bring the design together. Try a bold red or lime green as the main color with black and white accents for a super attention-getting, refined magazine cover design.
3) Choose a Unique Main Cover Line
Aside from the masthead, the main cover line has the largest font size and will take up about a quarter of the entire cover. This will be the first or second piece of text your reader will see upon glancing at your magazine. Make sure your main cover line is catchy, informative, and aligns with your theme.
4) Choose Appropriate Typography
The typography you choose will have a major impact on your magazine aesthetic. Each font has a unique personality. Serif fonts tend to look luxurious, sophisticated, and aspirational, while sans serif fonts are contemporary, cool, and trendy. Consider your brand's personality and choose fonts that reflect it. Pairing two or three fonts can also add a next-level aesthetic to your cover. Check out this detailed read on how to combine typefaces. Readability is crucial, so make sure your fonts are clearly legible.
5) Sometimes a Simple Layout Is Best
Depending on your magazine topic, you may want to simplify the layout of your cover in order to highlight one or two main elements. For example, if you're designing a fashion or lifestyle magazine cover, you'll want to go with a more minimal design to showcase photos. Choose a cover photo that reflects your theme and style against a simple background, or as the background itself. Don't clutter designs with too much text.
6) Beautiful Photography
A beautiful photograph is indeed worth a thousand words. If you feature a photograph on your magazine cover, it should be high-quality, stunning, and take center stage. Your readers' eyes should be immediately drawn to it. Any text on the cover should only support the photo, not detract from it. Make sure to select the right font color(s) so that your text is legible and aesthetic against your cover photo.
7) Create a Consistent Style
Your magazine cover should have a consistent theme throughout each design element, which should also be reflected from one page to the next. Take note of the following thematic elements to ensure there is consistency throughout your magazine design: color scheme, shapes and graphics, typography, and formatting styles such as page numbers and running headers.
8) Custom Illustrations
While photography can make for a stunning magazine cover, illustrative color can be next-level. A stylish illustration will most definitely make your magazine cover stand out as contemporary, trendy, and design-forward. This is a unique design approach perfect for genres like arts, technology, architecture, and any even special edition or collector's edition publications.
9) Design a Bold Cover
Every element of your magazine cover design should cohesively come together in a stylish, bold aesthetic that will make your reader want to pick up your magazine and flip through it. The goal is to stand out on the shelf or news racks. Avoid a safe design. Take risks and go bold.
What Not To Include in Magazine Covers
Now that you have a solid foundation of what elements to include on your magazine cover, let's go over what you should avoid.
Avoid Cluttering Your Cover
This is a given. You don't want to overcrowd your cover and have your reader spend time deciphering all the information. Keep it legible, clear, and attractive.
Don't Include Irrelevant Text or Graphics
While the content of your magazine may vary, you want to keep a similar theme on the cover to tie it all together. The elements on your cover should connect in a cohesive way.
Don't Obscure Text With Images, Colors, or Graphics
Your magazine cover may include a mixture of different colors, textures, graphics, and fonts. Make sure all text lines are readable and not overshadowed by other elements.
Don't Use Images and Artwork that's Not Yours
This is a best practice you can apply to every design project. Use only your own images and illustrations to avoid copyright infringement issues.
Creative Magazine Cover Ideas
Check out these magazine cover ideas you can draw inspiration from when creating your own.
Minimal Magazine Cover


Sometimes the bare minimum can make the loudest statement for a magazine cover. A clean, easy-to-read, minimalist design approach can have stunning results. You can focus one element on your cover, such as a striking graphic or a bold color, and structure your minimal design around it.

Modern Magazine Cover


A contemporary magazine cover can include modern typography, sharp images and graphics, and white space around your elements for a refined look. Your end design should look stylish and forward-thinking.

Portrait Magazine Cover


A portrait magazine cover has one high-quality photograph as the emphasis. Whether it's a model, a celebrity, or any other subject, the portrait should be strong and connect with the reader on a visual level.

Simple Magazine Cover


Sometimes, the best magazine cover idea is also the simplest. Keep things to a strong focal point, balancig image and copy with a clever use of color and shade.

Vibrant Magazine Cover


Wow readers with a vibrant background color like neon orange, lime green, or fiery red. This will make any passerby curious enough to take a second glance and possibly pick up your magazine. This approach is the ultimate attention-getter.

Retro Vintage Magazine Cover


Depending on your magazine genre, you can design a cool retro vibe for a super unique cover. Feature vintage elements from the older magazines to spark some serious nostalgia.

Texture Magazine Cover


Similar to a vibrant background color, a bold texture can be just as effective in catching your readers' eyes. Try a lively texture, such as animal prints or other elements in nature that will instantly energize your reader.

Travel Magazine Cover


Perhaps an obvious one, but a travel magazine cover should highlight a particular destination you are featuring inside of your magazine. With a high-quality travel image or illustration, you can instantly transport your reader to your featured destination.

Fashion Magazine Cover


Fashion magazine covers almost always feature models versus the clothing or accessories themselves. A beautiful model featuring a designer brand can elevate your cover and attract way more readers. The image should be on-theme, fashionable, and aesthetically pleasing.

Artistic Magazine Cover


Whether it's a graphic illustration or a Banksy painting, your artistic magazine cover should be creative and imaginative. Your magazine cover idea should connect with readers on an aesthetic and stimulating level.
How Do You Make a Magazine Cover?
Ready to trial some of your own magazine cover ideas? Follow these simple steps to make your own magazine cover design with Picsart.
1) Open the Picsart mobile app and tap on the purple plus sign to get started.
2) Tap on All Templates and browse the options.
3) Choose the template you like best and tap on Text to start adding your own copy.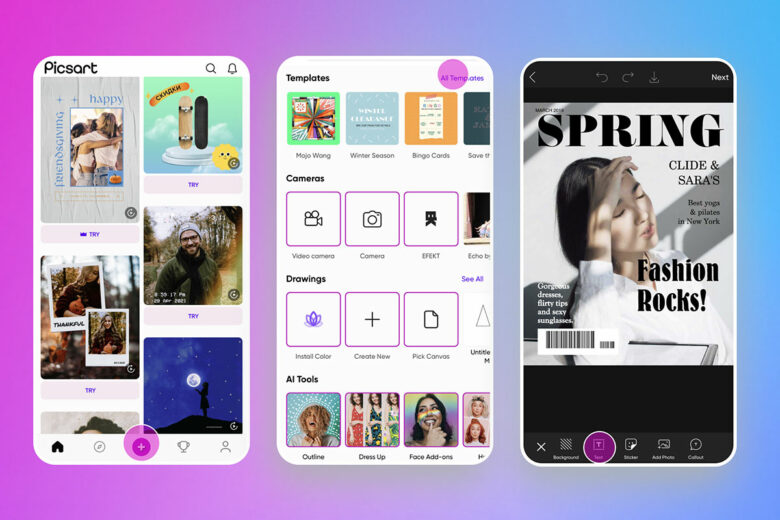 4) Choose your preferred font, to stylize the copy.
5) Further enhance the copy layout with adjustments to shadows, opacity, sizing, and much more.
6) Tap on the Draw tool.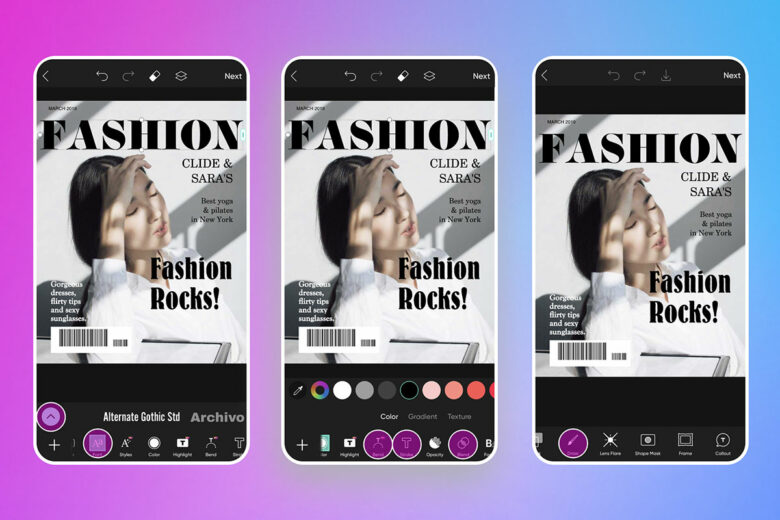 7) Select a shape to add as a graphic element for a particular cover sell.
8) Be sure to tap on Apply to save these edits, and hit Next when you're finished.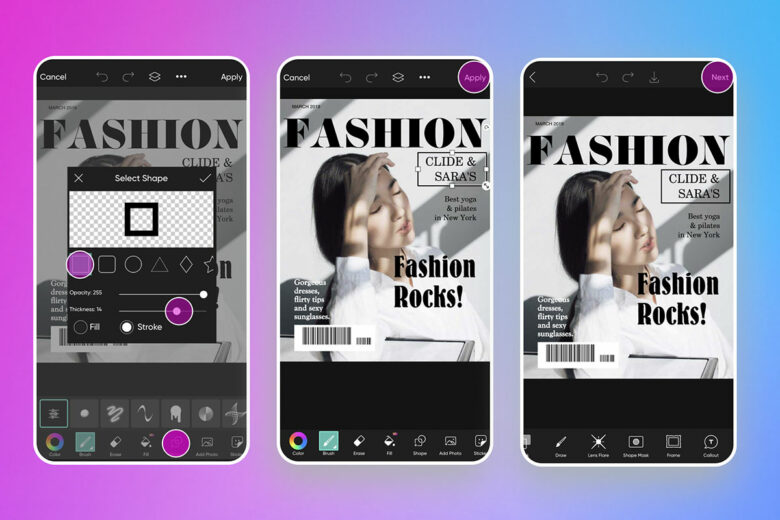 Prefer to create on a desktop or PC? Here's how you do it:
1) Open Picsart Template Editor.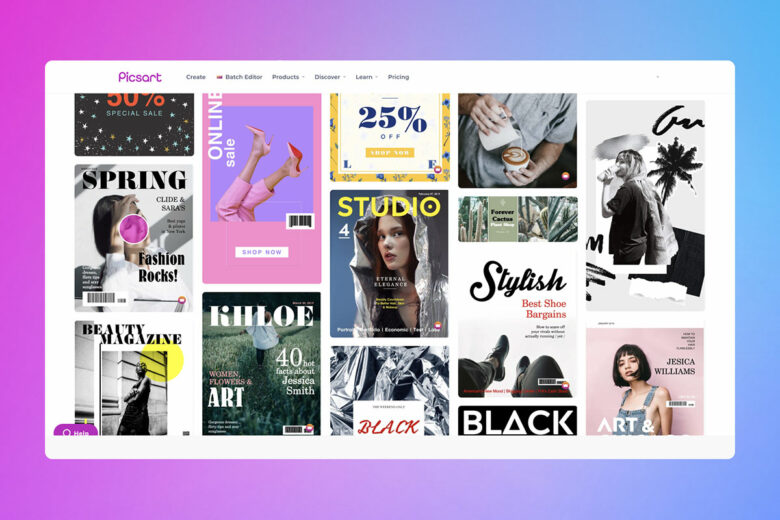 2) Select from Templates, any Free to Edit image, or upload your own image using the top left Upload button.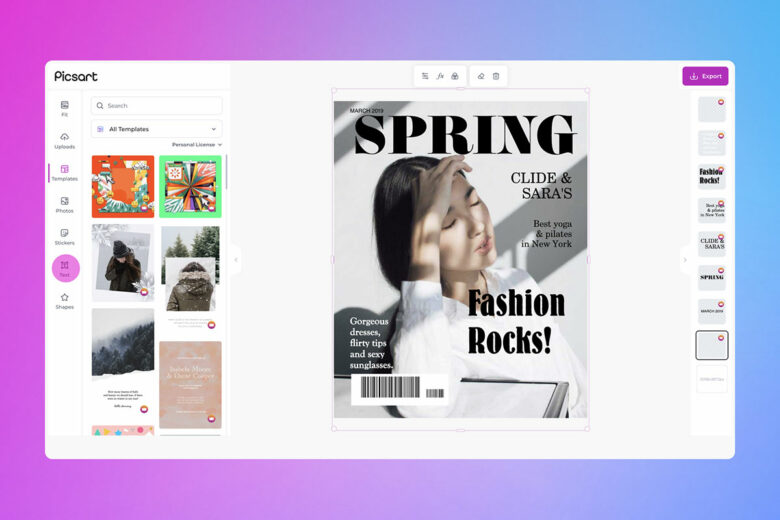 3) Next, add your magazine masthead, subheadings, and other text you'd like to include. Click Text, then type in your text and move the text box to the desired area on your image. Click on Font above the image and you'll see a dropdown of typefaces you can choose from. You can also adjust for size, letter spacing, line height, alignment, caps, and the options to make your text bold, italic, or underlined. Remember to make your masthead and main cover line font size larger than the rest.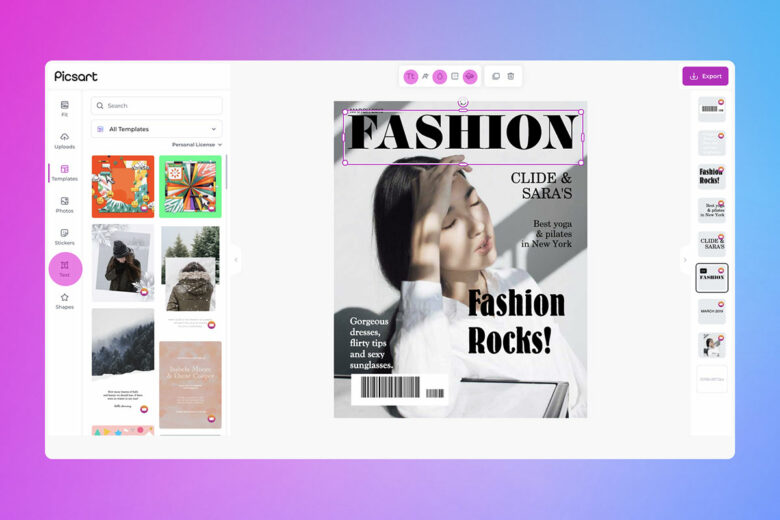 4) Next to the Font option, you'll find Color, Outline, and Shadow. Click into each of these editing tools and adjust your font accordingly. To add additional text, repeat the steps above.

5) Next, select Shapes to create a unique outline for your magazine cover. You can adjust the opacity or overlay it using the control panels. To add additional graphics to your design, click on Stickers and search for your desired sticker.
6) When you're done with your design, click the Export button.
Picsart is a full ecosystem of free-to-use content, powerful tools, and creator inspiration. With a billion downloads and more than 150 million monthly active creators, Picsart is the world's largest creative platform. Picsart has collaborated with major artists and brands like BLACKPINK, Taylor Swift, the Jonas Brothers, Lizzo, Ariana Grande, Jennifer Lopez, One Direction, Sanrio: Hello Kitty, Warner Bros. Entertainment, iHeartMedia, Condé Nast, and more. Download the app or start editing on web today to enhance your photos and videos with thousands of quick and easy editing tools, trendy filters, fun stickers, and brilliant backgrounds. Unleash your creativity and upgrade to Gold for premium perks!