Each month, nearly 75 million people from every country in the world use PicsArt to enhance and share photos. That's a huge group and, collectively, a lot of mobile photo editing.
Over the past month, we took a look at the billions of creative edits on PicsArt and the photo editing tools people chose to trick out their photos for social. Here's an exclusive look at what we've found.
Top Photo Editing Trends
The PicsArt community has created some breathtaking — and quite technical — photo editing techniques and remixes that are building into trends. The top trends we're seeing include the anti-selfie, which is all about subverting the popular selfie fad and using creative tools to remove the subject's face with clouds or some other image. Surrealist gate is also a new and popular technique used to make images feel expansive — suggesting the infinite possibilities of what's to come. Finally, the edge of the world is one of our favorites because it shows the power of the PicsArt photo editor to transform an ordinary landscape into an eye-catching surrealistic creation.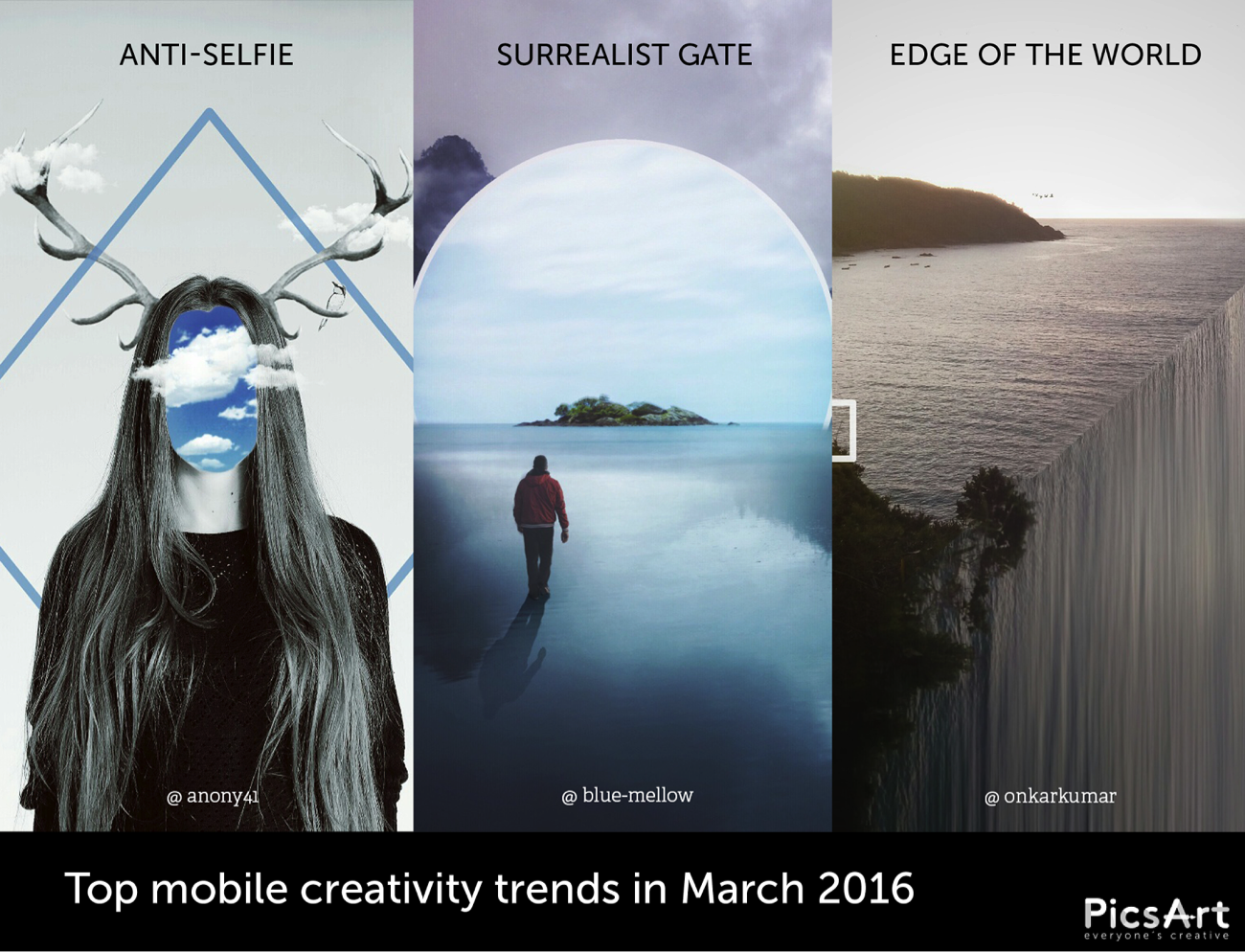 The images above are creative techniques that we're seeing and find notable. But it's also interesting to look at popular creativity effects people are using. In March, the hottest photo effects were Warm Color, Color Splash, Blemish Fix, Fattal 1 and Color Replace. Maybe it's our recovery from winter that's inspiring us to make things warmer and more colorful? And of course, who doesn't want to fix that glaring blemish?
Top Photo Effects
Below is a snapshot of the photo effects that grew the most in popularity last month.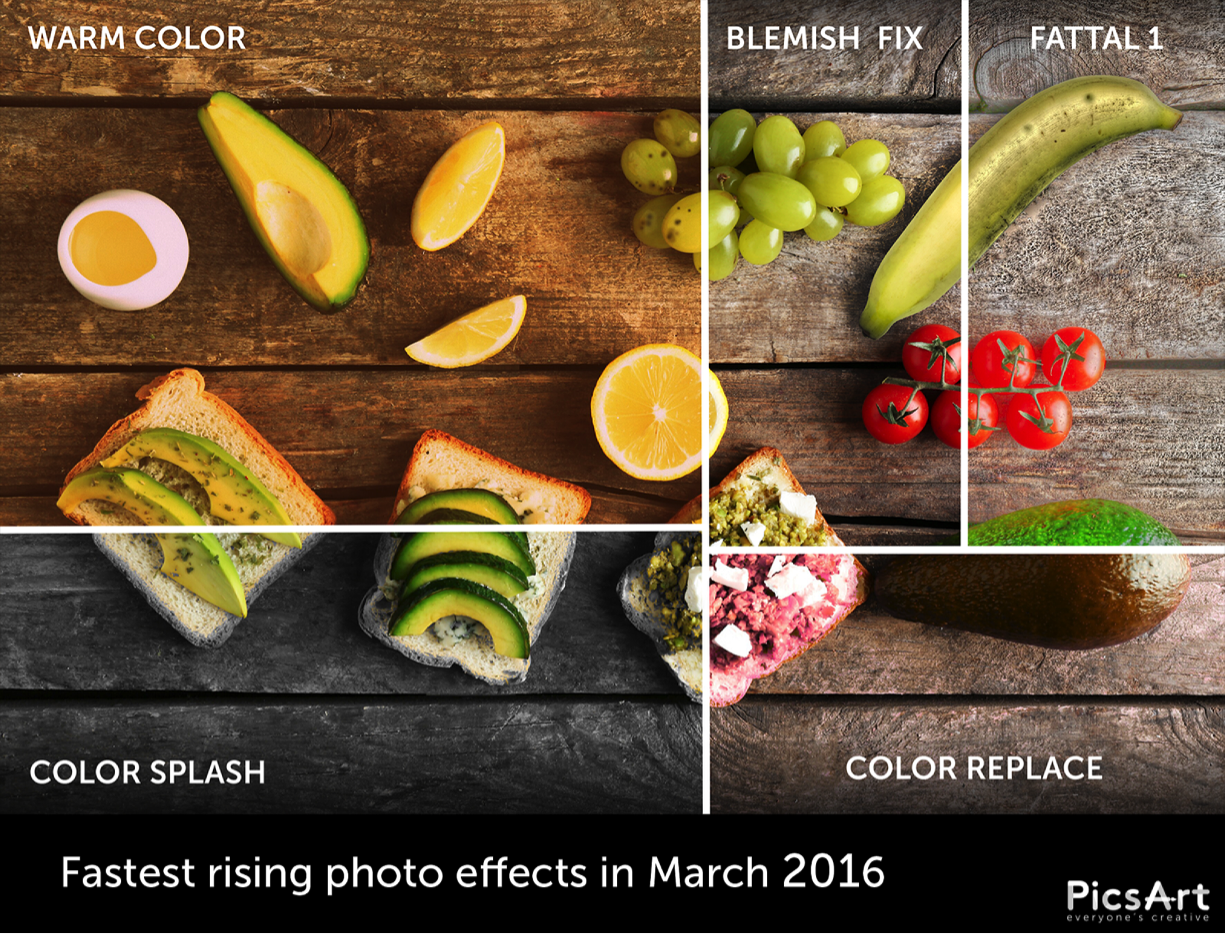 We have to admit, we don't know why the Fattal Effect has been popping up all over social channels recently — but it's a cool way to enhance a photo, so there it is. Have at it.
The most used photo effects are pretty different. See below for a snapshot of the most popular effects people used to get creative in March.
Global Mobile Creativity Trends
Another interesting trend we spotted is that people are editing and sharing images at a similar rate pretty much everywhere. The size of the circles in the image below represent the average activity per user in each location. You might think that countries like the US and India would have substantially more uploads (again, on average per-person); however, it turns out that uploads are relatively consistent across the globe.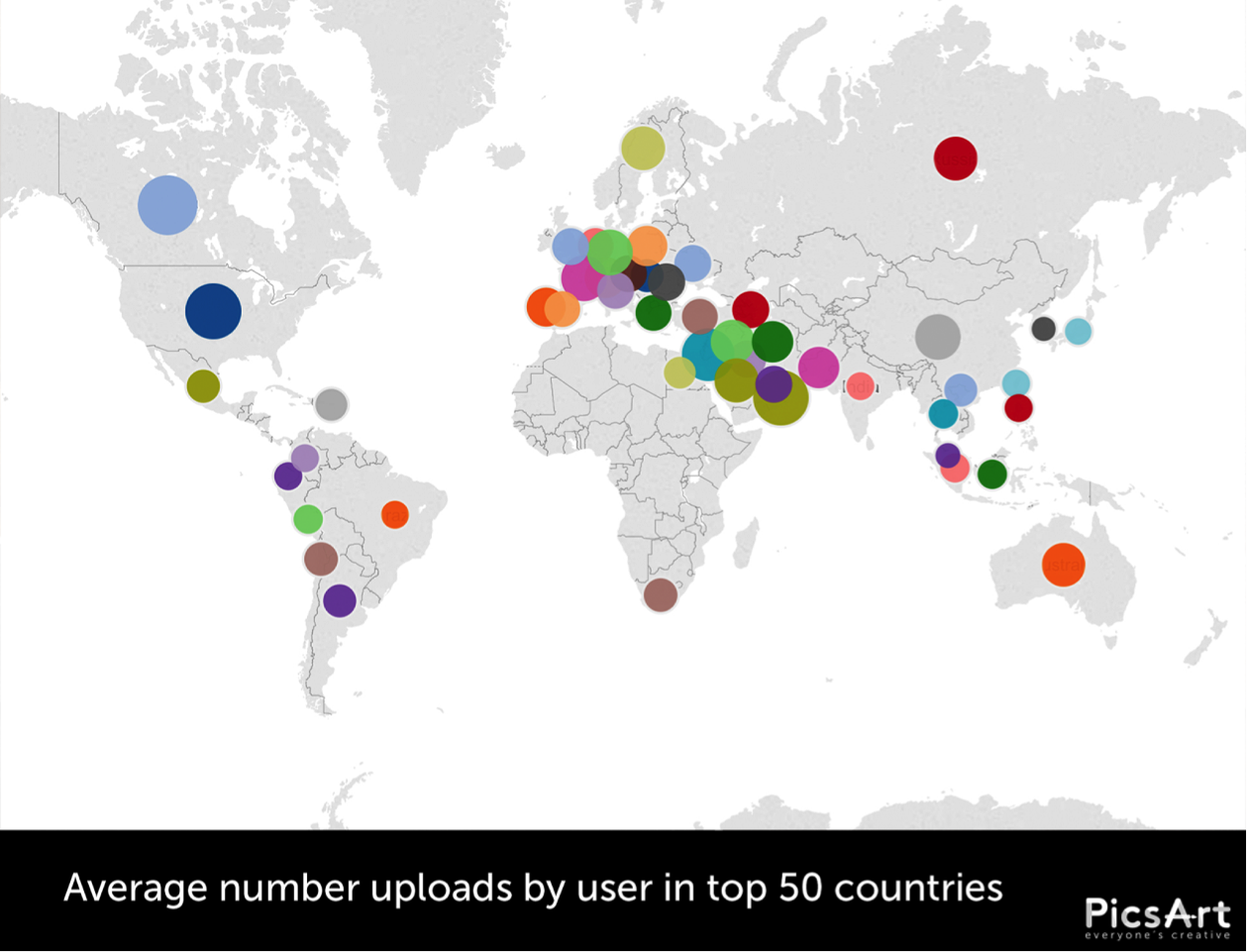 It may seem like we're stating the obvious, but the mobile creativity trend "has arrived" and this chart proves it.
Of course no trends report would be complete without naming the winners, right? The graph below shows the most active mobile photo editing countries — and yes, the United States is way at the top with United Kingdom, Indonesia, Russia and the others closely following. Take a look below: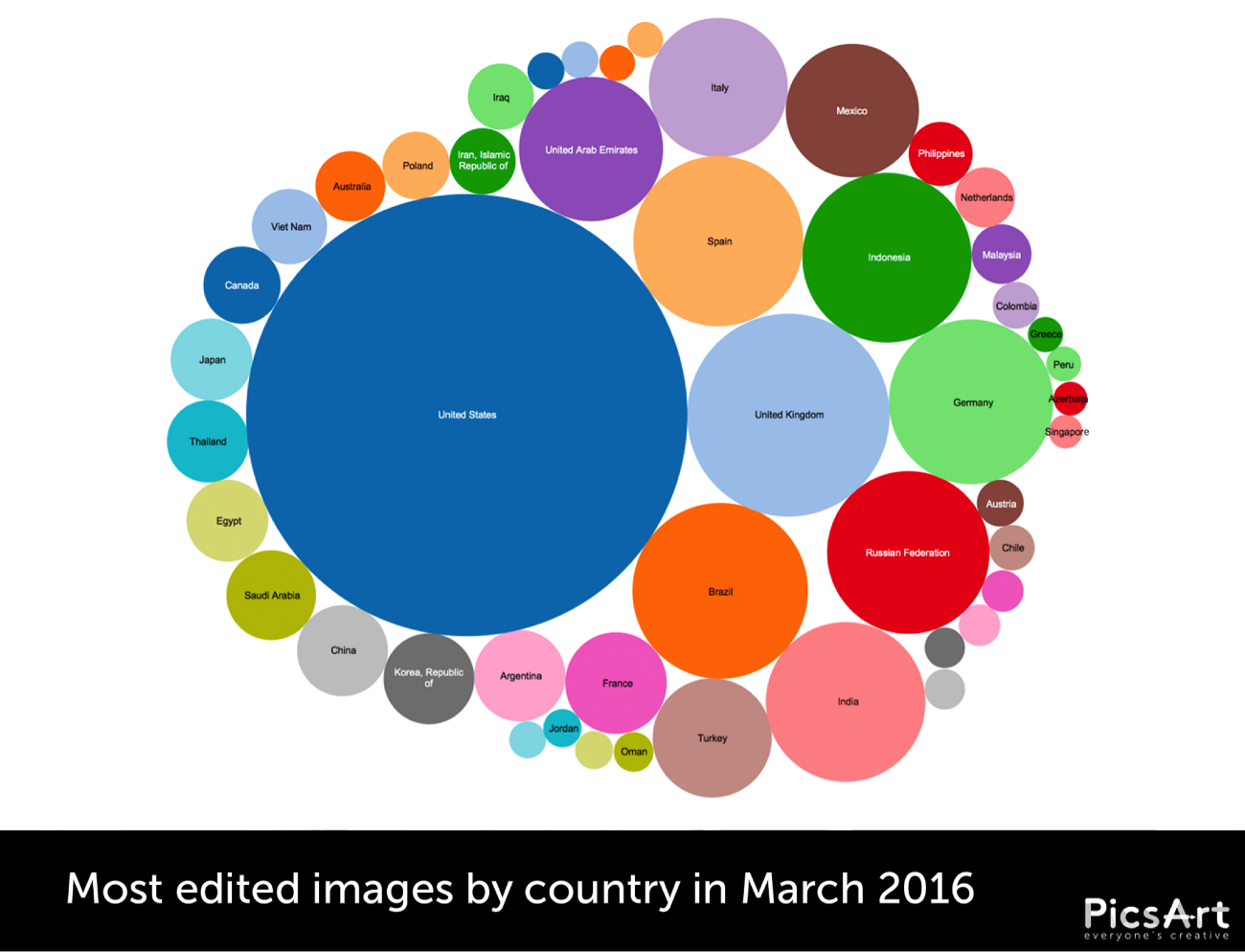 And these are the mobile creativity trends we saw last month and if you want a high-res version of any of the images above you can find them here.
At PicsArt, we aspire to open a new window into the popular and up-and-coming trends in mobile creativity from all over the world. We hope you find inspiration in what we've found to create and to be creative.
Thanks and stay tuned for our next edition of the Mobile Creativity Report from PicsArt.