Want to add some vibrancy and life to your designs? Neon green is an easy way to add an electric pop to images without going overboard. But be warned – this is one seriously bright color so it requires some knowledge before diving in. That's where we come in. Here you'll learn everything you need to know, from the color code to how to make it. There's also some neon green color palettes included for inspiration, so that you can better understand how to work it into your designs.
Neon Green Color Code
The neon green color code is #39FF14. This code is its hex code, which is how colors are identified for use in HTML, CSS, and SVG. It's what differentiates neon green color from other shades of green in design. Make a note of the code for use later.
How To Make Neon Green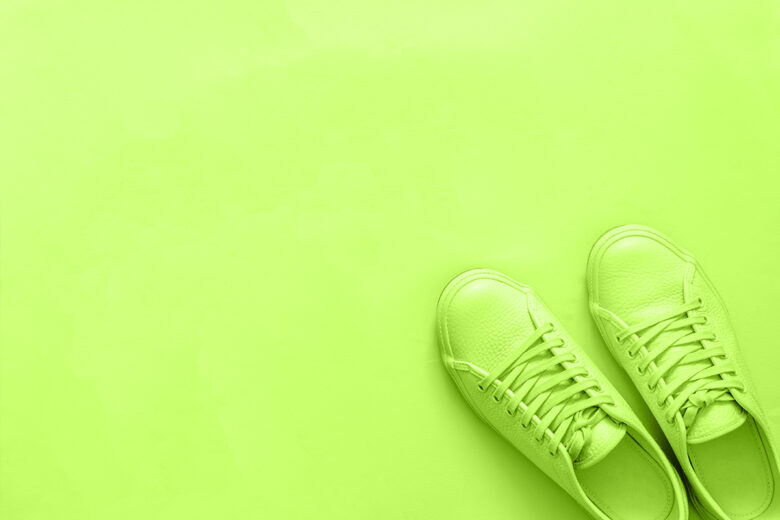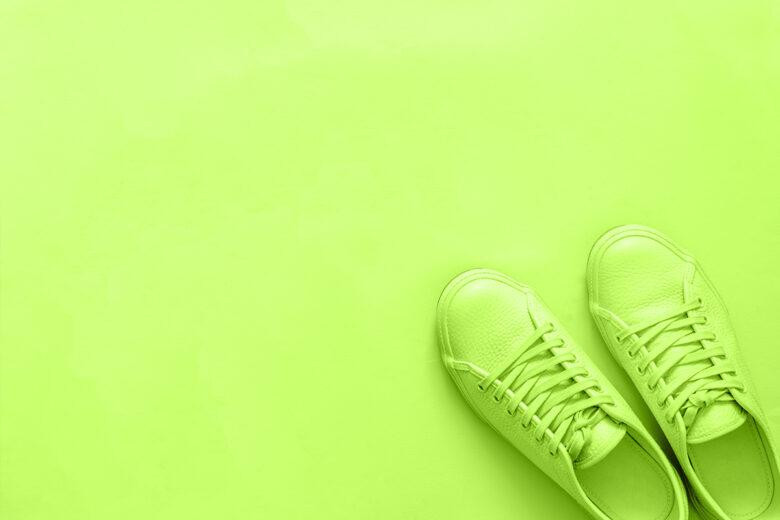 In the RGB color space, neon green is made up of 22.4% red, 100% green, and 7.8% blue. The RGB color space is an additive color model. In simple terms, that means the primary colors of red, green, and blue are added together to varying degrees to create one unique shade.
In the CMYK color space – the color space used for printed materials – neon green color is made up of 77.6% cyan, 0% magenta, 92.2% yellow, and 0% black. Neon green color can also be achieved by blending #72FF28 with #00FF00.
Neon green is really close to its color-wheel neighbor, lime green. However, lime green has far more red pigment than neon green does, which is the main differentiator between the two. To balance it out and give it an electric, bright color, neon green also has a touch of blue pigment.
Neon Green Color Palette Ideas
You can create fun designs using neon green both digitally and in real life. It makes for an exciting pop as a supporting color, or it can be toned down by other shades and hues when used as the star of the show. Here are some neon green color palette ideas to spark your creativity:
Analogous Color Palette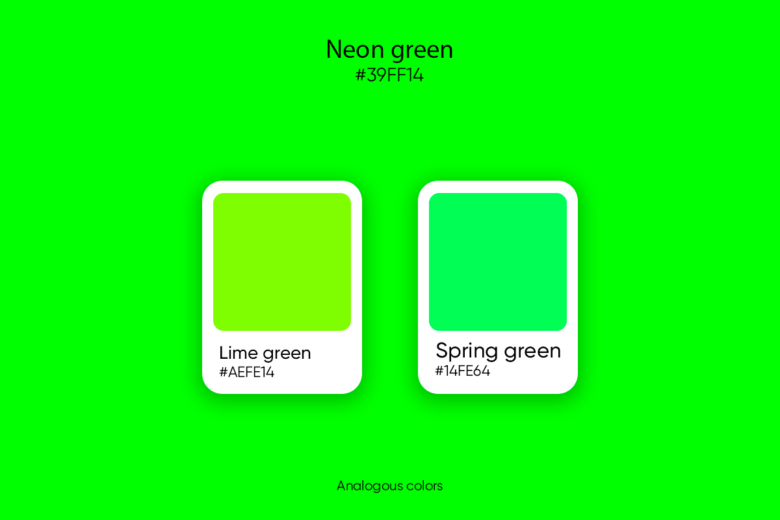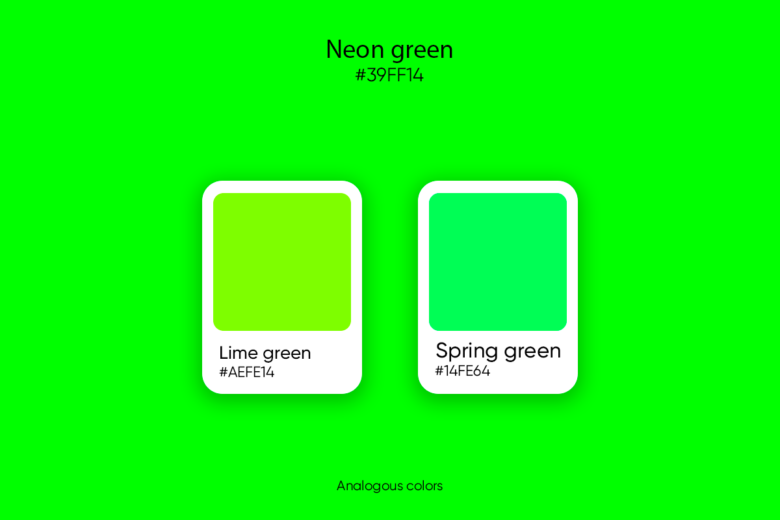 Lime green (#AEFE14)
Neon green (#39FF14)
Spring green (#14fE64)
Triadic Color Palette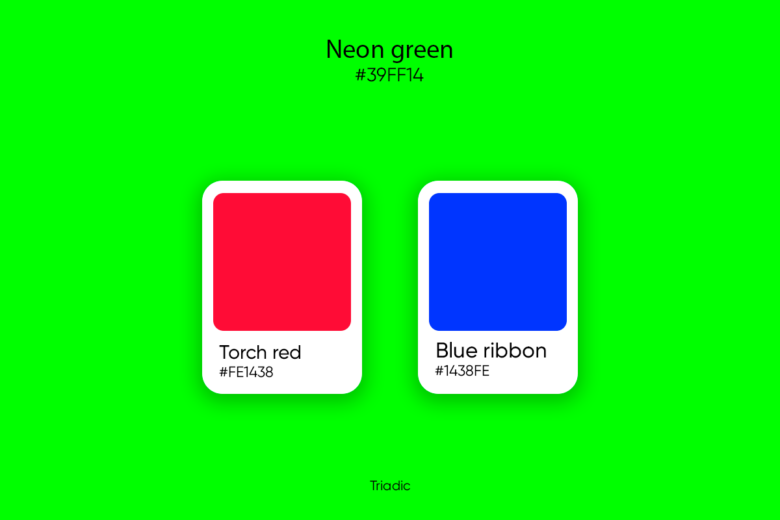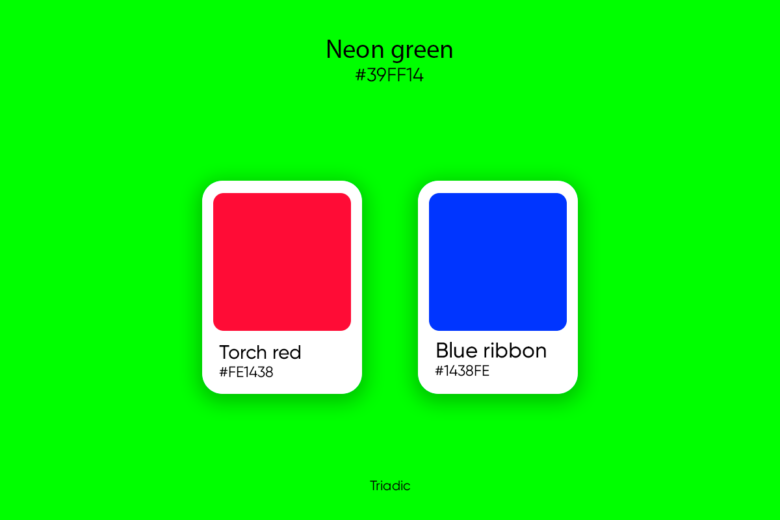 Neon green (#39FF14)
Torch red (#FE1438)
Blue ribbon (#1438FE)
Split-Complementary Color Palette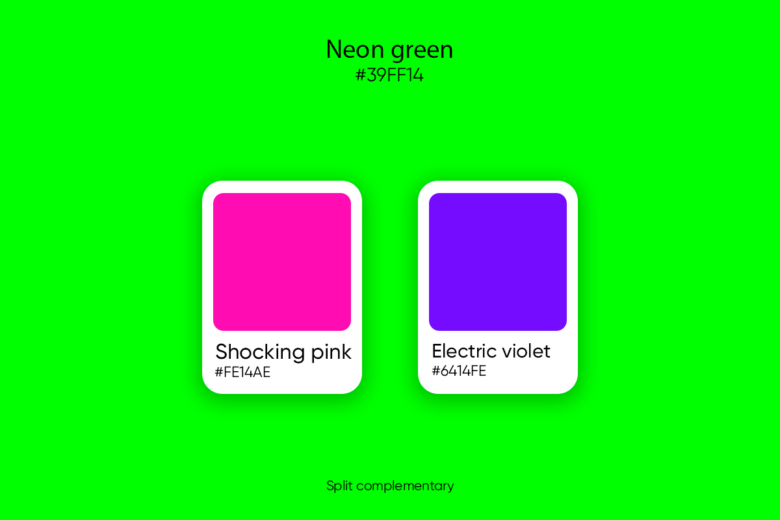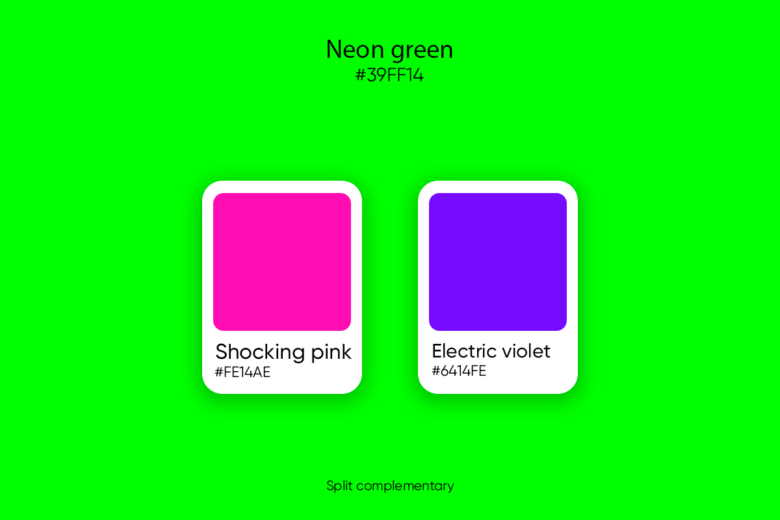 Neon green (#39FF14)
Shocking pink (#FE14AE)
Electric violet (#6414FE)
Tetradic Color Palette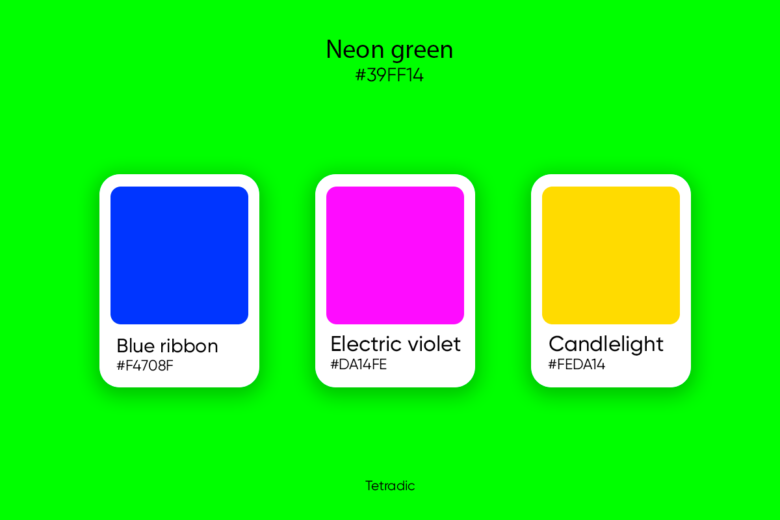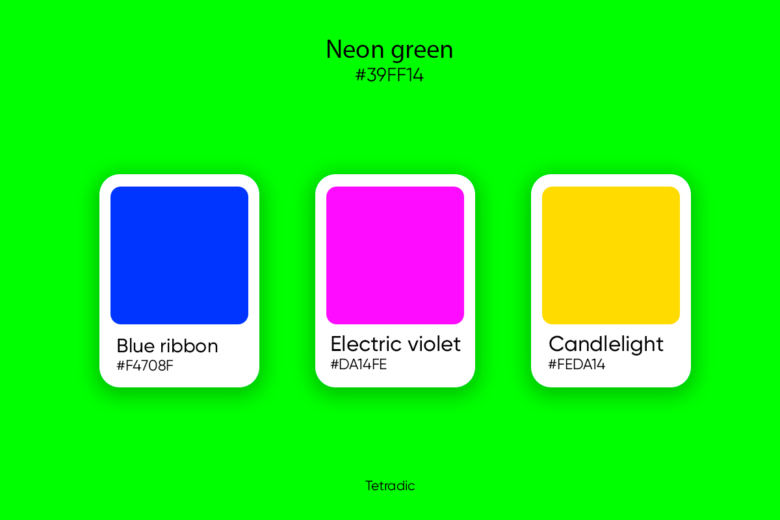 Neon green (#39FF14)
Blue ribbon (#1438FE)
Electric violet (#DA14FE)
Candlelight (#FEDA14)
Square Color Palette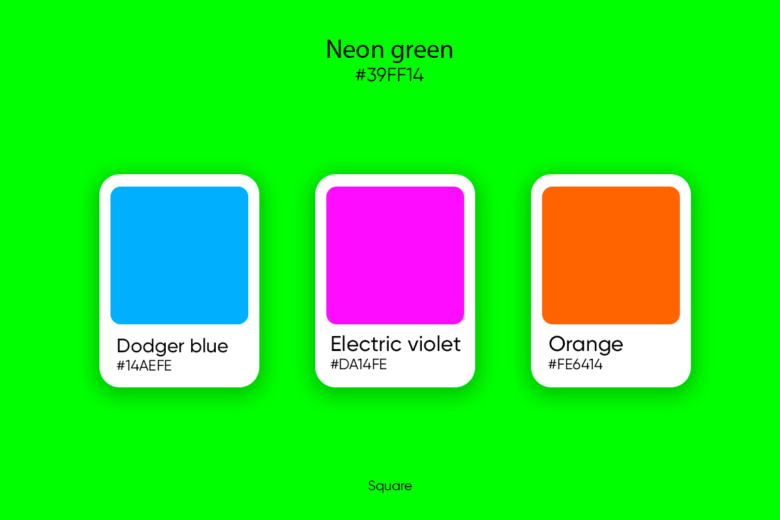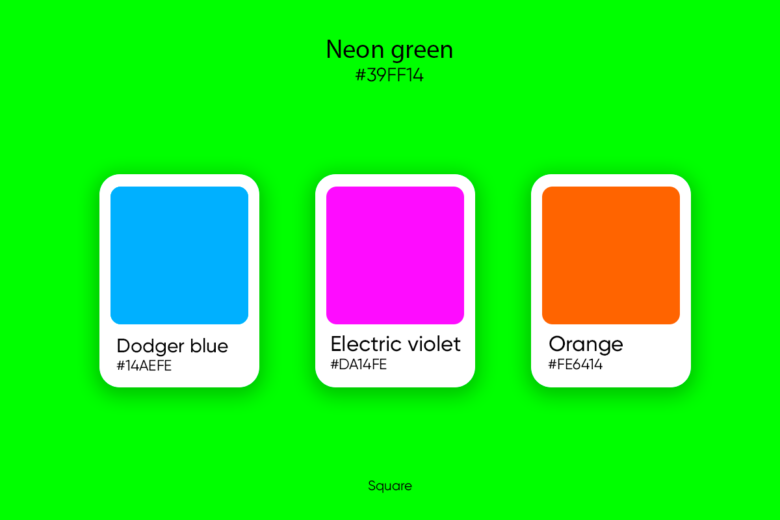 Neon green (#39FF14)
Dodger blue (#14AEFE)
Electric Violet (#DA14FE)
Orange (#FE6414)
Monochromatic Color Palette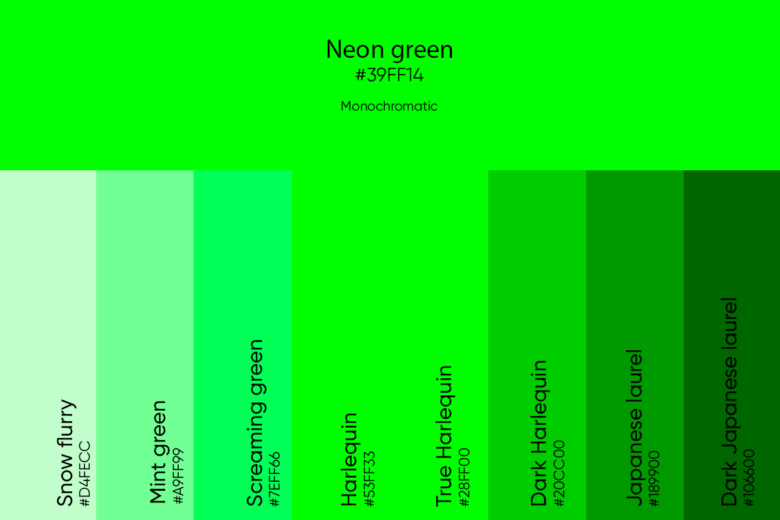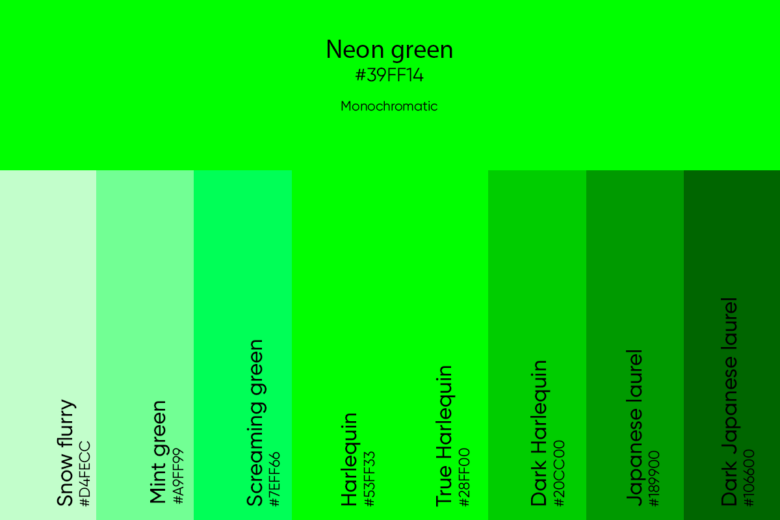 Snow flurry (#D4FECC)
Mint green (#A9FF99)
Screaming green (#7EFF66)
Harlequin (#53FF33)
True Harlequin (#28FF00)
Dark Harlequin (#20CC00)
Japanese laurel (#189900)
Dark Japanese laurel (#106600)
What Colors Go With Neon Green?
Feeling inspired by those neon green color palettes? Before you dive into using them in designs, let's first look more closely at which colors work well with neon green. Being able to pair colors together will take your designs to another level.
Black, for instance, goes well with neon green because it offers room for a dramatic pop against the contrast of the dark shade. Any shade of pink works well with neon green, too. Its softness makes for a smart contrast and mimics palettes commonly found in nature. Red and neon green also go together as complimentary colors. They balance each other out so that the effect isn't too overwhelming. Some other colors that go well with neon green are white, brown, and yellow.
If neon green isn't quite the shade of green you are looking for in your designs however, you can check out some of these similar colors to use an alternative: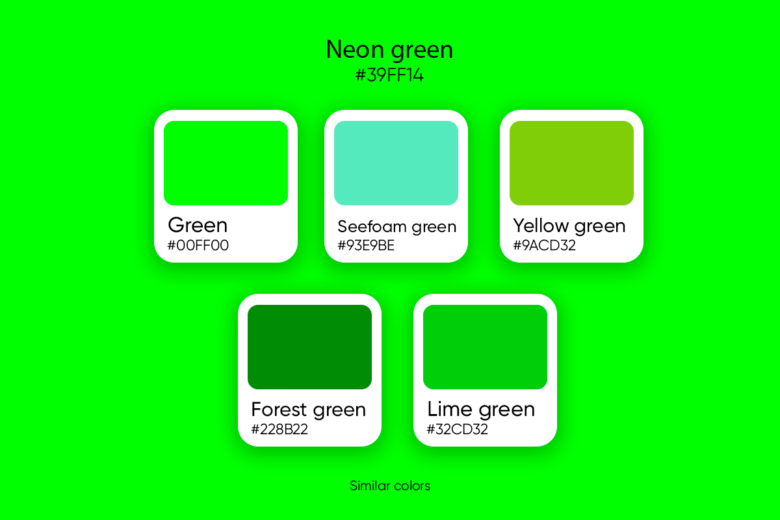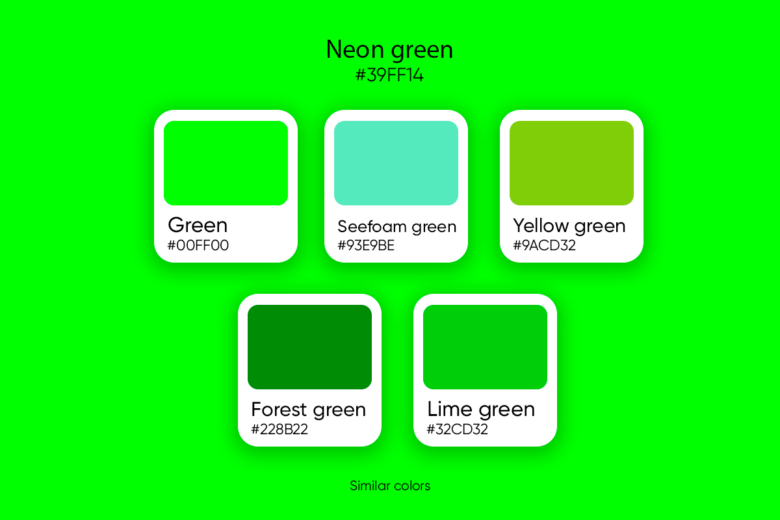 Green (#00FF00)
Seafoam green (#93E9BE)
Yellow green (#9ACD32)
Forest green (#228B22)
Lime green (#32CD32)
Neon Green Color Meaning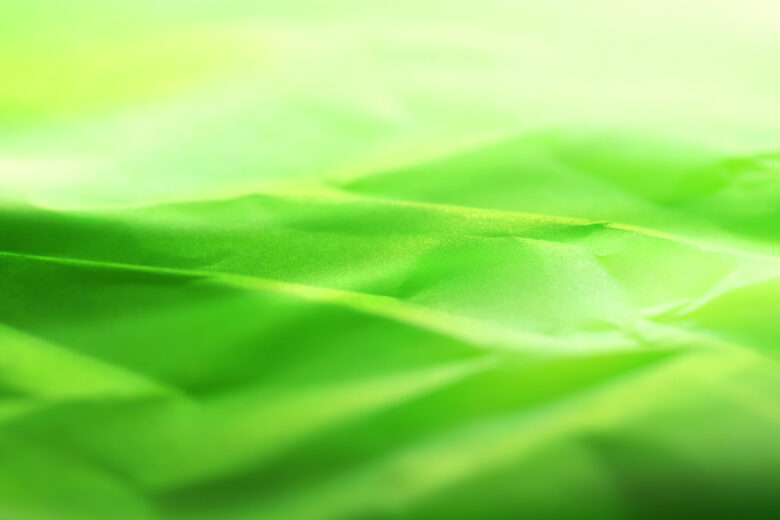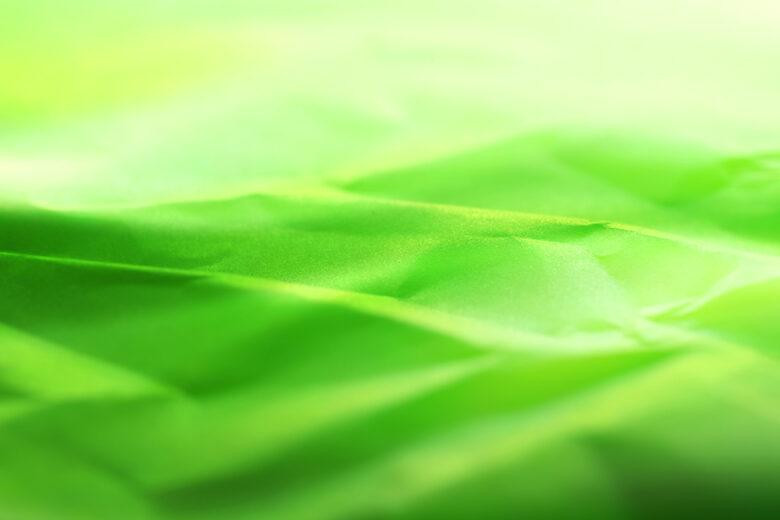 All colors have meaning and neon green is no exception. Understanding what the neon green color meaning is can help you apply it effectively while working on web designs, fashion designs, interior designs, and more. Seeing that it's such a bright and vibrant color, be sure you're using it when you want to bring a high level of energy to your work.
Neon green is anything but dull. It represents vitality and excitement. Because of its high energy and beaming quality, it's often used as an accent color rather than the main focus. Some say that neon green represents focus in life itself. It evokes balance and is often used as inspiration for visualizing and achieving goals.
You can also use neon green to represent bravery and willpower. It's a great motivating color and can be seen in tech logo design. Because of its brightness, neon green can be used for safety materials and warning signs too.
For more resources on the color wheel, palettes, and much more, be sure to check out Picsart Quick Tools.
Create Fantastic Photos Using This Color
Now, you have everything you need to know about neon green color to get going on your own design work. You can create edits using this color on Picsart. The web editor and mobile app are both great for creating bright, electric designs. Remember you can easily pull up exact colors to work with using the Color Chooser tool.
Check out these neon green designs for some inspiration, and be sure to  browse #neongreen for even more.
A neon green sticker adds a punch of vibrancy to your black and white photos to create an electric effect.
Neon green can also be used in edits to create a surreal effect.
Give your galaxy edits a twist with a neon green sky! Add a touch of sparkle and hot pink to give them a fun, feminine touch, too.
Neon green stickers are a fun, subtle way to add some extra life into your shots.
When paired up with black, white, and other more subtle shades of green, neon green can look reserved and add an exciting touch.
Neon green is a bright and fun color, but use it right, like in this edit, and it can create a mysterious gloopy effect.
Neon green is definitely versatile. Hopefully these edits spark some ideas and inspiration to create your own neon green designs. Make your edits on Picsart, and be sure to share them to inspire others, too.
Picsart is a full ecosystem of free-to-use content, powerful tools, and creator inspiration. With a billion downloads and more than 150 million monthly active creators, Picsart is the world's largest creative platform. Picsart has collaborated with major artists and brands like BLACKPINK, Taylor Swift, the Jonas Brothers, Lizzo, Ariana Grande, Jennifer Lopez, One Direction, Sanrio: Hello Kitty, Warner Bros. Entertainment, iHeartMedia, Condé Nast, and more. Download the app or start editing on web today to enhance your photos and videos with thousands of quick and easy editing tools, trendy filters, fun stickers, and brilliant backgrounds. Unleash your creativity and upgrade to Gold for premium perks!