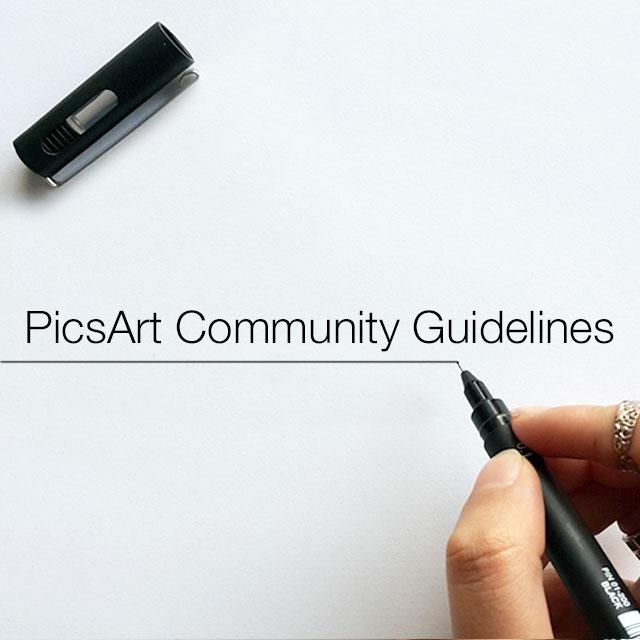 The PicsArt community is committed to beautifying the world. PicsArtists are everyone: casual photographers, expert painters, graphic designers, and anyone with a smartphone. No matter their creative preferences PicsArtists inspire others by contributing to the creative ether. To ensure a collaborative and positive environment, PicsArtists follow these Community Guidelines, which are incorporated in our Terms of Service.
Content that violates our Community Guidelines
PicsArt is a global platform that supports freedom of expression for a worldwide audience. But we don't allow content or behavior that jeopardizes our users, threatens our infrastructure, or damages our community.
Malicious speech. It's not cool to post things that include or encourage hate speech on the basis of factors like race, ethnicity, religion, disability, gender, or sexual orientation. This is the official "don't be a jerk" clause.

Promotion or glorification of self-harm. Images encouraging any sort of self-harm (like cutting, other forms or injury, eating disorders, or suicide) will be removed.

Pornography and sexually explicit material. The internet is full of adult destinations. PicsArt isn't one of them.

Public mature content. Mature content (e.g., nudity, suggestive or disturbing images, etc.) not marked with the "Mature" tag is a surprise to everyone. Use the "mature" tag if your image isn't fit for a diverse audience.

Harm to minors. Don't post or solicit any material relating to minors that is sexually suggestive, violent, or bullying. Don't post pictures of other people's kids unless you have permission.

Violence, gore, and mutilation. Blood. Guts. Wounds. All of it is yucky.

Spam and non-genuine social schemes. Don't farm for likes or create multiple accounts to promote your own content.

Copyright or trademark infringement. This one looks like a doozy, but it's actually really simple. If you aren't allowed to post someone's copyrighted or trademarked work (either by license or by legal exceptions and limitations such as fair use), don't. We respond to notices of alleged copyright infringement per our Terms of Service and the Digital Millennium Copyright Act. To file a DMCA takedown request, head on over here. We require a valid DMCA notice before removing content.

Lying, impersonation, etc. Don't say you're someone you're not. Don't tell us you deleted offending images if you haven't. Be cool. We'll know if you're not being cool.

Literally anything illegal. PicsArt isn't the place for fraud, phishing, inciting violence, or anything else that's against the law.
Violations
People who post content that violate these guidelines may find their content removed without notice and their account suspended. Repeat offenders will be banned. We reserve the right to suspend, ban, or remove content for any reason, but particularly to protect our services, infrastructure, and community. We reserve the right to enforce, or not enforce, these guidelines at our sole discretion. These guidelines don't create a contractual obligation or duty for us to act in any particular manner. That may sound scary, but we'll try to work with you more often than not.
Making the most of your PicsArt experience.
Now that the not-fun stuff is out of the way, here's some advice on how to have the most bestest time ever in PicsArt!
Create original, expressive content. This is the crux of PicsArt. Inspire people with your creations.

Treat others how you'd like to be treated. Everyone on PicsArt is another person, just like you.

Encourage other artists' work. Likes, comments, and reposts show your peers that their work is valued. It's a good feeling.

Report images that violate our Community Guidelines. All reports are reviewed by our team of moderators.

Use #FreeToEdit photos and contribute your own. A #FreeToEdit tag is given to images by PicsArtists who want you to edit their work. This creates a collaborative, creative environment for everyone to thrive in while using material with rightsholder permission. Tag your images with #FreeToEdit to be a part of the collaborative community of creatives and give others a license to create derivative works of your work.

Contact Support if one of your images has been stolen from your PicsArt profile. This is the fastest way to get a stolen image removed: please file a DMCA here.

Follow other PicsArtists. The 'Artists' tab and searching for hashtags you're interested in are great places to start. This is the first step to building your own community and finding PicsArtists who share your interests.

Respect creations, even if they're not your style. You won't like everyone's work, but remember that another person's work took time to create. Compliment the artistry and don't insult work that isn't of your taste.
Don't spend energy tearing other people down. We'll take care of the unpleasantries of removing unoriginal work and abuse after you contact Support. You only have so much energy to spend, and it's best spent making art – not making examples of others.

Don't "feed the troll." A troll is someone who loves drama more than anything else. You can't win with these people. If you feel like you're not making progress with someone you disagree with, disengage. There's nothing a troll hates more. And don't forget about that 'Block' button!

Don't be "Original Content Police" for others.Users should give attribution when it's due, but if someone copies or fails to properly attribute work and did not mean to cause harm, please don't cause a scene. That artist may not have understood what was okay. Instead, send a DMCA copyright notice and leave the policing to PicsArt.
As always, be sure to check out our Terms of Service for even more info. Happy PicsArting!