Today we're excited to spotlight Picsart Master Helena Milton, known on Picsart as venusthecat. Over the years, Helena has built a sizable community of followers with her unique and beautiful gallery. Difficult to describe but undeniably striking, Helena's composite images are graphic, retro, and fantastical all at once. Inspired by the landscape of her hometown of San Diego, California, album cover art, children's books, and the design trends of the 80's and mid century modern era, Helena's aesthetic is something all her own. Read on to hear more from this talented artist and see some of her favorite images she's created with Picsart.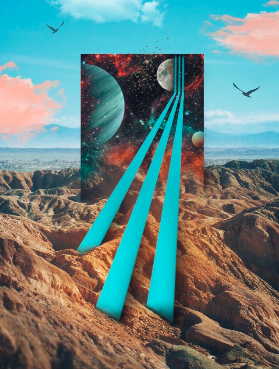 Tell us a little about yourself and when you started making art. 
I've always been artistically inclined. I've been drawing since I was little, ever since I can remember. I love painting, making jewelry. I'm a stay at home mom right now – I have two little boys, a ten year old and a six year old. Making art is a way for me to take some time for myself. 
How did you get into using Picsart?
About nine years ago my husband got me a tablet, and Picsart was one of the recommended apps. I started playing around with it and noticed the photo challenges and started doing them and made it to the Discover page and I thought – this is so cool. That inspired me to do more photography and I started getting featured on that page more often. From there I started using more tools and techniques on the app like the color splash effect, and it grew from there. 
What tools do you use most on Picsart? Any favorites?
I always use the Add Image feature. I'll start with one picture or a blank background and add photos on top of it from there. One of my other go-to's is the Dodger effect. When I'm close to the end of the editing process I'll usually use the Dodger effect. I also create my own stickers.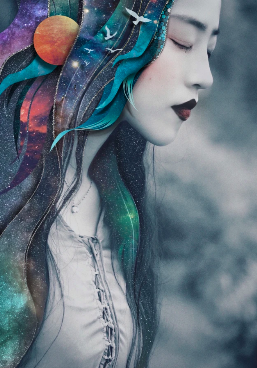 What's your artistic process like? How does it start?
It can come from a lot of places. I like architecture a lot – strong lines, buildings and windows, so if I'm out walking around, that can inspire me to make something. I live in California where it's super beautiful, so I'll also take nature shots. Often I'll take a picture and then open up Stickers in Picsart and search until one speaks to me. I'll try it and see if it fits and go from there.
In your bio you say that you love surrealism and all things retro. Can you expand on that a bit? What inspires you?
I've always been into history. I'm a big history buff, I love the mid-century modern era and that definitely inspires me design-wise. Retrofuturism I also like a lot. I grew up in the 80's and at the time I didn't appreciate it, but now I'm definitely drawn to some of that aesthetic, neon, the graphics. Anything fantasy, I love things that look real but aren't quite real. Children's books inspire me, like those by author and illustrator Peter Brown – I like how he simplifies things – a tree, for example, is very minimalist. I really like when a pop-out book has that layer effect. I use a lot of shadow in my work to give it a kind of 3-D look.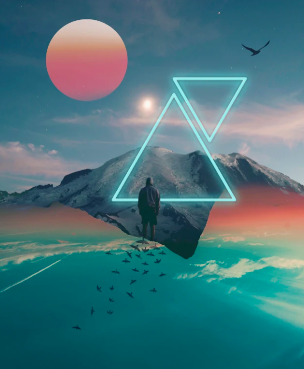 You have such a unique artistic style. How would you describe it?
When people ask, I say I do mostly geometric art, and use elements of geometric shapes. I have two different styles – geometric and more fantasy-driven. I try to look up art on Instagram and find other artists who have my same aesthetic but it's hard to come by. Some album covers I like have similar elements, like those by electronic musician Tycho – the use of color and simple shapes. 
What kinds of subjects are you drawn to most? 
Architecture, landscapes, water, mountains, space. Celestial images. My husband watches a lot of shows about space, like Universe. I'll sneak a peek and think that imagery is really cool. I love classic black and white photography. 
Are there any current artists, on Picsart or elsewhere, that inspire you? Who are some other artists to watch?
Com Truise is another electronic group that I like – when I listen to it, it makes me want to create art. An artist on Picsart that I follow is Veroklo. She's amazing and does mixed media drawings and paintings. Also Macmmaya, who does such beautiful photography, just really gorgeous stuff. Ruthy1 is always trying different techniques and I aspire to do that, she's great. I've been on Picsart since 2012, so with a lot of these artists, we've been following each other for a long time now. It's been really cool following each other for so long, seeing how everyone has evolved. Some of us are Picsart Masters now – it's cool being part of this community.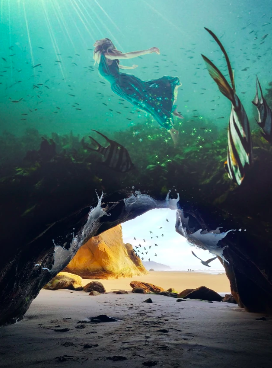 Picsart is a full ecosystem of free-to-use content, powerful tools, and creator inspiration. With a billion downloads and more than 150 million monthly active creators, Picsart is the world's largest creative platform. Picsart has collaborated with major artists and brands like BLACKPINK, Taylor Swift, the Jonas Brothers, Lizzo, Ariana Grande, Jennifer Lopez, One Direction, Sanrio: Hello Kitty, Warner Bros. Entertainment, iHeartMedia, Condé Nast, and more. Download the app or start editing on web today to enhance your photos and videos with thousands of quick and easy editing tools, trendy filters, fun stickers, and brilliant backgrounds. Unleash your creativity and upgrade to Gold for premium perks!