When you're a designer, you pay attention to details that most people take for granted. That includes an eye for typography, or fonts, whether they're on the back of a cereal box or on a subway sign. You notice fonts that are commonly used and develop an appreciation for when new or unique ones are introduced. In this article, we're going to be talking about how designers classify fonts, identify some popular fonts, and explain how to create font designs using Picsart.
The Most Popular Fonts Designers Use
Before we get into what makes a font popular, let's survey the most ubiquitously used font of the modern era: Helvetica. Helvetica is a sans serif font designed by typographic masters Max Miedinger and Edouard Hoffman in 1957 at the Haas type foundry, Switzerland. It was created with the idea that it would fill the world's need for a neutral font that would work well in signage. Some of its most famous applications are in official settings, notably New York City's subway signage. It's also utilized by brands that wish to convey an aura of simplicity, modernism, and minimalism, like American Apparel, and Crate and Barrel.
Typeface Classifications You Need to Know
Serif Fonts

Serif refers to the small tags attached to each letter. These little footers combined with thick and thin letter strokes create a highly legible and familiar font. Serif fonts are mostly used in books, newspaper print, and other classic designs. They generally pair well with sans serif fonts.
Sans Serif Fonts

Sans serif means just that: without serifs. This gives a more rounded detail to each letter and provides a modern, clean design commonly used for digital text. Helvetica and Arial are among the most popular fonts in the sans serif category, great for websites and online blogs.
Script Fonts

Script font styles have a more elegant and personal feel. They read like fluid calligraphy and are perfect for special occasion invitations like weddings, birthdays, and showers. Script fonts are also widely used for inspirational quotes on social media. They tend to pair well with serif and sans serif fonts.
Speciality Fonts

Grunge typefaces came into being thanks to the appearance of grunge music, which is also based on the slang term 'grungy', associated with dirt or filth. If you're looking for an urban, street-style font, these are for you.
7 Popular Font Trends
Here are some of the foremost type trends that have made their mark.
Round Sans Serif Fonts

The drive towards techno utopia is what's driving this font trend, which can be found everywhere from the Airbnb logo to Google and Spotify. Rounded sans serifs are geometric, communicating simplicity, while still feeling friendly and approachable.
Humanizing Serif Fonts

While sans serifs have held a vice-like grip over designers for the last 70 years, because of their more modernist look, recent years have seen an uptick in brands diverging from this approach. Many businesses are using bold and high-contrast serifs in their logos and website copy. This new breed of serifs has played into the fatigue of modernist simplicity and they work because they tell a story. They are nostalgic and reminiscent of an era before everything was digital. In short, they feel more human.
Slab Serifs

Slab serifs have been around for a while, having come to prominence in the early 19th century, but they're having a moment again now. The name comes from the fact that the serifs – typically just delicate ticks – are instead thick blocks, or slabs, at the end of a stroke. Today, some of the most used slab serifs include Archer from H&FJ and Officina Serif by Erik Spiekermann.
Rustic Fonts

Rustic fonts are a new type of bespoke typeface that you'll find in places like breweries, cafés, and farm stands. The style is evocative of an early twentieth-century America that was still reeling from the pioneer days. It communicates a sense of craftsmanship, resourcefulness, and a rugged, DIY attitude.
Seventies and Eighties Fonts

The obsession with Stranger Things may have been the inspiration behind this font trend. The '70s and '80s were catalysts for an explosion of creative font styles, as America was experiencing renaissances in music, art, and literature throughout these decades. Today, we view the aesthetics of those times as retro.
Pixel Art Fonts

When we see pixel art, our minds immediately race to 2D computer graphics from the '70s to the '90s. We've come a long way since then, but just like with other stylistic fonts of the past, there is a nostalgia for the rough-around-the-edges aesthetic of what came before. In short, pixel style fonts are having a resurgence. They communicate a sense of quirky mischievousness, as well as freedom and possibility.
Wide-Open Minimalism

Many type designers are experimenting with negative space and removing the eyes and crossbars of letterforms to create more expansive shapes. Despite the minimalist nature of this approach, it has an effect of strengthening the font and heightening the sense of importance of each letter by granting plenty of breathing room. The resulting font becomes both airy and bold.
Looking for more font types? Try out the Font Generator Quicktool.
How to Combine Fonts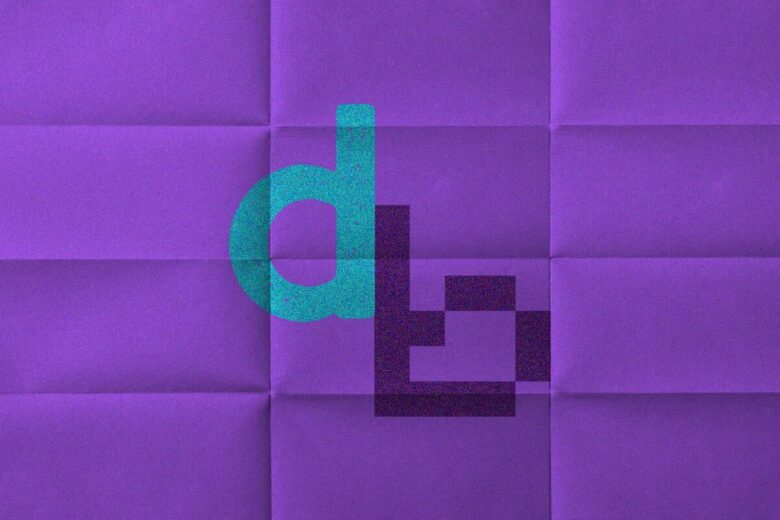 Now that we've covered the basic font categories and latest trends, let's dive into how to pair fonts. Not all fonts seamlessly flow together, after all. The main thing to keep in mind is to create a harmonious contrast. Choosing fonts that look too similar defeats the purpose of a complementary pairing. However, it will be equally disorienting if you try to pair two totally different, speciality fonts.
Some fonts have a lot of character, while others are more muted. Keep a hierarchy of fonts in mind (think: header, subheader, and body text), and at the top, include fonts with stronger personalities. At the lower end of your hierarchy, fonts should be more muted.
Create Designs With the Most Popular Fonts 
Now that you're familiar with popular fonts in design, it's time to apply that knowledge.
To use fonts for design via the Picsart web browser:
1) Open the Picsart web editor and click on New Project to begin. You can select an image to work with from the free stock libraries, or upload your own.
2) From the left-side bar, select the Text tool and select your font or Text Style.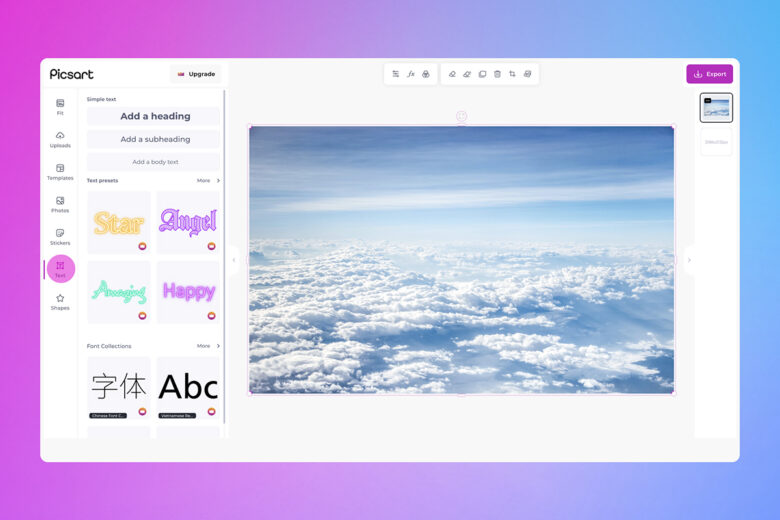 3) Input your messaging in the Text box, and adjust Font, Color, Outline, and Shadow of the text in the editor using the buttons located above the image.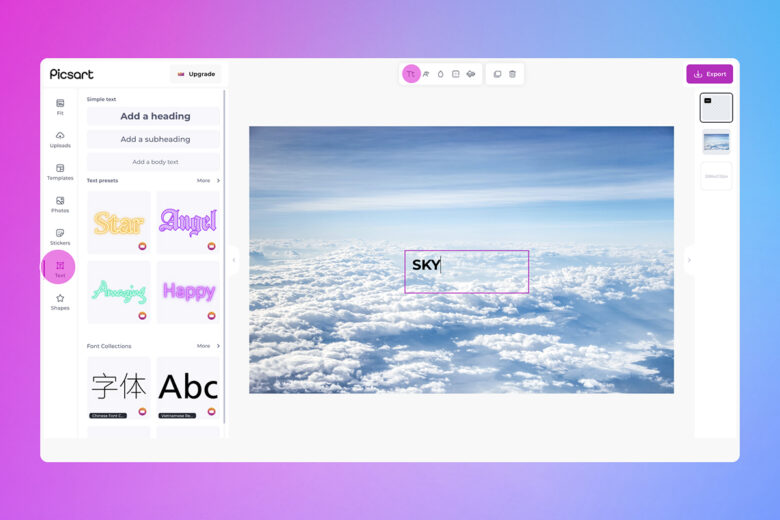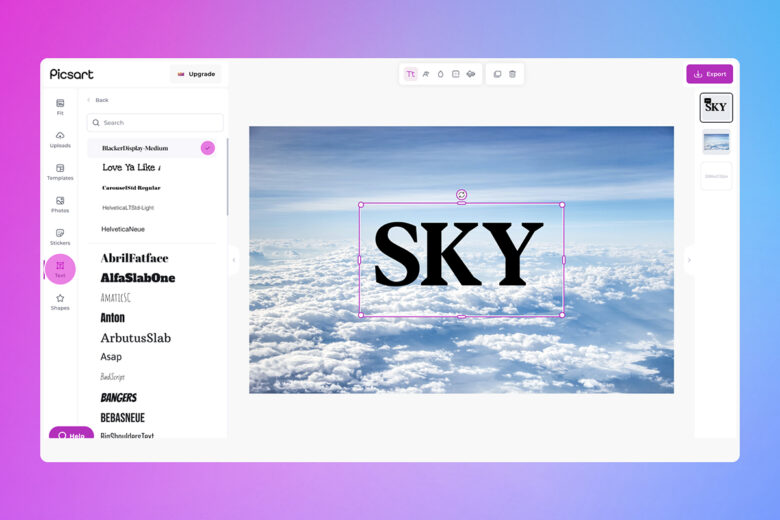 4) Click on Export to save or post your edit.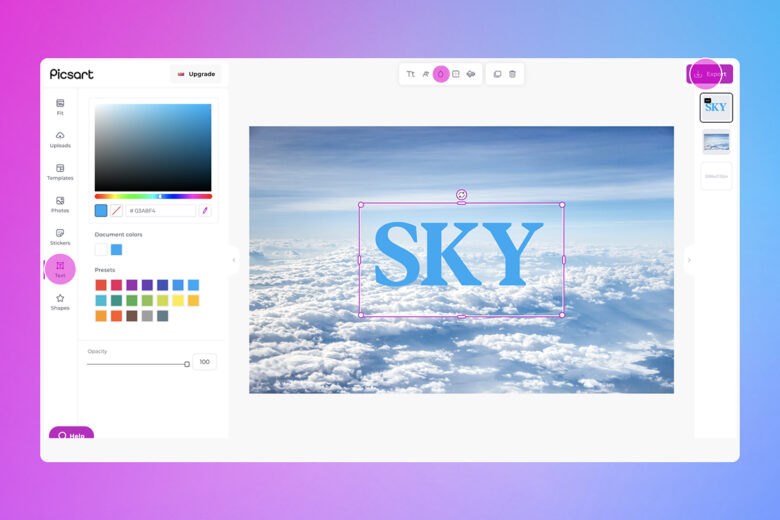 To use font designs on mobile:
1) Open the Picsart app and tap on the purple plus sign at the bottom of your screen.
2) Upload an image from your photo gallery (or choose one of the stock library options).
3) Scroll the bottom menu to the right and click on the Text tool.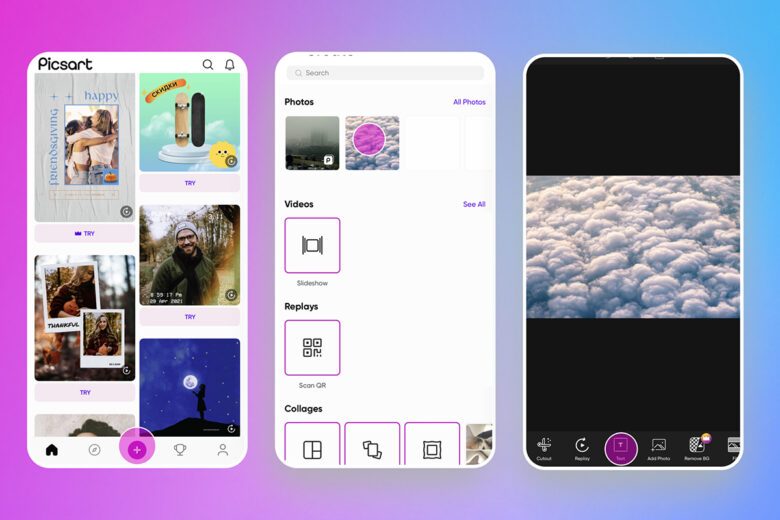 4) Enter some text. You will also have the opportunity to justify the text (left, right, or center). Click the checkmark to apply.
5) Select the font you wish to use and adjust details such as color, placement, sizing, etc.
6) When you're happy with the final edit, tap on the Apply button to save or post your image.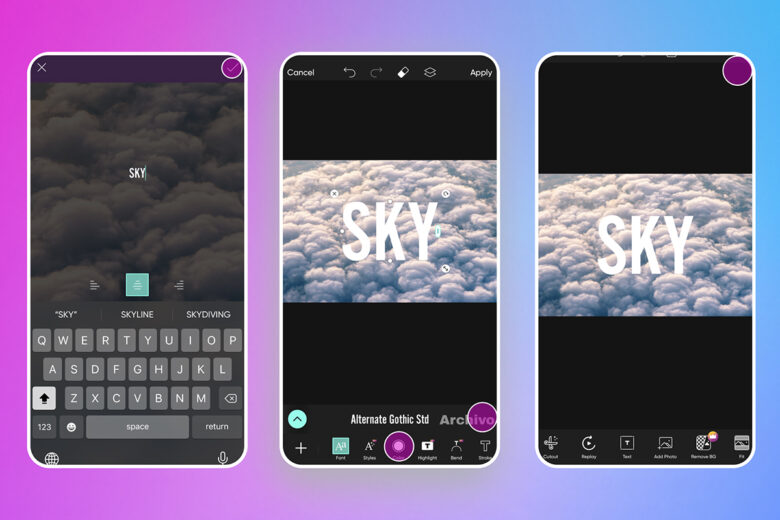 Picsart is a full ecosystem of free-to-use content, powerful tools, and creator inspiration. With a billion downloads and more than 150 million monthly active creators, Picsart is the world's largest creative platform. Picsart has collaborated with major artists and brands like BLACKPINK, Taylor Swift, the Jonas Brothers, Lizzo, Ariana Grande, Jennifer Lopez, One Direction, Sanrio: Hello Kitty, Warner Bros. Entertainment, iHeartMedia, Condé Nast, and more. Download the app or start editing on web today to enhance your photos and videos with thousands of quick and easy editing tools, trendy filters, fun stickers, and brilliant backgrounds. Unleash your creativity and upgrade to Gold for premium perks!