With the holy month of Ramadan (or Ramadhan) on the horizon — celebrated from April 12 through May 12 this year — you might be looking to create the perfect Ramadan banner to honor this special time. In this article, we break down our favorite banner and quote ideas to help you create your own unique Ramadan design that allows you to express, share, and inspire in a way that's fun while still honoring tradition. They're a great way to share Ramadan greetings with your community!
What Is the Origin of Celebrating Ramadan?
First off, let's explore the origins of the holiday – it just might help inspire some new Ramadan designs! Ramadan (from the Arabic root "ar-ramad" translating to "scorching heat") is the most sacred month in Islamic culture. A new crescent moon during the ninth month of the Islamic lunar calendar marks the start of the 30-day ritual and ends with Eid. During this time, Muslim people all over the world devote themselves to growing spiritually and buliding a relationship with God or Allah. It's a time to pray and recite the Quran (the Islamic holy book) and to practice being mindful, selfless, and abstinent. Muslims fast from sunrise to sunset for 30 days and break their fast as a community with a pre-dawn breakfast, suhoor, and an evening meal, iftar. After the final day of fasting, people celebrate with Eid al-Fitr — the "festival of breaking the fast" — by expressing gratitude and celebrating Eid with a feast.
The holy month of Ramadan honors the revelation of the Quran, which Muslim people believe was revealed to the Prophet Muhammad by the angel Gabriel in A.D. 610 and taken to be the direct words of God or Allah. They call this revelation Laylat Al-Qadar or the "Night of Power." 
Best 6 Ramadan Banner and Design Ideas 
Here are some of our favorite Ramadan designs, taken straight from PicsArt's worldwide community! 
Dark Silhouette With a Calligraphy Quote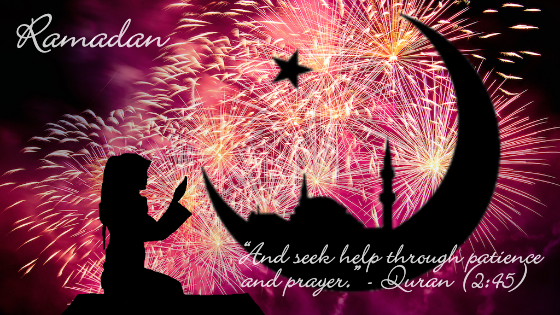 via PicsArt
"Have you ever wondered why we're happy in Ramadan? Because we do what we were created to do." — Sh. Alaa Elsayed
This design is a great example of how contrast can really make your banner pop! The dark silhouette paired with a bright sky bursting with color and light is the perfect way to remember the meaning of the crescent moon in Islamic culture, signaling the start of the holy month. Upload and edit your own Ramadan picture or photograph, select a premade background, PicsArt's Background Texture feature, or use Stickers paired with the Lens Flare or Color Bright features to illuminate your sky. Top off the look with a calligraphy font from Font Collections that emulates the flowy nature of Arabic writing.
If you're new to photo editing, brush up on your photo editing basics to help you get started!
Golden Rain Skyline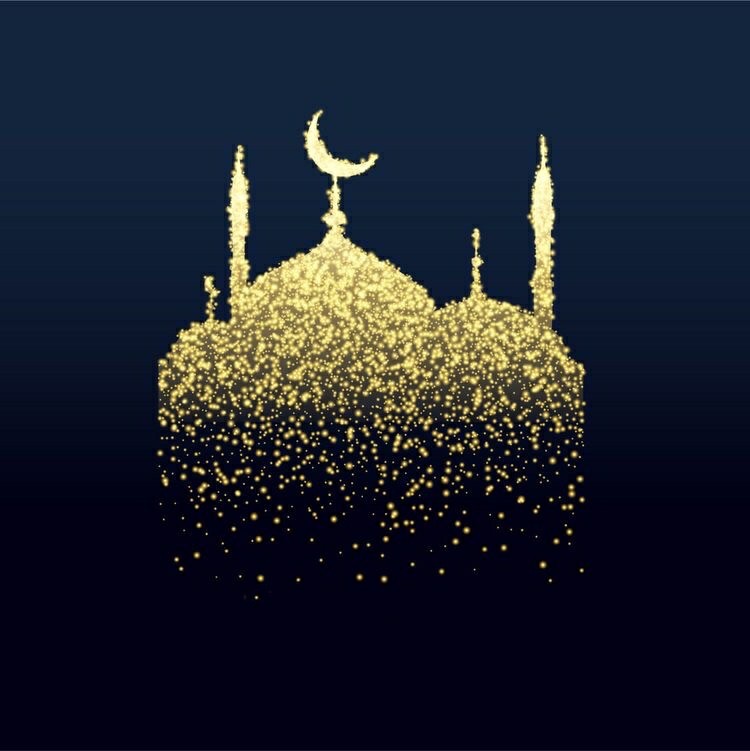 via PicsArt
"The Night of Power is better than a thousand months."  —  Surah Al-Qadr (97:3)
When it comes to making your work truly shine, we know you know that very few design choices can outshine the power of gold and glitter! To recreate this look, you could either find a premade glitter Sticker or clip art in the shape that you want and lay it over a dark background. 
Transparent Layered Collage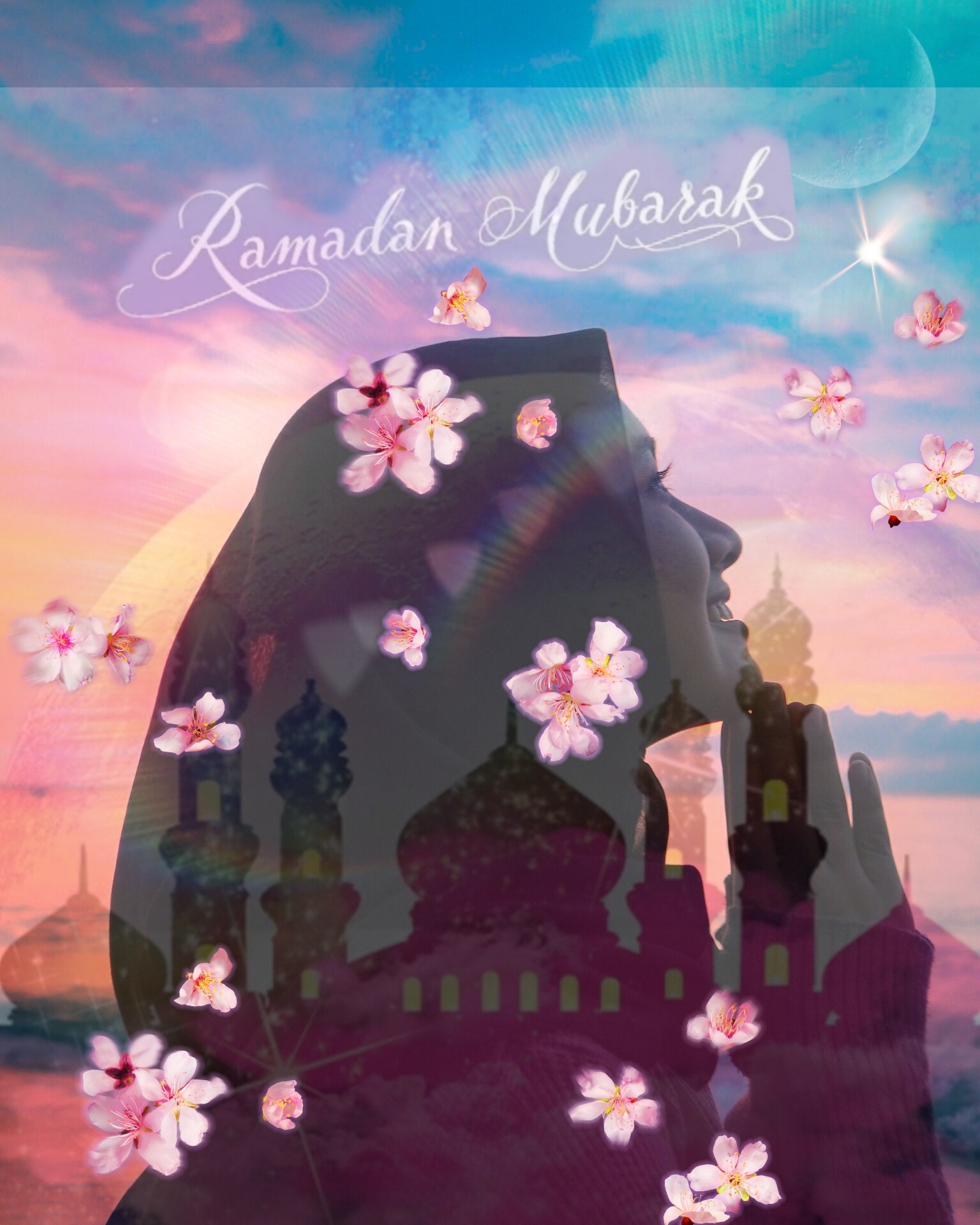 via PicsArt
"Strengthen your Imaan, heal your heart."  —  Unknown
Do you sometimes get tempted by so many design choices that you just wish you could have it all?  A well-designed text collage or double exposure edit, like this Ramadan Mubarak banner, allows you to do just that! You can tell multiple stories within the same image by using PicsArt's Layers and Opacity features to lay one image on top of the other while still being able to see both. It's a great way to build depth and include all the pieces of the story you're telling.
Double exposure images also give a feeling of time passing that can make us feel nostalgic and deeply moved. It's quite a powerful and inspiring effect! Top off your design with Photo Overlays to add a firefly glow effect for some extra warm and fuzzy feels.
Feed Your Soul Until You Glow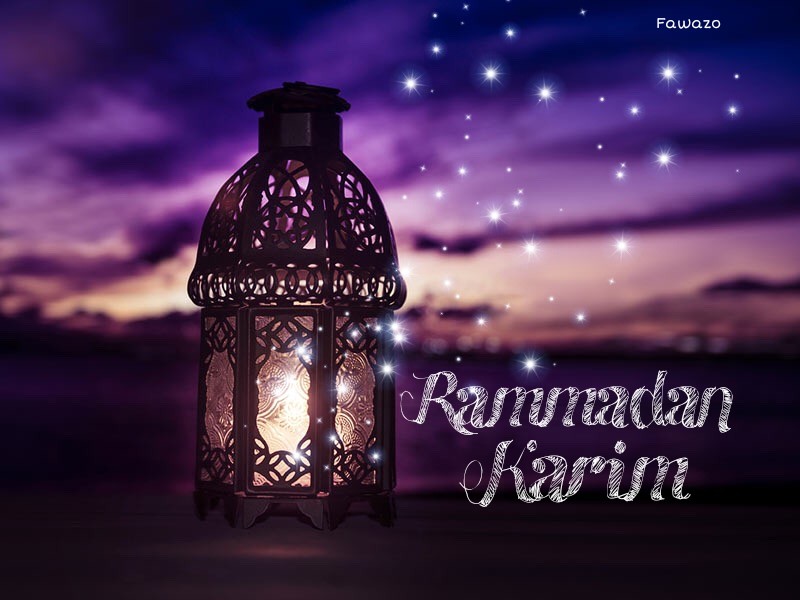 via PicsArt
"Ramadan is time to empty your stomach and feed your soul." —  Unknown
There's something special about an image that has the power to ~literally~ warm your heart.It's amazing what a little bit of glow can do! Try recreating this Ramadan picture in PicsArt by choosing a background image or uploading your own. Add a lantern Sticker and play around with  effects like Lens Flare or Neon Effect, increasing brightness to create a hazy glow effect. 
Life Is But a Dream With This Ramadan Kareem Banner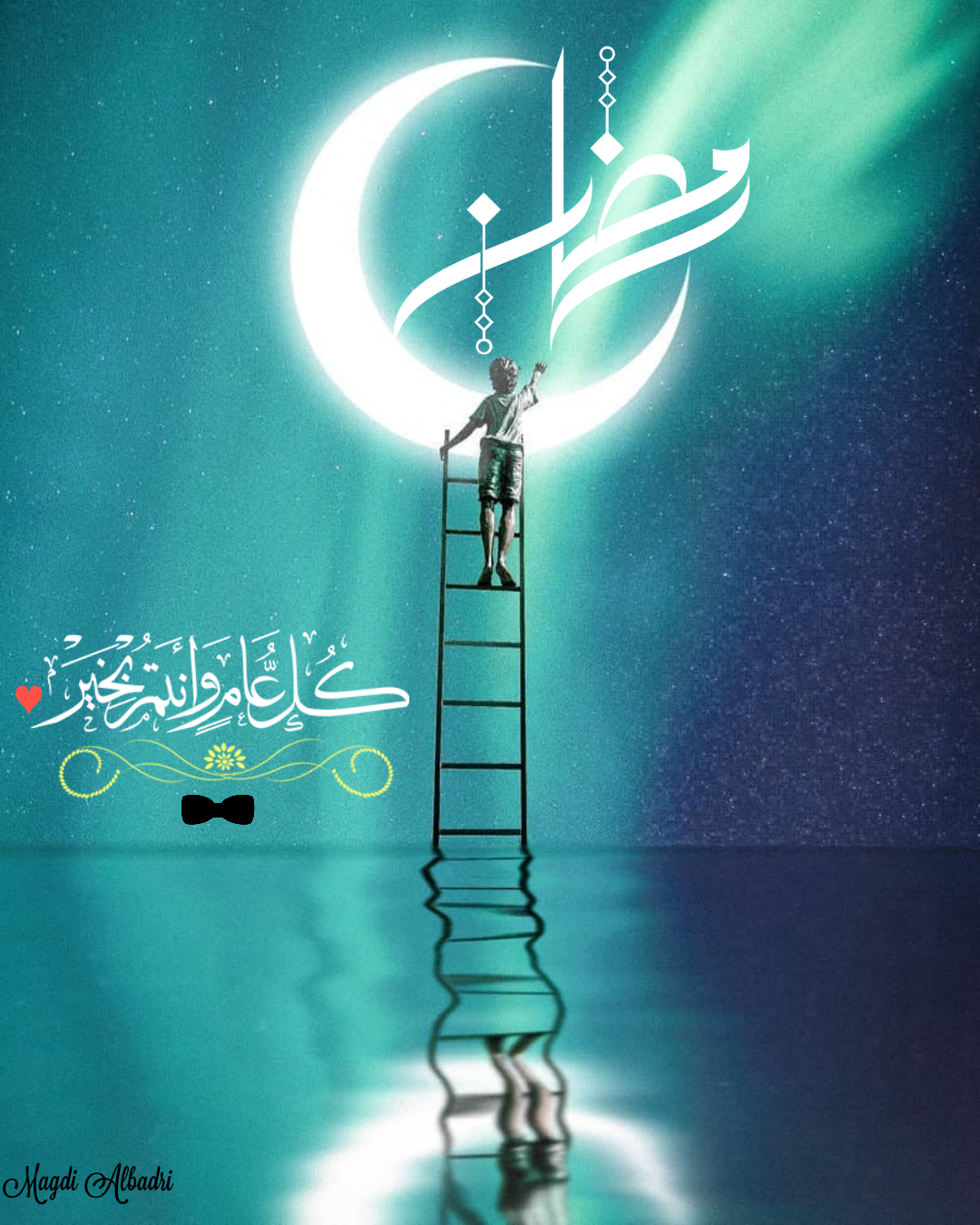 via PicsArt
"Ramadan is about realizing that life is nothing but an illusion and a test. The real life is in the next life." —  Unknown
The beauty of editing photos in PicsArt is the built in community, providing creative inspiration and #FreeToEdit images so that you don't have to DIY or reinvent the wheel every time you want to create something. This comes especially handy when you need to whip something up quickly, or when you simply don't feel like taking art classes just to learn how to paint like a pro or achieve a specific effect from scratch, like this glowing Salvador Dali style moon. With PicsArt's Web Editor or app, you can edit or recreate this dreamy Ramadan Kareem banner in minutes. Just pick your favorite Background Color or Background Texture, add some Stickers like this glowing moon and hanging decorations (the Arabic text and ladder even came with it), adjust Opacity until your eyes are smiling, and there you go!
Look Outward With a Sunset Silhouettesu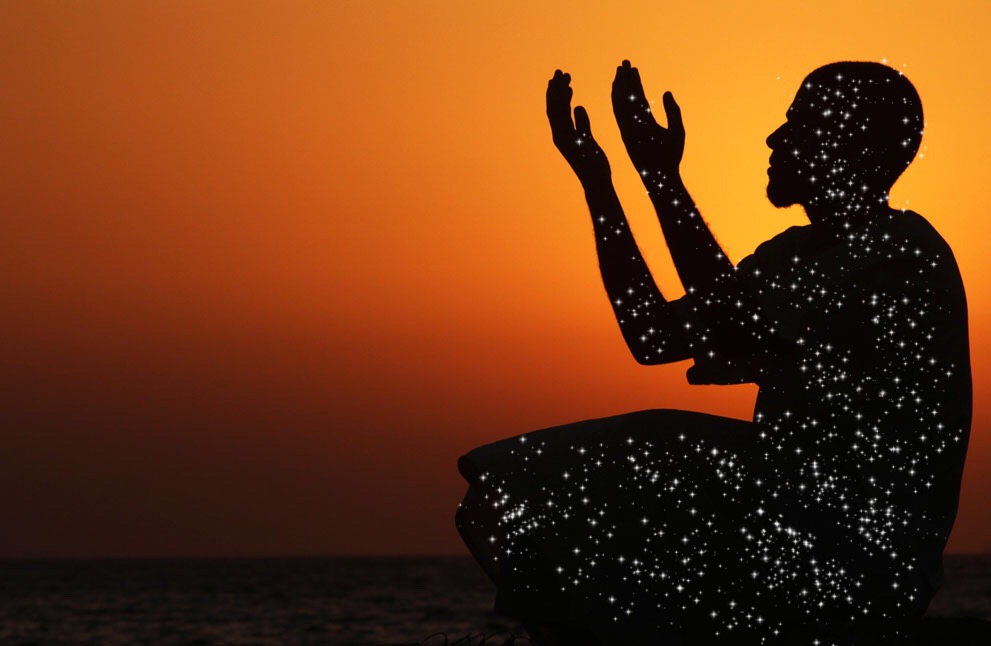 via PicsArt
"Whatever is prayed for at the time of breaking the fast is granted and never refused."  —  The Prophet Muhammad
Not only is a silhouette a powerful design choice that thrives off of simplicity and minimalism, but for many, it also just seems to feel right when it comes to designing a banner for this particular month. Ramadan is all about letting go of the self through fasting and prayer in order to be fully present and to build a deeper relationship with something greater. A silhouette is a simple, yet powerful tool that directs the attention away from the self and highlights the people or things that breathe life into the self. They're also quite trendy now and it's so easy to learn how to make a silhouette image! To recreate this statement banner, play around with PicsArt's Background Texture and Stickers, then use Image Overlays paired with the Opacity and Invert tools to add the starry veil.
Ready To Create Your Ramadan Banner? Questions To Ask Yourself First
Ramadan is all about intention, so it's good to get crystal clear about what you want to create! To help you get started on the right foot, make sure to consider the following:
What type of event are you hosting and who is your audience? 
This will help you choose the appropriate Ramadan picture style that resonates with your target audience.
What message do you want to convey? 
For example, the phrase "Ramadan Mubarak" translates to have a "blessed Ramadan," while "Ramadan Kareem" translates to have a "generous Ramadan." Similarly, "Eid Mubarak" wishes a "blessed celebration," a "blessed feast," or simply, a "happy Eid." If you choose to create a Ramadan Mubarak banner, for example, you can search PicsArt's library of #FreeToEdit images for Ramadan photos to find banner decoration ideas that include this exact phrase within the image (don't be surprised if you find them premade in both English and Arabic!). You can also always search in PicsArt just to get inspiration and then DIY for the rest with the Text Tool in the photo editor.
Where will you be sharing your banner?
Will you be creating a Facebook event? Will you be posting to Instagram? Will you be printing posters? It's important to know what kind of content you want to create — once you know that, you'll be able to choose a banner size or style that fits perfectly with the platform of your choice. All-in-one photo editing apps, like PicsArt, make it easy to pick out the perfect canvas size.
How To Create Your Own Ramadan Banner 
Now that you're feeling super inspired, it's time to create your very own Ramadan design! Promote your event or share traditional greetings and wishes in Islamic culture, such as  Eid al-Fitr, Eid Mubarak, Ramadan Mubarak, or Ramadan Kareem. New to design and need guidance? Check out Principles & Elements of Design: What They Are & How to Use Them Effectively for helpful tips to get you started. 
Create Your Ramadan Banner Using PicsArt's Web Editor Tool
1. Start by opening up PicsArt's Web Editor. 
2. Scroll down to select Template or click Create, then either choose a blank template based on the type of banner you would like to create or click Custom Size to specify your own dimensions. There are a ton of Ramadan templates to work with!
3. If starting with a custom size or blank project, you can select a background in a couple of ways. 
Select a transparent or solid background from the Color Backgrounds section.
Use Free Photos or Add Photo to import a specific Ramadan picture.
Use Templates or Backgrounds to start with a default image.
You can apply special effects at any time using Effects.
4. Tap Stickers on the left menu bar to search keywords such as "Ramadan" and then tap the sticker to see its menu bar to make edits using Opacity, Shadow, and Border tools, and the Effects tool to choose from dozens of custom filters, such as Magic Effects, Pop Art Effects, or Sketch Effects, that instantly transform your image. Tap Apply to save your selections.
5. Tap Text on the menu bar to pull up the Text Editor to add words and choose a font. If you started with a pre-made banner or template, you can click the pre-existing text to edit on the spot. Tap Apply, then click the font to adjust custom effects. 
6. Tap the background to customize color, gradient, and texture options. You can also use any background from a pre-made banner or template or upload a photo and use one of our many tools such as the Blur or Bokeh effects, or the Remove Objects or Background Remover tools to edit images to your liking.
7. Tap Apply, then save the image to your device or share it with the PicsArt community.
For more inspiration, check out some other cool features on PicsArt's Web Editor.
Create a Ramadan Banner Using the PicsArt App
Open the

PicsArt app

on your phone and tap the purple

+

button to start editing.

Tap

Templates

section, then scroll across to select a banner size. If you'd like to start with a blank canvas instead, after tapping the purple

+

button in Step 1, select a

transparent

or solid background from the

Color Backgrounds

section towards the bottom. You can also use

Free Photos

or

Add Photo

to import a specific

Ramadan picture

, or just use

Templates

or

Backgrounds

to start with a default image and apply effects later.

Tap

Stickers

on the left menu bar to search keywords such as "

Ramadan

" and then tap the sticker to see its menu bar to make edits using

Opacity

,

Shadow

, and

Border

tools, and the

Effects

tool to choose from dozens of custom filters, such as

Magic Effects

,

Pop Art Effects

, or

Sketch Effects

, that instantly transform your image. Tap

Apply

to save your selections.

Tap the

Text

icon to add text to your logo, then tap the checkmark to apply. Select the text to customize font, color, shadow, and many other effects.

Tap

Apply

, then save the image to your device or share it with the PicsArt community.
PicsArt all-in-one Photo and Video Editor, Collage, and Sticker Maker is the world's largest creative platform with over 150 million monthly active creators and influencers. PicsArt has collaborated with major artists and brands like Taylor Swift, The Jonas Brothers, Gwen Stefani, Maroon 5, Lizzo, Meghan Trainor, One Direction, MONSTA X, Warner Bros. Entertainment, iHeartMedia, Condé Nast, and more. Download the app today to level-up your photos and videos with thousands of quick & easy editing tools, trendy filters, fun stickers, and brilliant backgrounds. Unleash your creativity with PicsArt and upgrade to Gold for awesome premium perks!