Self-portraits, or what the world now knows as selfies, have become a daily routine for people. Selfies are one of the most popular forms of photos on Instagram, Snapchat, and other social media channels. They're part of our pop culture, but not everyone has mastered the art of the selfie pose. We're here to help with that.
Selfie poses come naturally for some, but there's no shame in needing some pointers. Whether you're taking a selfie on your own, with a friend, or in a group, we've got the best poses for selfies right here. Take these tips and watch the likes and followers roll in.
How To Prepare For Taking Selfies
Before you jump into selfie poses ideas, you're going to want to prep. Here are a few things you should keep in mind:
Know what type of mood you are going for with your selfie. Determine this to help you better choose which selfie pose makes the most sense for you to try out. Think through whether you want a silly pic, serious one, or a cute selfie.
Is it just you in the pic or a group? The number of people in your selfie will make a difference, so go in knowing who will be joining.
Find good lighting. Lighting is everything when it comes to taking a good photo, especially selfies. The best rule of thumb is to stay in natural light, but out of direct sunlight.
Know your angles. This comes with practice, but try to get familiar with what your best side is before committing to specific poses. Once you've got that on lock, you'll be able to snap the best selfies in any situation.
Prepare to look your best. If you look good, you feel good, and that confidence will come through in your selfie. Of course, if you are ever in a pinch, you can use post-production tools and filters to apply some flawless selfie retouches.
Props Ideas For Selfie Poses
If you're looking to get creative with your selfie poses, you might want to consider using props. The classic prop is, of course, the mirror. Mirror selfies are where it all started back in the days of MySpace. Mirror selfie poses have evolved since the days of digital cameras with a bright flash, but the mirror selfie is still a popular go-to for celebrities, influencers, bloggers, and well, just about everyone.
Depending on the occasion, you might also want to add some fun or themed props to your selfie shoot. For events like prom, weddings, or birthday parties, it's always a good idea to have some off-the-wall or custom props on hand. Silly glasses, outrageous hats, flower crowns, and that kind of thing.
You can also create your own selfie backdrop. This is also a good idea for special events and occasions. Think of it as your own custom step-and-repeat. Have fun playing with different fabrics and textures for interesting backdrops.
Another great prop to add to selfies is a string of twinkle lights. They are a beautiful way to add a bit of softness and interest to your selfies. You can hang them behind you, lay them out below you, or get really creative and pose with them in your hands.
If in doubt, break out the selfie stick. If you're using a phone and are without a selfie stick, we recommend capturing your shot using the front-facing camera and the side button on your phone. This will help you keep your hand steady and your selfie in focus.
Those are all physical props you can mix in with your selfie poses for a creative selfie, but don't forget the digital assistants, too. AR filters and effects can be considered selfie props. Give Snapchat filters, Instagram effects, and Picsart stickers a try for an easy, digital twist on the typical selfie.
Different Types of Selfie Poses
Not all selfies are created equal. While anyone can give any of these selfie poses a try, there are some that look best depending on whether you're a boy or a girl, on your own, or taking a group shot.
There are some best practices to keep in mind when determining your selfie poses. For one, try to avoid the double-chin effect. Extend your neck out and tilt your chin up. It's not going to feel natural, but it will make all of the difference in your final selfie. You'll also want to make sure your jaw is relaxed so you don't look uncomfortable. Avoid any sort of tense facial expressions and part your lips slightly for a natural, flawless look.
When it comes to selfie poses for boys, make sure your expression does not look strained or bored. Relax your face and be sure you are emoting your eyes just as much as you are your mouth. Most importantly, just have fun with it. If you are enjoying yourself and smiling genuinely, that will be reflected in your selfie and you will look great.
In the world of selfies, the next poses you'll need to master are the group selfie poses. Add multiple people to any equation and it is bound to become a trickier situation, but luckily there are tips and tricks you can put into play for the best group selfies. First of all, you want to make sure everyone who is going to be in the shot is framed in the light. Have the tallest person in the group be in charge of actually taking the shot. They'll be able to achieve the high angles that are flattering to everyone. Speaking of varying heights, you'll also want to make sure you are arranging everyone in your group in a way that is flattering for everyone. Stagger the group and play with different positions and angles to get a group selfie that everyone will be happy with.
12 Selfie Poses Ideas
From cute selfie poses to creative selfie poses, we have all of the best poses for selfies listed for you right here.
The Classic Rule-of-Thirds Selfie
This one may seem simple, but it is the base of all great selfie poses. It's a classic for a reason.
Use Your Hands
Incorporating your hands into your selfie poses will help your picture look more natural. You can throw up the peace sign, or do something more authentic like gently touching your face. Or even get creative like in this example.
Hold the Camera with Both Hands
Holding the camera with both hands and extending your arms out and at a high angle will help create a natural frame with your arms. This works great for group or couple selfies.
Let Your Pets Join In
If you really want a cute selfie, bring your pet into the equation. Not only will this help you achieve a naturally cute look, but your pets will add a sense of variety to the picture, too. These shots make for a great Instagram collage.
Take An Active Selfie
Feeling sporty? This is a great time to take a selfie. Capture a pic of yourself post bike ride or workout for a fun selfie that also shows off your personality and interests.
Feet Selfies
Forget your face. Feet selfies are the new way to show off your travels and adventures. Taking a shot of your feet in the foreground will help illustrate the drama of your surroundings. You can also take a top-down feet selfie to add some dimension and interest to your feed.
Feature Your Phone

The mirror selfie with the camera showing in the shot used to be all of the rage in the early days of selfies. It's making a comeback, but the modern-day version features a phone in the frame.
Underwater Selfies
This will require extra equipment as you'll want to make sure your camera is protected, but it is an awesome way to get a creative selfie.
Full-Body Selfies
You might think of selfies as only covering your face, but you can take a full-body selfie, too. This is a great way to show off your OOTD. Just hold the camera up and out at an angle, or snap your selfie in the mirror.
Put On Your Best Smile
No one wants to look awkward in their selfies, and the best way to avoid that is to smile naturally. If you aren't sure what to do with your face, this is a foolproof fallback. Just think of something that will naturally make you smile or laugh and snap away.
Pose In the Car
Honestly, some of the best selfies can be done in a car. Sit comfortable and experiment with high and side angles to get the best shot.
Strike a Silly Pose
Don't be afraid to have fun and get silly. This is especially great for group or couple shots because you can all play off of each other's energy.
How To Edit Your Perfect Selfie
You can edit your selfie to perfection on your desktop using the Picsart web editor. Here's how.
1) Open the Picsart web editor and click on New Project to start your edit.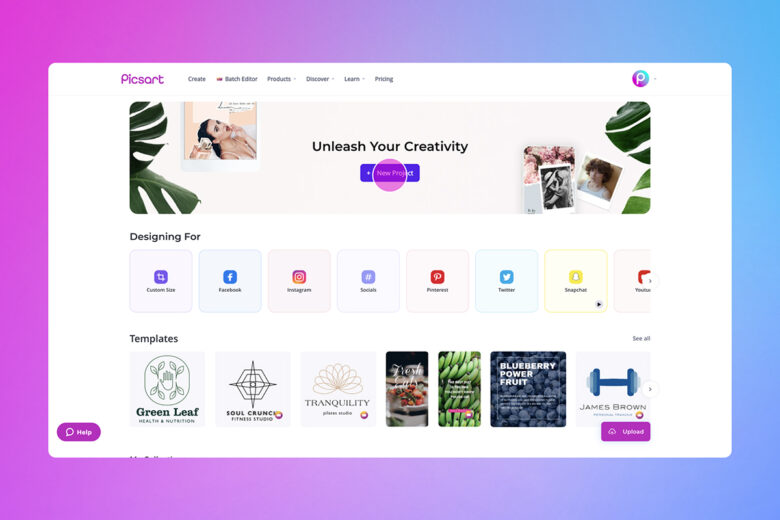 2) Now let's upload your image and select fx to explore features, filters, and effects.
3) When you're settled on those editing touches, click on the Adjust and Blend options to enhance the image's Opacity, Fade, Hue, Brightness, Saturation, and Contrast.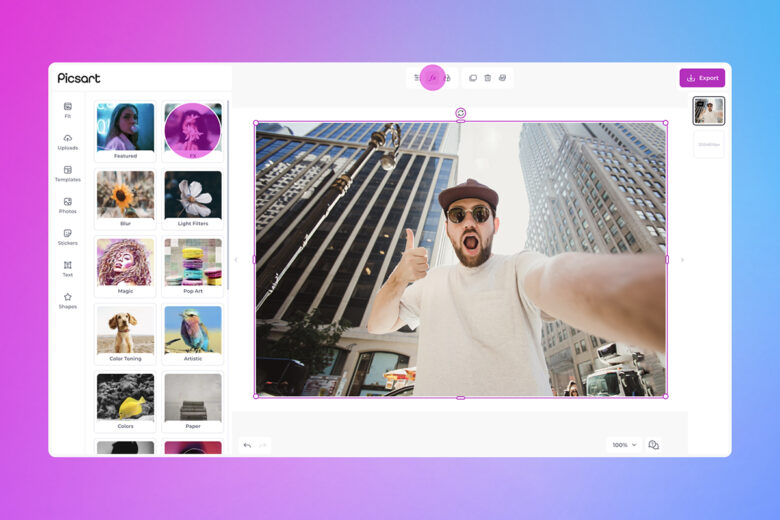 4) If you're happy with your edit, click on Export to share or post your image.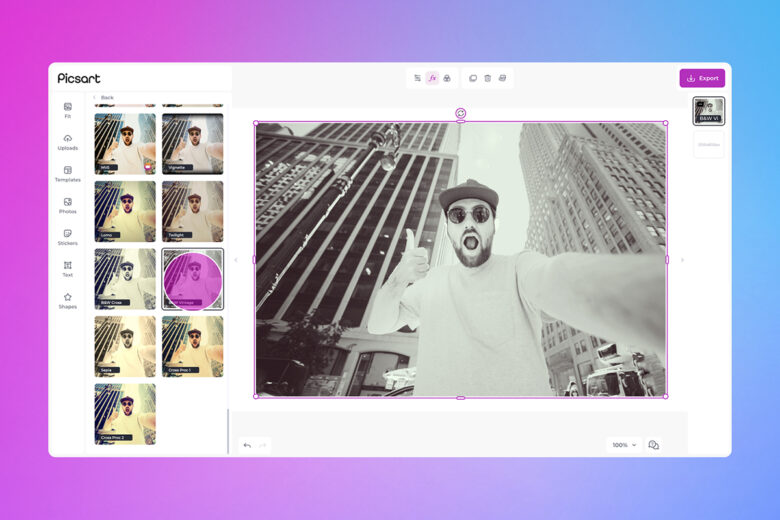 Editing your selfie on the go? Check out how to use the Picsart mobile app to edit your selfie:
1) Open the Picsart mobile app and tap on the plus sign at the bottom of your screen.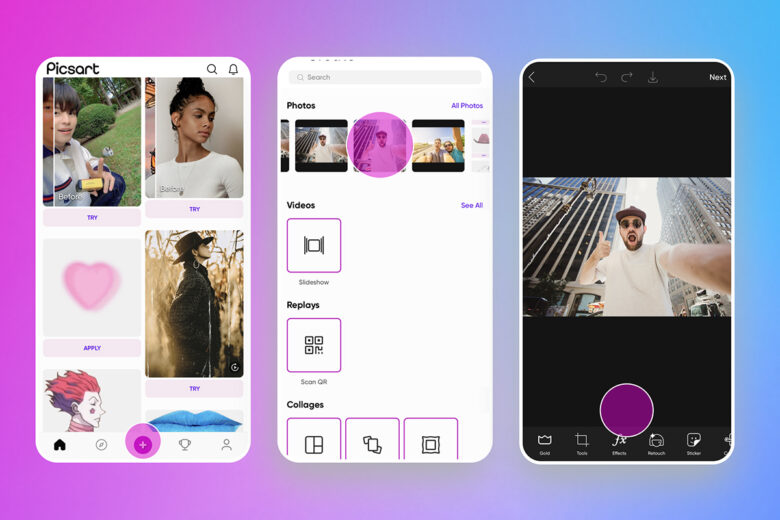 2) Upload your image and tap on fx. Play around with the different filters and features to achieve the aesthetic you have in mind.
3) Tap Apply on the top right to save your selfie edit. You can tap on Effects again to layer on another filter. Repeat this step to add as many layers of filters as you'd like, tapping Apply to save each one.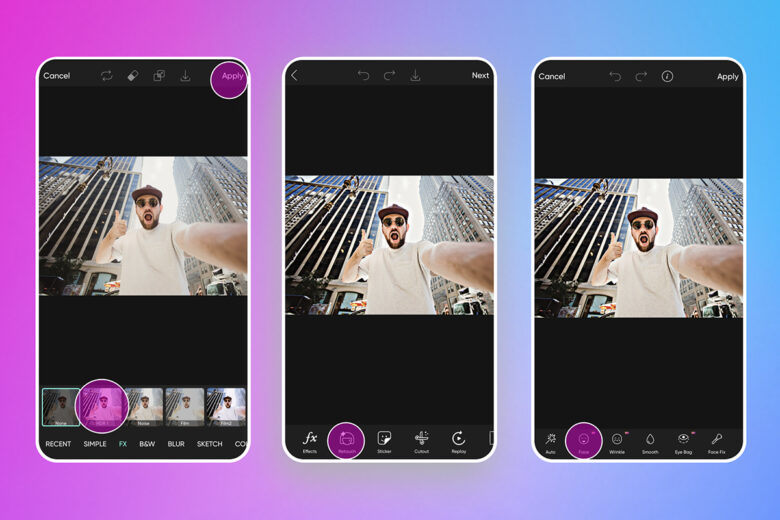 4) Using the Retouch tool will help you make additional edits to facial features. For a tutorial on how to use each of the Retouch tools, check out this Face Editor for Flawless Photo Retouching article.
5) Explore other editing tools like Stickers, Masks, and Frames to add final touches.
6) Once you're happy with your edit, tap Next at the top right of your screen to save or post your selfie.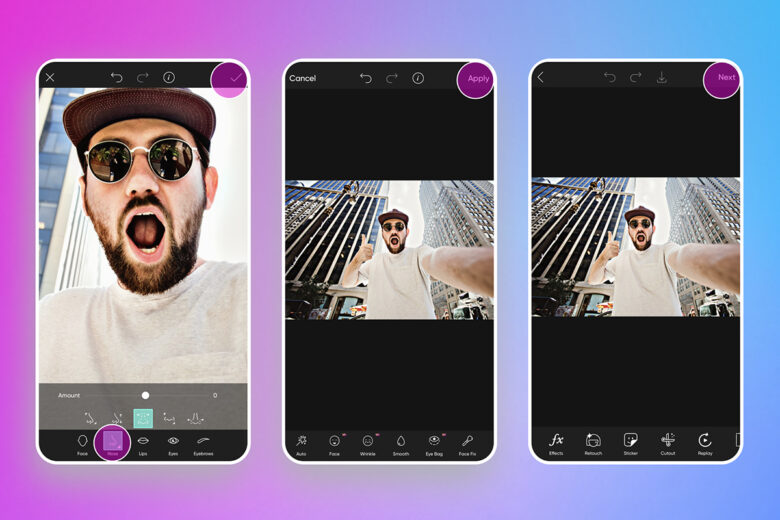 There you have it. From the best selfie poses to the best selfie edits, that's everything you need for taking an amazing selfie.
Picsart is a full ecosystem of free-to-use content, powerful tools, and creator inspiration. With a billion downloads and more than 150 million monthly active creators, Picsart is the world's largest creative platform. Picsart has collaborated with major artists and brands like BLACKPINK, the Jonas Brothers, Lizzo, Sanrio: Hello Kitty, I am a Voter, Bebe Rexha, Maroon 5, One Direction, Warner Bros. Entertainment, iHeartMedia, Condé Nast, and more. Download the app or start editing on web today to enhance your photos and videos with thousands of quick and easy editing tools, trendy filters, fun stickers, and brilliant backgrounds. Unleash your creativity and upgrade to Gold for premium perks!