When it comes to sharing photos on Instagram, there are times when minimalistic, understated editing that plays around with shadows and simple templates are perfectly fitting. But, sometimes more is more! For those times when it's the latter, posting just a single shot won't cut it. Every now and again you're blessed with a handful of amazing images that you are dying to spotlight all at once but you don't want to bombard your followers with back-to-back posts and a carousel just doesn't feel quite right. 
Sometimes you need to profess your love for your best friends with a public happy birthday message sharing five years worth of your funniest photos together. What about those times when you're making a visual mood board of all your favorite things (we're looking at you, anniversary sale shopping haul snapshots!)? Or maybe you're just moving and trying to sell some things to your friends. Let's face it — sometimes you just need to create an Instagram collage to save the day. Photo collages are the perfect way to combine and share some of your best moments from your camera roll, whether they be outtakes or perfectly curated shots. Don't hold back! You can create a more serious photo collage for Instagram feed posts and put all of the outtakes into a fun, but disappearing Instagram story collage.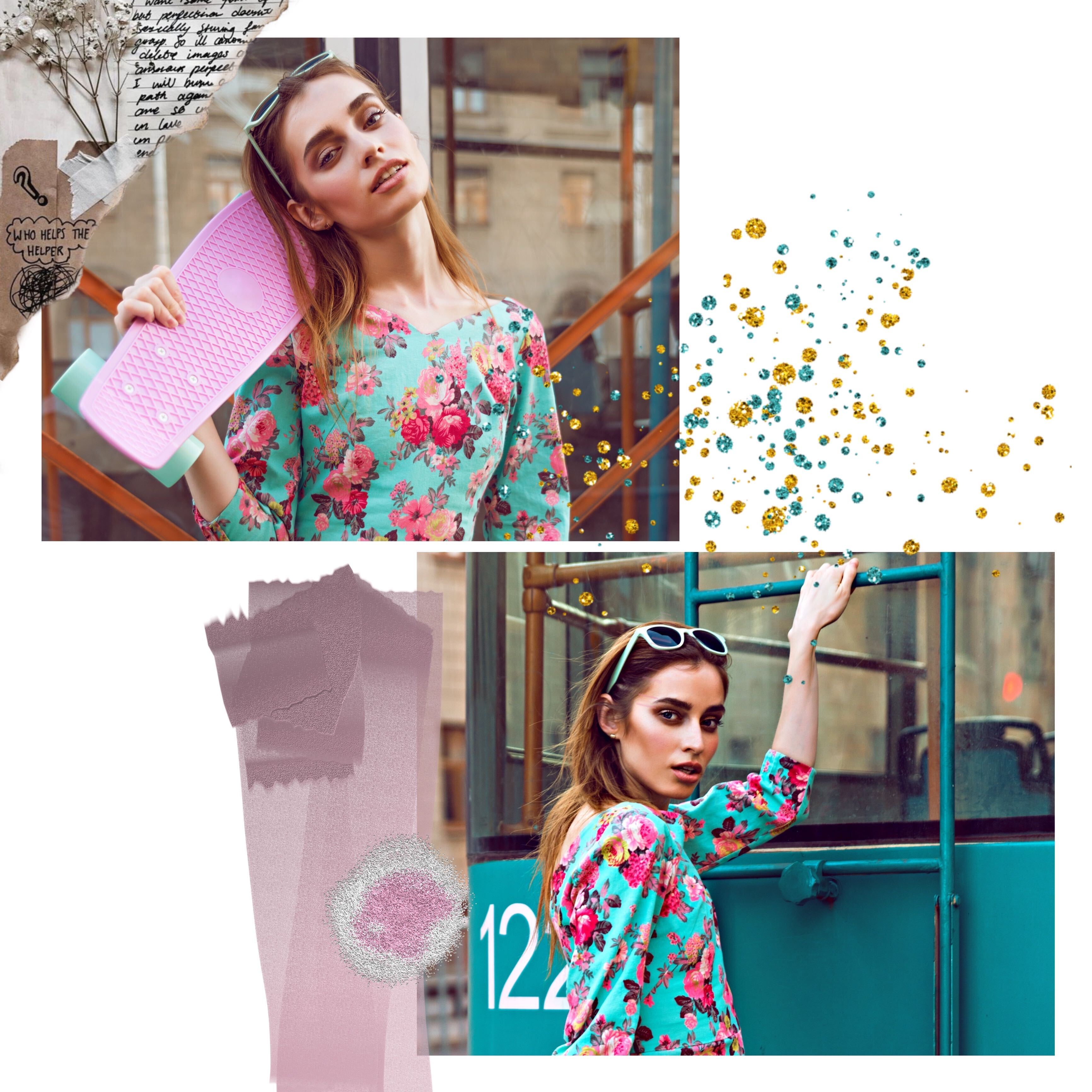 A great place to start your Instagram collage project is the free, all-in-one photo & video editing app, PicsArt. Its collages are easy to use and come in a variety of grids styles and shapes. Just check out this collage crash course to get a quick look into what you can do! Alternatively, you can choose to work with collage frames or try your hand at freestyle collages (more on that below!) if you want to get super creative with your editing. 
Making photo collages may sound like a complicated endeavor, but you don't need to have any design or editing experience to create next level Instagram story collages in PicsArt! It's as simple as selecting up to 10 of your favorite photos from your camera roll and choosing their placement within the collage grid of your choice. If you're not happy with the collage grid you selected, you can go back and pick another one. To take things a step further, you can also edit your photos directly in the collage maker with the tools in PicsArt's Photo Editor to further personalize your collage. 
Pre-Made Grids for Instagram Collages
Once you download the PicsArt app, all you have to do to start creating your Instagram collage is to click on the pink plus sign at the bottom of your screen, which pulls up your camera roll and gives you the option to work with different types of collages. PicsArt's pre-made collage grids are the easiest (and fastest!) way to create Instagram story collages since there are over 80 grid designs to choose from. We promise that the hardest part is picking which one you want to use! Whether you're on the hunt for a simple, two- three- or four-photo grid, or are looking for something a little bit more all-encompassing, PicsArt has an Instagram collage grid that will speak to your signature style. Depending on the number of photos you choose to work with, the app will automatically pull up the grid designs that will work for you. From basic grids that require only a few photos to more complex shape collages that incorporate 10 images, you'll never have any shortage of inspiration or ideas on how to show off your collection of awesome photos on Instagram. For formal business design, you can go with the linear, sleek grid options, but for a more unique style, work with PicsArt's new shape collages! 
Shape Collages to Stand Out on Instagram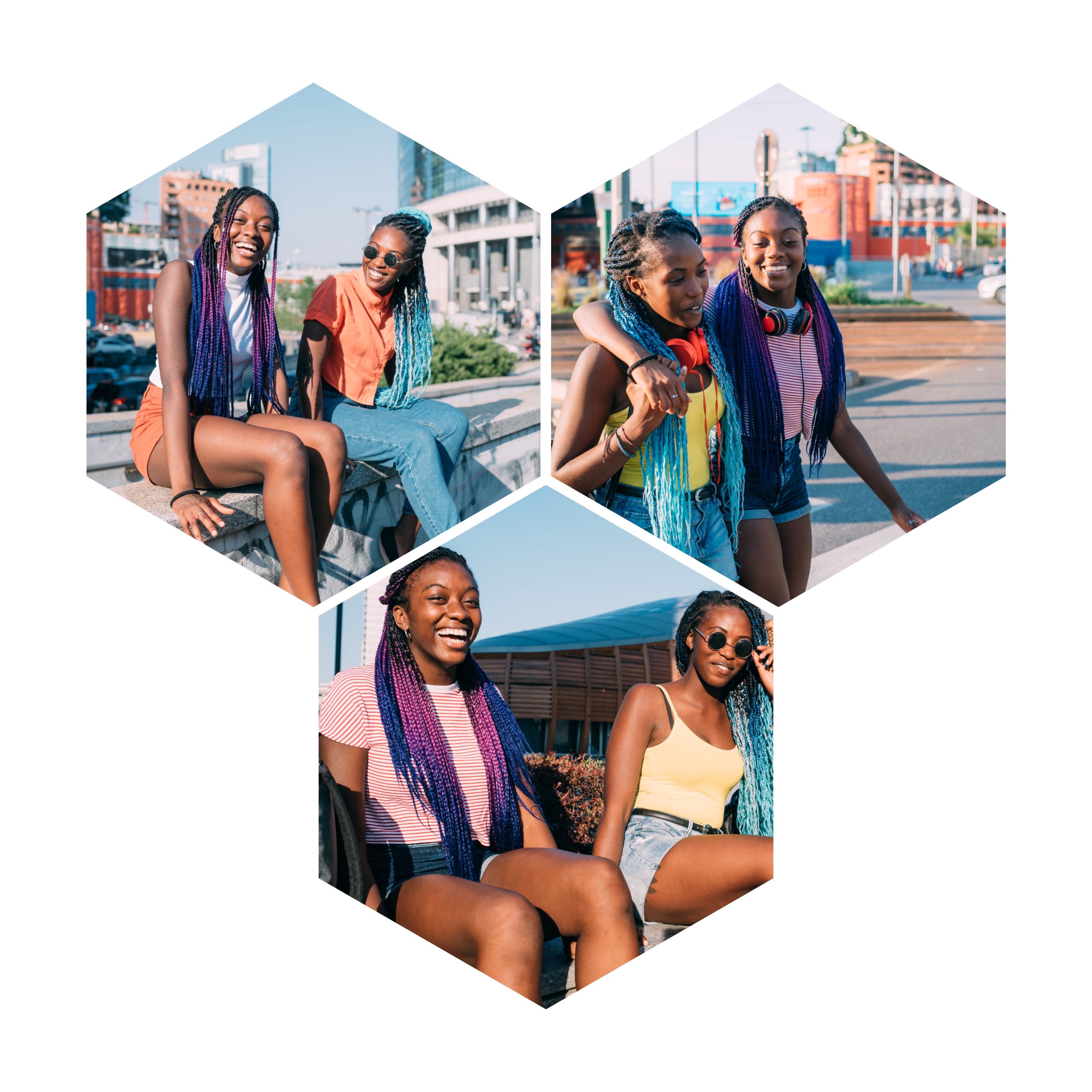 Never again will you be limited by square and rectangular collage shapes! Say hello to PicsArt's playful shape collage designs including hearts, stars, hexagons, circles, diamonds, puzzle pieces, and so much more. To access shape collages, just open the editor within the app and click on "Grids" within Collages. There you'll discover so many interesting shapes that will make your Instagram posts pop. Once you select your photos from your camera roll, the editor will place them randomly into the shapes for you. To change the photo order, just drag and drop each image separately until you're happy with its location within the shape collage. If you're tired of basic grid-style collages and want something a little bit more standout, then shape collages are perfect for you! They're great for more playful photos with your friends and family and can even be used to promote fashion or beauty brands. Celebrating an anniversary? Pull your most romantic pictures into the "LOVE" shape collage and you'll definitely impress your partner. 
Match Your Mood with a Custom Instagram Collage
The fun doesn't have to stop after you've selected all your images and input them into the perfect Instagram collage grid. Before posting to your account, you can customize your photo collage to make your post pop even more. To create something truly one-of-a-kind that your Instagram followers will see heart-eyes for, you can use PicsArt's quick & easy editing tools to level up your photo collage. Add a bold background, change the width and color of the collage grid, millions of fun stickers, quality filters, and/or text overlay (there are 200+ stylish fonts to choose from!). You can even change the ratio of your photo collage to fit an Instagram square, portrait, or story. 
The personalization part is where you can get extra creative. There are no rules or mistakes so customize to your heart's desire. When you're finished, you'll have an Instagram collage that'll switch up your feed from single-image posts and stories to something a bit more complex and double-tap worthy. 
Use Templates to Create an Instagram Story Collage
Another way to create a stunning Instagram collage is to take advantage of PicsArt's easy-to-use and timely templates. There is one for every occasion, season, and aesthetic. And they keep adding more so check back often (especially around holidays)! The great part about PicsArt's templates is that they've been meticulously designed by talented artists so they come ready to use with beautiful backgrounds and a slew of shapes and colors. All you have to do is swap the preset photos for your own and edit other small details to customize your collage. Popular template designs include Back to School, KPOP, Pets, Interior Design, Frames & Mirror, and more. Once you pick your favorite template, you can easily resize it for your Instagram stories and posts with our Crop tool in the Editor. Templates are perfect for those who are looking for a very specific use case for their Instagram collages. And odds are that there's the perfect template for you in PicsArt! With templates, the design work has already been done for you, so you get to spend more time picking the favorite photos to add to your collage! All you have to do is add your photos, save, and share. 
Try Frames for Stylish Instagram Collages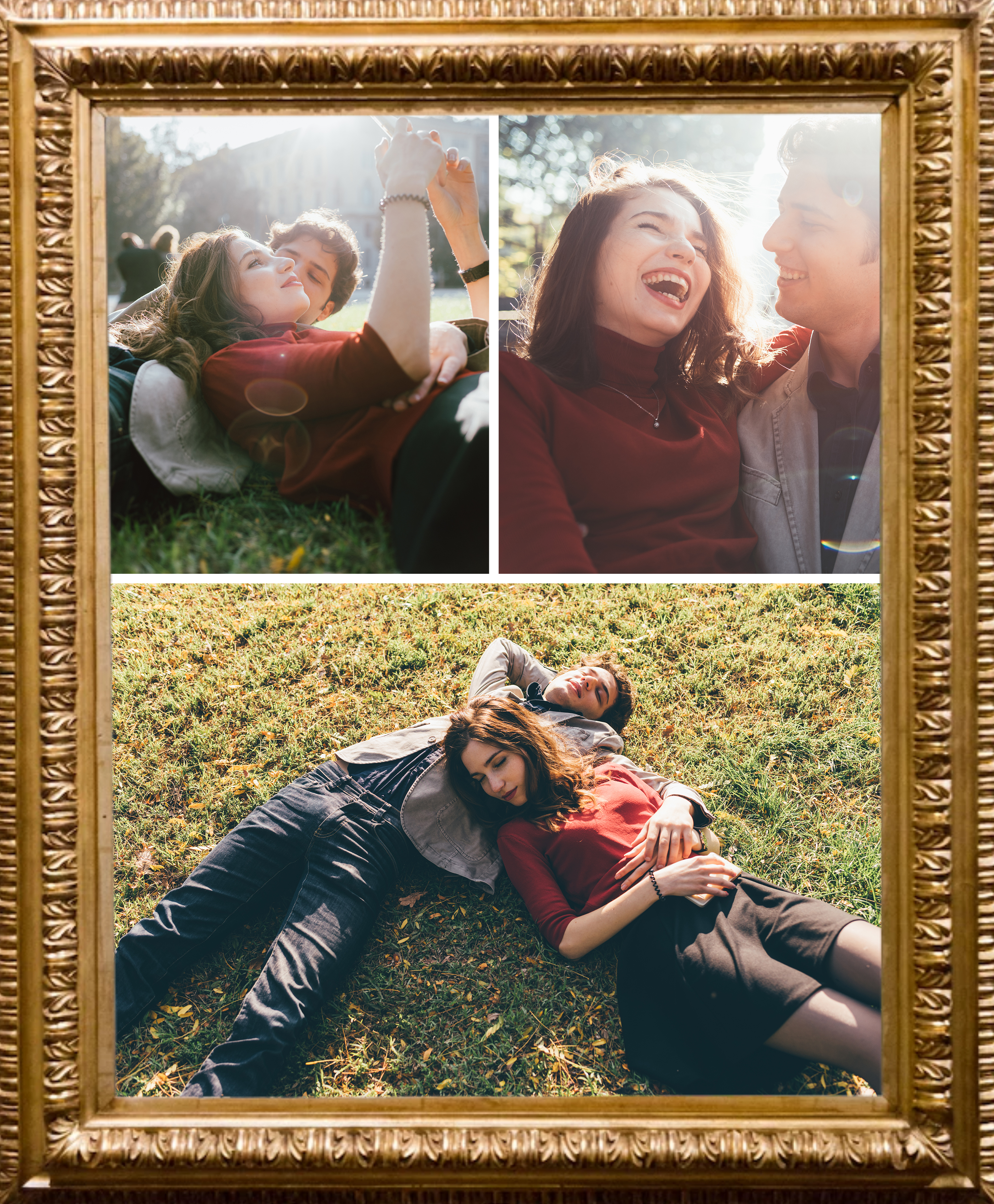 Framing art usually makes it feel more polished and lends an extra air of style. It says, "I'm ready to be seen!" Have you ever thought about adding one to your Instagram collage? After all, it is a work of art! 
Simply open up the PicsArt app and look for Frames (found within Collages). Categories include titles like Birthday; Colorful; Love; Magazine; Holographic; Geometric; and more. Did you just do your makeup in a few different ways? The Selfie frame is perfect for you! Simply add it to a collage showing off your new lipstick shades or eyeshadow looks to engage your fans with content that will be sure to capture some heart-eyes. 
Each frame has a limit of how many photos it can take, so choose accordingly. What's great about collage frames is that they add instant style to any of your photos. You can leave the frame design as is or you can choose to personalize it by changing the text and colors and adding your own stickers, filters, effects, and more. With any PicsArt frame, you're guaranteed to give your photos a polished treatment that's anything but basic. 
Uplevel Your Instagram Story with Video Collages 
Want to set your best memories into motion? With PicsArt's impressive Video Editor, you can do it in mere minutes! Just upload your favorite photos into the Slideshow Maker tool and the editor will create a video slideshow out of them. That's it! All it takes is just a few taps. 
Want to further personalize your custom video collage? Jazz them up by adding cool effects (like snowfall), stickers, fonts, AI Music for free custom music tracks, and more. When you're done editing, simply resize your video collage for Instagram and save it to share with your fans and followers. PicsArt's video collage feature will certainly have your followers wondering how you did that and set your feed apart from the competition – all in record time!
Instagram Collage Ideas to Get You Started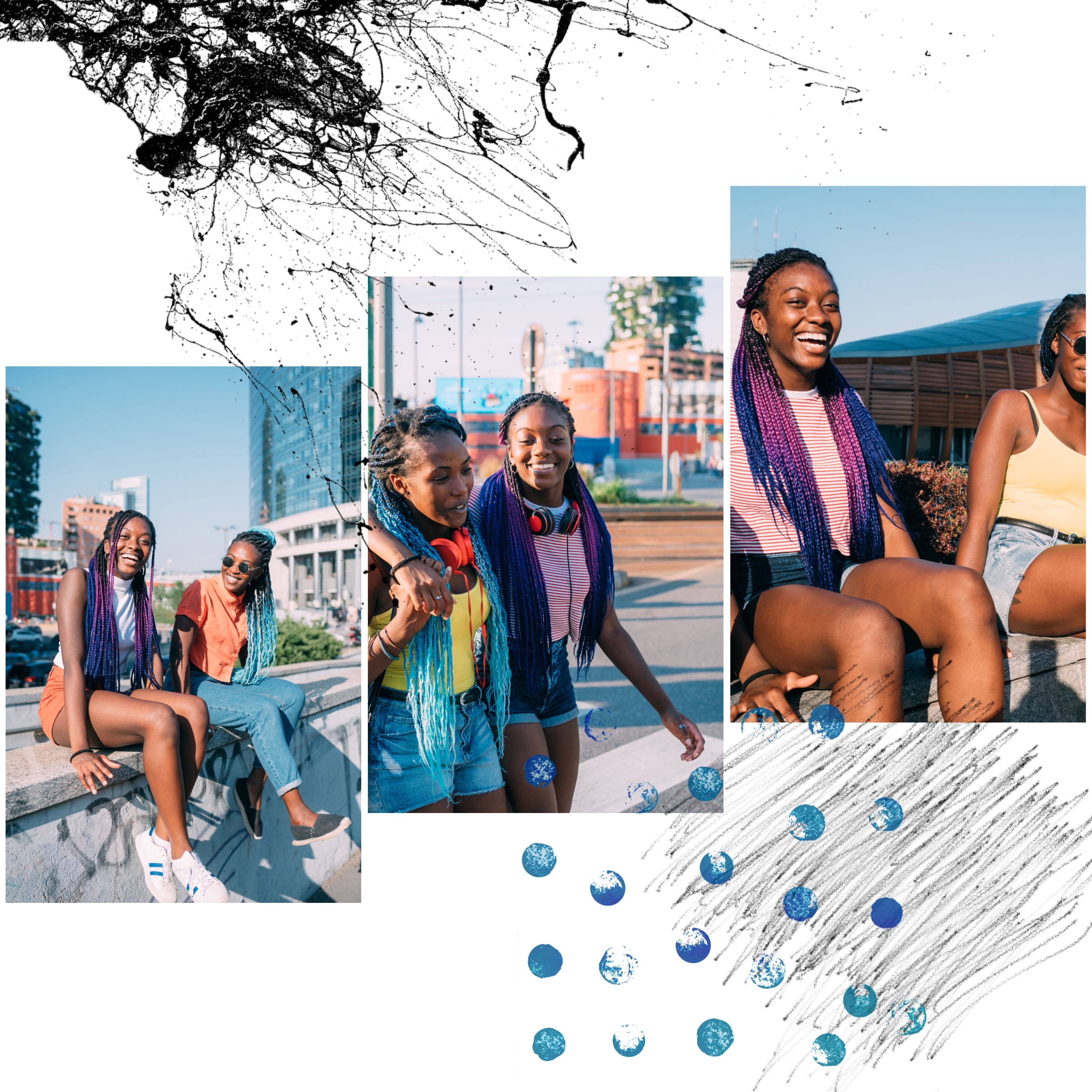 Now that you see how easy it is to make custom Instagram collages, the world is your oyster! But trying to decide where to start can feel daunting. Don't give up! Start by gathering images that were taken from the same event or trip, or at least have a similar feel or theme. You can think of Instagram collages as mood boards of your favorite photos. For example, the uniting theme can be family trips throughout the years which you turn into a collage to share with your family.
Instagram collages are also a great way to wish your best friends and family a happy birthday by sharing some of your favorite moments together. Photo collages are also a fun way to relive old memories for a throwback post. If you're selling a product for your online store or brand, Instagram collages are a sophisticated way to gather all your goods in one place to make maximum impact. Do you usually make vision boards on your birthday or at the start of a new year? Considering sharing it in a photo collage photo collage so you can easily share it with your friends online! With millions of stickers and so much #FreeToEdit photos in PicsArt, you'll spend less time cutting photos from magazines and more time envisioning what's possible. It can be a gorgeous vacation destination, your favorite color, stylish garb you have your eye on, and beauty looks you'd like to try. There are so many more ways to take advantage of Instagram collages. Get as artistic as you want with it, and most importantly, have creative fun! 
Now you're an Instagram collage master! We can't wait to see what you create. Post your collages with hashtag #HeyPicsart so we can cheer you on!
PicsArt all-in-one Photo and Video Editor, Collage, and Sticker Maker is the world's largest creative platform with over 150 million monthly active creators and influencers. PicsArt has collaborated with major artists and brands like Taylor Swift, The Jonas Brothers, Gwen Stefani, Maroon 5, Lizzo, Meghan Trainor, One Direction, MONSTA X, Warner Bros. Entertainment, iHeartMedia, Condé Nast, and more. Download the app today to level-up your photos and videos with thousands of quick & easy editing tools, trendy filters, fun stickers, and brilliant backgrounds. Unleash your creativity with PicsArt and upgrade to Gold for awesome premium perks!