A t-shirt with text on it seems like a simple concept, right? You may think it's as easy as deciding on the words and picking a font, but there's a little bit more to t-shirt design than you think. When it comes to typography, you'll want to make a strategic decision on what you opt for to ensure that it's not only aesthetically pleasing, but conveys the theme and emotion you intend it to. T-shirt fonts may be more complicated than you first think, but we're here to help.
Fonts For T-shirt Design vs Fonts For Online Designs 
If you're wondering whether there's a difference between t-shirt design fonts versus online fonts, well, the simple answer is yes there is. Online fonts are optimized to be read on screens whereas print fonts are meant to be viewed on printed materials. Not every font can be used interchangeably between digital and t-shirt designs. Thin fonts, for example, can look great in print but not so great on screen. In reality, there are many variables to consider when choosing a font for a t-shirt and there are a lot of distinctions between print and web fonts.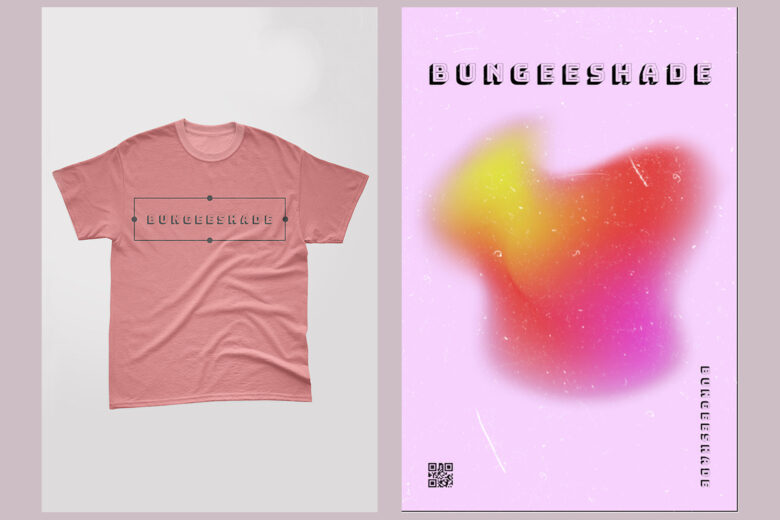 5 Rules For Choosing T-shirt Design Fonts 
Let's face it, choosing a font for any design project can be daunting. Before you know it, you can be knee-deep in an endless scroll of fonts feeling no closer to a decision. To avoid settling for a ill-suited font, follow these simple rules to help find the perfect font for your t-shirt design.
1. Explore Different Fonts
Set some time aside to really explore all available fonts. To get started, take note of some of your favorites from this list of 50 free fonts and then narrow down later. Try to avoid overused or obvious fonts and instead, go for something that fits your t-shirt theme. Once you've narrowed down a few options, create mock-up t-shirt designs with the various font options and make a selection.
If you can't find the right font for your t-shirt, consider using this font generator.
2. Legibility Is Everything
If your t-shirt fonts are not legible, it defeats the purpose of your t-shirt (unless you're deliberately going for a cryptic, unreadable message). No one should have to squint to make out what your t-shirt says. Unreadable fonts ultimately make for bad t-shirt designs.
Avoid decorative and display fonts as they can be hard to read, especially on a t-shirt. Instead, choose from Serif and Sans Serif font families to ensure your message is clear and crisp.
Avoid using all caps, unless your design calls for it. You don't want to seem like you're shouting at anyone via your t-shirt, so avoid capitalizing all your letters.
Scale fonts appropriately whether you're sizing up or down. Avoid stretching the font disproportionately. If your font doesn't work when sized up or sized down, try a different one. Remember, you'll print on a range of t-shirt sizes.
Organize your message with a visual hierarchy. Create a visual hierarchy by order of importance, the size of the text, the color of text, and font types.
3. Pair Fonts Wisely
If your t-shirt message is short and sweet, you'll most likely need one font. If your message runs longer, pairing two or three fonts will make your t-shirt extra eye-catching. Don't use more than three fonts, however.
4. Choose Appropriate Fonts
Fonts can convey far more than just words. Each font has unique characteristics suggestive of certain emotions, which is why it's important to select the appropriate font for your t-shirt design. Consider your target audience, what the goal of your t-shirt is, your brand identity, and what the message on your t-shirt actually says. Once you explore different fonts, you'll get a feel for each font's personality and be able to find the right one for your t-shirt design.
5. Use Special Effects Sparingly
Special effects can animate a t-shirt. The key is to avoid overusing special effects and making sure the effects are appropriate for your particular t-shirt design. Use special effects only for titles or short messages, rather than smaller supporting text that's hard to read.
How To Compliment Fonts In T-shirt Designs
Typography is an art form. But before jumping into it, let's look at the basic types of fonts and how they are commonly used so you have some foundational knowledge.
Serif
Sans Serif
Script
Display
Monospaced
Serif and Sans Serif fonts are more basic in design, with Serif fonts being more classic and Sans Serif having more contemporary characteristics. Both are clean, highly legible, and great for titles and body text. Script and Display fonts are more decorative in design, and serve as great fonts for titles or short sentences. They can be eye-catching and intricate in design, which makes them great for t-shirt fonts. Monospaced fonts are typically used in the technology sphere and can look like software code or typewriter-style fonts.
When it comes to combining fonts, you can generally pair Serif and Sans Serif fonts with any other category. Script and Display fonts can be combined with Serif and Sans Serif. Monospaced fonts should be paired with Sans Serif fonts. This is merely a guide for pairing fonts, however. Feel free to break the rules and combine fonts if you see fit, and your design benefits from it. For a deep dive on font pairing best practices, check out the Complete Guide to Font Pairing: Best Practices for Combining Typefaces.
The Best Fonts For T-shirt Design 
To help make the process a bit easier, we've curated the top 15 best fonts for t-shirts on Picsart.
Montserrat

Bungeeshade

EBGaramond

Heebo

Great Vibes

Mali

Merriweather

Quicksand

Staatliches

Lobster

Lora

Satisfy

Asap

Chivo


JuliusSansOne
Creative Phrases To Print On T-shirts
Looking for something more creative than Live, Laugh, Love to put on your t-shirt? Check out some of these creative sayings you can use for inspiration.
City, State – simple and popular.
Wanderlust – great for a travel theme.
Dream Catcher
Be Kind
Don't worry. Be happy.
Life of the party
But first, coffee.
You had me at meow.
It's wine o'clock
Vote
Create T-shirt Designs in Picsart

By now you've learned a lot about fonts for t-shirt designs. So let's put this knowledge to work.
Want to create a custom design on your mobile device? You can do so with ease on the Picsart mobile app. The best place to start is with a t-shirt template, but if you're ready to dive in you can design from scratch following these simple steps:
On Mobile
1) Tap on the purple plus sign to start your design.
2) Scroll down to Color Backgrounds and select your preferred canvas.
3) Tap Add Photo to upload a blank t-shirt to design onto.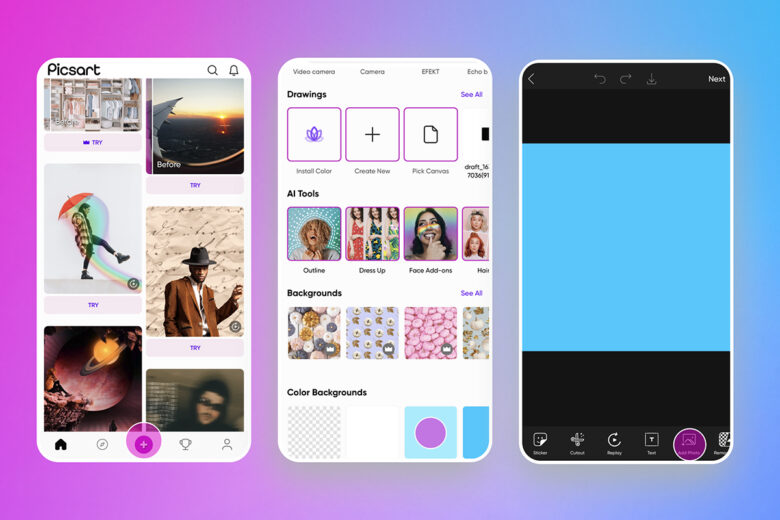 4) Now let's add a Sticker to the design. You can choose from your personal collection or the multitude of options in the Picsart library.
5) Adjust things like Opacity, add Effects, Shadow, and other design details.
6) Tap on the Text tool and type in the message you want displayed on your t-shirt.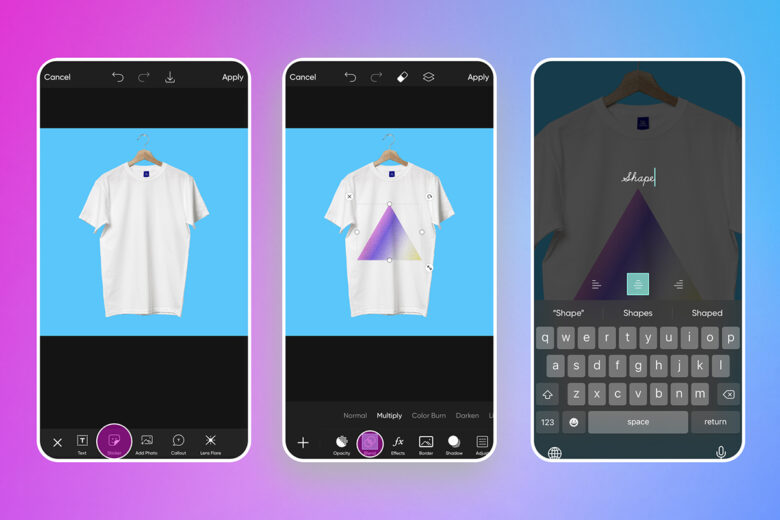 7) Finesse the design of your message by adjusting the font, text style, size and any effects you want to add.
8) When you're finished, tap on Next to save or post your design.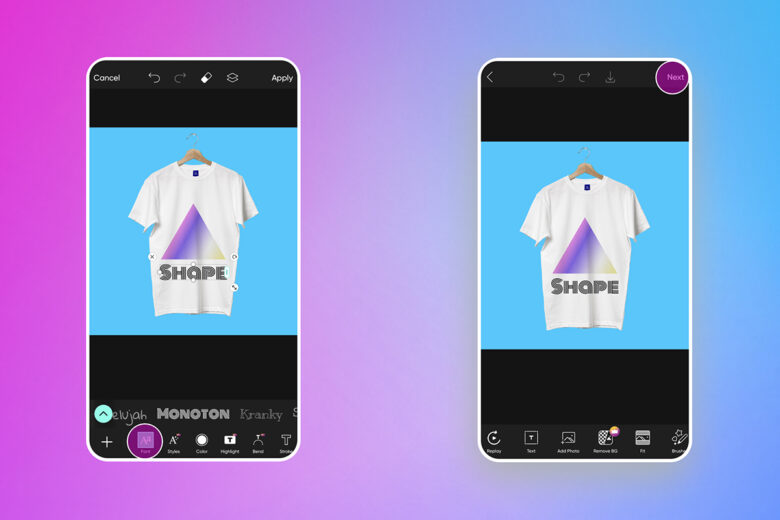 On the Web
If you prefer working on your laptop or home computer, you can also create a t-shirt font design on the Picsart desktop editor.
1) Click on New Project to begin.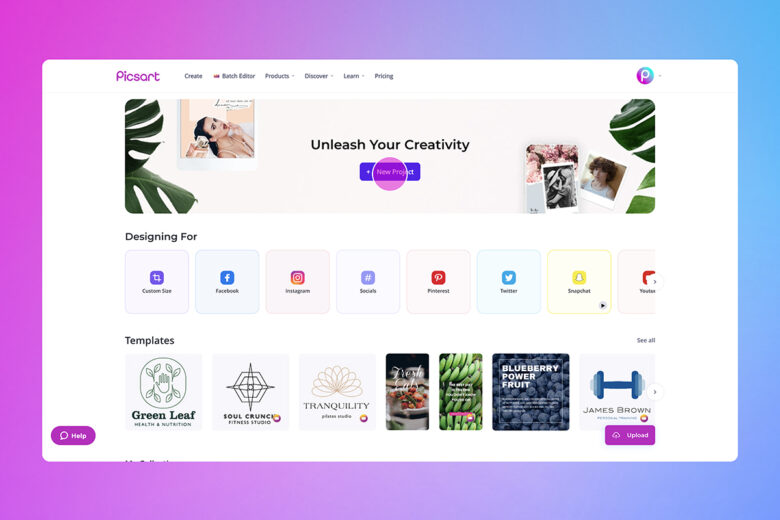 2) Upload a blank-t-shirt to the canvas.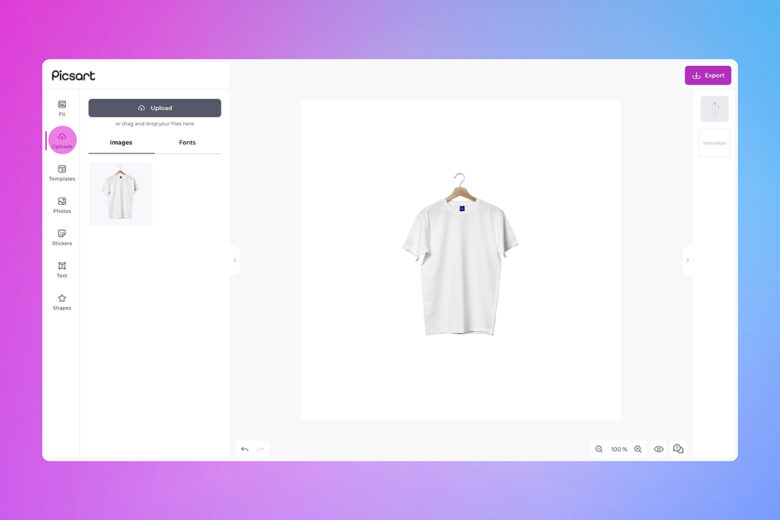 3) Click on Shapes to choose the area of the t-shirt you want to add design elements.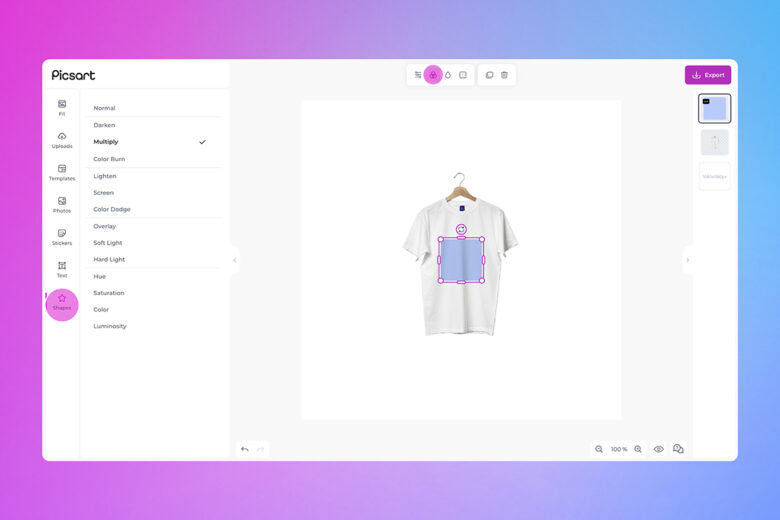 4) Now let's add some messaging. Click on Text and adjust the style, size and placing of your t-shirt slogan.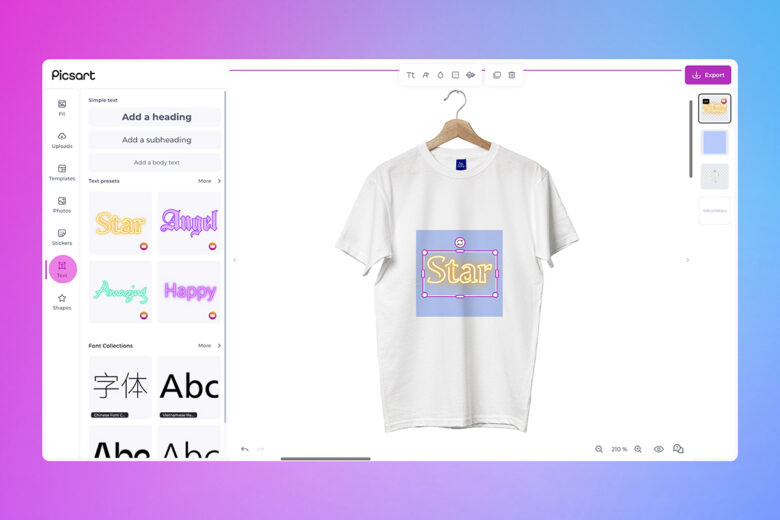 5) When you've finalized your design just click on Export to save or post it.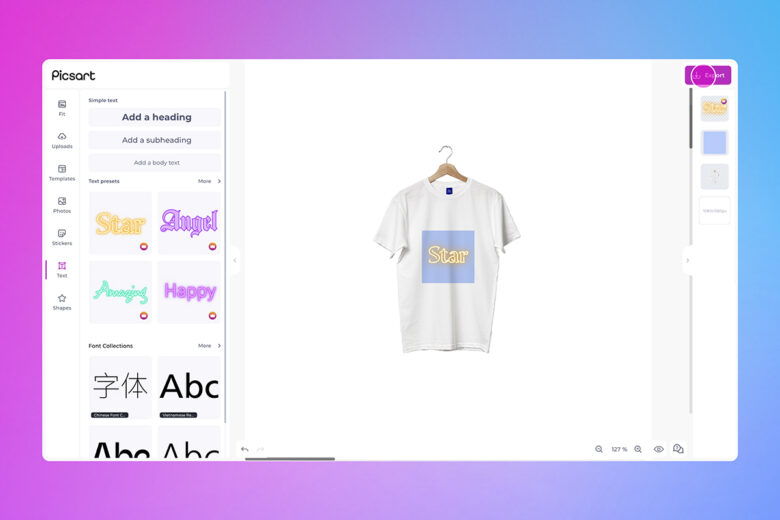 Picsart is a full ecosystem of free-to-use content, powerful tools, and creator inspiration. With a billion downloads and more than 150 million monthly active creators, Picsart is the world's largest creative platform. Picsart has collaborated with major artists and brands like BLACKPINK, the Jonas Brothers, Lizzo, Sanrio: Hello Kitty, I am a Voter, Bebe Rexha, Maroon 5, One Direction, Warner Bros. Entertainment, iHeartMedia, Condé Nast, and more. Download the app or start editing on web today to enhance your photos and videos with thousands of quick and easy editing tools, trendy filters, fun stickers, and brilliant backgrounds. Unleash your creativity and upgrade to Gold for premium perks!