The decision to tie the knot signifies the start of an exciting new time in life, full of love and mutual support for you and your partner. It's no wonder you immediately want to tell the world and start planning every last little detail. A wedding brochure serves both as a road map for the ceremony and a memorable souvenir of the day itself. Luckily, with photo editing apps, like PicsArt, designing a wedding brochure that reflects your style is a breeze. 
Let's delve into what you should include in your wedding brochure, covering five of the best templates to use, and how you can easily create the design yourself.   
Elements of a Good Wedding Brochure
To design a good wedding brochure, you must know what to aim for. Typically, a good wedding brochure will feature: 
A light or pastel color scheme
There's a reason why the wedding season starts in late spring and lasts until early fall. Most people associate love and weddings with renewal and rebirth, so the color scheme of your brochure should reflect that.
An elegant, calligraphic typeface
At this point, you might have an intuitive understanding of what makes a suitable font for a wedding brochure. Aim for an elaborate-looking cursive, with thin strokes and an orderly, sophisticated style. 
Your unique personality as a couple
What are your key qualities? Are you a power couple in the making, or laid-back nomads in love with nature? Don't be afraid to be expressive in your wedding brochure's design. 
Tell your guests what exactly you have in store for them. They'll have something to look forward to before the wedding and something to look back on, to reminisce about afterward.
What Content to Include in a Wedding Brochure?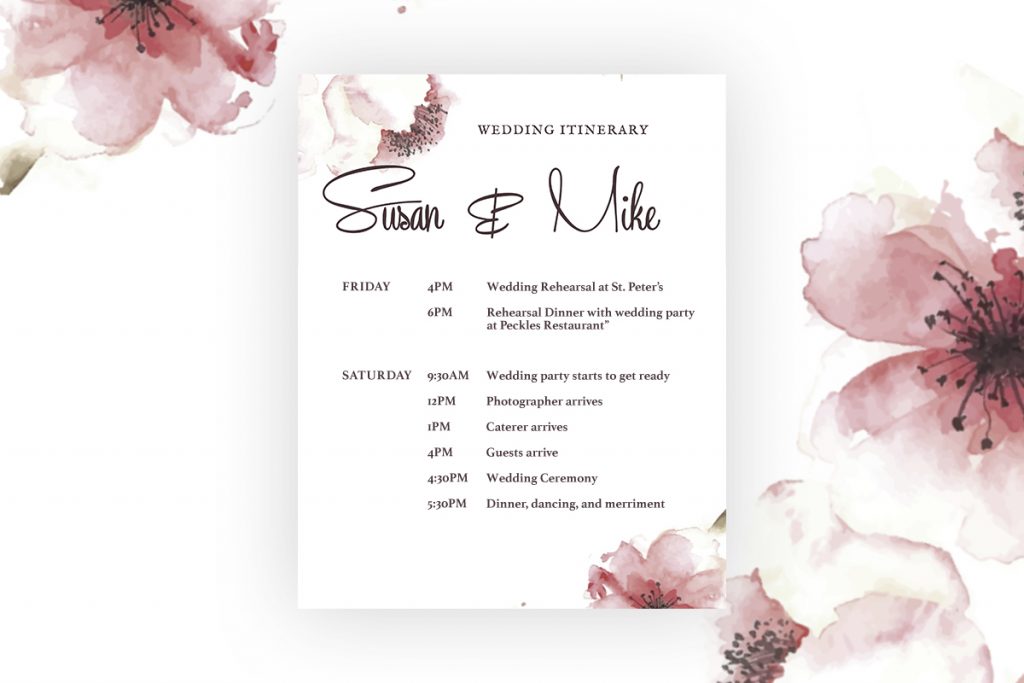 Here's a general idea of what content your wedding brochure should cover:
The date and time of the wedding 
Typically mentioned on the first page next to the photo and the names of the happy couple, the date and the time of the wedding will remind guests about the memories made on your wedding day for years to come. 
This is the logistical part. Tell your guests the exact schedule of your wedding day, from the ceremony to the reception. Don't forget to mention the venues and the names of all relevant people, such as the reception host, the parents of the bride and the groom, the best man, and the maid of honor. 
High-quality photos of the couple 
Most wedding brochures are brimming with romantic photos of the couple. Arrange a pre-wedding photoshoot with your wedding photographer. That way you'll not only get beautiful photos together but also get a feel for how the photographer works ahead of the day itself, taking some of the pressure off when it arrives.
A section summarising your love story
If you're planning a large wedding, some guests may not know much about your future spouse. A wedding brochure offers a great opportunity to share the story of how you met, what values and interests you share, and anything else you want guests to know.
Inspirational or humorous anecdotes
So much has been said about the topic of love, and yet, it's inexhaustible. Each and every relationship and marriage dynamic is unique. Here's an opportunity to philosophize and offer your take, be it lighthearted and amusing, or sentimental and serious.  
The Best 5  Wedding Brochure Templates 
Check out this list of five wedding brochure ideas to get you started.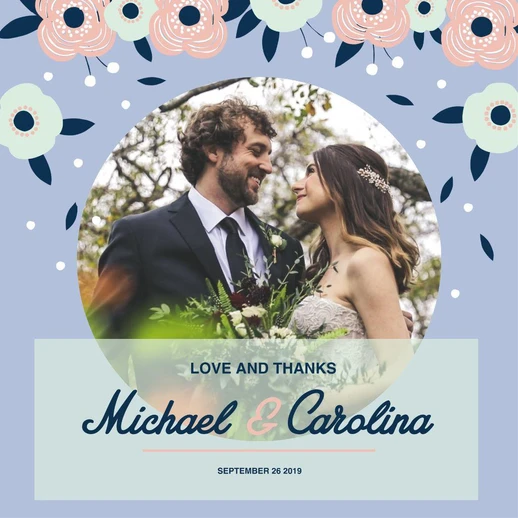 Florals, both illustrated and in the form of gorgeous bridal bouquets, feature heavily in all wedding brochure designs. A floral aesthetic may just be what your brochure needs.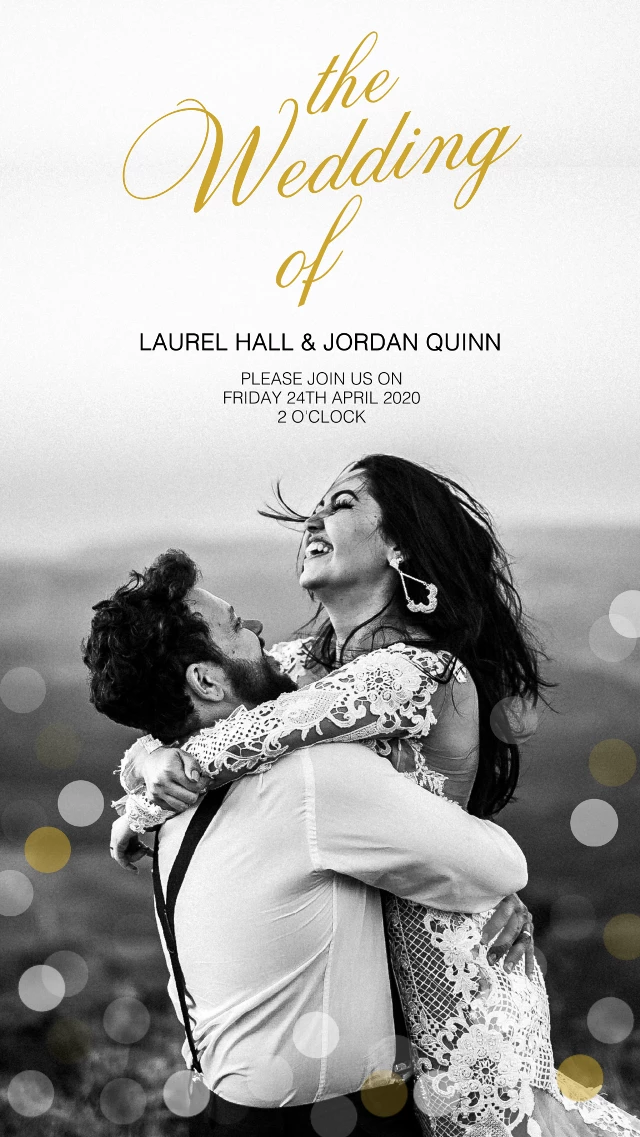 Black and white photography is said to put emphasis on the emotional depth and authenticity of an image. Perhaps that's why so many wedding brochures are in black and white.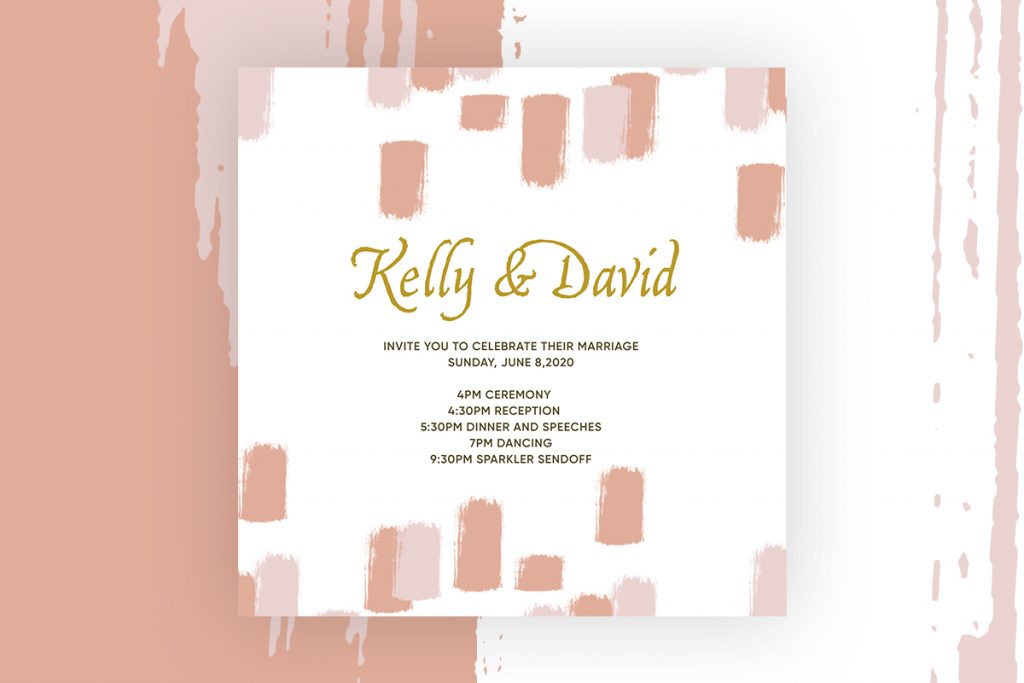 No distraction, just a beautiful minimalistic design letting guests know what's coming up.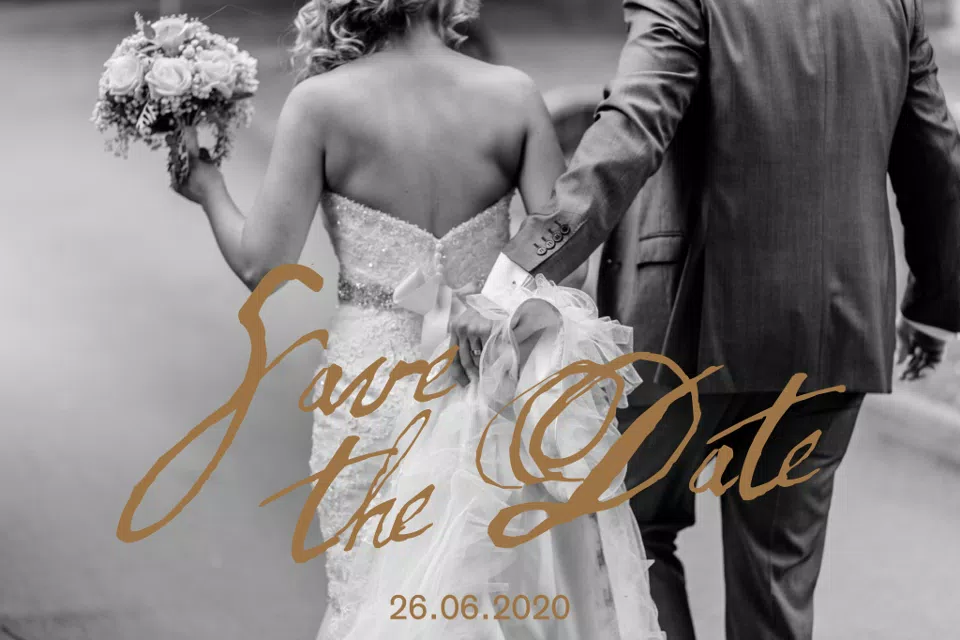 A hand on the back or hands held together, two pairs of smiling eyes or a shoulder to lean on… Love is in the details.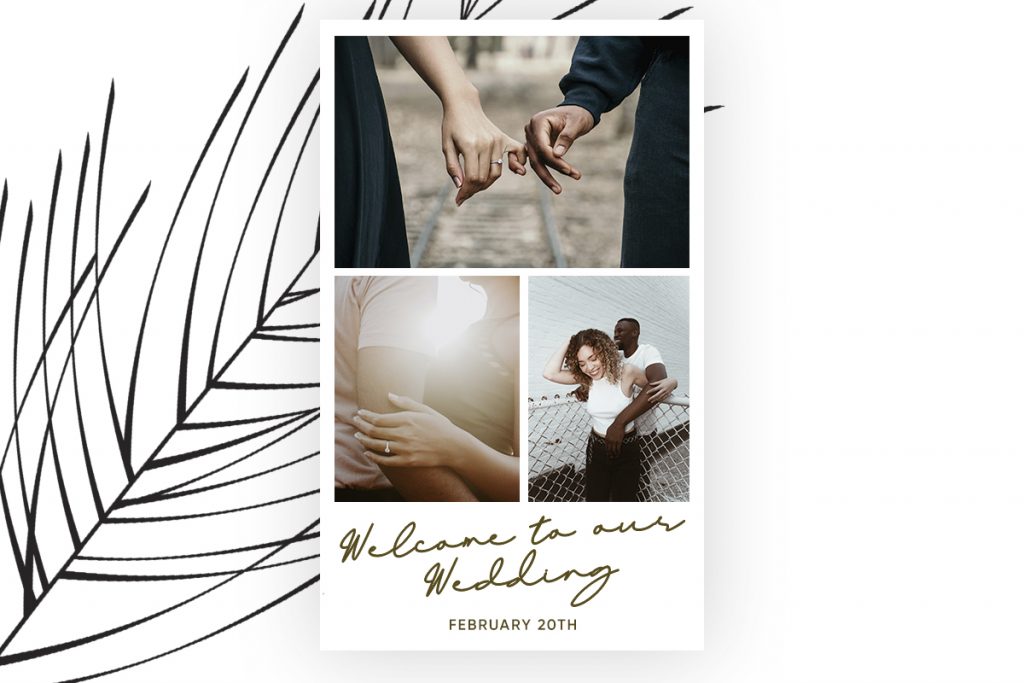 A collage of three or four photos together, creating a lively, playful, and dynamic design.
How to Make a Wedding Brochure?
Using the PicsArt, you can easily design a wedding brochure yourself, instead of hiring a designer. No one will be able to tell the difference if you follow these simple step-by-step instructions.  
If you want to edit on your desktop, here's how: 
Open

PicsArt Editor

and start a new design. 

Click

Templates

from the left-side menu and search for 'wedding'. You'll see a library of templates in different sizes. Scroll down to browse. 

Click on your chosen template and apply it to the blank design. 

Click on the text in the template to edit it, adding your names and wedding details.

Click on the image of the couple in the template and delete it from the menu above. Click

Photos

from the left-side menu and add your own photo.

Crop the photo

to match the frame. 

Taking the colors, elements, and fonts of the template as a starting point, keep customizing the

wedding brochure

until it looks ready for print. 
Editing on your smartphone? No problem.
Open the PicsArt app on your phone and tap on the plus ('+') in the middle to start a new edit.

Scroll down and tap on

All Templates.

Type 'wedding' into the search bar and scroll down to browse the available templates. 

Tap on the template you like to edit. 

Tap on the text or the template photos, to replace with your own. Make sure to

resize the photo

if necessary.

Keep playing with frames, stickers, and other elements of the template until your

wedding brochure

is ready.  
Picsart all-in-one Photo and Video Editor, Collage, and Sticker Maker is the world's largest creative platform with over 150 million monthly active creators and influencers. Picsart has collaborated with major artists and brands like The Jonas Brothers, Gwen Stefani, Maroon 5, Lizzo, Meghan Trainor, One Direction, MONSTA X, Warner Bros. Entertainment, iHeartMedia, Condé Nast, and more. Download the app today to level-up your photos and videos with thousands of quick & easy editing tools, trendy filters, fun stickers, and brilliant backgrounds. Unleash your creativity with Picsart and upgrade to Gold for awesome premium perks!