We often take the harmonious nature of the colorful world around us for granted, but when it comes to photo editing, you can't go for long without learning about colors and color theory. Every good photo editor needs to understand colors and how to use them correctly. Otherwise, you'll end up with a dull photo. Today, we're diving into the color pastel red. 
Even if you don't consider yourself an artistic person, color theory goes a long way, touching everything from small business branding and color palettes to daily tasks like picking out an outfit. Colors are an important part of what makes things visually appealing and the best way to learn all about them is to start with a single color. Without further ado, let's take a look at pastel red.
What Color Is Pastel Red?
Pastel red is a beautiful color with the hex code #FF6961. It is commonly used by web developers and designers due to its eye-catching but soft nature. The muted red look of pastel red makes it easy to match with other colors and lends a fun but not jarring look to images.
While the red color is usually associated with aggression and passion, pastel red has a completely different vibe. The pastel red color has more of a dreamy look and feel to it and is often associated with love and romance.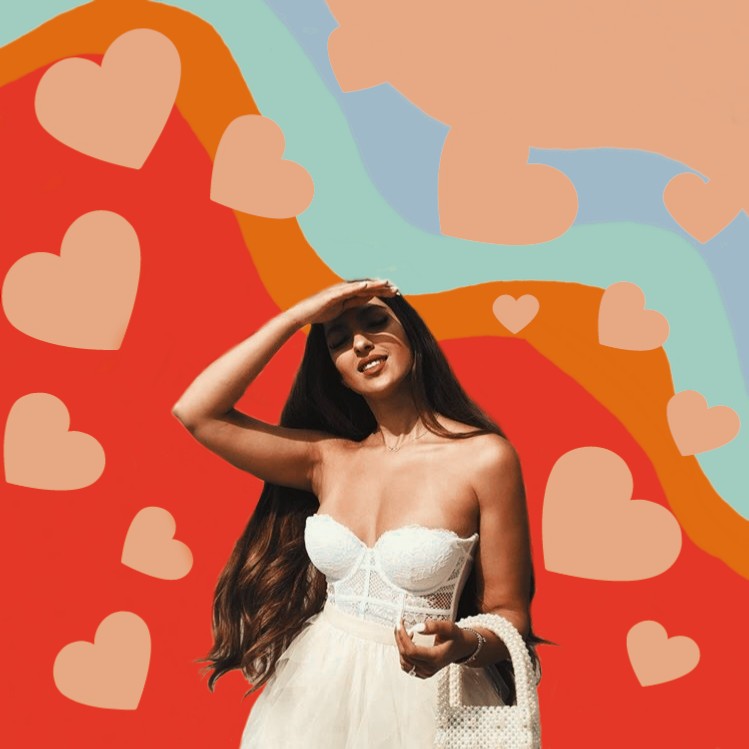 via PicsArt
If we look at the pastel red color in RGB color values, it consists of 100% red, 41.2% green, and 38% blue colors. In CMYK color space, the red pastel color is composed of 0% cyan, 58.8% magenta, 62% yellow, and 0% black. A Pantone shade that is close to pastel red is called "Siesta."
If you're trying to get a pastel red color with paints then you only need to mix some white paint with the color red. The white color will help to lighten the mixture and create a soft look. If you're using Picsart, then you can easily select a shade of pastel red using the color wheel or color dropper. 
Is Pink Pastel Red?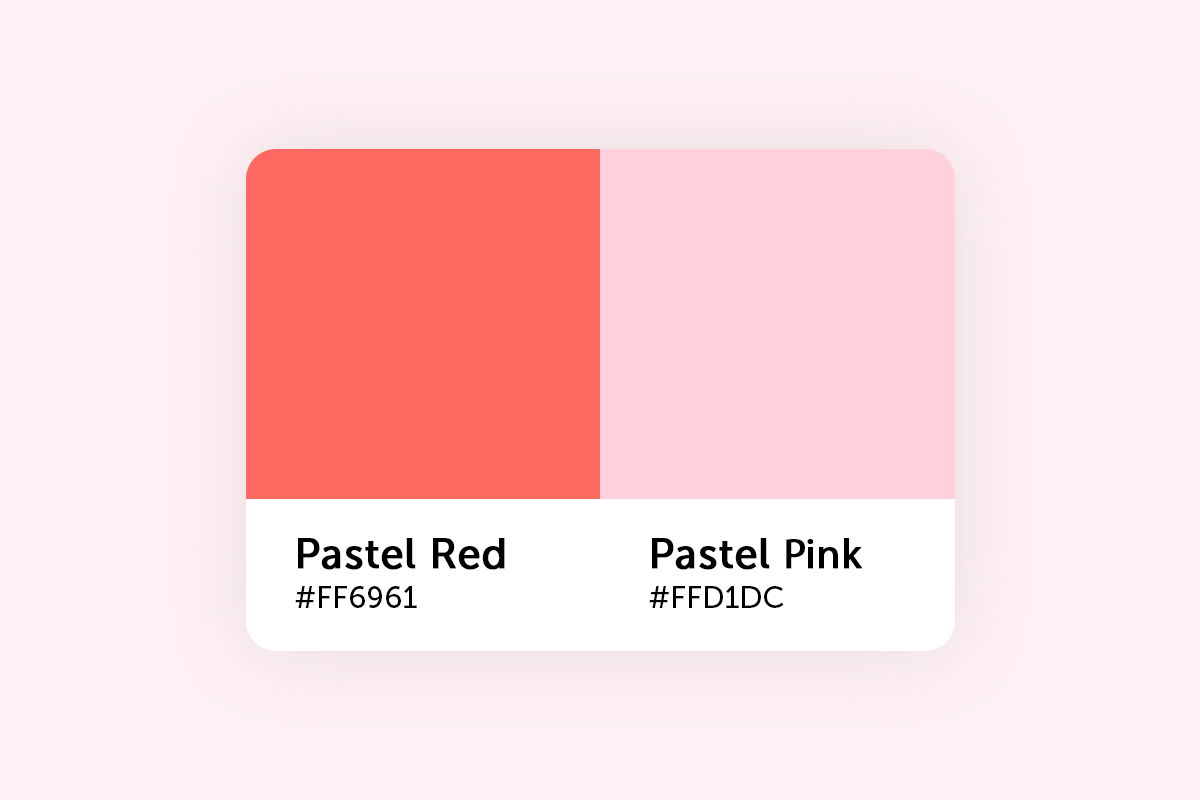 While some people confuse pastel red with pink, those are two completely different colors. Some of the muted shades of pink are similar to pastel red, however, the pink color on its own is much more vibrant.

Pastel shades are typically softer and less saturated than regular colors. If you put pastel red and a pink pigment next to each other, the difference becomes very apparent. The pastel pink color on the other hand might seem closer to pastel red, but has a completely different hex code: #FFD1DC. Not seeing the difference? Don't worry. The more time you spend working with colors, the easier it will become to differentiate them.
How Do You Work With Pastel Red?
The pastel red color might seem like a challenging color to use, but in reality, it's quite easy to work with. You just need to understand some color basics before starting to experiment.

Pastel red goes especially well as an accent color. However, it generally does not work well as a text color as it tends to make text difficult to read. Don't let this limit you though. Experiment with different colors, shadows, and text styles to make it work.

You can easily start experimenting with pastel red in Picsart. While many other creative platforms give you limited color options, Picsart allows you to pick any shade you want and edit RGB values to get precise results, whether you're editing in-app or on desktop.

You can easily add pastel red as the background for a photo by opening the Picsart app and tapping on the + icon. This will open the Editor. Scroll down to Color Backgrounds and then scroll across until you reach the Color Picker where you'll select the pastel red color. If you already have an image with a transparent background, then you can simply add it to your background here. If you're looking to get a little more creative, you can easily add pastel red to your Instagram Story background to make it stand out from other stories.  
Want to keep playing around with pastel red in the Picsart? Open the Draw Tool in the app. Select the pastel red color and add small accents to your photo. Try drawing geometric shapes for a modern look or use it in conjunction with other colors. 
What's a Color Chart for Pastel Red?
Let's take a look at a pastel red color chart. A color chart helps you see different variations of one color, in this case pastel red, and helps with color comparisons. In this pastel red color chart, we've included our main shade of red (the left-most color in the first row) and shown other color combinations that pair well with pastel red. Color charts are also helpful if you're trying to create your own color scheme.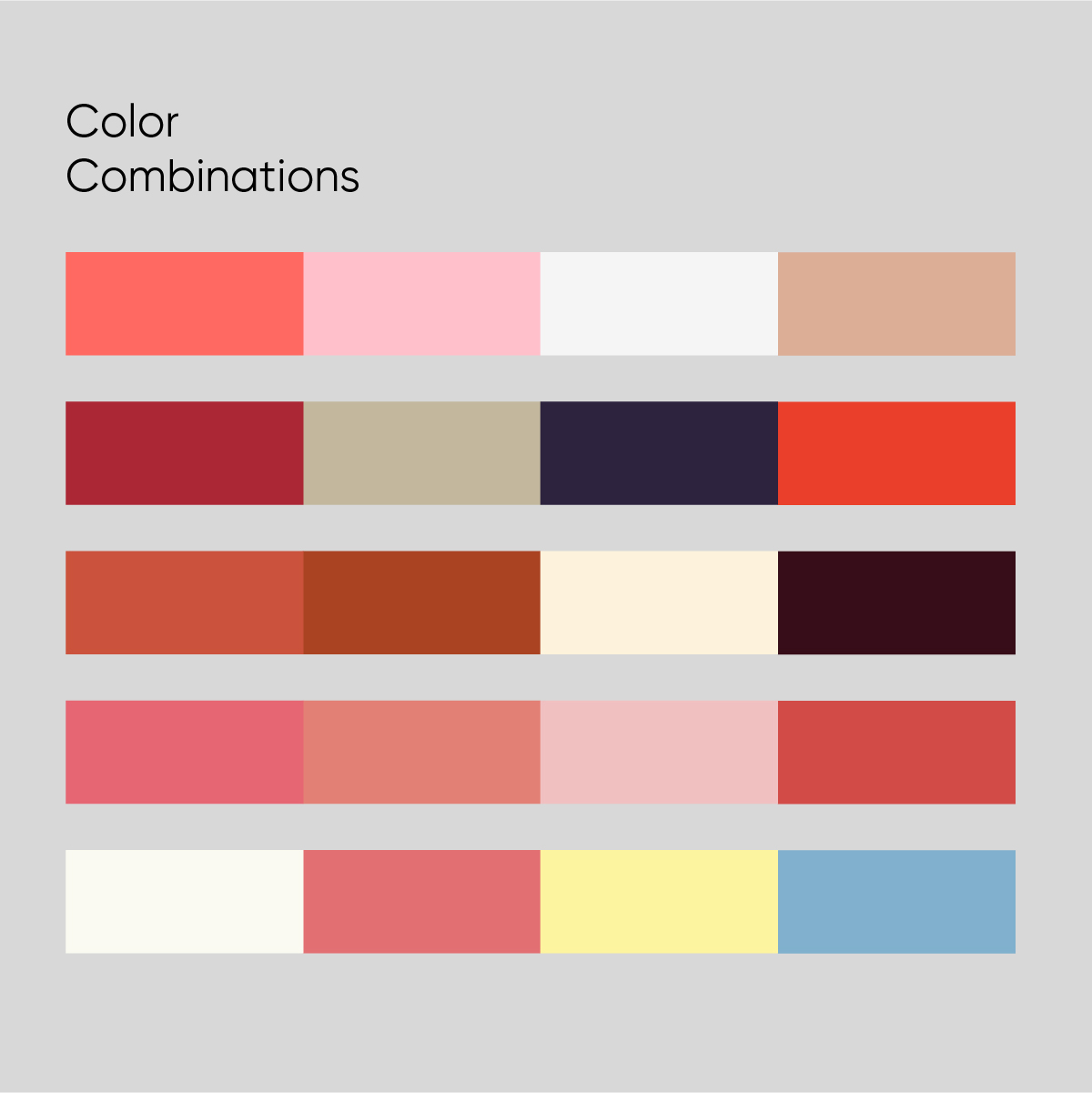 What Colors Go With Pastel Red?
One of the biggest advantages of a pastel shade is how easy it is on the eyes. In general, vibrant colors reflect more light and end up excessively stimulating the eyes which in turn can lead to a headache. Meanwhile, pastel colors are less saturated and aren't as prone to irritating the eyes.

The slightly muted nature of pastel red also allows it to be easily combined with other pastel colors creating a soft feel. At the same time, you can also combine the pastels with a vibrant color to help push it to the forefront without it looking irritating.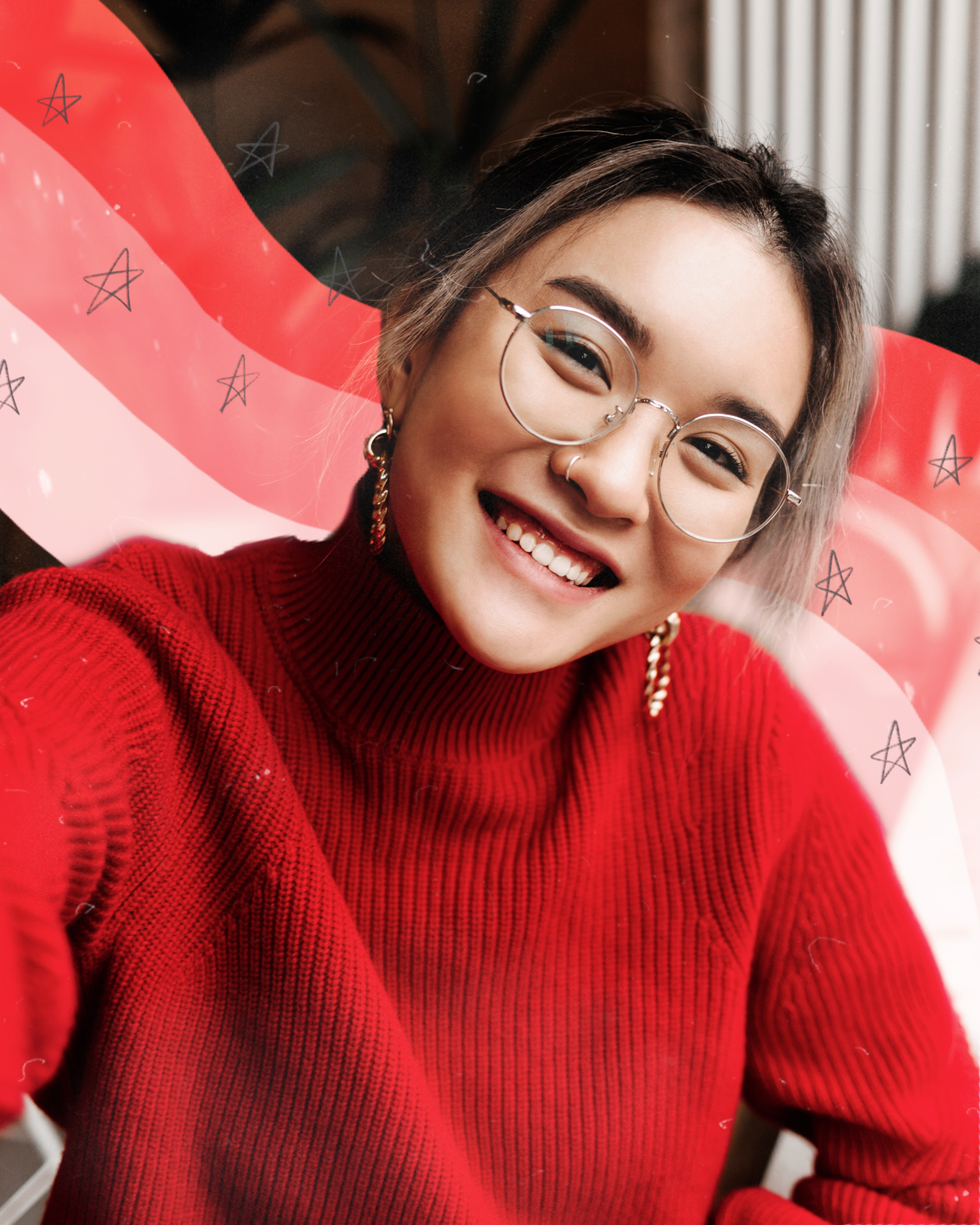 via Picsart

You can almost always combine several pastel colors and a single vibrant color in perfect harmony. As a result, pastel red goes well with a huge variety of colors. The colors that go best with pastel red are:
White (#FFFFFF)

Ivory (

#FFFFF0)

Cyan (#61E7FF)

Pastel orange (#ECAB74)

Dusty rose (

#DCAE96)
What Are Similar Colors To Pastel Red?
While every color is unique, there are a lot of colors that are similar to pastel red and can possibly replace it in edits. A lot of people often confuse pastel red with pink shades as the colors are quite similar. Focus on pink and orange shades when looking for pastel red lookalikes as they're the closest in similarity.

If for some reason you can't use pastel red but are looking for a list of similar colors, we got you covered. Some colors that are similar to pastel red are:
Red (#FF0000)

Light red (#FF7F7F)

Coral pink (#F88379)

Salmon (#FA8072)
What Are Different Pastel Colors?
Pastel red is just one of the many pastel colors available for your color palette consideration. Pastel colors are usually soothing, pale shades that were popularized in the 1980s. Pastels remain quite trendy to this day both in pop culture and in everyday life. People love them for the soft, soothing effect they have. Just think about how often they're used for newborns for everything from clothes and plush toys to nursery mobiles and wall paint. 
Unlike other colors, pastels have low saturation and as a result, appear much easier on the eyes. In traditional art, all you need to do is mix white with regular colors in order to turn them into pastel shades. However, when working with digital colors it's easier to search for the exact color by its name or color code.
While the pastel red color is very popular, there are some other pastel shades that are even more popular and trendy. With the popularization of the soft girl/soft boy aesthetic and the revival of 1980s trends, pastel colors are once again the center of attention.
We have compiled a list of the most popular pastel colors to help you to keep your editing game on point. These colors are very versatile and can be used with any type of aesthetic. Some of the most trendy pastel colors are:  
Baby pink (#F4C2C2)

Sky blue (#87CEEB)

Vanilla ice (#F5E2E4)

Chatelle (#BEB4C5)

Sea green (#98D4BB)

Rosy brown (#B8A390)
Create Fantastic Photos Using Pastel Red
Now that we have figured out how to use pastel red and what colors you can combine it with, it's time to look into some photo editing ideas. You need to first figure out the aesthetic you're going for. Luckily pastel red goes well with a lot of different styles, making it particularly easy to edit with this color. 
The easiest way to use pastel red in your photos is to simply use it as the background color. For this, you'll need to cut out the original background of your photo and replace it with the pastel red color. If you're not sure how to manipulate the background color of a photo, we've got it all covered in this background change quick and easy tutorial. 
Another easy way to include pastel red in your photos is to add it as part of a mood board, use it in a frame on a fun Instagram collage, or as a text phrase on your photo. Just make sure the color palette of your image contrasts well with pastel red so that your text is easy to read.
Now that you have the color basics down, it's time to start experimenting with different editing techniques and ideas. Don't limit yourself. Sometimes it's better to follow your instincts and add a dash of pastel color where you see fit. Now, it's time to get editing! Open the Picsart editor and start playing around with colors on your photos, then share them with the world.
Picsart is a full ecosystem of free-to-use content, powerful tools, and creator inspiration. With a billion downloads and more than 150 million monthly active creators, Picsart is the world's largest creative platform. Picsart has collaborated with major artists and brands like BLACKPINK, the Jonas Brothers, Lizzo, Sanrio: Hello Kitty, I am a Voter, Bebe Rexha, Maroon 5, One Direction, Warner Bros. Entertainment, iHeartMedia, Condé Nast, and more. Download the app or start editing on web today to enhance your photos and videos with thousands of quick and easy editing tools, trendy filters, fun stickers, and brilliant backgrounds. Unleash your creativity and upgrade to Gold for premium perks!