Get ready to sparkle and shine, because today, we're learning all about the color silver. We're going to cover everything there is to know about this most curious of colors, including its hex and HTML color codes, as well as the colors that go with it. Although it might be associated with second place in everyday life, for our purposes here, silver is the star of the show.
What Color is Silver?
Silver, or metallic grey, is a representation of the color of the metal silver. To get the color silver, you have to create multiple shades of grey, mixing white and black until the desired shade is achieved. Silver color gets its metallic shine when a final dollop of white is added to the color mixing process.
The silver hex code is #C0C0C0, and it is composed of 75.3% red, 75.3% green, and 75.3% blue. The silver HTML color code is the same as the silver hex code. What makes the silver color interesting is that it is not a true solid color. Really, it is a reflective tone that is achieved with the addition of reflective pigments to a grey base. This can make it tricky to design with, especially online. To truly get the silver effect in graphic design, you have to use the color along with an effect that resembles light reflecting off of a surface.
What Is the Meaning of Silver Color?
All colors have their own meaning. The meaning of silver color is everchanging depending on the context it's used in. For example, when used in relation to technology, silver can be deemed as sleek, modern, and industrial. On the flip side, it can also give off a glamorous, ornate, and elegant feel when it is used in a classic manner. So, depending on how you use it, silver can be modern and futuristic, or antique and classic.
The reflective characteristics of silver have led many cultures to believe that it can be interpreted as a mirror into the soul. It is often associated with communication and being able to speak and act with confidence, wit, and self-assurance. Silver is also associated with wealth and prestige. Silver is associated with the moon and is considered to be a feminine color. Color psychology takes its illuminative characteristics as an interpretation of change afoot.
How Do You Work With Silver?
While other metallic colors, like gold and bronze, are warm, silver is cooler. This makes it a wildly versatile color. It can be used in place of neutrals to bring a glamorous and sophisticated vibe to design, or it can be used to reflect innovation and modernity. To use silver color effectively, it helps to first identify what the underlying tone of your design project is. It's a great color to use for business designs, as it can signal responsibility and reliability.
The tricky part about working with silver is getting the reflective characteristics to come through, especially when you design online. In Picsart, however, you can edit the highlights and shading so that you can achieve the illuminated and metallic sheen of silver. Without adding in highlights for a shine, silver would look more like a matte slate or any typical grey. Grey is what color makes silver, but the highlights are what really gives silver color its dimension.
What Color Looks Best With Silver?
Silver is made of a balance between black and white, making it compatible with almost any color or pattern. It can be a base color acting as a neutral, or it can be a strong accent color, contrasting with less dynamic colors. Silver can only strengthen the color it's paired with because its reflective nature illuminates other colors' characteristics, helping it appear richer and bold. So, if you wanted to create a color palette from an image, you could easily add silver to the palette as an accent to strengthen the others. The following examples are great reference posts, if this is how you want to work with silver.
Pastel Colors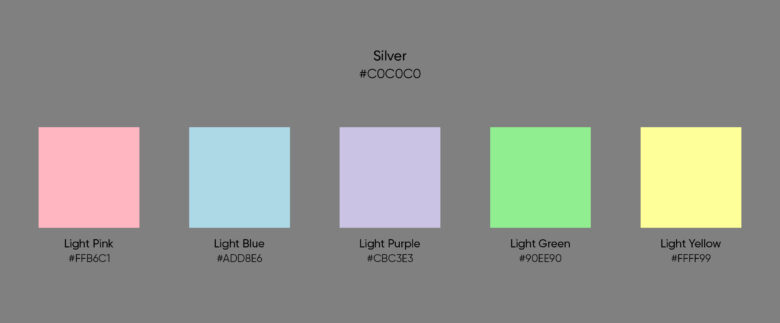 Light Pink
Light Blue
Light Purple
Light Green
Light Yellow
Jewel Tones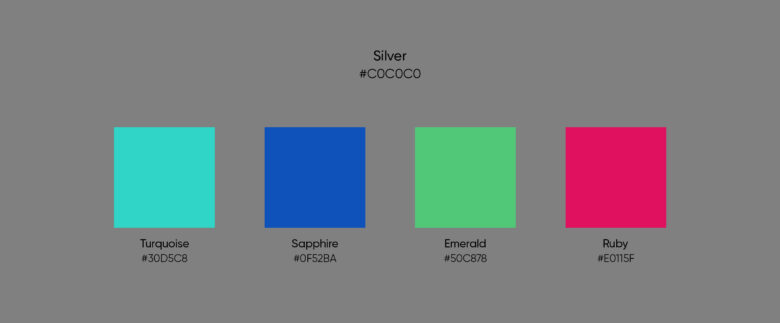 Turquoise
Sapphire
Emerald
Ruby
Complementary Colors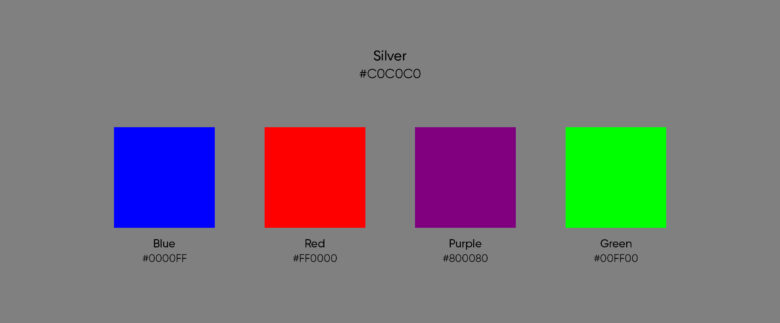 Similar Colors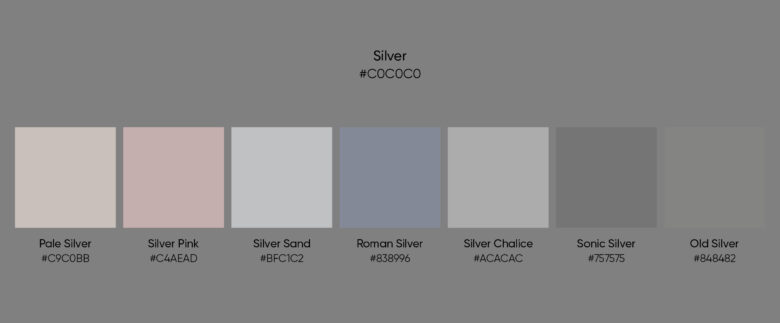 Pale Silver
Silver Pink
Silver Sand
Roman Silver
Silver Chalice
Sonic Silver
Old Silver
Pro tip: If you're just getting started, the Color Wheel tool will help you easily pick color combinations. Just type in your base color and you'll get a variety of pairings.
How Many Shades of Silver Are There?
Although silver is made of grey colors, the difference between silver and grey comes from the metallic characteristics that are found in silver. The color silver is meant to represent and reflect the metal silver. It is dynamic given its highlights and range of tones, while grey is flatter and tends to be less dynamic than its metallic counterpart.
Beyond its differentiators from grey, silver can have multiple different shades. The differences in tone and shading are what give the different shades of silver their unique characteristics.
Ghost White (#F8F8FF)
White Smoke (#F5F5F5)
Gainsboro (#DCDCDC)
Platinum (#E5E4E2)
Silver Sand (#BFC1C2)
Silver Chalice (#ACACAC)
Roman Silver (#838996)
Old Silver (#848482)
Sonic Silver (#757575)
Create Fantastic Photos Using This Color
You can create awesome photos and edits using the color silver. Whether you are designing for business, interior design, fashion, or just for fun, it's a super versatile color. Plus, you can do it all on Picsart. Let's start with in-app.
Step 1) Open the app and tap the purple + symbol to start a new design. Click on color backgrounds and select your preferred shade of silver. Use the above codes to help you choose.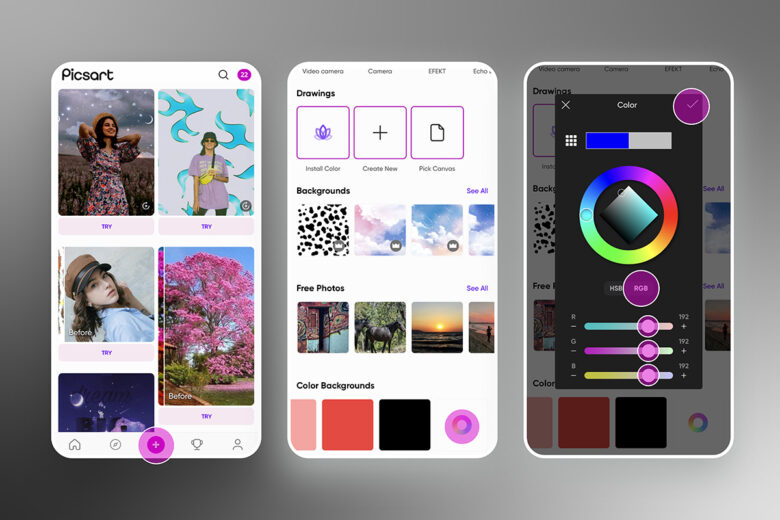 Step 2) Upload an image (or images) from your device or choose from the free-to-edit or stock image libraries. Add Text and Stickers, if you wish.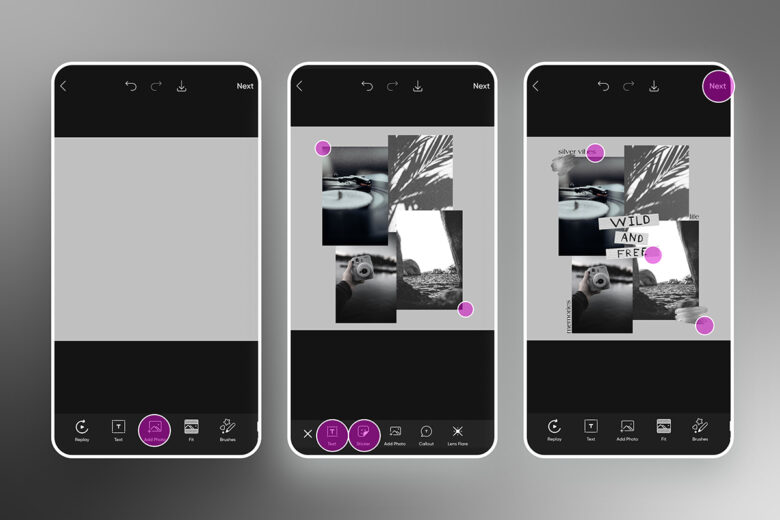 Step 3) Customize your design details until you're happy with it and tap on Next to save your project.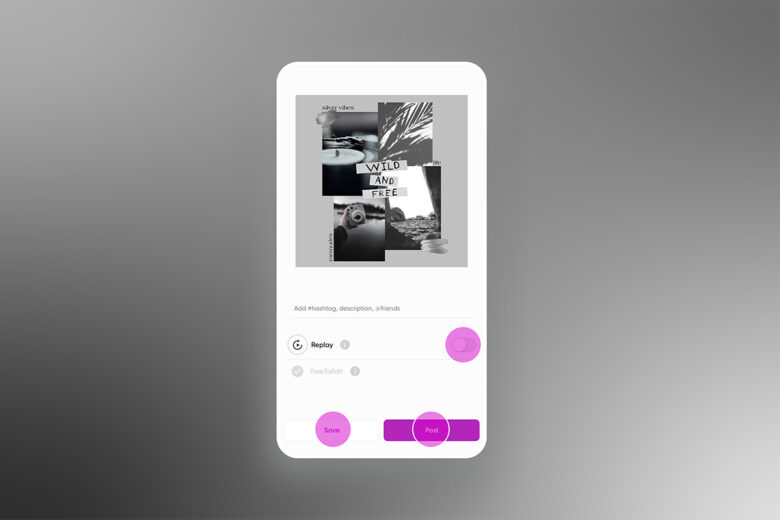 Now let's have a look at how it's done on dekstop.
Step 1) Open the Picsart Web Editor and start a new project by selecting a preset shape (we've chosen a Square design for Socials here, for illustration purposes).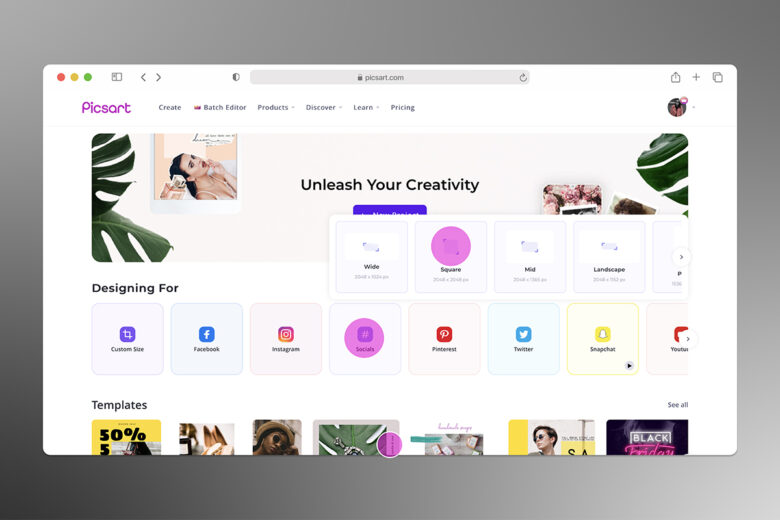 Step 2) Select your background color using the color wheel and referencing the above color codes for your preferred shade of silver.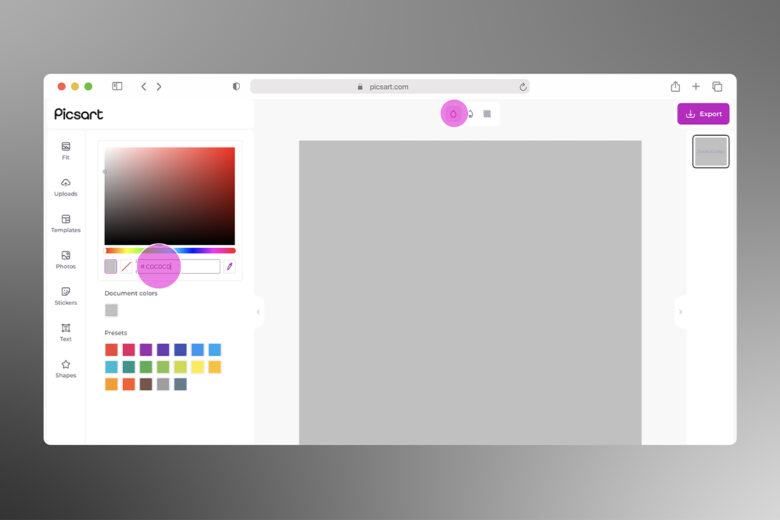 Step 3) Now let's add Images, Stickers and Text, as your design requires.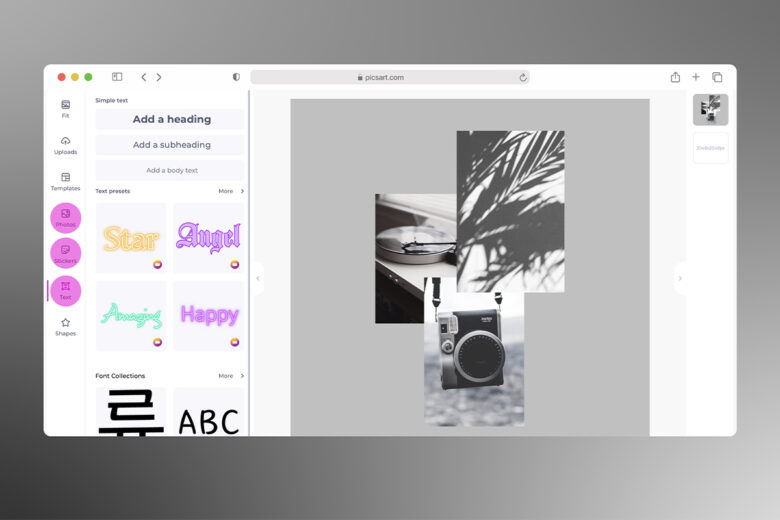 Step 4) Personalize the look and feel of your design and click on Export when you're done to save or post your creation online.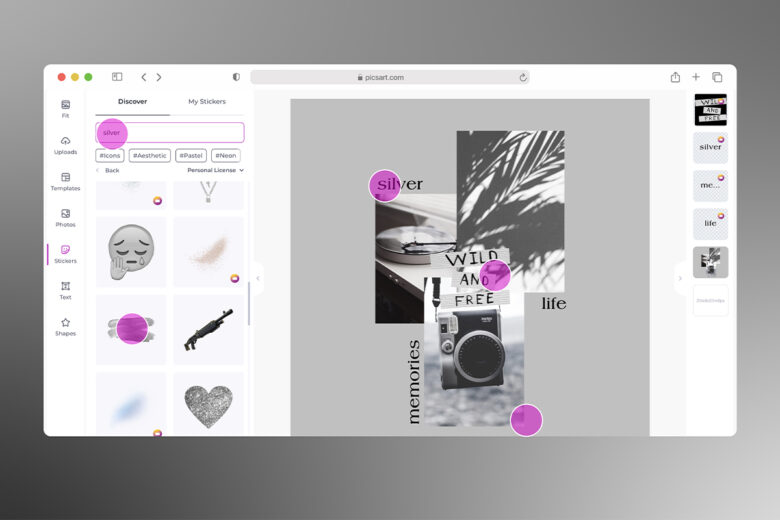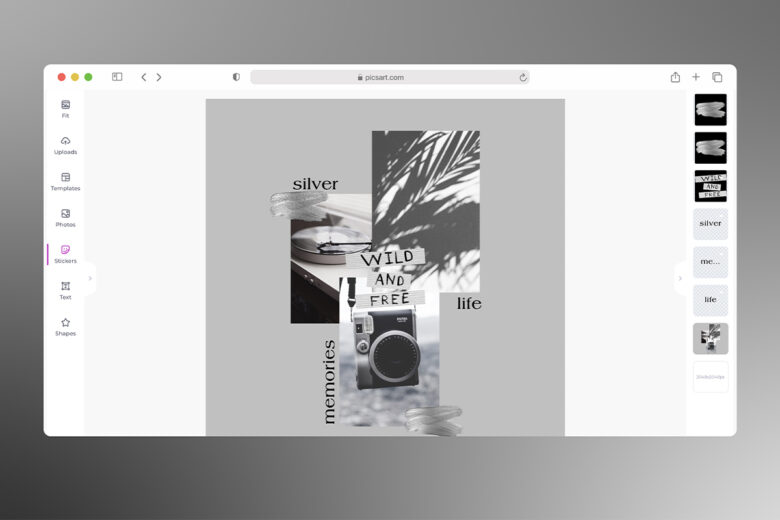 Picsart is a full ecosystem of free-to-use content, powerful tools, and creator inspiration. With a billion downloads and more than 150 million monthly active creators, Picsart is the world's largest creative platform. Picsart has collaborated with major artists and brands like BLACKPINK, the Jonas Brothers, Lizzo, Sanrio: Hello Kitty, I am a Voter, Bebe Rexha, Maroon 5, One Direction, Warner Bros. Entertainment, iHeartMedia, Condé Nast, and more. Download the app or start editing on web today to enhance your photos and videos with thousands of quick and easy editing tools, trendy filters, fun stickers, and brilliant backgrounds. Unleash your creativity and upgrade to Gold for premium perks!