When creating a YouTube banner, the goal is to draw viewers in, to create the perfect focal point: something eye-catching, representative, and expressive. Easy, right? Actually, yes. Let's look at what makes a YouTube banner great and how you can make your idea come alive with Picsart.
Back to Basics
When it comes to making a YouTube Banner, you're already off to a good start. Why? Because you and you alone know your content and the feel of your page best, and this knowledge is the most important of all. Take a look at the videos you've posted or think about the ones you plan to create, and ask yourself what all of it has in common, both thematically and visually. Check out other YouTube banners on channels you follow or admire. Make a mental note of what you like, and what you don't, and get inspired. Already have inspiration? Run with it. If you end up wanting to go in a different direction, you'll have no trouble quickly shifting gears with our easy-to-use tools.
What Should Make the Cut?
When creating a YouTube banner, you'll be working within certain space parameters (more on that later), so you'll need to think about what to feature and what to leave out. If you want an everyday, static banner that nicely heads up all of your content, stick to your core message or branding. 
This said, a YouTube banner can be a great place for variable information as well. You can use this space to update your viewers when you've posted a new video or pitch a specific call to action (CTA), like encouraging your viewers to subscribe to your YouTube channel or follow you on other platforms. Make these actions easier for your audience by integrating social media icons right into your banner. 
The good news is that Picsart allows you to save your projects so you can make edits as needed. This means you can quickly change out one update or CTA for another. From a creative standpoint, this flexibility lets you make changes to text content, for example, while maintaining the rest of the visual elements. In other words, you can switch up the wording without losing the feel, keeping your branding consistent.
Space: Challenges and Opportunities
As mentioned at the top of this article, a platform with as much going on visually as YouTube presents a unique challenge, one that can become an even more unique opportunity. While a viewer's eye might be tempted to dart around the screen, a good banner is a landing point, a unifying visual element that gives structure to your page. 
Try to keep things minimalist and clean. If you already have a logo, think about how you can pare it down into just a few colors and shapes, ones that incorporate elements of the video stills on your page. This helps make for a coherent overall look. Do your videos feature a certain color scheme? Are there any notable visual patterns in your uploaded content? Take these cues into consideration while creating, and you'll be off to a strong start.
Sizing: There's Space and, Then, There's Safe Space
YouTube gives you a space of 2560 x 1440 pixels to work with, and Picsart has a digital canvas that is exactly this size (see below for more info on where to find this). While you can use every pixel, it's smart to consider that not all of it will render the same across devices. Desktops have different screen resolutions and sizes than phones, for example, meaning that your design may be stretched or compressed on one or the other. 
To stay safe, it's best to use a narrow stretch –1560 x 423 pixels–right in the middle of your design. Place important elements like text and images in this space so that someone looking at your page on a cell phone versus a desktop (or vice versa) doesn't miss out on something. No need to get a ruler, just focus your efforts on the center of your design. Our YouTube templates help with this.
No matter where you decide to place your text–whether a brand name or a catchphrase–leave some space around it. Then, when your design is ready, upload it to your YouTube page and check out how it looks on a couple of different screens. If your text looks too close to the edge, just make the needed adjustments in the Picsart app.
Considering sizing also helps when deciding on and placing images. Some YouTube banners use a solid color background, and others use an image fill, in which a visual covers the entire backdrop of the space. Deciding to use one background color or image ensures that the banner won't look too busy on a screen that is already just that. And, if you use a solid color, you don't have to worry about how it gets cropped on different screens. If you use a background image, follow the same logic you did with your text and try to keep essential elements in the center. Then, preview your banner on a couple of different devices to make sure everything looks right.
Now that we're on the topic, a few other quick image tips. Stick to ones with large visual elements and a limited or monochrome color palette. This will keep your space from looking too busy or cramped. And, if you decide to use an image in the foreground instead of the background, consider how to best counter-balance it with your text. If your text is too small, it will get overwhelmed by the photo and vice versa. If your image and text are too far apart, your design will have too much dead space. Usually, placing your text to one side of the image is the way to go. If you place it above or below, it might get cut off by the edges of the narrow banner space.
Font (Yes, It Gets Its Whole Own Section)
YouTube pages are full of images because they contain miniature stills of all the videos hosted there. Even pages with minimalist themes (think: luxury brands) have a lot going on. So, a good banner provides a breath of fresh air. Therefore, banner text should be easy-to-read and as short and sweet as possible. 
If your style is more subtle or reserved, try out a sans-serif font (the type with clean lines and no flourishes) and add a bit of spacing between letters. If your style is more rebellious or edgy, consider thick, bold texts that make a statement.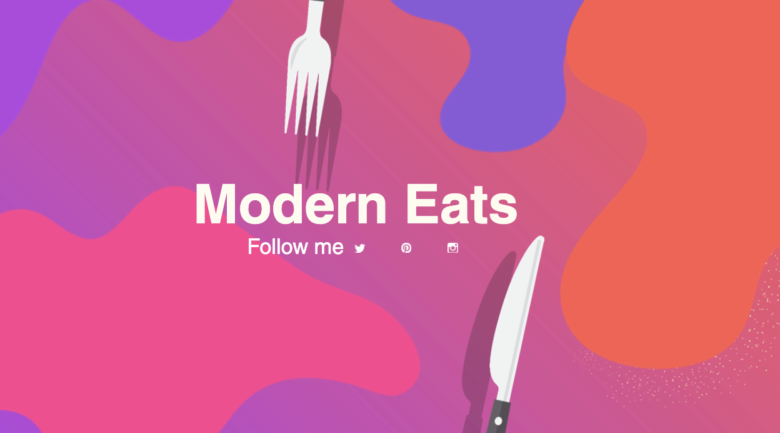 Want a more cozy, casual feel? Opt for serif fonts (that's right, the ones with little flourishes on the end of each letter) or laid-back script. Check out this font guide for additional inspiration. Whatever you choose, remember to fill the text space well, but not right to the edge either. The letters should be clear and not overwhelmed by the background image, space, or color.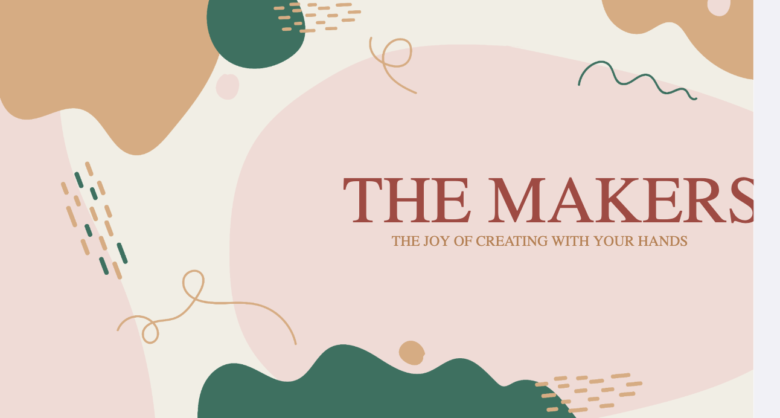 Finally, sometimes a message is better said with no text at all. Brands with an image synonymous with their company name can get away with having it do all the talking. This said, some of the same visual rules still apply. Choose an image with elements that fill the space well and aren't in competition with the miniatures of your video content. 
Ready to Get to Work?
Keep things fun and agile, even after you've brainstormed and gotten excited about your idea. When you're ready to put the virtual pencil to paper, here's how to keep the momentum going:
Step 1)  Open the Picsart Editor online. Scroll across the template preset sizes and select the YouTube Cover option to get started.

Step 2) In the left panel menu, choose from template themes, stickers, fonts, effects, and shapes. You can adjust the colors and opacity of the background by selecting between the editing layers on the right panel. 
Pro Tip: To add an image on a banner, click Photos from the menu on the far left. Choose from a free image from the Picsart library or upload your own. Here's a handy guide on how to cut out and change the background of a photo should you need to do so in order to, let's say, stay in your color scheme.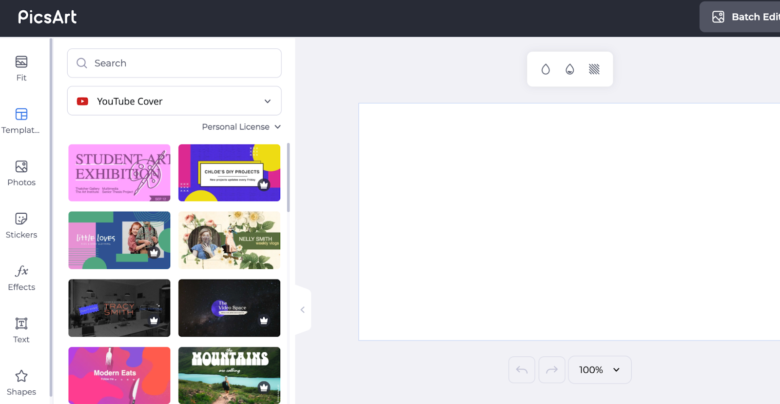 Step 3) When your banner looks right, click Download in the upper-righthand corner to save the file to your computer. Upload the banner on your YouTube channel and see if it needs any tweaking. Proud of your design? You should be. Spread the love using the Picsart community sharing feature.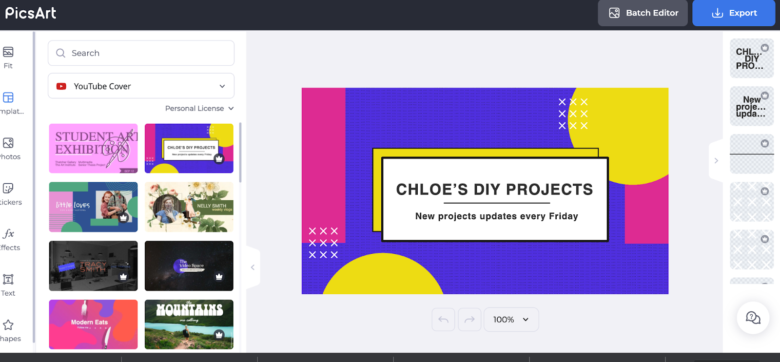 PicsArt photo and video editor, collage and sticker maker is the world's largest creative platform with more than 100 million monthly active users and influencers. PicsArt has collaborated with several brands and artists, including Disney, MTV, Dior, DJ Snake, Gwen Stefani, Maroon 5, 30 Seconds to Mars and more. Step-up your photo editing with thousands of tools, edits, backgrounds, stickers and filters. Awesome starts here! Download the app today, and upgrade to PicsArt Gold to unleash your creativity!