It wasn't until the 1960s when t-shirts transformed from basic undergarment to means of self-expression. It's kind of crazy to think that previous to then, they were dismissed as something that went under your clothes. Nowadays, t-shirts have become a staple in most wardrobes. From trending to typographic, t-shirt ideas have evolved a lot over the past few decades. Whatever your reason for wearing one, there's likely a strong statement behind it. Whether you're repping your favorite band or repping your favorite brand, the best t-shirt designs are ones that resonate with your personal style and beliefs.  
Like hoodies in recent years, t-shirts have become ubiquitous. So how do you stand out from the crowd if everyone's rocking one? You find a t-shirt design that's unique to you, that's how. Luckily, we're here to help with that.
What Is the Common Process for T-shirt Design?
How exactly do you transfer your design onto an actual shirt? There are five different ways to get your design from the screen to your shirt. They are:
Screen Printing

Direct To Garments (DTG)

Dye Sublimation

Heat Press Printing

Vinyl Cutting
Screen printing is the most commonly used process, especially for professionals. It's ideal for creating high-quality prints, but it can be time-consuming and unsuitable for hobbyists or small print runs. If you're dabbling with t-shirt ideas, we recommend using the heat press process. For heat press printing, your design is printed on transfer paper, which can be found online or in most craft stores. Print your shirt design on transfer paper and position it on your t-shirt. From there, apply heat and pressure using an iron. The heat of the iron will soften the ink and will transfer it to your shirt. Peel the glossy part of the transfer paper back and voila. You have a beautiful, custom design t-shirt.
We've done it here with a tote bag but you can see how easy it is to create graphic design clothing from home.

What Are the Most Searched for T-Shirt Niches for Business?
Looking to create your own t-shirt design business? Want to turn a school project or hobby into a full-blown side hustle? Then you need to know the most popular t-shirt and logo ideas. There are certain niches that t-shirt makers know will be a surefire hit with their customers. We've compiled the below niche categories to help spark your t-shirt design creativity. 
Pets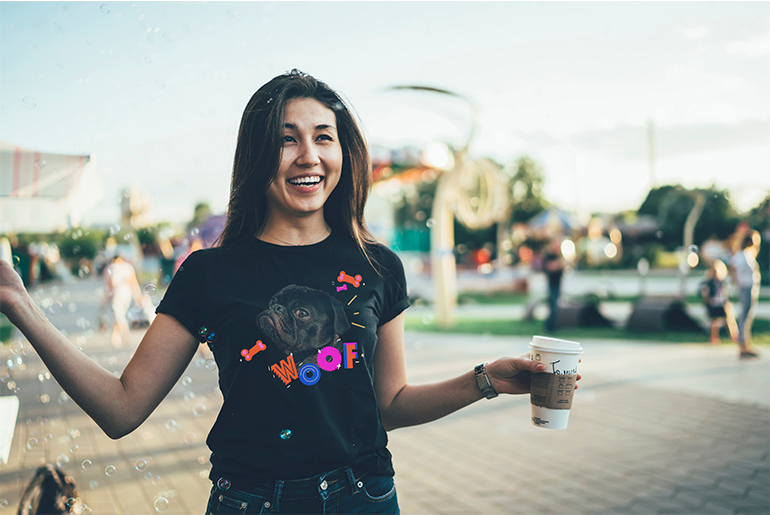 People will do just about anything for their pets (including turning them into influencers). You can find a t-shirt for just about every type of pet and pet owner, whether it's a common animal like a cat or a dog, or something more exotic, like hedgehogs and iguanas. If you love your pet, say it with a shirt.
Jokes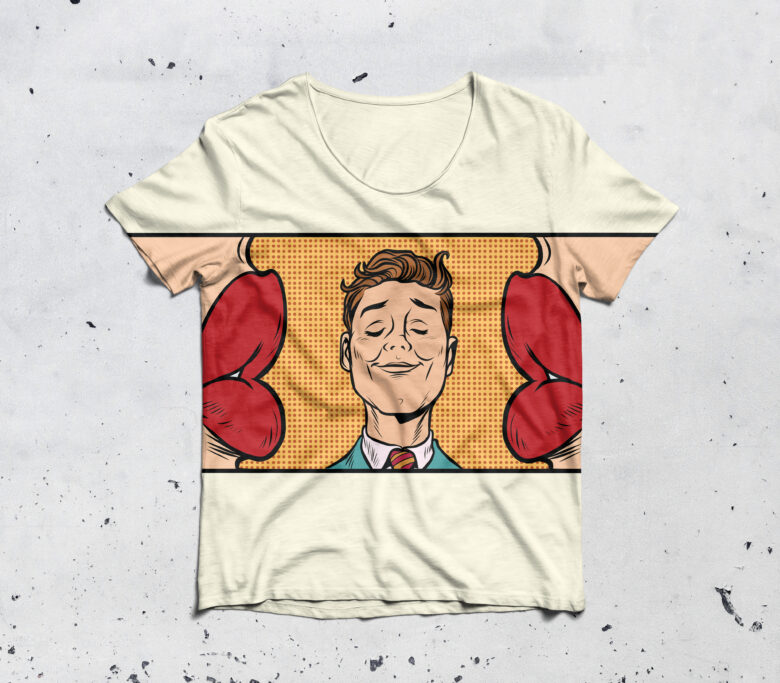 Laughter is the best medicine and everyone loves seeing a funny t-shirt. T-shirts with jokes on them, whether it is a one-liner or a funny comic-type graphic, are super popular. They can be further categorized into niches based on the type of humor they embody. You can even create a t-shirt design based on a meme you've created. Keep in mind that if you want your t-shirt to fly off the shelves, you want to make sure your humor isn't too much of an inside joke. Make sure the joke is funny and relatable to make your shirt a hot commodity.
Jobs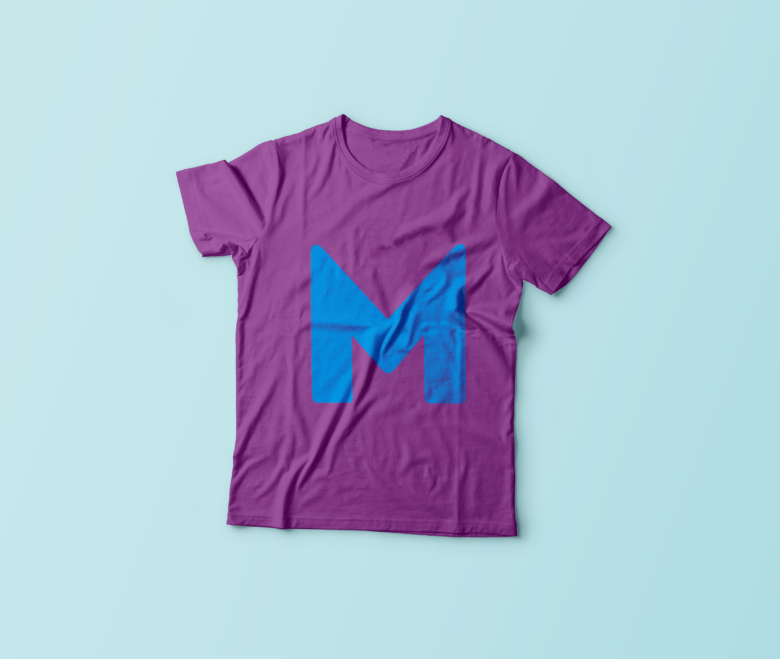 Wearing the logo of where you work can make for a cool t-shirt design. If you take pride in what you do, consider incorporating your career in your design. Many companies also make t-shirts for their employees as fun gifts, as part of a work anniversary, or a new hire package. When designing, don't forget to consider corporate brands when making graphic t-shirts or logo t-shirts.
Sports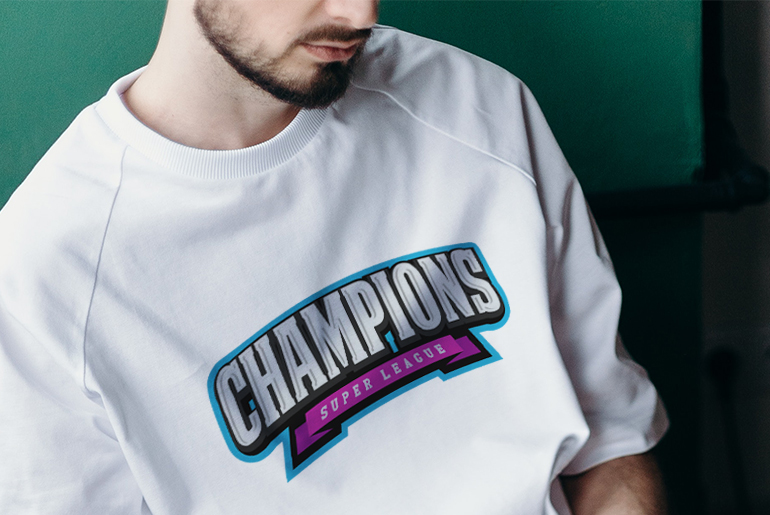 Go team! Whether you are repping your favorite team or player in the championship game or need a uniform look for an after-school league, t-shirts are a great way to let competitors and other fans know which team you're rooting for. Sports t-shirt designs can also be more general and can simply highlight the sport you are passionate about without calling out a specific team. 
Retro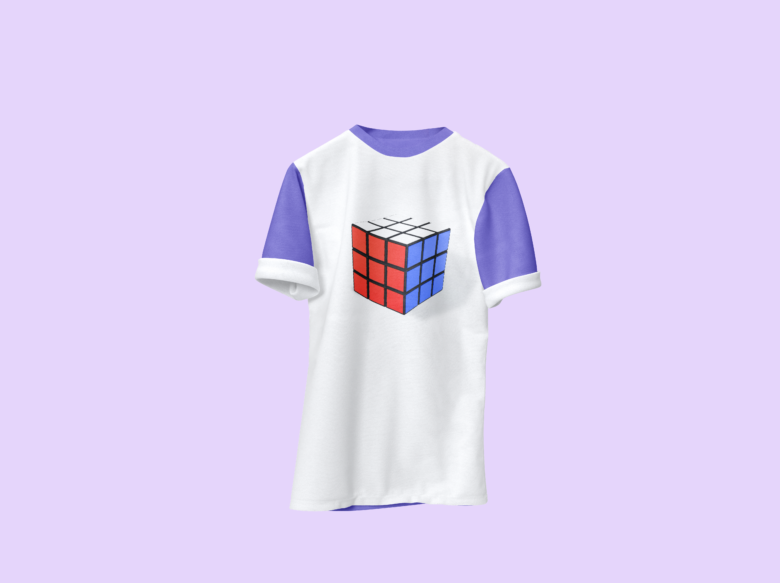 From gaming to old TV characters or all kinds of nostalic items from back in the day, there are tons of retro things you can base your t-shirt design on. A retro t-shirt can be a great conversation starter for connecting with people just like you.
Lifestyle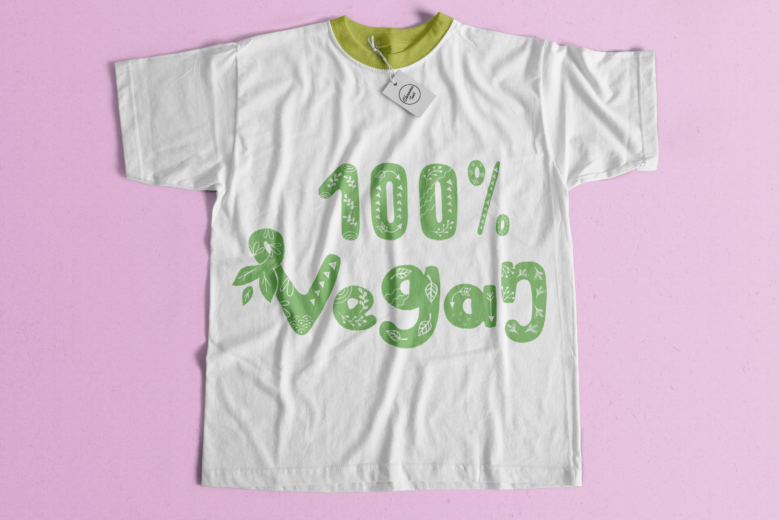 Lifestyle niches are a lot like hobbies and sports when it comes to incorporating them into a t-shirt design. Popular lifestyle niches include yogis, digital nomads, politics, and vegetarians. 
Family and Relationships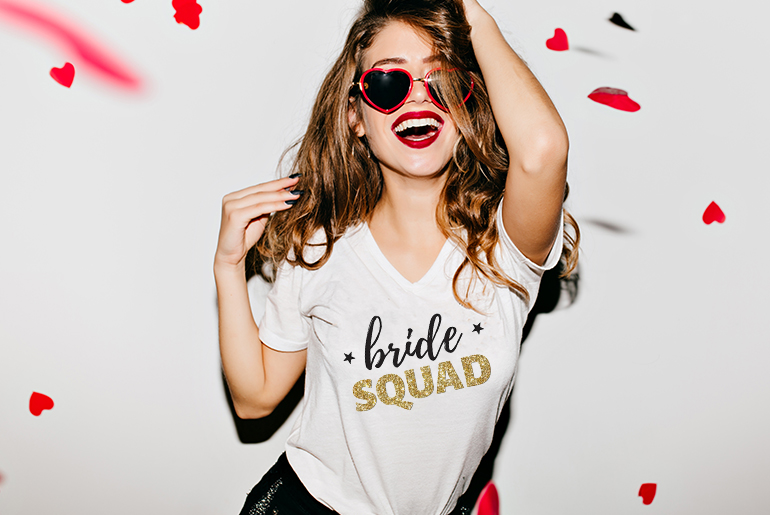 T-shirts with designs that say things like World's Best Dad or #1 Mom might seem silly, but they are incredibly popular around the holidays. People love designs with parenting jokes or struggles illustrated on them, too. Other popular relationship t-shirt designs include bachelorette parties or weddings, signifying a change of relationship status. Consider t-shirt ideas with things like Bride-to-Be, Bride Squad, and Mrs. on them.
Travel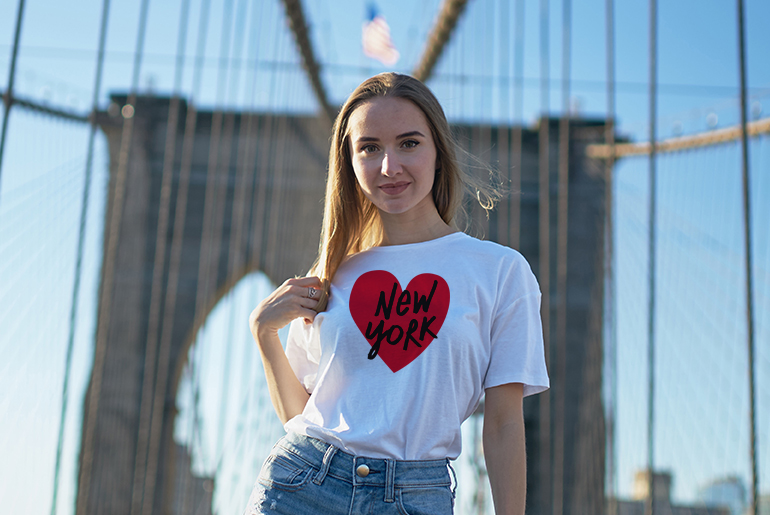 Going on a trip? Consider the popularity of souvenirs like a t-shirt donning a graphic design of a famous landmark or the name of the city. Just think of the iconic I Love NY t-shirt. Companies are always trying to emulate something similar for various locations. The designs for travel can be simple, or they can utilize other visual elements like city architecture, metro maps, skyline outline, and popular local sayings. 
Seasonal Design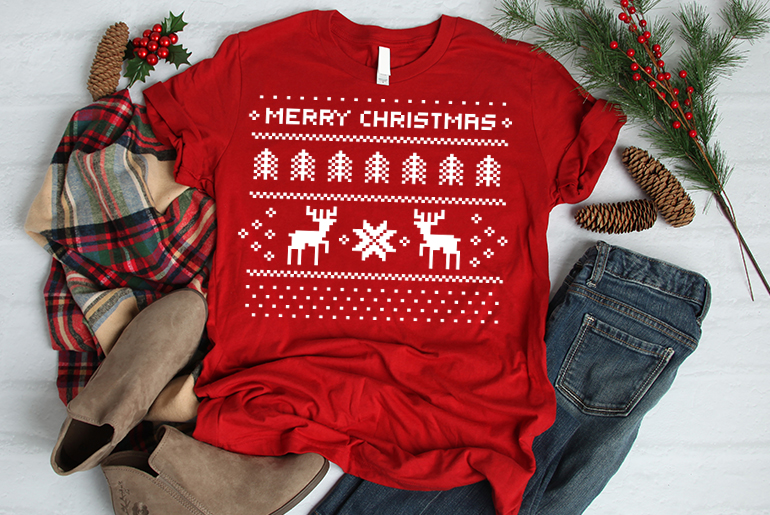 Festive t-shirt sand seasonal designs are never a bad idea. Seasonal designs can be so much more than your average Christmas sweater, too. People celebrate so much more than just ugly sweater holidays now though. Think National Pasta Day or Groundhog Day. If it's a social media holiday, then chances are it's on a shirt. 
Best T-Shirt Design Ideas
Once you know what niche you want to design your t-shirt for, it's time for some inspiration. Here are some of the best t-shirt design and t-shirt logo ideas for everybody and every occasion.
For Children
Cartoons and TV Shows

Characters from their favorite books 

School: consider graduation, little league, the first day of school, and your teacher's classroom
For Teens
Bands and musicians

Clubs and volunteer organizations: everything from student government elections to drama club

Memes and pop culture



For Adults
Conferences and events

Milestone birthdays

Family reunions

Startups and working teams

Retirement

Weddings

Best Practices for Graphic Design for Clothing
Now that you're full of inspiration, it's time to get designing. Here are some best practices to get you going with the process of bringing your ideas to life.
When you're laying out your idea, you always want to consider the shape and placement of your graphic design. Try using round, organic shapes rather than squares and rectangles to create a design that will not only look cool but will also be flattering. Have fun placing the design on different parts of the shirt. You could always put it front and center, but positioning it on the back, sleeves, diagonally, or even off-center can create a really eye-catching effect.
Another design consideration to make will be around which colors and fonts you want to use on your design. Colors are important not only for the design image itself, but also when you are choosing the shirt color. You wouldn't want your design to clash with the shirt you are printing it on. Even worse, it could be hard to see your design if you don't choose the right shirt color and fabric. Also consider that different colors convey different meanings and depending on your painting method, adding additional colors will often come at a higher cost. 
Best Font Practices for Graphic Design
The same consideration applies to font choice. Choose complimentary fonts that are easy to read. You want contrast, but it still needs to be visually pleasing. If there's a lot of text in your design and you are using multiple fonts, the rule of thumb is to not use more than three different fonts. Otherwise, your design looks too busy and unappealing. Not sure where to start? Consider these 30 fonts for your design project. 
Another consideration that's important but often overlooked are legal considerations. It's okay to use another artist's work or photography for inspiration, but taking images and copyrighted materials could land you in hot water if you're not careful. For example, you can make a fan design for your favorite TV show under the legal concept of fair use, but if you make a lot of t-shirts to monetize the design that's bad news. As a rule of thumb, play it safe and go with an original design created by you.
How To Make a T-Shirt Design Online

Once you've nailed down your t-shirt idea, it's time to start designing. Many sites have t-shirt templates you can use to create a custom shirt. Picsart t-shirt templates are fun place to start, but you can also create your own design from scratch using Picsart.
On the Web
1) Open the Picsart Editor and click Upload on the left panel to upload a photo or choose from the thousands of free to edit images, backgrounds, and templates. You can find inspiration and tutorials on the Picsart blog and YouTube channel if you're in need of editing ideas.
2) Have fun using different stickers (or make your own custom sticker), effects, and tools to create a one-of-a-kind t-shirt design. Add an eye-catching slogan using the text editor, or add your own custom logo.
3) Once you are happy with your design, resize it to fit the dimensions of the paper you will be printing it on by clicking on the Fit tool in the left panel. Click on the image to rotate your design so that it prints the right way.
4) Click Download in the upper right corner to save your image to your device and print it on a transferable paper. Position the paper onto your t-shirt and iron it on following the directions on the paper's packaging.
There you go. You've designed your own shirt and are ready to rock your new, custom tee wherever you go.
On Mobile
Prefer to edit on the app? Not a problem. Here's how:
Step 1) Open the Picsart app and tap the + icon at the bottom of the screen to start editing. Select the image you want to edit from your photo gallery or from the free-to-edit gallery. You could also open a blank canvas or preset template.
Step 2) Just like in the web editor, the next step is to have fun using the different stickers, effects, masks, brushes, and other tools to create a one-of-a-kind t-shirt design. You can add some text or a custom logo by making a sticker.
Step 3) Once you're happy with your design, tap the Fit tool to instantly resize your design to adhere to the dimensions of your transfer paper. Next, go to Tools and select Flip/Rotate to flip your design so that it prints the right way.
Step 4) Tap Apply and Save to download your image to your mobile device and save it to your Picsart profile so that you can easily access it later (when you have printer access or for future designs). Print out your t-shirt design on a transferable paper. Position the paper onto your t-shirt and iron it on following the directions on the paper's packaging.
Now that you know how, all that's left is to do it. Be sure to share your cool new threads on Picsart, and keep checking back for more design and side hustle inspiration.
Picsart is a full ecosystem of free-to-use content, powerful tools, and creator inspiration. With a billion downloads and more than 150 million monthly active creators, Picsart isn't just the world's largest creative platform; we're also the fastest growing. Picsart has collaborated with major artists and brands like BLACKPINK, the Jonas Brothers, Lizzo, Sanrio: Hello Kitty, I am a Voter, Bebe Rexha, Maroon 5, One Direction, Warner Bros. Entertainment, iHeartMedia, Condé Nast, and more. Download the app or start editing on web today to enhance your photos and videos with thousands of quick and easy editing tools, trendy filters, fun stickers, and brilliant backgrounds. Unleash your creativity and upgrade to Gold for premium perks!