When it comes to selecting the right font for your project, there are many important factors to consider. Does the typography complement your overall design? Is the font functional in the context in which it's used? Does your font elicit a certain mood or emotion you are trying to reflect in your work? The answers to all of these questions should unequivocally be yes!
Choosing the perfect font can be time-consuming and, at times, quite frustrating. Some projects may require two or three different fonts, which can pose even more of a challenge. For an in-depth look at how to choose two complementary fonts, check out this Complete Guide to Font Pairing. You'll learn about each font family and best practices on how to pair fonts to create an aesthetically perfect visual for your reader. 
With such a huge font collection available online and on apps, narrowing it down to one can be a complicated process and a difficult choice. Don't worry, though. We'll cover some dos and don'ts, tips and tricks, and basic ideas to keep in mind when it comes to choosing a great font. Plus, you'll find a list of the 30 best creative fonts for your projects that we recommend bookmarking for later!
Creative Fonts by Project
Logo
The overall design of a logo is crucial. Your logo is a representation of your company. It is also a main identifier for consumers to recognize your company through products or advertisements. Your company logo should therefore be strong and clear in design, especially the font. Here are some characteristics to keep in mind when choosing a font for your company logo: 
Consider the industry and make sure the font aligns with that industry. For example, you wouldn't pick an elegant script font for an oil change shop. 

Do not pair more than two or three fonts in one logo. The last thing you want is your company name to be lost among too many font styles.

Company name should be first or biggest, followed by smaller supporting text. There should be a visual hierarchy emphasizing your company name, which is the most important thing in your logo.

Font should be clean and highly readable. What's the point if someone can't make out what your company name is? 
PicsArt font ideas for logos: Archivo Black, Helvetica Bold, Neue Kabel, Text Me One, Unica One, ITC Blair, Hurtmold. These fonts provide a modern, clean aesthetic, great for technology and clothing brands. 
Poster
Selecting the right font for poster designs can be a bit tricky since you usually have to incorporate more text and graphics than you would in a logo. The most important thing is to ensure that your poster layout is a cohesive one. Check out some of these pointers that will help give your poster a nice, cohesive flow.
Font pairing is a great option to keep in mind for poster designs. Using a variety of typefaces can create a nice contrast in your design. Remember to use highly legible fonts for the body text.

Don't be afraid to bold your font. Having your header bigger and bolder will ensure visual hierarchy.

Key content should be eye-catching. If your reader can see the key text from a distance, you're doing it right!
PicsArt font ideas for poster headers: Brighton Com, Delius Swash Caps, Really No. 2 LT W2G Bold. These fonts are big and bold, perfect for titles and headers.
PicsArt font ideas for poster body copy: Average Sans, Cutive Mono, Humanst521 BT, Shilia. These fonts are modern and highly legible for a large body of text. 
Website
A website is even more complicated than a poster, as it involves more text, images, and colors in your layout. The key word here is to be professional. Whether you're creating a website for your business or personal portfolio, you'll want to choose a font that is professional, easy to read, and functional across all web browsers and devices. When building your website and choosing your fonts, keep these suggestions in mind.
Your website font should reflect your brand's voice and the overall story you are telling on your website.

Don't use more than three fonts on your website, and identify which are the primary and secondary fonts for visual hierarchy. Remember, for the main body text, avoid script fonts that are hard to read. Serif or Sans Serif fonts are a great option for body copy.

Enhance your design by ranging font size and font weight according to visual hierarchy. You can bold headers and make them bigger, and shrink body copy and footers to show order of importance.
PicsArt font ideas for websites: Good Pro, Lucida Schoolbook Italic, HelveticaLTStd-Light, Hope Sans, Elante. Use a combination of these for your website header and body for a complementary look. 
Now that we've covered the basic dos and don'ts of font selection per design project, let's dive into some examples of creative fonts. We've grouped thirty of PicsArt's best creative fonts by categories.
Modern Fonts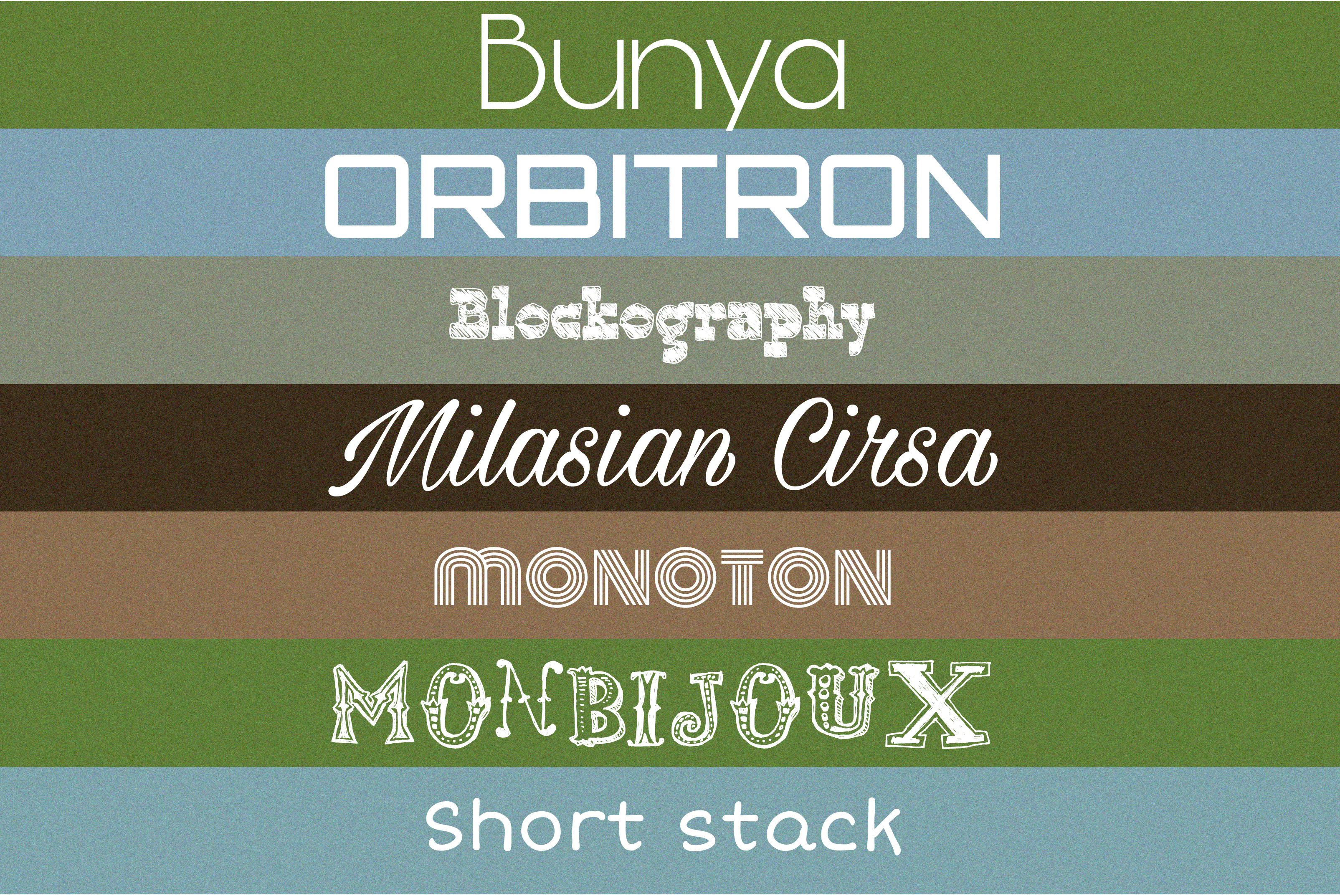 Bunya

Cutive Mono

Triumvirate Cond

Neue Kabel

Text Me One

Americana Std
Elegant Fonts
Milasian Circa

Many Neatz

Wankstaberg Battles

Meddon

Cancellaresca Script Std
Futuristic Fonts
Orbitron

Unica One

Stroke Dimension

Faltura Guerra
Retro Fonts
Monoton

American Typewriter

Permanent Marker

Limelight

RetroBoldStd
Block Letter Fonts
Blockography

Sniglet

Luckiest Guy

Sigmar One

Hard Block
Handwritten Fonts
Mawns Handwriting

Short Stack

Gloria Hallelujah

Another Hand

Nothing You Can Do
Very Unique Creative Fonts
If you're looking for something completely outside of the box in terms of fonts, PicsArt has got you covered. Check out this artistic, one-of-a-kind list of fonts perfect for those creatively quirky occasions. You can have a lot of fun with these!
Caribbean Tool

Dove Love

Monbijoux

Roke 1984

Sinaloa

New Garden Full

Network Vampires

Shatterday ICG Shred

Xtreem Medium

 Body Hunter Embeddable 
Best Free Fonts Online
Creating social media posts or smaller personal projects are quite easy on PicsArt's mobile app. As seen above, the app carries tons of stunning fonts available for use on your design projects. What if you are working on something bigger? Perhaps a commercial project. Luckily, PicsArt's desktop editor also has free, easy-to-use tools with tons of free fonts for more complex and commercial use. 
Follow these step-by-step instructions on how to use the free online text editor.
Select any free image or upload or own using the top left

Upload

button.

Click on

Add

a heading,

Add

a subheading, or

Add

a body text. Then type in your text and move the text box to the desired area on your image. You can also adjust the text box size by clicking and diagonally dragging the corners of the textbox.

Click on

Font

above the image and you'll see a dropdown of typefaces you can choose from. There are over sixty unique fonts to choose from!

You can also adjust for size, letter spacing, line height, alignment, caps, and the options to make your text bold, italic, or underlined. 

Next to the Font option, you'll find Color, Outline, and Shadow. Click into each of these editing tools and adjust your font accordingly. 

Looking to add more text to your project? Click on the

Text

icon on the left and choose another textbox (Heading, Subheading, or Body text). Tip: Here is where you can have fun with pairing different types of fonts!

Once your project is complete, click

Share

to post on social media or

Download

at the top right. 
You learned a lot about creative fonts today! Especially the importance of fonts in overall design and how they can amplify your brand's voice and content beyond the written text. If you take note of these basic concepts and use a little intuition, you'll be well on your way to choosing fonts like it's second-nature. The more you explore all the different fonts out there, the easier it will become to make a selection. Now it's time for you to go and find your signature font. Don't forget to bookmark our extensive list of font examples for your upcoming design projects! 
PicsArt all-in-one Photo and Video Editor, Collage, and Sticker Maker is the world's largest creative platform with over 150 million monthly active creators and influencers. PicsArt has collaborated with major artists and brands like Taylor Swift, The Jonas Brothers, Gwen Stefani, Maroon 5, Lizzo, Meghan Trainor, One Direction, MONSTA X, Warner Bros. Entertainment, iHeartMedia, Condé Nast, and more. Download the app today to level-up your photos and videos with thousands of quick & easy editing tools, trendy filters, fun stickers, and brilliant backgrounds. Unleash your creativity with PicsArt and upgrade to Gold for awesome premium perks!