Once upon a time, not too long ago, cursive handwriting was a mandatory requirement for all grade-school students to master before they advanced to the next level. According to scientists and child development experts, learning cursive handwriting and writing by hand, in general, is said to enhance fine motor skills in children and helps people retain the information they're jotting down. Cursive handwriting is also thought to stimulate the brain in ways that typing doesn't. Pretty cool! While hand lettering has graduated from classrooms in favor of more digital methods of transcription, calligraphy has found its way into the sassiest and sophisticated designs. 
Calligraphy and cursive fonts have made it easier to incorporate the once retro tradition into modern graphic design and add a special bit of whimsy to everything from a magazine headline treatment or a wedding invitation. With a multitude of calligraphy fonts out there, choosing the best typeface for commercial use or personal use can be tons of fun. Read on to find the best cursive calligraphy fonts for designers below, learn how to write in calligraphy, and create your own designs using cursive fonts on PicsArt!
What's the Difference Between Handwriting and Cursive?
Though they are often used interchangeably, cursive handwriting is not technically a type of calligraphy. But calligraphy can be written in cursive. Let us explain. Two distinct differences come to mind when comparing cursive and calligraphy.
Cursive handwriting

involves making smooth, continuous strokes with a pen or pencil without picking your hand up from the paper. Cursive letters are meant to connect. If they don't, you're not doing it correctly!

Though

cursive handwriting

can be artful and whimsical,

calligraphy

is more of an art form that has evolved through the centuries and many cultures to what it is today. For one thing, while letters look and are often connected, a calligrapher can pick up the pen between letters and strokes.

Calligraphy

is also often accented with

swirls

and flourishes and is typically the fanciest

hand lettering

you can find on

greeting cards

, invitations, and other

personalized

stationery meant to make a meaningful statement. 
The Best Handwriting Fonts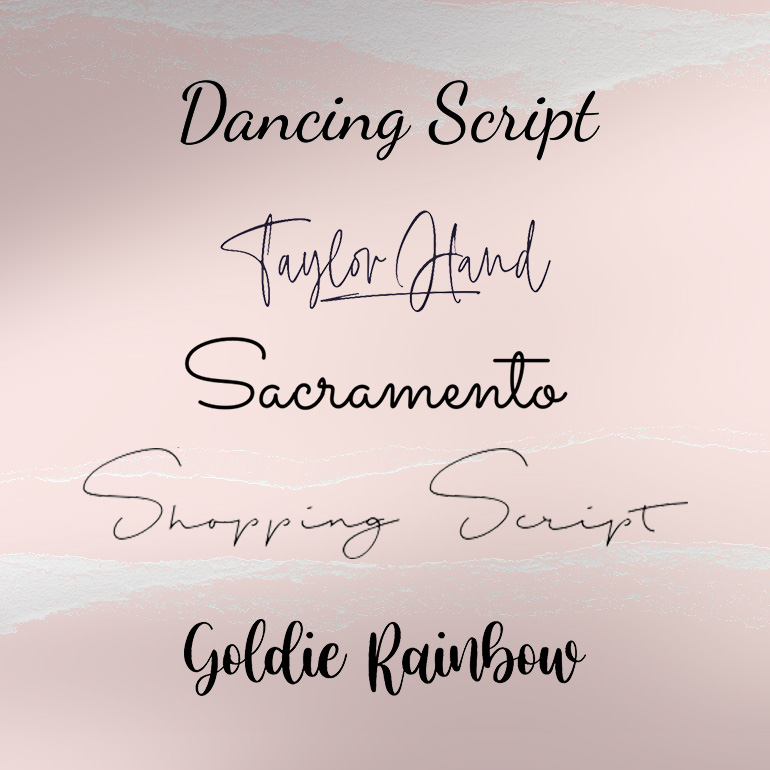 Handwriting fonts have become so popular in recent years for their ability to add a handmade quality to a printed piece. They instantly add character and a personal touch. Handwriting fonts can be quirky and cool. When combined with a more traditional serif or sans serif fonts, they can present a playful effect that contrasts beautifully on any design project. Keep reading for a list of the best free handwriting fonts. Be sure to read the fine print to make sure you use free online fonts responsibly and follow the artists' requests for credit when necessary. 
Thin Fingers
With stretched, thin letters and good legibility, Thin Fingers is detailed enough to stand on its own but simple enough to blend with other more decorative fonts to create a polished look.
Taylor Hand Font
This elegant signature font created by Måns Grebäck, a typeface designer based in Sweden, is ideal for business cards, greeting cards, and logos and adds a fanciful flourish to any creative design. This font also includes freehand pen strokes to accent your creation. 
Sunrise International
With bold brushstrokes and an eye-catching impact, this font makes sure your audience doesn't miss your message. This handwritten brush script comes in all caps for a brilliant finish. 
Oliver
Fun, playful, and a bit off-set, this font is perfect for adding childlike magic to any of your printed designs. 
Shopping Script
Feminine and sophisticated, this cursive signature-style handwritten script font is sure to catch the eye of the most discerning viewers. 
Dancing Script
Inspired by popular script typefaces from the 1950s, Dancing Script is a lively casual script with a lot of bounce and motion. 
Something Wild
Something Wild is a handwritten font with a wild spirit and a distinct brush effect that adds an element of impulse and freedom with its rustic and authentic treatment.
No Time 🙂 | Handmade Font
Inspired by the pen strokes of a stressed-out designer (sound familiar?), this scribbled and staccato font is described by the designer as "expressive, aggressive, and different" and gives off a frenzied feel with a lot of personality. 
Indie Flower
Doesn't this font remind you of the cool-girl handwriting you envied in school? Carefree yet bold with bubbly, rounded edges, this font is easy to read and effortless.
Sacramento
Striking the balance between formal and casual, the Sacramento font is inspired, according to its designer, by hand-lettering artist brochure work of the 1950s and 1960s. Don't you wish your own handwriting was this clean and classy? 
Top Cursive Calligraphy Fonts for Designers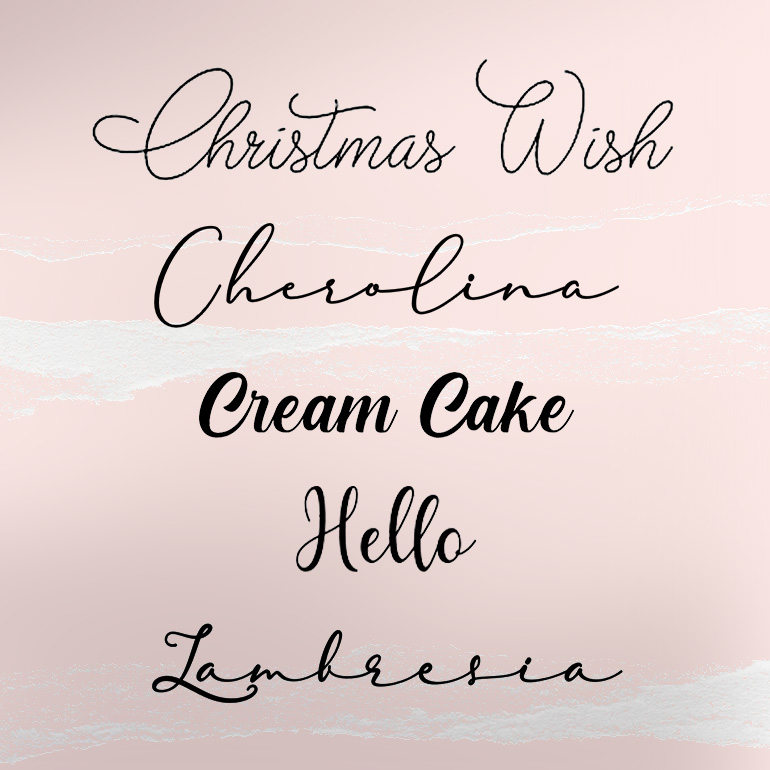 While calligraphy is both a classic and budding art form, sometimes it's easier to download a free calligraphy font than learning a new skill. It's also a great way to keep the lettering consistent on your greetings cards and other printed materials. Some of the most sophisticated logos and personal print projects feature ready-to-use calligraphy fonts. Check out some of the most beautiful ones we could find below!
Goldie Rainbow
This font takes cues from the recognizable modern calligraphy movement that took the creative world by storm a few years back. Fun and fanciful, it's the perfect typeface for a bold wall print or invitation envelopes. 
Hello
Similar to the Goldie Rainbow font above, Hello adds a little bit of flourish to your typical modern calligraphy font and has gentler strokes for a more feminine feel. 
Christmas Wish
Created to be used primarily for headers and formal greetings, Christmas Wish is the ideal typeface for holiday use. With all of the festivities coming up, this is one to keep in your collection!
Cream Cake
With its bold brushstrokes and a heavy impact, Cream Cake is a great option for both signatures and business logos. 
Lambresia
Elegant, refined, feminine, and flirty, Lambresia is one of the most beautiful handwriting fonts we've seen!
Fondamento
Ultra legible, super classic, and fairly formal, Fondamento is a calligraphic lettering style based on the traditional Foundational Hand, a basic teaching style created by Edward Johnston in the early 20th century.
Cherolina
If you're looking for a light, carefree, and lovely font that can only be described as elegant, Cherolina is your best bet. Just a bit fanciful with a whole lot of feminine character, it will elevate your creative designs with its effortless flair.
A Quick Guide to Learning Calligraphy
Calligraphy and hand-lettering are making a strong comeback. Just take a look at the workshops being held at your local co-op or the endless hand-lettered cards and prints that are sold on Etsy or your local paper shop. Not only is it a fun activity to spend your time mastering, but it's also a great way to make some extra cash on the side by selling your calligraphic creations. 
Print out a lettering worksheet or practice guide. You can find a number of these worksheets online. Print as many as you need to master your strokes!

Practice pressing down and letting go.

Calligraphy

is a combination of bold and light strokes. Take some time to figure out a natural rhythm for moving from letter to letter. 

Practice the basic upward stroke and the basic curve to get the hang of how your pen moves across your paper. Pro tip: keep your nib at a 45-degree angle to achieve a bolder impact. 

Practice both upper and

lower case letters

before combining letters and putting words together. It may take a few tries to master the correct strokes. Keep going until you feel good about how your letters are looking.

Put it all together. Attempt a few familiar phrases to get the ball rolling. A simple "Happy Birthday" or "Thank You" can work. Even if it's not perfect, your friends will be impressed by your effort and the unexpected personal touch!
How Can You Combine Cursive Fonts With Other Types of Fonts?
One of the coolest and most sophisticated font combinations is when an elegant and decorative font is combined with a serif, sans serif, or handwriting font. There isn't quite a science to this. You can play around with cursive and other types of fonts by stacking them or doing a cool overlay treatment for a sophisticated look. This effect creates texture to an otherwise simple title or type treatment. A good font pairing can go a long way to create a custom combination for business or personal use!
Create Designs Using Cursive Fonts on PicsArt 
Do you think you have what it takes to create a cool design using cursive fonts? Let PicsArt help you design the lockup of your dreams! Follow the step-by-step instructions below to learn how to use PicsArt's extensive editing tools to get started. Check out Free-to-Edit images tagged #cursive to explore thousands of images, stickers, and gifs created by the PicsArt community for some inspiration.
Even though PicsArt comes with so many fun fonts to choose from, you can install custom fonts that you've downloaded for the perfect cursive font effect on your designs. It only takes a few minutes to add your preferred font to use on the PicsArt app. First, connect your mobile device to your computer using a USB cord.
Go to your Desktop or Downloads folder to open the folder that contains the custom fonts you have downloaded. Copy all the fonts you would like to transfer to PicsArt.
Find the PicsArt folder in your mobile device folders and locate the Fonts folder. Drag your custom fonts into that folder. Once they have been added, eject your mobile device from your computer. 
Open the PicsArt app on your mobile device and open your image file using your usual editing process. Choose the photo you would like to add text to. 
Find and Use Custom Fonts
Once you've uploaded your photo, scroll through the bottom of your screen and select Text. Click on My Fonts from the drop-down menu at the top of your screen to view your uploaded custom fonts. Choose your preferred font and use it as you create your custom design!
PicsArt all-in-one Photo and Video Editor, Collage, and Sticker Maker is the world's largest creative platform with over 150 million monthly active creators and influencers. PicsArt has collaborated with major artists and brands like Taylor Swift, The Jonas Brothers, Gwen Stefani, Maroon 5, Lizzo, Meghan Trainor, One Direction, MONSTA X, Warner Bros. Entertainment, iHeartMedia, Condé Nast, and more. Download the app today to level-up your photos and videos with thousands of quick & easy editing tools, trendy filters, fun stickers, and brilliant backgrounds. Unleash your creativity with PicsArt and upgrade to Gold for awesome premium perks!