Fonts are much more than just words on a page. Typography or the way type and text are arranged on a document, can influence the feeling and message of the story you're telling far beyond the words they convey. Just a quick glance at the font can on a page gives the reader a clue to the tone and message of your words before even reading them. That's why it is so important to consider different types of fonts and choose the right one for your designs.
Before diving into the varying types of font styles and different types of letter fonts, it helps to have a basic background on the history of typography. Let's get to it! 
A Brief History of Typography
Modern typography emerged with the invention of the printing press, although many font style designs have their origins traced back to ancient Mesopotamia. In the 12th century, hand lettering emerged into a sophisticated art form in Europe. As you can imagine, hand lettering was a time-consuming and tedious art form, making it accessible to a limited group of people.
However, typography became more accessible to the masses after a blacksmith named Johannes Guttenburg invented the printing press in 1440. One of the greatest impacts that the printing press had was that it allowed large amounts of information to be shared quickly for the masses, decreasing production costs and thereby increasing literacy rates. It also had a great impact on the art of typography; with its invention came the first-ever typeface called Blacklettering.
As centuries passed and printing methods evolved, new typefaces and fonts developed. Blacklettering was notoriously hard to read, so from it emerged simpler Old Style Roman fonts and 18th Century Serif fonts. The rest is history. Typeface and typography became an artistic medium that designers could use to visually express their message before the words were even read. Since the evolution of the very first printing press typeface, there are now hundreds and hundreds of types of font styles to work with.
Types of Font Styles
While there is a myriad of fonts to choose from, all different types of fonts can stem back to three basic parts and one of five font families. Let's dive into the font parts first!
The three basic parts that make up a font style are the baseline, the ascender, and the descender. The baseline is the invisible plane that all letters in a string of text sit on. Within the structure of the baseline, there is a middle point called the mean where all letters cross through. Letters like capital H or capital A are crossed at the mean. Other letters, like a lowercase h or b, extend above the mean. That is an ascender. A descender is the same concept but crosses below the baseline. This applies to letters that have a loop on the bottom half, like a lowercase g or y.
Now that we know what the basic structure of a font is, we can dive into the five font families.
Serif Fonts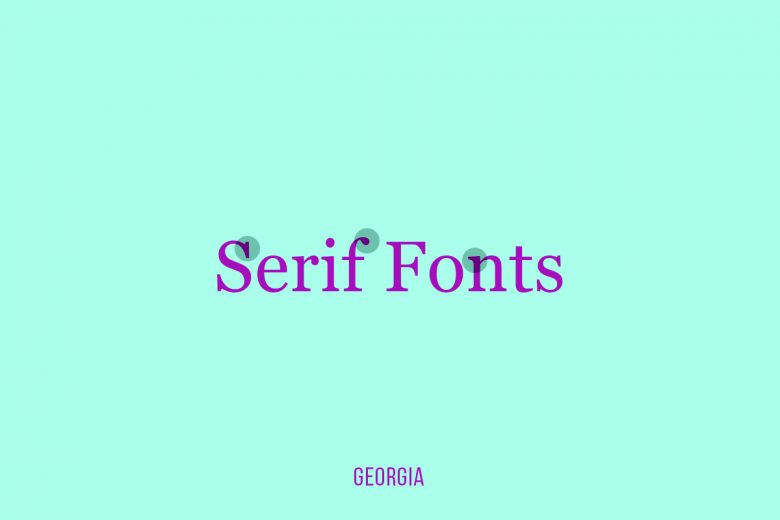 When picturing a commonly used font, you're most likely going to picture a Serif font. They are the most classic, original fonts. Serif is named for the little "feet" or small lines or strokes that are commonly attached to the end of a larger stroke in a letter or symbol within the font. They date back to the Romans and rose to popularity starting in the 15th century.
Serif fonts are the ones we most commonly see in our day-to-day lives. Think of Times New Roman, Baskerville, Georgia, and Courier New. These are all Serif fonts. They are most widely used, especially with print publications, because of their familiarity and easy readability. 
Slab Serif Fonts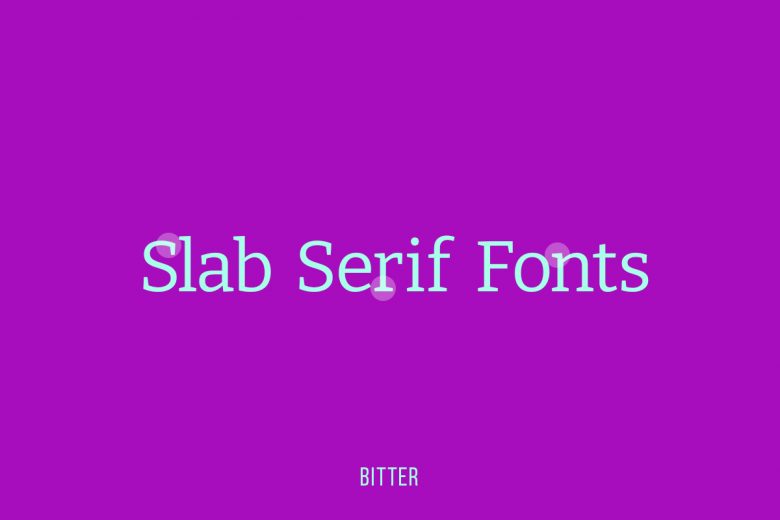 Slab Serif fonts are the more dramatic fonts. They have serifs that are more impressive than their basic Serif font cousins. They are great for pamphlets and billboards because they are loud and attention-grabbing. Over time, they've become less expressive to be more usable for longer-form copy (i.e. Claredon) but they still create a memorable impact. Regardless, they always evoke a sense of whimsy and tend to lean more towards fancy, vintage styles. Because they are such a standout font, they can be seen in a lot of branding designs.
Other popular Slab Serif fonts include Sentinel, Egyptial Slate, Rockwell, Memphis, and Soho.
Sans Serif Fonts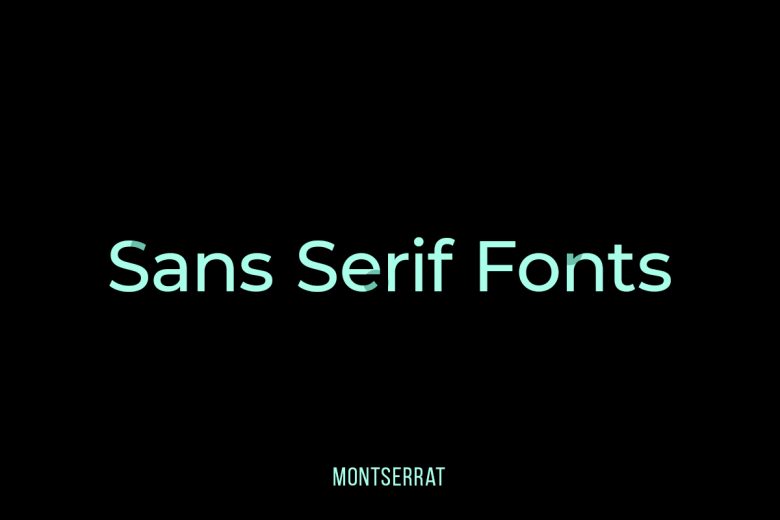 Sans Serif fonts are just as their name implies. They are fonts that do not have the characteristic little feet or embellishments that can be found with Serif and Slab Serif fonts. Thanks to their minimalist nature, this font family is commonly viewed as a modern font. Popular Sans Serif fonts include Ariel, Helvetica, and Calibri. 
Sans Serif is considered to be one of the most readable and cleanest looking font families. They can work for a variety of font sizes making them a go-to font for digital screens. They're simple, yet bold, and create a lasting effect for both large paragraphs of text and quick attention-grabbing headlines.
Script Fonts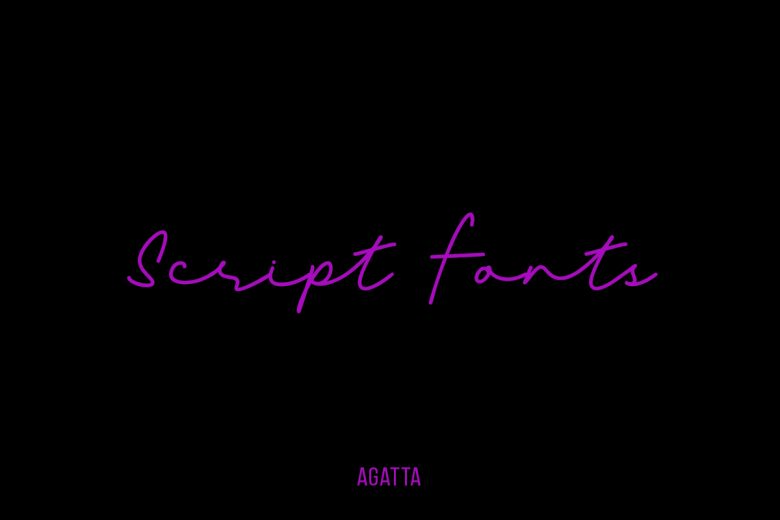 As their name implies, Script fonts are those that mimic cursive handwriting. Script fonts break into two distinctive categories: formal and casual. They are all based on varied and fluid strokes, creating a dramatic font often used for tattoos or a whimsical one you're likely to see on wedding invitations. If you're deciding whether or not to use a Script font, you'll tend to want to stay away from applying it to a longer body of text as it can be tricky to read. They are generally used for display or trade text. Formal Script fonts will always be in fashion for wedding invitations, historical documents, greeting cards, and on anything that you want to add a fancy flair. Casual Script fonts make more sense for logos, posters, notebook covers, and pamphlets that want a little pizazz without losing their readability.
Common Script fonts include Alex Brush, Amnesty, Great Vibes, Pacifico, and Lobster.
Handwritten Fonts
Handwritten fonts are a newer breed of font families. They've been popping up more commonly over the last decade and are different from Script fonts because they lack the traditional structure and characteristics of Script fonts and more closely resemble someone's handwriting. Handwritten fonts can be difficult to pin down and describe because of the sheer range of variety. 
They work really well in branding and logo designs because of how unique their different font styles can be. While they can add a creative touch to headlines and subheads, they can be harder to read when used for bodies of text in a smaller font size. 
How To Choose the Best Font for Your Design
When it comes to selecting the best font for a design project, there are three questions that you should consider.   
Are you choosing a font for a digital screen or for print?

 
Sans Serif fonts are great for digital use because of their readability. However, if you plan to create print materials, you might need to pick a serif font as the little feet help guide the eye when reading print text.  
What time period are you thinking of?
Some have said that this is the most important piece to consider when choosing a font style. Some font styles evoke specific time periods and it is important to take this into consideration when choosing which to use. For example, you wouldn't want to use a script font that is reminiscent of the Victorian era for a modern, new logo design. 
What do you want your font to say beyond the meaning of the words?
You are going to get your message across with your copy, but your font choice is going to set the tone before your reader even dives in! Consider whether your design is meant to be creative and playful, sleek and modern, or romantic and elegant. Choose the font that best supports the overall mood of your design. For example, if you have a pastry shop and want your font to reflect your product, consider adding a curved text effect to get a font as round as your donuts and cakes. 
Best Practices for Using Different Types of Fonts for Designs
As in life – and font choices – not everything goes together, but then again, there are some matches that just work. Font pairing is the practice of combining different types of letter fonts in designs. Some font pairings leverage easy-to-find fonts that are included as a default on your computer or design app, but others can be more unique and harder to seek out. Luckily, PicsArt has a large selection of fonts to choose from when doing font pairing for your next design project. 
As mentioned above, some fonts convey specific moods and feelings, so when pairing them you want to make sure those distinctive characteristics complement each other. Use fonts from the same family, but avoid pairing fonts that are too similar. This will help create contrast and draw the eye into your design without creating conflict.
Make Designs With Different Types of Fonts
Now that you've got a good grasp on different types of fonts and how to use them, it's time to get designing! We've broken down how to type in different fonts using the PicsArt desktop editor below:
Step 1) Open the PicsArt Editor. Click Upload to upload your photo or choose from the thousands of #FreeToEdit images, backgrounds, and templates.
Step 2) Click on Text on the left editing toolbar to open up the text editor. Select the type of text you want to use (Heading, Subheading, or Body Text). You can also select a preset font package. PicsArt makes pairing and choosing fonts a breeze with its preset options.
Step 3) After selecting the font you'd like to use, type out your message. Click on Font in the top menu to adjust the spacing and size of your text. You can also adjust the Color and add Shadows or Outlines.
Step 4) Once you've finished editing your text, click on Share or Download in the top right corner to save and share your project with everyone! 
Wondering how to type in different fonts on the go? You can also easily edit different types of fonts and add text to any photo with the PicsArt app! We've broken down the steps for you:
Step 1) Open the PicsArt app and tap the + icon at the bottom of the screen. Select the image you want to edit from your photo gallery or from PicsArt's #FreeToEdit gallery. You can also open a blank canvas or preset template.
Step 2) Tap on Text on the bottom editing toolbar and start typing. You can choose to left, center, or right-align your copy. Tap on the check box in the upper right corner when finished to save. 
Step 3) Now comes the fun part! Tap the up arrow on the bottom of your screen to pull up the search bar and search from a wide variety of fonts to pick the one that's right for you. You can also adjust the text color, blend, stroke, opacity, shadow, and spacing in this step. 
Step 4) Once you've finished editing your text, click on Next in the upper right corner and Save or Post to save and share your project with PicsArtists worldwide! 
PicsArt all-in-one Photo and Video Editor, Collage, and Sticker Maker is the world's largest creative platform with over 150 million monthly active creators and influencers. PicsArt has collaborated with major artists and brands like Taylor Swift, The Jonas Brothers, Gwen Stefani, Maroon 5, Lizzo, Meghan Trainor, One Direction, MONSTA X, Warner Bros. Entertainment, iHeartMedia, Condé Nast, and more. Download the app today to level-up your photos and videos with thousands of quick & easy editing tools, trendy filters, fun stickers, and brilliant backgrounds. Unleash your creativity with PicsArt and upgrade to Gold for awesome premium perks!