There's nothing more trendy these days than photo dumps on Instagram. After all, more is more! For those times when you have a lot of images to share, picking just a single shot to post won't cut it. Every now and again you're blessed with a handful of amazing images that you are dying to spotlight all at once but you don't want to bombard your followers with back-to-back posts and a carousel Instagram photo dump just doesn't feel quite right.
Sometimes you need to profess your love for your best friends with a public happy birthday message sharing five years worth of your funniest photos together. What about those times when you're making a visual mood board of all your favorite things, promoting an anniversary sale for your brand, or announcing new products? Let's face it — sometimes you just need to create an Instagram collage.
Photo collages are the perfect way to combine and share some of your best moments from your camera roll. And the best part about a collage is that you don't need to hold back. You can create a professional, posed photo collage for Instagram feed posts and put all of the outtakes into a fun, but disappearing Instagram Story collage.  
View this post on Instagram
How Do You Create an Instagram Collage?
Instagram has a lot of native tools for photo editing, but no built-tools to create a collage. That's why a lot of people either post carousels (aka photo dumps) or go to other apps to create collages.
A great place to start your Instagram collage project is in the free, all-in-one creative platform Picsart. It's available in the Play and app store as well as on desktop and has collage templates that are easy to use and come in a variety of grid styles and shapes. Just check out the above collage crash course to get a quick tutorial on collage making! You can also choose to work with collage frames or try your hand at freestyle collages if you want to get super creative with your photo editing. 
View this post on Instagram
Making photo collages may sound like a complicated endeavor, but all you really need are a few great photos to edit off of. No graphic design or editing experience is required to create Instagram story collages that pop. It's as simple as selecting up to 10 of your favorite photos from your camera roll and choosing their placement within the collage grid of your choice.
Pro tip: if you're not happy with the collage grid you selected, you can go back and pick another one. You can also edit your individual photos directly in the collage maker.
How Do You Create a Collage For Your Instagram Story?
When it comes to making Instagram Story collages, you can get pretty creative in the Instagram app. Simply open the Instagram app and swipe right to start a new Story, then tap on the Layout icon on the left. It will likely default to a 4-image rectangular grid. Tap on the grid icon on the left to select from 6 other grid shapes, enabling you to share anywhere from 2 to 6 images in the native collage-maker. 
If you want to explore other Instagram Story collage styles, remember that you can always get creative with Instagram Story ideas, formats, and collage templates in Picsart. Simply make the collage in another creative platform like Picsart, save it to your phone, then upload as a new image in Instagram Stories.
How Do You Add Multiple Photos to Your Instagram Story?
There are two ways to add multiple photos to your Instagram Story. The first (and more flexible option) is to take the above mentioned path via the Layout tool. The second way is to open an image in Instagram Stories, then tap the square Sticker icon on the top panel to open up the native Sticker tools. Scroll down and tap on the Picture in Picture icon. This will open up your camera roll again so you can pick another image that is already on your phone to add to your story. With this second way to make a collage you're limited to two images max, so get creative with other stickers, filters, and engaging stickers.
Pro tip: tap on the second image to rotate through a variety of image shapes, including star, circle, heart, and square.
Match Your Mood with a Custom Instagram Collage Maker
The fun doesn't have to stop after you've selected all your images and input them into the perfect Instagram collage grid. Before posting to your account, you can customize your photo collage to make your post pop even more. To create something truly one-of-a-kind, consider layering on a vintage filter, adding thematic stickers, and/or using text overlay and text styles. You can also change the ratio of your photo collage to fit an Instagram square, portrait, or story. There are no rules or mistakes, so customize to your heart's desire.
View this post on Instagram
What Are Some Instagram Collage Templates?
Another way to create a stunning Instagram collage is to take advantage of easy-to-use collage templates. There is one for every occasion, season, and aesthetic. 
The templates in Picsart have been meticulously designed by talented artists so they come ready to use with beautiful backgrounds and a slew of shapes and colors. All you have to do is swap the preset photos for your own and edit other small details to customize your collage. Popular template designs include back to school, K-pop, invitations, pets, interior design, frames & mirror, and more.
With templates, the collage design work has already been done for you, so you spend less time designing and more time picking your favorite photos. All you have to do is add your photos, save, and share. 
View this post on Instagram
How Do You Get The Layout For Social Media?
Once you pick your favorite template, you can easily resize it for Instagram stories and feed posts with the Crop tool in Picsart. Simply select the size you want and Picsart will automatically resize the creative canvas. This way you can ensure that your collage is being made within the correct dimensions for all social media platforms. You can also manually enter a custom canvas size if you want to resize to share your final collage beyond the Instagram app. 

How Do You Create a Video Collage For Your Instagram Story?
Want to set your best memories into motion? Use the Video Editor to create a video collage for Instagram stories (or a feed post) it in mere minutes. Just upload your favorite photos into the Slideshow Maker tool to create a video slideshow out of them. 
Want to further personalize your custom video collage? Jazz it up by adding cool effects (like snowfall), stickers, fonts, and filters. Then tie it all together with royalty-free AI Music for custom audio tracks. This is a great video marketing hack if you own a small business and want to promote a new product on a small budget. When you're done editing, simply resize your video collage for Instagram and save it to share with your fans. 
What Are Some Instagram Collage Ideas?
Now that you see how easy it is to make custom Instagram collages, the world is your oyster! But trying to decide what's worthy of a collage vs a still feed photo can feel a little daunting. A great rule of thumb is if you can't pick just one photo then it might need to be a collage. We've compiled a list of ten Instagram collage ideas to get you started:
1) Birthday Dedication: Instagram collages are a great way to wish your best friends, family, and pet a happy birthday by sharing some of your favorite moments together.
2) Trip Recap: Want to share the highlight reel from your trip? Relive the best moments from your trip in a collage or set it to music and create a video collage with a song that pairs well with the destination.  Reminiscing about the past? Pull together old photos from previous family trips into a collage that's super share-worthy.
3) Celebrate the Moment: Whether it's a big life moment like a wedding, engagement, pet adoption, graduation, or birth of a child, it deserves to be celebrated via an Instagram collage. You don't have to be an influencer to make an Instagram collage. Use multiple images to show off your favorite parts of the day.
4) Professional Milestones: If you're a business-owner, odds are that you have many collage-worthy moments to capture. Milestones like your company's anniversary, store opening, new product offering, or an annual sale are all worthy of sharing multiple photos. Alternatively, if you've just landed a new (or your first!) job, you might want to share a collage of your first day at your new company. Also consider a photo collage thanking all of the people who helped you get to where you are today.
5) Sales and Promotions: Whether you have a big business with hundreds of employees or you're a small-business of one, Instagram collages are a great way to promote your products. Consider taking photos of all of the items for sale, utilizing eye-catching backdrops, proper lighting, and propping, then adding a natural filter to tie the photos together. Add stickers and text styles to each image to visually show the discounts or new prices. If you're selling a product for your online store or brand, Instagram collages are a sophisticated way to gather all your goods in one place to make maximum impact.
6) Vision Boards: Do you usually make vision boards on your birthday or at the start of a new year? Considering sharing it in an Instagram story collage to manifest your dreams with your Instagram friends. With millions of stickers and so many #FreeToEdit photos in Picsart, you'll spend less time cutting photos from magazines and more time envisioning what's possible. It can be a gorgeous vacation destination, professional and personal aspirations, new photo editing skills, or beauty looks you'd like to try.
7) Throwbacks: Photo collages are a creative way to relive old memories for a throwback feed post. Add a vintage or grainy filter to give your Instagram collage a throwback vibe. 
8) Moving: If you're moving – or just cleaning out your closet – and want to downsize, consider making a collage of all of the items you want to sell or give away. Then post it as an Instagram Story and let your friends shop your closet. It's a win-win for everyone.
9) Shape Collages: Don't limit yourself to the square grid. Shape collages are great for playful photos of friends and family and can even be used to promote your small business. Celebrating an anniversary or selling Valentine's Day cupcakes? Use the "LOVE" shape collage and you'll be sure to impress your fans. There are various shape collage templates in Picsart, including hearts, stars, hexagons, circles, diamonds, puzzle pieces, and so much more.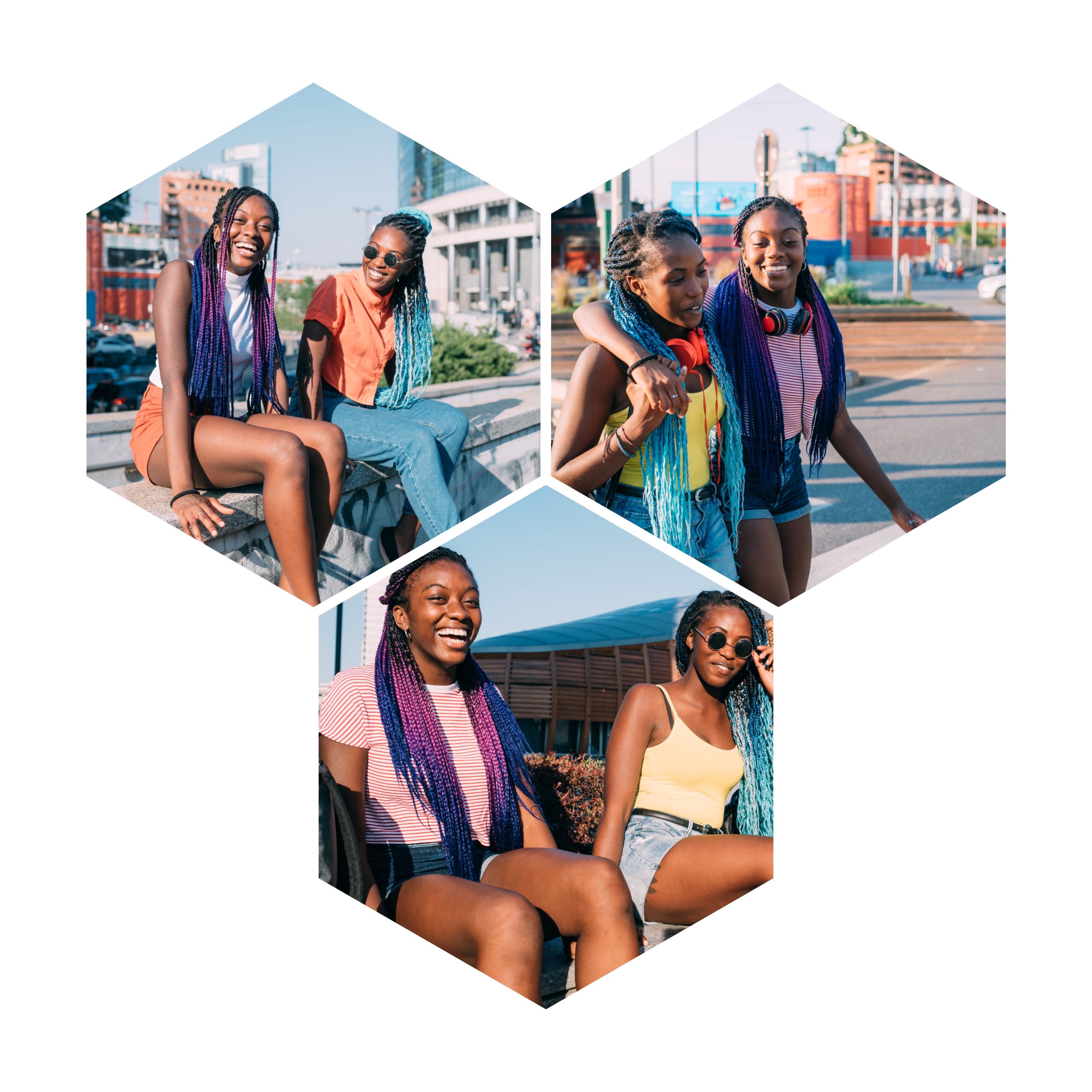 To access shape collages, just open the editor within the app and click on Grids within the Collages tool. Once you select your photos from your camera roll, Picsart will place them randomly into the shapes for you. To change the photo order, just drag and drop each image separately until you're done editing. 
10) Frame-Worthy Art: Framing art makes it feel more polished and lends an extra air of style. If you've recently done a photoshoot, consider framing your photos in an Instagram collage. Simply look for Frames (found within Collages) on Picsart and add one to your next print-worthy collage. Categories include titles like Birthday; Colorful; Love; Magazine; Holographic; Geometric; and more. Did you just get a haircut or are you participating in Movember? The Selfie frame is just what you're looking for.
View this post on Instagram
What Are The Best Apps For Instagram Collages? 
Once you download the Picsart app, all you have to do to start creating your Instagram collage is to click on the plus sign (+) at the bottom of the screen. This will pull up the photo chooser and gives you the option to work with different types of collages. With over 80 grid designs to choose from, Picsart's pre-made collage grids are the easiest (and fastest!) way to create Instagram Story collages.
Whether you're on the hunt for a simple, two- three- or four-photo grid, or are looking for something more robust, there's an Instagram collage grid that will speak to your signature style.
Pro tip: depending on the number of photos you choose to work with, Picsart will automatically pull up the grid designs that will work for you.
View this post on Instagram
From basic grids that require only a few photos to more complex shape collages that incorporate up to 10 images, you'll never have any shortage of collage inspiration. There are so many ways to take advantage of Instagram collages. Get as artistic as you want with it, and most importantly, have creative fun! 
Picsart is a full ecosystem of free-to-use content, powerful tools, and creator inspiration. With a billion downloads and more than 150 million monthly active creators, Picsart isn't just the world's largest creative platform; we're also the fastest growing. Picsart has collaborated with major artists and brands like BLACKPINK, the Jonas Brothers, Lizzo, Sanrio: Hello Kitty, I am a Voter, Bebe Rexha, Maroon 5, One Direction, Warner Bros. Entertainment, iHeartMedia, Condé Nast, and more. Download the app or start editing on web today to enhance your photos and videos with thousands of quick and easy editing tools, trendy filters, fun stickers, and brilliant backgrounds. Unleash your creativity and upgrade to Gold for premium perks!