Welcome to the new school of video editing. Cropping, splicing, and syncing might seem like formidable tasks, especially for someone who's just starting out. Truth be told, the bespoke tools of recent years have made it easier for you to create compelling content in a series of clicks. 
Whether you're editing a clip for TikTok or putting together an artful short film, simple tools can make for professional-looking results.   
Make a Plan
Go into your project with a clear idea of what you want to achieve. Doing so will allow you to get creative instead of getting stressed.

Even the most basic video editing applications have enough tools to make you feel overwhelmed, so try not to get distracted by features you don't need and stick to your plan.

If you're making a video for social media, opt for basic drop-and-drag tools so that it doesn't take hours (or all your patience) to make a 15-second clip. This said, if you are working on a film and need a more-advanced range of tools, by all means, use professional software. 
Time and difficulty level are key factors in deciding how you'll make your video. Before you start, ask yourself how much time you want to invest in your video.

If it's a clip for Instagram and the idea is to share content quickly, you might be better off using the in-app filters, stickers, and music options. If you're making an advertisement for your company, you'll want to invest more time and use an app like ours to splice clips, add sound, and create smooth transitions.

The project below is an Instagram advertisement for a fashion company. In the screenshot are some of our time-saving tools designed to make your video look and sound good. In the left-hand menu, you can choose from ready-made templates, drop-and-drag text boxes, and free music options. On the right-hand side of the screen, you can see where different clips have been dragged into the app and spliced together by the program. There, you can select "Add Transition" to tweak the jumps between clips.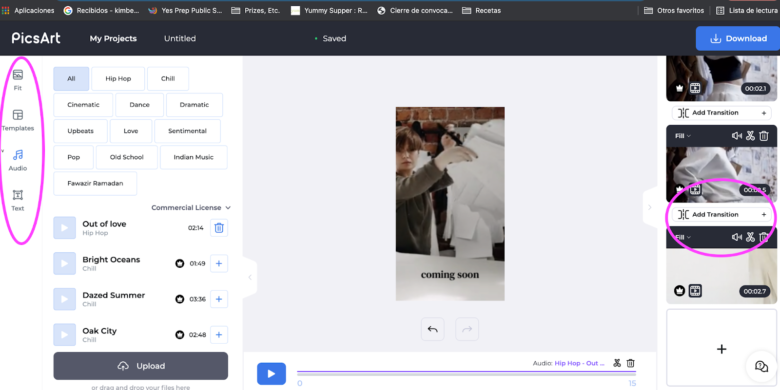 Output is another key factor in deciding where and how to start your project. Whatever software you use, ensure that you'll be able to export your video in the file type, size, and format you need. In the example above, we save time and energy by using the Picsart desktop app, which comes with pre-sized video "canvases" and export options that are ready for social media. If you're on Picsart mobile, you can even design and download videos right to your phone for easy posting. 
2. Set the Tone
Decide on the mood of your video before you even start filming. Think of directors you like and what it is about their work that appeals to you. Are you into the high-contrast black-and-white of Fellini or the dreamy long shots of Chloé Zhao? 
If you're making social media content, which influencers and creators inspire you? Try to define what color schemes, music, and other stylistic elements set them apart. Perhaps it's a '90s vibe or a vintage feel. Whatever the style, be sure to put your own spin on it. 
Some visual effects can be done while filming, but editing is the perfect time to really bring them out. Stylize your video with filters and music, staying within the tone of the piece. Select upbeat audio like pop and house music for light content and elegant jazz or classical tracks for more serious pieces. Limit distracting special effects in reserved videos, but take advantage of kitschy add-ins for comedic ones. Silly or ironic stickers work well in funny or edgy videos. We recommend using the Picsart web application for more complex videos like the one below and the mobile app for playful social media content, as it's easy to add text, stickers, and fun special effects. 
3. Tell a Story 
Whether a TikTok clip or a full-length film, the most engaging content tells a story.

First,  think about your narrative, however brief. If you're reviewing a beauty product, be sure to list pros, cons, and key information like uses, application, and ingredients. If you're advertising your boxing gym, for example, give the viewer an idea of what kind of activities you have on-site and a peek into the intensity and feel of the space.

Whatever the content, a good narrative delivers essential information in the right tone. With video, viewers receive a lot of the narrative via action and dialogue, so plan a script, including specific angles, shots, and cuts.
Good editing takes all that narrative information and reframes it, perfecting your message. Cut and splice video clips together to fit your best content into the time bounds of your video.

Take the example below: in each clip we see a different athlete working out with different equipment, and the text flashing across the screen gives us essential logistical information. In fewer than 30 seconds, we get an idea of what this gym is all about. Imagine if the creator had focused on just one athlete, shot, or scene for the full 30 seconds. The result would have been a less dynamic video that tells an incomplete story. 
4. Keep them Hooked 
On social media, 15 minutes of fame is more like 15 seconds. In our busy lives, we even scroll quickly through the content of people we love, whose videos we genuinely care about. On apps like TikTok, where we're bombarded with strangers' content, our attention spans are probably even shorter. 
Your story and style will get people engaged, but how do you keep them hooked? Try creating a consistent brand for your content, using similar color schemes, fonts, and musical choices across all your videos. Your content should be immediately recognizable as yours, so make your mark early on and carry it through all of your videos. Using a tool like Picsart makes this more feasible because you can save your favorite fonts and images and consistently find the same music tracks.
5. Save Your Work
Video-making is more involved than other types of work like filtering a photo or adding text to a story, so be sure to save your project often and correctly. It's as easy as the "3-2-1" rule. This rule suggests having three copies of your work at all times, with two backups and one copy off-site. However, when making TikTok videos and short clips, we don't need a couple of external hard drives; so, in practical application, using the "3-2-1" rule might look like saving your project on Picsart, downloading your finished video to your computer, and having another copy of your video on your cell phone. 
Perhaps the most important file to keep is that of the project itself so that you can go back and edit quickly. If you're aiming for a shared feeling across all your content, you can easily duplicate your saved project, and this keeps you from having to start from scratch every time you make a new video. Simply switch out the background music, text, or stickers, but keep your fonts, filters, and transition effects the same. 
Picsart is a full ecosystem of free-to-use content, powerful tools, and creator inspiration. With a billion downloads and more than 150 million monthly active creators, Picsart isn't just the world's largest creative platform; we're also the fastest growing. Picsart has collaborated with major artists and brands like BLACKPINK, the Jonas Brothers, Lizzo, Sanrio: Hello Kitty, I am a Voter, Bebe Rexha, Maroon 5, One Direction, Warner Bros. Entertainment, iHeartMedia, Condé Nast, and more. Download the app or start editing on web today to enhance your photos and videos with thousands of quick and easy editing tools, trendy filters, fun stickers, and brilliant backgrounds. Unleash your creativity and upgrade to Gold for premium perks!