Coffee is one of life's simple pleasures. For many of us, coffee is a ritual, a sacred routine amidst the daily grind. It's drip coffee to go with breakfast, an afternoon latte, and a velvety espresso after dinner. In some cultures, coffee cups are believed to contain signs foreshadowing what the future may hold. Even those who don't drink coffee can still appreciate beautifully crafted coffee photography that looks good enough to drink. With enough artistry, coffee photography can conjure romantic cafes, latte art inspiration, or gentle tendrils of steam floating off of the mug that brings your coffee photos to life. And with the right editing apps, you can capture that romance, or add in missing elements, very easily. 

Food and drink photography is a great way to improve and practice your photography skills with a subject we all know and love. For a professional set-up, all you need is a few basic pieces of equipment: 
A tripod

A light source (LED lights or natural light can work)

A DSLR camera, but your smartphone should work just fine. 

Coffee beans, hot water, and your favorite mugs or cups. 
Whether you're shooting a promo for a local coffee shop, for your feed, or for yourself, here are some tips on how to set up and snap an artsy coffee photo, and edit it with PicsArt. 
1. Mise en Scene
An artful still-life photograph captures the magic in everyday objects like a cup of coffee. Food and drink photography is an important type of still-life photography, where the goal is to depict your objects so that they appear attractive and appetizing. Your mise en scene is how you "set the stage" of the attractive image you want to capture, so plan it out! It's worth it to spend a little time thinking about the type of photograph you're aiming to create. 
Begin by experimenting with the arrangement: what is the setting of the story you want to tell? If you're shooting for a coffee shop or cafe, think about the vibe or aesthetic that the shop owners want to create.  If you're taking photos of a cup of coffee in your house, consider how placing the cup on a table or windowsill, or taking it outdoors makes a difference. Pro tip: If you are planning on shooting outside, remember overcast days will have the best natural light so that the colors and lines appear soft and even.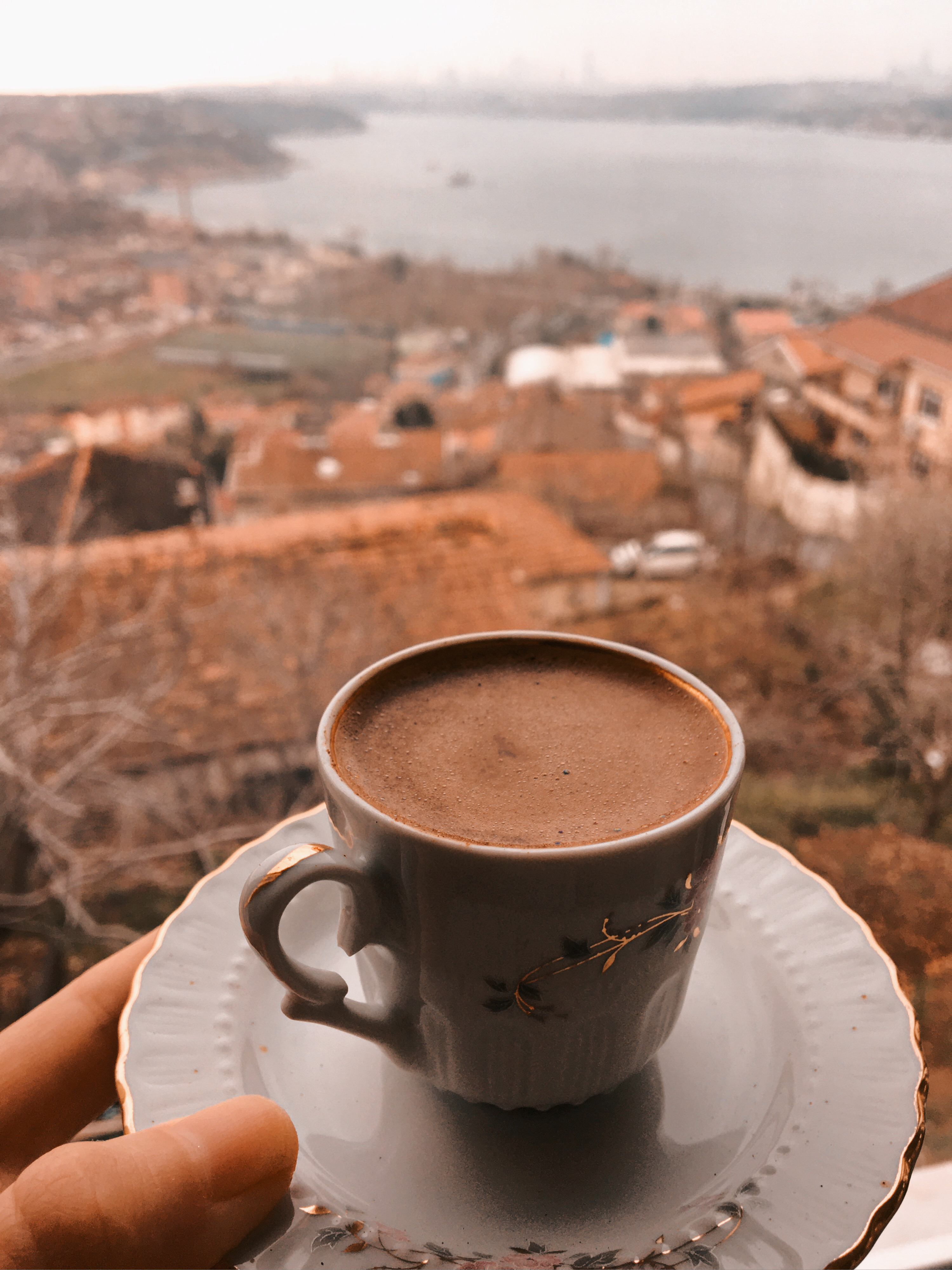 via PicsArt
Carefully choosing a background opens up a world of possibilities. If you don't want to distract from the coffee, you can make a simple white background out of cardboard, or shoot it on a tabletop. If you want to get creative, think about how the coffee can blend in, or stand out from a background of your choosing. Maybe you're stuck at home though, so take your beautiful coffee shot and then change the background before you share it online. Want to mix it up? Keep the beautifully stylized background, but change the look of what's in your coffee cup instead. It'll keep your fans guessing.
2. Have Fun With Props
Props help make coffee such a fun subject to shoot. Household items and antiques can help make your coffee photography more visually interesting, even when deciding how to serve your coffee. A glass coffee mug easily matches with any background. A plain porcelain coffee mug becomes a blank canvas to tell your coffee story. Try mixing and matching porcelain with different backgrounds for a vintage look and feel. But why limit yourself to white china when you can use colorful cups and mugs? The color or pattern of your mug can help enhance other colors in your scene.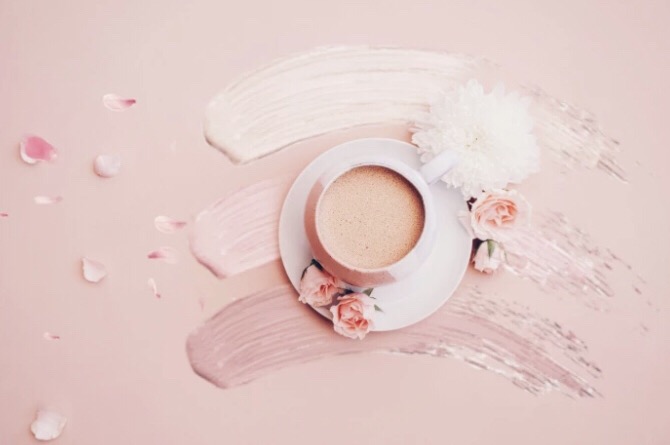 via PicsArt
Colors can be a starting point, with complementary colors inspiring the props that you bring into the frame. The dish that the coffee is served on might match the sweets or snacks enjoyed with that beautiful coffee elixir.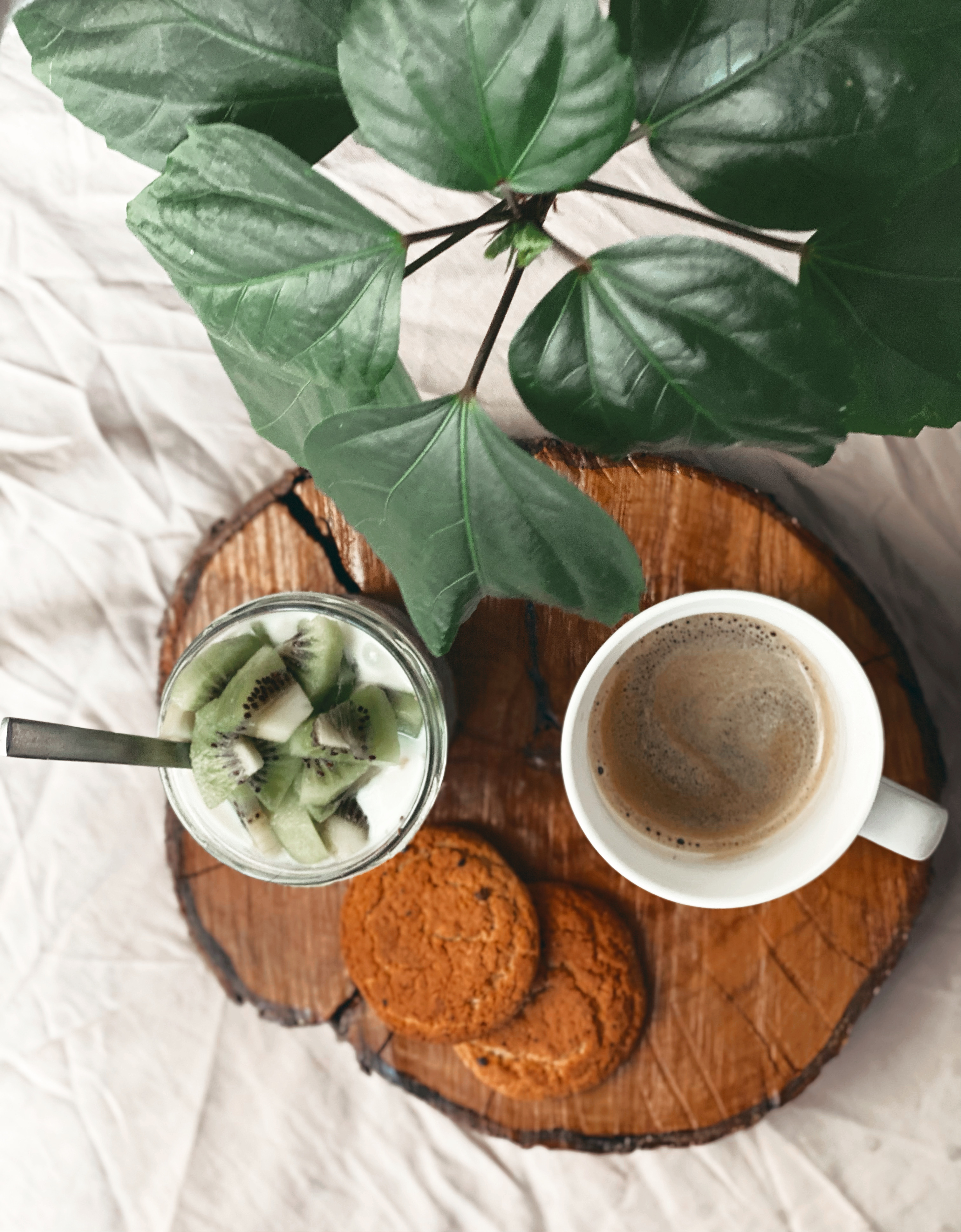 via PicsArt
Coffee-making equipment has its own aesthetic appeal and connects us across cultures. Consider the elegance of a glass French press, the intricate carvings on wooden handles or copper body on an Arabic coffee pot, or the geometry of an Italian Moka. Even spoons or aerolatte milk steamers can be a part of the process.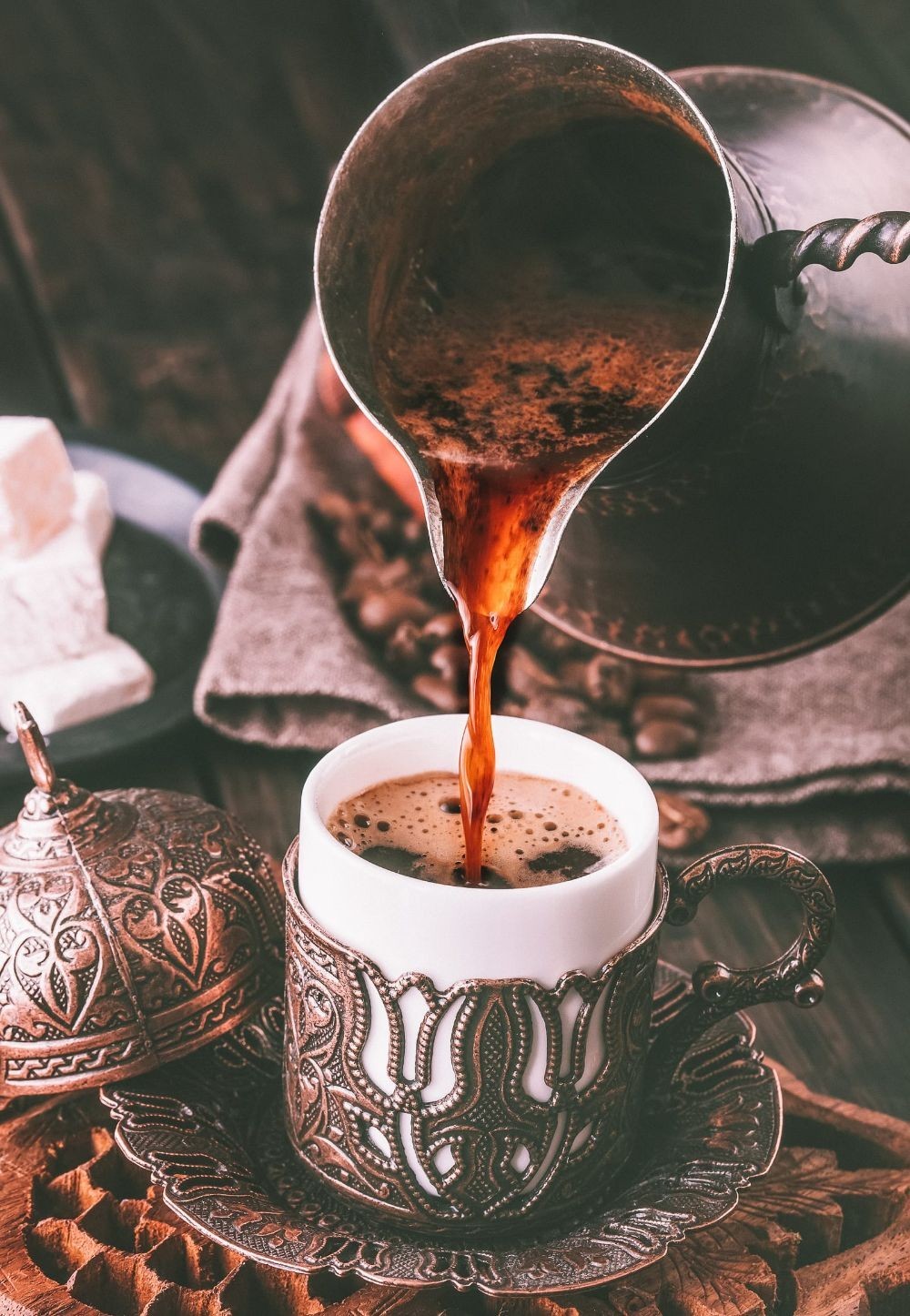 via PicsArt
To improve the visibility of your brand, use props and logos to subtly remind fans about your business. 
3. Tell Your Story
Photography is an emotional art form, and coffee photography is no exception! How you use light, colors, scenes, and props make a difference. Softer, more even colors and natural light suggest a dreamy Saturday morning with coffee in bed. Images like this invoke the question- how will you choose to spend the rest of your day?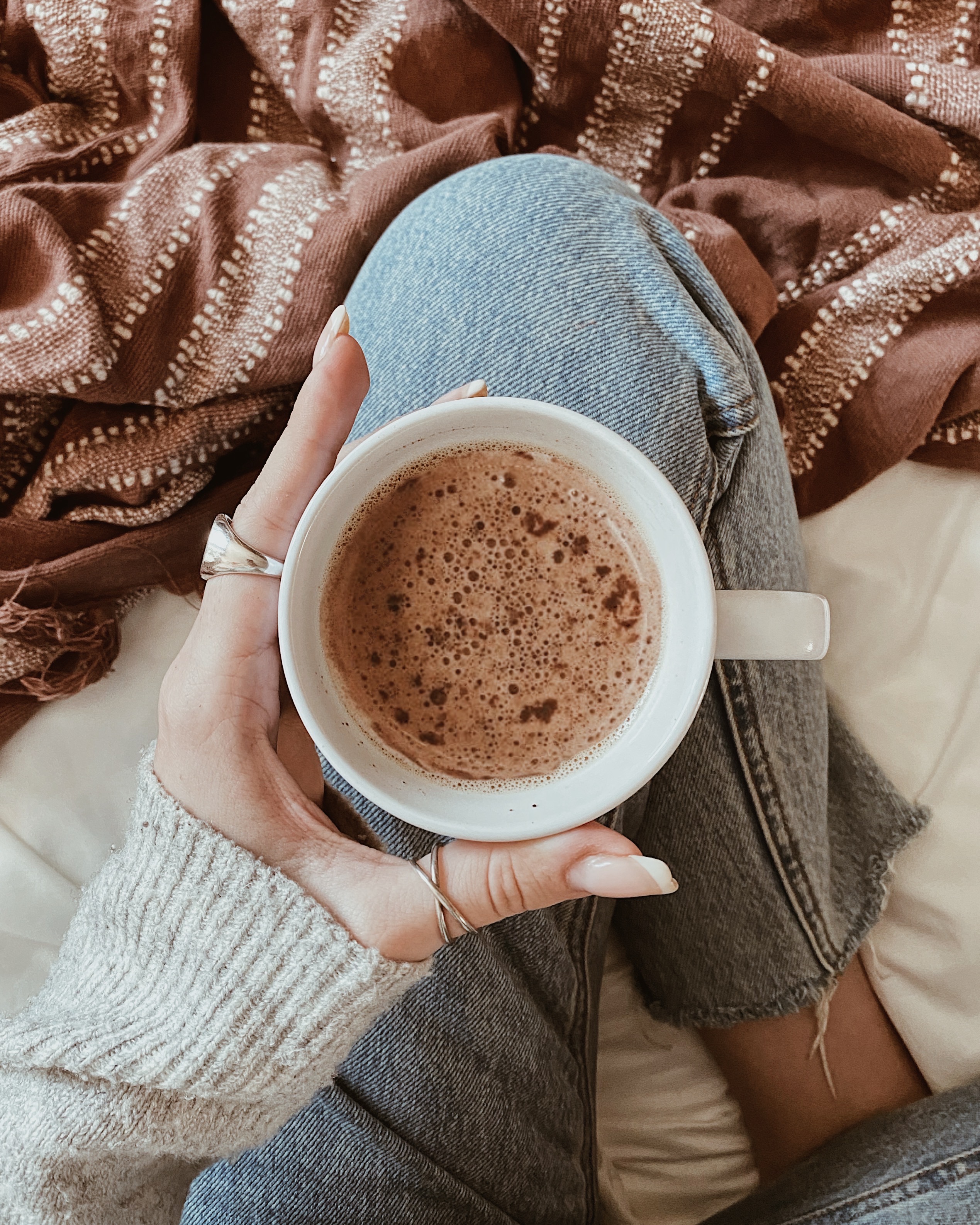 via PicsArt
Sharper contrasts and edgy surfaces imply a moody burst of inspiration. If you're shooting commercially, consider the image or story that the cafe is trying to sell their customers. The image of the cafe transforms into a place where ideas are exchanged, where people read books and get lost in their dreams. An artistic radial blur effect can bring the coffee experience into the foreground. Photo-editing software like PicsAart can help you achieve a blurred depth of field, whether you're editing on your phone or on the web.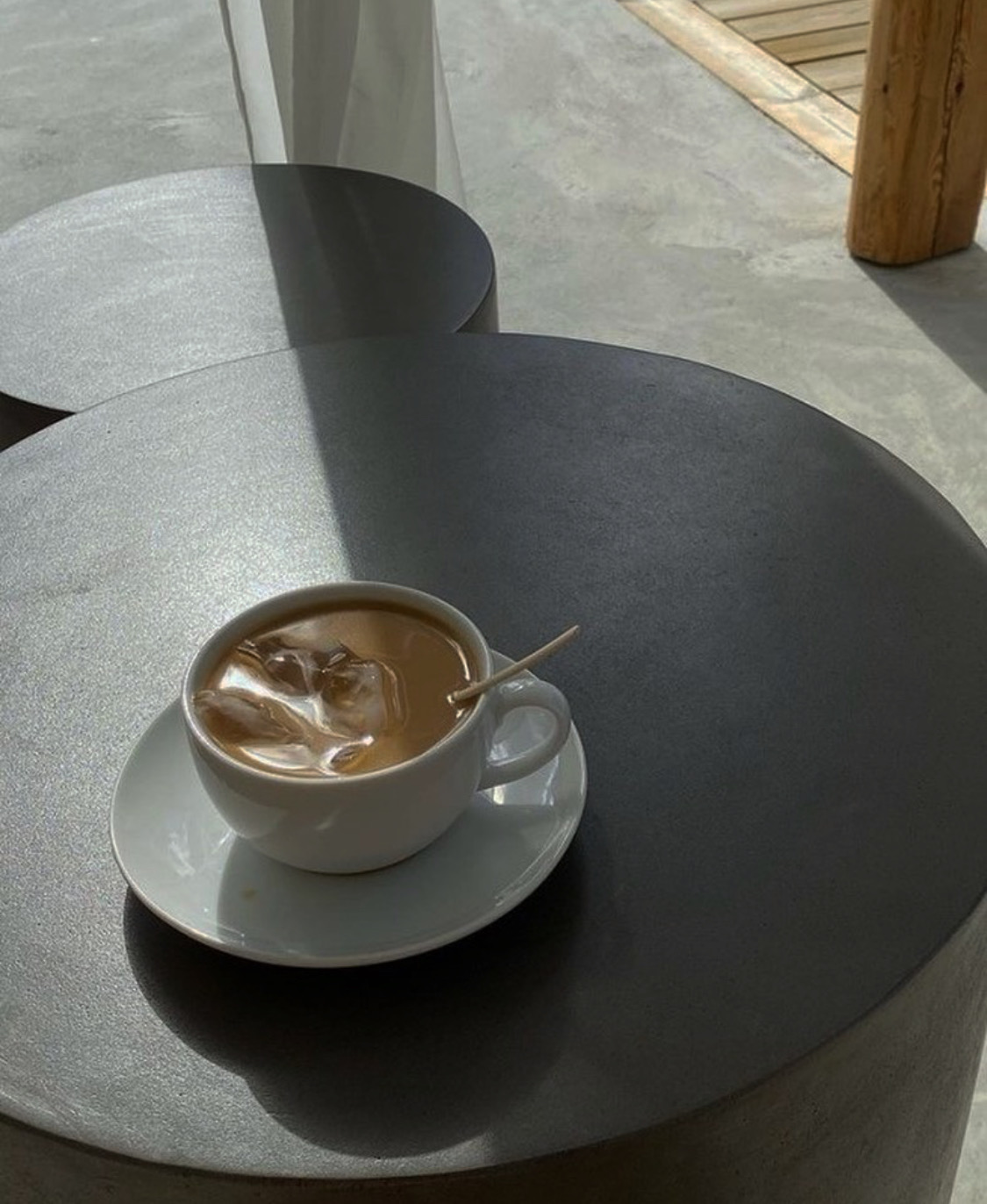 via PicsArt
In addition to the background, mood and props used, capturing the coffee-making process can be a great way to introduce variety into your coffee photography while also giving your fans and customers a behind-the-scenes look. Buying whole coffee beans, grinding them, selecting the right cup: each of these steps is just as important as the final product itself, and can be incorporated into the rich coffee story. Even a whole coffee bean, offset on a white background, contains visual potential. Coffee beans can be used alone or can be combined with spices like cardamom or cinnamon in a recipe-style narrative. The burlap texture in the background suggests the journey each cup of coffee travels, from the source to the cup.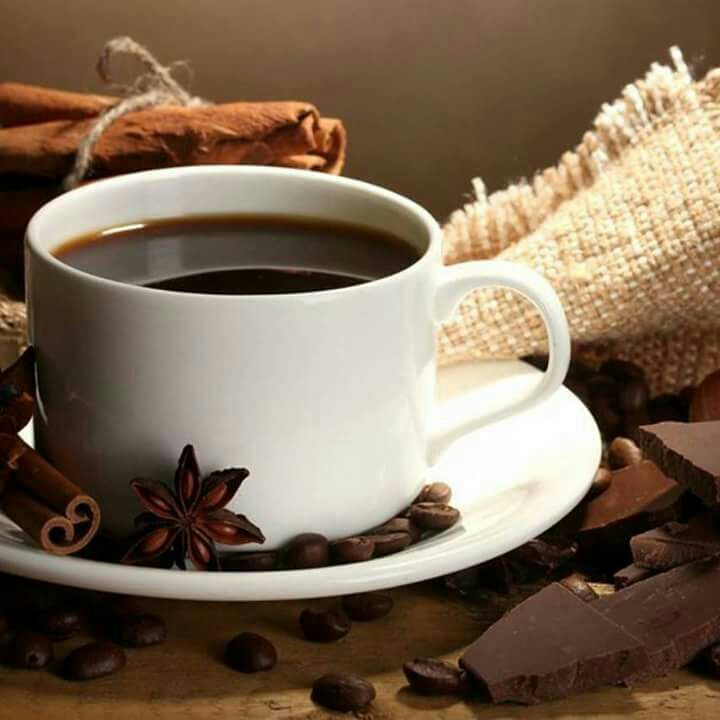 via PicsArt
Pouring coffee is a great way to incorporate movement into a shot. A splash of coffee into your mug or a gif of latte art in the making helps bring your still coffee photography to life.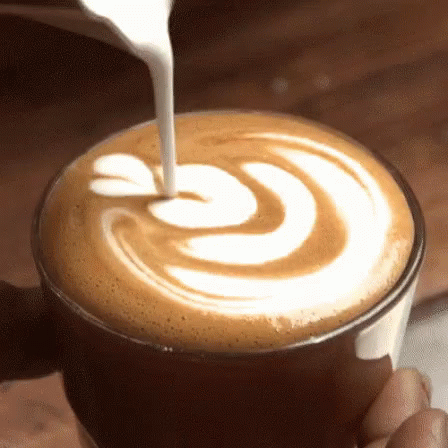 via PicsArt
Shooting Steam on a Cup of Coffee
Now that you're inspired to create your own coffee photography images, ever wondered how to create the image of steam, gently curling off of the coffee mug? Steam off of a coffee mug or tea glass elicits something warm, cozy, and familiar within all of us and is the perfect coda to your coffee shop imagery. Shooting ephemeral objects like steam freeze movement in time, and is an artful way to incorporate action and motion into a shot.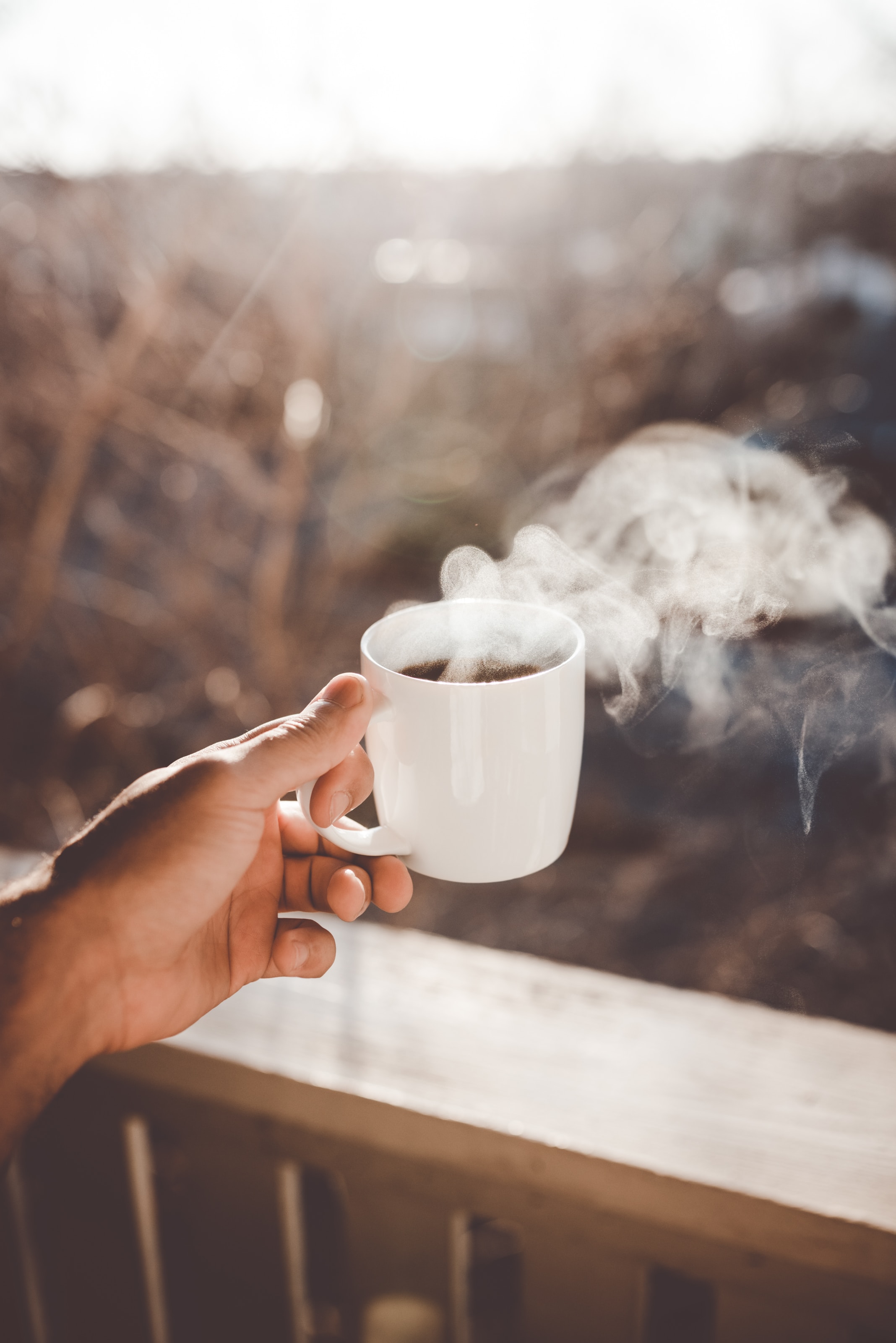 via PicsArt
Although steam seems easier to see with your eyes than with a camera lens, it's easier to capture than you might think. Here are some simple tips and tricks to do it right with a smartphone. 
1. Set up Your Shot
Once the coffee or tea is poured, you won't have a lot of time for adjustments, so it's important to have the shot set up beforehand. Steam is most visible and beautiful in backlight, so it's important to have your light source behind your steaming or smoking cup. If you're inside, put your window or LED lights behind the cup. If you're outside, the sun should be behind the cup. By directing your light behind the steaming cup, you're allowing the white vapor to reflect light, which makes it look more full and voluminous. 
This is also the time when you compose your mise en scene: what other details would you like to highlight? Treats like cookies and chocolates are obvious choices to make your coffee appear delicious. For something more conceptual, you can think about what the steam reminds you of, like a cozy blanket. To be more abstract or out of the box, you can use props that remind you of fluffy clouds.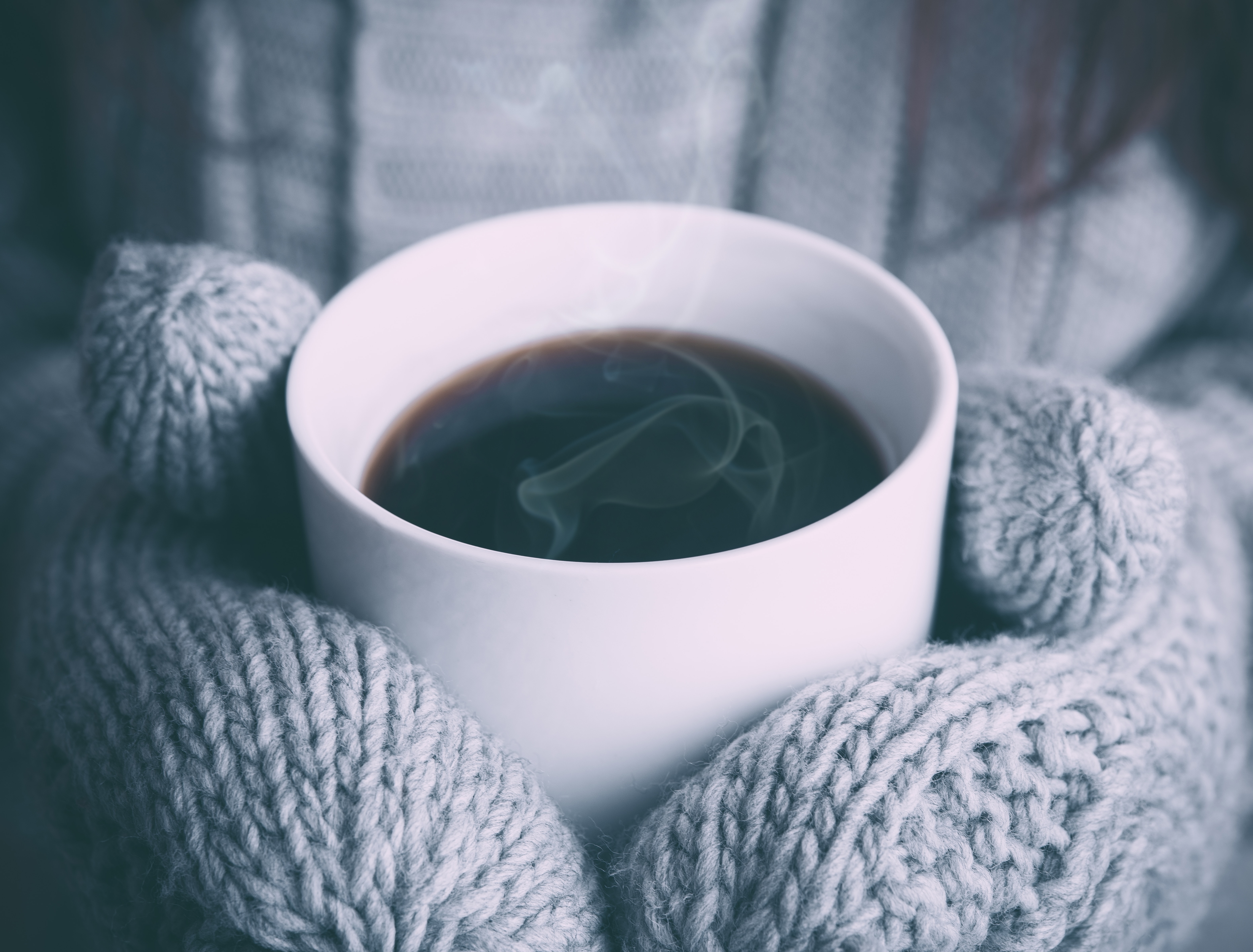 via PicsArt
Pro tip: When composing your shot, you'll want to leave plenty of room above your cup so that the steam has a place to go. It's the direction where your viewer's eyes will be drawn, as well. 
Know your angles: the angle at which you photograph your cup of coffee is also very important to consider when capturing the steam itself. Get closer, pull back, tilt the phone camera left or right to make sure it's appearing the way you like it in the image. Once you've found an angle you like, lock it in. A tripod can help set up a shot and keep a steady focus.
2. Get Steamy
Now, you'll need to make your hot cup of coffee. You'll want to create as much steam as possible, so the water needs to be boiling. Most importantly, act quickly! The best steam will be gone in a minute, so pour it up immediately before you snap your photograph. 
3. Get Creative
Steam is a transparent object, so don't get down on yourself if it's not coming out exactly the way you imagined. A clever way around this is to create the appearance of steam using smoke from an incense stick. It lasts longer than steam does, and creates fabulously unpredictable swirls and patterns that will look beautiful rising from your mug. 
Want to create the image of steam without hassle? Another fun option is to edit images of steam onto your photograph. Download transparent images of steam from the web and save them on your phone or browser to edit in the PicsArt app.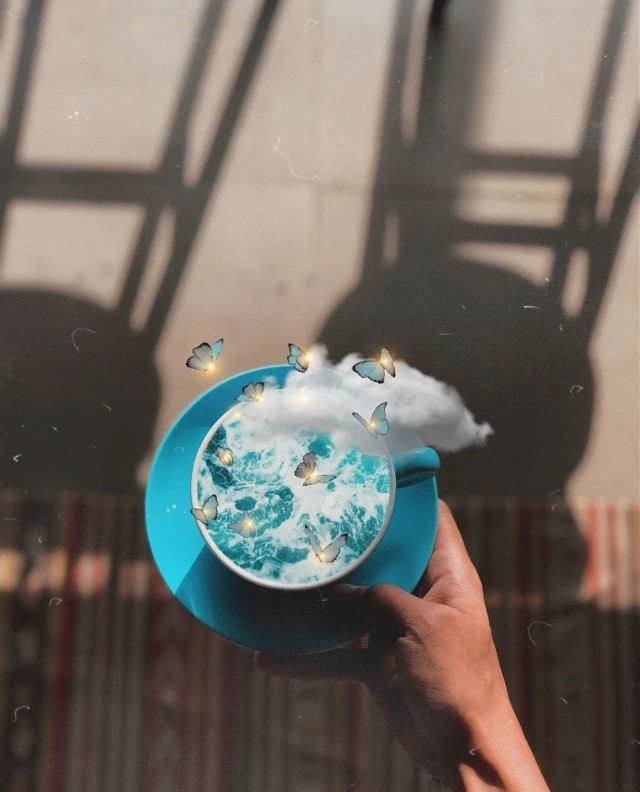 via PicsArt
Coffee cups can be easily manipulated for cool and artsy effect. This easy Pinterest tutorial can show you how to brew up your own surreal edit using PicsArt's library of galaxy stickers. 
Want to learn how to do it with your own downloaded images? Here's how to create your own coffee cup manipulation: 
First, download the

free Android photo editor

or

free iPhone editor

. You can choose your image of coffee from the

PicsArt library

, or upload your own. 

Tap on the

FX

tool, and adjust your image's brightness, contrast, and fade.

Next, scroll down and select

Draw

from your list of editing options. In

Draw,

select

Photo,

to bring up the image that you would like to manipulate within your coffee cup shot. 

Crop

the image so that it's the right size and shape for your coffee cup. 

Open the

Layers

tab.

Adjust

the opacity of the image so that it becomes more transparent, to 50% or 60%.

Resize

and

Recenter

your image if needed by dragging the corners so that it matches up with your coffee cup. 

Select the

Erase

tool and choose the low-density option, with a size of up to 128 px and with an opacity of about 75%.

Erase

the edited image layer around the rim of the coffee cup, so that the image appears to be contained within the glass. To make editing the image easier,

Zoom

in on the coffee cup shot by dragging the corners of the image. Take your time to slowly erase everything around the mug. To erase the finer details, decrease your eraser size, to as small as 24 px. You will want to erase everything from the downloaded image that's not contained within the contours of your mug. 

Zoom out, and open the

Layers

tab.

Select

the layer with the downloaded image, and increase the

Opacity

to 100%. 

Add

any other Clip-art you like from Picart's image library. 

Save

and

Share

your image on PicsArt with the whole community!
And there you have it! You've just edited your own coffee cup. Now you can remix images your own way to share your creativity with the world.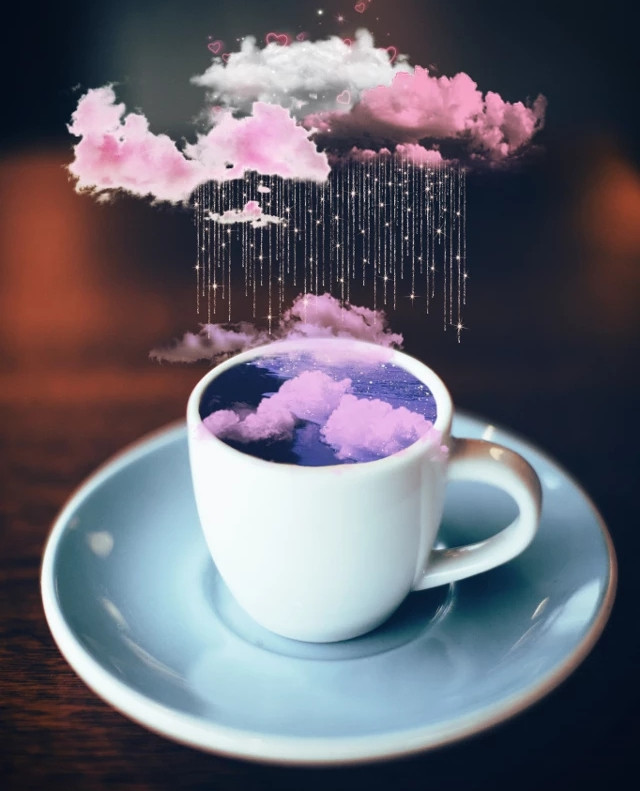 via PicsArt
PicsArt all-in-one Photo and Video Editor, Collage, and Sticker Maker is the world's largest creative platform with over 150 million monthly active creators and influencers. PicsArt has collaborated with major artists and brands like Taylor Swift, The Jonas Brothers, Gwen Stefani, Maroon 5, Lizzo, Meghan Trainor, One Direction, MONSTA X, Warner Bros. Entertainment, iHeartMedia, Condé Nast, and more. Download the app today to level-up your photos and videos with thousands of quick & easy editing tools, trendy filters, fun stickers, and brilliant backgrounds. Unleash your creativity with PicsArt and upgrade to Gold for awesome premium perks!