Coffee is one of life's simple pleasures. For many of us, coffee is a ritual and a sacred routine amidst the daily grind. It's a drip coffee for breakfast, an afternoon latte, and a velvety espresso after dinner. In some cultures, coffee cups are believed to contain signs foreshadowing what the future may hold. But even those who don't drink the stuff can appreciate beautifully crafted coffee photography. Done well, it can look good enough to drink. With enough finesse, artsy coffee pictures bring this love affair to life. And with the right editing, you can create that sense of romance easily. 
Normal Photography vs. Coffee Photography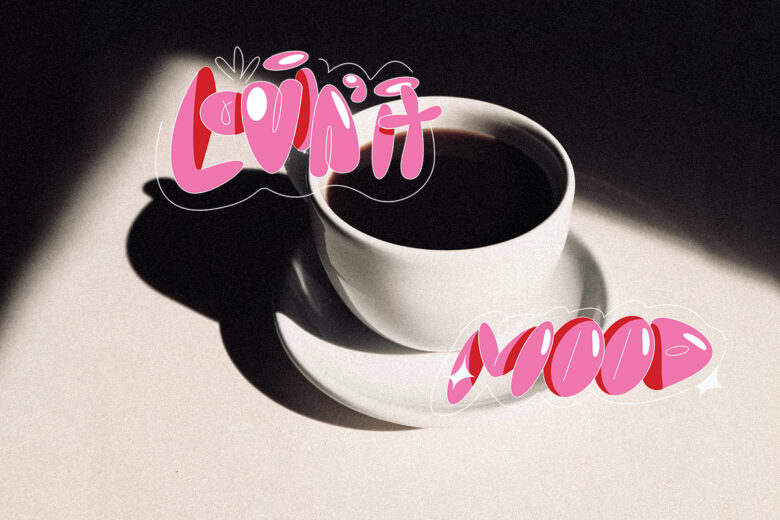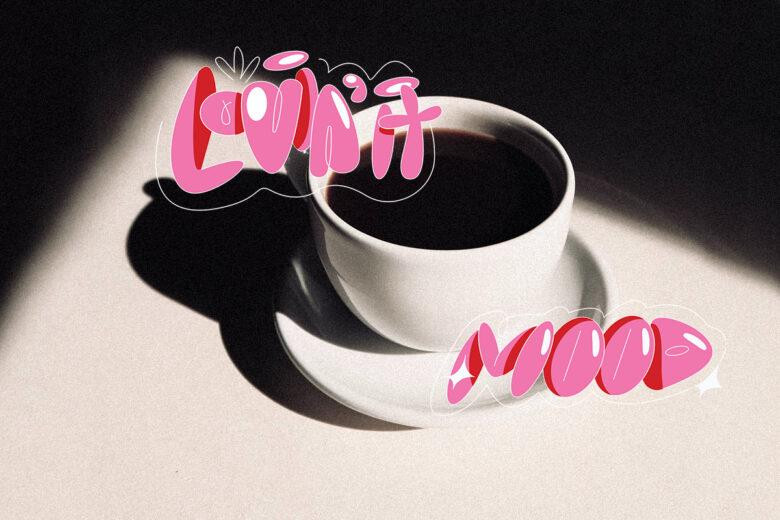 Food and drink photography is a great way to improve and practice your photography skills using a subject we all know and love. It's still still photography, which makes for a relatively easy subject. But coffee photography does present its own fair share of unique obstacles (steam. lighting, the urge to just drink it all…). Fret not, however, these are easily overcome. Normal photography and coffee photography aren't so different.

Equipment Required to Create Artsy Coffee Pictures
For a professional set-up, all you need is a few basic pieces of equipment:
A tripod

A light source (LED lights or natural light can work)

A DSLR camera, but your smartphone can work just fine. 

Coffee beans, hot water, and your favorite mugs or cups. 
Whether you're shooting coffee shop photography for a promo, for your feed, or for yourself, here are some tips on how to set up and edit your imagery with Picsart. 
Things to Consider When Taking Photos of Food and Drinks
1. Mise en Scene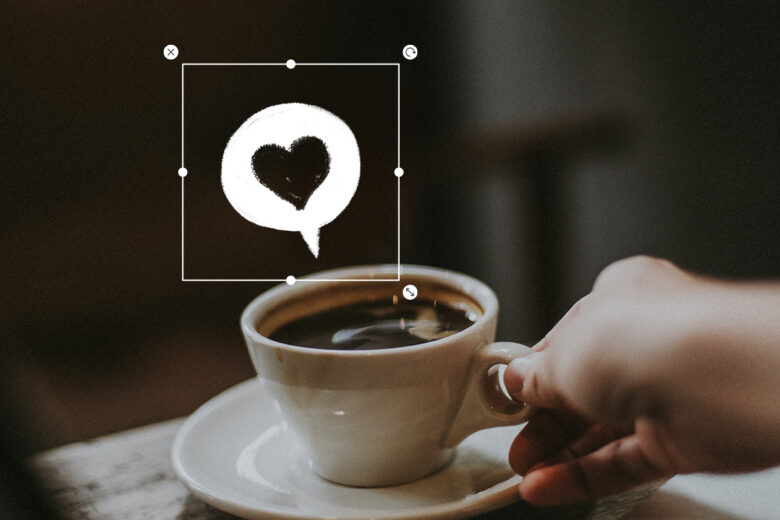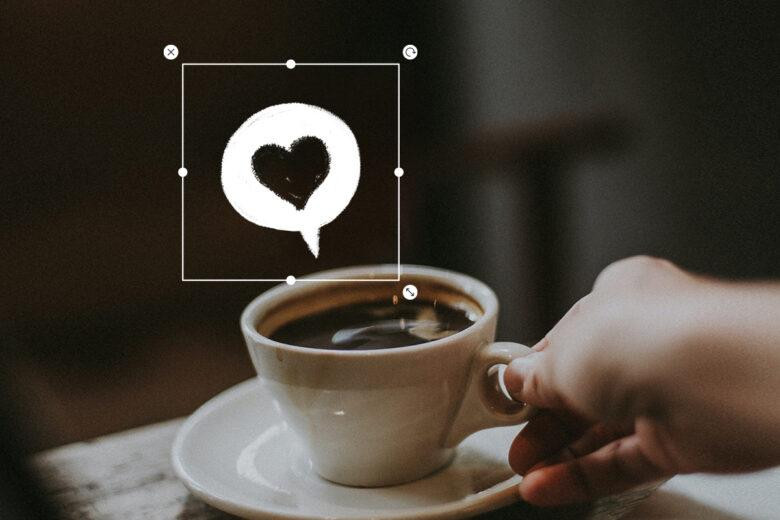 An artful still-life photograph can capture the magic in everyday objects such as a cup of coffee. Food and drink photography is an important type of still-life photography, where the goal is to depict your objects so that they appear attractive and appetizing. Your mise en scene is how you "set the stage" of the attractive image you want to capture, so plan it out. It's worth it to spend a little time thinking about the type of photograph you're aiming to create. 
Begin by experimenting with the arrangement: what is the setting of the story you want to tell? If you're shooting for a coffee shop or cafe, think about the vibe or aesthetic that the shop owners want to create. If you're taking photos of a cup of coffee in your house, consider how placing the cup on a table or windowsill, or taking it outdoors makes a difference. Pro tip: if you're planning on shooting outside, remember overcast days will have the best natural light, so colors and lines will appear soft and even. 
Carefully choosing a background opens up a world of possibilities. If you don't want to distract from the coffee, you can make a simple white background out of cardboard, or shoot it on a tabletop. If you want to get creative, think about how the coffee can blend in, or stand out from a background. Stuck at home? Take your coffee shot and then change the background before you share it online. Want to mix it up? Keep the stylized background, but change the look of what's in your coffee cup instead.

2. Have Fun With Props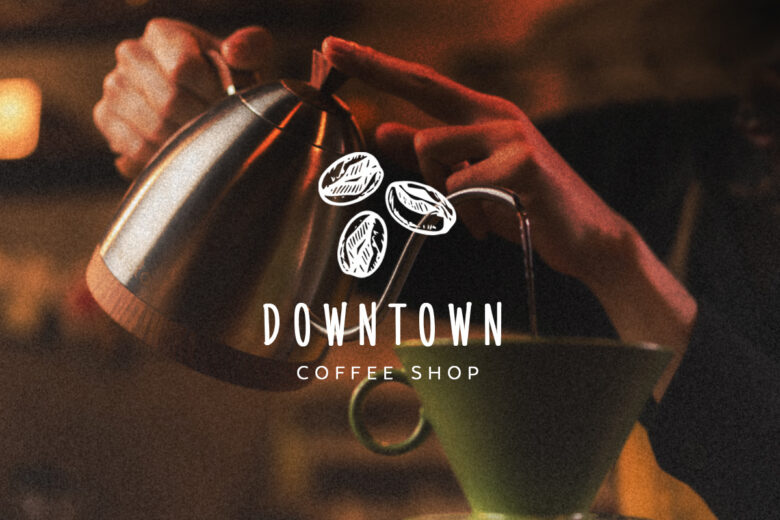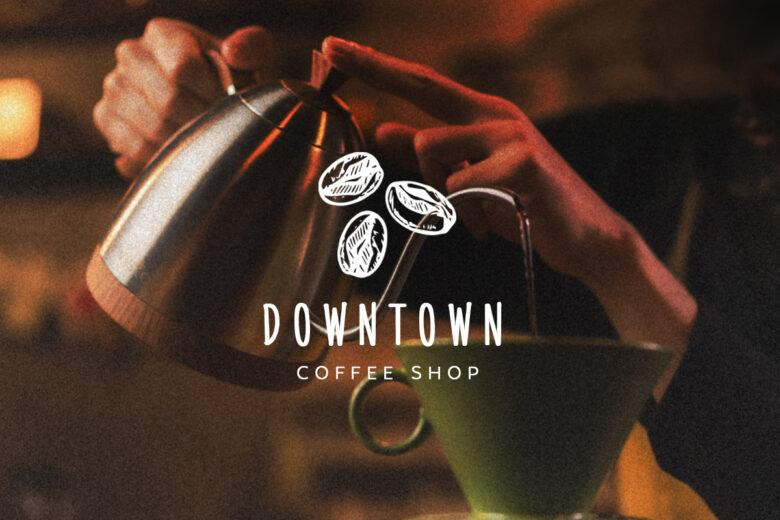 Props help make coffee a fun subject to shoot. Household items and antiques can help make your coffee photography more visually interesting, even when deciding how to serve your coffee. A glass coffee mug easily matches with any background. A plain porcelain coffee mug becomes a blank canvas to tell your coffee story. Try mixing and matching porcelain with different backgrounds for a vintage look and feel. But why limit yourself to white china when you can use colorful cups and mugs? The color or pattern of your mug can help enhance other colors in your scene. Colors can be a starting point, with complementary colors inspiring the props that you bring into the frame. The dish that the coffee is served on might match the sweets or snacks enjoyed with that beautiful coffee elixir. 
Coffee-making equipment has its own aesthetic appeal and connects us across cultures. Consider the elegance of a glass French press, the intricate carvings on wooden handles or copper body on an Arabic coffee pot, or the geometry of an Italian Moka. Even spoons or aerolatte milk steamers can be a part of the process. Even coffee beans photography can make for some eye-catching imagery. The key take away? Nothing is off limits.

To improve the visibility of your brand, consider using props and logos to subtly remind fans about your business. 
3. Tell a Story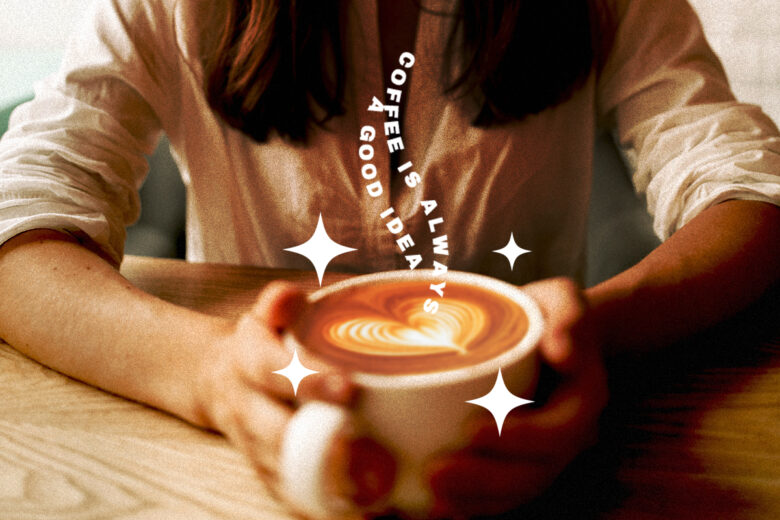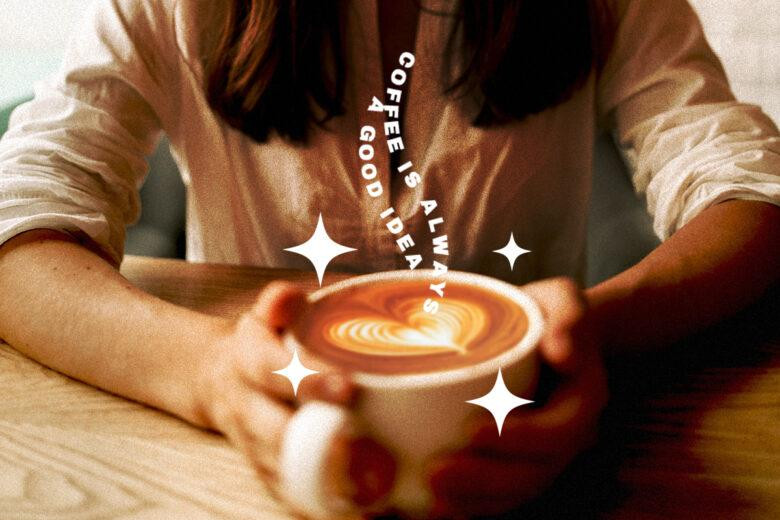 Photography is an emotional art form, and coffee photography is no exception. As outlined above, how you use light, colors, scenes, and props make a difference. Sharper contrasts and edgy surfaces imply a moody burst of inspiration. If you're shooting commercially, consider the image or story that the cafe is trying to sell their customers. The image of the cafe transforms into a place where ideas are exchanged, where people read books and get lost in their dreams. An artistic radial blur effect can bring the coffee experience into the foreground.
4. It's Not Just a Cup of Coffee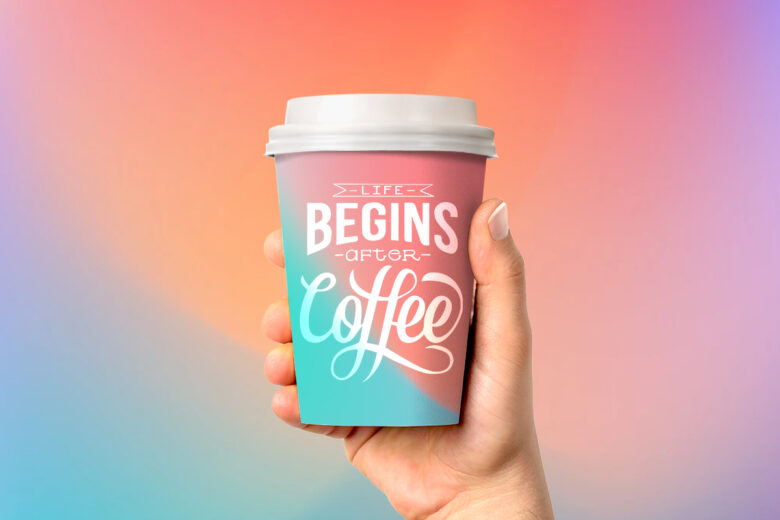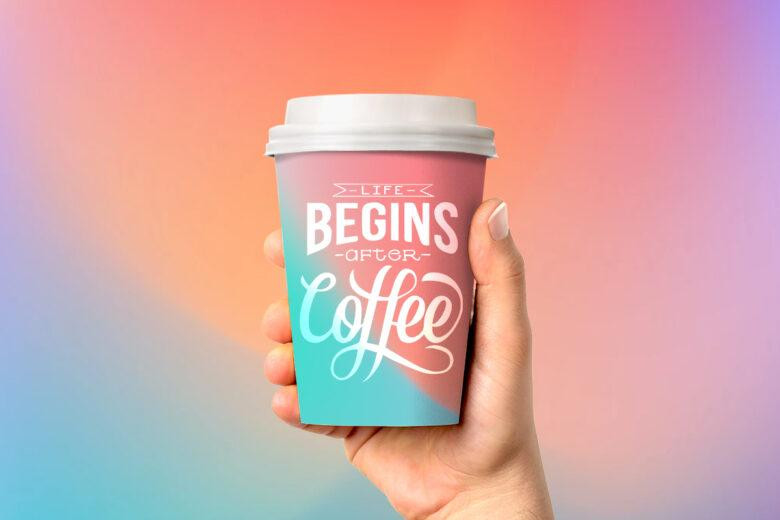 Think about how many people the world over enjoy their coffee on-the-go. Now think about why. They're busy, you're busy, we're all busy. But life stops for coffee. Always. Some of us can't even function properly without it. Capture the spirit of this deep love and desire with a catchy slogan or canny messaging and you can transform a simple image of a take away cup into something aspirational in seconds.
Ideas for the Best Coffee Photos
Let Off Some Steam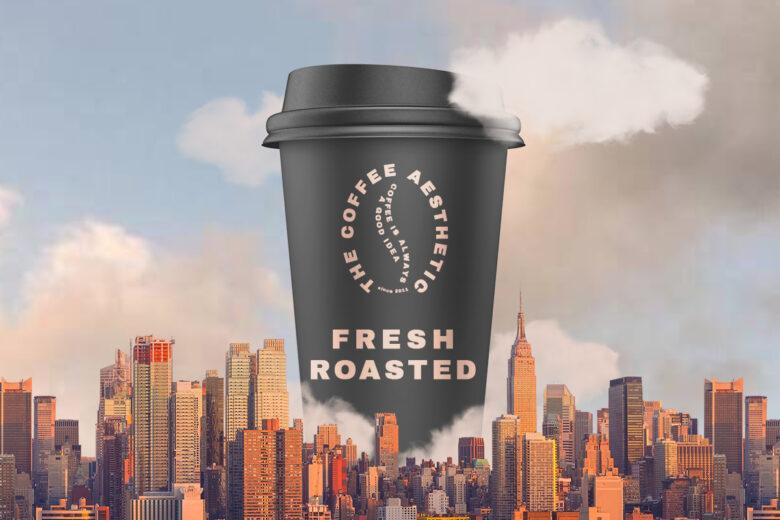 Feeling inspired to create your own coffee photography images? Wondering how to create those steamy shots? Steam off of a coffee mug or tea glass elicits something warm, cozy, and familiar within all of us and is the perfect coda to your coffee shop imagery. Shooting ephemeral objects like steam freeze movement in time, and is an artful way to incorporate action and motion into a shot. Don't be afraid to transport that simple shot into something fantastical. When it comes to artsy coffee pictures, your only limits are the ones you impose on yourself.
Stir the Emotions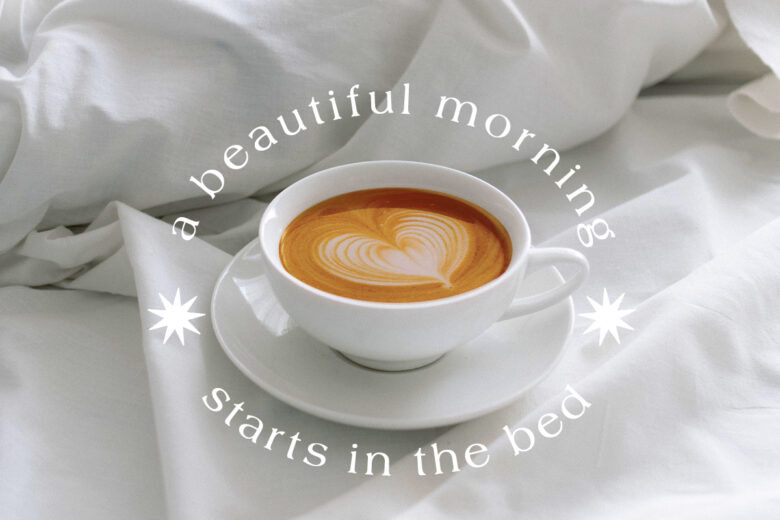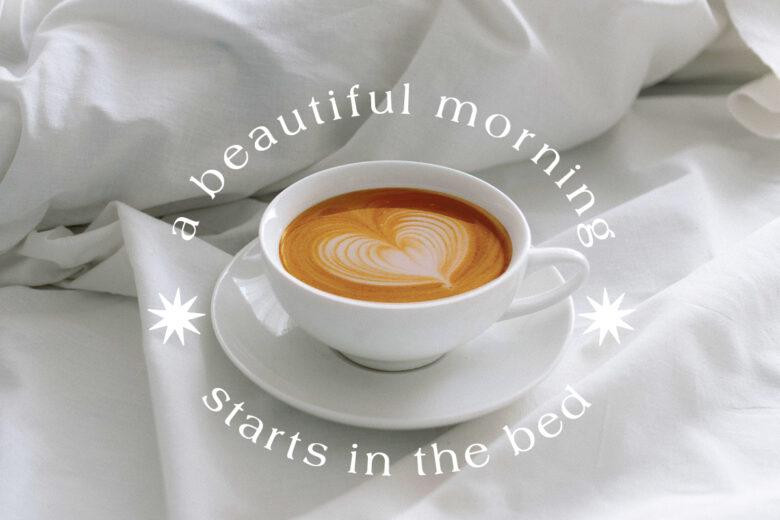 People go gaga for coffee. Tap into that universal love with imagery that stirs the senses and evokes not only the taste but what those special moments feel like. If you really think about what people get from their coffee, you can start to capture those moments perfectly.
Play With Perspective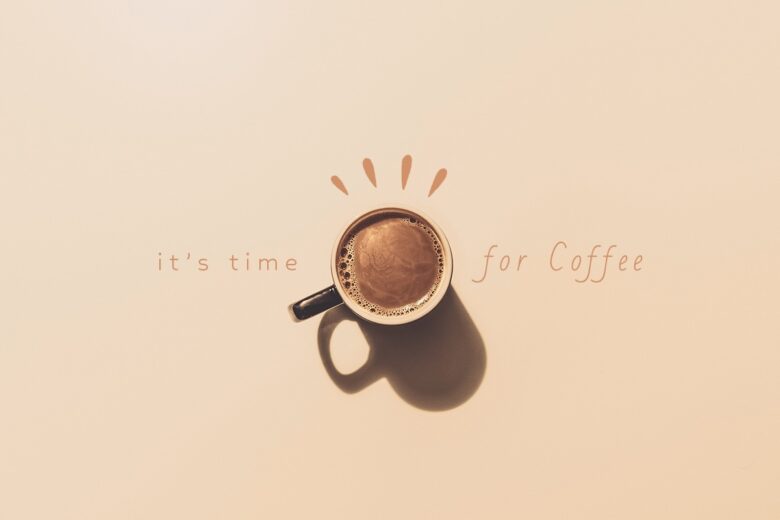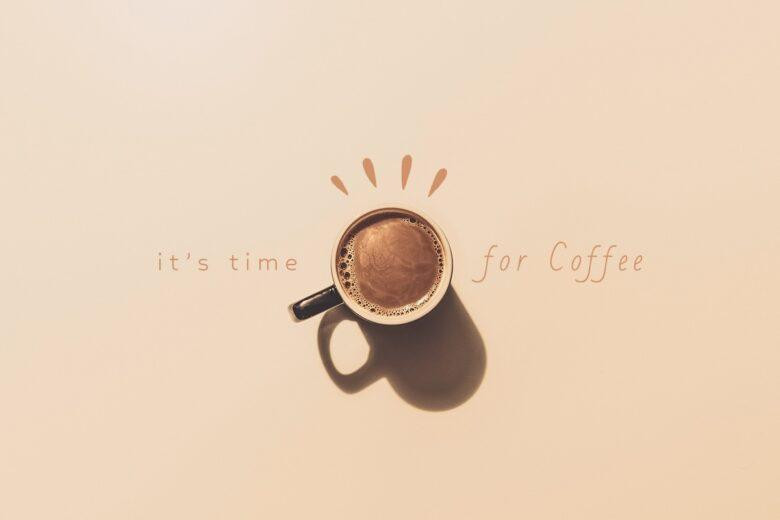 The angle at which you photograph your cup of coffee is hugely important when capturing the beauty of a cup of Joe. Get closer, pull back, tilt the phone camera left or right or shoot from above. Once you've found an angle you like, lock it in. A tripod can help set up a shot and keep a steady focus.
Get Creative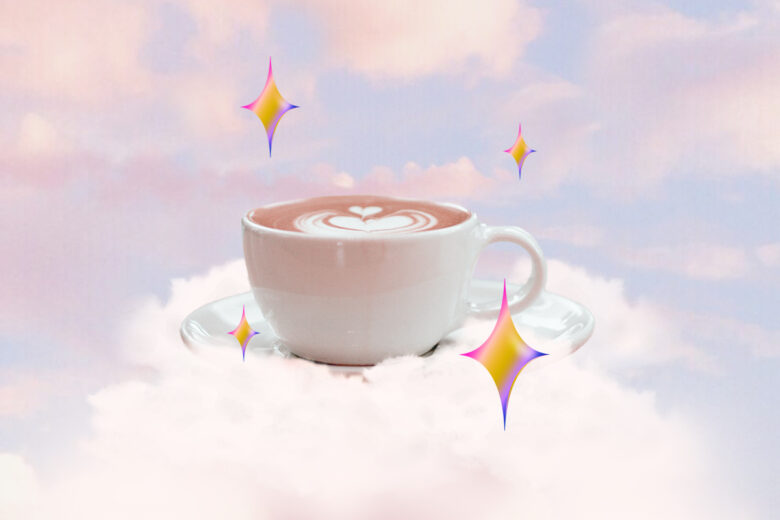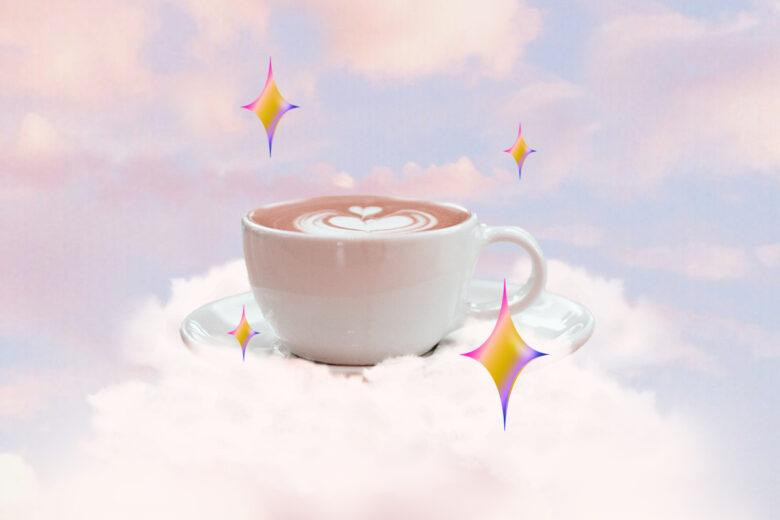 Why not think outside the box and treat coffee photography like any other creative shoot? Just because you're shooting a cup of coffee, it doesn't matter where you've captured it. It doesn't have to stay there. Using Picsart to edit your images, you can transport that simple shot of coffee to anywhere you like. Get creative and commercial coffee images could really take flight.
Create Coffee Photography Edits Using Picsart
Ready to put your knowledge of coffee cup photography to the test? Picsart can help make the creative editing process both simple and fun. Here's how:

On Desktop
1. Open the Picsart web editor, click on Custom Size, and input your dimensions (for the purposes of this illustrative exercise).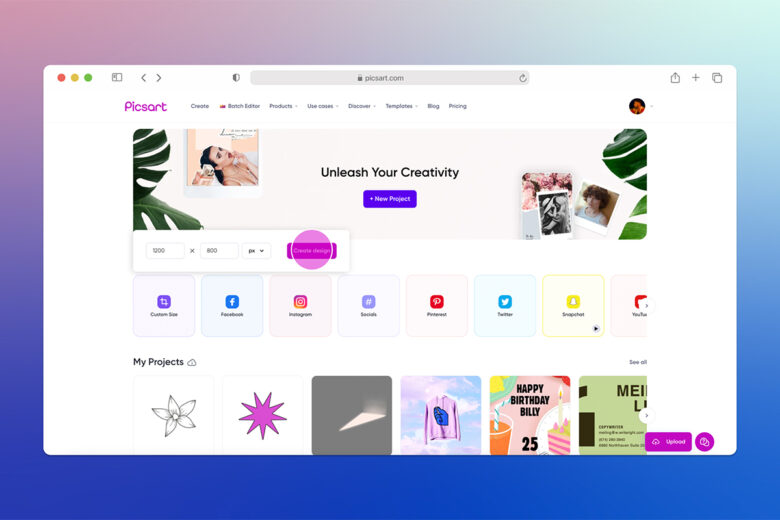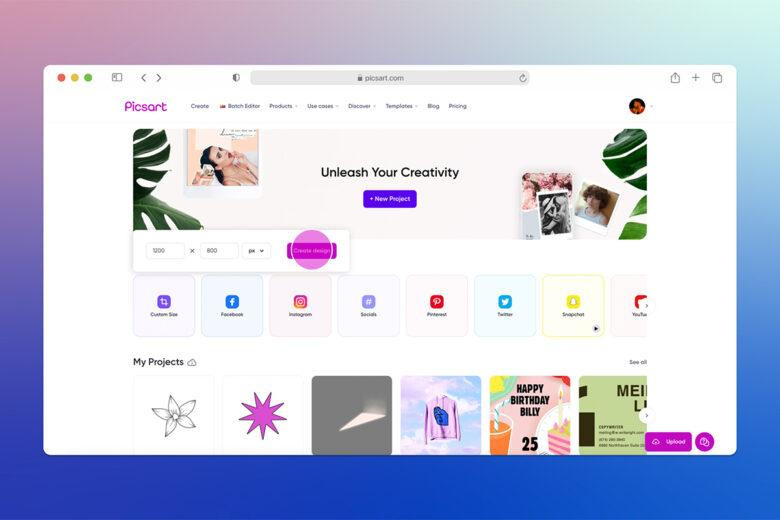 2. Upload the image you'd like to edit.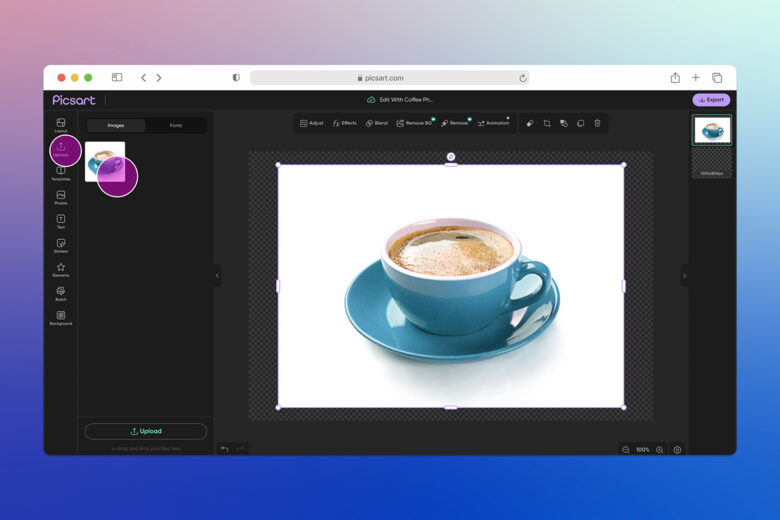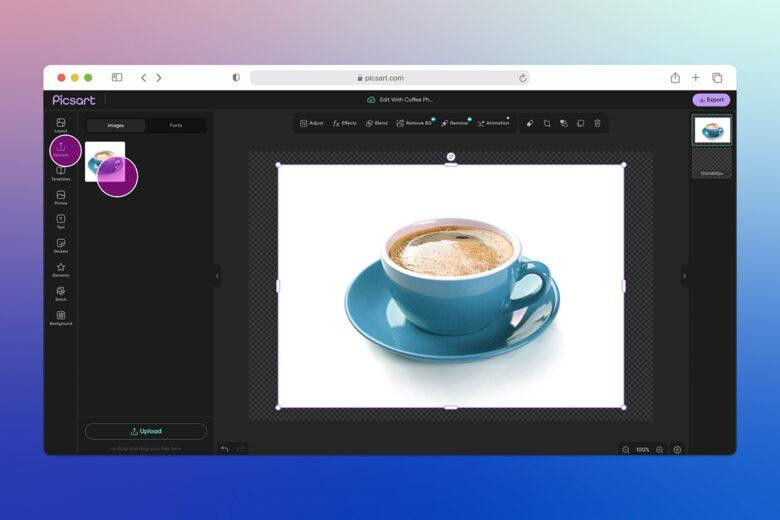 3. Click on the Remove BG button.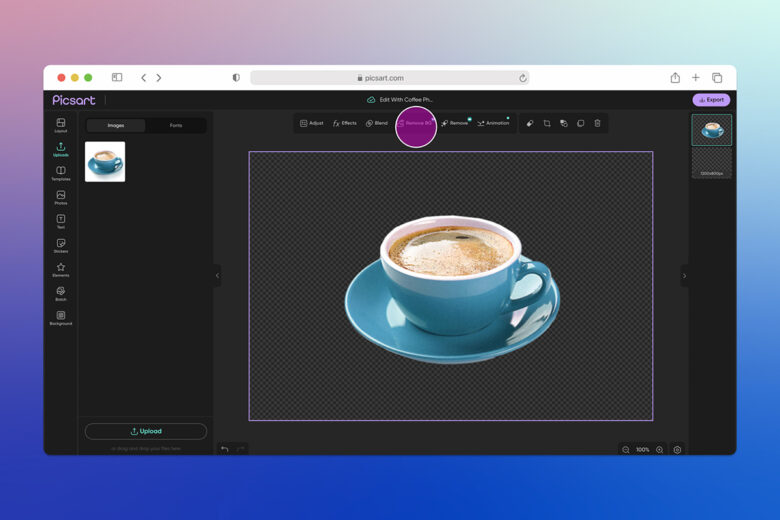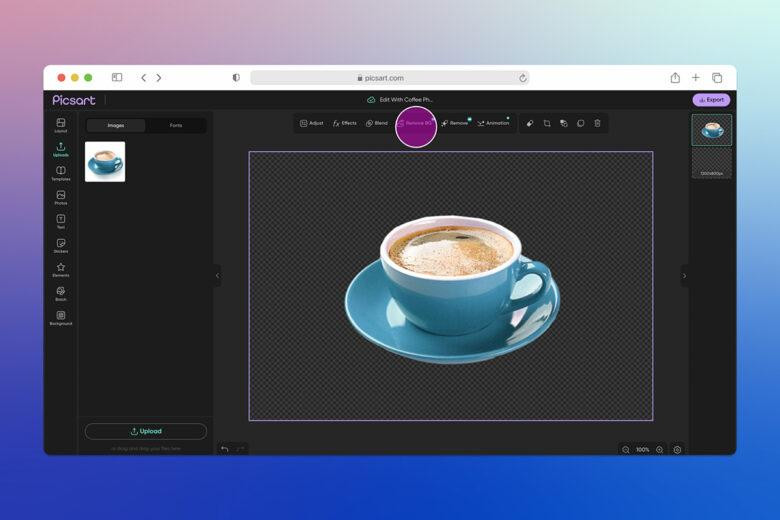 4. Now let's add a new background. Click on the Background tool and search by theme or browse the categories until you find something that you like.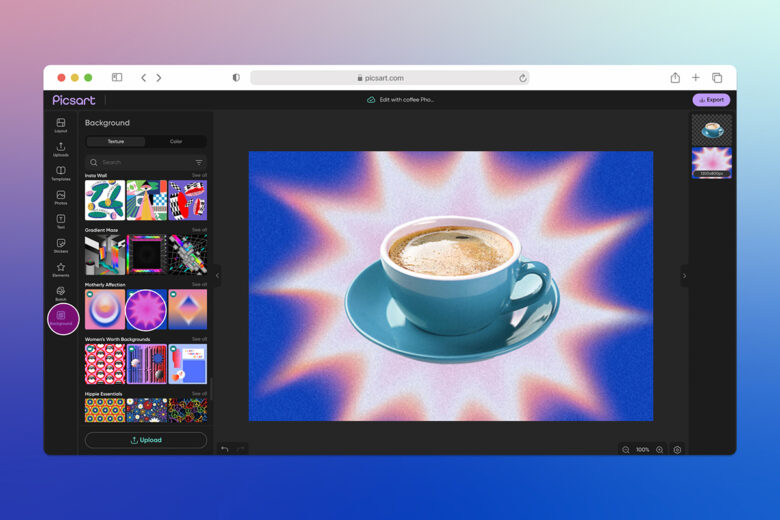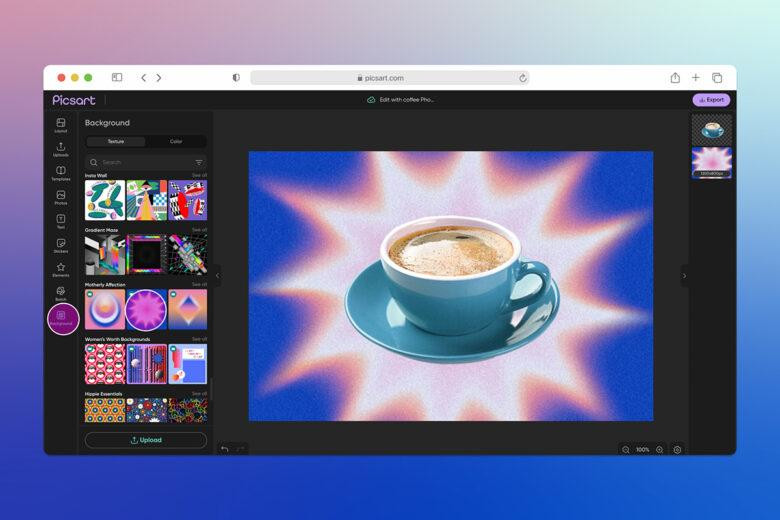 5. From here you can add elements like photos, stickers, and text to your design.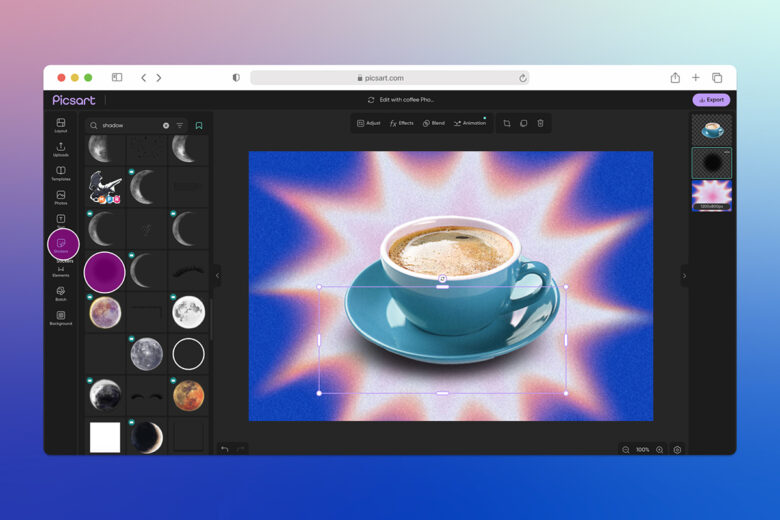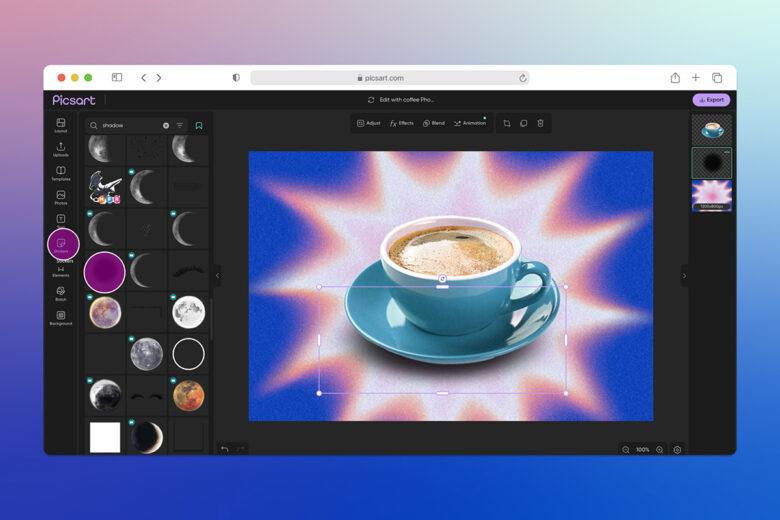 6. Feel free to go as wild as you like with the design tweaks.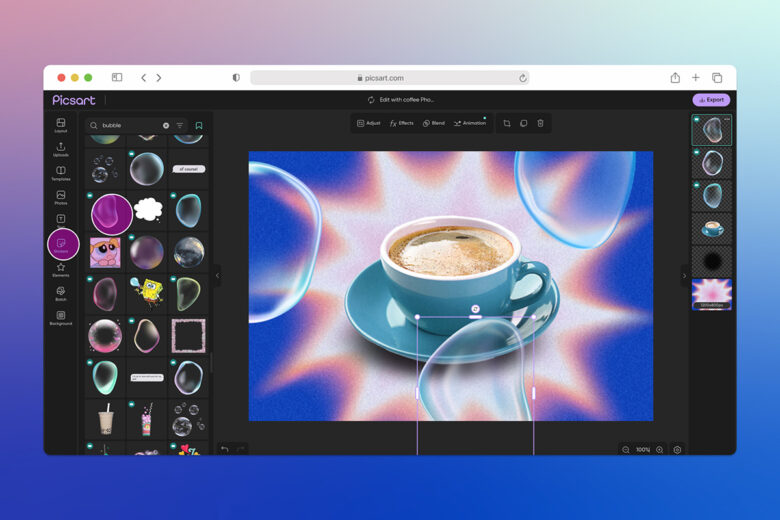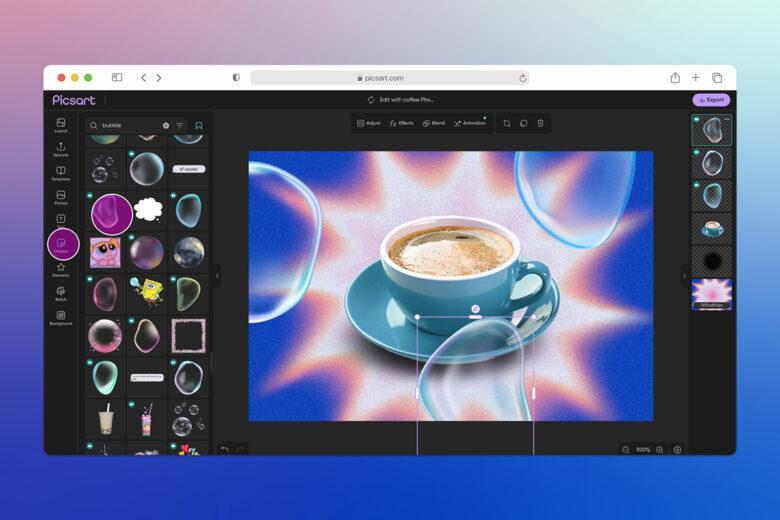 7. When you're satisfied with your edits, download your photo using the Export button in the upper right-hand corner of the screen.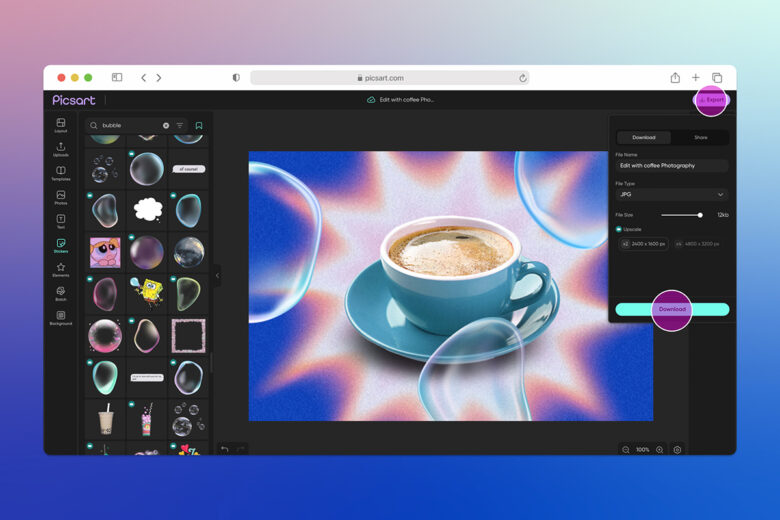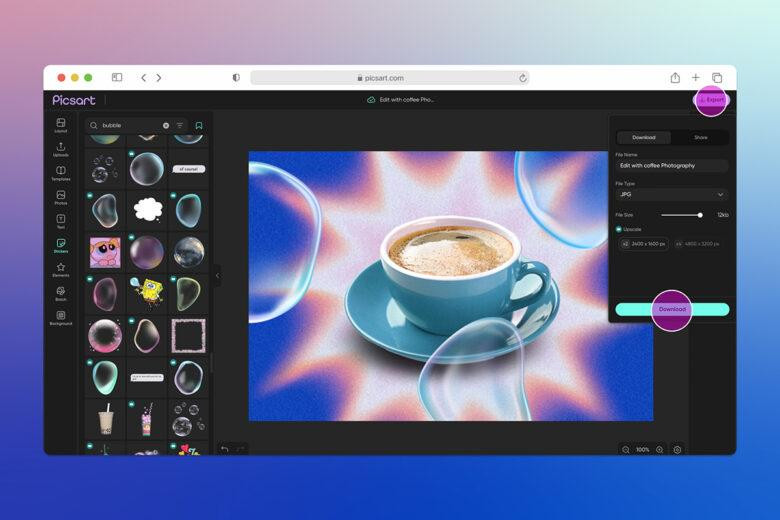 On Mobile
1. Open the Picsart mobile app, and click on the purple plus sign at the bottom of the screen to start a new project.
2. Scroll down to Backgrounds, and then select the See All option.
3. Browse the selection of backgrounds and choose your favorite.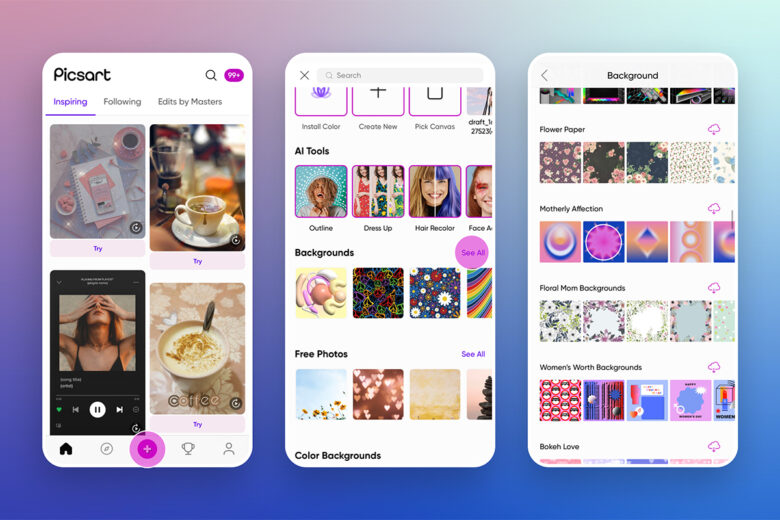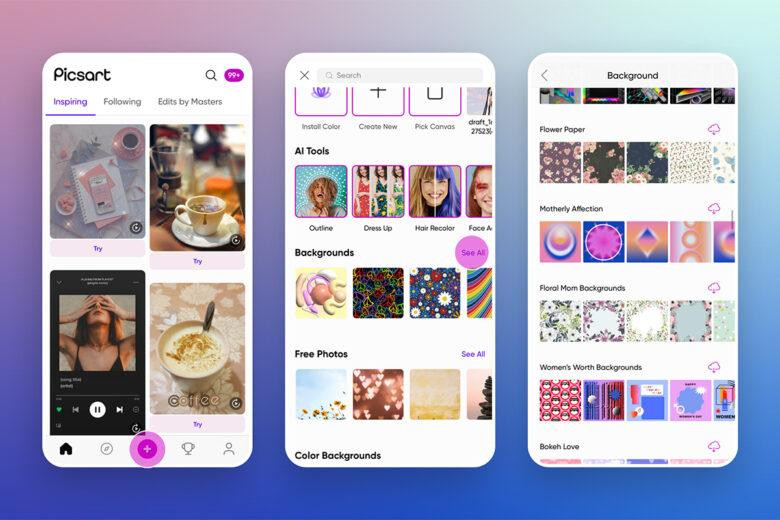 4. Tap on the Add Photo icon and choose the image you'd like to edit.
5. Tap on the Remove Background button.
6. Scroll to the Shadow icon and select the level of blur and opacity you need.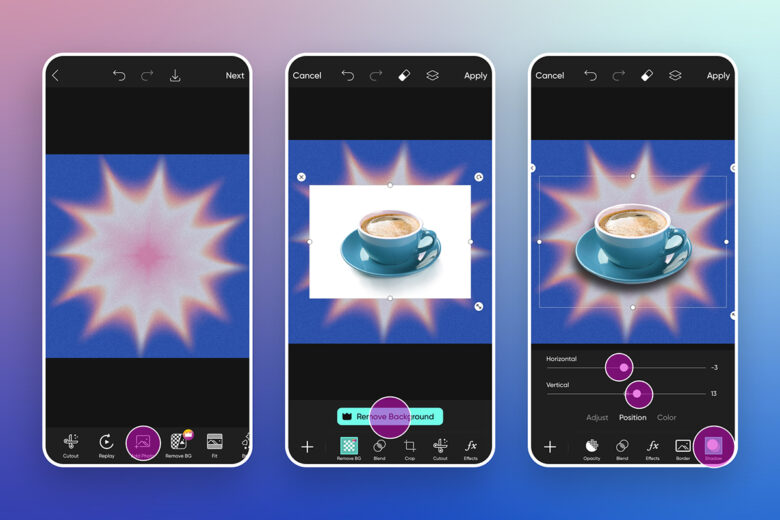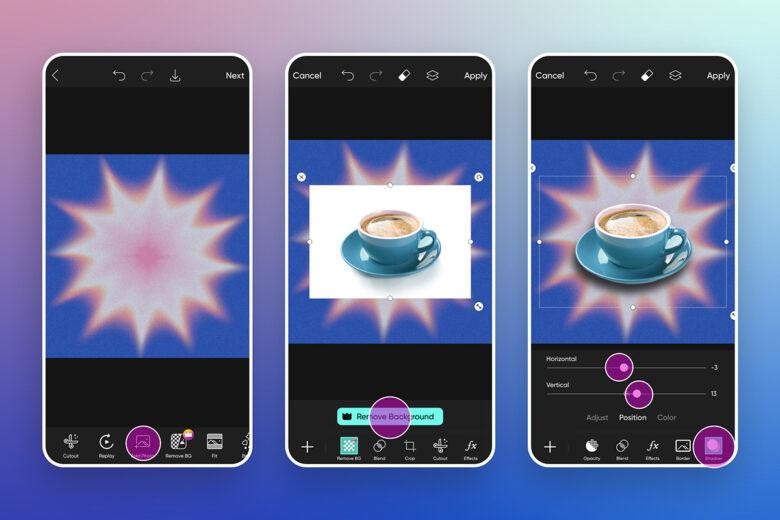 7. Add a sticker (by searching for something themed or browsing the options available).
8. Apply all changes.
9. From the Tools menu tap on the Crop option.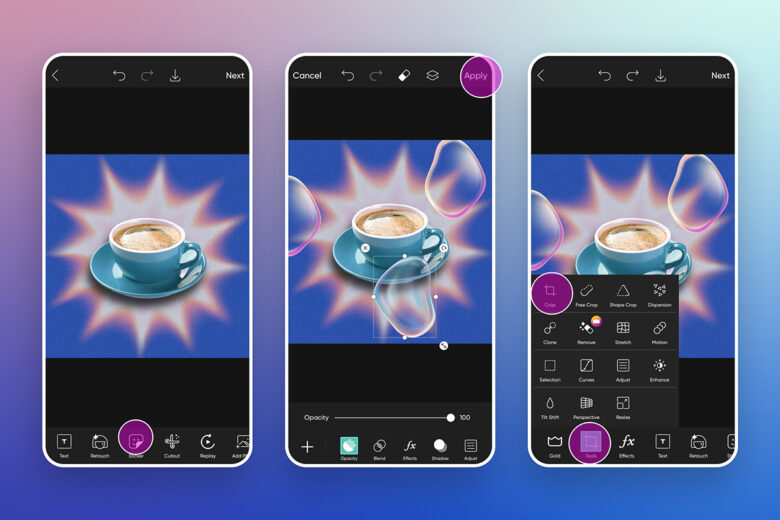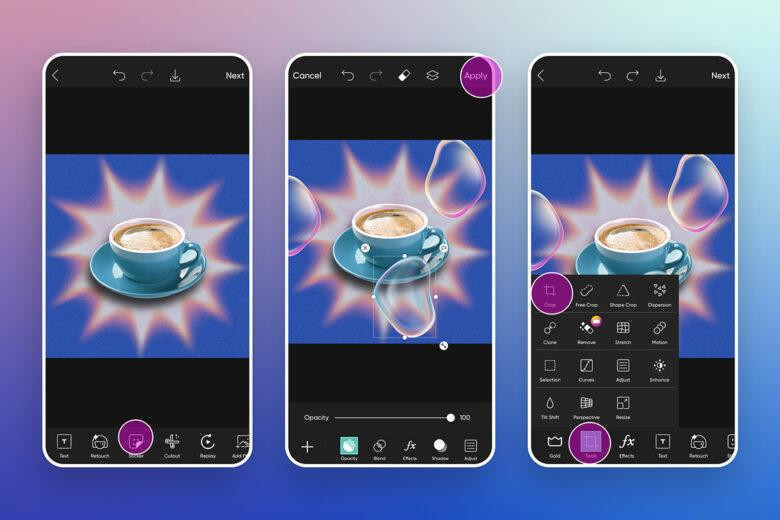 10. Select the crop required and tap on Apply to confirm.
11. Happy with all your edits? Tap on Next.
12. Save your work or post to the Picsart creative community.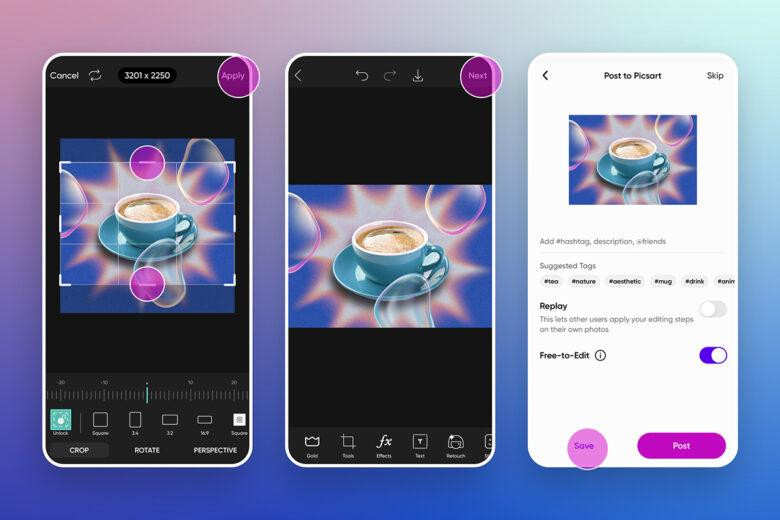 Picsart is a full ecosystem of free-to-use content, powerful tools, and creator inspiration. With a billion downloads and more than 150 million monthly active creators, Picsart is the world's largest creative platform. Picsart has collaborated with major artists and brands like BLACKPINK, Taylor Swift, the Jonas Brothers, Lizzo, Ariana Grande, Jennifer Lopez, One Direction, Sanrio: Hello Kitty, Warner Bros. Entertainment, iHeartMedia, Condé Nast, and more. Download the app or start editing on web today to enhance your photos and videos with thousands of quick and easy editing tools, trendy filters, fun stickers, and brilliant backgrounds. Unleash your creativity and upgrade to Gold for premium perks!