For most people, creating a resume is one of the most dreaded parts of any job search. Where's the fun in thinking back on all of your old jobs and figuring out how to make the work sound a lot more impressive than it felt? We have an answer for you: creative resume design.
In an increasingly competitive market, any edge you can get over the competition should be grasped. Don't worry, Picsart can help break through the tedious work of creating a curriculum vitae (CV) so that you can stand out in the eyes of recruiters and hiring managers. Read on to learn why you may want to add a dash of artistry to your resume, as well as our top 10 tips on how to make a creative resume.
What Is Creative Resume Design?
If the idea of a traditional resume bores you to tears, you may want to think about adding a spark of creativity to your CV. A creative resume is a way to use colors, shapes, and other design elements to give employers a better idea of who you are and what you're capable of.
Depending on the job you're applying for, your creative CV may take the form of an infographic resume, a video resume, a personal website, or an online portfolio with samples of your work. The format of your resume should reflect the nature of the job you're applying for. Think about which skills you need to show off, such as graphic design, video editing, illustrating, or web design. Then, figure out how you can include them in your resume design.
Not every hiring manager will be happy to see a creative resume design, especially if they work in a field that tends to be more formal and professional. However, there are a wide range of jobs where a creative CV will be beneficial. Unique resumes tend to work better for creative positions – such as graphic designer or video editor – but some companies with a more modern and informal brand culture may appreciate applicants that add a bit of personality to their CVs.
Aside from the fun, artsy elements, it's important that creative resumes still contain all the information that you'd find in a traditional resume. This can include your education, work experience, skills, awards, contact information, and links to social media profiles, online portfolio, or any supplemental information you think may strengthen your job application.
Benefits of Designing a Creative Resume
Creative resumes can be an eye-catching way to make a memorable first impression, as long as the person in charge of hiring is on board with your creativity. By going above and beyond a traditional resume, you get a chance to show off your design skills and your personal brand, as well as any other visual media skills that may be relevant to the job. The key is creating a resume that shows your creativity while still being easy to access, read, and understand.
If you're a creative professional, your resume formatting can be a sample of your abilities. A recruiter won't even have to open your portfolio or click on the link to your website to see what you can do. That can definitely help your resume stand out in a stack of hundreds of applications.
A unique resume design may also be the best way for job seekers with a lengthy work history to submit an application that focuses on their skills and relevant experience instead of the timeline of their past jobs.
Quick note: If you're using a creative resume, you may be worried about it being read by an applicant tracking system (ATS). To avoid any potential problems, you might want to upload a plain-text version of your resume to any online applications you fill out. That way, you can showcase your creativity without sacrificing how well your resume performs with an ATS.
10 Creative Resume Design Tips
Before you get started on your creative resume, it's a good idea to get familiar with the best practices that go into good resume design. A great resume has the power to make you look professional and approachable while showing off your personality and skill. Here are our top 10 tips for making a unique resume:
Choose Your Fonts Wisely
The key to making a great creative resume is knowing where you need to reign things in. It can be tempting to choose fun, interesting fonts for every section of your resume. Unfortunately, that can make things look scattered, disorganized, and difficult to read.
If you have your heart set on including creative fonts, try to keep them to your section headings (and remember, creative shouldn't mean hard to read). For the body text of each section, stick to a simple sans serif font that's easy on the eyes.
Be Strategic in Your Color Choices
Colors have the power to evoke different moods and emotions, depending on how you use them. So before you start designing your resume, brush up on some basic color theory to help you choose which colors you want to include.
Warm colors (red, orange, and yellow) tend to be vivid and energetic, while cool colors (green, blue, and purple) may feel more calm and soothing. Think about the position you're applying for and what characteristics the hiring manager may be looking for. Then, use color theory to help you choose the color scheme for your resume.
Don't Neglect Your Cover Letter
If you're going to use a creative resume for your job application, you should probably get a little creative with your cover letter too. Try to put some of the same colors and design elements from your resume into your cover letter (and any other documents you submit with your resume). This can show off your consistency, attention to detail, and professionalism.
Get to the Point
Unless you're applying to a small start-up or local business, there's a good chance that your application will be one of many that the hiring manager has to look through. Show them that you respect their time by making your resume concise and skimmable. The less time it takes for them to realize you're perfect for the job, the better.
Pro tip: Avoid long paragraphs wherever you can. Including white space (think: paragraph breaks, bullet points, etc.) will make your resume easier to read.
Cut Out Old or Irrelevant Experience
Every inch of space on your resume is valuable. Don't waste any by talking about jobs that you had years ago that have nothing to do with the position you're applying for. You may have fond memories from your first job, but that doesn't necessarily mean that a recruiter wants to read about it. If you can't bear to completely let go of your irrelevant experience, consider hosting it in an online portfolio that you link to at the end of your resume.
Need More Space? Try Using Columns
What can you do if you've cut out all irrelevant information and made your sections as concise as can be, but you're still having trouble fitting everything on one page? Try adding a column. Columns help break up a page, making your resume format more organized and easy to read. You can even make the column's background a different color to set it apart from the rest of the page, as long as it doesn't make your font harder to read.
Make Things Interesting With Infographics
By now, you probably realize how important it is to make your resume easy to read. If you're making a creative resume, you also get the chance to make it fun to read. Look over the different sections of your resume and see if there's any information you can display in a more graphic way.
For example, you can use a pie chart or a star rating system to show your proficiency in different skills. Just make sure that your infographic is as easy to understand as it is visually appealing.
Include Samples of Your Work
If you're applying for a job in graphic design, writing, or any other creative field, you should include a few samples of your work. These should be relevant examples that give your potential employer an idea of the type of work you'd produce for them if they hired you. You can include links to these samples on your resume or attach a separate "samples" document to your application.
Find Creative Ways to Show Your Personality
One advantage of a creative resume is that it gives you plenty of opportunities to infuse your personality into the design. You can do this by including a photo of yourself, adding fun shapes and designs to the page, or using your creative voice for your resume writing. Don't be afraid to think out-of-the-box (while still keeping your resume easy to read and understand, of course).
Be Your Unique Self
The whole point of making a creative resume is to give potential employers a strong idea of who you are. If you're not sure how to make a creative resume, it can be tempting to find a flashy example online and edit it to include your information. However, if you're a creative professional, you should make sure that your resume design is your own unique work and style. You want to get hired for who you are.
How to Make a Creative Resume Using Picsart
When you see your dream job posted online, you don't want to wait too long before you apply. Don't give someone else a chance to impress the hiring manager before you do. The best time to create your resume is before you need it. That way, all you have to do when you see a job posting is go in and make a few tweaks to make everything relevant to the position you're applying for. Get started on your dazzling creative resume today with Picsart by following these steps:
Step 1) Open the Picsart desktop editor. Click the Social button and choose the Portrait size preset.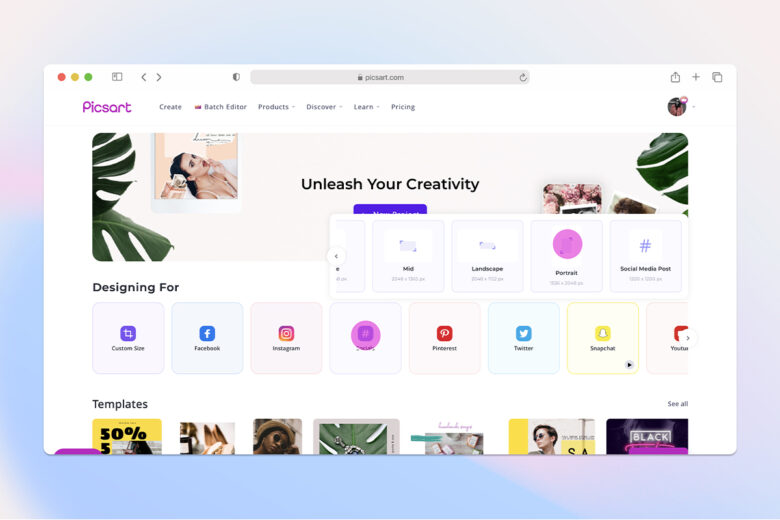 Step 2) Now, let's add a heading and input your name.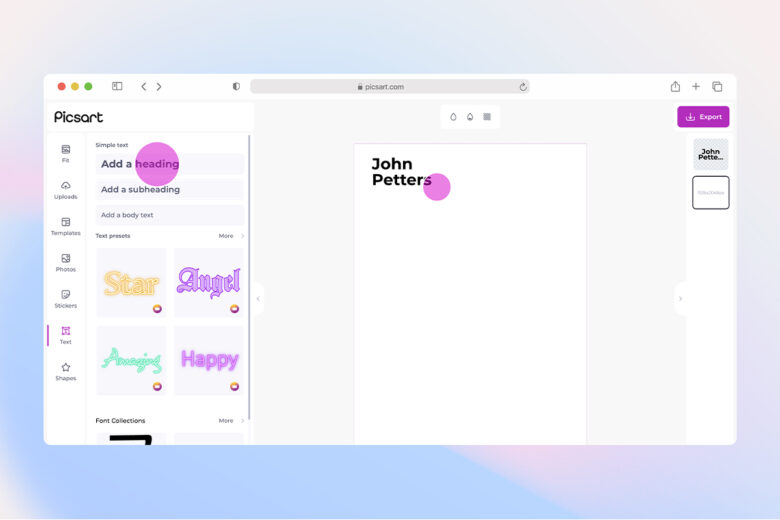 Step 3) Click on add a subheading and input your name. Do the same with the body text and input your details.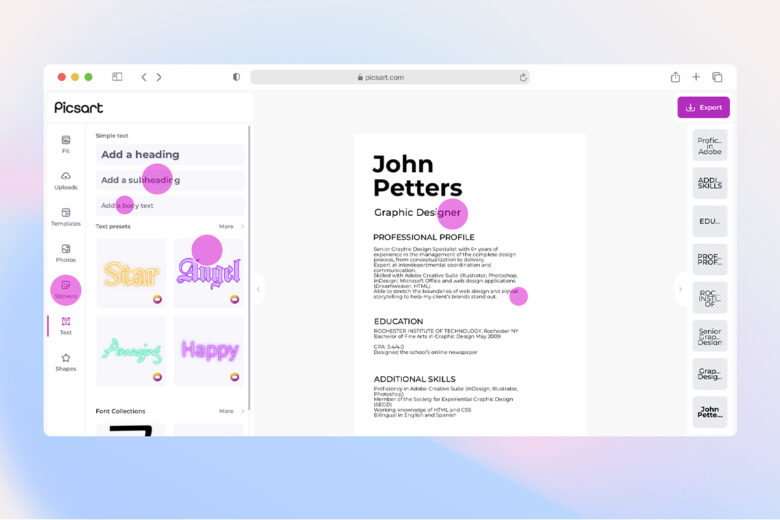 Step 5) Once your resume structure and information is in place it's time to get creative with editing tools. Consider adding stickers, for instance. But feel free to experiment with the full suite of editing options, to create the resume that works for your needs.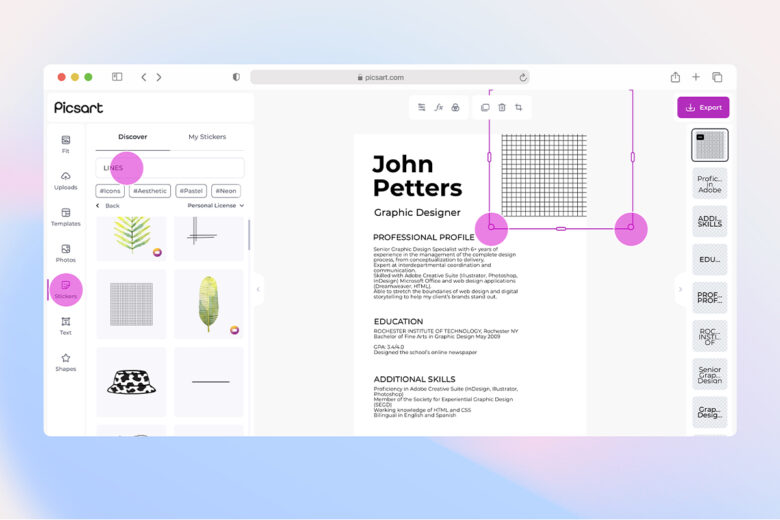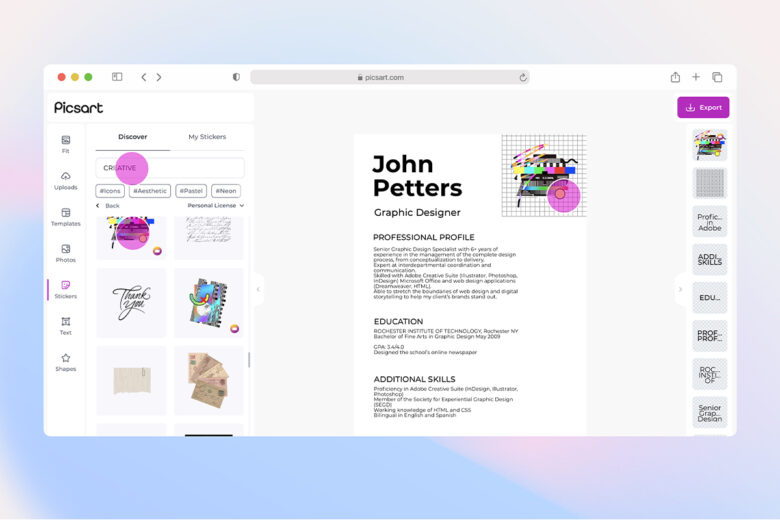 Step 6) When you're finally happy with the layout, look and feel of your design, click on the export button or hit download to save it to your desktop.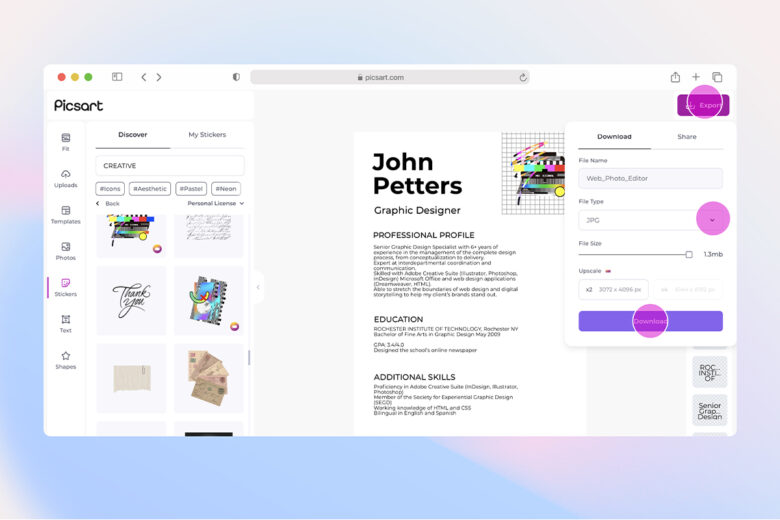 That's it. You can go as wild as you want on the design, or keep it minimal and impactful. The key thing to remember is that a creative resume will mean different things to different people and for different roles. So be sure to adjust yours accordingly. And good luck on the job hunt.
Picsart is a full ecosystem of free-to-use content, powerful tools, and creator inspiration. With a billion downloads and more than 150 million monthly active creators, Picsart is the world's largest creative platform. Picsart has collaborated with major artists and brands like BLACKPINK, the Jonas Brothers, Lizzo, Sanrio: Hello Kitty, I am a Voter, Bebe Rexha, Maroon 5, One Direction, Warner Bros. Entertainment, iHeartMedia, Condé Nast, and more. Download the app or start editing on web today to enhance your photos and videos with thousands of quick and easy editing tools, trendy filters, fun stickers, and brilliant backgrounds. Unleash your creativity and upgrade to Gold for premium perks!